BC real estate: 40% of Cullen Commission focuses on sector – Richmond News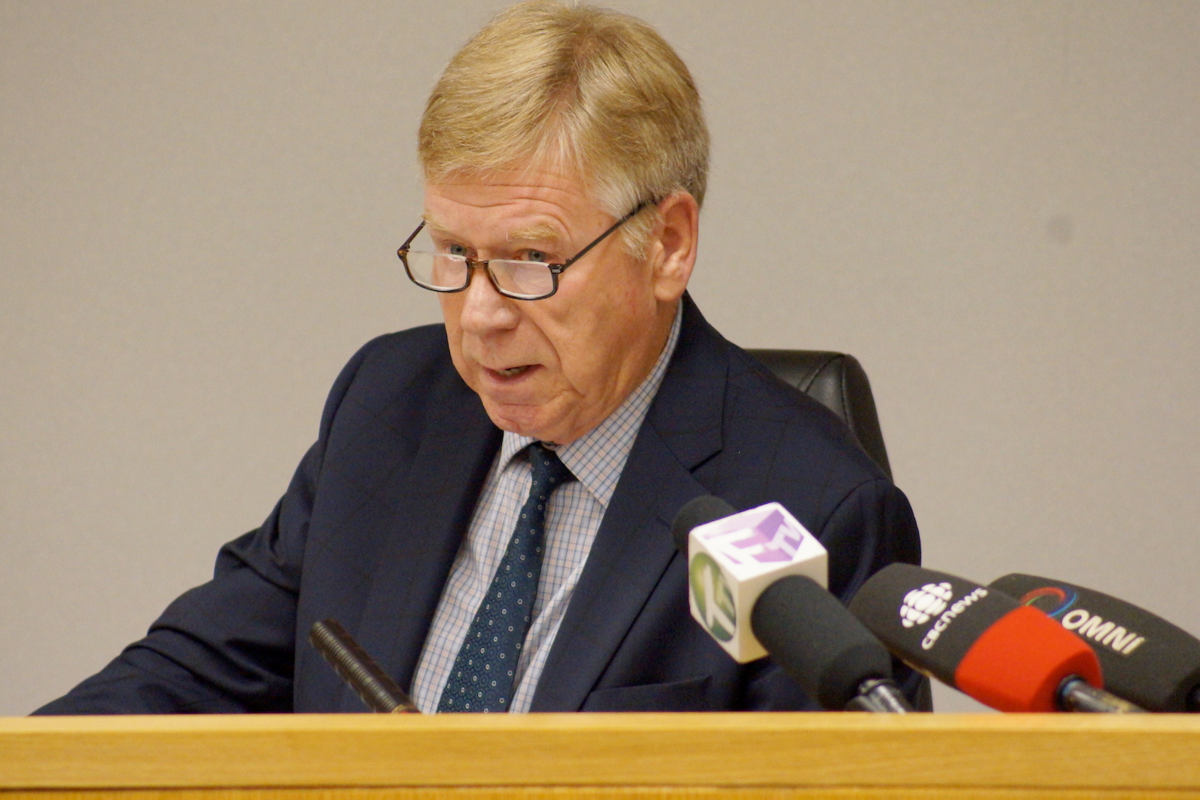 Despite being unable to determine the exact impact money laundering has on home prices, the real estate sector is of top concern to the Commission of Inquiry into Money Laundering in B.C.
Of the 101 recommendations Commissioner Austin Cullen made in his June 15 final report, 40 are directly related to real estate, and several others are ancillary, such as proposals to strengthen anti-money laundering (AML) policies within financial institutions and the asset forfeiture legal regime, as well as greater controls on notaries and lawyers, who process transactions.
Despite the apparent problems in the industry, Cullen poured cold water on prior attempts to peg a precise price increase on homes due to money laundering.
While his executive summary states, "money laundering is not the cause of housing unaffordability," he clarifies within the report that he examined whether it is "the" cause or "a main" cause — as it may be perceived publicly. Cullen found no such proof but nevertheless concluded the real estate sector is vulnerable.
Cullen said the reasons for increases in housing costs "are many, and they are complicated." He cites housing supply and demand and interest rates as more proven factors.
Cullen examined the 2019 expert panel report of professors Maureen Maloney, Tsur Somerville, and Brigitte Unger titled Combatting Money Laundering in BC Real Estate, which did prescribe a figure for money laundering in real estate — about a 3.7% to 7.5% increase in prices. But Cullen noted that the estimate came with caveats and uncertainties. The model the panel used was "an exercise in speculation and, ultimately, guesswork," said Cullen.
Cullen took time to separate what he perceives as a common mistake in the public discourse — that foreign investment and money laundering go hand in hand.
Cullen relied on the Canada Mortgage Housing Corporation's conclusion foreign investment was not a significant driver of real estate prices in Vancouver, based on home ownership data from 2010-2016.
He noted, however, that defining foreign investment can be difficult and "witnesses disagreed about whether foreign investment plays a significant role in Vancouver's housing prices."
Simon Fraser University professor Joshua Gordon and University of B.C. professor emeritus David Ley testified how foreign capital can explain the decoupling of local incomes to home prices in B.C. However, such capital may not show up as direct foreign investment in home ownership data; instead, it is foreign money transferred into homes owned by newly established residents or via beneficial ownership structures that can obscure the real picture.
"It became clear as the evidence developed before me that there is disagreement in the academic community about what should be considered 'foreign ownership.' Is it limited to beneficial ownership by persons or entities based or resident outside Canada? Or does it extend to purchases made largely with funds earned outside of Canada?" asked Cullen, to which he replied to his questions that "resolving these complex issues is somewhat outside the ambit of my mandate."
Cullen noted Gordon's position that it is difficult to determine the origins of foreign capital and, with respect to China, the money being transferred is often escaping capital export controls set by the Chinese government.
He dispelled the notion that foreign investment, particularly from China, is money laundering. And Cullen expressed concern that, in his view, public discourse had reached such a conclusion.
Cullen noted racist stereotyping of investments in real estate originating from China, as University of B.C. professor Henry Yu testified to, must be weeded out from "legitimate policy questions relating to foreign ownership of real estate in the province."
Cullen concluded that he could make no conclusive finding on money laundering or foreign investment, however defined, is a "primary cause" of home price increases in B.C. and steps to address money laundering should not be viewed as a "panacea for housing unaffordability."
Ultimately, more study is required on the matter, concluded Cullen.
Ron Usher, general counsel for the Society of Notaries Public, said the conclusions may frustrate some members of the public, however they are not surprising given it is difficult to track money laundering.
"I think people were understandably very interested in that. But I think it's appropriate for him to say, 'We just don't have information.' Well, of course, we don't because, you know, people don't tick a box on a form saying, 'I got this money from money laundering or a predicate crime,'" said Usher, who followed the daily testimony over two years as an intervenor.
Recommendations run deep into real estate sector
Despite not finding answers to such a significant question in the public discourse over the past 10 years, Cullen lays bare 40 recommendations for the real estate industry, now regulated by the 2021-established B.C. Financial Services Authority (BCFSA).
His recommendations suggest that real estate licensees are largely uneducated on AML measures and that both managing brokers and sub-brokers require education "focusing on the detection and reporting of fraud and money laundering in the industry."
Cullen also recommends the BCFSA, a government regulator, put in place measures for better data collection and that it implores real estate licensees and notaries to record source of funds information should the Financial Transactions and Reports Analysis Centre of Canada (FINTRAC) not do so on a federal level. He also wants BCFSA to mandate AML programs at each brokerage as a licensing condition.
Seventeen recommendations directly relate to mortgage brokers, who are overseen by the Registrar of Mortgage Brokers within the BCFSA.
Cullen wants brokers to have extended criminal record checks and more clearly defined responsibilities, including new reporting mandates under the Proceeds of Crime (Money Laundering) and Terrorist Financing Act.
Cullen also recommends all legal owners of mortgage charges are reported and that this information be available through the public land titles registry of the Land Title and Survey Authority. Presently, one is unable to conclusively determine, from flings, all of the owners of a registered mortgage charge.
Cullen is also calling for greater penalties and repayment of profits from proven unscrupulous brokers.
As for real estate licensees, Cullen has recommended employees of developers be brought within the licensing scheme. Today, many developer representatives effectively sell homes ("pre-sale" units) without any regulatory oversight.
Cullen also identified some legal matters to resolve, such as how courts cannot refuse to enforce debts made with funds of suspicious origin. As such, he recommends a source of funds declaration in foreclosure proceedings, at the judge's discretion. This recommendation stems from Cullen's examination of numerous foreclosure filings by alleged money launderer and casino cash provider Paul Jin.
Meanwhile, sunshine policies are a prominent set of recommendation for Cullen, namely by populating the B.C.'s Land Owner Transparency Registry with historic data within three years. He also recommends the Land Title and Survey Authority have a clear and enduring AML mandate, including the ability to "more readily" share data with other agencies.
Finally, with all such measures, Cullen recommends the Ministry of Finance analyze how such changes may impact housing prices.
Cullen thirsty for more data
Cullen emphasizes in his report the need for a beneficial ownership registry for both real estate and corporations, with the latter requiring a pan-Canadian approach. Contrary to some witnesses he heard from, such as journalists and Transparency International Canada, Cullen says a small search fee ($5) for beneficial ownership land titles is acceptable if government deems it so for operational purposes. However, Cullen suggests no such fees exist for a beneficial ownership registry of corporations. No fees should apply to law enforcement and regulators, noted Cullen.
With respect to data, Usher said tools such as land title registries, which are "secure and reliable," are increasingly being used by government agencies. He said Canada Revenue Agency could more easily track land purchases these days to weed out tax evasion and money laundering.
"It's easy to come up with lots of rules," said Usher.
"What we really need is a formal process of a notice of acquisition of real estate for CRA and a notice of disposition of real estate for CRA for every transaction.
"We need to get the right information from the right people at the right time," said Usher.
Real estate: Homes in Canada's most affordable markets – CTV News
For the fifth month in a row, Canadians saw a drop in the national average price of a home, according to the latest data compiled by the Canadian Real Estate Association (CREA).
The average price of all residential property types in Canada fell to $629,971 in July, a significant drop from the record-high average of $816,620 recorded in February. (Both figures are not seasonally adjusted.)
While most Canadian real estate boards and associations saw a drop in the average price of residential properties, regions that have maintained some of the lowest prices throughout the pandemic continue to do so, said Shaun Cathcart, CREA's senior economist and director of housing data and market analysis.
"The places that were always affordable continue to be affordable," he told CTVNews.ca in a telephone interview on Tuesday. "The further away you are from major cities … [in] that sort of middle part of the country, that is definitely where you'll find the most affordable house prices."
Regions such as Saguenay, Que., Saint John, N.B. and Trois-Rivières, Que. had the most affordable home prices across Canada in July. Cathcart also pointed to rural parts of provinces such as New Brunswick, Quebec, Ontario, and Saskatchewan, as having low average home prices compared to other parts of the country.
Additionally, activity within these regions remains relatively strong, Cathcart said. With more affordable home prices, markets in these areas aren't as sensitive to interest rate hikes as some of Canada's more expensive markets, such as the Greater Toronto and Vancouver Areas.
Displayed in the graphic are regions in Canada with the lowest average home prices, all of which are below the national average home price of $629,971. (Canadian Real Estate Association)
"Sales in the Maritimes didn't get the memo because it's so much more affordable," Cathcart said. "In Quebec, the Maritimes and the Prairies, activity is still above average."
With lower average home prices, it's possible more people will move to places where housing is more affordable, Cathcart said, especially with Canada's inflation rate remaining high. CTVNews.ca has compiled a list of properties currently on the market in some of the most affordable regions across Canada.
SAGUENAY, QUE.
(Marc-André Desbiens, Via Capitale Saguenay/Lac St-Jean)
Type: House
Price: $249,000
Year Built: 1988
Lot Size: 301.7 sq. m
Located on a 301-square-metre lot, this house in Saguenay, Que. features three bedrooms and two bathrooms. In the kitchen are black granite countertops and bright white cabinets. Several exposed brick walls line the home, which also has a fully finished basement. A detached garage sits behind the property, and the backyard includes a deck.
SAINT JOHN, N.B.
(Studio Royale / William Tarr, Royal LePage Atlantic)
Type: House
Price: $220,000
Year Built: 1976
Property Size: 209 sq. m
Lot Size: 426.98 sq. m
This four-bedroom, two-bathroom home is just a short drive away from uptown Saint John, N.B. Making up the main floor are dining and living rooms, as well as a large eat-in kitchen complete with a new stove and dishwater. On the upper level is a sizeable master bedroom as well as a newly renovated bathroom. The finished basement can be used as either a family room, office or gym.
TROIS-RIVIÈRES, QUE.
(Versom VR / Jimmy Lemay, Groupe Sutton – Alliance Inc.)
Type: House
Price: $249,900
Year Built: 1919
Property Size: 137.52 sq. m
Lot Size: 212 sq. m
Built in 1919, this semi-detached home combines wood floors with interior brick walls. Along with five bedrooms and one bathroom, the house also has a spacious common area with a wood fireplace on the main floor. At the entrance of the home is a veranda, while the backyard area is surrounded by greenery. The house is within walking distance of the city centre and key amenities in Trois-Rivières, Que.
NEWFOUNDLAND AND LABRADOR
(Tyler Oxford / Reagan Dilny, Re/Max Realty Specialists)
Type: Townhouse
Price: $285,000
Year Built: 1967
Property Size: 137.5 sq. m
Lot Size: under 0.2 hectares
Located near Quidi Vidi Lake in St. John's, N.L., this end unit townhouse has three bedrooms and two bathrooms. An open-concept living and dining area with large windows and a propane fireplace occupies the main floor. On the upper floor are a storage room, bathroom, and three bedrooms with enough space to serve as a TV room or office instead. In the backyard is a deck, storage shed and inflatable hot tub.
THUNDER BAY, ONT.
(Dan Garrity Media / Cathy Hunt, Royal LePage Lannon Realty)
Type: House
Price: $329,900
Year Built: 1910 to 1920
Property Size: 142.14 sq. m
Lot Size: under 0.2 hectares
In addition to three bedrooms and two bathrooms, this Thunder Bay, Ont. home also has a contemporary kitchen that connects to a large sunroom. With enough space to serve as an additional living room, the sunroom also offers views of the fully fenced backyard and patio. The combined living and dining rooms inside have a wood burning fireplace, and a walkout basement completes the home.
REGINA
(Ryan Spanier, OverWatch Solutions / Aideen Zareh, Royal LePage Regina Realty)
Type: House
Price: $249,900
Year Built: 1969
Property Size: 80.64 sq. m
Lot Size: 290.41 sq. m
This updated bungalow features three bedrooms, two bathrooms and a finished basement. The main level has laminate floors throughout, as well as large windows that allow natural light to enter the home. The open-concept floorplan blends the living room with the dining and kitchen area, which has plenty of cabinet and counter space. A large patio occupies the backyard, and the home itself is a short drive from downtown Regina.
SASKATOON
(David Oh, Darioso Photography / Lacy Watson, Coldwell Banker Signature)
Type: House
Price: $349,900
Year Built: 1945
Property Size: 94.76 sq. m
Lot Size: 526.76 sq. m
With a spacious front lot and backyard, this Saskatoon home is surrounded by greenery. In the backyard is a sizeable deck along with trees and garden boxes full of flowers. Inside, hardwood floors run across the living and dining areas, and a stone-clad wood burning fireplace creates a cozy atmosphere. The kitchen has stainless steel appliances and a tile backsplash, while three bedrooms and an updated three-piece bathroom sit on the top floor.
QUEBEC CITY
(Manon Drolet / Alexandre Lebrun-Côté, Via Capitale Sélect)
Type: Apartment
Price: $396,000
Year Built: 1928
Property Size: 101.2 sq. m
Lot Size: N/A
Situated in Quebec City, this apartment unit is located on the first floor of a newly renovated building, and features new insulation, doors and windows. The unit has three bedrooms and one bathroom, as well as an open-concept living, dining and kitchen area with white walls throughout. Nearby are the Cartier-Brébeuf National Historic Site, and the St. Charles River.
WINNIPEG
(Scott Zielke / Marcia Bergen, Royal LePage Prime Real Estate)
Type: House
Price: $329,900
Year Built: 1910
Property Size: 101.64 sq. m
Lot Size: 290.32
This three-bedroom, one-bathroom home in Winnipeg's Lord Roberts neighbourhood features a number of upgrades, having been recently renovated. These include a new kitchen, updated floors on the main level, and a new bathroom with an oversized tub. On the main floor is an eat-in kitchen and sizeable sunroom that can also serve as an office space. Completing the home are a basement and large backyard with a deck.
EDMONTON
(Darlene Strang, Re/Max Real Estate (Edmonton))
Type: Apartment
Price: $399,924
Year Built: 2019
Property Size: 49.8 sq. m
Lot Size: N/A
Built in 2019, this condominium suite has one bedroom and one bathroom, as well as a den. In the kitchen are white cabinets and quartz countertops that extend to create a breakfast bar. The unit also has a balcony that offers views of downtown Edmonton. Residents have access to the building's rooftop patio, as well as amenities such as a spa and pool.
Local builders still busy as real estate market takes a break – Times Colonist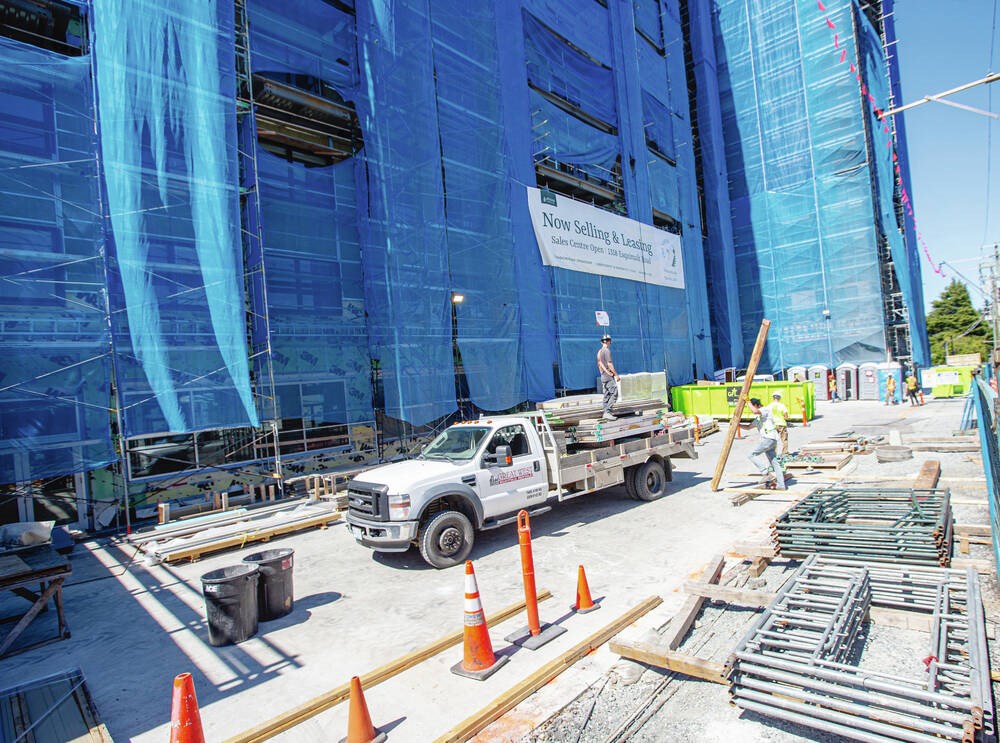 The real estate market may be taking a breather, but there has been no such break for homebuilders in the region judging by new housing start figures from the Canada Mortgage and Housing Corporation.
The numbers, released Tuesday, show 2,681 new homes were started through the first seven months of this year in Greater Victoria, ahead of last year's pace when 2,500 new units were started.
It's a tale of multi-family projects in two parts of the region, said Casey Edge, executive director of the Victoria Residential Builders Association.
Edge said Victoria and Langford are once again doing all of the heavy lifting.
"There are a bunch of municipalities that just fly under the radar every year, like Oak Bay that still doesn't have zoning for duplex housing," he said noting Oak Bay has built just 19 new homes this year, while North Saanich has started 16.
"And people question why do we have a housing affordability problem," he said.
"Well, you have just a handful of municipalities that are really carrying the weight for 13 municipalities."
The lion's share has been done by Victoria so far this year.
With a focus on condo and rental apartments, the city has seen 1,219 homes started, well ahead of last year's 696. Langford has started 663 so far this year, off last year's pace of 862 through the end of July.
Edge said what's missing is the missing middle housing — townhomes and houseplexes, rather than the usual condos and single-family homes — that can suit small families and provide more housing options in all parts of the region.
The fact builders in at least two of the region's centres are busy may help the market catch up a bit, as the number of property sales has slowed considerably. The B.C. Real Estate Association released numbers on Tuesday showing Victoria's sales dropped 37.5 per cent in July compared with the same time last year, while the Island saw a 40 per cent drop and the province fell 42 per cent.
"High mortgage rates continued to lower sales activity in July," said BCREA chief economist Brendon Ogmundson.
"Many regions around the province have seen sales slip to levels well below normal for this time of year."
At the same time, provincial active listings rose 28 per cent year-over-year.
Inventories remain quite low, but the slow pace of sales has tipped some markets into ­balanced or even buyers' market territory, the association noted.
Year-to-date, residential unit sales were down 29.3 per cent to 56,801 units, while the average residential price was up 13.2 per cent to $1.03 million.
aduffy@timescolonist.com
>>> To comment on this article, write a letter to the editor: letters@timescolonist.com
Podcast: Real estate marketing strategy with Publish Partners | RENX – Real Estate News EXchange
Podcast: Real World of Real Estate with Gerald Tostowaryk
Max Jakubke, principal and founder of Publish Partners, and the firm's digital marketing director Bianca Elliot discuss numerous strategies for effective online real estate marketing with host Gerald Tostowaryk.
One of the focuses for the episode, the second in a series on real estate marketing, is using data effectively to improve your storytelling ability about a project or development.
As part of the discussion, Jakubke and Elliot share some examples of successful campaigns.
Publish Partners is an international firm based in Vancouver.