BC real estate: 40% of Cullen Commission focuses on sector – Vancouver Is Awesome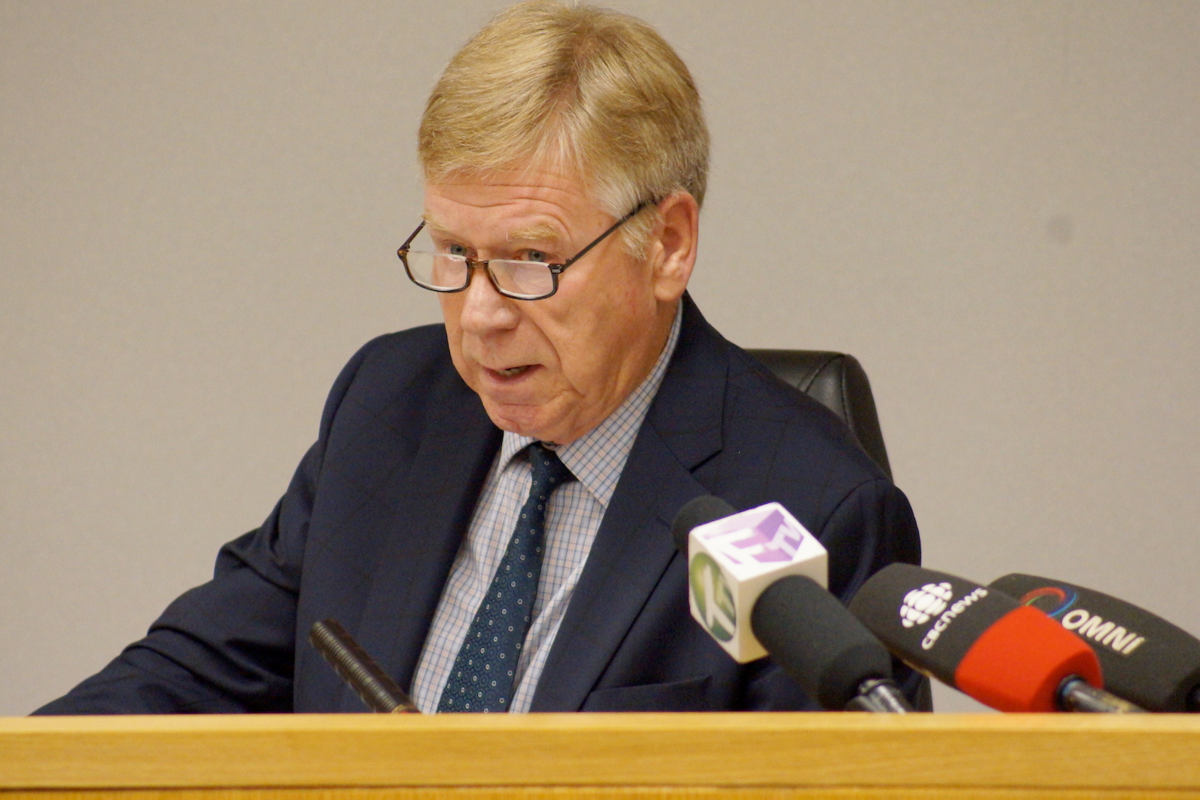 Despite being unable to determine the exact impact money laundering has on home prices, the real estate sector is of top concern to the Commission of Inquiry into Money Laundering in B.C.
Of the 101 recommendations Commissioner Austin Cullen made in his June 15 final report, 40 are directly related to real estate, and several others are ancillary, such as proposals to strengthen anti-money laundering (AML) policies within financial institutions and the asset forfeiture legal regime, as well as greater controls on notaries and lawyers, who process transactions.
Despite the apparent problems in the industry, Cullen poured cold water on prior attempts to peg a precise price increase on homes due to money laundering.
While his executive summary states, "money laundering is not the cause of housing unaffordability," he clarifies within the report that he examined whether it is "the" cause or "a main" cause — as it may be perceived publicly. Cullen found no such proof but nevertheless concluded the real estate sector is vulnerable.
Cullen said the reasons for increases in housing costs "are many, and they are complicated." He cites housing supply and demand and interest rates as more proven factors.
Cullen examined the 2019 expert panel report of professors Maureen Maloney, Tsur Somerville, and Brigitte Unger titled Combatting Money Laundering in BC Real Estate, which did prescribe a figure for money laundering in real estate — about a 3.7% to 7.5% increase in prices. But Cullen noted that the estimate came with caveats and uncertainties. The model the panel used was "an exercise in speculation and, ultimately, guesswork," said Cullen.
Cullen took time to separate what he perceives as a common mistake in the public discourse — that foreign investment and money laundering go hand in hand.
Cullen relied on the Canada Mortgage Housing Corporation's conclusion foreign investment was not a significant driver of real estate prices in Vancouver, based on home ownership data from 2010-2016.
He noted, however, that defining foreign investment can be difficult and "witnesses disagreed about whether foreign investment plays a significant role in Vancouver's housing prices."
Simon Fraser University professor Joshua Gordon and University of B.C. professor emeritus David Ley testified how foreign capital can explain the decoupling of local incomes to home prices in B.C. However, such capital may not show up as direct foreign investment in home ownership data; instead, it is foreign money transferred into homes owned by newly established residents or via beneficial ownership structures that can obscure the real picture.
"It became clear as the evidence developed before me that there is disagreement in the academic community about what should be considered 'foreign ownership.' Is it limited to beneficial ownership by persons or entities based or resident outside Canada? Or does it extend to purchases made largely with funds earned outside of Canada?" asked Cullen, to which he replied to his questions that "resolving these complex issues is somewhat outside the ambit of my mandate."
Cullen noted Gordon's position that it is difficult to determine the origins of foreign capital and, with respect to China, the money being transferred is often escaping capital export controls set by the Chinese government.
He dispelled the notion that foreign investment, particularly from China, is money laundering. And Cullen expressed concern that, in his view, public discourse had reached such a conclusion.
Cullen noted racist stereotyping of investments in real estate originating from China, as University of B.C. professor Henry Yu testified to, must be weeded out from "legitimate policy questions relating to foreign ownership of real estate in the province."
Cullen concluded that he could make no conclusive finding on money laundering or foreign investment, however defined, is a "primary cause" of home price increases in B.C. and steps to address money laundering should not be viewed as a "panacea for housing unaffordability."
Ultimately, more study is required on the matter, concluded Cullen.
Ron Usher, general counsel for the Society of Notaries Public, said the conclusions may frustrate some members of the public, however they are not surprising given it is difficult to track money laundering.
"I think people were understandably very interested in that. But I think it's appropriate for him to say, 'We just don't have information.' Well, of course, we don't because, you know, people don't tick a box on a form saying, 'I got this money from money laundering or a predicate crime,'" said Usher, who followed the daily testimony over two years as an intervenor.
Recommendations run deep into real estate sector
Despite not finding answers to such a significant question in the public discourse over the past 10 years, Cullen lays bare 40 recommendations for the real estate industry, now regulated by the 2021-established B.C. Financial Services Authority (BCFSA).
His recommendations suggest that real estate licensees are largely uneducated on AML measures and that both managing brokers and sub-brokers require education "focusing on the detection and reporting of fraud and money laundering in the industry."
Cullen also recommends the BCFSA, a government regulator, put in place measures for better data collection and that it implores real estate licensees and notaries to record source of funds information should the Financial Transactions and Reports Analysis Centre of Canada (FINTRAC) not do so on a federal level. He also wants BCFSA to mandate AML programs at each brokerage as a licensing condition.
Seventeen recommendations directly relate to mortgage brokers, who are overseen by the Registrar of Mortgage Brokers within the BCFSA.
Cullen wants brokers to have extended criminal record checks and more clearly defined responsibilities, including new reporting mandates under the Proceeds of Crime (Money Laundering) and Terrorist Financing Act.
Cullen also recommends all legal owners of mortgage charges are reported and that this information be available through the public land titles registry of the Land Title and Survey Authority. Presently, one is unable to conclusively determine, from flings, all of the owners of a registered mortgage charge.
Cullen is also calling for greater penalties and repayment of profits from proven unscrupulous brokers.
As for real estate licensees, Cullen has recommended employees of developers be brought within the licensing scheme. Today, many developer representatives effectively sell homes ("pre-sale" units) without any regulatory oversight.
Cullen also identified some legal matters to resolve, such as how courts cannot refuse to enforce debts made with funds of suspicious origin. As such, he recommends a source of funds declaration in foreclosure proceedings, at the judge's discretion. This recommendation stems from Cullen's examination of numerous foreclosure filings by alleged money launderer and casino cash provider Paul Jin.
Meanwhile, sunshine policies are a prominent set of recommendation for Cullen, namely by populating the B.C.'s Land Owner Transparency Registry with historic data within three years. He also recommends the Land Title and Survey Authority have a clear and enduring AML mandate, including the ability to "more readily" share data with other agencies.
Finally, with all such measures, Cullen recommends the Ministry of Finance analyze how such changes may impact housing prices.
Cullen thirsty for more data
Cullen emphasizes in his report the need for a beneficial ownership registry for both real estate and corporations, with the latter requiring a pan-Canadian approach. Contrary to some witnesses he heard from, such as journalists and Transparency International Canada, Cullen says a small search fee ($5) for beneficial ownership land titles is acceptable if government deems it so for operational purposes. However, Cullen suggests no such fees exist for a beneficial ownership registry of corporations. No fees should apply to law enforcement and regulators, noted Cullen.
With respect to data, Usher said tools such as land title registries, which are "secure and reliable," are increasingly being used by government agencies. He said Canada Revenue Agency could more easily track land purchases these days to weed out tax evasion and money laundering.
"It's easy to come up with lots of rules," said Usher.
"What we really need is a formal process of a notice of acquisition of real estate for CRA and a notice of disposition of real estate for CRA for every transaction.
"We need to get the right information from the right people at the right time," said Usher.
Podcast: Real estate marketing strategy with Publish Partners | RENX – Real Estate News EXchange
Podcast: Real World of Real Estate with Gerald Tostowaryk
Max Jakubke, principal and founder of Publish Partners, and the firm's digital marketing director Bianca Elliot discuss numerous strategies for effective online real estate marketing with host Gerald Tostowaryk.
One of the focuses for the episode, the second in a series on real estate marketing, is using data effectively to improve your storytelling ability about a project or development.
As part of the discussion, Jakubke and Elliot share some examples of successful campaigns.
Publish Partners is an international firm based in Vancouver.
Perfect time for sellers in Saskatchewan real estate market – Global News
For people who analyze statistics for a living, interpreting numbers is often about perspective.
For example, take home sales in Saskatchewan last month.
The province saw a 10-per cent reduction in home sales from 2021. However, last year was a record year for home sales in Saskatchewan.
"Overall, most regional markets are starting to shift away from the exceptionally tight market conditions seen earlier in the year," the Saskatchewan Realtors Association said in a press release.
"However, most regional markets still face conditions that are tighter this July then they were last year."
One of the reasons for the reduction is the spending issues many people are facing as inflation has drove prices of everyday items up. Another reason the market has slowed is the simple fact it's summer and people aren't home.
"People are on holidays, they're out farming and so typically we see a slower market and people are maybe not used to that because during the pandemic we had a market that was very busy throughout the year," said Chris Guérette, the CEO of Saskatchewan Realtors Association.
"So we are returning to sort of pre-pandemic activity during this time of the year."
Buyers are more leaning towards more homes priced under $400,000, which as a result means less are available and slowing down sales.
"Inventory levels trended up in July over previous months, but every region still faced inventory levels that were lower than the previous year and long-term averages," the press release read.
"Overall, most regional markets are starting to shift away from the exceptionally tight market conditions seen earlier in the year. However, most regional markets still face conditions that are tighter this July then they were last year.
Guérette said overall, the provinces market it a lot more stable than other places.
"We know that we won't have the drastic ups & downs that other large municipalities are facing & other provinces are facing at the time right now. So that means places like Ontario and B.C are seeing some really large dips and some swings."
Guérette said it is a sellers' market right now, with the average price of a home in Saskatchewan going up to $335,000.

4:33


How to send your kids off and prepare for university housing.



© 2022 Global News, a division of Corus Entertainment Inc.
Real estate as a wealth creator – Ottawa Business Journal
Who is the wealthiest person you know? Almost without a doubt they will tell you that they have substantial real estate holdings inside their portfolio.
If you've been toying with the idea of purchasing an income property, now is the perfect time to jump in. You might be asking yourself, "Why now?" Well, because there is an opportunity in the marketplace that I have never seen in my 20+ year career and will likely never see again.
Over the last two years, the value of your home has increased, on average, 40 per cent. The market has peaked and we are having a bit of a soft landing thanks in large part to the Bank of Canada raising the overnight rate four times already this year.
How is this an opportunity?
First, we have a cohort of first-time buyers with solid incomes and the best of intentions that simply cannot break into this market. They are your new tenants. The average home in Ottawa purchased today would require a household income of $137,050, assuming you had 20 per cent down. A six-figure income is now needed to buy the average home in Ottawa!
Secondly, the new found equity in your current home could be your ticket to getting into investment real estate. You may be eligible for an up to 80 per cent loan on the current market value of your home; equaling the down payment for your first investment property.
There are so many reasons why real estate is a wealth creator, but let's start with this: Say you buy a $1 million property with 20 per cent down—in other words you invest $200,000 to buy a $1 million investment—but which number do you earn your return on? You earn a rate of return on the value of the building, not on the value of your down payment. Your tenants pay the mortgage and expenses, and you reap the rewards!
Ottawa has an average 5.6 per cent rate of return over the past 50 years. With 20 per cent down, you have a 5x multiplier on the market rate of return on your initial investment. Your down payment has earned a 28 per cent rate of return over the last 50 years! Do you know anyone in the stock market that can say the same?
Now, this is an oversimplification. To determine your actual rate of return you have to subtract the interest cost on the mortgage you are carrying and utilities, taxes, and maintenance. Individual results will vary, but real estate is a solid winner in any case.
Reason number two that real estate is a winner: Real estate values in Ottawa rarely go down on a year-over-year basis, and when they do the losses are quite small. In fact, Ottawa has recorded a contraction in average sale price only three times in the last 50 years.* The biggest one-year drop was 2.9 per cent. The second biggest was 1.9 per cent, and the third was 0.4 per cent.
American business magnate, investor, and philanthropist, Warren Buffet has famously said, "Rule No. 1: Never lose money. Rule No. 2: Never forget rule No. 1." Why is this so important? It's important because it is very difficult to recover from losses.
If we return to the $1 million purchase example above: Imagine you had $1 million worth of stock and the market crashed… You probably owned Nortel stock around the 2000's or bought Shopify at its peak recently. Your million dollars becomes $500,000 overnight. But what happens when there is a corresponding increase of 50 per cent in the marketplace? Are you back to $1 million? Unfortunately, you are not… Your $1 million crashed to 50 per cent, and when the market rebounds by 50 per cent you are left with $750,000 and a $250,000 loss. Ouch…. Now do you see the wisdom in Warren's words?
This is merely the tip of the iceberg here, and a deeper dive into your particulars would be recommended. Reach out to a professional to help guide you through the process of starting your real estate empire one door at a time.
*According to Ottawa Real Estate Board historical trends stats.
About Sean McCann
It's not about me. It's about you and how your home tells your story. Far too often real estate can feel transactional. I'm not interested in transacting. My singular interest is in guiding you and your family to your best possible outcome. It's about building meaningful connections, in an increasingly disposable world, and understanding how your home is the epicentre of your world. Let's be honest, my family's well-being and future success lies in the experiences I create and the advocacy that I earn with you today. I appreciate you and I intend to honour the trust that you place in our relationship. Let's have some fun and do something special together!