'Before cancer I was really unhappy': Tracey Emin on the joy of founding her own art school
It's a Saturday morning and the band of the 1st Margate Girls' and Boys' Brigade is marching down a side street with pipes and drums ringing out amid a crowd that includes luminaries of the art world, Bob Geldof, and the kids across the road who are still in their pyjamas. Then the town's Social Singing Choir launches into a version of Madonna's Like a Prayer that is so lovely people cry. Tracey Emin, too, seems to wipe away a tear as she waits in her tricorn hat and red robe – the official costume of a Freewoman of Margate – to cut the red ribbon and officially open her new art school.
This delightful public performance is an Emin artwork, but not as we know it. Emin's subject matter until now had always been herself. "That woman knows herself," as Lucian Freud said approvingly. But this ceremony is about her embrace of other people. It's about the community she is setting out to create.
Emin announced early last year that she was going to open her own art school in Margate, the Kent seaside town where she's from. Just 15 months later, she is opening the building that houses TEAR (Tracey Emin Artist Residencies), where the first year's intake of 10 young artists from around the world are already settling in. It also provides affordable work spaces for professional artists, called Tracey Emin Studios.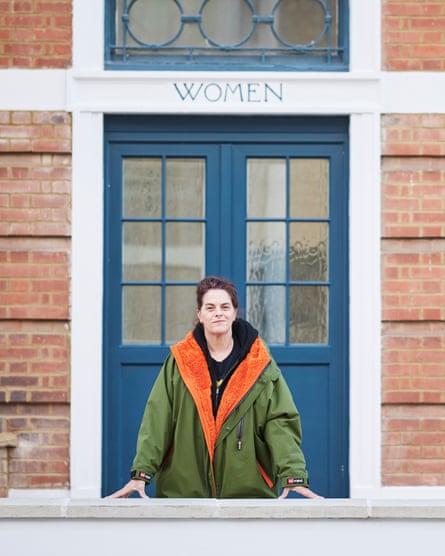 "I think being an artist is quite lonely", she tells me a couple of days ahead of the grand opening, settling into the comfy sofa in the common room of her school. "And I don't have any children. All of these things that other people seem to acquire in life, I don't have. And when I thought I might die, I thought 'Fuck, what have I been doing with my life?' And then I thought: 'Well, if I get through this, I'm going to do something. I'm going to change things.'"
Emin is now a good halfway, she tells me, to getting the all-clear from the cancer with which she was diagnosed in 2020. "The cancer was really bad, right: there was a good chance I wasn't going to get through it. And it's a bit like a promise to myself: 'What do I need it all for? You cannot take it to heaven, right, you can't – it's impossible.'"
We're sitting inside the promise Emin made to herself. This building, not far from her home, was built as a public baths in the early 20th century: the restored facade has separate entrances marked Men and Women. Now it has become Emin's idea of an artist community – a place where students and professional artists can encourage and support each other.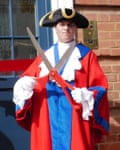 "They're quite brave to come and do it. I mean wow! To Margate. Emmie Nume, for example, who's never left Uganda before, suddenly arrives here: it's raining and freezing cold. It was quite a shock to the system. Every week they get two projects they have to do. Already they've made a film and they've written an essay on Cézanne. They also have to write a poem to read out every Monday."
I meet the students in their individual work spaces. Nume, from Kampala, is self-taught and paints abstracted portraits with an Auerbach-like intensity. Jorge K Cruz, born in Ecuador and living in Brooklyn, also a painter with no formal training, has pinned up his excellent drawing after Freud's And the Bridegroom. Bianca Raffaella, a partially sighted painter, is working close up on a painting to add to the ethereally beautiful works covering her walls and floor.
You don't have to be a painter to study here. Grace Abbott from Brooklyn prefers installation, performance and sculpture. The school is "proper", says Emin with pride: it has experienced art educator Elissa Cray as director.
"I don't think they've got anything in common," Emin says of her charges. "That's one thing I like. They all seemed from their interviews and their work to be able to work alone: two of them have never been to art school for example. But they had to be of postgraduate level even if they hadn't done a postgraduate course. We asked questions like, 'What was the last exhibition you saw? Who's your favourite artist? What book are you reading at the moment?' And if they didn't have the answers, then obviously I thought they're not going to be the right people. If people aren't willing to educate themselves, what would be the point of them being here?"
It's the one little flash of Emin's more acerbic side. But the atmosphere is very happy. The artist Lindsey Mendick, who rents one of the studios, makes me hold a fake arm bone as we look over the multicoloured skulls and maggots that have emerged from her kiln.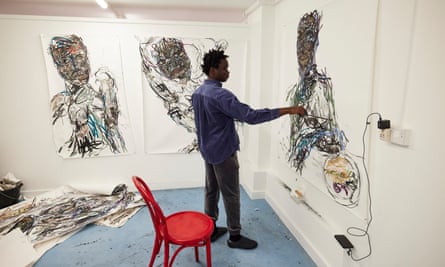 "Lindsey and the other artists, we all get on really well," says Emin. "But they're all so much younger than me. You know, sometimes I have to go, 'Fucking hell, no, I'm not doing karaoke.'"
Emin's institution is her idea of an artist community. Reeling off Margate's glorious artistic past, she points out that, as well as Turner painting the sea here and Sickert teaching local art classes, Van Gogh walked through when he was a teacher in nearby Ramsgate. Emin's Studios and Residencies are her answer to Van Gogh's creative commune, The Yellow House – an ideal of shared artistic living.
"It's a beautiful way to live and I want to have a beautiful life. And this is so lovely: come here, talk to artists, look at art. Go home, see my cats, paint my pictures. Go to the sea, go for a swim in the ice cold water, come back, dry myself, walk here, look at somebody's pictures, talk to them about what they're doing."
But what makes Emin's art school different? While TEAR teaches all kinds of art, it places the portrayal of the human figure at the heart of what art is. The corridors are covered with nude drawings the pupils made at the school's first life class. Emin believes passionately in drawing a naked model. She's already led her first life class here, and shows me the sensual drawings she did in it.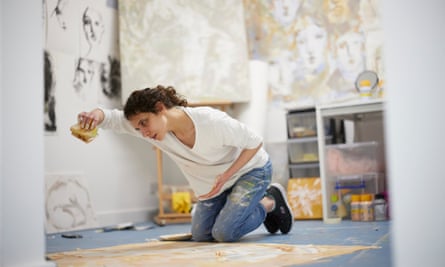 "There are 20 of us all doing life drawing in the big room upstairs. We had people who just make film or sculpture who were a little bit grumpy about it at first, but then once they got going they were like, 'Wow, I haven't done this for 10 years'. It was really lovely and the model was brilliant. It's about confidence with drawing. It's like swimming – once you get going, you can really enjoy it: you enjoy looking, you enjoy seeing, and you enjoy slowing down because you're seeing in a different way. And then after that drawing class, you see everything differently."
At her own studio a short walk away, Emin has been painting some truly stonking nudes. Her latest paintings are almost mural-scale. I flail to find the words to describe a grand nude whose flesh is subtly coloured in a soft pinky-white.
"The tits are really good," says Emin.
Seeing how strong her new work is – more energetic than ever, despite her physical challenges – makes me wonder why she wants to teach. Why take on the responsibility of nurturing young artists when she could be in her studio working on her masterpieces?
"Before the cancer I was really unhappy" she says. "I didn't have anything to lose, did I? So it had to get better. It couldn't get worse. One good thing that cancer does: when you get through the other side you really appreciate life. You see the whole world differently, and it's a kind of gift. It sounds corny but it is like being born again really, because you go 'Whoa, that was dark.'"
After trying the high life with the one per cent, she is finally finding happiness in sharing ordinary stuff. "Like when I bought this furniture, it was so much fun. So much pleasure from just getting an old three-piece suite.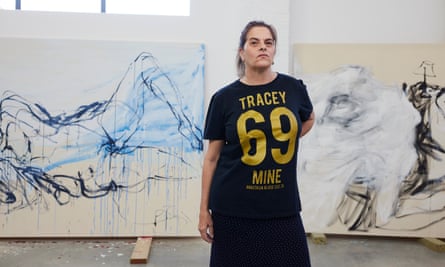 "Most people in life don't have a choice, they haven't had it all, they don't know what it's like to prance around in the south of France with a Rolex on. Well I've done it all, I could do it a million times over, but that isn't what makes me happy. It isn't and it never will be."
The truth, I realise, is that Emin's altruism and generosity are feeding her creativity. It's a wonderful reversal of the cliche that great artists have to be selfish. Turner put his mum in Bedlam. Van Gogh's Yellow House ended with him and Gauguin at daggers drawn. But the more she puts into Margate, the more it gives her back.
"It's really lovely," she concludes. "I'm going to get old with this. It's so much more positive than thinking I'm going to get old and miserable and lonely on my own. I'm not! I'm not! I'm not!"
Arts in the Garden brings a visual feast to the North Shore – North Shore News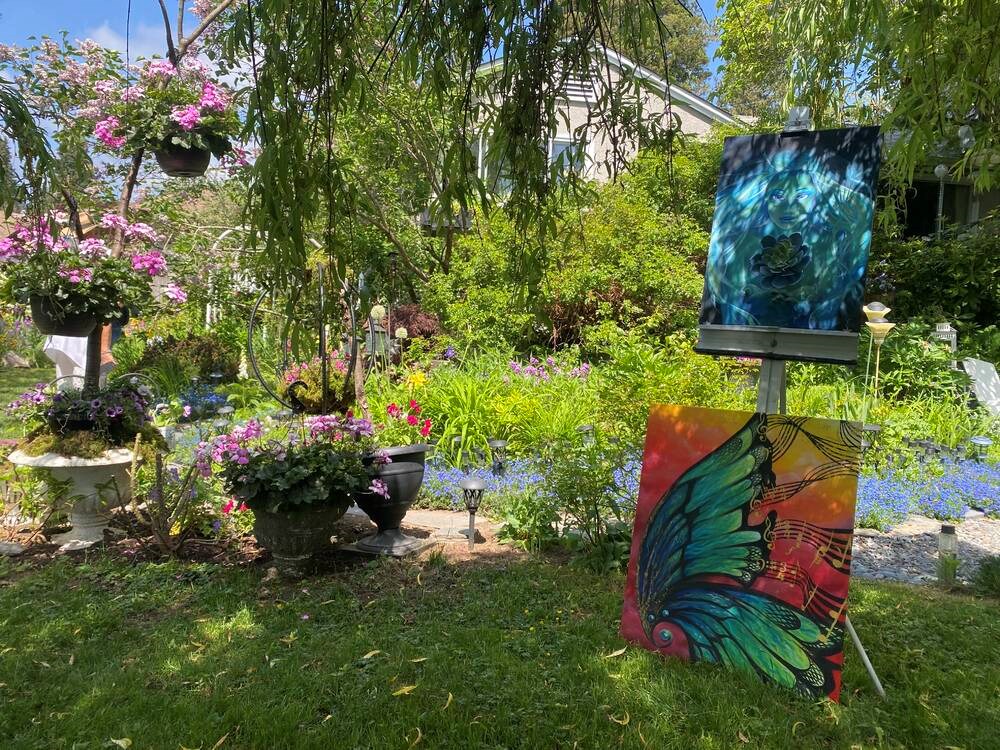 Ask any creative what qualifies as art and they will tell you that art is multifaceted, spanning everything from music and performance to paintings, sculpture, sketch and – to some especially green-thumbed creatives – a meticulously curated garden.
This weekend gardens across the North Shore celebrated all things aesthetically pleasing for Arts in the Garden, a community event that fuses all facets of artistic creation by putting together visual artists, musicians and live performers in the same space.
The annual event, presented by North Van Arts, comprised 13 blooming gardens that traversed themes from 'engaging' – a garden with thought-provoking artwork and an active garden with bubbling ponds – to 'connected' – another filled with interconnected, meandering trails and musicians who sang on the on the healing power of trees.
"This natural environment lends itself so well to art. Galleries are very restrictive, you're in a very sterile environment, but this inspires creativity, more authentic conversation," said Garrett Andrew Chong, a photographer whose images had poked out from flourishing flower beds in a garden on West Vancouver's Marine Drive.
For the artists participating, the event gave them the opportunity to get out of the stuffy confines of gallery and workspace, and allowed their wares to be viewed and appreciated by a wider audience.
"This is a really, really nice opportunity, this is a very different demographic to where I live, a much different crowd, and it means I can showcase all the different things that I work on," said artist Emily Picard, an artist from the Sunshine Coast.
Like many of the artists participating, Picard's creations complemented the space it inhabited. The eclectic nature of her work – Picard's mediums span acrylic paint, spray paint, watercolour and marker pens – slotted in seamlessly to a garden that was anything but minimalistic.
Aptly categorised under "Ethereal" the North Vancouver garden, number 7 on the tour, had been like a scene from Alice's Wonderland, complete with chandeliers hanging from the trees – 75 in total – birdcages protruding from flower beds and crystal dinnerware scattered large silvered tables.
Gardener Susan Bath, who has spent 27 years putting the outdoor scene together, said she hopes her mystical greenspace will inspire creativity within all who enter, and will encourage them to embrace whimsy in all its forms.
"I hope this shows that you don't necessarily have to hire a professional, or be a professional, to create in this way. You don't need a landscape artist, you don't need money or a large garden, you just need time and a sense of playfulness," she said, adding how most pieces had been gifted, bought from charity stores, or picked up from the side of the road.
While some gardens transported guests to Lewis Carroll lands, others set the scene for education. At Garden number 9, dubbed 'Energized', the LifeSpace Gardens hosted fellow green thumbs and offered tips and information on urban farming and vegetable growing.
At "Harmony", garden number 4 on West Vancouver's Whonoak Road, a fourteen year old food forest on Sḵwx̱wú7mesh Úxwumixw (Squamish Nation) land invited guests to learn about Indigenous plants and healing.
"This is an educational space, where people can come and pick different things that they need from our community, anytime of the year," said Senaqwila Wyss, the garden's host, adding how the garden is open to all who want to learn.
Wyss said the event provided the opportunity for guests to learn the names of herbs and plants in the Sḵwx̱wú7mesh Sníchim (Squamish language), to learn of Indigenous foods themselves – like the Indigenous wild potato wapato that has been making a comeback in local soil – and to immerse themselves in Squamish culture. Within the garden, musician Rennie Nahanee had delivered song and Squamish storytelling, talking of Elders and canoe experiences.
Whether hosting Indigenous storytelling or abstract art, each garden, said Tary Majidi, artist and host of Marine Drive's offering, should provoke some sort of response from guests. It should inspire them to create or to engage, to connect with other people more or to just appreciate the smaller, more natural, everyday things in life.
"We could all do with getting off the internet, off social media, and going back to art and going back to the natural world, enjoying nature or clay or paint," she said.
"If there is one thing that people should take away from this event, it's that art can heal and that should not be overlooked," she said.
Mina Kerr-Lazenby is the North Shore News' Indigenous and civic affairs reporter. This reporting beat is made possible by the Local Journalism Initiative.
MKerrLazenby@nsnews.com
twitter.com/MinaKerrLazenby
Bigger Art in the Park returns this weekend – BlackburnNews.com
Bigger Art in the Park returns this weekend
'Art in the Park Rain or Shine' part of the new marketing campaign for the 38th annual festival, April 28, 2016. (Photo by Maureen Revait)

May 29, 2023 10:13am
Organizers say this weekend's Art in the Park will be the biggest ever.
Last year's event in Windsor's Willistead Park broke attendance records. About 40,000 people came through the gate, and sales surpassed years in the past. Event Chair Allan Kidd said one vendor had to drive home for more inventory when they sold out.
More than 250 vendors from Ontario and Quebec registered for this year's festival. Another 20 food vendors signed up, including local beer, wine, and spirits makers.
A complimentary bike valet is new this year. Those who go will find it at the Chilver Road entrance.
Kids Zone is back with four giant inflatables, face painting, and the chance to meet some of their favourite characters.
A free shuttle service will carry festival-goers to Willistead Park from 1591 Kildare Road and the Hiram Walker parking lot on Riverside Drive at Montreuil Avenue.
Admission is $8 at the gate, but guests can buy a ticket online for $7. There is no charge for children aged 12 and under.
Art in the Park has raised $1.3-million for the Rotary Club of Windsor 1918's restoration efforts at Willistead Manor and $2-million for local and global projects.
"Much of our community doesn't know that Art in the Park is a fundraising event. The people who attend help us raise the funds to build schools, drill wells, and deliver books, medicine and wheelchairs at home and around the world," said Kidd.
Art in the Park on Saturday is from 10 a.m. to 7 p.m. and Sunday from 10 a.m. to 5 p.m.
The Art Collection of David Bowie: An Introduction – Open Culture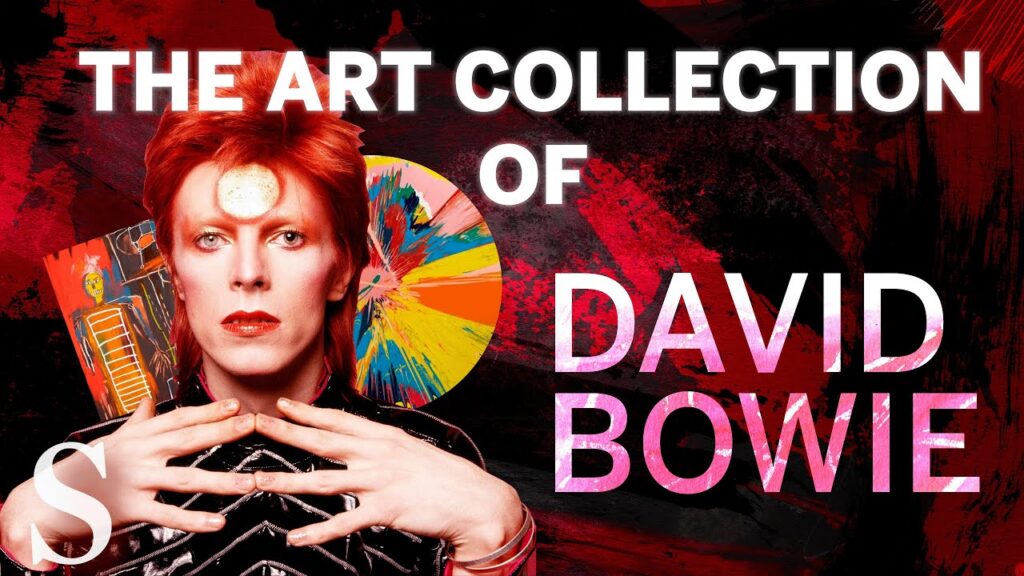 Today, it hardly surprises us when a successful, wealthy, and influential rock star has a large art collection. But David Bowie, ahead of the culture even at the outset of his career, began accruing art well before success, wealth, or influence. He put out his debut album when he was twenty years old, in 1967, and didn't hesitate to create a "rock star" lifestyle as soon as possible thereafter. As the world now knows, however, rock stardom meant something different to Bowie than it did to the average mansion-hopping, hotel room-trashing Concorde habitué. When he bought art, he did so not primarily as a financial investment, nor as a bid for high-society respectability, but as a way of constructing his personal aesthetic and intellectual reality.
Bowie kept that project going until the end, and it was only in 2016, the year he died, that the public got to see just what his art collection included. The occasion was Bowie/Collector, a three-part auction at Sotheby's, who also produced the new video above. It examines Bowie's collection through five of its works that were particularly important to the man himself, beginning with Head of Gerda Boehm by Frank Auerbach, about which he often said — according to his art buyer and curator Beth Greenacre — "I want to sound like that painting looks." Then comes Portrait of a Man by Erich Heckel, whose paintings inspired the recordings of Bowie's acclaimed "Berlin period": Low, "Heroes," Lodger, and even Iggy Pop's The Idiot, which Bowie produced.
As we've previously featured here on Open Culture, Bowie also loved furniture, none more so than the work of the Italian design collective known as Memphis. This video highlights his red Valentine typewriter, a pre-Memphis 1969 creation of the group's co-founder Ettore Sottsass. "I typed up many of my lyrics on that," Bowie once said. "The pure gorgeousness of it made me type." Much later, he and Brian Eno were looking for ideas for the album that would become Outside, a journey that took them to the Gugging Institute, a Vienna psychiatric hospital that encouraged its patients to create art. He ended up purchasing several pieces by one patient in particular, a former prisoner of war named Johann Fischer, enchanted by "the sense of exploration and the lack of self-judgment" in those and other works of "outsider" art.
The video ends with a mask titled Alexandra by Beninese artist Romuald Hazoum, whom Bowie encountered on a trip to Johannesburg with his wife Iman. Like many of the artists whose work Bowie bought, Hazoumè is now quite well known, but wasn't when Bowie first took an interest in him. Made of found objects such as what looks like a telephone handset and a vinyl record, Alexandra is one of a series of works that "play on expectations and stereotypes of African art, and are now highly sought after." Bowieologists can hardly fail to note that the piece also shares its name with the daughter Bowie and Iman would bring into the world a few years later. That could, of course, be just a coincidence, but as Bowie's collection suggests, his life and his art — the art he acquired as well as the art he made — were one and the same.
Related content:

Behold the Paintings of David Bowie: Neo-Expressionist Self Portraits, Illustrations of Iggy Pop, and Much More
96 Drawings of David Bowie by the "World's Best Comic Artists": Michel Gondry, Kate Beaton & More
Bowie's Bookshelf: A New Essay Collection on The 100 Books That Changed David Bowie's Life
How Aladdin Sane Became the Most Expensive Album Cover Ever — and David Bowie's Defining Image
"David Bowie Is" — The First Major Exhibit Dedicated to Bowie Spans 50 Years & Features 300 Great Objects
Meet the Memphis Group, the Bob Dylan-Inspired Designers of David Bowie's Favorite Furniture
Based in Seoul, Colin Marshall writes and broadcasts on cities, language, and culture. His projects include the Substack newsletter Books on Cities, the book The Stateless City: a Walk through 21st-Century Los Angeles and the video series The City in Cinema. Follow him on Twitter at @colinmarshall or on Facebook.