Beniers of US among top 2021 NHL Draft prospects to watch at WJC – NHL.com
Matthew Beniers of the United States National Junior Team will be one of several draft-eligible players looking to play a key role for his country at the 2021 IIHF World Junior Championship.
"[Beniers] is an accelerated player for sure; his motor is always going," United States general manager John Vanbiesbrouck said. "I think that he can play center and can play the wing and when you're that usable, you're going to play a lot of minutes. I think that he really cares about every detail of the game, and he's going to be a high draft pick in 2021. Most importantly, he really fits this tournament well because it's a speed tournament and he's got a lot of speed to his game."
[RELATED: Group A preview | Group B preview | United States all-time WJC starting lineup]
The 18-year-old, an A-rated skater on NHL Central Scouting's preliminary players to watch list for the 2021 NHL Draft, has scored six points (three goals, three assists) in eight games as a freshman at the University of Michigan this season. In 2019-20, Beniers (6-foot-1, 174 pounds) scored 41 points (18 goals, 23 assists), including seven power-play goals, in 44 games for the USA Hockey National Team Development Program Under-18 team.
"I'm trying to get better at finishing my chances and my shot, but I think a lot of my game has remained the same (since last season) with the way I think the game, the way I move, the way I can create space, and win battles," Beniers said. "I'm just trying to keep that on track."
Beniers is expected to play a top-six role at 5-on-5 and also receive time on the penalty kill during the tournament.
"He's got a really good work ethic and can also win battles," United States coach Nate Leaman said. "He can get to pucks, but he makes the guys around him better and that's a pretty good attribute. I just think he's got the ability to drive a line, and that's what we're going to need from him."
The United States will play in Group B along with Russia, Sweden, the Czech Republic and Austria. Canada, which won the tournament in 2020, will play in Group A along with Finland, Switzerland, Slovakia and Germany.
The top four teams in each group will play in the quarterfinals on Jan. 2. The semifinals are Jan. 4, and the championship and third-place game is scheduled to be held on Jan. 5. Games will be broadcast in the United States on NHL Network.
Here are eight other draft-eligible players to keep an eye on in the 2021 WJC (players listed alphabetically):
Daniil Chayka, D, Russia
Chayka (6-3, 187) scored 34 points (11 goals, 23 assists) in 56 games for Guelph of the Ontario Hockey League last season. The 18-year-old, who is an A-rated skater and could be selected in the first round of the 2021 draft, is currently on loan with CSKA Moscow in the Kontinental Hockey League.
"He's a very smooth-skating defenseman with excellent mobility," said Joey Tenute of NHL Central Scouting. "He's extremely calm and poised with the puck and is a puck-moving defenseman who pushes the pace of play up ice. His size gives him excellent range to defend and his long reach and stick on puck makes him hard to beat."
Taylor Gauthier, G, Canada
Gauthier, who was passed over in the NHL Draft the past two seasons, is hoping an impressive performance at the 2021 WJC will earn him a look in his final year of draft eligibility. The 19-year-old (6-1, 193) was 16-26-7 with a 2.93 goals-against average and .917 save percentage in 50 games for Prince George of the Western Hockey League last season and had a 1.11 GAA and .943 save percentage in two games to help Canada finish first at the 2019 Hlinka Gretzky Cup.
"Gauthier is very quick and athletic," said Al Jensen of NHL Central Scouting. "He's a very durable goaltender that keeps getting better. He's quick in recovery and capable of making that big save. He has really good upside."
Samuel Helenius, F, Finland
The 18-year-old has scored eight points (five goals, three assists) while averaging 13:26 of ice time in 18 games as a rookie for JYP in Liiga, Finland's top professional league. Helenius (6-6, 201), a B-rated skater, is a potential second- or third-round draft pick.
"He's a surprisingly mobile center with great size, excellent reach and a good set of tools, including skating, passing, shooting," said NHL director of European Scouting Goran Stubb. "He uses his size well, inside the rules."
Kirill Kirsanov, D, Russia
Kirsanov (6-1, 194), a left-shot defenseman, has no points in 14 games with SKA St. Petersburg in the KHL this season. The 18-year-old, a C-rated skater and potential late-round selection, had 13 points (four goals, nine assist) in 40 games with SKA-1946 St. Petersburg in Russia's minor hockey league in 2019-20.
"Kirsanov is solid all-round defenseman," Stubb said. "He's not flashy, but a player with a lot of hockey in him. (He has) a good reach and understanding of the game, he works hard for his team, and is strong."
Nick Malik, G, Czech Republic
Malik (6-0, 180), who was not selected in the 2020 NHL Draft, will get the first start in the tournament for the Czech Republic over Jan Bednar (Detroit Red Wings) and Lukas Parik (Los Angeles Kings). The C rated goalie on NHL Central Scouting's preliminary players to watch list, who plays for Sault Ste. Marie of the Ontario Hockey League, played in one game for seventh-place Czech Republic at the 2020 WJC. His father, defenseman Marek Malik, played in 691 NHL games for the Hartford Whalers, Carolina Hurricanes, New York Rangers, Vancouver Canucks and Tampa Bay Lightning.
"Malik has great instincts; he's quick and athletic," Jensen said. "He also handles the puck very well and has great balance. He's a very good skater who gets around his crease well."
Oskar Olausson, F, Sweden
Olausson (6-1, 177) has scored four points (three goals, one assist) for HV71 in the Swedish Hockey League this season. The 18-year-old, a B-rated skater, will begin the tournament in a third- or fourth-line role and contribute either on the power play or penalty kill.
"He has good size, a good shot and speed in his offensive game and could be a force creating off the rush and on the power play," Sweden coaching advisor Tomas Monten said. "I like Oskar. He's a humble kid. I would like him to play with more of an edge, be a force."
Stanislav Svozil, D, Czech Republic
Svozil (6-1, 172), who turns 18 on Jan. 17, is a B-rated skater heading into the WJC. He doesn't have a point in 10 games for Brno in the Czech Extraliga, and he had one assist in one game while on loan with Prerov in Czech Republic's minor league.
"He's gained a lot of experience playing with or against older players in the Czech and is one of the best defensemen of his age group in the world," Stubb said. "He's a potential top-15 pick. He's got excellent vision, skating, mobility and also is an excellent playmaker and passer."
Jesper Wallstedt, G, Sweden
Wallstedt, an A-rated player, could become the first Sweden-born goaltender to be selected in the first round of the NHL Draft. The 18-year-old is 6-3-0 with a 2.06 GAA, .920 save percentage and one shutout in nine games for Lulea of the Swedish Hockey League.
"He's got good size, excellent net coverage, plays with confidence, and was the difference-maker in many games 2019-20," Stubb said. "He reads the game well, has very good quickness and plays an athletic style. He's considered one of the best goalie prospects from Sweden in the last five or six years."
Blue Jays Rumors: Infielder Marcus Semien signs with Toronto – Bluebird Banter
According to ESPN's Jeff Passan and confirmed by the San Francisco Chronicle's Susan Slussler, and others, free agent shortstop Marcus Semien has signed a one-year, $18 million contract with the Toronto Blue Jays.
Infielder Marcus Semien is in agreement with the Toronto Blue Jays on a one-year, $18 million contract, a source familiar with the deal tells ESPN.

— Jeff Passan (@JeffPassan) January 26, 2021
Semien, 29, was drafted by the White Sox in the 6th round of the 2011 amateur draft and made his major league debut with Chicago in September 2013. After the 2014 season he was shipped to the Oakland Athletics in the Jeff Samardzija deal. While he mostly played at third base for the White Sox, Semien has been the A's starting shortstop. He finished third in the AL MVP race in 2019, batting .285/.369/.522 with 33 homers and 92 RBI and playing in every single game. He doesn't just bring an average-to-compelling bat—Semien was also named as a "finalist" for the 2019 Gold Glove award for American League shortstops.
His numbers in the shortened 2020 season were more in line with his career numbers, but the optimist in me believes that the numbers from later in the season is closer to who he is now than his numbers he put up during his slow start last year. If Semien thinks it's worth betting on himself in signing this one-year deal, I think it's worth betting on him.
According to both TSN's Scott Mitchell and retired infielder Carlos Baerga, the Jays expect to station Semien at second base, which may just be what they are saying now while they give Vladimir Guerrero Jr. another try at the hot corner at spring training. This move does not necessarily affect Biggio's place in the lineup, as he can rotate around the diamond to spell other players.
Although the one-year deal obviously means that the Semien would qualify for free agency after this season, the Blue Jays can opt to extend a qualifying offer to him as the Athletics failed to do so before his declaration of free agency this offseason.
Before this signing can become official, Semien will need to pass a physical and the Blue Jays will need to open up a spot on the 40-man roster.
No players elected to Baseball Hall of Fame for first time since 2013 – Sportsnet.ca
NEW YORK — The baseball Hall of Fame won't have any new players in the class of 2021 after voters decided no one had the merits — on-the-field or off — for enshrinement in Cooperstown on this year's ballot.
Curt Schilling, Barry Bonds and Roger Clemens were among the closest in voting by members of the Baseball Writers' Association of America released Tuesday, and the trio will have one more chance at election next year. It's the first time the BBWAA didn't choose anyone since 2013.
Schilling, a right-handed ace who won three World Series titles, finished 16 votes short of the 75% threshold necessary for enshrinement. He got 71.1% per cent this time after coming up 20 votes shy at 70% last year.
Schilling's on-field accomplishments face little dispute, but Schilling has ostracized himself in retirement by directing hateful remarks toward Muslims, transgender people, journalists and others.
"It's all right, the game doesn't owe me anything," Schilling said during a live video stream on his Twitter account.
Bonds (61.8 joined Schilling in falling short on their ninth tries on the ballot. Both face strong PED suspicions, but Bonds has also been accused of domestic violence and Clemens of maintaining a decade-long relationship with a singer who was 15 when they met.
Schilling, Clemens and Bonds will be joined on next year's ballot by sluggers Alex Rodriguez and David Ortiz. Rodriguez was suspended for all of the 2014 season for violating MLB's PED policy and collective bargaining agreement, and Ortiz's name allegedly appeared on a list of players who tested positive in 2003.
Omar Vizquel, an 11-time Gold Glove winner, dropped from 52.6% last year to 49.1% after his wife accused him of repeated domestic abuses in December. Braves star Andruw Jones, arrested in 2012 on a domestic violence charge, got 33.9% in his fourth year. Rockies slugger Todd Helton, who pleaded guilty to driving under the influence and was sentenced to two days in jail last year, got 44.9% in his third time on the ballot.
Some players missed out over old-fashioned baseball disagreements, too. Slick-fielding third baseman Scott Rolen moved from 35.3% to 52.9% and hard-throwing closer Billy Wagner from 31.7% to 46.4%.
It's the 19th time the BBWAA has failed to elect a Hall member and just the third time since 1971. With the Hall of Fame's Era Committees postponing their scheduled elections until next off-season because of the pandemic, there won't be a 2021 Hall class.
Cooperstown won't be without celebration next summer, though. After the 2020 ceremony in the upstate New York village was cancelled due to the pandemic, Yankees great Derek Jeter and five-tool star Larry Walker will take centre stage on July 25, a year later than planned. They'll be honoured alongside catcher Ted Simmons and late players' association chief Marvin Miller.
BBWAA members are instructed to elect Hall members "based upon the player's record, playing ability, integrity, sportsmanship, character, and contributions to the team(s) on which the player played."
At a time when social justice movements are pushing for a broader reckoning on sexual misconduct and racial inequality, character evaluation took on an outsized role in this election cycle. While the Hall's inductees already include racists, cheaters, philanderers and criminals, the current voting bloc has — narrowly, in many cases — taken a stand against candidates they think have insufficient integrity.
Schilling — a six-time All-Star over 20 seasons with Baltimore, Houston, Philadelphia, Arizona and Boston — has been embroiled in controversy throughout his retirement.
He launched a video game company, 38 Studios, that went bankrupt shortly after receiving a $75 million loan guarantee from Rhode Island, then was fired as an ESPN analyst after he sent tweets comparing Muslim extremists to Nazi-era Germans and posted derogatory Facebook comments about transgender people.
Months later, Schilling was again criticized after using social media to applaud a T-shirt calling for journalists to be lynched.
On Jan. 6, the day of the attack on the U.S. Capitol, he said the following in a message on his Twitter account:
"You cowards sat on your hands, did nothing while liberal trash looted rioted and burned for air Jordan's and big screens, sit back …. and watch folks start a confrontation for (expletive) that matters like rights, democracy and the end of govt corruption."
That tweet was sent a few days after Hall of Fame ballots were due.
Bonds' ex-wife testified in 1995 during divorce proceedings that he beat and kicked her. Bonds said he never physically abused her but once kicked her after she kicked him.
In 2008, the New York Daily News reported that Clemens had a decade-long relationship with country singer Mindy McCready that began when she was 15 and he was a star for the Boston Red Sox. Clemens apologized for unspecified mistakes in his personal life and denied having an affair with a 15-year-old. McCready later told "Inside Edition" she met Clemens when she was 16 and that the relationship didn't turn sexual until several years later.
The BBWAA recently voted overwhelmingly to remove the name and imprint of former Commissioner Kenesaw Mountain Landis from MVP plaques. Landis became commissioner in 1920, and there were no Black players in the majors during his more than two decades in charge.
Further down the ballot, outfielder Gary Sheffield jumped from 30.5% to 40.6% on his seventh time on the ballot and Jeff Kent improved from 27.5% to 32.4 narrowly surpassed the 5 and Mark Buehrle (11%) in their initial turns.
Aramis Ramirez, LaTroy Hawkins and Barry Zito drew votes but were eliminated from future consideration.
The 2022 ballot also will include Phillies stars Jimmy Rollins and Ryan Howard, switch-hitting slugger Mark Teixeira and two-time Cy Young Award winner Tim Lincecum.
Hinchcliffe inks full-time ride with Andretti – TSN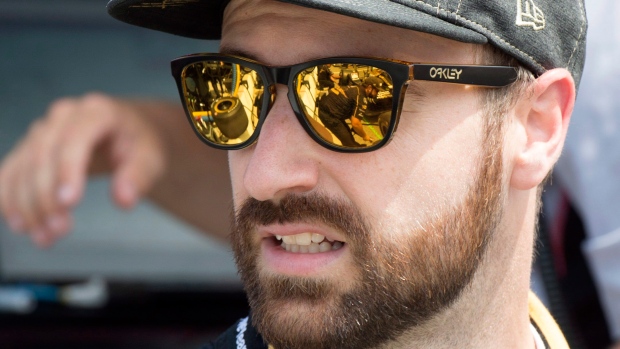 Canada's James Hinchcliffe will return as a full-time driver on the IndyCar circuit in 2021.
Andretti Autosport announced Tuesday that Hinchcliffe will drive the No. 29 Honda this season.
The 34-year-old Hinchcliffe, from Oakville, Ont., lost his full-time ride with Arrow McLaren SP after the 2019 season.
The Canadian competed in six races last year on a part-time deal with Andretti Autosport.
Hinchcliffe will be sponsored by Genesys for 10 race in 2021, including the Indianapolis 500. Remaining partnerships for Hinchcliffe's 2021 season will be announced in the coming weeks, Andretti Autosport says.
The 2021 campaign will mark Hinchcliffe's 11th year in IndyCar. He has won six races in his career.
"This program is something we've been working on since the day we signed our three-race deal with Andretti Autosport last March," Hinchcliffe said in a statement. "Being back full time has always been the goal, and it feels so great to know that I will be back on the grid and with such an amazing team, one I've had a lot of great memories and success with."
Hinchcliffe will be one of four drivers on the team this year, joining Colton Herta, Alexander Rossi and Ryan Hunter-Reay.
"We're really excited to have Hinch back in the car for 2021 and thrilled to welcome Genesys again to the Andretti family, this year in an expanded role," Andretti Autosport chairman and CEO Michael Andretti said in a statement.
Hinchcliffe will be one of two Canadian full-time drivers on the IndyCar circuit. Dalton Kellett of Stouffville, Ont., is preparing for his second season with A.J. Foyt Racing.
The first IndyCar race is scheduled for April 18 in Birmingham, Ala.
The Honda Indy Toronto, the lone Canadian race, is scheduled for July 11. It was cancelled last year because of the COVID-19 pandemic.
This report by The Canadian Press was first published Jan. 26, 2021.