Beware these Vancouver Craigslist deals that play on coronavirus panic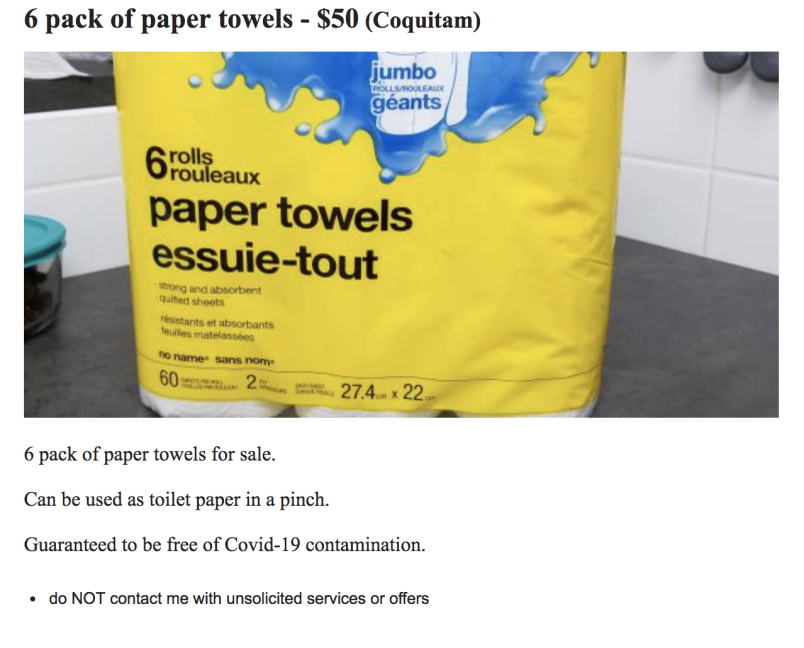 Vancouver Craigslist : As people across Metro Vancouver prepare for the potential of community
transmission of COVID-19
, some have taken to preying on the fears of a pending pandemic.
And nowhere have those fears taken a more absurd turn than on Craigslist.
In one post Tuesday, March 3, a Coquitlam seller posted a photo of a store-brand six-pack of paper towels, claiming it "can be used as toilet paper in a pinch" and saying it is "guaranteed to be free of Covid-19 contamination."
The price: $50. 
In an email to The Tri-City News, the man who posted the ad said it was "just a joke" and that some people contacted him, with one of the asking if "the paper was made out of gold."
"Of course, if someone offered me even half of what I'm asking for, I would take it," he added.
Others have weaved the story of stalled factories in China as a marketing tool to sell products.
Someone in Port Coquitlam has listed five outboard engines ranging from $1,495 to $7,730, each with a not about how COVID-19 has made them a limited item.
"The factory has been closed since January due to the COVID-19 virus and no more motors will be available for Canada this season," wrote the seller in a post. "When these are gone, that's it until the fall."
N95 face masks have popped up on the Vancouver Craigslist site more than any other product related to the COVID-19 virus. The masks gets its name from the 95% of particles it filters out that are greater than 0.3 microns.
N95 masks are said to protect against the virus but health officials do not recommend them for healthy individuals, instead suggesting they be reserved for health care professionals or people who are sick and want to prevent the spread of the virus.
But while some people attempt to prey on peoples' fears, others have taken to the classifieds website to post warnings of unscrupulous sellers and provide detailed information on what to look out for.
"I am a health care worker in Vancouver buying masks on CL," begins one poster, referring to Craigslist, who goes on to inform people that someone had sold them N95 masks with the expiration date removed, and that the masks were more than 15 years old.
"My coworker also met another who had fake expiration stickers. They made them with a 'price tag' roll gun," reads the post. "DO NOT PURCHASE any masks they do not come in original packaging or are missing the expiration date."
Canadian public offcials and health agencies have also taken to online platforms in an attempt to allay public fear and the panic buying that has left some Metro Vancouver grocery store shelves bare.
In a chain of Tweets Tuesday, March 4, Canada's chief public health officer, Dr. Theresa Tam, reiterated a list of precautions individuals can take to sensibly prepare for a global pandemic, including gradually filling up your cupboard every time you shop with a few extra non-perishable, easy-to-prepare foods like dry pasta, canned soup and beans.
1/7 As cases of #COVID19 increase, it is important for each of us to be prepared for all possible scenarios. You can do your part to protect yourself and others. A few tips to get prepared in this thread:

— Dr. Theresa Tam (@CPHO_Canada) March 4, 2020
A "supervolcano" in Italy last erupted in 1538. Experts warn it's "nearly to the breaking point" again. – CBS News
A long-dormant "supervolcano" in southern Italy is inching closer to a possible eruption — nearly six centuries after it last erupted, according to European researchers.
The Campi Flegrei volcano, which is located near the city of Naples, has become weaker over time and as a result is more prone to rupturing, according to a peer-reviewed study conducted by researchers from England's University College London and Italy's National Research Institute for Geophysics and Volcanology.
The study used a model of volcano fracturing to interpret the patterns of earthquakes and ground uplift. There have been tens of thousands of earthquakes around the volcano, and the town of Pozzuoli, which rests on top of Campi Flegrei, has been lifted by about 13 feet as a result of them. The quakes and rising earth have stretched parts of the volcano "nearly to the breaking point," according to a news release about the study, and the ground seems to be breaking, rather than bending.
The earthquakes are caused by the movement of fluids beneath the surface, the news release said. It's not clear what those fluids are, but researchers said they may be molten rock, magma or natural volcanic gas.
The earthquakes have taken place during the volcano's active periods. While it last erupted in 1538, it has been "restless" for decades, with spikes of unrest occurring in the 1950s, 1970s and 1980s. There has been "a slower phase of unrest" in the past 10 years, researchers said, but 600 earthquakes were recorded in April, setting a new monthly record.
According to LiveScience, Campi Flegrei is often referred to as a "supervolcano," which can produce eruptions reaching a category 8 — the highest level on the Volcano Explosivity Index. However, Campi Flegrei's biggest-ever eruption technically ranked as a category 7, which is still considered a very large and disastrous eruption, LiveScience reported.
While Campi Flegrei — which means "burning fields" — may be closer to rupture, there is no guarantee that this will actually result in an eruption, the study concluded.
"The rupture may open a crack through the crust, but the magma still needs to be pushing up at the right location for an eruption to occur," said Professor Christopher Kilburn, who studies earth sciences at University College London and was the lead author of the study.
Kilburn said that this is the first time the model has been applied to a volcano in real-time. Since first using the model in 2017, the volcano has behaved as predicted, Kilburn said, so researchers plan to expand the use of the model to look at other volcanoes that reawakened after long periods of dormancy. The goal is to establish more reliable criteria to decide if an eruption is likely and establish a model that can be applied to multiple volcanoes.
"The study is the first of its kind to forecast rupture at an active volcano. It marks a step change in our goal to improve forecasts of eruptions worldwide," Kilburn said.
Mountains 3 To 4 Times Higher Than Mount Everest Found Deep Inside Earth: Scientists – NDTV


<!–
–>
The deep Earth contains mountains with peaks three to four times higher than Mount Everest, scientists have found. According to the BBC, a team of experts from Arizona State University used seismology centres in Antarctica and found these astonishingly huge mountains in the boundary between the core and mantle, around 2,900 kilometres deep inside our planet.
"The mountain-like structures they revealed are utterly mysterious," the BBC report read. Scientists explained that these underground mountain ranges – dubbed ultra-low velocity zones or ULVZs – had managed to escape the experts' gaze all these years until earthquakes and atomic explosions generated enough seismic data to be spotted by them.
Scientists believe that these huge mountain ranges are over 24 miles (38 kilometres) in height, while Mount Everest is around 5.5 miles (8.8 kilometres) from the surface. "Analysing 1000's of seismic recordings from Antarctica, our high-definition imaging method found thin anomalous zones of material at the CMB [core-mantle boundary] everywhere we probed," Arizona State University geophysicist Edward Garnero said in a statement.
"The material's thickness varies from a few kilometres to 10's of kilometres. This suggests we are seeing mountains on the core, in some places up to 5 times taller than Mt. Everest," he added.
Also Read | Stephen Hawking's Famous Theory Could Mean That Entire Universe Is Doomed To Evaporate: Study
Further, as per the report, experts explained the possible reason behind the formation of these mysterious mountain peaks. They believe that these ancient formations were created when oceanic crusts were formed into Earth's interior. They also argue that it might have begun with tectonic plates slipping down into our planet's mantle and sinking to the core-mantle boundary. These then slowly spread out to form an assortment of structures, leaving a trail of both mountains and blobs. This would, therefore, mean that these mysterious mountains are made of ancient oceanic crust, which is a combination of basalt rock and sediments from the ocean floor.
Now, with this recent discovery, scientists are seeking to argue that these underground mountains may play a critical role in how heat escapes the Earth's core. "Seismic investigations, such as ours, provide the highest resolution imaging of the interior structure of our planet, and we are finding that this structure is vastly more complicated than once thought," study co-author and University of Alabama geoscientist Samantha Hansen said in a statement.
"Our research provides important connections between shallow and deep Earth structure and the overall processes driving our planet," she added.
Campi Flegrei volcano edges closer to possible eruption
The Campi Flegrei volcano in southern Italy has become weaker and more prone to rupturing, making an eruption more likely, according to a new study by researchers at UCL (University College London) and Italy's National Research Institute for Geophysics and Volcanology (INGV).
The volcano, which last erupted in 1538, has been restless for more than 70 years, with two-year spikes of unrest in the 1950s, 1970s and 1980s, and a slower phase of unrest over the last decade. Tens of thousands of small earthquakes have occurred during these periods and the coastal town of Pozzuoli has been lifted by nearly 4 m (13 ft), roughly the height of a double-decker bus.
The new study, published in the journal Communications Earth & Environment, used a model of volcano fracturing, developed at UCL, to interpret the patterns of earthquakes and ground uplift, and concluded that parts of the volcano had been stretched nearly to breaking point.
Lead author Professor Christopher Kilburn (UCL Earth Sciences) said, "Our new study confirms that Campi Flegrei is moving closer to rupture. However, this does not mean an eruption is guaranteed. The rupture may open a crack through the crust, but the magma still needs to be pushing up at the right location for an eruption to occur."
"This is the first time we have applied our model, which is based on the physics of how rocks break, in real-time to any volcano."
"Our first use of the model was in 2017 and since then Campi Flegrei has behaved as we predicted, with an increasing number of small earthquakes indicating pressure from below."
"We will now have to adjust our procedures for estimating the chances of new routes being opened for magma or gas to reach the surface."
"The study is the first of its kind to forecast rupture at an active volcano. It marks a step change in our goal to improve forecasts of eruptions worldwide."
Dr. Nicola Alessandro Pino from the Vesuvius Observatory, which represents the INGV in Naples, said, "Our results show that parts of the volcano are becoming weaker. This means that it might break even though the stresses pulling it apart are smaller than they were during the last crisis 40 years ago."
Campi Flegrei is the closest active volcano to London. It is not an obvious volcano because, instead of growing into a traditional mountain, it has the shape of a gentle depression 12-14 km (7.5-8.5 miles) across (and thus is known as a caldera). This explains why 360,000 people now live on its roof.
For the past decade, the ground below Pozzuoli has been creeping upwards at about 10 cm (4 in) a year. Persistent small earthquakes have also been registered for the first time since the mid-1980s. More than 600 were recorded in April, the largest monthly number so far.
The disturbance has been caused by the movement of fluids about 3 km (2 miles) beneath the surface. Some of the fluids may be molten rock, or magma, and some may be natural volcanic gas. The latest phase of unrest appears likely to be caused by magmatic gas that is seeping into gaps in the rock, filling the 3 km-thick crust like a sponge.
The earthquakes occur when faults (cracks) slip due to the stretching of the crust. The pattern of earthquakes from 2020 suggests the rock is responding in an inelastic way, by breaking rather than bending.
Dr. Stefania Danesi from INGV Bologna said, "We cannot see what is happening underground. Instead we have to decipher the clues the volcano gives us, such as earthquakes and uplift of the ground."
In their paper, the team explained that the effect of the unrest since the 1950s is cumulative, meaning an eventual eruption could be preceded by relatively weak signals such as a smaller rate of ground uplift and fewer earthquakes. This was the case for the eruption of the Rabaul caldera in Papua New Guinea in 1994, which was preceded by small earthquakes occurring at a tenth of the rate than had occurred during a crisis a decade earlier.
Campi Flegrei's current tensile strength (the maximum stress a material can bear before breaking when it is stretched) is likely to be about a third of what it was in 1984, the researchers said.
The team emphasized that an eruption was not inevitable. Dr. Stefano Carlino from the Vesuvius Observatory explained, "It's the same for all volcanoes that have been quiet for generations. Campi Flegrei may settle into a new routine of gently rising and subsiding, as seen at similar volcanoes around the world, or simply return to rest. We can't yet say for sure what will happen. The important point is to be prepared for all outcomes."
Professor Kilburn and colleagues will now apply the UCL model of volcano fracturing to other volcanoes that have reawakened after a long period of time, seeking to establish more reliable criteria for deciding if an eruption is likely. Currently, eruptions are forecast using statistical data unique to each volcano, rather than drawing on fundamental principles that can be applied to multiple volcanoes.
More information:
Potential for rupture before eruption at Campi Flegrei caldera, Southern Italy, Communications Earth & Environment (2023). DOI: 10.1038/s43247-023-00842-1
Citation:
Campi Flegrei volcano edges closer to possible eruption (2023, June 9)
retrieved 9 June 2023
from https://phys.org/news/2023-06-campi-flegrei-volcano-edges-closer.html
This document is subject to copyright. Apart from any fair dealing for the purpose of private study or research, no
part may be reproduced without the written permission. The content is provided for information purposes only.