Biden Fills Yellen-Led Economy Team, Risks Clash on Budget Chief – BNN
President-elect Joe Biden rolled out the first set of nominations for his economic team on Monday, formally announcing his selection of Janet Yellen to be Treasury secretary, Neera Tanden to lead the Office of Management and Budget and Cecilia Rouse to head the Council of Economic Advisers.
Biden also announced his intent to nominate Adewale Adeyemo, a former senior adviser at BlackRock Inc., to be deputy Treasury secretary. Adeyemo is a Nigerian-born attorney and president of the Obama Foundation.
"As we get to work to control the virus, this is the team that will deliver immediate economic relief for the American people during this economic crisis and help us build our economy back better than ever," Biden said in a statement.
If confirmed, the nominations of Yellen, Tanden and Rouse would be the first time the top three Senate-confirmed economic positions went to women. Tanden's nomination already appeared to be in trouble with Senate Republican aides expressing opposition on Sunday even before it was formally announced.
Biden has also tapped two economic advisers from his presidential campaign, Jared Bernstein and Heather Boushey, to be members of the CEA.
Biden did not announce his pick for a key White House economic post, director of the National Economic Council. But Brian Deese, another BlackRock executive who served in the Obama administration, is likely to be offered the job, people familiar with the matter said.
Drew Brandewie, an aide to Texas Republican Senator John Cornyn, said on Twitter that Tanden "stands zero chance of being confirmed."
Another aide said Republicans in the Senate would certainly block Tanden, who's viewed as too progressive even though she's also had squabbles with some on the left.
The choices show Biden turning to experienced Washington hands as he begins building his economic team, with an eye toward racial and gender diversity.
The group of six nominees includes three women, two African Americans and an Indian American as Biden seeks to put women and minorities in jobs historically held by White men.
He received some criticism from Representative Jim Clyburn, the most senior Black lawmaker in Congress, who is credited with helping Biden with the South Carolina primary, a win that sped his progress toward the nomination.
In an interview with Juan Williams for his column in The Hill newspaper, Clyburn indicated he was disappointed the president-elect had named just "one Black woman so far" to a senior position — Linda Thomas-Greenfield as United Nations ambassador.
"I want to see where the process leads to, what it produces," Clyburn added. "But so far it's not good."
Tanden, an Indian-American who currently leads the liberal think tank Center for American Progress, worked on the Obama administration's health-care reform and was a close adviser to Hillary Clinton.
Rouse also worked in the Obama administration as a member of the CEA and is currently dean of Princeton University's School of Public and International Affairs. If confirmed, she would be the first African American to chair the CEA.
Adeyemo would bring international economic experience to the Biden team, complementing Yellen's more domestic focus over the course of her academic and government career. Adeyemo was deputy chief of staff to Jack Lew when he was Treasury secretary and was the first chief of staff of the Consumer Financial Protection Bureau under Elizabeth Warren.
Bernstein and Boushey are well liked by progressives. Boushey, who runs the Washington Center for Equitable Growth, has advocated for paid parental leave and raising the minimum wage. Bernstein was Biden's chief economic adviser in the White House during President Barack Obama's first term.
Biden's team will inherit a U.S. economy rocked this year by the coronavirus pandemic, and will have to try to sustain its revival. There's already signs of increasing fragility as virus infection rates increase and states begin to lock down businesses again. That threatens the nascent recovery of the labor market, with jobless claims ticking up and payroll gains forecast to slow further in November.
–With assistance from Katia Dmitrieva, Catarina Saraiva and Erik Wasson.
Canadian retail sales jump in November, but December looks gloomier
By David Ljunggren
OTTAWA (Reuters) – Canadian retail sales jumped by much more than expected in November, but preliminary figures for December suggest a sharp drop as novel coronavirus restrictions were re-imposed, Statistics Canada said on Friday.
Food and drink sales rose by 5.9% and helped push overall retail trade up by 1.3%, its seventh consecutive monthly gain and significantly greater than the 0.1% increase predicted by analysts in a Reuters poll.
Most retail businesses were open in November but as the second wave of the coronavirus spread, many provinces imposed clamp downs. Statscan said December retail sales looked set to drop by 2.6% but stressed this was a preliminary estimate.
"The expected tumble in December retail sales following the pop in November conforms to the Bank of Canada's outlook, which sees weakness at the turn of the year," said Ryan Brecht, a senior economist at Action Economics.
The Bank of Canada forecast on Wednesday that the economy would shrink in the first quarter of 2021 due to the impact of temporary business closures.
Shortly after the data were released the Canadian dollar was trading 0.5% lower at 1.27 to the greenback, or 78.74 U.S. cents, with the currency giving back some of this week's gains as oil and global shares fell.
Statscan is due to issue November GDP data on Jan. 29 and Royce Mendes, a senior economist at CIBC Capital Markets, said the agency's flash estimate of 0.4% growth still seemed reasonable. The estimate was released on Dec. 23.
Overall November sales were up in 7 of 11 sub-sectors, representing 53.4% of retail trade, while in volume terms, retail sales rose 1.2%.
(Reporting by David Ljunggren in Ottawa and Fergal Smith in Toronto; Editing by Ken Ferris)
Biden's rescue plan will give U.S. economy significant boost: Reuters poll – TheChronicleHerald.ca
By Indradip Ghosh and Richa Rebello
BENGALURU (Reuters) – U.S. President Joe Biden's proposed fiscal package will boost the coronavirus-hit economy significantly, according to a majority of economists in a Reuters poll, and they expect it to return to its pre-COVID-19 size within a year.
Biden has outlined a $1.9 trillion stimulus package proposal to jump-start the world's largest economy, which has been at the epicenter of the COVID-19 pandemic having lost over 400,000 lives, fueling optimism and sending Wall Street stocks to record highs on Thursday.
Hopes for an upswing in U.S. economic growth, helped by the huge stimulus plan, was reflected in the Jan. 19-22 Reuters poll of more 100 economists.
In response to an additional question, over 90%, or 42 of 46 economists, said the planned fiscal stimulus would boost the economy significantly.
"There are crosswinds to begin 2021 as fiscal stimulus helps to offset the virus and targeted lockdowns. The vaccine rollout will neutralize the latter over the course of the year," said Michelle Meyer, U.S. economist at Bank of America Securities.
"And upside risks to our…growth forecast are building if the Democrat-controlled government can pass additional stimulus. The high level of virus cases is extremely disheartening but the more that the virus weighs on growth, the more likely that stimulus will be passed."
For a Reuters poll graphic on the U.S. economic outlook:
https://fingfx.thomsonreuters.com/gfx/polling/oakveynqovr/Reuters%20Poll%20-%20U.S.%20economy%20outlook.png
The U.S. economy, which recovered at an annualized pace of 33.4% in the third quarter last year from a record slump of 31.4% in the second, grew 4.4% in the final three months of the year, the poll suggested.
Growth was expected to slow to 2.3% in the current quarter – marking the weakest prediction for the period since a poll in February 2020 – amid renewed restrictions.
But it was then expected to accelerate to 4.3%, 5.1%, 4.0% in the subsequent three quarters, a solid upgrade from 3.8%, 3.9% and 3.4% predicted for those periods last month.
On an annual basis, the economy – after likely contracting 3.5% last year – was expected to grow 4.0% this year and 3.3% in 2022, an upgrade from last month.
For a graphic on Reuters Poll – U.S. economy and Fed monetary policy – January 2021:
https://fingfx.thomsonreuters.com/gfx/polling/azgpoljbkvd/U.S.%20economy.PNG
Nearly 90%, or 49 of 56 economists, who expressed a view said that the U.S. economy would reach its pre-COVID-19 levels within a year, including 16 who expected it to do so within six months.
"Even without the stimulus package, we had already thought the economy would get back to pre-COVID levels by the middle of this year," said Jacob Oubina, senior U.S. economist at RBC Capital Markets.
"With the new stimulus package there will be more direct money in people's pockets, easily boosting the economy, provided a vaccine rollout progresses in a constructive manner."
But unemployment was not predicted to fall below its pre-pandemic levels of around 3.5% until 2024 at least.
When asked what was more likely for inflation this year, only one said it would ease. The other 40 economists were almost evenly split between "a significant pickup" and price pressures remaining "about the same as last year."
Still, the core Personal Consumption Expenditures (PCE) price index – the Federal Reserve's preferred inflation gauge – was forecast to average below the target of 2% on an annual basis until 2024 at least, prompting the central bank to keep interest rates unchanged near zero over the forecast horizon.
"I don't think it will be an increase in underlying (inflation) trend, it is sort of a rebound in prices that have been depressed during the pandemic," said Scott Brown, chief economist at Raymond James.
(For other stories from the Reuters global long-term economic outlook polls package:)
(Reporting by Indradip Ghosh and Richa Rebello; Additional reporting by Manjul Paul; Polling by Mumal Rathore; Editing by Rahul Karunakar and Hugh Lawson)
The U.S. economy likely grew 4.1% at the end of 2020, but GDP seen masking weakness in some sectors – MarketWatch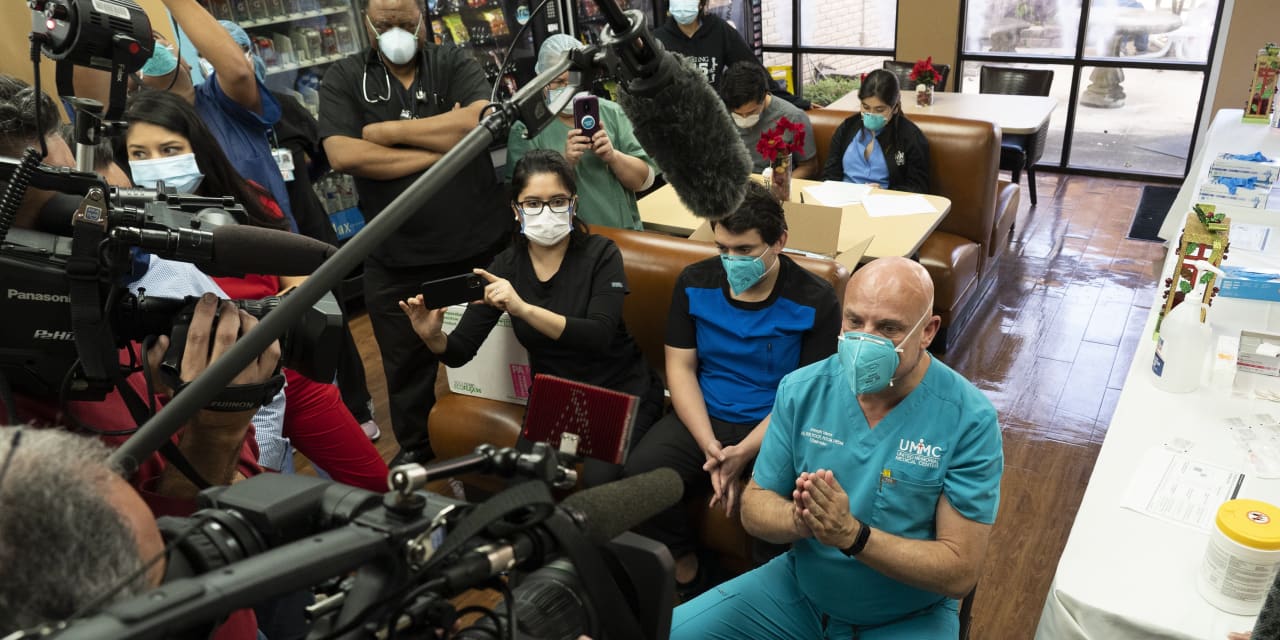 The U.S. economy may have grown about 4% in the final three months of 2020, a great showing even in the best of times.
These are not the best of times.
The economy still has lots of ground to make up, for one thing, after the deepest recession on record. And growth slackened off toward the end of 2020 after the coronavirus pandemic roared back and caseloads reached a record high, pointing to a loss of momentum in the economy early in the near year.
Read: The U.S. lost 140,000 jobs in December. How bad was it?
The U.S. fourth-quarter report on gross domestic product, due on Thursday, will still offer a useful diagnosis of the economy. It will tell us which parts have mostly recovered and which are still ailing.
Wall Street
DJIA,
-0.57%
economists polled by the Dow Jones/The Wall Street Journal predict a 4.1% increase in fourth-quarter GDP on an annualized basis. While that would mark a steep drop from the 33.4% increase in the third quarter, it still shows the economy forging ahead even as the coronavirus pandemic spiked again.
The details are unlikely to look quite as good.
The biggest component of the U.S. economy, consumer spending, almost certainly softened to mediocre 3% growth or less. Most government aid for the economy had faded away by the start of the quarter and businesses facing new government restrictions laid off more workers at the end of the year.
Business investment in structures such as oil rigs or office buildings was also weak.
Other drags on the economy included lower state and local spending and a bigger international trade deficit.
The economy got some sizzle from a surprising boom in the housing market. Low mortgages rates and people seeking more space outside the cities have lifted sales of previously existing homes to a 14-year high.
Businesses also started to rebuild their inventories — goods for future sale, that is — after letting them draw down early in the pandemic. That's a good sign for 2021 since it suggests companies are expecting stronger sales.
Indeed, a pair of surveys of business executives in January suggest companies are banking on a better 2021, mostly because of rollout of coronavirus vaccines.
How soon the vaccinations levels are high enough to really help the economy, however, is still an open question.
Read: Fauci says two more COVID-19 vaccines could be approved within 'weeks'
"We only expect vaccination rates to be high enough to accelerate the economic recovery from mid-2021 onward," said Cailin Birch, global economist at The Economist Intelligence Unit.
The promise of more federal financial aid from the Biden White House is also adding to the optimism, but the stimulus could take awhile to reach households and businesses. It's also unclear how much aid Congress will approve.
What could also help the economy after a rocky start in the new year is rising consumer confidence. Americans historically spend more when they are confident and push the economy to greater heights.
A pair of surveys this coming week, consumer confidence and consumer sentiment, will give another glimpse into whether the hopes inspired by the vaccines are outweighing the angst caused by the record number of coronavirus cases.