Biden heads for Congress clash over how to fix COVID-era economy – BNN
President-elect Joe Biden's big-spending blueprint for a U.S. economy still battling the pandemic is set to meet pushback from Congress, where his party failed to win sweeping control.
Biden is poised to enter office in January after campaigning for trillions of dollars in additional fiscal stimulus to battle the economic fallout from COVID-19. There are still 10 million fewer jobs than in February and the economy is about 3.5 per cent smaller than before the crisis.
He's vowed to extend enhanced unemployment benefits, which could provide an immediate boost to demand from those most likely to spend. He also wants to invest in infrastructure, green energy and childcare, which he argues will increase hiring and help economic growth in the long term, too.
But Biden's agenda risks running into immediate skepticism from the new Congress, where control may hinge on runoff elections in Georgia. Lawmakers on the right could seek to stall or limit the scope of Biden's plans just as they did when he was vice president under President Barack Obama, likely balking at running up debt even further and raising taxes on companies.
"Presidents inherit economies, and President-elect Biden's inheriting one that's in trouble," said Ryan Sweet, head of monetary policy research at Moody's Analytics. "You have a very high unemployment rate, there's still slack in the labor market. It's going to take time to heal."
Moody's forecasts that there won't be additional stimulus from Congress until after Biden is inaugurated, he said. Bloomberg Economics said the combination of a Biden win and divided Congress could mean direct fiscal support of US$500 billion to US$750 billion at most, meaning growth of three per cent in 2021, rather than the 3.5 per cent possible with US$1 trillion of aid.
The biggest threat to the recovery, though, isn't one that Biden can easily control through fiscal policy. It's containing the virus as U.S. cases climb to new daily highs and countries including France, Germany and England resume lockdowns.
Biden has said he's willing to shut down parts of the economy as warranted to stop the spread, which would risk depressing growth. But he also supports more funding to reopen schools safely, which would free up parents for work.
To fund Biden's proposals, the administration would be adding to the national debt while taking advantage of historically low interest rates. Biden spent decades in government warning about the dangers of budget deficits. But as president he'll take over one of the biggest in U.S. history, and has signaled he's in no rush to pare it back.
Biden has proposed raising corporate taxes to 28 per cent from 21 per cent, increasing income taxes for those earning more than US$400,000 and taxing capital-gains earnings the same as regular income for top earners. A split Congress, though, would create high hurdles to such moves.
The campaign has outlined a US$3.5 trillion economic program to fund his key goals:
Shift millions of jobs into clean energy, with the goal of cutting carbon emissions.
Boost manufacturing through incentives to buy American goods and support for high-tech research.
Expand the availability of care for the youngest and oldest Americans, including universal preschool for three- and four-year-olds.
He's also promised to address inequalities through his plan, saying he would provide aid for minority small-businesses owners. He's voiced support for a US$15 federal minimum hourly wage, equal gender pay and expanded sick leave.
Biden's White House team of economic advisers could include economists Jared Bernstein, Heather Boushey and Ben Harris, who have helped craft his economic platform during the campaign. They've argued that more fiscal stimulus is needed, and have done research and work on policies to fight economic inequality.
Overall, the economy has bounced back faster than expected as restaurants, stores and businesses reopened. But activity remains depressed and the rebound has been uneven — leaving lower-wage workers, women and people of color to bear the brunt of it.
Congress's stimulus packages earlier this year propelled retail spending above pre-virus levels and Federal Reserve policies fueled a surge in home buying.
While some more aid may still be possible in coming months, Congress has already been deadlocked on the issue and a very large stimulus appears less likely after the election results.
That could put the onus on Fed Chair Jerome Powell and his colleagues to consider further ways of easing after cutting interest rates to near zero. Powell on Thursday opened the door to a possible shift in the central bank's bond purchases in coming months, saying that more fiscal and monetary support are needed as rising Covid-19 infections cloud the outlook.
The S&P 500 Index of stocks fluctuated in recent weeks with rising virus cases, uncertainty around further aid for the economy and the election. It reached new highs amid the pandemic, bolstered by stimulus and Fed policy.
Internationally, Biden's approach to trade will likely be less heated than Trump's.
It's unclear whether his administration will leave in place billions of dollars in tariffs enacted against Chinese imports. His campaign said he would seek to build a multilateral case for Beijing to change its practices from trade to human rights while his predecessor tended to act alone.
Biden is keen to reset trade relations with allies such as the European Union after Trump's duties and hard-line stance disrupted supply chains and increased costs for many U.S. businesses.
On immigration, Biden has signaled his administration would roll back visa restrictions, arguing that sectors of the economy rely on contributions from newcomers. Powell has told lawmakers that immigration is a "key input" to the size of the labor force and to higher rates of growth.
–With assistance from Jennifer Epstein, Magan Crane, Laura Davison, Reade Pickert and Ben Holland.
Canadians to get say on how to grow Blue ocean economy – SaltWire Network
Canadians will be asked their opinions as the federal government begins crafting its strategy to develop a blue economy.
Fisheries and Oceans Minister Bernadette Jordan says the online consultation process will begin in the new year to open up the discussion to provinces, territories, Indigenous peoples and others. More details on the process will come soon, she said.
That was just one of the details revealed Thursday, Dec. 3, in a virtual panel discussion hosted by the Ocean Frontier Institute (OFI), following up on the announcement of the previous day of Canada's commitment with 13 other nations to sustainably manage 100 per cent of its oceans.
The OFI-hosted virtual panel discussion — Charting a Course for a Sustainable Blue Economy — focused on Canada's opportunities for sustainable growth of the "blue" economy.
Panelists included OFI's CEO and science director Dr. Anya Waite, OFI's strategic engagement officer Catherine Blewett and Karin Kemper, global director for environment, natural resources and blue economy global practice with the World Bank, as well as Jordan.
244,000 miles worth of management
---
WHAT'S A BLUE ECONOMY?
The blue economy is described as an economy driven by sustainable, ocean resources and accounts for about $31.65 billion annually in GDP. It is the source of almost 300,000 Canadian jobs with direct, indirect and induced benefits in sectors as diverse as fisheries and aquaculture, marine transportation, ocean energy and technology, recreation and tourism.
WHAT IS PROBLUE?
This is a multi-donor trust fund that "supports the sustainable and integrated development of marine and coastal resources in healthy oceans." PROBLUE has four pillars: fisheries and aquaculture, marine pollution, oceanic sectors, and seascape management. To date, PROBLUE has received pledges of approximately US$110 million from Canada, Norway, Sweden, Denmark, Iceland, France and Germany.
---
There are many challenges ahead for those who aim to grow the blue economy. One is just the sheer expanse of the seas on planet earth.
Waite noted if the world's ocean were measured as a country, it would be the seventh largest in the world.
And among the world's nations, Canada governs a massive marine environment — three oceans and a coastline of about 244,000 kilometres.
Those marine areas are crucial, not just to national economies, but to the global environment.
The Labrador Sea, for instance, on Canada's East Coast, is referred to as "the Earth's lungs."
The seawater in that space absorbs carbon and heat; it's a natural filter that helps regulate global climate.
"The Labrador Sea is a bigger carbon sink than the Amazon rain forest," said Waite. "The ocean is our climate."
Protecting the ocean environment will be a significant task.
The ocean economy
Finding balance between environmental protection and economic needs will be another.
Globally, said World Bank director Kemper, one in 10 livelihoods are dependent on fisheries, with women making up about half of the fish harvesting/processing workforce.
She said as Canada and the other nations move towards sustainable management, there may be some short-term tradeoffs, but "in the long term we have to focus on sustainability."
And as countries begin the process of recovering from COVID, she said, some short-term solutions could aid the long-term goal of the sustainable oceans commitment.
"Governments might want to do large infrastructure projects to create employment – putting money into people's pockets in the short term," she said, "and that could lead to things like cement seawalls to prevent coastal erosion, planting mangroves to rebuild swamps or doing recovery work on reefs."
There's no dispute that there's still much to learn about the ocean.
According to Jordan, the current Canadian government has done much work since 2015 to improve research and rebuild fish stocks.
For example, she said, funding was recently increased to expand knowledge of caplin, the fish that feeds other fish, in the Newfoundland and Labrador region.
"We are using the new funding to examine this data to determine how it can be used to establish reference points to advise resource managers," she told SaltWire.
Since 2018 she noted, the federal government has completed rebuilding plans for six of 19 selected fish stocks.
More than fishing
The blue economy is not only the fishing industry.
"Our ocean industries account for nearly $32 billion annually in GDP and 300,000 jobs across fishing, aquaculture, energy, ocean technology, shipping, tourism and other industries."
And the goal of ocean sustainability is a global one, with a challenge for progressive nations to help underdeveloped countries in sustainable ocean management.
That's why Canada is also committing to help other nations craft their own sustainable oceans plans through the World Bank's PROBLUE fund.
Thursday Jordan announced Canada will invest another $4 million to that fund, for a total commitment of $69 million, making this country the top donor to the fund so far.
You can watch the full panel discussion here:
[embedded content]
---
Transforming the ocean economy; the principles
The following principles are outlined in the report "Transformation for a Sustainable Ocean Economy", a vision document created by Canada and the 13 other nations that have committed to enacting sustainable management of 100 percent their oceans by 2025.
• Alignment: Ocean protection and production must align with the UN Framework Convention on Climate Change and the Paris Agreement, the Convention on Biological Diversity, and the Polluter Pays Principle as set out in the Rio Declaration. Actions must be aligned across ocean-based and land-based activities and ecosystems.
• Inclusiveness: Human rights, gender equality, community and Indigenous Peoples' participation, through their free, prior and informed consent, must be respected and protected.
• Knowledge: Ocean management must be informed by the best available science and knowledge, including indigenous and local knowledge, and aided by innovation and technology.
• Legality: The UN Convention on the Law of the Sea is the legal basis for all ocean activities, and existing international ocean commitments must be implemented as a foundation for achieving a sustainable ocean economy.
• Precaution: Where there are threats of serious or irreversible damage, lack of full scientific certainty shall not be used as a reason for postponing cost-effective measures to prevent environmental degradation.
• Protection: A healthy ocean underpins a sustainable ocean economy. A net gain approach must be applied to ocean uses in order to help sustain or restore the health of the ocean.
• Resilience: The resilience of the ocean and ocean economy must be enhanced.
• Solidarity: The need for access to finance, technology and capacity building for developing countries, especially Small Island Developing States and Least Developed Countries, must be recognised, taking into account their particular circumstances and vulnerabilities.
• Sustainability: The production and harvesting of ocean resources must be sustainable and support resilient ecosystems and future productivity.
Click here for more about the Ocean Frontier Institute visit.
RELATED:
Brazil's economy grew 7.7% in Q3, but slower than expected – 570 News
RIO DE JANEIRO — Brazil's economy grew 7.7% in the third quarter of the year from the previous three months, the national statistics institute reported on Thursday — the strongest quarterly result in a quarter century but less than expected following heavy stimulus spending.
It is the fastest quarterly growth since the series began in 1996 and confirmed the Brazilian economy's exit from technical recession, characterized by two consecutive quarters of contraction. But activity hasn't yet returned to the level seen prior to the coronavirus pandemic.
Brazil's Economy Ministry had projected growth of 8.3% for the period, according to a bulletin relased on Nov. 17.
The expansion during July through September coincided with the payment of emergency assistance funds to more than 60 million people to mitigate the impact of the pandemic, and also with the reopening of activities in most states, where quarantine measures were relaxed.
"The data is disappointing due to the enormous fiscal stimulus that the government used for the economy to recover," Emerson Marçal, head of the Center for Applied Macroeconomics of the Getulio Vargas Foundation in São Paulo, told The Associated Press by phone.
The emergency payment, about $10 monthly in the third quarter, helped boost retail sales and contributed to the recovery of industrial production, Marçal said. The end of the aid, tentatively scheduled for December, and the possibility of new restrictions on activity due to the surge of coronavirus cases may further compromise the speed of recovery, he added.
Brazil has confirmed more than 6.4 million coronavirus infections, with 174,000 deaths. In recent weeks, infections have risen in big cities like Sao Paulo and Rio de Janeiro. President Jair Bolsonaro has consistently argued that the economic impact of lockdowns and other measures during the pandemic would be more damaging to Brazil than COVID-19 itself.
Brazilian banks estimate a 4.5% drop in Brazilian GDP for 2020, a smaller decline than is expected in the region's other major economies. The International Monetary Fund projects a contraction of 8.1% for the Latin American and Caribbean region, with Brazil least affected by the crisis.
Marcelo Silva De Sousa, The Associated Press
Feds' fall economic statement shortchanges climate – Corporate Knights Magazine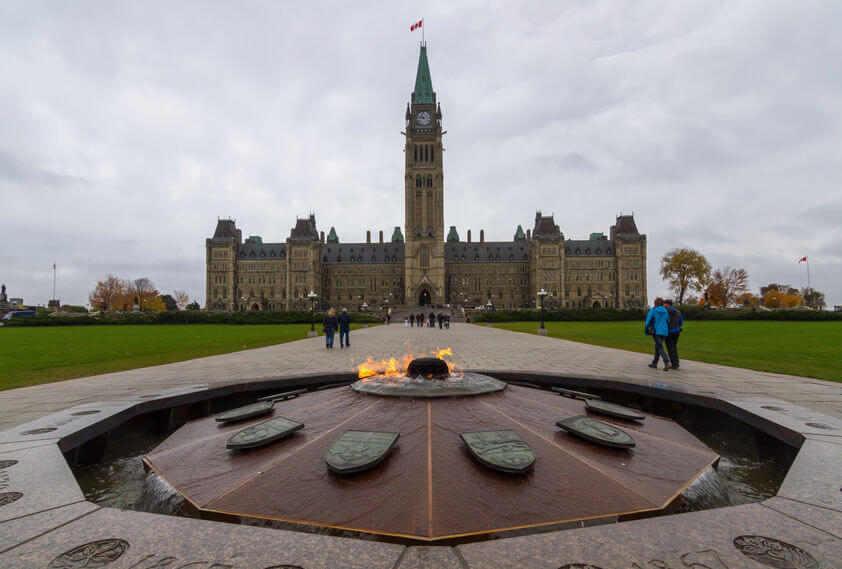 Canadians are going to have to wait until the next Liberal budget to get a full sense of the government's commitment to a green recovery, though Ottawa has unveiled some key parts of the plan this fall.
Finance Minister Chrystia Freeland made a down payment on clean-energy stimulus in her fall economic statement on November 30, but the $6.64-billion package of new measures over 10 years was far smaller than some clean-energy advocates had called for.
Corporate Knights calculates that the funding announced for a climate-focused recovery plan represents only 20% of the federal investment needed to meet the government's own commitment to reduce greenhouse gas emissions.
In the government's first major financial update since the COVID-19 pandemic shut down the economy last March, Freeland maintained a focus on support programs for individuals and businesses.
She promised a future budget with a more robust stimulus plan worth up to $100 billion over three years. It's uncertain how much of that will be allocated to climate-change mitigation, given competition from other post-pandemic priorities such as a national daycare program to boost women's participation in the workforce.
The federal green recovery plan, to date, falls well short of the commitments made by more ambitious national governments, including that promised by U.S. President-elect Joe Biden, who has pledged a US$2-trillion green recovery plan, subject to Congressional approval.
Numerous groups have urged the Liberal government to match the efforts of countries in Europe and East Asia that have announced major green stimulus plans, even as some of those nations remain in the grip of the pandemic.
As part of a green recovery plan endorsed by 50 business leaders, Corporate Knights proposed a 10-year, $108-billion program that would be front loaded to ensure that Canada can re-start the economy on a greener footing that it argues will be essential to tapping into global growth markets.
In a series of virtual roundtables hosted by Corporate Knights and the Embassy of Germany in Canada this fall, speakers pointed to opportunities in areas such as deep retrofits for buildings, the emerging hydrogen economy, and potential markets for non-combustible products from the oil sands that would trap carbon rather than emitting it into the atmosphere.
Corporate Knights publisher Toby Heaps described the Liberal plan as "meek," saying, "I think the government's response to the pandemic shows us what an emergency response looks like, and one cannot help but notice how different that looks from their response to the climate emergency."
In a report this fall, another group, the Task Force for a Resilient Recovery, urged the federal government to adopt a five-year, $55.4-billion plan that would allocate $27.4 billion to deep retrofits of buildings.
As of the fall update, the Liberal government has allocated $12.6 billion over 10 years to climate-related action, including $6 billion already allocated to the Canada Infrastructure Bank. That figure will climb when Freeland unleashes her stimulus budget, likely next spring. The budget, she said in her speech, "will advance our progress on climate action and promote a clean economy."
In the mini-budget released November 30, the minister allocated $6.64 billion in three key areas, though some of that money will be spent over 10 years: $2.6 billion over seven years for home retrofits; $150 million to install electric-vehicle charging stations; and $3.9 billion to plant two billion trees, preserve wetlands and boost sustainable agriculture.
The building-retrofit plan consists of $5,000 grants, which the government hopes will be used to improve the energy efficiency – and lower carbon emissions – of 700,000 homes. Freeland said the government will also fashion a plan for low-interest loans to support more expensive, deeper retrofits.
The grants alone will be insufficient to provide enough incentive for homeowners and landlords to make the deep retrofits needed to dramatically reduce greenhouse gas emissions from buildings, which account for 17% of the country's total, said Ralph Torrie, co-author of a Corporate Knights white paper called Building Back Better with a Green Renovation Wave.
"At a time when the urgent need is to stimulate the business and logistical innovations for implementing mass, deep retrofits, we get instead $5,000 grants for households to go it alone," Torrie said. "This will create lost opportunities by triggering halfway measures and upgrades that fall short of what is required for an effective emergency response to climate change."
The fall economic statement is only part of the government's plan, with other measures either recently announced or due to be released by the end of December.
Environment Minister Jonathan Wilkinson will soon be releasing an updated climate plan, while Natural Resources Minister Seamus O'Regan will release federal strategies on hydrogen and small modular reactors.
On the hydrogen market, the federal government lags several competitors who have already announced major strategies to be suppliers of "green" hydrogen, an emissions-free source that is derived from renewable power. Australia is fast-tracking a $36-billion hydrogen plan, while Germany and France are moving full steam ahead with plans to develop industrial uses for the clean-burning fuel.
Corporate Knights has proposed that Ottawa spend $1 billion on research and development efforts over the next five years and another $8 billion over the decade to deploy hydrogen technology across the Canadian economy.
Corporate Knights also recommended that the feds provide $1.4 billion in funding over five years to help the industry commercialize lightweight carbon-fibre production as part of a "bitumen beyond combustion" strategy, but the November 30 statement lacked any sign of a plan for shifting Canadian oil and gas economics.
How does Fall Economic Statement stack up against Corporate Knights' Building Back Better Green Recovery Plan?

| | Federal Contribution 2021-2030 | | |
| --- | --- | --- | --- |
| | CK BBB | FES BBB | % shortfall |
| Building Back Better Homes | 14656 | 2600 | 82 |
| Building Back Better Workplaces | 6000 | 2000 | 67 |
| Greening the Grid | 6700 | 2500 | 63 |
| Building Back Better EV Uptake | 11949 | 1650 | 86 |
| Building Back Better Active Mobility | 2000 | – | – |
| Building Forest Natural Capital | 16000 | 3791 | 76 |
| Building Agriculture Natural Capital | 6000 | 98 | 98 |
| Natural Resources and EV Innovation | 40500 | – | – |
| Building Back Better Industry | 4800 | – | – |
| Sum for all programs (2021-30) | 108605 | 12639 | TBD |

Sources: Fall Economic Statement 2020

Building Back Better with a Bold Green Recovery Synthesis Report
Earlier this fall, the Build Back Better Together roundtable heard compelling evidence that economic recovery strategies that aim to return to business as usual will reignite the growth in greenhouse gas emissions, as happened after the 2008/09 recession.
If governments want to ensure that they can fund the green recovery to avert the worst impacts of the climate crisis, they'll have to collaborate with private-sector financial institutions, another roundtable session heard.
While there is growing focus on the importance of harnessing capital markets to address climate change, government action remains critical, said Sean Kidney, CEO of the London-based Climate Bonds Initiative, an international non-governmental organization working to mobilize debt markets for climate solutions.
"It is not possible for private markets to do this. That is a total fallacy," Kidney said. "This is not something that is going to be solved by the private market. This is something that is going to be solved by close collaboration between public and private markets."
In her fall statement, Freeland announced support for a Sustainable Finance Action Council, which will begin work in the new year with the goal of "developing a well-functioning sustainable finance market in Canada." Pension funds and other investors have been urging corporations in Canada to provide greater clarity around climate-change-related risks and opportunities, and experts are urging governments to show leadership.
However, Canada still lags some of its peers in terms of financial commitment to a green recovery that will fund the transition to a net-zero economy.
The government estimated that its $100-billion stimulus package would be equivalent to 3 to 4% per cent of gross domestic product, but it is unclear how that figure was calculated. Spread over three years, the spending would represent more like 2% of GDP, and only a portion of that will go to green projects.
Many of Canada's trading peers, including Germany, France and the EU, have already earmarked 30% or more of post-pandemic stimulus for climate action.
In partnering with Corporate Knights on the Building Back Better Together virtual roundtable series this fall, German Ambassador Sabine Sparwasser said her government is committed to a strategy that focuses stimulus spending on building back better.
"We're not going to get out of the current crisis just by giving people social benefits," Sparwasser said during one session. "We need to invest in new technology in order to address the other crisis that is out there and is even bigger: climate change."
Shawn McCarthy writes on sustainable finance and climate for Corporate Knights. He is also senior counsel for Sussex Strategy Group.
With the support of the Embassy of the Federal Republic of Germany in Canada.