Blanchet will push for election if Trudeau, Morneau, Telford won't resign
Bloc Québécois Leader Yves-François Blanchet says he will try to trigger a fall election if the prime minister, his chief of staff and his finance minister don't resign.
Blanchet said the government is not "worthy" of the public's trust in the wake of the WE Charity controversy, which was sparked by Prime Minister Justin Trudeau and Finance Minister Bill Morneau failing to recuse themselves from cabinet talks involving the organization despite family ties to it.
While his preference is to see the trio step down, Blanchet said he's prepared to table a motion of non-confidence in the government if they remain in their jobs.
If that motion passed with the support of other parties, it would lead to an election campaign in the midst of a pandemic.
"Which is more dangerous — the mismanagement of a crisis, or taking the time to change the people who are managing the crisis?" Blanchet said during a news conference in Ottawa on Wednesday.
The BQ leader said he has not had any formal discussions with the NDP or the Conservatives on his plan. He said Elections Canada is preparing to hold a safe election in the event it is held during the pandemic.
Elections Canada preparing
Elections Canada has created an internal working group to do "readiness planning" in the event of an election during the pandemic. The group is looking at issues such as:
Possible physical distancing measures for polling stations and Elections Canada offices.
The capacity of the existing vote-by-mail system.
How to recruit, train and keep election workers safe.
Identifying alternative options for polling station locations that may become unavailable due to COVID-19.
"The working group will consider potential legal, administrative and operational changes in order to deliver an accessible and safe election," according to Elections Canada's website.
Normally, a fixed election date means an election is held every four years, but with a minority government, an election could occur at any time the House loses confidence in the government.
Put government 'out of its misery': O'Toole
Conservative MP and leadership candidate Erin O'Toole on Wednesday called the Liberal government "tired, scandal-plagued and ethically challenged" and said it needs "to be put out of its misery."
"Once I'm leader I'll be working with all the parties to see what we can do to get Canada back on track, and to show a lack of confidence. But I'm going to wait until the end of my race and take time to consult with my caucus before I do anything," he said during media scrums on Parliament Hill.
Foreign Affairs Minister François-Philippe Champagne said the Liberals will always be ready for an election when the time comes, but said health and safety is the top concern for Canadians right now.
"I'm not concerned about threats," he said.
NDP MP Charlie Angus accused Blanchet of throwing a "hissy fit" and said Canadians want the opposition parties to press the government to do what's best for Canadians.
"I want to get accountability from these guys. That's our focus right now," he said.
Blanchet's remarks come as the House of Commons holds a rare summer sitting to debate the government's response to COVID-19.
The finance committee on Wednesday continued its probe into the government's selection of WE Charity to manage a $900-million student volunteer grant program. Trudeau and others have maintained the public service had deemed the organization the only one qualified to run the large-scale initiative.
Employment Minister Carla Qualtrough and Small Business Minister Mary Ng both appeared at the committee on Wednesday, and said they were not clear on the details of the parties named in the WE contract.
That agreement was with a separate charitable entity within the WE organization, the WE Charity Foundation, which has no assets. The WE organization said this was done "to protect the pre-existing charitable assets of WE Charity from liabilities."
Qualtrough and Ng both said they were unaware of this fact when cabinet approved the contract.
"I, for example, know the contribution agreement was signed, I think it was June 23, did not know at that time who the actual legal entity that we were entering into an agreement for," Qualtrough said. "But I wouldn't. It wasn't my file."
Ng offered a similar answer.
"We had approved the recommendation put forward to cabinet and by my colleague-minister, and understood it would be WE Charity that would deliver this program," she said.
On Tuesday, Qualtrough testified at the House ethics committee, which is also studying the WE Charity issue, and conceded the government had "dropped the ball." She said she offered "no excuse or justification" for Trudeau and Morneau's roles in the resulting controversy.
Trudeau on Tuesday issued a statement saying he has full confidence in Morneau, saying any reports to the contrary are false. The statement was released amid speculation that the finance minister could depart the post.
Source: – CBC.ca
RBG's Death Is About To Upend Politics Again : Death Of Ruth Bader Ginsburg – NPR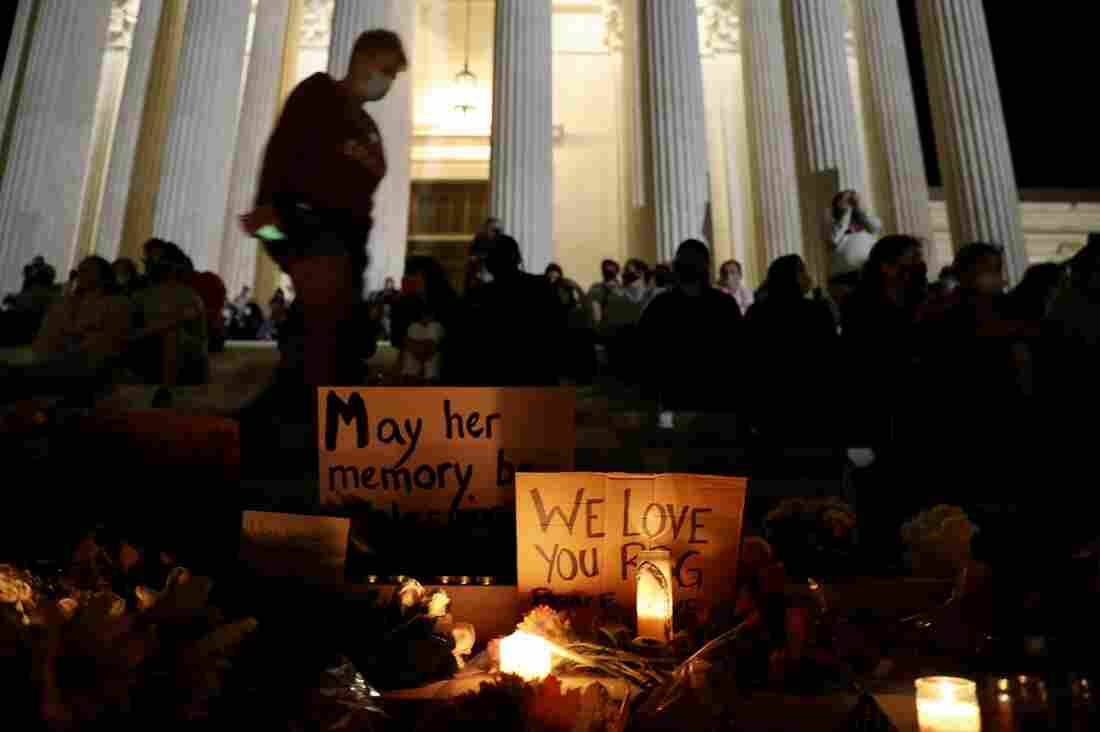 The death of Ruth Bader Ginsburg is a major cultural moment and has potential implications for the next generation of American society.
Just look at the images of people who crowded the Supreme Court's steps Friday night after news of her death broke.
The Supreme Court hasn't been this conservative in three-quarters of a century, and if President Trump nominates a replacement for her seat, and he or she is confirmed, it would move the court even further to the right and be difficult for liberals to take control of for a very long time.
Senate Majority Leader Mitch McConnell is vowing to bring a Trump nominee to the Senate floor for a vote — despite his denial of even a hearing for then-President Barack Obama's 2016 Supreme Court nominee, with far more time to go until the election.
It's unclear when that vote would take place — either before the election or during a lame-duck session. And it's not clear if Republicans would have the votes to pass a nominee. It would almost certainly be close.
It's also not clear how — or if — this reshapes the calculus in any way for the 2020 election. It could fire up the GOP base, which cares a great deal about the court. And it could fire up Democrats, especially women, to go to the polls for Democratic nominee Joe Biden.
But little has moved the needle in this election one way or the other, and those groups were already enthusiastic about voting.
So no one really knows how any of this is going to play out except to say that there is going to be some kind of fight over this seat.
Mandryk: 2020 election needs to take the politics out of the classroom – Regina Leader-Post
Article content continued
To be clear, there have been 85 new school capital projects announced in Saskatchewan compared with 32 school closures since 2008 after the Sask. Party took over — a period that has included unprecedented population growth.
And while New Democrat supporters might rightly be indignant about Sask. Party accusations of "NDP school closures" or playing politics with school openings, the NDP government wasn't exactly shy about doing the same. (Political lore suggests certain high schools in Regina only exist because a local NDP MLA bitterly complained he was the only cabinet minister without a high school in his riding.)
Moreover, the current NDP surely has not been shy about distributing pre-election campaign literature that screams this government has "no solution for overcrowded classrooms" that now contributes mightily to the lack of safety during COVID-19.
Can the NDP credibly complain about dangers of classroom overcrowding while muttering about Sask. Party playing politics with school openings and closures?
And then there's the little matter of the NDP campaign commitment to limit classroom size that would cost hundreds of millions in infrastructure and the hiring of teachers — a costly promise that may already becoming outdated by distance learning.
Of course, all this could inspire meaningful debate on education issuesthat isn't driven by partisan politics. Just don't hold your breath waiting for that to happen.
Mandryk is the political columnist for the Regina Leader-Post and Saskatoon StarPhoenix.
It's Been A Tense Week For Politics And Pandemic Science – NPR
Political interference on COVID-19 guidelines at the CDC, a DHHS spokesman on leave after attacking scientists on facebook live, and the President continues to contradict the science of the pandemic.