Book the lynching and alert the media!: Sally Barnes | Commentary – Huntsville Doppler – Huntsville Doppler
I've changed during and because of this pandemic. Sadly, so has my country.
Like so many others, thanks to a throng of scientific experts and lawmakers, I have become a recluse.
Our dining room—the scene of so many wonderful gatherings of family and friends over the years—is deserted. Candles remain unlit. Cherished dishes haven't seen the light of day in months. Silverware cries out for polishing but who's to see it or use it? Nobody.
With the odd visitor we're allowed, we eat at the kitchen table.
If this continues much longer I fear we will become "sink eaters". I first heard that expression from a Maritime friend to describe how, following the death of her husband, she found herself skipping meals and eating at the sink as she mindlessly stared out the window.
In my new life as a hermit, I ration my intake of news coverage and its endless account of death, destruction, and despotism. I avoid social media and its reminder of how bat-ass crazy some have become and the venom and hatred that skulks in the hearts and minds of many.
Once an avid shopper, I have adopted a "grab and run" policy. Any necessities that can't be delivered to my door, I gather by running into a shop, grabbing what we need, and getting out of there as quickly as I can.
Sometimes, on my rare venture into the real world, I am approached by someone who greets me like a lifelong friend or associate and wants to chat. Damned if I can recognize them because of their mask. Some days I think they are maybe just lonely people hanging out in public places anxious to talk to anyone.
Here in Canada, because we are blessed with such resources, we will survive this pandemic. But I fear we will never be the same. Our weaknesses and failures as a society have been exposed, public confidence in our leaders and governments has been shaken, and you can cut with a knife the cynicism that exists about almost everything.
Every day we are reminded what a botch-up we've made of many of our democratic institutions and essential services.
The pandemic has exposed the fragility and shortcomings of our "world class" healthcare system and that it was a straw house just waiting to collapse under major pressure.
Overnight, so-called experts were brought in to respond to a pandemic, scrambled to do their best but neglected to consider what would happen if our schools were shut down or if we didn't have the workers to staff the hospitals and stores and public services.
The system for recruiting and training health care professionals is faulty and our immigration and regulatory policies are partly to blame. Thousands of additional nurses are needed while thousands of young people can't get into nursing programs or others have foreign credentials ensnared in our bulging bureaucracies.
Education? Starved of funds for repair or replacement of crumbling infrastructure and the lack of measures like ventilation. Demand for reform and the new challenge of repairing the carnage of two years of online learning at all levels from kindergarten to our colleges and universities.
Programs and facilities for the elderly are pathetic. Whom to blame?
The tsunami known as the Baby Boomers has had a major impact on society since the day this post-war generation came into the world. They have turned 75 and bring with them huge demand for costly health care and other social programs.
Warnings that we were unprepared for the demands and needs of the aging population went unheeded and the first wave of the pandemic took a cruel toll on our seniors. Families stood by helplessly as parents and grandparents died isolated and afraid.
The pandemic has wrecked our economy, created a mountain of public debt, and exacerbated countless social problems such as addictions, family breakdown, mental health issues, joblessness, bankruptcies, domestic abuse, and criminal behaviour. It will take years to assess the damage caused by closing our schools.
The pandemic has left many of us scared and angry and seeking revenge.
It has set neighbour against neighbour and caused major rifts in families and workplaces.
Many of the rich got richer during this pandemic while most of the poor got poorer. People working for governments and their agencies kept their jobs and worked at home while family-owned businesses closed and many will never reopen.
We know that the pandemic has increased the spread of racism, misogyny, corporate greed, and lack of respect for our laws and standards of civility, the importance of public discourse, freedom of speech, and tolerance.
There is growing public anger with those who choose to remain unvaccinated and are driving virus-induced hospitalization all across Canada, holding the rest of us hostage in the battle to control and survive this pandemic.
Many of us know those whose diagnosis or treatment for serious illnesses have been postponed or cancelled because the unvaccinated have selfishly monopolized limited health care resources.
A new poll out last week shows Canadians are in favour of harsh punishment for the unvaccinated. Maru Public Opinion found 37 per cent support denying them publicly funded health care and another 27 per cent say it's okay to go as far as a short jail sentence.
C'mon people! At the rate we're going, can it be far off when lynching in the public square replaces movies on Netflix?
We need to distinguish between those who are vaccine hesitant and/or simply refuse the vaccinations and those who actively campaign against it, spread lies and conspiracy theories, threaten vaccine proponents and their families, harass politicians, media commentators and health care workers, and use other illegal means to further their selfish and deadly cause.
Extreme proposals like imposing special taxes on the non-vaccinated and denying them health care end up hurting the most vulnerable and will only widen prospects for opportunistic politicians to feed off public rancor.
Every political party has its base of support and extreme measures are red meat for some politicians—especially those preparing for upcoming elections.
Make no mistake—vaccine policy is a wedge issue that can win votes as it divides people and foments social unrest and loss of confidence in our democratic institutions.
Here in this country, our political extremists are not as numerous, visible or obviously mad as in the U.S. but they are out there and influencing public policy.
Federal Conservative leader Erin O'Toole's statement that the unvaccinated should be "reasonably accommodated" was at best a poor choice of words and at worst political stupidity. Laws, civility, and tolerance preserve our freedom to hold different opinions and to make different choices. But that freedom does not extend to endangering the health and well-being of others. Our courts seem to agree.
Rather than O'Toole's appeasement and Justin Trudeau's bad-mouthing of the unvaccinated, we need leaders who will do the heavier lifting of devising programs that actually work to get people vaccinated.
Thanks to media coverage of our pandemic failings and high-profile issues such as residential schools, the world knows that we Canadians are not the ideal, polite and apology-seeking people as we were once known.
But we remain a good people and a good country. A beacon of hope in a world gone mad.
The challenge is to learn from our mistakes and preserve our civility despite the challenges and pressure this damnable pandemic has imposed on us and our way of life.
It would be sad to win this battle but wake up from our hermit state to realize we are no longer the kind of society we and others thought we were.
That truly would be winning the battle and losing the war.
Don't miss out on Doppler!
Sign up here to receive our email digest with links to our most recent stories.
Local news in your inbox three times per week!
Click here to support local news
Uvalde School Shooting Sparks Cries For Action Across Social Media – BNN
(Bloomberg) — With former President Donald Trump scheduled to speak at the NRA's National Meeting this Friday in Houston, in the same state where 19 children and two teachers were killed at the hands of an 18-year old gunman who stormed their school, rallying cries for gun control can be heard across social media.Former President Barack Obama posted a string of tweets that began,"It's long past time for action, any kind of action. And it's another tragedy—a quieter but no less tragic one—for families to wait another day." He added, "Across the country, parents are putting their children to bed, reading stories, singing lullabies—and in the back of their minds, they're worried about what might happen tomorrow after they drop their kids off at school, or take them to a grocery store or any other public space."
From LeBron James to Mia Farrow, an outpouring of grief from celebrities followed an emotionally charged speech by Golden State Warriors' coach Steve Kerr who called a press conference before tonight's NBA semifinals game to express outrage at the "50 senators" who have failed to move on a House bill on common-sense gun safety reforms that President Biden is ready to sign into law.Los Angeles Lakers' LeBron James shared Kerr's remarks and tweeted, "My thoughts and prayers goes out to the families of love ones loss & injured at Robb Elementary School in Uvalde, TX! Like when is enough enough man!!! These are kids and we keep putting them in harms way at school. Like seriously "AT SCHOOL" where it's suppose to be the safest!" Oscar winner Matthew McConaughey, who was born in Uvalde and runs a foundation to help high school students in Texas, asked all Americans to take action "so that no parent has to experience what the parents in Uvalde and the others before them have endured."
Other celebrities taking to Twitter to share their grief include human rights activist George Takei who co-starred in "Star Trek: The Original Series." He tweeted, "14 children and 1 teacher. There are no words. And there are no actions ever taken." National Youth Poet Laureate Amanda Gorman wrote, "It takes a monster to kill children. But to watch monsters kill children again and again and do nothing isn't just insanity—it's inhumanity." Actress Mia Farrow retweeted Gorman and said, "Don't anyone dare do "thoughts and prayers". We are way past that. We need reasonable gun legislation like every other rational country.And late night talk show host James Corden commented on how shocked he is by America's inability to act when it comes to gun control. "It doesn't make sense to me. It doesn't reflect the country that I think America is. The America I've always admired. You have a problem, you solve it. You're on the forefront of medicine, of technology, of innovation. When there's a world war, you are the ones we turn to. Yet on this issue America is one of the most backward places in the world."Cordon noted this year there have been no school shootings in England, Japan, and Australia, but this year there have been 27 school shootings in America and 212 mass shootings and we are just five months into the year.
©2022 Bloomberg L.P.
/REPEAT — Media Advisory – Minister Mendicino to make a funding announcement/ – Canada NewsWire
OTTAWA, ON, May 24, 2022 /CNW/ – Members of the media are invited to join the Honourable Marco Mendicino, Minister of Public Safety, for a funding announcement under the Crime Prevention Action Fund to underscore the Government of Canada's efforts to keep Canadian youth safe in Halifax and surrounding communities.
He will be joined by Lena Metlege Diab, Member of Parliament for Halifax West-Nova Scotia.
Following the announcement, Minister Mendicino and MP Diab will take questions from the media.
Date
Wednesday, May 25, 2022
Time
9:00 a.m. ADT
Location
YWCA Halifax
358 Herring Cove Road
Spryfield, Nova Scotia
Media representatives who wish to attend the event must arrive at least 15 minutes in advance to sign in and present photo ID and credentials.
Media can dial-in by using the numbers below. Media are encouraged to dial-in 15 minutes before the start of the press conference.
Participant dial-in numbers: 1-866-206-0153 / 613-954-9003
Access Code: 9504354#
Media and guests are asked to respect local physical distancing guidelines. Participants will be required to share their name and phone number for possible contact tracing. Wearing masks is recommended, especially when not able to maintain physical distance.
Public health protocols are in effect: please stay home if you are experiencing any of the symptoms listed here: Coronavirus (COVID-19) – Government of Nova Scotia, Canada, practice good hand washing and other hygiene steps, as well as physical distancing.
SOURCE Public Safety and Emergency Preparedness Canada
For further information: Audrey Champoux, Press Secretary, Office of the Minister of Public Safety, [email protected]; Media Relations, Public Safety Canada, 613-991-0657, [email protected]
Analysis: Media coverage of Texas school massacre invokes Sandy Hook – CNN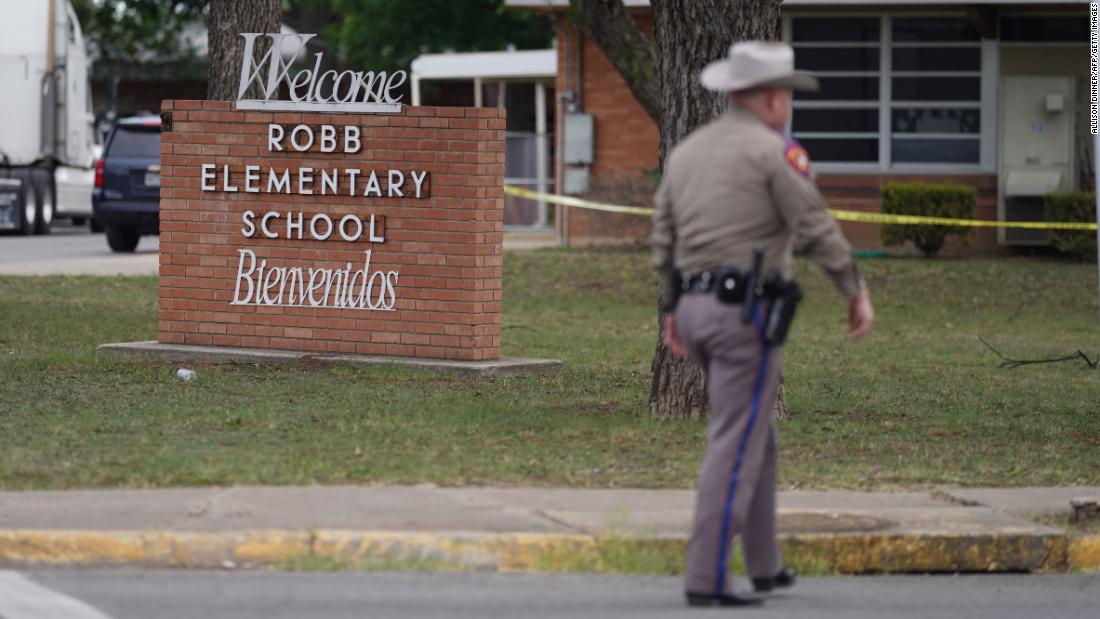 "Mass shootings have become America's copy and paste tragedy," Politico's Tyler Weyant
wrote Tuesday evening
. "We change the place, the town, the number of dead and injured. But the constant is lives lost, people who cannot be brought back, and the nation is left in a numb daze."
At least, until, it happens again. In this case, it only took 10 days from the last slaughter for another spasm of senseless violence and terror to force the nation to go through the motions once again.
It's all so predictable and formulaic at this point. First come the initial reports of a shooting, then details about fatalities and injuries, then details about the shooter and motive, and finally the tributes to the dead. All the while, there are widespread calls for the US to take some — any — action to stop these regular massacres from occurring while Fox personalities and GOP leaders insist the shooting shouldn't be "politicized."
"We perform this same skit every time," pediatrician and Democratic congressional candidate Dr. Annie Andrews
tweeted
. "You say your thing. I say my thing. A few more people join the movement. It's not working."
I realize that, at this point, even pointing out the fact that we are stuck in this endless loop is cliche. But I can't think of anything new or unique to say — and I honestly haven't seen a single original point made in the past few hours. Years and years of these horrific acts have collectively drained us of any groundbreaking observations. Everything is just recycled. Recycled from the last shooting and the shooting before that.
"Make no mistake about it, nothing is done, and nothing is ever done," Don Lemon said on CNN Tuesday night. "And we're going to be back here. Grieving again, over another town."
"This," Lemon added, "is where we are right now."
I wish people would stop saying "there are no words." There are so many words. Inhuman. Grotesque. Shameful.
I worry that rote news coverage and cliche reactions may unintentionally sanitize this sickening violence.
I want everyone to know that reality. I want answers to questions that are painful even to ask. What were the victims at Robb Elementary doing in the final peaceful minutes of their lives? What were they thinking when they heard loud noises down the hall? Did they recognize the sounds as gunshots? Did they fear for their lives? Did they cry out for their moms? For their dads? What did they feel in those final seconds?
There are plenty of words. We just have to use them.
President Biden learned of the school shooting while flying back from Asia aboard Air Force One. Pool reporters on the plane were without WiFi and unaware of the news until press secretary Karine Jean-Pierre came back to the press cabin and said Biden would be speaking at the WH upon landing. Reporters turned on the in-flight TVs to see CNN's live coverage. Per CNN's MJ Lee, "a decision was made to make a 'wire call' — a rare phone call using the phone in the press cabin to alert the wires and news organizations of breaking news. While much of the news we were being told in the air had already been shared on the ground, reporters agreed — given the gravity of the news — upon a joint statement that would be read and disseminated to wires and news networks."
The conversation in right-wing media immediately turned to calling for armed guards to protect schools. In other words, more guns. Pundits and personalities on Fox repeatedly suggested that funding allocated to schools to protect against Covid should be spent on security personnel. Meanwhile, personalities attacked those who called for gun control measures. After Biden did so in his address to the nation, Tucker Carlson attacked him in the most vicious terms. "The President of the United States, frail, confused, bitterly partisan, desecrating the memory of recently murdered children with tired talking points of the Democratic Party," Carlson said, "dividing the country in a moment of deep pain…"
— CNN will remain live all night and through the morning, with some anchors on the scene in Texas…
— Fox News preempted the 11pm comedy show "Gutfeld" for additional live coverage of the massacre…
— Savannah Guthrie will co-anchor Wednesday's "Today" from Uvalde. Other NBC and MSNBC anchors en route to Texas include Lester Holt, Tom Llamas, José Díaz-Balart, and Ali Velshi…
— Tony Dokoupil will co-anchor "CBS Mornings" from Uvalde…