Canada's economy needs more employee ownership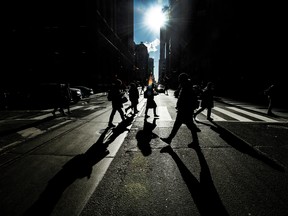 It's time to add retiring entrepreneurs to the list of economic existential threats posed by Canada's aging population.
A new report from the Canadian Federation of Independent Business (CFIB) found that 76 per cent of Canadian owners of small- and medium-sized enterprises (SMES) — companies with between one and 499 employees — plan to exit their businesses during the next decade. Some 56 per cent of SME owners aimed to get out within the next five years. About three-quarters of these soon-to-be former business people are looking to retire completely.
The CFIB white paper confirms similar findings in a 2017 study by the Business Development Bank of Canada (BDC) and in Statistic Canada's annual surveys of SMEs: the ranks of Canada's seasoned business owners are about to be substantially thinned.
The implications for the Canadian economy are massive. SMEs accounted for 98.1 per cent of all Canadian businesses with employees in 2021. They employed about 10.3 million people, equivalent to 63.8 per cent of Canada's total labour force.
SMEs are critically concentrated in the sectors we need to call on to build our way out of our housing supply deficits, to boost Canada's anaemic productivity, and to support our balance of payments with the rest of the world. Construction accounted for the largest share (16.3 per cent) of SMEs in a single industry, followed by professional, scientific, and technical services (14.6 per cent). SMEs have also been leading our international trade recovery since 2020's shutdowns.
Based on Statistics Canada data, CFIB estimates that baby boomer retirements will trigger transfers of over $2 trillion in SME assets to younger generations of business owners. That's  equivalent to 75 per cent of Canada's annual economic output.
This wave of change adds risks to Canada's already wobbly long-term outlook. The OECD expects Canada to notch up the worst growth and productivity performance amongst its 38 industrialized-country members over the next few decades.
Retiring business owners are set to follow the lead of retiring workers. While the pandemic induced the Great Resignation in the United States, Canada has seen the Great Retirement: in addition to folks over the age of 65 calling it a day, a record number of Canadians aged 55 to 64 have retired. Widespread labour shortages that weren't expected to bite for five to 10 years are putting a damper on economic growth. Rising immigration numbers can compensate only partially for these deficits.
We need to encourage older Canadians to stay in the labour force. One key move would see the federal government follow through on earlier attempts to raise the bar for Old Age Security eligibility to age 67. But the politics around this are challenging to say the least.

We also have to ensure that the SMEs that employ so many Canadians transition smoothly through their owners' retirements. Yet, the CFIB found that only one in 10 of these business owners have formal succession plans. About half of SME owners surveyed said that finding a suitable buyer was their biggest barrier to a steady hand-off of their businesses.

Many other countries face the same SME succession challenge and they offer lessons on how Canada could address it.
The U.S. and U.K. now have years of experience with the use of employee ownership trusts (EOTs) to help exiting SME owners realize the full value of their companies while handing the reins to trusted employee stewards. Typically, these trusts secure a loan to buy the company on behalf of employees; this debt is then serviced out of the enterprise's annual profits.

Over 45 years, U.S. trusts have allowed 14 million American workers to amass US$1.6 trillion in business assets. Similarly, since the 2014 introduction of U.K. EOTs, over 700 British businesses have been sold into these structures.

Compared with other enterprises, British and American employee-owned firms tend to be more resilient to shocks, more durable instruments of regional development, better sources of pay and more effective generators of employee wealth. This success is widely recognized. Even Pope John Paul II endorsed employee ownership back in 1981.
Employee ownership puts capital and labour on a more equal footing by transforming stakeholders into shareholders. The CFIB noted that just over half of Canadian SME owners would be more likely to sell their businesses to their employees if EOTs were available here.
In research with Toronto's Social Capital Partners, I projected along with Jon Shell that between 500 and 750 SMEs could be sold to their employees in the eight years following the creation of a Canadian EOT structure with accompanying incentives similar to those in other countries. That could create somewhere between $4 billion and $9 billion in wealth for about 50,000 to 114,000 Canadian workers — with further gains in later years.
The federal government expressed an interest in EOTs in its April 2021 budget. Ottawa then committed in its April 2022 budget to create a Canadian EOT structure under the Income Tax Act, but the fall economic statement in November 2022 was silent on the matter.
In the coming months, we need the federal government to bring forward legislation to allow for Canadian EOTs. The scale of our approaching tide of SME successions and our enduring growth challenges augur for urgent action.
Brett House is professor of professional practice in economics at Columbia Business School and a fellow with the Public Policy Forum, the Munk School, and Massey College. He tweets at @BrettEHouse.
COVID-zero is gone. Can China get its economy back on track in 2023? – The Globe and Mail
Masks aside, the crowds in train stations and airports across China this month, as tens of millions criss-crossed the country for the Lunar New Year, were almost indistinguishable from those before the pandemic.
Normalcy is finally returning to China, after years of some of the world's toughest COVID-19 policies, which were finally, and surprisingly, relaxed in the final weeks of 2022. But as the sense of whiplash – and resulting infections – begins to fade, the question is whether the country can get its economy back on track.
Initial data for 2023 has been positive: On Tuesday, the National Bureau of Statistics said January saw a rebound in economic activity, with the official purchasing managers' index (PMI) for the manufacturing sector hitting a four-month high of 50.1, up from 47 in December. Any score over 50 indicates growth.
The non-manufacturing PMI, which measures activity in the construction and services sectors, reached 54.4 in January, up from 41.6 the month before and its highest level since June, 2022.
The Lunar New Year period saw a return to near-prepandemic levels of travel and spending. Revenue for the hospitality and tourism sectors was at 80 per cent of 2019 levels, up 130 per cent from 2021, according to official data, with the number of trips also nearly matching prepandemic figures.
Stock markets were closed for the holiday, but have seen a boost this week, with at least one board entering bull market territory as traders reacted to the end of China's zero-COVID policy and early indications of an economic recovery.
"All indicators point to a relatively healthy recovery," said Zhu Tian, a professor of economics at the Shanghai-based China Europe International Business School. "The government has put economic growth back at the centre of policy."
An official GDP target will not be set until a meeting of the National People's Congress in March, but most expect it to be around 5.5 per cent, similar to last year's target. GDP fell well short in 2022, however, with the economy officially growing just 3 per cent, the second-lowest rate since the 1970s, and many analysts questioning if it even did that well.
While having the "annus horribilis" of 2022 as a base year will make a 5.5- or even 6.5-per-cent growth target easier to hit, China will continue to face a challenging global environment, with concerns about recession or lacklustre growth in Europe and North America, as well as ongoing geopolitical tensions.
For years, China has sought to build up its domestic markets in order to reduce its reliance on foreign demand. In 2020, President Xi Jinping promised that in the future domestic consumption would play a "dominant role," and at a meeting of the State Council over the weekend, Premier Li Keqiang called for the restoration of "the structural role of consumption in the economy."
"The greatest potential of the Chinese economy lies in the consumption by the 1.4 billion people," Mr. Li said.
That is easier said than done, however, and has been said many times before. Household spending accounted for 38 per cent of Chinese GDP last year, almost half that of the United States. Even with the economic struggles of the pandemic, many Chinese boosted their savings, but they have so far declined to part with that money.
"There's all this cash sitting in bank accounts," said Paul Schulte, a Singapore-based analyst and founder of Schulte Research. He noted that there have been "powerful disincentives to spend," not just the pandemic, but also the poor performance of Chinese stocks and the relative stalling of the real estate market in recent years.
The most obvious way to get that cash out of accounts is to lower interest rates and encourage people to invest their money, but that takes time, said Mr. Schulte, who worked for years as an investment banker in Hong Kong. A short-term solution would be introducing tax or spending incentives, such as vouchers.
According to Caixin, a Chinese financial publication, at least 25 of 31 provincial governments have listed increasing household consumption among their policy goals for 2023, part of their overall growth targets of 5 to 6.5 per cent. Guangdong, the southern province bordering Hong Kong that has long been a manufacturing powerhouse, has set particularly aggressive targets, promising its GDP will exceed three trillion yuan ($590-billion) in 2023, an increase of 6 per cent, with consumption as a major driver.
"It's impossible to continue competing on land, price and labour," Guangdong Communist Party chief Huang Kunming said in a speech. "The whole province needs to be aware of this issue."
Wang Zhenzhong, a former senior economist at the Chinese Academy of Social Sciences, told The Globe and Mail he expected to see a renewed focus on boosting employment, which dropped over the pandemic and is a particularly acute problem for young people. As part of this, he said, there will likely be more policies geared toward entrepreneurs.
"The biggest concern for both families and individuals in China right now is employment, which will directly affect domestic demand and consumption," he said.
Prof. Zhu agreed, saying that "if employment goes up and salaries go up, then people's income will as well, and naturally consumption and domestic demand will increase." He added that China's high savings rate was not a negative, as it could help drive domestic investment in the long run, which will reduce dependence on foreign cash.
As well as boosting the domestic market, China's leaders have sought to reassure foreign investors by tamping down some of the more Marxist rhetoric of recent years. A meeting of the Central Economic Work Conference in December repeatedly emphasized the need for "reform" and "openness," a message that was echoed by Vice-Premier Liu He in Davos this month, where he promised that "China's door to the outside will only open wider."
"More focus will be placed on expanding domestic demand, keeping supply chains stable, supporting the private sector, reforming the state-owned enterprises, attracting foreign investment and preventing economic and financial risks," Mr. Liu said.
According to an assessment by the New York-based Asia Society Policy Institute, such statements are designed "to assure the private sector that Xi Jinping is not ideologically hostile to its growing role in the Chinese economy and that the Party does not politically prefer state-owned enterprises."
Even the tech sector, which has been battered by a years-long regulatory and political crackdown that has wiped billions off the valuations of several companies, appears to be exiting the storm. But whether this is enough to restore investor confidence, both domestic and foreign, remains to be seen.
"Do we believe this turn?" Mr. Schulte asked. "I think the answer is: We believe it for now."
With files from Alexandra Li
Breaking Free From Debt: A Money Management Guide to Financial Recovery
If you're here, we'll give ourselves the liberty to assume that you are knee-deep in debt. Debt can be overwhelming and debilitating, but it is possible to break free from it and regain control of your finances.
A complete financial recovery is only possible if we get to the root of what made you fall into debt in the first place. The only way you can break free from debt is by changing the pattern of your financial behaviors.
Here is a money management guide to assist you as you transition to financial stability.
Step 1: Analyze your present financial state
The first step in breaking free from debt is to analyze your current financial state. This includes understanding how much debt you have, what types of debt they are, and the interest rates associated with them. Once you have a clear understanding of your debt, you can start to create a plan to pay it off.
Step 2: Prioritize your debts
Once you know how much debt you have, you must first prioritize which debts to pay off. Start by paying off high-interest debt, such as credit card debt, as it will cost you more in the long run. Next, focus on any indebtedness with late fees or penalties, as they will also cost you more money.
Step 3: Create a budget
Creating a budget is essential to breaking free from debt. Making a budget will enable you to see where you may make savings and where your funds are being spent. It will also give you a clear picture of how much money you have to put toward your monthly debt.
Step 4: Find strategies to boost your earnings.
In addition to cutting back on expenses, looking for ways to boost your income will be a game changer. You may do this by taking a part-time type of work, selling things you no longer require or figuring out how to use your abilities or hobbies to earn some cash.
Step 5: Stay motivated
Breaking free from debt takes time and effort, and it can be easy to get discouraged. To stay motivated, set small goals and celebrate when you reach them. Remember, every dollar you pay toward your debt is one step closer to financial freedom.
Step 6: Seek professional advice
If your debt is overwhelming and you need help to make progress on your own, seek professional advice. You can develop a personalized strategy to pay off current debts and get back on your feet with the aid of a financial planner or credit counselor. You may ask them, "What is a consumer proposal?" or "What government schemes can pull me out of debt?"
Canadian Government Schemes For Debt
In Canada, there are several government programs and initiatives that aim to help individuals and families manage and reduce their debt. Some examples include:
The Credit Counseling Service: This service is provided by non-profit organizations and helps individuals with budgeting and debt management. They provide free counseling, advice, and education on how to manage debt and improve credit scores.
The Bankruptcy and Insolvency Act: This federal law provides a legal process for individuals and businesses to resolve their debts if they are unable to pay them. It includes provisions for both bankruptcy and consumer proposals.
The Financial Consumer Agency of Canada (FCAC): The FCAC is an autonomous governmental organization that offers advice and assistance to assist Canadians in making wise monetary choices. They offer guidance on how to control debt, raise credit ratings, and stay away from financial con artists.
The Consolidated Credit Counseling Services of Canada: This is a nationwide, non-profit credit counseling organization that provides credit counseling, debt consolidation, and debt management services to Canadians.
National Student Loans Service Centre: This service provides information and assistance to individuals with student loans and helps them manage their debt.
It's important to note that these government schemes are not a one-size-fits-all solution.
What Not to Do When You're in Financial Debt
Avoiding specific actions when in debt is important because it can help you get out of debt more quickly and with less damage to your financial well-being
    Don't ignore the problem: Ignoring debt will only make it worse.
    Don't use credit cards to pay off debt: This will only add to your debt and make it harder to pay off.
    Don't borrow more money: Taking on more debt to pay off existing debt is not a sustainable solution.
    Don't avoid communication with creditors: Ignoring calls and letters from creditors will only worsen the situation.
    Don't miss payments: Failing will lower your credit rating and make it more challenging to acquire financing.
    Don't use debt settlement companies: These companies often charge high fees and may be unable to settle your debt.
    Don't rely on a quick fix: There is no easy solution to debt. It takes time and effort to pay it off.
    Don't forget to budget: To prevent taking on extra debt, make a budget and follow it.
How Do You Make a Budget to Get Out of Debt?
Making a budget can be very helpful when you are in debt. You may reduce your spending by using a budget to have a complete image of where your funds are going. Setting a budget allows you to prioritize paying off your debts while covering essential costs.
Additionally, a budget can help you avoid taking on more debt by keeping track of your spending and ensuring that you don't overspend. By creating a budget and sticking to it, you can take control of your finances and work towards becoming debt-free.
Here are some steps you can take to make a budget:
  Determine your income: List every stream of earnings, especially your salaries, any incentives or commissions, and all additional cash flow sources.
  Identify your expenses: Keep track of your monthly spending, including automobile, house, and other recurring bills, housing expenses, and car installments. List your fluctuating expenses, including food, leisure, and retail.
  Track your spending: Keep track of your spending for at least one month to better understand where your money is going.
  Set a budget: Use the information you've gathered to set a budget for each category of expenses. Be sure to include a category for savings.
  Stick to the budget: Once you've established a budget, follow it as strictly as possible. Routinely monitor to ensure that you're on course with your spending plan and make any required modifications.
  Create a savings plan: Decide on a budgeting objective, such as saving for your social security or a house deposit on a property. Make a strategy to achieve your objective, such as allocating a specific sum of cash every week or monthly.
  Review and adjust: Review your budget and regular spending to see if there are areas where you can cut back or if you need to adjust your savings plan.
Keep in mind that building budgeting is a procedure that you must continue; if your earnings and expenditures change, you might need to make adjustments.
Summary
Breaking free from debt is not easy, but it is possible. By assessing your current financial situation, prioritizing your debts, creating a budget, increasing your income, staying motivated, and seeking professional advice, you can regain control of your finances and achieve financial freedom. Remember, it is not only about paying off debt but also about learning to manage your money to prevent you from falling into debt again.
Canada's economy loses momentum as rate hikes take hold
The Canadian economy is slowing quickly and risks a possible recession this year as the Bank of Canada hikes interest rates to tamp down excessive inflation.
Real gross domestic product rose 0.1 per cent in November, according to figures published Tuesday by Statistics Canada, with a preliminary estimate showing little change in December. All told, the economy grew at an annualized rate of 1.6 per cent in the fourth quarter, based on that estimate, which will be updated near the end of February.
Despite the slowdown, the economy is showing resilience as it faces mounting headwinds. Growth in the final months of 2022 was stronger than what the Bank of Canada and several financial analysts had predicted. Notably, employers continued to hire workers in droves, which kept the unemployment rate near an all-time low.
Also on Tuesday, the International Monetary Fund (IMF) projected the global economy would grow by 2.9 per cent in 2023, an upward revision from its previous estimate of 2.7 per cent. The IMF said its outlook was "less gloomy" than in October, citing "surprisingly resilient" demand in the United States and Europe, along with China's reopening from strict COVID-19 measures. Global growth should accelerate next year, the IMF said.
In the interim, countries such as Canada are experiencing a loss of momentum. The Canadian economy grew at annualized rates of 3.2 per cent in the second quarter and 2.9 per cent in the third quarter, before its slide to an estimated 1.6 per cent in the final three months of 2022. That trend of slowing growth should continue.
The Bank of Canada expects the economy to stall during the first half of 2023. It has not ruled out a mild recession, an outcome that many analysts on Bay Street are expecting.
"It's just as likely that we'll have two or three quarters of slightly negative growth as slightly positive growth," Bank of Canada Governor Tiff Macklem said at a news conference last week. "So yes, it could be a mild recession. It's not a major contraction."
In November, 14 of 20 industrial sectors managed to post growth. Transportation and warehousing rose 1 per cent for the month, boosted by a 4.6-per-cent surge for air transportation. The finance and insurance sector jumped by 0.5 per cent, after three consecutive monthly declines. The public sector expanded by 0.3 per cent.
At the same time, there was contraction in rate-sensitive industries. Construction fell 0.7 per cent in November as residential building and repairs hit a weak spot.
Retailers fared poorly in November as the industry dropped 0.6 per cent. The declines were particularly large at stores selling food, building materials and general merchandise.
Restaurants and bars also had a rough month, posting a 2.9-per-cent contraction.
"While the Canadian economy hasn't cooled as quickly as we (and others) previously expected given the rapid rise in interest rates, there are growing signs of fragility," Andrew Grantham, senior economist at CIBC Capital Markets, said in a note to clients.
He added: "The recovery in many services has slowed even with activity still well below pre-pandemic levels, and a dip in restaurant activity could be an early sign of consumers changing their behaviour in the face of inflationary pressures and rising interest rates."
The Bank of Canada has raised interest rates at the fastest pace in a generation, taking its benchmark rate to 4.5 per cent from a pandemic low of 0.25 per cent in March, 2022. The central bank is intentionally trying to slow the economy and bring supply and demand into better balance to quell soaring rates of consumer price growth.
On that front, there has been recent progress. The annual rate of inflation has slowed to 6.3 per cent in December from a near four-decade high of 8.1 per cent in June. The central bank's target is 2 per cent.
"Six-per-cent inflation is still way too high. Canadians are still feeling the pain of rapid increases in the cost of living," Mr. Macklem said last week. "Economic developments have reinforced our confidence [that] inflation is coming down. But it's going to take us a while to get there and the economy is going to be soft."
After last week's rate hike, the Bank of Canada is tentatively holding its benchmark rate at 4.5 per cent to assess whether its policies are restrictive enough to bring inflation back to target. It can take months, or even longer, for the full effects of higher interest rates to be felt. The bank cautioned that it would raise rates again if needed.
While growth could be sluggish to start the year, the Bank of Canada projects real GDP to expand 1 per cent in 2023. The IMF is projecting growth of 1.5 per cent in Canada, about the same as the United States.
With a report from Reuters