Brexit scaremongering proven wrong as London seals major investment in Europe
The UK attracted the highest amount of inward direct investment in 2022, extending its lion's share of the European market to more than a quarter.
Releasing figures sure to infuriate pro-EU activists, the annual Ernst & Young (EY) attractiveness survey found foreign investors flocked to the City to fund 46 financial services projects last year, up from 39 in 2021.
---
By comparison, second place Paris enticed foreign investment for 35 finance proposals, sliding from 38 in 2021, while Madrid secured 22 foreign investment projects compared to 29 in 2021.
Anna Anthony, UK financial services managing partner at EY, said: "Investors recognise the strength, gold-standard governance and resilience of the UK's financial system and see it as the preferred destination for growth, innovation and access to top talent."
The Square Mile continues to be a beacon of prosperity
PA
Overall, the UK attracted foreign investment to 76 financial services projects in 2022, a 17 per cent rise on the 63 projects in 2021.
It puts clear blue water between the UK and France, which recorded 45 projects in total, down 15 on 2021 figures.
Andrew Griffith, economic secretary to the Treasury, told City AM: "We have a tremendous track record of attracting the brightest and best companies in the world built on the long standing competitive advantages of the UK and its attractiveness as a place to do business."
The UK has topped EY consultancy's finance foreign direct investment table every year since the research started, including every year since the 2016 Brexit vote.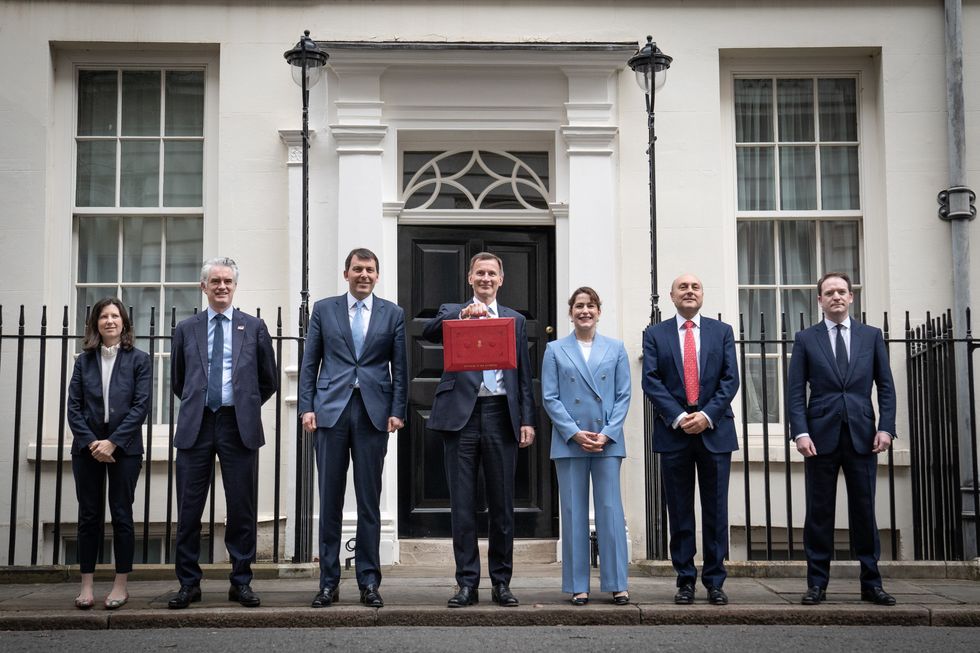 Andrew Griffith pictured second to the right
PA
Likewise, London has led the European city table since it was first recorded in 1986.
America was the biggest source of foreign investment in financial services in Europe last year, accounting for 21 of the UK's 76 projects in 2022.
Financial services investment projects created 2,603 jobs in the UK last year, a rise of four per cent on 2021.
Across Europe, 10,700 new jobs were created in financial services, of which 1,700 were recorded in France.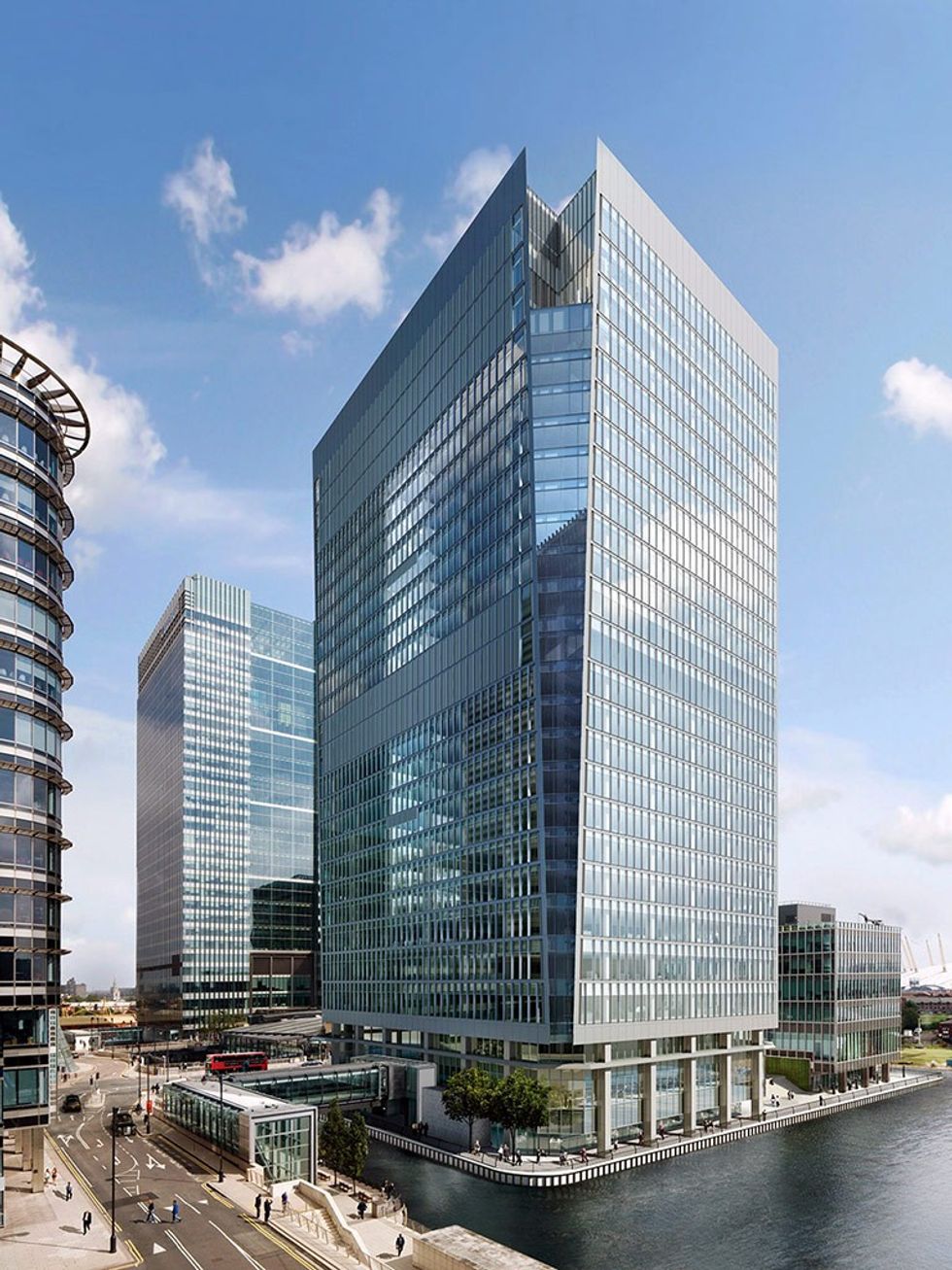 EY's home in Canary Wharf at 25 Churchill Place
Cushman and Wakefield
Chris Hayward, policy chairman at the City of London Corporation, said: "London continues to lead Europe in attracting foreign direct investment in financial services, and the sector is proving resilient despite the global challenges facing the UK economy."
Hayward added: "That is good news for every household, because a strong City creates the wealth and jobs that support the economy and fund our public services."
EY has undergone a UK leadership shake up recently following a collapse in the consultancy firm's plan to break up its audit and consulting operations globally.
The break up blueprint, coined 'Project Everest', attracted fierce internal criticism and was eventually abandoned but not before it had cost the firm £480million worth of internal work.
On the back of ditching the radical overhaul, EY has shrunk the UK executive committee from 13 to eight and announced that it will cut 3,000 jobs in the US.
The big four consultancy firm reported record levels of growth for its UK business in November 2022, with UK revenues up 17.2 per cent and UK fee income increasing to £3.23billion from £2.75billion.
Tense diplomatic relations may not impact trade, investment ties between India, Canada: Experts
NEW DELHI: The tense diplomatic relations between India and Canada are unlikely to impact trade and investments between the two countries as economic ties are driven by commercial considerations, according to experts. Both India and Canada trade in complementary products and do not compete on similar products.
"Hence, the trade relationship will continue to grow and not be affected by day-to-day events," Global Trade Research Initiative (GTRI) Co-Founder Ajay Srivastava said.
Certain political developments have led to a pause in negotiations for a free trade agreement between the two countries.
On September 10, Prime Minister Narendra Modi conveyed to his Canadian counterpart Justin Trudeau India's strong concerns about the continuing anti-India activities of extremist elements in Canada that were promoting secessionism, inciting violence against its diplomats and threatening the Indian community there.
India on Tuesday announced the expulsion of a Canadian diplomat hours after Canada asked an Indian official to leave that country, citing a "potential" Indian link to the killing of a Khalistani separatist leader in June.
Srivastava said these recent events are unlikely to affect the deep-rooted people-to-people connections, trade, and economic ties between the two nations.
Bilateral trade between India and Canada has grown significantly in recent years, reaching USD 8.16 billion in 2022-23.
India's exports (USD 4.1 billion) to Canada include pharmaceuticals, gems and jewellery, textiles, and machinery, while Canada's exports to India (USD 4.06 billion) include pulses, timber, pulp and paper, and mining products.
On investments, he said that Canadian pension funds will continue investing in India on grounds of India's large market and good return on money invested.
Canadian pension funds, by the end of 2022, had invested over USD 45 billion in India, making it the fourth-largest recipient of Canadian FDI in the world.
The top sectors for Canadian pension fund investment in India include infrastructure, renewable energy, technology, and financial services.
Mumbai-based exporter and Chairman of Technocraft Industries Sharad Kumar Saraf said the present frosty relations between India and Canada are certainly a cause for concern.
"However, the bilateral trade is entirely driven by commercial considerations. Political turmoil is of a temporary nature and should not be a reason to affect trade relations," Saraf said.
He added that even with China, India has acrimonious relations but bilateral trade continues to remain healthy.
"In fact, bilateral trade is an effective tool to improve political relations. India must make special efforts to increase our bilateral trade with Canada," Saraf said.
India and Canada have a strong education partnership. There are over 200 educational partnerships between Indian and Canadian institutions.
In addition, over 3,19,000 Indian students are enrolled in Canadian institutions, making them the largest international student cohort in Canada, according to GTRI.
According to the Canadian Bureau for International Education (CBIE), Indian students contributed USD 4.9 billion to the Canadian economy in 2021.
Indian students are the largest international student group in Canada, accounting for 20 per cent of all international students in 2021.
Benefits of educational partnerships are mutual and hence the current situation may have no impact on the relationship, Srivastava said.
Apple supplier Foxconn aims to double India jobs and investment
Apple supplier Foxconn aims to double its workforce and investment in India by next year, a company executive said on Sunday.
Taiwan-based Foxconn, the world's largest contract manufacturer of electronics, has rapidly expanded its presence in India by investing in manufacturing facilities in the south of the country as the company seeks to move away from China.
V Lee, Foxconn's representative in India, in a LinkedIn post to mark Indian Prime Minister Narendra Modi's 73rd birthday, said the company was "aiming for another doubling of employment, FDI (foreign direct investment), and business size in India" by this time next year.
He did not give more details.
Foxconn already has an iPhone factory employing 40,000 people in the state of Tamil Nadu.
In August, the state of Karnataka said the firm will invest US$600 million for two projects to make casing components for iPhones and chip-making equipment.
The company's Chairman Liu Young-way said in an earnings briefing last month that he sees a lot of potential in India, adding: "several billion dollars in investment is only a beginning".
Taiwan election: Foxconn's Terry Gou taps star-powered running mate
Last month, Foxconn's billionaire founder Terry Gou said he would run for the Taiwanese presidency in next year's election, as an independent candidate.
He said the ruling and independence-leaning Democratic Progressive Party (DPP) was unable to offer a bright future for the island and left Foxconn's board following his decision to run.
The firm operates the world's largest iPhone plant, in the city of Zhengzhou in Henan province.
Foxconn to double workforce, investment in India by 'this time next year'
Foxconn, Taiwan-based Apple supplier, has said that they are planning to double their investment and workforce in India within the next twelve months, according to V Lee's LinkedIn post on the occasion of Prime Minister Narendra Modi's 73rd birthday.