Builder's clothing drive, tiny art show in Cowichan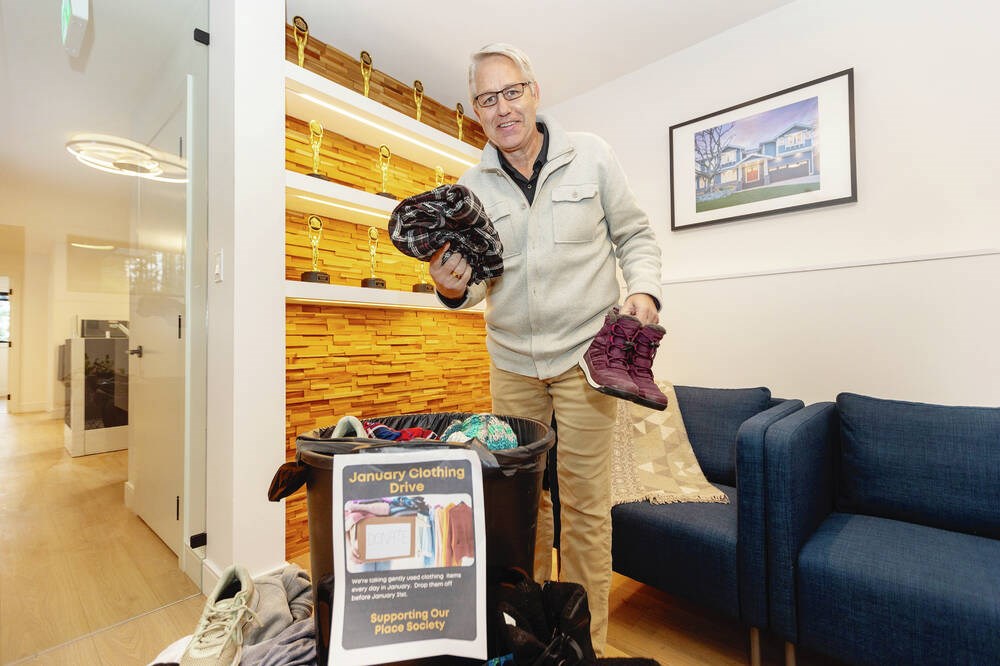 Builder's clothing drive to boost families in need
Donations of gently used clothing, shoes and ­accessories for all ages and sizes are being sought for a clothing drive hosted by LIDA Homes, now until Jan. 31.
All donated items will be given to Our Place Society to be distributed to families in need in the community.
"As a community-focused business, we feel it is our responsibility to give back to the families and ­individuals who have supported us throughout the years," said Dave Stephens, president of LIDA Homes. "We hope that this clothing drive will make a ­meaningful impact on those in need and encourage ­others to do their part as well."
Stephens has also issued a challenge to other ­builders to see who can collect the most clothing and have ­bragging rights.
The hashtag #LIDAclothingdrive has been created to encourage everyone to use it in their social media posts.
Donations will be accepted at LIDA Homes, 6015 Patricia Bay Hwy.
Tiny art show in Cowichan
More than 100 original artworks will be up for auction at the Six by Six Art Show and Auction, a special one-week fundraiser for the Cowichan Valley Arts Council, Feb. 3 to 11.
The name for the show stems from the fact that each of the locally produced original artworks is limited to six by six inches in size. In addition to paintings, the show includes some sculptures.
Janet Magdanz, president of the group, says working at that scale can be a real challenge for artists used to creating larger pieces.
"Yet our talented local artists have produced some outstanding work, creating landscapes, abstracts and pieces both whimsical and thoughtful," she said. "For buyers, the auction is a chance to pick up a small piece of work by a professional artist at a great price."
The art will be available to view and bid on both online and in person, with bids starting at $30.
Proceeds from the auction will support and expand the art council's youth programs and bringing regional shows to the gallery.
The finale of the week-long event will be a gala reception featuring live jazz, gourmet food and a cash bar, at the gallery Saturday, Feb. 11. Tickets are $25 and are available by calling the office at 250-746-1633 or at cowichanvalleyartscouncil.ca.
In your neighbourhood
Victoria council has voted to increase the maximum amount available for its My Great Neighbourhood Grants to $7,500 for placemaking and resiliency projects and up to $1,500 for activities in 2023.
The money is expected to support up to 36 community projects.
"The My Great Neighbourhood Grant program is incredibly important during these times when community is coming together again," said Mayor Marianne Alto. "It is exciting to see residents start to reconnect with the goal of adding vibrancy and resiliency to their neighbourhoods."
The funds are contingent upon matching equivalent contributions from applicants, including volunteer time and in-kind donations.
Grants are available to residents and community groups in the city. Not-for-profit organizations, schools or groups of residents can apply, although a sponsor is required for those without not-for-profit status.
In 2022, the city funded 13 community activities, 12 placemaking projects and 11 community resiliency projects.
Intake for the 2023 program will open in April, with city staff available to help residents through the application process.
Opera's the ticket
Pacific Opera Victoria is making a night at the opera more attainable by distributing more than 1,000 free tickets to more than 40 community organizations for a second year.
The organizations hand out the tickets to members of the community who may be experiencing barriers, giving them the opportunity to attend one of three Pacific Opera's 2022/23 mainstage live performances at the Royal Theatre.
"The North Park Neighbourhood Association was thrilled to participate in Pacific Opera's Ticket Access Program," said Sarah Murray, executive director of the association. "This program eliminates financial barriers to access, making Victoria's thriving arts and culture scene a more equitable and inclusive space."
Community organizations interested in taking part in the program should contact Pacific Opera. More information about the program is available at pacificopera.ca/ticket-access-program.
Art for Prospect Lake
The Prospect Lake District Community Association is looking for donations of artwork for its upcoming Art at the Lake fundraising online auction.
Proceeds from the event will be used for the maintenance of the heritage Prospect Lake Hall on the Saanich Peninsula, one of the last community-owned and maintained halls in British Columbia.
"Downsizing or just tired of looking at certain pieces? Give your old art pieces new life by donating them to Art at the Lake," said Barbara Newton, a volunteer organizing the sale.
The association is looking for donations of any type of art — prints, watercolours, pastels, oils, posters, collectibles, statuary, vases or objects d'art.
• To donate, email jackie.wrinch@shaw.ca or telephone Mavis at 250-361-3236 by March 19.
$400M recovery fund
Community service organizations, non-profit organizations, Indigenous governing bodies and charities on Southern Vancouver Island and the Cowichan Valley can apply for funding through the federal government's $400-million Community Services Recovery Fund, now until Feb. 21.
The money will help fund one-time projects focused on people, systems and program innovation. Organizations can apply for one of two tiers. Tier one includes funding ranging from $10,000 to $100,000, while tier two covers $100,001 to $200,000 for applicants that meet specific criteria.
United Way Southern Vancouver Island, the Canadian Red Cross and the Victoria Foundation will accept applications locally.
All unincorporated non-profits should apply to the Canadian Red Cross for funding for one-time projects that focus on how organizations recruit, retain, engage and support their personnel, including staff, volunteers and boards of directors.
Apply to the Victoria Foundation with projects that invest in systems and processes involved in creating the internal workings of an organization's overall structure.
The United Way Southern Vancouver Island will accept applications for funding to support projects primarily focused on program and service innovation and redesign using information gained during the COVID-19 pandemic.
"United, we champion initiatives, programs, and projects that integrate and make a significant, positive change in people's lives," said Danella Parks, director of community impact with United Way Southern Vancouver Island. "As society recovers and rebuilds, United Way is honoured to support this investment by the Government of Canada with a focus on program and service innovation and redesign in the nonprofit sector."
WAG gets new assistant curator for Indigenous and contemporary art – CBC.ca
It is a priority for CBC to create products that are accessible to all in Canada including people with visual, hearing, motor and cognitive challenges.
Closed Captioning and Described Video is available for many CBC shows offered on CBC Gem.
Micro galleries highlighting MMIWG stories aim to reconcile through knowledge and art – CBC.ca
When Sheila Joris stumbled upon a colourful display of books at her local Ikea store, the artwork on the fabric book covers immediately caught her eye.
What peaked her curiosity was the names of several missing and murdered Indigenous women and girls (MMIWG) from across Canada were printed in bright gold letters on the books.
Upon further research, the Strathroy, Ont., business owner was "astounded" to learn the number and stories of women and children whose families never heard from them again. It inspired Joris to showcase the display at the front window of her downtown store, KYIS Embroidery, to create more awareness.
"It's just a way of me showing that I care," she said. "Some of these families didn't get any help to find their loved ones and I think it's really sad. Their stories deserve to be heard."
Joris's shop is one of many spaces throughout the country taking part in the Canadian Library (TCL) project. A micro gallery art installation that aims to raise awareness around the MMIWG crisis.
WATCH | Business owner Sheila Joris expresses why she cares about the stories of MMIWG:
Sheila Joris of Strathroy, Ont., shares her reaction when she found out the number of missing and murdered Indigenous women and girls and the stories of families who were impacted.
"The only way we're ever going to achieve any sort of reconciliation and break down barriers is once there's education for everyone and it starts by having these important conversations," said Shanta Sundarason, a Toronto-based activist leading the grassroots project.
Since they started their efforts in October 2021, participants have collected book donations of any genre. They order fabric covers designed by Indigenous artists, each one with the name of a missing or murdered Indigenous woman or girl.
More than 8,000 books have been collected so far. Ultimately, they'll be pooled together and displayed at a national museum or gallery by the end of this year, Sundarason said, adding that she wants them to be an educational tool to memorialize the lives lost.
It's going to take a lot to build up trust between settlers and Indigenous people.– Shanta Sundarason, founder of TCL
Sundarason, who came to Canada from Singapore 12 years ago, felt a responsibility as an immigrant to educate herself and others on the stories of residential school survivors and the systemic discrimination that many Indigenous people still face, she said.
"To find out that there's so many people in a country like Canada who still don't have clean drinking water was very horrifying and there's been so much that's happened to these communities," she said.
"It's going to take a lot to build up trust between settlers and Indigenous people who have been trying for decades to tell us the stories of what they've been through."
TCL is displayed at every Ikea store in Canada, as well as at cafés and hospitals, and more recently at the York Region District School Board, Sundarason said.
A collective step toward reconciliation, says elder
TCL has received overwhelming support from Indigenous elders. At first, many of them were skeptical of the project but eventually provided their guidance to its team, Sundarason said.
In Calgary, TCL is spearheaded by linda manyguns, a Blackfoot woman from Siksika Nation in southern Alberta who uses only lower-case letters for her name to acknowledge the Indigenous struggle for recognition.
Also Mount Royal University's associate vice-president of Indigenization and decolonization, manyguns said she was fascinated by TCL's inclusiveness and its ability to bring the MMIWG crisis to the forefront in a way that centres on their family members' voices.
"There's a huge chasm of emptiness between the Canadian society in general and the Indigenous experience," she said.
"People need to understand that these are not bad women — they're just encased in a social context that's been created due to the colonial perspectives and placements of Aboriginal people and as a result, it puts them in situations which make them vulnerable."
TCL creates a place for the MMIWG's memories to live, while also giving Indigenous artists a platform to shine since the artwork attracts all kinds of people, manyguns said.
"It's a collective step toward reconciliation because it's an an ethical third space where people can come together to work together and create new frontiers. The only way that we can make change is through knowledge."
She hopes TCL can motivate enough people to come together and create change so more names aren't added to the list of missing Indigenous women and girls.
Previously unreleased concept art shows more of the delayed Mary Poppins ride planned for EPCOT at Walt Disney … – wdwmagic.com
A former Walt Disney Imagineer has posted concept art for the postponed Mary Poppins ride that was previously announced for EPCOT.
The new art shows an overhead plan view of the attraction, including the preshow area, the ride system, and the exit.
As speculated at the time of the ride's announcement, the ride is a teacup-style spinning flat ride, taking place in a show building with decorated backgrounds.
Announced at the 2019 D23 EXPO, the expansion to the United Kingdom pavilion was to add an entirely new neighborhood at the pavilion, complete with a ride. In the plans, guests would step in time down Cherry Tree Lane past Admiral Boom's house, then enter Number 17, home of the Banks family, where their adventure would begin.
Disney officially announced that the United Kingdom Pavilion expansion was paused in July 2020 as the park reopened from the COVID-19 shutdown. In addition to pausing Mary Poppins, Disney also put a halt to the Spaceship Earth update.
The last official comment on the Mary Poppins ride for EPCOT came from then Disney CEO Bob Chapek, who said in response to a question at the 2022 Shareholder Meeting, that the project is in a holding pattern currently, but looks forward to refunding the Mary Poppins ride in the future.
A lot has changed at Disney since then, and it remains to be seen if the Mary Poppins expansion at the United Kingdom pavilion in EPCOT will be built.