Can Iran's new President Raisi fix a deeply troubled economy? – Al Jazeera English
Tehran, Iran – Ebrahim Raisi, who will be sworn in on Thursday as Iran's eighth president, inherits a troubled economy whose fate has been intertwined with political upheavals.
The "revolutionary" government he's promised to form has a Herculean task ahead to fix an economy that suffers from a toxic mix of United States sanctions, the COVID-19 pandemic, and structural issues that have taken hold after decades of mismanagement.
One inescapable economic hardship that increasingly makes everyday life more difficult for Iranians is inflation, which many Iranian economists and analysts expect to remain above 40 percent at least until later this year.
This is while the central bank had set a target of 22 percent for annual inflation for both the previous and the current Iranian calendar year, which ends in March 2022.
"Unfortunately, today we are on the brink of a severe and uncontrollable inflationary situation," economist Masoud Nili warned in a meeting of economists with Raisi in early July, according to a government press release.
According to a report by the labour ministry, food inflation crossed the "crisis" threshold in the month ending June 21, with over two-thirds of staples like meat, rice and fruits seeing an average annual price hike of at least 24 percent.
Other food essentials have exceeded even that, with prices of butter, chicken and liquid oil skyrocketing by 121 percent, 118 percent, and 89 percent in the past year, respectively.
Global food prices have spiked this year as economies scale back COVID-19 restrictions and reopen for business, triggering supply bottlenecks.
But that has only exacerbated Iran's inflationary problems that predate the pandemic.
A lightning-fast increase in money supply has been the main culprit driving the devaluation of the Iranian rial, especially as US sanctions blocked the country's access to its own currency reserves outside the country.
US sanctions have also effectively cut Iran out of the global economy, slashing oil revenues and incomes. As the administration of former US President Donald Trump barraged Iran with one blacklisting after another, the cash-strapped government of former President Hassan Rouhani kept leaning on a dependent central bank to print more money.
Since 2018, when the Trump administration unilaterally abandoned Iran's 2015 nuclear deal with world powers and embarked on a maximum pressure campaign to hobble the country's economy, Iranian officials have promised to introduce "structural reforms" to wean the country's overstretched budget off of oil revenues.
But even as the government was accused of shoring up its finances by encouraging ordinary Iranians to jump into a stock market bubble that burst, it still faced a massive budget deficit that is believed to reach as high as 3 quadrillion rials ($12bn) for the current fiscal year ending March 2022.
Meanwhile, the unemployment rate for all workers was 9.6 percent for the calendar year that ended in March, according to the central bank, and 16.7 percent for youths aged 18 to 35.
Inflation, as well as inequality, corruption and housing were all issues that surfaced during televised presidential debates in June.
Raisi promised to build four million homes in four years to alleviate a housing crunch, overhaul the outdated banking system, create one million jobs annually, and slash inflation by half before gradually bringing it down to single digits.
His predecessors made similar promises, on which they largely failed to deliver.
The JCPOA factor
Iran says by relying on its "resistance economy" doctrine of boosting local production, it has largely weathered the storm of US sanctions and the deadliest pandemic in the Middle East.
The central bank claims the economy grew by 3.6 percent during the previous calendar year ending in late March.
But even the country's hardliners who spent years bashing the nuclear deal as an abject failure have said it must be restored to lift US sanctions.
Raisi has also promised to form a "strong" government that would be able to exact concessions from the West during talks over the Joint Comprehensive Plan of Action (JCPOA), as the nuclear deal is formally known, and lift US sanctions for good.
But even if the nuclear deal is revived with little or no changes to its original text, economist Meysam Hashemkhani says the immediate impact on the economy would be modest.
"The whole world witnessed Trump's withdrawal from the JCPOA and would consider the risk of something like that happening again in dealing with Iran," he told Al Jazeera.
"Even if they might have thought Trump was wrong, they saw what happened. So now the JCPOA must remain stable for a few years for others to believe it's sustainable."
In the short term though, Hashemkhani believes a full restoration of the nuclear deal can prevent some further harm to the country, and especially its beleaguered private sector businesses that have faced a myriad of challenges, including but not limited to money transfer issues.
The government could sell more oil, but Hashemkhani said he's not optimistic that would translate into a major improvement for the oil-dependent economy, which has been dealing with similar structural issues for decades.
In the long run, he said Iran should capitalise on opportunities presented by the restoration of the nuclear deal by inoculating itself against the potential for it to fall apart again.
"Iran has to reach strategic alliances with countries in the region in the form of long-term trade agreements lasting at least 15 years," he said.
Through these agreements, and boosting tourism and investment deals, regional interests would become so intertwined that the US would have to think twice before considering reneging on the JCPOA again, he added.
Hashemkhani also believes resolving long-standing issues like budget deficits and inflation are not tied to sanctions, and can be remedied through policy changes like abolishing the artificial currency rate for imports and similar measures that encourage rent-seeking activities and waste billions each year.
He said neighbours Iraq and Afghanistan, for instance, have faced larger crises and constant instability but have maintained single-digit inflation.
"In contrast," he said, "inflation in Iran stood at an average of 15 percent during the three years the JCPOA was in effect."
Potential of Seaweed on Economy Being Explored in Upcoming Webinar – VOCM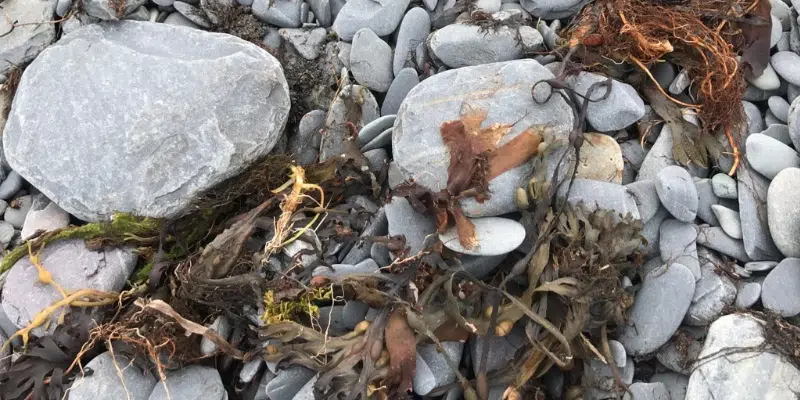 A webinar on the potential of seaweed as an economic driver is coming later this month.
The webinar, put together by The Laurentic Forum Consortium, will look at how coastal communities can use an abundance of seaweed to boost the economy, as seaweed is being used as fertilizer, diet supplements, bioplastics, animal feed, pharmaceutical products, and much more.
Webinar moderator and the executive director of the Canadian Centre for Fisheries Innovation, Keith Hutchings, says seaweed farming could provide opportunities in Newfoundland and Labrador.
He says if utilized correctly, communities and regions can add one more industry to help sustain them.
The webinar is taking place May 19.
The Laurentic Forum consortium invites you to join us on May 19, 2022, to discuss the tremendous opportunity and potential associated with the seaweed industry.

Info/Registration:https://t.co/gyQoIPHuCQ pic.twitter.com/ps1vuDLBvs

— Laurentic Forum (@ForumLaurentic) May 11, 2022
Charting the Global Economy: Growth Prospects Continue to Dim – BNN
(Bloomberg) — Sign up for the New Economy Daily newsletter, follow us @economics and subscribe to our podcast.
Prospects for the world economy are growing bleaker as Russia's war in Ukraine takes a toll on European businesses and consumers, China employs a heavy-handed approach toward Covid-19 and US financial conditions tighten, according to the Institute of International Finance.
Central banks around the world continue to boost interest rates to counter a surge in inflation. In the US, the closely watched consumer price index showed inflation remains well-elevated. The squeeze to household budgets is also being felt in the UK and France.
Here are some of the charts that appeared on Bloomberg this week on the latest developments in the global economy:
World
The world economy will essentially flatline this year as Europe falls into recession, China slows sharply and US financial conditions tighten significantly, according to a new forecast from the IIF, which counts more than 450 financial-services firms as members. The group forecasts 2.2% global GDP growth this year, markedly lower than the International Monetary Fund estimate of 3.6% on a purchasing power parity basis.
The gasoline market is starting to run out of control — just like diesel before it. US buyers are already sucking in more supplies from Europe as the summer driving season — which increases demand — gets underway. Add to that a loss of so-called secondary feedstocks from Russia that are critical in the production of the road fuel.
US
Americans got little respite from inflation in April, as prices for a range of necessities and discretionary-spending categories continued to climb at some of the fastest-ever rates. While annual measures of consumer prices cooled slightly from March — signaling a peak that economists expected — the details painted a more troubling picture as monthly figures advanced more than forecast.
US homebuyers are increasingly turning to adjustable-rate mortgages as overall borrowing costs soar. ARMs — which carry variable interest rates that reset based on the market at predetermined times — accounted for 10.8% of total home-loan applications last week. That's up from 3.1% of activity at the start of the year and is the largest share since 2008.
Europe
The French government pledged to increase social benefits and issue food vouchers to the poorest households as freshly re-elected President Emmanuel Macron seeks to avert panic over a cost-of-living crisis before legislative elections next month.
The UK economy unexpectedly contracted in March as the cost of living squeeze forced consumers to cut back on spending, throwing doubt on the Bank of England's ability to keep hiking interest rates and piling pressure on Prime Minister Boris Johnson's government to respond.
For many of Sweden's highly indebted consumers, the Riksbank's sudden interest-rate increase at the end of April marks the start of a new squeeze that officials have long fretted about.
Asia
China's exports and imports struggled in April as worsening Covid outbreaks cut demand, undermined production and disrupted logistics in the world's second-largest economy.
Japan's household spending climbed in March for the first time in three months as virus restrictions were lifted across the nation, offering some support for private consumption at the end of a bruising quarter for the economy.
Emerging Markets
Malaysia's central bank unexpectedly raised its benchmark interest rate in an effort to head off price pressures, while authorities in Argentina boosted borrowing costs for the fifth time this year.
Latin American central banks will likely extend their monetary tightening campaigns beyond what was originally expected after inflation surged past forecasts in April, with steep increases in food and fuel costs stinging policy makers.
South Africa is headed for a record year of power cuts if the rate of station breakdowns fails to improve, particularly at coal-fueled plants. Africa's most industrialized nation was already on track to exceed the annual record for energy shed from controlled blackouts, a practice locally known as loadshedding that's used to prevent the grid from a total collapse.
©2022 Bloomberg L.P.
Biden's Midterm Hopes Bedeviled by Signs of Economy in Distress – BNN
(Bloomberg) — President Joe Biden's hopes for a political reset have been overwhelmed by an unrelenting series of economic setbacks, adding to the challenges Democrats face as they court exhausted voters ahead of the crucial midterm election in November.
US gasoline prices are at historic highs. Inflation in April exceeded consensus forecasts. Technology stocks have plummeted, taking retirement accounts with them. A record low portion of Americans think it's a good time to buy a house.
On top of it all, a shortage of baby formula has left parents in the world's wealthiest country scrounging empty store shelves to feed their children. The crisis is drawing bipartisan condemnation on Capitol Hill, with lawmakers accusing the administration of moving too slowly after an Abbott Laboratories factory in Michigan was shut down over safety issues.
Cast against the backdrop of Russia's war in Ukraine and the ongoing pandemic — the US surpassed 1 million Covid-19 deaths this week — it's little wonder the nation's mood is grim. Biden's inability to assuage Americans' growing unease was highlighted as a US consumer sentiment measure released Friday hit its lowest reading since 2011, a six-point decline from April that was worse than any forecast in a Bloomberg survey of economists.
The nation's economic struggles and the administration's tepid response are striking at a core promise of the Biden presidency: that he would return competence to the White House. And there are clear signs Americans hold their president accountable. Just 38% approve of the job Biden is doing, according to a Monmouth University poll released Thursday.
Most respondents in the survey said it's currently difficult to pay for essentials like gas, grocery bills and health insurance deductibles.
"We understand there are challenges you're dealing with every day," White House Press Secretary Jen Psaki told reporters on Friday. "Costs are too high. It is too expensive to fill up your gas tank. Food is too expensive at the store. And our focus right now is on taking every step possible to address those issues."
Yet Biden has often sought to shift blame. He's said gasoline and food cost too much because of "Putin's price hike," in reference to the Russian president who ordered the Ukraine invasion, and he said this week that the Federal Reserve is primarily responsible for combating rising prices.
The baby formula crisis presents a particularly acute political risk. Democrats have looked to reorient their midterm strategy to wooing back female voters after the leak of a draft Supreme Court opinion that would overturn the landmark Roe v. Wade decision establishing abortion rights nationwide.
But Biden — a practicing Catholic whose congressional career was dotted with votes restricting federal abortion spending — has for now acted as a reluctant messenger, preferring sweeping legal and philosophical arguments for maintaining Roe rather than explicitly espousing his support for abortion rights.
Less than two weeks after the leak, television coverage has shifted to stories of mothers struggling to find the baby formula they need to feed their children.
"It's pretty amazing that with all the focus on global and economic insecurity, a life challenge so personal and individual could cut through — but it has," said Republican pollster Frank Luntz. "When young families think about whether they are better or worse off under Biden, life challenges like this make life more difficult for Democrats."
White House officials have argued that troubling indicators of an economy in distress should be weighed against other data that show strength. Payrolls beat consensus estimates in the past month, and unemployment is just 3.6%, offering a strong jobs picture. Year-over-year earnings were up 5.5%, and gross domestic product has grown at its fastest rate since 1984. And despite the recent stock market swoon, the S&P 500 remains up more than 5% since Biden took office.
Still, White House aides acknowledge that many Americans feel the costs of inflation more viscerally than news suggesting the overall economy is healthy — and that some trends are unfavorable. That explains why Biden in recent days has stepped up his efforts to shift responsibility for some of Americans' leading concerns.
Following Wednesday's inflation report, Biden called inflation "unacceptably high" but added that action to lower prices "starts with the Federal Reserve."
Biden has also sought to ratchet up pressure on Republicans. In a speech Tuesday at the White House, Biden said he understood Americans' frustration so much that he could "taste" it — but said the opposition party has yet to present a concrete plan to tackle high prices if the GOP captures Congress in November.
He has also said Republicans are pursuing an "ultra-MAGA agenda," referring to former President Donald Trump's "Make America Great Again" slogan, though Biden hardly ever uses his opponent's name.
And he's tried to spotlight a GOP proposal, written by Florida Senator Rick Scott, that would require all Americans to pay some income tax, including families that don't earn enough money to owe taxes now, and that would require reauthorizing all federal legislation after five years. Democrats say that would imperil entitlements like Social Security and Medicare.
Other Republicans including the Senate minority leader, Kentucky's Mitch McConnell, have distanced themselves from Scott's plan, and the Florida senator has said in response to Biden's attacks that the president should resign.
But Biden has also acknowledged the political vulnerability he faces.
"It's going to be hard, because inflation is going to scare the living hell out of everybody," he told Democratic donors in Chicago on Wednesday. "We have a problem we have to deal with. In the meantime, we can't take our eye off all that could happen if we do not prevail."
©2022 Bloomberg L.P.