The Activision Blizzard lawsuit shows harassment in the games industry is still rampant — 5 must-reads to understand why – The Next Web
Sexual harassment in gamer culture burst back into the spotlight on July 21, 2021, with news of California's lawsuit against Activision Blizzard, publisher of top-selling video games Call of Duty, World of Warcraft, and Candy Crush, and a walkout by company employees. The lawsuit alleges a "pervasive 'frat boy' culture" at the company and discrimination against women in pay and promotion.
The turmoil is an echo of the infamous Gamergate episode of 2014 that featured an organized online campaign of harassment against female gamers, game developers and gaming journalists. The allegations are also of a piece with a decades-long history of gender discrimination in the technology field.
We've been covering sexual harassment and gender discrimination in gaming – and technology generally – and picked five articles from our archive to help you understand the news.
1. Gaming culture is toxic – but community norms can change it
Things have not been getting steadily better. The shift to online activities caused by the pandemic was accompanied by an increase in online harassment and a decrease in the number of women and girls playing video games.
More than a third of female gamers have experienced harassment, and female players have developed coping strategies like hiding their gender, playing only with friends and shutting down harassers by outplaying them, according to University of Oregon professor Amanda Cote. These strategies take time and energy, and they avoid rather than challenge the harassment. Challenging harassment is also fraught, because it typically sparks a backlash and puts the burden on the victim.
Shutting down harassment comes down to creating and supporting community norms that reject rather than allow or encourage harassment. Gaming companies can adopt practices beyond banning harassers that discourage the behavior before it happens, including reducing opportunities for conflict outside of gameplay, adding in-game recognition of good behavior, and responding quickly to complaints.
"If esports continue to expand without game companies addressing the toxic environments in their games, abusive and exclusionary behaviors are likely to become entrenched," she writes. "To avoid this, players, coaches, teams, leagues, game companies and live-streaming services should invest in better community management efforts."
---
Read more: Here's what it'll take to clean up esports' toxic culture

---
2. It's not just players – fans are part of the problem
Go to any sports stadium and you'll see that the atmosphere that energizes players and fans alike comes from the fans. For esports the venues are streaming services, where fan reaction comes not from cheers and chants but in the form of online chat.
University of South Florida professor Giovanni Luca Ciampaglia and colleagues analyzed chats on Twitch, one of the largest streaming services that carries live esports. They found a sharp distinction in the language fans use when commenting on players, called streamers, depending on gender.
"When watching a man stream, viewers typically talk about the game and try to engage with the streamer; game jargon (words like 'points,' 'winner' and 'star') and user nicknames are among the most important terms," he writes. "But when watching a woman stream, the tone changes: Game jargon drops, and objectification language increases (words like 'cute,' 'fat' and 'boobs'). The difference is particularly striking when the streamer is popular, and less so when looking at comments on less-popular streamers' activity."
As with the games themselves, combating harassment and discrimination on streaming services comes down to community standards, he writes. The streaming services "need to examine their cultural norms to drive out toxic standards that effectively silence entire groups."
---
Read more: Can online gaming ditch its sexist ways?

---
3. Collegiate esports leagues don't reflect the population of videogame players
Esports is becoming a big business, with over $1 billion in revenues, and collegiate leagues are an important component of the field. Just over 8% of college esports players and 4% of coaches are female. The low rates of participation are not a reflection of interest: 57% of women ages 18-29 play video games that are in the esports category.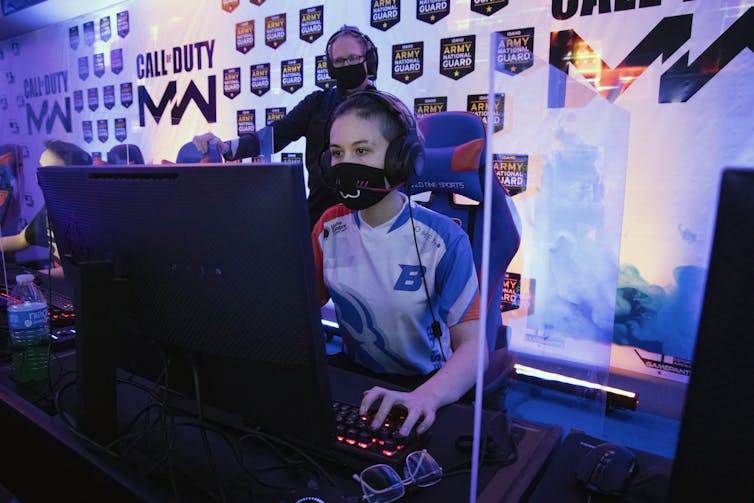 Female players face overt hostility and harassment, which discourages participation, according to SUNY Cortland professor Lindsey Darvin. College teams often engage in tokenism by bringing on a single female player, and the vast majority of scholarships go to male players.
Professional esports organizations are beginning to address the gender gap. Colleges and universities need to follow suit.
"Colleges and universities that receive U.S. federal aid have an obligation to improve opportunity and access to participation based on Title IX policy, which prohibits sex discrimination in any education program or activity receiving federal financial assistance," she writes.
---
Read more: At colleges nationwide, esports teams dominated by men

---
4. Lessons from the tech field: Diversity and equity require women with power
The roots of esports' toxic culture lie in decades of gender discrimination in the technology field as a whole. That discrimination has proved stubborn.
"In 1995, pioneering computer scientist Anita Borg challenged the tech community to a moonshot: equal representation of women in tech by 2020," writes Rensselaer Polytechnic Institute professor Francine Berman. "Twenty-five years later, we're still far from that goal. In 2018, fewer than 30% of the employees in tech's biggest companies and 20% of faculty in university computer science departments were women."
Reversing discrimination is a matter of changing cultures within organizations. "Diverse leadership is a critical part of creating diverse cultures," she writes. "Women are more likely to thrive in environments where they have not only stature, but responsibility, resources, influence, opportunity and power."
"Culture change is a marathon, not a sprint, requiring constant vigilance, many small decisions, and often changes in who holds power," she writes. "My experience as supercomputer center head, and with the Research Data Alliance, the Sloan Foundation and other groups has shown me that organizations can create positive and more diverse environments."
---
Read more: The tech field failed a 25-year challenge to achieve gender equality by 2020 – culture change is key to getting on track

---
5. The myth of meritocracy is an impediment to equality
The myth of meritocracy is a large part of the longevity of gender discrimination in the tech field. That myth says that success is a result of skill and effort, and that women's representation is a reflection of their abilities.
In the U.S., women own 39% of all privately owned businesses but receive only around 4% of venture capital funding, according to Brown University professor Banu Ozkazanc-Pan.
"Yet the meritocracy myth, which my research shows has a stronghold in the world of entrepreneurship, means that women are constantly told that all they have to do to get more of that $22 billion or so in venture capital funding is make better pitches or be more assertive," she writes.
What the tech field calls meritocracy is in fact gender-biased and results in mostly white men gaining access to resources and funding. "By continuing to believe in meritocracy and maintaining practices associated with it, gender equality will remain a distant goal," she writes.
Adopting gender-aware approaches, including setting concrete goals for gender balance, is key to correcting the imbalances caused by the meritocracy myth.
---
Read more: Women in tech suffer because of American myth of meritocracy

---
This article Eric Smalley, Science + Technology Editor, The Conversation, is republished from The Conversation under a Creative Commons license. Read the original article.
Fido, Virgin add $45/50GB plan for Black Friday – MobileSyrup
Fido and Virgin Plus have joined Koodo in offering a $45/mo 50GB Black Friday plan.
Like Koodo, both Fido and Virgin offer a $65/mo plan with 50GB of data plus a $20/mo bill credit for 24 months. That means customers pay $45/mo for two years with the plan.
The plans are only available for new activations and hardware upgrades, which means if you're with one of these providers, you'll need to swap to another one.
You can check out the Fido offer here and the Virgin offer here.
Hilarious Video Shows Psyduck Startling A Pokemon Scarlet and Violet Player While Taking A Photograph
One Pokemon Scarlet and Violet fan has shared a funny video that shows a Psyduck appearing out of nowhere to startle a player who was snapping a photo. Pokemon Scarlet and Violet are among the best selling titles of the year, despite the mixed reviews from fans and critics globally. The gameplay and multiplayer mode of the latest Pokemon games receive praise and backlash for the myriad performance issues.
Because of these technical problems, Pokemon Scarlet and Violet are getting review bombed, but some fans are embracing them. Glitches are common in the latest titles, and players have reported seeing some truly bizarre things in their playthroughs. Some gamers have seen a grotesque glitch in Pokemon Scarlet and Violet, whereas a random Psyduck bug is also common. Psyduck makes the headlines again after a player spotted it in rather unusual circumstances.
Reddit user metronn uploaded a video that shows their funny encounter with the duck Pokemon. The user intended to photograph a scenic view of Pokemon Scarlet and Violet's region of Paldea. Paldea is a brand-new area introduced in Pokemon Scarlet and Violet, which is based on the Iberian peninsula and has diverse geographic features like mountains, forests, and several lakes. In the video, the player attempts to take a picture of a serene place on the shoreside of a water body, with mountains in the background and water flowing peacefully.
After successfully capturing one side of the scenery, the player slowly moves the camera to show the surrounding areas and a few fish pocket monsters in the body of water. As the camera moves, something unusual is seen in the bottom right corner of the screen, which appears to be another Pokemon. This turns out to be a Psyduck, who appears out of nowhere and is standing right next to the user, who was seemingly unaware of its presence. The original poster is understandably startled by seeing the Psyduck, who apparently photobombed their efforts to take a beautiful picture in Pokemon Scarlet and Violet.
Since its introduction in the first generation, Psyduck has established itself as one of the most famous Pokemon of all time. It has featured in almost every Pokemon game from each generation until the current ninth-gen games, Pokemon Scarlet and Violet. Psyduck is not the strongest or the fastest pocket monster, but still, it has millions of fans around the world who are excited to see it in unusual circumstances.
M2 iPad Pro vs M1 iPad Pro: What's changed?
The new iPad Pro with M2 chip takes performance another step forward, but what all has changed from the previous-gen iPad Pro? Follow along for an in-depth look at what's the same and what's new when comparing the M2 iPad Pro vs M1 iPad Pro to help you decide what's the best choice.
In 2021, the 11 and 12.9″ iPad Pro arrived with the powerful M1 chip, Thunderbolt connectivity, 5G for cellular models, new camera features like Center Stage, and more.
Now the 2022 M2 iPad Pro lineup brings a number of tweaks and changes, but many of them are quite minor which could push customers toward the M1 iPad Pro or even iPad Air.
Below we'll break down all the fine details of the M2 iPad Pro vs M1 iPad Pro. We've also got a full comparison of the new entry-level iPad and more:
Table of contents
M2 iPad Pro vs M1 iPad Pro
Performance
The main difference between the new and old iPad Pro is the upgrade from an M1 to M2 chip.
That delivers up to an 18% faster CPU, 35% faster GPU (10-core vs 8-core), and a 2x boost in memory bandwidth from 50GB/s to 100GB/s.
Note: 128, 256 and 512GB models have 8GB RAM, 1TB and 2TB models have 16GB RAM.
| | | | | |
| --- | --- | --- | --- | --- |
| | 11″ M2 iPad Pro | 11″ M1 iPad Pro | 12.9″ M2 iPad Pro | 12.9″ M1 iPad Pro |
| Chip | M2 | M1 | M2 | M1 |
| CPU cores | 8 | 8 | 8 | 8 |
| GPU cores | 10 | 8 | 10 | 8 |
| Neural cores | 16 | 16 | 16 | 16 |
| Storage | 128GB – 2TB | 128GB – 2TB | 128GB – 2TB | 128GB – 2TB |
| RAM | 8 or 16GB | 8 or 16GB | 8 or 16GB | 8 or 16GB |
| Memory bandwidth | 100GB/s | 50GB/s | 100GB/s | 50GB/s |
| Thunderbolt/USB 4 | ✅ | ✅ | ✅ | ✅ |
| Cellular | 5G | 5G | 5G | 5G |
Outside of the slight boost in CPU and GPU performance, all the other specs like storage, RAM, Thunderbolt connectivity, and 5G remain the same between the new and old iPad Pro models.
Display
Just like the M1 12.9″ iPad Pro, the M2 12.9″ iPad Pro is the only one that features the Liquid Retina XDR display with miniLED backlighting.
Shared display features across all pro models include up to 120Hz ProMotion, P3 wide color, full laminated displays, anti-reflective coating, and True Tone.
There appears to be just one difference between the new M2 11 and 12.9″ iPad Pro display and the M1 versions – the new Apple Pencil Hover feature.
| | | | | |
| --- | --- | --- | --- | --- |
| | 11″ M2 iPad Pro | 11″ M1 iPad Pro | 12.9″ M2 iPad Pro | 12.9″ M1 iPad Pro |
| Display | 11″ | 11″ | 12.9″ with miniLED | 12.9″ with miniLED |
| Resolution | 2388 x 1668 | 2388 x 1668 | 2732 x 2048 | 2732 x 2048 |
| PPI (pixels per inch) | 264 | 264 | 264 | 264 |
| Display brightness | 600 nits | 600 nits | 600 nits SDR, up to 1600 HDR | 600 nits SDR, up to 1600 HDR |
| True Tone | ✅ | ✅ | ✅ | ✅ |
| P3 wide color | ✅ | ✅ | ✅ | ✅ |
| ProMotion (120Hz) | ✅ | ✅ | ✅ | ✅ |
| Anti-reflective coating | ✅ | ✅ | ✅ | ✅ |
| Fully laminated display | ✅ | ✅ | ✅ | ✅ |
| Liquid Retina Display | ✅ | ✅ | – | – |
| Liquid Retina XDR Display | ❌ | ❌ | ✅ | ✅ |
| Apple Pencil Hover | ✅ | ❌ | ✅ | ❌ |
Connectivity and accessories
The new iPad Pro models work with the same Apple accessories as the previous-gen iPad Pro. That includes the second-gen Apple Pencil, Magic Keyboard, and Smart Keyboard Folio.
Some small upgrades with the M2 iPad Pro include Bluetooth 5.3 and WiFi 6E.
| | | |
| --- | --- | --- |
| | 11 and 12.9″ M2 iPad Pro | 11 and 12.9″ M1 iPad Pro |
| Apple Pencil gen 2 support | ✅ | ✅ |
| Magic Keyboard support | ✅ | ✅ |
| 5G | ✅ | ✅ |
| WiFi 6 | – | ✅ |
| WiFi 6E | ✅ | ❌ |
| Bluetooth | 5.3 | 5.0 |
| USB-C | ✅ USB 4 | ✅ USB 4 |
| Thunderbolt | ✅ | ✅ |
| Face ID | ✅ | ✅ |
Interestingly, the new iPad Pro models didn't get a Magic Keyboard Folio as the iPad 10.
Battery life
The 2022 iPad Pro models with M2 chip feature the same battery life as their predecessors:
10 hours of web or video use on WiFi
9 hours of web use with cellular
Storage and price
Storage remains the same between the old and new iPad Pro models. And pricing – original MSRP pricing – is also unchanged. However, keep an eye out for M1 iPad Pro discounts with the new models now available.
| | | | | |
| --- | --- | --- | --- | --- |
| | 11″ M2 iPad Pro | 11″ M1 iPad Pro | 12.9″ M2 iPad Pro | 12.9″ M1 iPad Pro |
| 128GB WiFi | $799 | $799 | $1,099 | $1,099 |
| 128GB + cell | $999 | $999 | $1,299 | $1,299 |
| 256GB WiFi | $899 | $899 | $1,199 | $1,199 |
| 256GB + cell | $1,099 | $1,099 | $1,399 | $1,399 |
| 512GB WiFi | $1,099 | $1,099 | $1,399 | $1,399 |
| 512GB + cell | $1,299 | $1,299 | $1,599 | $1,599 |
| 1TB WiFi | $1,499 | $1,499 | $1,799 | $1,799 |
| 1TB + cell | $1,699 | $1,699 | $1,999 | $1,999 |
| 2TB WiFi | $1,899 | $1,899 | $2,199 | $2,199 |
| 2TB + cell | $2,099 | $2,099 | $2,399 | $2,399 |
Cameras, video, and audio
With the iPad Pro rear camera system, you've got a 12MP wide lens, 10MP ultra wide lens, LiDAR Scanner, and the True Tone flash.
On the back, you get a 12MP ultra wide lens with Center Stage support.
The only changes between the M2 and M1 iPad Pro, for now, is Smart HDR 4 vs Smart HDR 3 photos and the ability to shoot ProRes video at up to 4K at 30 fps (1080p at 30 fps for 128GB models).
| | | |
| --- | --- | --- |
| | 11 and 12.9″ M2 iPad Pro | 11 and 12.9″ M1 iPad Pro |
| 12MP wide lens | ✅ | ✅ |
| 10MP ultra wide lens | ✅ | ✅ |
| LiDAR | ✅ | ✅ |
| 4K video | ✅ | ✅ |
| ProRes video up to 4K 30 fps | ✅ | ❌ |
| Extended dynamic range | ✅ | ✅ |
| Slo-mo video | ✅ | ✅ |
| Rear camera flash | ✅ | ✅ |
| TrueDepth camera with Face ID | ✅ | ✅ |
| Ultra wide 12MP front camera | ✅ | ✅ |
| 2x optical zoom out | ✅ | ✅ |
| Smart HDR 3 photos | – | ✅ |
| Smart HDR 4 photos | ✅ | ❌ |
| Center Stage auto-tracking | ✅ | ✅ |
| 4-speaker audio | ✅ | ✅ |
| Stereo recording | ✅ | ✅ |
| 5 studio-quality mics | ✅ | ✅ |
The iPad Pro front camera also features support for Portrait mode, Portrait Lighting, and Animoji/Memoji.
Strangely, while the iPad 10 got a handy Landscape ultra wide front camera, the iPad Pro retains the front camera on the top (short side) bezel.
Dimensions, weight, colors
Size and weight are identical between the M2 iPad Pro and M1 iPad Pro according to Apple:
M2 and M1 11-inch iPad Pro: 1.03 pounds, 9.74 inches (247.6 mm) high, 7.02 inches (178.5 mm) wide, 0.23 inches (5.9 mm) thick
M2 and M1 12.9-inch iPad Pro: 1.5 pounds, 11.04 inches (280.6 mm) high, 8.46 inches (214.9 mm) wide, 0.25 inches (6.4 mm) thick
Color choices remain the same with silver and space gray.
Other small differences
Two more little differences you'll see with the M2 iPad Pro:
Braided USB-C cable in the box instead of a plastic cable
"iPad Pro" wordmark on the back instead of "iPad" on previous iPad Pro models
M2 iPad Pro space gray may be slightly lighter than the M1 iPad Pro space gray finish with the antenna line for cellular models being more muted
M2 iPad Pro vs M1 iPad Pro conclusion
Why buy M2 iPad Pro?
When considering all the similarities between the M2 iPad Pro and M1, you'll probably only want to pick up the new model if you're a pro with workflows that will benefit from the M2 chip/ProRes support or you're just okay with spending the money on the latest and greatest from Apple.
The M2 iPad Pro is available at Apple, Amazon, Best Buy, BH Photo, and more with stock looking good across the board.
Why buy M1 iPad Pro?
When you can get the vast majority of the M2 iPad Pro feature set with the M1 iPad Pro and the processor difference not being an issue for most users, picking one up at a discount will probably be a popular move.
Also, don't forget the iPad Air offers a compelling package at an even cheaper price than the last-gen iPad Pro. That is if you're okay with the 11-inch size.
Read more 9to5Mac in-depth comparisons:
Check out 9to5Mac on YouTube for more Apple news: