Canada examining how to keep its carbon capture competitive in wake of U.S. incentives
The federal government is looking at how it could alter its carbon capture offerings to keep Canada's energy industry competitive as the United States moves forward with a more aggressive plan to green its economy.
The U.S. is investing $369 billion US in energy security and climate change programs over the next decade through the Inflation Reduction Act (IRA).
That legislation also dramatically increases the tax credits available to facilities that capture and store carbon emissions. Carbon capture, utilization and storage (CCUS) has been a push from governments and industry as many countries work to decarbonize energy production.
"We want to make sure that Canadian companies remain competitive and that international investors that come to our jurisdiction are able to take full advantage of the tax credits," Randy Boissonnault, the associate minister of finance and minister of tourism, told CBC News.
Narrowing the gap
"Our government is very seized with this issue of the Inflation Reduction Act and how to make sure we don't have a big gap between our two countries."
The finance department is examining the U.S. legislation and consulting with the industry to determine next steps, Boissonnault said.
Last week, Deputy Prime Minister Chrystia Freeland hinted there would be a response to the IRA in the upcoming fall economic statement and more in the next budget.
"We definitely want a solution that is done with industry, that makes sense to industry, because the good paying jobs in the future can be had here in Canada and we want them to be here in Canada. So we're going to continue to work on it," Boissonnault said.
Federal funding
Canada's budget this spring promised immediate and long-term financial backing for CCUS, with a tax credit expected to cost $1.5 billion annually starting in 2026.
The federal government is pledging to cover 60 per cent of equipment used in direct air capture projects and 50 per cent for other types of CCUS projects. The tax credit also covers 37.5 per cent of other eligible equipment used for transport and storing the carbon dioxide.
With it came a reminder for the industry to not drag its feet on reducing emissions — the incentives will be halved in 2031 through 2040.
At the time, Canada's plan was comparable to the Q45 carbon capture incentive in the U.S.
The new IRA has changed that.
"Canada really is at about half of where the [U.S. program] is under the Inflation Reduction Act," said Mark Cameron, the vice-president of external relations with the Pathways Alliance, a group representing 95 per cent of oilsands producers.
Cameron added they've asked the federal government to look at adding to the existing CCUS programs, including allowing the investment tax credit to cover operating costs or introducing a production tax credit. And they'll be looking for a nod to those requests in the fall economic update.
"If the government was to make changes to the investment tax credit or to supplement it with some additional measures, that would put us a lot closer to making final investment decisions on these projects," he said.
"If we don't get that kind of certainty by the middle of next year, then those timelines for 2030 are going to slip."
Clean energy initiatives needed from provinces
The federal government's emissions reduction plan would require the oil and gas sector to reduce its emissions by 42 per cent below 2019 levels by the end of the decade. It's a feat the industry says is unrealistic. Pathways has committed to getting the participating companies to net-zero emissions by 2050.
But Ottawa also wants the provinces to step up with their own clean energy incentives.
"What we need is [Alberta] to come to the table and be very clear about what they're going to put on the table for their carbon capture use and storage credit," Boissonnault said.
CBC News has reached out to the Alberta government for comment.
The oilpatch is revelling in its most lucrative year ever, as high prices for oil and natural gas have delivered massive profits for companies — forecasting a $147-billion year after tax, according to the ARC Energy Research Institute.
Boissonnault added the government is also focused on hydrogen and critical mineral strategies, as well as battery production and semiconductors.
Black Friday is over, but you can already shop Amazon Canada's Cyber Monday deals – Yahoo Canada Shine On
Amazon Canada's Black Friday sale kicked off on Thursday — and the Cyber Week deals are still going strong this weekend, with prices slashed on hundreds of new items in the lead-up to Cyber Monday.
It's the ideal time to take advantage of huge savings on household essentials like coffee and batteries, as well as splurge on new tech upgrades or holiday gift ideas.
Many of these discounts are time-limited, so scroll through for a selection of this year's best extended Black Friday deals from Amazon Canada.
Best Amazon Canada early Cyber Monday deals
Best Amazon Canada early Cyber Monday tech deals
Best Amazon Canada early Cyber Monday kitchen deals
Best Amazon Canada early Cyber Monday household essentials deals
Best Amazon Canada early Cyber Monday home deals
Best Amazon Canada early Cyber Monday toys & games deals
Best Amazon Canada Black Friday health & beauty deals
Best Amazon Canada Black Friday fashion deals
Let us know what you think by commenting below and tweeting @YahooStyleCA! Follow us on Twitter and Instagram.
Originally published November 26, 2022, 1:57 p.m.
Cha-Ching! Shopify Merchants Break Black Friday Records with $3.36 Billion in Sales – Shopify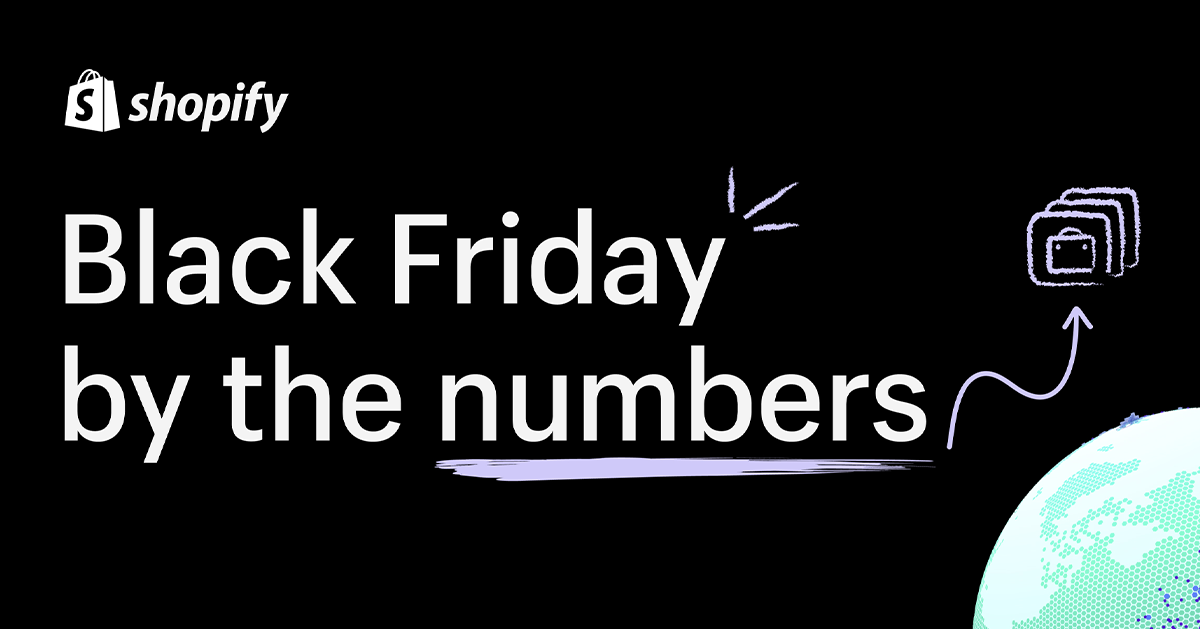 As a global provider of essential internet infrastructure for commerce, Shopify announced a record-setting Black Friday with sales of $3.36* billion from the start of Black Friday in New Zealand through the end of Black Friday in California. This marks a 17% increase in sales over Black Friday in 2021 (19% on a constant currency basis).
At its peak, merchants on Shopify saw sales of $3.5 million per minute at 12:01 PM EST on Black Friday, collectively.
"Black Friday Cyber Monday has grown into a full-on shopping season. The weekend that started it all is still one of the biggest commerce events of the year, and our merchants have broken Black Friday sales records again," said Harley Finkelstein, President of Shopify. "Our merchants have built beloved brands with loyal communities that support them. This weekend, we're celebrating the incredible power of entrepreneurship on a global stage."
2022 Black Friday Global Highlights
Peak sales per minute: $3.5 million USD on Black Friday at 12:01 PM EST
Top selling countries and cities where shoppers made purchases from: United States, United Kingdom and Canada, with the top-selling cities on Black Friday including London, New York, and Los Angeles
Top product categories: Apparel & accessories, followed by health & beauty, and home & garden, with trending products including Snocks GmbH (Boxershorts), rhode (peptide glazing fluid), and Brooklinen (Luxe Core Sheet Set)**
Average cart price: $102.31 USD or $105.10 USD on a constant currency basis
15%: Cross-border orders worldwide on Black Friday as a percentage of total orders
27%: Growth in POS sales made by Shopify merchants globally over last year's Black Friday
Visit datastories.shopify.com to view Shopify's annual Black Friday Cyber Monday Live Globe, which captures the impact Shopify-powered stores have across the globe.
---
*Shopify's 2022 Black Friday data is based on sales by Shopify merchants around the world from November 24th 11:00 UTC to November 26th 8:00 UTC.
**Shopify's Black Friday/Cyber Monday Shopping Index is a proprietary index that provides a unique look at what's trending during this busy shopping season based on orders, products added-to-cart, and pageviews across Shopify's merchants.
All data presented here (including worldwide sales) is approximate and is based on various assumptions. All data is unaudited and is subject to adjustment. All financial figures are in USD. Data represents online and offline sales made by Shopify's global merchants.
Tesla adds another recall to a 'Total Recall' year
Tesla issues a recall on 80,000 cars in China adding another one to a year with a lot of recalls, but most of them are easily fixed with software updates.
Earlier this year, NHTSA issued a series of recalls on Tesla vehicles that were highly reported in the media.
What was less reported, though, is that almost all of those recalls were fairly simple software issues that Tesla has been able to fix through over-the-air software updates.
Whenever there's a safety-related issue, NHTSA has to issue a "safety recall," even if the automaker doesn't have to physically recall any vehicle, which leads to some confusion.
Again last month, a Tesla recall of "1 million vehicles" made many headlines when the recall simply consisted of Tesla changing how its software handled window operations. These instances have led Tesla CEO Elon Musk to complain about the term "recall" and how it is used against Tesla by the media.
Today, Tesla also announced more recalls in China on about 80,000 vehicles.
According to Chinese authorities, the recall includes 67,698 imported Model S and Model X vehicles with a software problem related to the battery pack. Again, the fix is a simple software update.
However, this time there's also a physical recall due to a seat belt issue on about 13,000 Model 3 vehicles: 2,736 imported and 10,127 made in China.
With now over 20 recalls in 2022, it has been a "Total Recall" year for Tesla – pun intended:
But Tesla is not the only automaker affected by large recalls this year. Ford just confirmed that it is recalling another half a million vehicles due to a fire risk, and many automakers have also recalled millions of vehicles this year.
If anything, the fact that the large majority of Tesla's recalls are quickly fixed with over-the-air software updates – rather than having to bring the cars back to the dealership like other automakers – shows that Tesla's level of connectivity in its vehicles is a major advantage in the industry.
It makes for an easier experience for the customers, and it is much cheaper and more efficient for Tesla.