Canada Must Create a Real Estate Climate Risk Index for Houses: IBC
Actions to protect homeowners and communities from climate-related risks must be taken immediately, the Insurance Bureau of Canada (IBC) says, and the proposed solution is the creation of a Real Estate Climate Risk Index.
That Index would be like a credit score, based on a property's "susceptibility to catastrophic loss based on known risk factors," and would "form the basis for managing and reducing household, community, and municipal climate risk."
"Canada must develop a universal climate risk disclosure system by 2025," said Craig Steward, IBC's Vice-President, Climate Change and Federal Issues. "We simply can't wait until 2050 to be climate compatible in the housing sector. Immediate action must be taken to protect homeowners and communities, or catastrophic loss to homes and communities will continue to increase in severity and cost, year after year."
That was the key takeaway from the IBC's latest report, titled "Designing the Path to Climate Compatibility: Climate Risk Disclosure and Action in the Canadian Housing Context" and conducted in partnership with the Canada Mortgage and Housing Corporation (CMHC).
The goal behind the partnership was to "examine disclosure of physical hazards and climate risk in the Canadian housing context" and was motivated by "the need to respond to the accelerated frequency and severity of catastrophic loss events in the housing finance system, as well as the need to create an aligned view of climate risks for homeowners."
IBC statistics show that Canada suffered $2.1B in insured loses due to severe weather events last year. Furthermore, seven of the 10 years where Canada saw its highest insured losses of all-time have occurred in this decade, indicating that there is indeed an acceleration in frequency of extreme weather events. Just last month, Hurricane Fiona stormed through Atlantic Canada, resulting in what the IBC has estimated to be $660M in damages.
READ: Droughts, Floods, and Storms Could Cost Canada $139B by 2050
The IBC and CMHC say that climate risk data and analytics can assist homeowners, homebuilders, the financial sector, and governments in "mobiliz[ing] capital toward effect and efficient property-level climate resilience and prioritize community-level adaptation investments." That conclusion was reached following a series of interviews the IBC and CMHC conducted with leaders in the housing and financial sectors.
The report came up with two major recommendations, one of which was the Real Estate Climate Risk Index, which would take into account eight factors: probability of risk, severity of risk, risk frequency, compounding factors, site-level resilience, community resilience, municipal resilience, and regional response.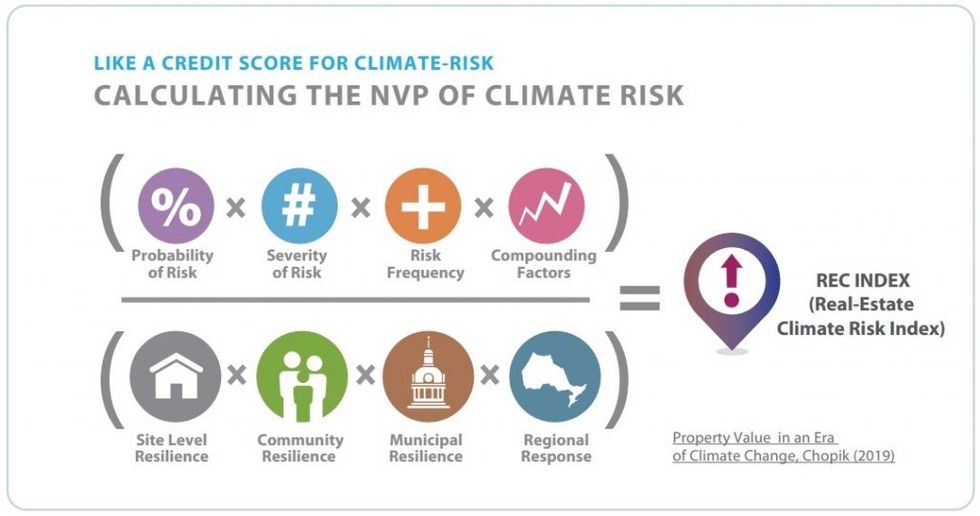 The other big recommendation was to establish an "action matrix" which would ensure that lenders, insurers, municipalities, and homeowners shared an aligned view of risk and how to reduce it. The IBC and CMHC did not detail what such a matrix would look like, but action matrixes are typically a two-axis chart with "effort" on one axis and "impact" on the other, creating four action types: quick wins (low-effort, high-impact), fill-ins (low-effort, low-impact), major projects (high-effort, high impact), and thankless tasks (high-effort, low-impact).
Other guiding principles that emerged from the study include recognizing that contexts differ from region to region, community to community, and even site to site. As an IBC representative previously told STOREYS, different regions across Canada can often have their own unique set of risks. Atlantic Canada has a higher risk of hurricanes, while Western Canada is more susceptible to wildfires.
Yet another principle was to increase resiliency planning in order to achieve more efficient recovery in regions with known risks. Additionally, the IBC and CMHC also repeatedly emphasized throughout their report that actors across the housing supply chain — buildings, insurers, lenders, sellers — should take up the responsibility of disclosing risk factors to homeowners, and prospective homeowners, throughout the homeownership life cycle.
Members of the study recognized that barriers to this disclosure currently exist, such as privacy laws, constraints on the bank level, and differing alignments between levels of government, but that those barriers need to be quickly removed if Canada wants to meet its stated goal of having net-zero emissions and being climate-resilient by 2050.
Howard is a Staff Writer at STOREYS. He is based in Vancouver, British Columbia, and has also written about media for One Zero and international politics for WhoWhatWhy. Before STOREYS, he was also the Deputy Editor of 604 Now.
Why Blackstone's $69 Billion Property Fund Is Signaling Pain Ahead for Real Estate Industry – Advisor Perspectives
[unable to retrieve full-text content]
This Week's Top Stories: Canada's Real Estate Bubble Is Popping As Global Recession Looms – Better Dwelling – Better Dwelling
[unable to retrieve full-text content]
Investments in Inuit housing inadequate to address human rights violations: watchdog
From a family living for seven years in a condemned home that was meant to be temporary to people with disabilities having to be carried in and out of their bathrooms, Canada's housing advocate says during a tour this fall of several Inuit communities she got a glimpse into the dire living conditions many have faced for years.
"The current levels of federal investments are not adequate to remedy the human rights violations caused by the housing shortage," said Marie-Josee Houle.
The independent, non-partisan watchdog helps promote and protect the right to housing. Houle, who was appointed to the role earlier this year, travelled in October to Nunavut and Nunatsiavut, an Inuit region in Newfoundland and Labrador.
"The purpose is to really learn more about systemic issues in the North that need really serious attention and to listen to people with lived experience of their housing precarity and homelessness," she said of her trip.
"That focus on the North is also because people don't go there or they don't have the opportunity to go there."
Among the biggest takeaways, Houle said, was that housing is in short supply. Housing that is available is not in a good state, with issues like mould, or is otherwise unsuitable for elders or people with disabilities or children.
"The government neglect and underfunding for Inuit housing has absolutely taken its toll over the years," she said.
"Residents report a lack of trust in public institutions responsible for housing because the wait-lists are decades long and they've given up even applying for the housing programs."
Houle said inadequate housing in the North has led to overcrowding, increased contact with the justice system, exacerbated mental health issues and tension among families. It also means many people are forced to leave their communities, which can result in isolation, racism and violence.
"If it's not by choice, it can be a traumatizing experience for people," she said. "There's a lot of harrowing stories."
The 2021 census found almost a third of the nearly 49,000 Inuit who live in Inuit Nunangat — or Inuit homeland in Canada comprising communities in Nunavut, Northwest Territories, Newfoundland and Labrador and northern Quebec — were living in dwellings in major need of repairs. More than half were living in crowded homes.
This is not the first time abysmal housing conditions have been documented in the North.
The Standing Senate Committee on Aboriginal Peoples released a report in 2017 detailing the severity of the housing crisis in Inuit Nunangat. Former Nunavut NDP member of Parliament Mumilaaq Qaqqaq documented "inhumane" housing conditions in several communities in March 2021.
The federal government said it has made several investments in housing across Inuit Nunangat over the years. That includes $256.7 million over two years in the 2016 budget, $400 million over 10 years in the 2018 budget and $845 million over seven years in the 2022 budget.
But Houle said there's a need for more federal, provincial and territorial support, such as long-term funding and maintenance. She said it should respect Inuit self-determination and address unique northern challenges, such as the climate, short construction season, lack of transportation infrastructure and high costs.
In its 2022 pre-budget submission, Inuit Tapiriit Kanatami said it would take more than $3 billion over the next decade to construct new housing, as well as maintain and repair existing homes in Inuit Nunangat.
Nunavut Premier P.J. Akeeagok and representatives from Nunavut Tunngavik Incorporated met with Prime Minister Justin Trudeau in October to request $500 million in the upcoming budget to address the territory's housing gap.
The Nunavut government recently announced a new plan to build 3,000 more homes by 2030, tripling the annual rate of new public housing units currently being constructed. Of those, 300 will be transitional housing units, 1,400 public housing units, 900 affordable housing units and 400 market housing units.
"It is ambitious, but I think if we stick close to the plan and things work out, it's very achievable," said Lorne Kusugak, the minister responsible for the Nunavut Housing Corporation.
Kusugak said the territory can't continue to build homes the way it has in the past, where bids have come in at about $1,000 a square foot. He said instead of issuing annual requests for housing, the territory is partnering with the private sector to build homes over a longer period of time at a lower cost.
"We know this isn't going to be easy and there will be a lot of criticism throughout the process, but we have to do something," he said. "If we accomplish a few more houses each year by doing this … then we're headed in the right direction.
"It's going to be a struggle, it's going to be a fight. We're ready for that fight."
This report by The Canadian Press was first published Dec. 3, 2022.
This story was produced with the financial assistance of the Meta and Canadian Press News Fellowship.