Canada real estate: Where home prices have grown the most
While average home prices across most provinces and territories have cooled considerably since reaching their peak in February, several markets are still seeing prices rise year-over-year.
According to the latest data released by the Canadian Real Estate Association (CREA), major markets such as the Greater Vancouver and Toronto areas, Montreal and Calgary all saw average home prices increase between September 2021 and September 2022. However, smaller real estate markets situated outside of these hubs saw higher annual growth rates by comparison.
This is because rising interest rates have a greater influence on home prices in larger, more expensive markets, said Shaun Cathcart, CREA's senior economist and director of housing data and market analysis.
"Interest rates have a massively greater impact on places where the price to income ratio is much higher," Cathcart told CTVNews.ca in an interview on Wednesday. "People need to be borrowing more closely to the limits of the stress test [in more expensive markets]."
Regions that saw home prices balloon during the pandemic, such as Ontario and British Columbia, are now seeing their annual gains shrink as buyers are faced with higher stress test rates, Cathcart said. On the other hand, affordable markets such as the Prairies and Maritimes may not have made the same kinds of gains, but did a better job of holding onto them, he said.
"In some of these more affordable places, [average prices] not only continued to climb for longer in the spring, they've also declined by less from then until now," said Cathcart.
In Victoria, B.C., for example, the average price of a home rose 15 per cent from September 2021 to September 2022. During the same period, average home prices in Saguenay, Que., increased 13.9 per cent. Residents of Yarmouth, N.S., saw the highest annual growth of any real estate market in September 2022 with a rate of 21.7 per cent. These figures are MLS benchmark prices, calculated to reflect price trends based on the majority of homes in a given area.
However, these kinds of price gains are not likely to stick around as rising interest rates continue to drive down home prices, Cathcart said.
"Those year-over-year gains are rapidly shrinking with every month that goes by," said Cathcart. "[October] might be the last month that you see so many markets that still have year-over-year gains."
Below is a list of properties CTVNews.ca has gathered that are on sale in markets that have seen some of the highest annual growth rates across the country.
YARMOUTH
(Louisette Higgins, Modern Realty)
Type: House
Price: $339,900
Year Built: 1987
Property Size: 200.67 sq. m
Lot Size: under 0.2 hectares
Price Growth: 21.7 per cent year-over-year
This four-bedroom, two-bathroom home in Yarmouth, N.S., has a fully-fenced backyard, with a new deck and above-ground pool. The main floor has an open-concept living and dining area leading to a kitchen with a breakfast bar. In the basement is a laundry room with access to the backyard, as well as another room that can be used as an office or home gym.
GREATER MONCTON
(Emma Lee Arsenault Photography / Adele Poirier, Keller Williams Capital Realty)
Type: House
Price: $349,900
Year Built: 2007
Property Size: 212.38 sq. m
Lot Size: 322 sq. m
Price Growth: 19.6 per cent year-over-year
Spanning nearly 213 square metres, this two-storey home has three bedrooms and three bathrooms. Hardwood and tile floors run throughout the main level, and the living room includes a propane fireplace. From the dining area, two sliding patio doors lead to a four-season sunroom that can be used year-round. The basement is also completely finished and has a separate side entrance.
ALBERTA WEST
(KLIK Solutions / Lori Gelmici-Hanni, Royal LePage Edson Real Estate)
Type: House
Price: $629,500
Year Built: 2013
Property Size: 147.44 sq. m
Lot Size: 1.59 hectares
Price Growth: 17.7 per cent year-over-year
Laminate flooring and modern finishes run throughout this rural home near Edson, Alta. Designer lighting on the main floor decorates the high ceilings, while the kitchen features granite countertops and an oversized island. Filling the rest of the home are four bedrooms and three bathrooms. A family room occupies the basement, along with a newly renovated bathroom complete with a tiled shower.
VICTORIA
(Spartan Media / Anna Piloyan, Re/Max Camosun Oak Bay)
Type: House
Price: $799,999
Year Built: 1920
Property Size: 89.74 sq. m
Lot Size: 408.77 sq. m
Price Growth: 15 per cent year-over-year
Built in the 1920s, this character home features high ceilings and large windows. The one-storey home also comes with a small, detached garage that can be transformed into a workshop. Perched on a large rock, the house overlooks the Oaklands neighbourhood in Victoria, B.C., and is situated within walking distance of parks, schools and restaurants.
PRINCE EDWARD ISLAND
(Taralynn Arsenault, Palmer Real Estate Group, Keller Williams Select Realty)
Type: House
Price: $399,999
Year Built: 2002
Property Size: 272.39 sq. m
Lot Size: 0.26 hectares
Price Growth: 14.5 per cent year-over-year
This four-bedroom, four-bathroom rural home is located between Charlottetown and Summerside, P.E.I. The secluded lot features patios at the front and back of the house, as well as a gazebo in the backyard. On the main floor is a kitchen, formal dining room, living room and office. The main bedroom on the top floor has an ensuite with a double sink, full shower and separate jet tub.
SAGUENAY
(Saïda Murray, Proprio Direct)
Type: House
Price: $365,000
Year Built: 1974
Property Size: 178.37 sq. m
Lot Size: 0.2 hectares
Price Growth: 13.9 per cent year-over-year
Situated in a quiet neighbourhood in Saguenay, Que., is this four-bedroom, one-bathroom home. The large lot backs onto a forest, and there are no neighbours behind the home. The two-storey house also has a finished basement, and is located near essential amenities as well as the Chicoutimi River.
CALGARY
(Dianne Brown, Re/Max Landan Real Estate)
Type: House
Price: $685,000
Year Built: 1912
Property Size: 79.8 sq. m
Lot Size: 226 sq. m
Price Growth: 11.5 per cent year-over-year
On the main floor of this Calgary home are 10-foot ceilings and a large bay window. The corner lot has one bedroom plus a den, as well as one bathroom. The kitchen features white cabinetry, an exposed brick wall and stainless steel appliances, while the living area has a gas fireplace with a mantle. Oak floors installed when the home was first built in 1912 run across both storeys of the home.
WINDSOR-ESSEX
(Windsor Creative Real Estate Photography / Rick Lescanec, Deerbrook Plus Realty)
Type: House
Price: $699,900
Year Built: 1900
Property Size: 213.68 sq. m
Lot Size: 450 sq. m
Price Growth: 10.8 per cent year-over-year
While it may be more than 100 years old, this Windsor, Ont., home has been restored throughout the years. A brick porch sits at the entrance of the five-bedroom home, which also features custom stonework in the bathrooms. The sunroom leads to a backyard with a deck and gazebo. There is also an open-concept loft with a skylight.
SOUTHEAST SASKATCHEWAN
(Gale Tytlandsvik / Linda Mack, Re/Max Blue Chip Realty)
Type: House
Price: $364,900
Year Built: 1985
Property Size: 119.10 sq. m
Lot Size: 767.29 sq. m
Price Growth: 9 per cent year-over-year
This four-bedroom, three-bathroom bungalow in Estevan, Sask., has had various upgrades since it was built in 1985. In addition to living, dining and kitchen areas on the main floor, the basement features a sizeable family room with built-in cabinetry and a gas fireplace. Also in the basement is a den, storage room and hot tub. The fully fenced backyard includes a deck, garden and two sheds.
NEWFOUNDLAND AND LABRADOR
(Matt Grandy Photography / Jackie Kavanagh, YYT Realty Group- Kavanagh Burke, Royal Lepage Vision Realty)
Type: House
Price: $309,900
Year Built: 1954
Property Size: 212 sq. m
Lot Size: under 0.2 hectares
Price Growth: 8 per cent year-over-year
This 212-square-metre home in St. John's, N.L., comes with a large updated kitchen, complete with in-floor heating and ceramic tile. Making up the rest of the home is a large living and dining area, as well as four bedrooms and two bathrooms. In the basement is a laundry room and family room. The detached home is situated within walking distance of a hospital and grocery stores.
INTERIOR BRITISH COLUMBIA
(PrimeLight Media / Shannon Stone, Re/Max Kelowna Stone Sisters)
Type: House
Price: $799,900
Year Built: 1940
Property Size: 129.88 sq. m
Lot Size: under 0.4 hectares
Price Growth: 6.1 per cent year-over-year
Located in Kelowna, B.C., this 130-square-metre house is surrounded by greenery. The large backyard serves as the ideal outdoor living space, complete with a concrete patio and flower garden. Inside are two bathrooms, updated to include heated flooring, as well as two bedrooms. The home also has an open-concept living and dining area that connects to the kitchen.
MONTREAL
(Stephanie Rizzuto, The Agency Montreal)
Type: Apartment
Price: $499,000
Year Built: 2015
Property Size: 68 sq. m
Lot Size: N/A
Price Growth: 5.7 per cent year-over-year
Located in Montreal's Griffintown neighbourhood is this two-bedroom, one-bathroom corner apartment. Nine-foot floor-to-ceiling windows are found throughout the unit, which features an open-concept floor plan and private balcony. In the condominium are amenities such as a picnic area, heated outdoor pool and rooftop terrace with 360-degree views of downtown Montreal.
TORONTO
(John Wilken Open House Media / Sean Miller, Property.ca)
Type: Apartment
Price: $999,000
Year Built: 2022
Property Size: 107.77 sq. m
Lot Size: N/A
Price Growth: 4.3 per cent year-over-year
Polished concrete ceilings in this apartment unit serve as a stark contrast to its modern design. Along with three bedrooms and two bathrooms, this corner unit in Toronto's Leslieville neighbourhood also has a walk-in closet and a 100-square-foot balcony offering north-facing views of the city. Floor-to-ceiling windows also allow plenty of natural light to seep in.
WINNIPEG
(Nicole Landry-Milner, Re/Max Performance Realty)
Type: House
Price: $389,900
Year Built: 1909
Property Size: 160.91 sq. m
Lot Size: 306.58 sq. m
Price Growth: 2.2 per cent year-over-year
This home in Winnipeg's Wolseley neighbourhood spans two-and-a-half storeys. Near the entrance is a living room with a fireplace mantel, which leads to dining and kitchen areas. Also on the main floor is a newly renovated bathroom with a walk-in shower. On the upper floor is a laundry facility, two bedrooms and a four-piece bathroom. Meanwhile, the partially finished basement includes a recreation room, bathroom and bedroom.
Sale of $37M property could be biggest residential real estate deal in Kelowna history – iNFOnews
A 90-acre parcel of land in the Rutland area of Kelowna has gone on the market for $37 million.
It's not listed through any realtor but is posted on the For Sale by Owner Inc. website.
It's 90.19 acres at 1151 McKenzie Rd., which is north of the Toovey Road subdivision and west of the Black Mountain Golf Course.
The land went on the market two to three weeks ago, according to the owners' lawyer, Crystal Wariach.
"Over 90 acres of Kelowna's finest future development land with spectacular panoramic views of the lake and city lights," the real estate listing says.
The land is not in the agricultural land reserve and is designated for housing.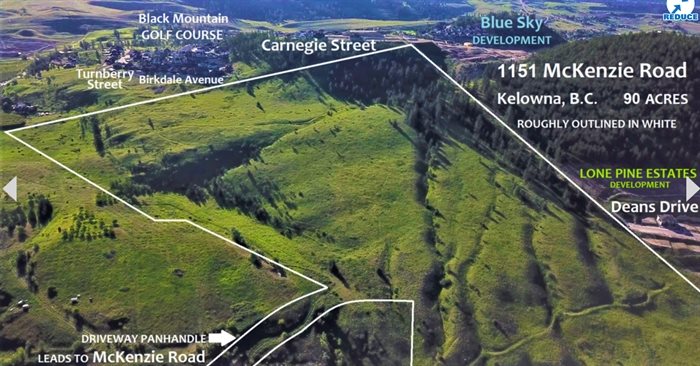 This outlines the property.
Image Credit: Submitted/ForSalebyOwner.ca
In 2019, when city council was looking at various growth scenarios, Wariach emailed councillors on behalf of the owners (cited as Balbir Wariache and Mrs. Prem Wariache).
She asked that this parcel retain is designation as future housing, which is what happened.
"Over the past two years, my clients have had professional development plans created for the property," she wrote. "The plans provide for the build out of up to 320 lots for single-family homes on the property."
The owners bought the property in 1999 and continue to own it, Wariach confirmed.
She wasn't able to confirm, by publication time, whether development options had changed from the 320 lots envisioned in 2019.
The land is included in the Bell Mountain Area Structure Plan that was adopted by council in 2003.
Most of the land within that plan has been developed into single-family housing in subdivisions such as Blue Sky, Prospect Mountain and Lone Pine Estates, Wariach's 2019 email says.
The largest sale through the MLS listing service that has been publicized to date was announced in January 2021 when the Kirschner Mountain housing development sold for $22 million.
It included 190 acres of land left from a larger parcel that was part of the Kirschner Mountain housing development.
READ MORE: Sale of Kirschner Mountain for $22 million makes Okanagan history
If the McKenzie Avenue property sells for $37 million it will eclipse that sale in terms of residential property sold through the MLS system in the city.
Since the Kirschner Mountain sale, there have been bigger real estate deals in Kelowna.
Last December, the Mission Group paid $24 million for the former B.C. Tree Fruits plant near the North End of downtown.
READ MORE: $24M sale of Kelowna waterfront property will trigger hundreds of millions in economic impact
Earlier this year, Victor Projects spent $33 million to buy the former Costco site near the Highway 33 and Highway 97 intersection.
The McKenzie Road listing can be seen here and Wariach can be contacted by email at cwariach@outlook.com.
---
To contact a reporter for this story, email Rob Munro or call 250-808-0143 or email the editor. You can also submitphotos, videos or news tips to the newsroom and be entered to win a monthly prize draw.
We welcome your comments and opinions on our stories but play nice. We won't censor or delete comments unless they contain off-topic statements or links, unnecessary vulgarity, false facts, spam or obviously fake profiles. If you have any concerns about what you see in comments, email the editor in the link above.
An ETF to Consider While Investors Pick Up Distressed China Real Estate
Investors are giving the China real estate market a second look as the country continues to work through the real estate doldrums brought on by last year's Evergrande Crisis. As such, this opens up opportunities for exchange traded funds (ETFs) that get exposure to Chinese real estate.
It's often said in the investment world to follow the "smart money." That could mean tailing the bets of institutional money managers such as Brookfield Asset Management, which is looking at opportunities in distressed Chinese real estate.
Per a South China Morning Post article, "Brookfield Asset Management is on the lookout to acquire premium commercial property from distressed Chinese developers, aiming to increase its footprint in the world's second-largest economy where fresh capital is needed to bail out the troubled real estate sector." Based on the report, the Canadian firm is targeting properties in specific cities with the probability of generating returns in the long run.
"We are seeing opportunities and are pursuing lucrative deals," said Yang Yiwen, senior vice-president of real estate portfolio management for Brookfield in China. "There will be drawn-out negotiations because of pricing gaps to close."
As mentioned, the value stems from last year's Evergrande Crisis, which saw a number of large real estate developers come close to defaulting on their loans. This prompted them to sell real estate such as commercial buildings at low prices in China's prime locales, giving real estate investors plenty of opportunities to snatch up property at a bargain.
An ETF to Play the Real Estate Bounce
ETF investors looking to play a rebound in China's real estate market can obtain exposure using the Global X MSCI China Real Estate ETF (CHIR). CHIR seeks to provide investment results that generally correspond to the price and yield performance, before fees and expenses, of the MSCI China Real Estate 10/50 Index.
The underlying index tracks the performance of companies in the MSCI China Index (the "parent index") classified in the real estate sector, as defined by the index provider. Summarily, ETF investors get the following:
Targeted exposure: CHIR is a targeted play on the real estate sector in China — the world's second-largest economy by GDP.
ETF efficiency: In a single trade, CHIR delivers access to dozens of real estate companies within the MSCI China Index, providing investors with an efficient vehicle to express a sector view on China.
All share exposure: The index incorporates all eligible securities as per MSCI's Global Investable Market Index Methodology, including China A, B, and H shares, red chips, P chips, and foreign listings, among others.
A look back, and ahead, at Canada's commercial real estate landscape
This year's Global Property Market conference opened with presentations which looked both forward and back . . .  reviewing the major trends of 2022 and offering an investment outlook for 2023.
Following are snapshots of what MSCI head of real estate economics Jim Costello and LaSalle Investment Management global strategist Jacques Gordon had to say during their talks at the Nov. 29 event at the Metro Toronto Convention Centre.
MSCI is a New York City-headquartered provider of decision support tools and services for the global investment community and Costello has 30 years of experience analyzing the relationships between real estate and economics.
LaSalle is a global real estate money manager with more than $81 billion in assets under management.
Gordon has been responsible for the macro strategy and micro research used to guide all investment decisions in 30 countries, but will soon take a new role as executive in residence at the Massachusetts Institute of Technology Center for Real Estate.
Jim Costello, MSCI
Costello said the real estate industry has enjoyed a period of tremendous returns globally and in Canada, but that dropped significantly in Q3 and major challenges remain ahead.
The global volume of real estate deals valued at more than $10 million is down from last year, when there was an enormous flow of capital into the sector. It is still, however, at an elevated level compared to historic deal flows.
"It was just a lot of folks hungry for yield in a period when interest rates were exceptionally low," Costello said. "But as rates reset, there are going to be challenges for some of those investments."
Many of the deals being done were larger as smaller assets that were traditionally purchased by investors with limited pools of capital behind them stopped moving earlier.
Liquidity fell in 97 of 155 global markets in the third quarter and Costello doesn't see it picking up again for a while.
New York City was the most liquid market in the world from 2017 to 2020, but the Australian city of Sydney now holds that title.
Larger gaps have been created between buyer and seller price expectations. Costello said price corrections are needed to drive U.S office liquidity.
He believes sellers need to cut their price expectations by 15 per cent to get deals done and that number could increase.
Deal activity was down in Q3 in every asset class and the most popular markets have also changed.
Instead of traditional front-runners New York City and London, Los Angeles and Dallas have become the top global markets owing to their large number of logistics facilities and apartment buildings — two asset classes investors continue to chase.
Alternative real estate sectors — including self-storage, data centres, medical office, research and development, manufactured housing, student housing and seniors housing — have been gaining ground on more traditional asset classes.
Jacques Gordon, LaSalle Investment Management
Gordon said there were four inflection points affecting global economies and real estate in the transition from 2022 to 2023 and beyond. Things are moving:
•    from interest rates being lower for longer to higher rates with a heavier drag on cash flows;
•    from a COVID rebound to a global stall;
•    from upward price pressure to downward price pressure; and
•    from fossil fuel-driven economies to renewable energy-driven economies.
"Most of us are in private equity real estate," Gordon said in talking about interest rates. "Whether we're debt or equity players, we're putting money to work for multiple years at a time.
"When you do that, you realize that we're going to have to endure this period of, probably, 12 to 18 months of higher inflation and higher interest rates, but this too shall pass."
Gordon said the COVID-19 pandemic "blasted a hole in the global economy" in 2020, but last year there was a "supercharged rebound with governments just blasting out surplus money."
However, gross domestic product (GDP) numbers in countries around the world have been well below expectations in 2022.
Oxford Economics' GDP forecasts for next year aren't good, with several countries (including Canada) expected to have negative growth.
Real estate experienced major upward price pressure through 2021 and the first part of 2022, but now investors are having to deal with downward price pressure and declining transaction volumes in the sector.
Gordon said the depth of buyer pools has retreated across property types and, although deals can still get done, there are fewer bids for properties and sellers often don't want to accept them.
Office vacancy rates are on the rise. JLL figures show a global vacancy rate of 14.5 per cent, with Europe at 7.2 per cent, Asia Pacific at 14.1 per cent and the U.S. at 19.1 per cent in the third quarter.
Coal, oil and gas comprise 77 per cent of the global primary energy mix, but Gordon said the future of energy looks nothing like its past.
He believes it's going to take a lot of hard work to reduce the reliance on fossil fuels and shift toward more environmentally friendly energy.
"We in this room can commit to a net-zero-carbon world, but we need the rest of the world to come with us," Gordon said. "Otherwise, we won't get there."