Canada's buildings are becoming bigger, bolder 'placemakers' | RENX – Real Estate News EXchange
EDITOR'S NOTE: This is the first of a two-part series that looks at our densifying suburban cities in Metro Vancouver and the GTA.
Canada's big-city buildings are changing. We're jamming in more uses, more amenities and more people into bigger, bolder buildings — and many of these projects are in the suburbs.
We are seeing taller buildings, decentralized commercial vitality and an increase in stacked mixed-use buildings sometimes combining residential, light industrial, office and retail all in one site or complex.
While pandemic-fuelled remote work and e-commerce activity led to a spike in demand for both suburban real estate and industrial space, these trends are not new.
Despite strong growth in downtowns across the country, we were already seeing some jobs, commerce, homes and people dispersing into satellite cities or post-suburban city centres — especially in and around Toronto and Vancouver.
The pandemic and the new normal we're experiencing is really just an acceleration of what was already taking place. Placemaking, or the process of developing quality spaces where people can live, work and spend their money, has evolved.
It's no longer just the Liberty Villages, East Harbours and The Well.
So what does the future of high-density look like and can our communities handle this?
Buildings are moving up and moving out
Population growth, limited land availability and rising costs have led developers to make more efficient use of the lands they can get their hands on.
For projects to be cost-effective with limited space to build out, developers are building up. This is especially true in our largest cities where the number of developable sites sometimes feel like postage stamps.
As a result, we are starting to see bigger, bolder skyscrapers.
A great example of this is Sky Tower at Pinnacle One Yonge. The 95-storey behemoth is a mixed retail residential building currently under construction along the Gardiner Expressway in downtown Toronto.
Set to complete in 2024, Canada's tallest tower will have 840 condos plus space for a hotel, community centre, offices and retail space.
This is a multi-use tower that will rival every other super-tall building in the city in height, except for the CN Tower.
Also in Toronto, One Delisle by Slate Asset Management and Studio Gang Architects will begin construction soon, eventually completing in 2026. The 44-storey tower will include condos, as well as office and retail uses.
Suburbs are starting to resemble cities
Interestingly, this trend of building up is also extending to the suburbs.
In the Vancouver context, most of this development is taking place in the suburbs. As housing prices continue to rise and young professionals begin to settle down, suburban neighbourhoods are becoming more popular and, as a result, more metropolitan.
Rezonings and redevelopments in the already dense downtown cores are also becoming more challenging.
People often want to live in the neighbourhoods they grew up in; however, the cost of housing has gone up dramatically and affordable single-family homes are in limited supply, making high-rise residential an attractive and sometimes the only option.
In order to accommodate the demand and make more efficient use of space, suburban areas such as Markham, Mississauga, Surrey, Coquitlam and Burnaby are seeing high-rise projects currently under proposal or construction.
M3 and Gatineau Place, designed for heights of 77 and 82 stories, respectively, are examples.
The densification of suburban neighbourhoods is a trend that is expected to continue and potentially intensify with remote work and the limited supply of affordable single-family homes.
Companies now have the option to put non-client-facing employees in more affordable suburban space or let them work from home more regularly, further decentralizing economic activity.
Mixed-use buildings are becoming increasingly popular
Higher density requires more efficient use of infrastructure, which has led to more developers proposing, and municipalities approving, multi-stacked, mixed-use buildings.
Residents are now looking to live, work and play within the same neighbourhood, which has led to the development of new, ultra-high-rise buildings outside of downtown cores or in the suburbs.
For example, Slate Asset Management recently acquired an acre-sized parcel of land at 339 East First Ave. in the False Creek Flats in Vancouver.
The property is currently zoned for industrial uses. In light of anticipated policies in the coming Broadway Corridor Plan (Q1 2022), however, the firm is exploring opportunities to transform its site into a mixed-use destination that will include both jobs and homes.
Its plan for the site includes light industrial uses at grade and opportunities for significant increases in office and housing uses on upper floors — a true ecosystem.
Slate has been active in discussions with Vancouver Planning Staff and neighbouring landowners who share a similar vision for the area.
In Burnaby, M3 and Gatineau Place offer a mixture of residential and retail. 4444 Kingsway, currently under proposal, is looking to take mixed-use one step further by combining residential, hotel, office and retail all in one high-rise tower complex.
At Richmond Town Centre, Shape Properties and Cadillac Fairview are working on a joint venture to transform a shopping centre into a world-class master-planned destination with open spaces, boutique shopping and eventually the addition of 2,000 new homes in the community.
Meanwhile, Surrey City Centre represents one of the fastest-growing hubs in all of Canada and is enjoying attention and activity from top developers like Bosa Properties, Anthem, Concord, PCI and many others.
The lack of industrial space is leading developers to get creative when it comes to commercial spacing, mixing light industrial with office/retail.
Previously there was no desire to combine industrial with other uses; however, with industrial vacancy rates declining and the need for additional warehouse space increasing, mixed-used industrial is becoming more common.
The next phase in the evolution
As e-commerce continues to become a larger component of retail operations, we may start seeing logistics and retail merge on the ground floor of multi-use buildings.
For retailers to be able to hit the next milestone in growth, there could be the extension of storage space by moving the interior back wall forward to allow for more e-commerce orders to be fulfilled directly from the store.
There has already been a shift toward municipalities asking for retail at grade, and as density in the suburbs continues to build, it is likely that larger retail at ground level will follow.
As both lifestyle and consumer needs progress, the idea of placemaking and the future of high-density will continue to evolve.
Canadian Real Estate Prices Will Have A Hard Time With Higher Mortgage Rates: BMO – Better Dwelling
Seeking BCREA Appointee to the Real Estate Foundation of BC – BCREA
The BC Real Estate Association (BCREA) Board of Directors is seeking an appointee for the Real Estate Foundation of BC's Board of Governors. This appointment term would commence April 1, 2022.
About the Real Estate Foundation of BC
In August 1985 the British Columbia real estate industry, in cooperation with the BC Ministry of Consumer and Corporate Affairs, established the Real Estate Foundation as a non-profit corporation under the Real Estate Act. On January 1, 2005, the Real Estate Services Act and the Real Estate Development Marketing Act replaced the Real Estate Act. The Foundation continued under the Real Estate Services Act.
The purpose of the Foundation is to undertake and carry out real estate public and professional education, real estate law reform, real estate research and other projects intended for the public or professional good in relation to real estate activities and to undertake and carry out projects and activities that the Minister designates as being in the public interest.
Call for Letters of Interest
Responsibilities include:
Governing in public interest;
participating in Board affairs;
understand the organization's mandate;
participate in the development, review, and approve the strategic plan;
select, appoint, compensate, evaluate, and terminate the Chief Executive Officer;
review financial and corporate issues; and
review and consider staff grant recommendations.
The Board operates within the broad policy direction prescribed by section 93 (1) of the Real Estate Services Act.
If you are somebody who has the following attributes and competencies, we would love to hear from you:
strong real estate experience;
governance experience;
a commitment to advancing equity, diversity, and inclusion; and
a commitment to learning and strengthening relationships with Indigenous Peoples and governing entities.
For the full list of desired personal attributes & competencies, please click here.
While previous experience as a governor is not required, it is important that Governors understand the roles and responsibilities of a member of a not-for-profit governing board and have the necessary experience and demonstrated skills to enable them to contribute to board planning, decision-making and oversight.
Time and Term Commitment
The amount of time a Governor spends on Foundation business varies from month to month, and from person to person. A Governor can expect to spend a minimum of eight in-person days on Foundation business throughout the year. This does not include committee, meeting preparation or travel time.
In addition, Governors are requested–individually or as a Board–to attend special events from time to time.
Each member is appointed for a one to three-year term and may serve up to six years in a row.
How to Apply
For the full Governor role description, click here.
If you have questions about the vacancy or wish to apply, please submit a letter of interest and current resume to the attention of the BCREA Nominating Committee at [email protected] by February 11, 2022.
The BCREA Nominating Committee thanks all applicants; however only those selected as potential candidates will be contacted.
To subscribe to receive BCREA publications such as this one, or to update your email address or current subscriptions, click here.
Another record month for Woodstock-area real estate market – Woodstock Sentinel Review
While the number of home sales in Woodstock hit a record high last year, real estate officials predict the ongoing shortage of housing inventory will continue throughout 2022.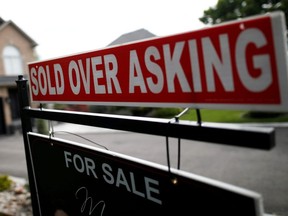 Article content
While the number of home sales in Woodstock hit a record high last year, real estate officials predict the ongoing shortage of housing inventory will continue throughout 2022.
Article content
Last year, home sales totalled 1,888 units in the Woodstock area, Woodstock-Ingersoll & District Real Estate Board officials said, which was a 10.2 per cent increase from 2020.
Anthony Montanaro, the president of the Woodstock-Ingersoll & District Real Estate Board, said the surging home sales and scarcity of new listings were simply the result of an increased demand for housing.
"It's basically the old supply and demand. Woodstock is in a lot of demand from outside our area," Montanaro said.
He says this heightened demand is primarily coming from buyers in the Greater Toronto Area.
"A lot of people are migrating down the 401 (and) 403 corridors going out west, but we are also seeing some migration from Kitchener, Guelph and the Hamilton area," Montanaro said.
Because of this new migration leading to a higher demand, the Woodstock area's current housing shortage has only become worse.
"Although the number of newly listed properties during December was well above average for this time of year, it was still insufficient to keep up with the seemingly endless demand. As a result, overall inventory has dropped below 40 active listings for the first time in history. Without an influx of new listings, the ability of buyers to find a home that suits them will soon become severely limited," Montanaro said.
At the end of this past month, active listings had fallen to 36, a sharp decrease of 39 per cent from December 2020. This was the lowest number of active listings for the month of December in past three decades, real estate officials said.
Article content
Despite this shortage, Montanaro said that demand will only continue.
"There's no inventory – the demand is tight because of that – so it's going to be more of the same. We are going to see repeats of this going forward into 2022," he said.
A recent population study by Ontario's Ministry of Finance also predicts Oxford County's population will increase by more than 35 per cent by the year 2046, adding to the demand on the local market.
In light of this, Montanaro said there are more and more buyers competing for the same homes, resulting in "multiple-offer situations" and contributing to rising home prices in the region.
"It's being fuelled by people coming from the Greater Toronto Area area," Montanaro said.
The benchmark for home prices – measured by the MLS Home Price Index, which was used to calculate the standard prices of houses in the region in December 2021 – had reached $641,400, a 32.4 per cent from December 2020.
The total dollar value of all homes sold last month was $82.4 million, a 56.2 per cent jump from last December and an all-time record for the month.
"With fierce competition for such few listings, it's no surprise that both average price and the (benchmark price) set all-time records in December," Montanaro said.
Looking ahead to 2022, Montanaro said the market would be dictated by inventory levels.
"If inventory starts to increase, then I think you can see prices kind of level off but, if the demand is still there – which we forecast that it still will be there – and the inventory is low then, yes, I can see prices increasing a little bit this year," he said.