Canadian airlines cancel hundreds of flights as hopes fade for spike in demand – Global News
Rachel Farrell can now claim the unfortunate distinction of having two destination weddings called off in one year.
The 26-year-old event co-ordinator had booked a Transat flight out of Halifax for Feb. 15, 2021, as part of her planned nuptials in the Dominican Republic, but was told this week the airline had cancelled the trip and would not make the journey until six days later.
She and her fiancee had first booked their trip package for last April, which Transat nixed after it grounded its entire fleet due to the pandemic.
"I was upset but understood that it wasn't Air Transat's fault, so we would wait until air travel resumed and rebook as soon as we could since refunds weren't an option," Farrell said.
She did that in July, rebooking the flight for February using travel credit based on the $37,000 she and her nearly two dozen guests had paid for the package.
"Even though they knowingly chose to cancel my rebooked wedding group, they still won't give us a refund," Farrell said, noting Transat is again offering credit.
"My travel agent has told me that even if I rebook next week, they might still push the dates further… I don't know what to do now and all I really want is to get married."

4:30


Banning airline passengers who refuse to comply



The problem is increasingly common, with Canadian airlines cancelling hundreds of flights as hopes for a spike in demand fall flat, snarling plans for the few passengers who remain.
Air Canada and WestJet have cancelled at least 439 flights so far this month, according to figures from flight data firm Cirium.
The cancellations come after airlines banked on a return of business travel and a continued uptick in leisure trips in the fall, says John Gradek, who heads McGill University's Global Aviation Leadership program.
"They've decided since about the end of July to let loose on scheduled services and increasing the number of routes, at the same time hoping that the government will loosen up some of its restrictions. And that's not been the case," he said.
Now, airlines are cancelling the half-booked flights and consolidating passengers on remaining ones to cut costs.

1:59


Canadian airlines take a 'multi-layer' approach to COVID safety



"There has not been a take-up by the Canadian travelling public of those seats that are being offered by the carriers, so they're cutting back those services significantly…and it's being done piecemeal rather than being done wholesale," Gradek said.
The letdown builds on an already devastating year.
Transat revenues fell by 99 per cent year over year last quarter, when the travel company operated flights for just one week.
Air Canada saw passenger revenues drop 95 per cent, prompting 20,000 layoffs as the airline burned through $19 million per day. WestJet has laid off about 4,000 employees since March.
Air traffic in August fell by two-thirds compared to a year earlier, according to Nav Canada, which operates air navigation across the country.
Flight consolidation does not always result in upended plans or wedding dilemmas.
"Sometimes airline schedules require minor surgery and sometimes major surgery," said Mike Malik, head of marketing at Cirium.
Sometimes the itinerary change can mean a departure delay of an hour rather than a week.
"We know that most travellers right now are not business travellers," Malik said. "These are VFR travellers — visiting friends and relatives. So if you're visiting friends and relatives, you probably don't need a 7 a.m. flight for a 9 a.m. meeting in Toronto."
The reassurance comes as cold comfort for Darlene Hatter, who was twice slated to attend her son's destination wedding in Costa Rica, with both flights from Toronto now cancelled.

3:05


Vouchers vs. refunds: Transportation experts weigh in on what Canadian airlines should be offering



Her son Robert Przybylski, 35, is now out $15,000, as well as the $2,800 each of his 85 guests shelled out, she said.
"It's very frustrating," Hatter said.
"The airlines in my opinion are taking advantage big-time of this and stomping on the little people just because they can. The government needs to step up and tell these airlines to give people their refunds."
© 2020 The Canadian Press
Are nursing homes above the law? WestJet changes course on COVID-19 refunds: CBC's Marketplace Cheat Sheet – CBC.ca
Miss something this week? Don't panic. CBC's Marketplace rounds up the consumer and health news you need.
Want this in your inbox? Get the Marketplace newsletter every Friday.
Ont. Nursing homes are breaking the law repeatedly, with few consequences
In our latest investigation, we uncover exclusive details on serious safety violations before the pandemic, including abuse, inadequate infection control, unsafe medication storage, inadequate hydration and poor skin and wound care. Our data analysis reveals 85 per cent of the province's nursing homes are repeat offenders for some of the most serious violations with almost no consequences. Read more
This man installed a hidden camera in his mother's room at a long-term care home in Scarborough, Ont. The videos showed different employees physically and verbally abusing the 82-year-old. She was "holding onto the bed rails for dear life," her son said. 5:00
WestJet says it will now provide refunds for COVID-19 cancellations. Will other airlines follow?
If you're among the thousands of Canadians fighting for a refund on air travel cancelled because of the pandemic, you might be in luck. WestJet announced on Wednesday that it would begin offering refunds in the original form of payment, instead of credits. The company said it's the first national airline in the country to proactively begin refunding customers during the pandemic — a comment that Air Canada has since contested. Read more
Google is facing an antitrust lawsuit from the U.S. Justice Department. Here's what it means
The United States Justice Department alleges Google abused its dominance in online search and advertising to stifle competition and harm consumers. It's a serious charge and one that Google is expected to fiercely oppose. The company tweeted shortly after the announcement that the "lawsuit by the Department of Justice is deeply flawed. People use Google because they choose to — not because they're forced to or because they can't find alternatives." Read more
Last week, Marketplace investigated fake appliance repair listings online and why you can't always trust Google Maps.
A Marketplace investigation has linked one company in the industry to a network of fake locations and names on Google Maps. 2:09
She wants to honour her husband's dying wish. But Apple won't let her access his account
It's been four years since Carol Anne Noble's husband died, but she's still struggling to fulfil a promise she made before his death. Noble wants access to an Apple account she and her husband shared — but was under his name — so she can access and ultimately publish a journal he wrote documenting the progression of his illness. But instead of giving her the password she's forgotten, the tech giant is demanding she jump through complicated legal hoops to satisfy what experts say is an outdated U.S. law. Go Public reports. Read more
Carol Anne Noble of Toronto wants access to an Apple account she and her late husband shared — but was under his name — so she can fulfil a promise she made to him before he died. 2:32
What else is going on?
Tim Hortons to stop using two cups for hot drinks, use sleeves instead
It's part of the coffee chain's pledge to reduce paper waste.
Government calls on private sector to come up with compostable, recyclable pandemic gear
Initiative seeks to reduce waste from single-use PPE, such as masks, as consumption skyrockets.
Dollarama recalls bogus hand sanitizer
Daily Shield hand sanitizer contains methanol, which can be deadly to humans.
Air Transat lays off half of its remaining flight attendants, closes Vancouver base
128 attendants got layoff notices last week.
Ontario restaurants near virus hot spots weigh safety-vs-profit with locals-only dining
Some restaurants are making the choice to bar out-of-town customers from indoor dining.
These SALT lounge chairs have been recalled due to a fall hazard
Owners are being urged to return the affected chairs to any Bed Bath & Beyond location for a full refund or credit.
These Cottonelle flushable wipes have been recalled due to possible contamination
Consumers should immediately stop using the recalled product and dispose of it.
This CB2 bookcase has been recalled
The bottom of the bookcase can become weak or collapse, posing an injury hazard.
This week on Marketplace
David Common reveals exclusive details on the state of Ontario long-term care homes. 22:33
Imagine being a senior locked down in a long-term care home during COVID-19.
Most of your family can't visit. Meals have been a solitary affair in your room. And, if there's an outbreak, people are dying around you. It's a haunting prospect — but hardly the first bad thing to happen inside a nursing home.
Marketplace has, for three years, had a specialized team investigating care homes, the companies that own and operate them, and the government system that supports them.
In the stories we've done, we've always wondered: Do things get better?
And that's what we've set out to answer in this week's episode.
Our team has found that long-term care homes have violated legislation governing Ontario's care homes 30,000 times over five years. And found that many of the problems identified by government inspectors — offences like abuse and neglect — actually repeat year after year.
It's one thing to look at numbers, but our team has found the people impacted — and their stories are gripping (and, at times, horrifying). Many of them also have secret video that they've shared exclusively with us — and now, you.
This story is years in the making, and a window inside a world many of us don't see — but could well end up inside.
-David Common and the Marketplace team
Marketplace needs your help
Have you seen a product claiming to cure COVID-19 that seems too good to be true? Maybe a miracle cure that has you asking questions? We want to hear about it. Email us at marketplace@cbc.ca.
CBC Marketplace is looking for people who have experienced racism in real estate. Have you received a low appraisal? Removed cultural objects to stage your home? Email us at marketplace@cbc.ca.
Catch up on past episodes of Marketplace any time on CBC Gem.
Cenovus snares Li Ka-shing's Husky Energy in $7.8bn deal – Financial Times
Cenovus Energy is to buy rival Canadian oil producer Husky Energy, controlled by Hong Kong billionaire Li Ka-shing, in a C$10.2bn ($7.8bn) deal as the wave of consolidation sweeping North America's battered oil and gas sector gathers speed.
The new company will be worth C$23.6bn, Cenovus said, making it Canada's third-largest oil and gas producer with an output of 750,000 barrels a day concentrated in the bitumen-rich oil sands of northern Alberta, the biggest single source of US crude imports.
The transaction is the latest in a string of North American oil mergers as operators seek to consolidate and cut costs. The largest came last week when ConocoPhillips agreed to buy Concho Resources in a deal worth $9.7bn, marking another big bet on the future of US shale.
Other recent deals include the $7.6bn takeover of US shale group Parsley Energy by Pioneer Natural Resources, Chevron's $13bn plan to buy Noble Energy and Devon Energy's $12bn deal to combine with rival WPX Energy.
The plummeting oil price had caused shares in Cenovus to fall by more than 60 per cent since the start of January, and Husky's by almost 70 per cent.
The deal was conceived as a nil-premium merger, but due to the divergence in share prices, Cenovus has agreed to pay a 21 per cent premium, or 23 per cent including warrants, to Husky shareholders. The transaction values Husky's shares at about $3.8bn, or $10.2bn including debt.
"We will be a leaner, stronger and more integrated company, exceptionally well-suited to weather the current environment and be a strong Canadian energy leader in the years ahead," said Alex Pourbaix, Cenovus's chief executive.
The new company will be 61 per cent owned by Cenovus shareholders, with the reminder held by Husky's investors. Two entities controlled by Mr Li, which own about 70 per cent of Husky at present, will emerge with more than 27 per cent of the new company's common stock.
Mark Oberstoetter, head of North America upstream research at Wood Mackenzie, said the takeover meant Cenovus would now have enough refining capacity to handle the bulk of its own production, which could add some "natural hedging back into the portfolio".
After the withdrawal of several international oil companies from the Alberta oil sands — where the high cost of producing bitumen, constant environmental opposition, and slow progress in building new pipeline infrastructure have deterred investors — the Cenovus deal points to the sector's further consolidation in the hands of local companies.
Future dealmaking could see remaining oil sands interests held by Total, Shell, BP, and Chevron — which no longer consider the region strategic — targeted for acquisition by Canadian operators, Mr Oberstoetter added. "Calgary used to be an international hub, but we've lost that," he said.
Both Cenovus and Husky were among oil-sands operators forced to shut some production this year as prices fell. The Alberta government, which offered to collaborate with the Opec cartel in its supply cuts earlier this year, has used a programme of so-called curtailments to restrict supply from operators, including Cenovus and Husky, to prevent production overwhelming local infrastructure.
Canada's production of bitumen — ultra heavy oil that must be upgraded before refining into fuels — has attracted environmental opposition because of its carbon intensity and its vast ecological footprint in northern Alberta.
Insufficient pipeline capacity to ship growing volumes of oil-sands production to markets beyond North America has periodically forced deep discounts on Canadian exports. The low quality of Alberta's oil also makes it cheaper. While US oil has traded at about $40 a barrel in recent weeks, the benchmark for Canadian oil has been priced at about $30 a barrel.
The companies said annual synergies created by the deal would amount to $1.2bn, largely achieved within the first year. Free cash flow would be achieved at a price of $36 for a barrel of West Texas Intermediate in 2021.
A new 12-person board will comprise eight directors from Cenovus and the remainder from Husky.
This IPO is a measure of China's growing strength – CNN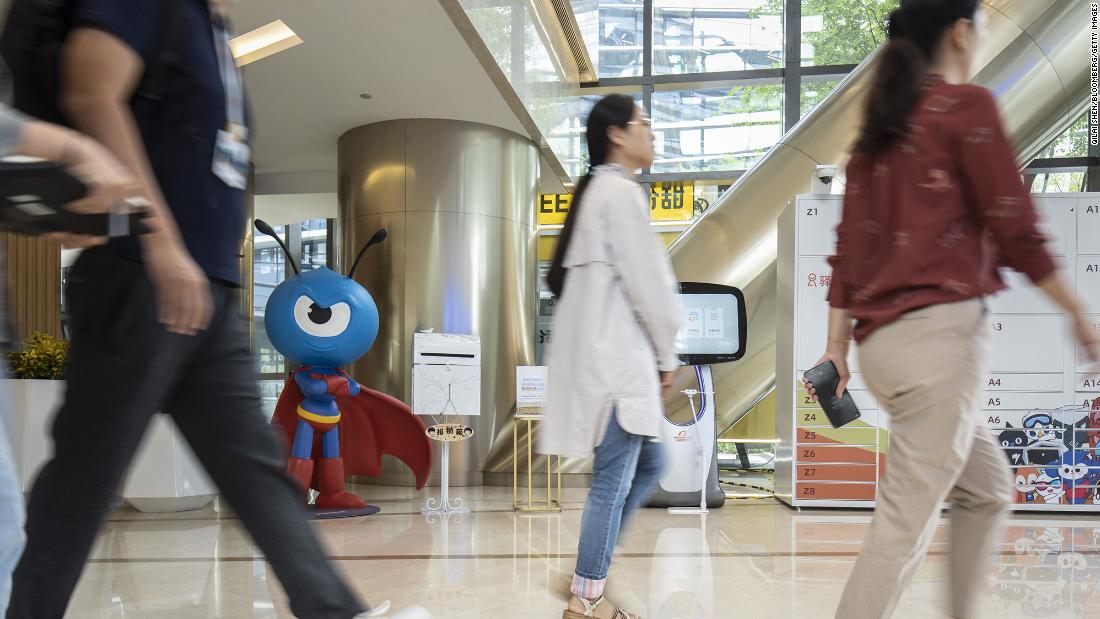 A version of this story first appeared in CNN Business' Before the Bell newsletter. Not a subscriber? You can sign up
right here
.
What's happening: In finance and tech,
China's clout
is growing just as its economy recovers from the pandemic in better shape than other big players.
Ant is the crown jewel of Jack Ma's tech empire, best known for its Alipay app that has more than 730 million monthly active users. On Tuesday, it's expected to announce that it will surpass the $29.4 billion Saudi Aramco's float raised last December by selling shares both in Hong Kong and on Shanghai's Star Market, China's answer to the Nasdaq.
For Beijing, which wants to encourage more seasoned investors to park their money in Chinese stocks and more Chinese tech companies to list their shares at home, it's poised to be a huge win.
"The Chinese government is more than happy to host a national champion on one of its major capital markets domestically at a time when many Chinese companies are facing greater political headwinds overseas," Xiaomeng Lu, senior geotechnology analyst at Eurasia Group, told me.
Lu said Beijing has been trying to send a message to China's top tech companies: "This is a difficult time, and we have your back."
A growing number of firms are listening as US-China tensions ramp up. There's little clarity on whether the presidential election in November will reset the relationship.
US threats and restrictions against Chinese tech companies like TikTok and WeChat send a warning. On Wall Street, Chinese firms also face additional scrutiny. Luckin Coffee was kicked off the Nasdaq following the disclosure of major accounting irregularities. US lawmakers, government agencies and stock exchanges have since taken steps aimed at limiting Beijing's access to America's vast capital markets.
"Chinese companies consider repatriation both to please [Beijing] and to insulate themselves from potential US action," Brock Silvers, chief investment officer at Kaiyuan Capital and former chief investment officer at Adamas Asset Management, told me.
In such an environment, a company like Ant has good reason to pursue a listing at home. Over the long term, that should be to China's benefit.
Ant's decision to opt for the Star Market, a pet project of Chinese President Xi Jinping, will give it a huge boost in legitimacy and value, Lu said, noting that the massive IPO will push the market capitalization of the Shanghai Stock Exchange, which includes the Star board, close to that of the Tokyo Stock Exchange. Silvers points out that the listing also gives China "greater control over an important company in a cutting edge sector."
Watch this space: China's markets are still "fairly immature" and "highly volatile," per Lu. But a listing like Ant's will certainly help raise their profile.
Can Big Tech keep up its winning streak?
Apple
(AAPL)
,
Facebook
(FB)
,
Microsoft
(MSFT)
,
Amazon
(AMZN)
and Google parent
Alphabet
(GOOGL)
now account for 23% of the market value of the S&P 500 — so you can bet that when all five companies report earnings this week, investors will be paying close attention.
In the second quarter, Big Tech served up a solid rebuttal to those who fear shares in these firms are overvalued.
See here: Amazon, which has benefited from surging demand for deliveries, posted quarterly revenue of $88.9 billion, a 40% increase from the prior year and a staggering $8 billion more than Wall Street expected.
Companies like Amazon and Microsoft likely maintained their momentum between July and September as work from home boosted demand for products like cloud services. The consensus on the Street is that Amazon's revenue will rise 32% compared to the same period in 2019.
But as pressure to regulate tech companies grows in Washington, strong results cut both ways.
Last week, the Trump administration sued Google in the largest antitrust case against a tech company in more than two decades. The Justice Department made sweeping allegations that Google has stifled competition to maintain its powerful position in the marketplace for online search and advertising.
For now, Wall Street views the risk that Washington could break up Big Tech companies as fairly limited. Growing financial clout, however, could put a larger target on these companies' backs.
Monday: New US home sales; Germany business climate; Hasbro earnings
Tuesday:
Ant Group prices IPO; US consumer confidence; Microsoft,
3M
(MMM)
,
BP
(BP)
,
Caterpillar
(CAT)
,
Eli Lilly
(LLY)
,
Merck
(MKGAF)
,
Pfizer
(PFE)
and
Xerox
(XRX)
earnings
Wednesday:
Bank of Canada meeting;
Boeing
(BA)
,
Dine Brands
(DIN)
,
GE
(GE)
,
Mastercard
(MA)
,
UPS
(UPS)
,
Beyond Meat
(BYND)
,
Etsy
(ETSY)
,
Ford
(F)
,
Gilead Sciences
(GILD)
,
Pinterest
(PINS)
and
Visa
(V)
earnings
Thursday:
US third quarter GDP; Japan consumer confidence; Initial US jobless claims; European Central Bank meeting;
Alibaba
(BABA)
, Alphabet, Amazon, Apple, Facebook,
Anheuser-Busch InBev
(BUD)
,
Comcast
(CCZ)
,
Dunkin
(DNKN)
,
Kellogg
(K)
,
Kraft Heinz
(KHC)
,
Moderna
(MRNA)
,
Molson Coors
(TAP)
,
Spotify
(SPOT)
,
Yum! Brands
(YUM)
,
Activision Blizzard
(ATVI)
,
Starbucks
(SBUX)
and
Twitter
(TWTR)
earnings