Canadian Press NewsAlert: Quebec reaches more than 100000 total cases of COVID-19 – Vancouver Courier
MONTREAL — Quebec reached more than 100,000 total cases of COVID-19 on Sunday, becoming the first province in Canada to hit the somber milestone since the pandemic began in March.
But despite remaining the country's coronavirus epicentre, public health experts say a recent downward trend of infections is an encouraging sign.
"It's a moment where we all sit up and say wow, 100,000 – that's a lot of zeroes," said Erin Strumpf, an associate professor at McGill University specialized in health economics.
"But again I think the more important thing to be paying attention to is the trend that we've been seeing recently in the province."
The province reported 879 new cases on Sunday, bringing the total to 100,114infections since the start of the pandemic.
The curve of new infections appears to have flattened over the past few weeks though, Strumpf said in an interview.
That downward trend, she said, coincides with stricter public health guidelines that aimed to stem the spread of the virus.
The government ordered the closure of bars and gyms, among other places, in hard-hit areas and advised residents to limit their contact with people who do not live in their households.
Montreal and Quebec City are among several Quebec regions that remain under the highest COVID-19 alert.
Strumpf said it is hard to pinpoint what exact measures are responsible for flattening the curve, however.
She added that she expects to see many public health restrictions remain in place moving forward. "It's very difficult to know right now or to predict how long those closures may stay in place," she said.
Still, the high COVID-19 infection numbers bring up painful memories for Quebecers who lost loved ones during the pandemic.
July Mak, whose 68-year-old father Paul contracted COVID-19 in a long-term care home in Montreal and died at the end of March, said the pain of her father's death has not eased with time.
"To see these numbers this high… it blows my mind," Mak said in an interview Sunday.
She said she wants the Quebec government to recognize that its COVID-19 data is more than just numbers — and thousands of people across the province have been directly affected.
"They mattered," Mak said, about the thousands who have died.
On Sunday, Quebec Health Minister Christian Dube said on Twitter that the number of new infections is "stable but remains high."
Those cases can turn into hospitalizations and deaths, Dube warned, urging Quebecers to remain vigilant to reduce transmission.
Quebec health officials also reported 11 additional deaths attributed to the novel coronavirus, bringing the total to 6,143.
Five of those additional deaths took place in the past 24 hours, five were reported between Oct. 18-23 and one occurred at an unspecified date.
Hospitalizations went up by two across the province, for a total of 551. Of those, 97 people were in intensive care — an increase of four compared to the previous day.
The province said it conducted 25,378 COVID-19 tests on Friday, the last date for which the testing data is available.
This report by The Canadian Press was first published Oct. 25, 2020.
Dr. Bonnie Henry wants people to stay home this Christmas as COVID-19 deaths climb in B.C. – CHEK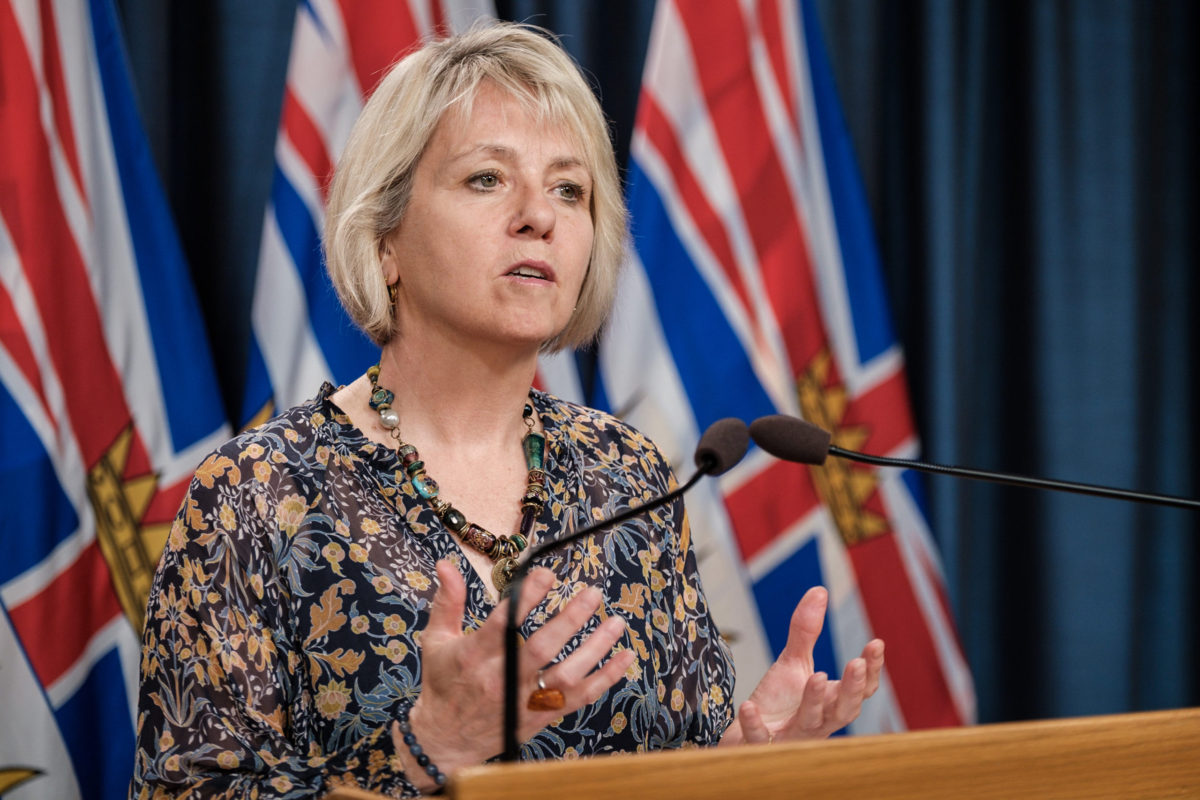 It's been a deadly few days in B.C., with 111 COVID fatalities in the last week alone.
That accounts for a quarter of all deaths since the pandemic began.
"It has been a difficult week for all of us and reminds us of what we need to do right here, right now, before a vaccine," says health minister Adrian Dix.
B.C. health officials are urging everyone to follow the public health orders, stay close to home, avoid all non-essential travel and only see people in their household or bubble.
"We are continuing to see unchecked transmissions despite our efforts," provincial health officer Dr. Bonnie Henry says. "We need more than ever to stay local, stay small, not mix with others."
That means Christmas — as we know it — is cancelled.
"What I want for Christmas is for everyone to stay home and stay safe so we can get through to next year," says Dr. Henry.
MORE: B.C. reports 12 deaths, more than 800 new cases of COVID-19
B.C.'s top doctor won't yet say if the ban on all events — which is in effect until Dec. 7 — will be extended.
But the premier has a strong message for the holidays:
"This is a critical, dangerous time for British Columbia with respect to COVID 19," Premier John Horgan said. "It's absolutely essential we reduce interactions with people. There will be difficult times ahead for family gatherings."
Additional restrictions on indoor adult team sports are also being put in place.
And high-intensity indoor group fitness is on hold — indefinitely.
"This is the worst time for transmission," says Dix. "What was possible in August is not possible now and no amount of arguing or litigating will change that."
It's a message they hope will finally get through to those following the rules, before it's too late.
'Dozens' infected with COVID-19 after B.C. oldtimers' hockey team travels to Alberta – Global News
A recent trip by a B.C. oldtimers' hockey team to Alberta was responsible for dozens of cases of COVID-19, according to the province's top doctor.
Provincial health officer Dr. Bonny Henry used the case as an example, while again urging British Columbians to forego all non-essential travel as coronavirus cases continue to rise.
Henry would only say the team was from the Interior, and that upon their return the virus spread into the community, leading to "dozens of people who are infected."

3:59


B.C. health officials report 12 new deaths, 834 new cases of COVID-19



"It was an adult oldtimers' hockey team that felt it was important to continue their travel and games across the border," Henry said Wednesday.
"For many adults it's a very important part of their socialization — and that, right now, is risky."
Henry said the team had returned and spread the virus to their family members, workplaces, long-term care and the broader community.
[ Sign up for our Health IQ newsletter for the latest coronavirus updates ]
"Nobody intended to do this," she said.

1:29


Coronavirus: B.C. Premier John Horgan on travel restrictions during Christmas holidays



"I know that people feel like, 'Oh, it'll be OK, we've not had any virus here, we will be fine.' But this is just another cautionary tale that right now you cannot take these types of licence from the restrictions we've put in place."
British Columbia has not imposed an order banning travel, but officials have called on residents and visitors not to leave their communities unless absolutely necessary.
However, travel for sport was explicitly banned in the province's most recent round of COVID-19 restrictions.
While the majority of new cases continue to crop up in the Lower Mainland, numbers have also been trending upward in the Interior and Northern Health regions in recent weeks.
© 2020 Global News, a division of Corus Entertainment Inc.
Interior Health's top doctor says people need to start acting on public health advice | iNFOnews | Thompson-Okanagan's News Source – iNFOnews
December 02, 2020 – 6:00 PM
Provincial health officer Dr. Bonnie Henry often praises the vast majority of B.C. residents who are following the rules in trying to prevent the spread of COVID-19.
But Interior Health's chief medical health officer Dr. Albert de Villiers has an addition to Henry's message of keeping bubbles small, safe distancing, hand washing and wearing masks when necessary.
"People actually need to start listening and actually start acting on things we've been saying for quite awhile now," Dr. de Villiers said during a news conference today, Dec. 2.
"There's lots of other things that society says I must do. I need to wear a seatbelt. It's not an option. I need to wear pants when I'm in public. It's not an option. It's true, it's my body but I still have some responsibility to society to make sure we can keep everybody safe and healthy."
During today's COVID-19 media briefing in Victoria, Dr. Henry was asked about recent gatherings of about 100 people in each of Fort St. John and Dawson Creek who opposed mask wearing. She noted there were church groups meeting on the weekend as well as hockey teams travelling out of province, but said those are small numbers of people doing such things.
"Yes there are people who are flouting the rules, that's why we have orders that allow people to be fined, and we have implemented some of the measures that we needed to take to close down places and disperse gatherings," she said. "It makes you really angry to see the small groups of people who are trying to make a point and are misguided."
But, she reiterated, they are in a minority.
"I also believe, in a crises like this, if we appeal to people's better natures, that comes out," she said.
Dr. de Villiers said the rising number of cases in Kelowna and the cluster of cases in Revelstoke don't stem from any particular event or individual.
The cases in Revelstoke now total 46 people who live in the Interior Health region. Travellers who live elsewhere are not counted in those numbers.
Some cases did come from travellers while others revolved around homes shared by a number of people who then took it to work, Dr. de Villiers said, adding there's even a rumour someone may have spread it during a visit to a hot springs.
---
To contact a reporter for this story, email Rob Munro or call 250-808-0143 or email the editor. You can also submitphotos, videos or news tips to the newsroom and be entered to win a monthly prize draw.
We welcome your comments and opinions on our stories but play nice. We won't censor or delete comments unless they contain off-topic statements or links, unnecessary vulgarity, false facts, spam or obviously fake profiles. If you have any concerns about what you see in comments, email the editor in the link above.
News from © iNFOnews, 2020