Canadian retailers racked up $53.9B in sales in September, far more than expected – CBC.ca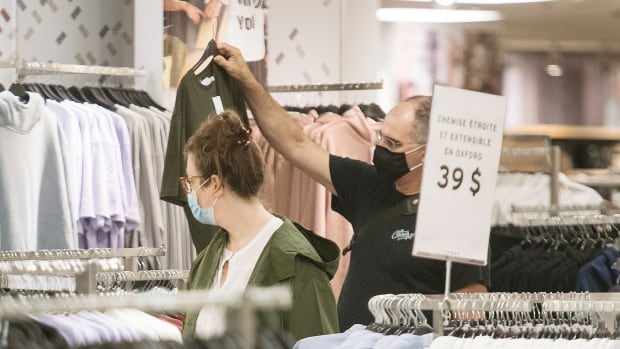 Statistics Canada says retail sales rose 1.1 per cent to $53.9 billion in September to mark the fifth consecutive monthly increase since the record drop in April because of the pandemic.
Economists on average had expected an increase of 0.2 per cent, according to financial data firm Refinitiv.
Retail sales were up in nine of the 11 subsectors.
Statistics Canada says core retail sales — which exclude gasoline stations and motor vehicle and parts dealers — rose 1.1 per cent.
Sales at general merchandise stores climbed 1.8 per cent, while sales at food and beverage stores rose 0.9 per cent, partially because of higher prices for meat, fish and dairy products.
Statistics Canada says its early estimate for October suggests retail sales for the month were relatively unchanged, but noted it was a preliminary figure and would be revised.
New public health measures to come into effect Friday – paNOW
Premier Scott Moe said a lockdown similar to the one that occurred in the spring is not necessary at this point because we now have a better understanding of the virus than we did back then.
"We know what we need to do to reduce the spread of this virus to keep ourselves and others safe," he said. "We need to just slow down a little bit."
These additional health measures come into effect at 12:01 a.m., Friday November 27 and, along with current health measures, remain in effect until Dec. 17, 2020. At that time they will be reviewed by the provincial Chief Medical Health Officer.
Enforcement of public health orders is permitted under The Public Health Act, 1994.
During the Wednesday press conference, SHA CEO Scott Livingstone said the SHA was working on setting up a drive-thru testing site in Prince Albert, he did not provide additional details.
Restaurants and licensed establishments measures
Beginning on Friday all restaurants and licensed establishments are limited to seat four at a single table. If there are barriers between restaurants they must be paced two metres apart but if there are none there must be three metres between tables.
Restaurants and licensed establishments must maintain guest/reservation information on all patrons and the curfew on liquor service remains in effect.
Performance and Gaming Venues
Capacity will be restricted to 30 people at all casinos, bingo halls, arenas, live theatres, movie theatres, performing arts venues and any other facilities that are currently supporting a capacity of 150 people.
Where any of these facilities offer food or beverage service, they must keep the activity separate (i.e. cordoned off) from the food and beverage service. No food or drink may be in the activity area.
Indoor Public Event Gatherings
Indoor events such as pubkic banquets, conferences, funerals and weddings in public buildings will be limited to 30 people.
Food or beverages may not be present or served. Note that the maximum allowable gathering size for private gatherings in the home setting remains at five. This includes in the home or in buildings located on the private property (e.g. garages, sheds). If your immediate family is five or greater, you cannot have additional visitors. Individuals, recurring caregivers, support personnel (i.e. therapists, nursing staff) and tradespersons (i.e. housekeeper, plumber) are permitted, though they should maintain two metre distancing and be masked during service provision.Gatherings of any size beyond your immediate household are strongly discouraged at this time.
Sports, Fitness and Dance
All of team or group sports, games, activities, competitions, recitals and practices are suspended. This includes amateur and recreational leagues for all age groups. Examples include hockey, curling, racquet sports, cheerleading, dance practices in group setting, etc.
Athletes and dancers 18 years of age and under may continue practicing, conditioning and skills training in groups of eight or fewer, abiding by the required mask use and at least three metres of physical distancing between participants at all times.
Individual groups of eight may not share a training/rehearsal surface or space at the same time.
Coaches /trainers are not included in the training group numbers as long as they are masked and maintain a minimum physical distance of three metres.
Fitness activities and group fitness classes in groups of eight or fewer continues to be permitted, for all ages. Mask use and at least three metres of physical distancing between participants must be maintained.
Places of Worship
All places of worship must reduce capacity to 30 people, including wedding, funeral and baptismal services. No food or drink may be present or served.
Mandatory Masking Expanded
Mandatory, non-medical mask use will be required during all indoor fitness activities, with aquatic activities the only exception.Mandatory, non-medical masking will be extended to:
All students, employees and visitors in all schools and day cares (except while consuming food or beverage or engaging in aquatic fitness activities). Children ages 0-2 years are exempt from wearing masks. Children ages 3-12 should wear a mask if they are able to;
All employees and visitors in all common areas in businesses and workplaces, even in those areas which the public does not have access (e.g. construction sites, manufacturing facilities); and
All residents, employees and visitors in all common areas in provincial and municipal correctional facilities.
Note that masking continues to be required in indoor public areas that have installed barriers.
Malls and Retail
Retail businesses must enhance the expectation of mask use and mitigation measures (reduced traffic, directional flow signage, hand sanitizer, etc.) through signage and staff training.
Large retail locations are required to limit customer access to 50 per cent capacity or four square metres of space per person, whichever is less. Large retail locations are defined as retailers with a square footage larger than 20,000 square feet, and 50 per cent capacity is determined by half of the specified fire-code capacity.
–
panews@jpbg.ca
On Twitter: @princealbertnow
Saskatchewan Government Announces New COVID-19 Restrictions – SwiftCurrentOnline.com
This is only a drill: B.C. to test emergency alert system Wednesday – CBC.ca
British Columbians can expect their cellphones to sound an alarm Wednesday afternoon as the province tests its emergency alert system.
On Nov. 25, a test of B.C.'s wireless alerting system will be conducted as part of the national Alert Ready system to improve public safety in the event of an emergency.
The scheduled alert will be sent to all compatible cellphones and will be broadcast on radio and television stations at 1:55 p.m. PT.
The emergency alert system is tested twice a year to assess whether it's ready for an actual emergency. A scheduled test in May 2020 was cancelled across Canada due to the COVID-19 pandemic.
To receive alerts, mobile phones must be connected to a cellular network, be alert compatible, be within the alert area and have up-to-date cellular software. Alerts will be broadcast automatically at no cost to the user.
The Alert Ready system was launched in B.C. in April 2018, and it's meant to rapidly warn the public of any "imminent or unfolding hazards to life."
Residents who experience any issues can participate in a short online survey following the test.
The alert program is a collaborative initiative between the federal, provincial and territorial governments.
To find out if your wireless device is compatible with the Alert Ready system or for more information about the system, visit: www.alertready.ca.