Carey Young: Appearance review – the faces of female justice
Vivien Rose, supreme court justice, stares steadily back at you from Carey Young's outstanding new film at Modern Art Oxford. Lady Rose is only required to sit for two minutes in this red leather chair but the pressure of time (and the lens) is upon her. The imperturbable gaze flickers ever so slightly, as she waits for the endless moment to pass. Why is she still here, when she could be dispensing justice?
Appearance– the film's title plays on the way we come before her and she before us – takes off from Andy Warhol's celebrated 1960s Screen Tests. But Young is British and born in 1970. Instead of Bob Dylan or Lou Reed, she invites a succession of our female judges into her spotlit studio. You see them arrive, take their seat and try to keep entirely still. Each appearance quickens into psychological drama.
A solemn young woman, with matching lips and nails, looks at the camera with something approaching hostility. A middle-aged judge, wig removed, reveals the carefully brushed tips of her blue-dyed hair even as she conceals her hands beneath kid gloves arranged across her lap. There are abruptly crossed legs, restless fingers and even a hint of growing warmth from a diminutive lawyer whose feet barely touch the ground even in towering stilettos. She stops just short of a full-blown smile.
Is it the occasion or the profession that controls the pose? What should a female judge look like? I came into the gallery just as a woman of exceptional youth and beauty was arriving on screen and the viewer next to me gasped. The artist – her camera noticing emerald rings, expensive hair, judicious eyeliner – mocks our preconceptions. Judge not lest ye be judged.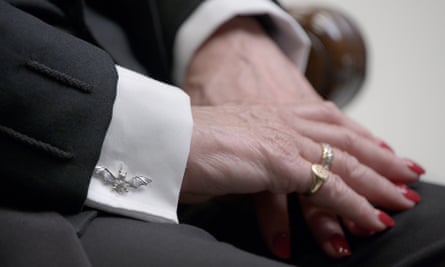 Young's profound and involving examination of the law has continued through film, photography and installation art for more than 20 years. This retrospective presents some of her most acute works. Counter Offer, from 2008, consists of two framed propositions. "Offer – I offer you liberty" (though the fine print below warns that this offer will be automatically withdrawn on the making of any counteroffer, which is hereby rejected) and "Counter Offer – I offer you justice". The elements are mutually exclusive, freedom and justice incompatible, or so runs this dark double bind.
Obsidian Contract (2010) consists of a legal document written backwards that only becomes legible when you peer into its reflection in a black mirror. Whereupon it turns – according to the written claim – into a contract whereby you agree that the mirror is now a piece of common land. All sorts of banned activities, from nudism to loitering to public protest, are magically legal in this illusory place. Look away, though, and your freedom has all gone.
Two recent prints seem to show an expanse of twinkling stars in a night sky and, by contrast, dark flecks in a stretch of white ice. The first is in fact a photograph of a notice board in a law school, the documents removed to reveal the pinpricks; the second, the wall of a prison yard. One is the complex reverse of the other, or so you might say, in life as here now in art.
The laws that govern our rights, our agency and even our movements in this world are, for Young, "a form of choreography". This is most explicit in a piece from 2013, now updated to reflect our present times. A rectangular line marks out a section of wall and floor. Stand inside it and you agree with the declaration of European citizenship. Step outside and the temporary citizenship ends. But now, of course, the concept is even more remote, intangible, absurd, the dancing in and out of it sheer fantasy post-Brexit. And the line has turned black, like the edge of a funeral notice.
A recent self-portrait, if that isn't an overstatement, shows a faint reflection of the artist in a group photograph of US supreme court judges. You can scarcely see Young, who has a camera to her eye in any case, but nor can you quite make out the only woman in the shot. This is Sandra Day O'Connor, the first American woman to hold that office, surrounded by men and obscured by a flash of light.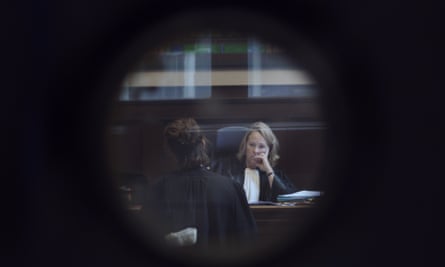 Young's acclaimed 2017 film Palais de Justicemoves as if by stealth through the soaring architecture of the Brussels law courts, noticing strange symmetries, hidden figures, the weird murmur of voices that are always elsewhere, behind closed doors. Her camera peers through the curious porthole windows set into those doors, watching women judges listening, arguing, shifting with impatience (in one case turning straight towards us, eye to startled eye).
What does the law look like? With subtle editing, it is suddenly made to look (like the figure of Justice herself) entirely and unprecedentedly female.
Yet the art in this show is always and aptly interrogative. What difference would it make if there were more women judges? (Rose is at present the only female justice out of 12 in the UK supreme court.) Appearance presents numerous British women on screen from various backgrounds and levels – junior and venerable, black, white and Asian, dressed in starched linen, white ermine and even the gold-encrusted robes of the highest courts in the land that require a flunky to trail behind lifting the hem.
Each appearance is a discrete essay in character, from the serenely confident to the impassive, impervious or resistant. But what Young's camera notices, too, is the luxurious jewellery, the costly makeup, shoes and hair; the extraordinary fact of the soft hands and the unlined faces – scarcely a frown mark, despite the burdens of office. It is as if the law has imposed its own style upon these women, as much as any men, keeping them all in line.
Photos: Memories of Nakba inspire Palestinian artist's work
Wadi Nisnas, Haifa – Visual artist Abed Abdi was expelled from Haifa – a major port city on the Mediterranean Sea – along with tens of thousands of fellow Palestinians by Zionist militias in 1948.
Memories of displacement and dispossession that started at age six inspire the art Abdi produces even today, at 81 years of age.
"Those scenes are very painful," Abdi tells Al Jazeera from his art studio, located at the edge of the neighbourhood of Wadi Nisnas on the northern outskirts of Haifa.
"My memory of those moments is like a treasure to me," added Abdi – a soft-spoken, meticulous man. "I remember the masses of people at the Haifa port. I remember the suffering of the people."
On April 22, 1948, three weeks before Israel was declared a state, Abdi was forced to flee from the neighbourhood of Wadi Salib in Haifa with his mother and four siblings due to intense shelling by Zionist militias and attacks on residents.
More than 750,000 Palestinians were forcefully displaced from their homelands as Zionist militias went on a rampage, killing Palestinians and destroying their society and homelands in 1948.
At least 110 Palestinian men, women and children were slaughtered in the Palestinian village of Deir Yassin on April 9, 1948, and Zionist militias killed 60 to 70 Palestinians in the Balad al-Shaykh village, 7km (4 miles) east of Haifa city months prior.
Palestinians observed the 75th anniversary of the organised and violent ethnic cleansing of Palestine – which is marked as Nakba, or catastrophe – on May 15, 2023.
"Most of Haifa's residents took to the port for shelter, thinking that it could save them. Even if they would be away for a week or two, they would be back," says Abdi, who returned to his homeland three years later.
"Some people carried their mattresses with them. My mother took cooking tools such as her mortar, even though it was heavy. We took it and came back with it. She also asked someone to carve her name into one of her pots that she took with her," Abdi continues.
His father managed to remain in Haifa during the cataclysmic events. After three years in refugee camps across neighbouring Lebanon and Syria, Abdi, his mother and three of his siblings became one of the few Palestinians allowed to return to their city for family unification in 1951.
Between December 1947 and April 1948, the Zionist forces expelled more than 95 percent of Haifa's Palestinian residents. Originally a city of some 75,000 Palestinians, only 3,000 to 4,000 of them remained after the Nakba. The rest became refugees, mainly in neighbouring Lebanon and Syria, and they are barred from returning to this day.
Those who remained were concentrated in the neighbourhood of Wadi Nisnas and prevented from returning to their homes or retrieving their property.
"Our suffering continued – we returned to hardship and a hostile environment. The homes and properties of the Abdi family owned were all confiscated. My father moved into his aunt's house, the ownership of which also went to the state," he says.
"I was in a situation where I realised it was critical for me to activate my visual memory," says Abdi. During his time in refugee camps, he recalled one attempt to displace his family again.
"I remember, and my sister Zahra remembers, there was an attempt to evict us or displace us once again, in a truck, to Baghdad. We escaped from the camp and we went to my sister Lutfiyeh's house in Damascus."
At 22, Abdi moved from Haifa to Germany, where he was accepted into a visual arts school. Upon his return in 1972, he found that "there were few Palestinian artists", he says. "I was in an environment where people were struggling for bread, not for creativity and nonessentials."
Abdi worked as the chief graphic designer and illustrator of Al-Ittihad newspaper based in Haifa and Al Jadid literary journal – two key publications in Palestinian society at the time – for more than a decade, starting in 1972.
He drew illustrations and prints for notable names in the Palestinian literary scene at the time, including Emile Habibi, Toufiq Zayyad, Samih al-Qassim, Mahmoud Darwish and Salman Natour.
Besides producing countless pieces of art exhibited around the world, Abdi also gave art courses and workshops in Palestinian towns across Israel including Shefa-Amr, Kufr Yasif and Daliyat al-Carmel.
"I work towards creating a new cadre of Palestinian artists," says Abdi, explaining, "It is important the new generations understand fully the truth of our expulsion from our city Haifa in 1948."
Just what is phygital art, and why is Dubai going big on it?
"Phygital art" may not be the most elegant phrase in the English language, but it is generating a buzz in certain circles.
"Phygital" is a portmanteau of physical and digital – describing artworks that bring together the best of both worlds to create something entirely new.
Interest in digital art has grown since NFTs exploded into the mainstream in 2021, making headlines when artist Beeple sold one for $69 million at auction. But since then, enthusiasm for NFTs has cooled. Some see phygital as a way to ground digital works in more trusted, traditional forms, while others see them as a way of familiarizing the public with the idea of digital art.
Phygital works have started appearing at forward-looking galleries around the world, and with an exciting spate of recent initiatives, Dubai is seemingly determined to put this artform on the map.
The Art Dubai international fair has a digital component exploring new media and technology trends, including phygital works. In 2021 the Firetti Contemporary gallery held an exhibition called "NFT/ IRL" (in real life), displaying physical artworks next to their digital counterparts; The Mondoir Gallery recently opened in downtown Dubai, specializing in NFTs and embracing phygital, while the Theatre of Digital Art features phygital in its high-tech multisensory exhibitions.
<div data-uri="cms.cnn.com/_components/video-resource/instances/h_97bf29f516c369fe36fc12467bc079a1-h_2a3debb374cc9c1c22f275609ada1997-paragraph_7F6C2701-2463-D981-A2DE-66C6137243FE@published" data-component-name="video-resource" data-editable="settings" class="video-resource" data-video-id="tech/2022/09/27/theatre-of-digital-art-dubai-metaverse-nft-spc-intl.cnn" data-live data-analytics-aggregate-events="true" data-custom-experience data-asset-type data-medium-env="prod" data-autostart="false" data-show-ads="true" data-source="CNN" data-featured-video="true" data-headline="Immersive NFTs are on display at this Dubai art space" data-description="Featuring 360-degree immersive experiences, Dubai's Theatre of Digital Art is giving tech-driven artists a place to showcase their work." data-duration="01:55″ data-source-html=" – Source:
CNN
" data-fave-thumbnails=""big": "uri": "https://media.cnn.com/api/v1/images/stellar/prod/220926144014-theatre-of-digital-art-video-card.jpg?c=16×9&q=h_540,w_960,c_fill" , "small": "uri": "https://media.cnn.com/api/v1/images/stellar/prod/220926144014-theatre-of-digital-art-video-card.jpg?c=16×9&q=h_540,w_960,c_fill" " data-vr-video data-show-html="" data-check-event-based-preview data-network-id data-details>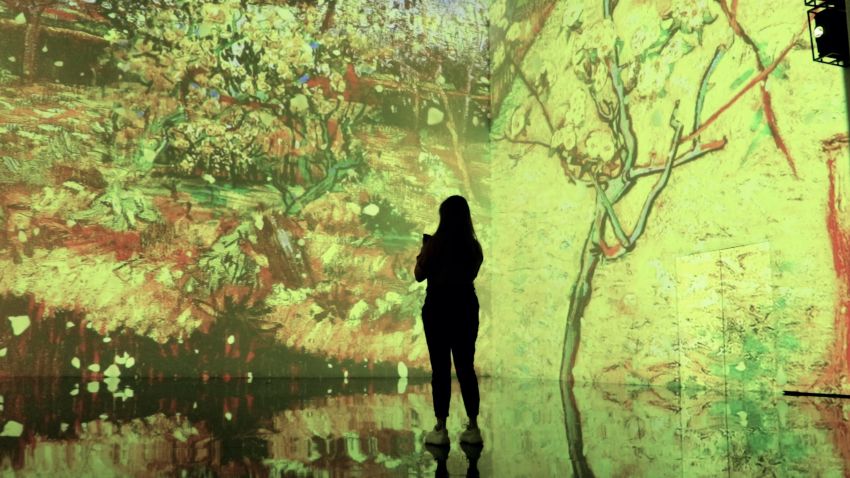 Immersive NFTs are on display at this Dubai art space
CNN asked some of Dubai's most progressive art institutions why the city is among the vanguard of this innovative format, and whether phygital is a significant new movement in art, or just an unwelcome addition to our vocabulary.
The following responses have been edited for length and clarity.
How would you describe phygital art?
Mara Firetti, founder and managing partner, Firetti Contemporary: Phygital art aims to bridge the gap between the digital and physical world, often blurring the boundaries between them. It can take various forms, including interactive sculptures, mixed-media installations, digital paintings, and performances that combine live elements with digital projections or effects.
Pablo del Val, artistic director, Art Dubai: Phygital has elements that we consider traditional, such as an architectural space, a three-dimensional structure (like a sculpture) or a physical structure that you can touch, combined with digital elements such as 3D-printing technology, blockchain technology, augmented reality (AR), virtual reality (VR) … and/or artificial intelligence (AI) elements.
Could you give an example?
Pablo del Val: One famous example would be Beeple's "Human One." The work is sort of a kinetic video sculpture – four video screens, polished aluminum metal, mahogany wood frame, dual media servers, endless video with a corresponding dynamic NFT. It shows an astronaut walking in a universe of waste and leftovers. Well-known artists such as Jeff Koons and Frank Stella have also produced phygital works where their collectors can 3D-print their sculptures.
How does phygital art differ from NFTs? Is there overlap between the two?
Pablo del Val: Phygital works of art can also be NFTs, but a phygital work of art doesn't necessarily need to be an NFT.
Amir "Mondoir" Soleymani, founder, Mondoir Art Gallery: Technically, all assets held on the blockchain are NFTs. Digital art stored on the blockchain as a non-fungible token can be experienced physically through digital displays that allow viewers to observe or interact with the digital creations in the case of installations. Phygital is a method of connecting the digital and physical dimensions. This can be used for off-chain NFTs or assets.
Where does AI art fit into this?
Pablo del Val: AI is one of the elements that allow a work of art to be described as phygital. Artists working with artificial intelligence programs, neural networks, code, and algorithms are creating bodies of work that take the viewer to a level of reality that mixes what is true and what is not. Images, situations, actions and characters can be manipulated, creating situations and actions that never existed … Artists who have pioneered this approach include Refik Anadol, who launched a new project at Art Dubai in March.
Why is phygital art important to you?
Amir "Mondoir" Soleymani: As we move toward digitally created and stored artworks, we must bridge the two realms in order to create the experience for viewers in the real world. Phygitals alleviate the burden of comprehension for those who are not yet immersed in the digital world by providing them with a tangible object that corresponds to a digital asset. They will be crucial in promoting the adoption of digital art.
Mara Firetti: Phygital art offers new opportunities for audience engagement and participation. Viewers can often interact with the artwork through touch, movement, or even through their smartphones or other devices. This interactive and immersive nature of phygital art can create unique and dynamic experiences, blurring the boundaries between the observer and the artwork itself.
What barriers are there to phygital art becoming more mainstream?
Pablo del Val: The speed at which technology is advancing means the devices you need to visualize it become obsolete very quickly. Updating the device, and the costs of doing this, has been one of the main barriers to more mainstream adoption.
Mara Firetti: Physical art holds a unique and enduring place in human culture and will continue to be cherished for its tangible qualities and the emotional connection it can evoke, while phygital art may require a level of familiarity and comfort with technology. Not all viewers may be accustomed to interacting with digital elements or understand the underlying concepts, which can affect their engagement and appreciation of phygital art.
Do you think phygital is the future of art?
Amir "Mondoir" Soleymani: No. Phygital is here to create an experience. It makes it easier to understand and interact. The future is digital art.
Mara Firetti: The rise of technology and the development of sophisticated methods in phygital art will undoubtedly expand the horizons of artistic expression and create new possibilities for artists and audiences alike but it will never replace physical art entirely.
Pablo del Val: Personally, I'm quite old school – and my view is that nothing will substitute what humans create with their hands … but we can't deny that technology is advancing so fast that sooner or later it will become the main tool for artists. As long as it comes from the mind and the soul of humanity, anything is possible and we should not be closed to it.
Historical art heavyweights help the WAG – Winnipeg Free Press – Winnipeg Free Press
It's a question Monty Hall might have asked on Let's Make a Deal when the Winnipegger was at the top of the game-show world.
"Would you rather have these three paintings on this desk or this stack of hundred-dollar bills?" one can imagine Hall saying while opening a briefcase full of dough for everyone to ogle.
The contestant would be a winner with either choice, but choosing the art could make that person an instant millionaire. That is, if the estimates are correct for the June 8 sale by Toronto-based Cowley Abbott auction house, which includes a series of Andy Warhol silkscreens the Winnipeg Art Gallery is putting on the block.
The three paintings that were on display at Mayberry Fine Art last week — Nail-head of Trent Reznor by rock legend David Bowie, Tom Thomson's Ragged Oaks, a 1916 landscape, and Lawren Harris's Red House — are three priceless objects that will nonetheless be given a value at the auction of paintings and prints in Toronto, which will be livestreamed so buyers around the world can bid.
Rob Cowley, a partner at Cowley Abbott, remembers an auction of a sketch by Canadian painter J.W. Beatty that began at $13,000 — two bidders shot the price up to $140,000.
"You could feel it in the audience, it was like watching a tennis match," he says. "It was back and forth and relentless. It was a record for a sketch for J.W. Beatty."
The artists' names will do much of the heavy lifting when the auctioneer opens the bidding, but so does the painting's subject, the number of times it's been presented in exhibitions, and the work's provenance — its history that confirms its authenticity.
Bowie, the singer and writer of hits including Space Oddity, Starman and Let's Dance, who died in 2016, was also a painter, sculptor and art collector. He painted the portrait of Reznor, the Nine Inch Nails frontman, in 1995 after they became friends while touring together.
As important for buyers is the fine print within the Cowley Abbott catalogue for the June 8 sale: "Titled and annotated with lyrics; signed, titled and dated 1995 on the reverse." Its suggested price range is between $35,000 and $55,000.
"Collectors want to know (who owned the artwork), and it's something we really research and talk to the owner who's consigning the work to us," says Lydia Abbott, also a Cowley Abbott partner.
The other paintings are by two of the most notable names in Canadian art: Tom Thomson and his friend Lawren Harris. Harris co-founded the Group of Seven, the renowned art collective that created some of the greatest Canadian landscape paintings of the early 20th century.
The most valuable painting of the three is Thomson's Ragged Oaks, which he completed one year before his death in 1917; it was in his family's possession until 1971, when it was bought by an unnamed private collector, who kept it in pristine condition despite it being 106 years old. The estimated price range for the sale is $1 million to $1.5 million.
"Sometimes an artist hits it out of the park in terms of what we celebrate them for, and sometimes it's just a quick sketch." Cowley says. "Right now, Thomson's market is strong and he's very much in fashion among collectors, especially rare work."
Harris's paintings were already highly valued in 2016, but they gained even more notoriety when actor and comedian Steve Martin — a lifelong art collector and fan of the painter's work — co-curated an exhibition of Harris paintings in Toronto.
While Red House is slightly larger than a dollar bill, the sale catalogue lists its price at $18,000 to $22,000; a much larger canvas of the same subject recently sold for $5 million, Abbott says.
A set of works that checks all of Cowley Abbott's boxes is four 1985 silkscreens of Queen Elizabeth II by Warhol, the American pop artist.
The WAG is using money from the series' sales to purchase contemporary Indigenous art that will diversify its permanent collection; Cowley Abbott is donating its commission from the Warhol sale to the gallery's fund.
The four silkscreens of the queen adorn the cover of the auction house's catalogue for its June 8 sale, its first to include non-Canadian art. Cowley Abbott has suggested a price range between $700,000 and $900,000 for the set.
"Oftentimes you'll see one of the Warhols, but what's great here is the collector who donated them (to the WAG) did assemble them in two separate purchases," Abbott says.
Alan.Small@winnipegfreepress.com
Twitter: @AlanDSmall
Alan Small
Reporter
Alan Small has been a journalist at the Free Press for more than 22 years in a variety of roles, the latest being a reporter in the Arts and Life section.