China's Economy Slows in October as Business Confidence Slumps
(Bloomberg) — China's economy slowed in October as car and real-estate sales weakened and global trade and small business confidence contracted, signaling last month's pickup in activity wasn't enough to change the country's grim economic picture.
That's the outlook based on Bloomberg's aggregate index of eight early indicators for this month. The overall gauge was at 4, indicating a dropoff in momentum after three months of improvement.
Small business confidence fell back into contraction this month for the first time since May, when Shanghai and other cities were at the height of lockdowns. The expectation index slowed and almost every other indicator on conditions for smaller companies was negative, according to a survey of more than 500 firms by Standard Chartered Plc economists.
While export orders rose, a contraction at domestically focused companies implied weaker demand in China, the economists wrote. An indicator for the manufacturing sector dropped to its lowest level since February 2020, while the index for accommodation and catering was at the lowest level since at least May 2020, underlining how Covid Zero restrictions on movement and travel are weighing on the economy.
"Both manufacturing and services performance sub-indices dipped into contractionary territory," wrote economists Hunter Chan and Ding Shuang. "Covid resurgence and weaker demand were likely drags," they wrote. The National Day holiday period also didn't appear to boost spending much, with the economists calling its effect "insignificant."
Daily Covid case numbers in China have been hovering around 1,000 since early August, despite strengthened efforts to contain outbreaks and much tighter restrictions on travel and movement ahead of the just-ended Communist Party congress. Those controls have stopped exponential increases in cases at the expense of private consumption, which only grew 2.5% in September from a year earlier.
There was no indication from the party congress that the government is planning any changes to the Covid Zero strategy, adding to a stock market rout Monday that was the steepest since 2008. That drop reversed course somewhat on Tuesday, though the benchmark onshore share index has still lost more than a quarter of its value this year.
The epic selloff, though, was almost completely ignored by Chinese state media, which instead dedicated the bulk of their front pages to official news articles about President Xi Jinping. News and discussion on social media was also censored.
The Securities Times, which is managed by the Communist Party, ran a report on how the housing market might recover this quarter from its more than year-long contraction.
Despite that optimism, housing sales in the four biggest cities in China were down almost 30% in the first three weeks of the month compared to a year earlier, and property transactions slumped almost 40% during the long holiday earlier in the month, which is usually a time of brisk sales.
The housing market slump has slashed demand for all sorts of commodities used in construction, including steel and cement. While stocks of steel rebar have continued to fall, total steel inventories at mills rose this month, while daily crude steel output fell from earlier in October. That's caused the price of iron ore to drop to the lowest since November. The prices of other metals have also fallen in recent months on dimming prospects for global growth.
Early Indicators
Bloomberg Economics generates the overall activity reading by aggregating a three-month weighted average of the monthly changes of eight indicators, which are based on business surveys or market prices.
Major onshore stocks – CSI 300 index of A-share stocks listed in Shanghai or Shenzhen (through market close on 25th of the month).
Total floor area of home sales in China's four Tier-1 cities (Beijing, Shanghai, Guangzhou and Shenzhen).
Inventory of steel rebar, used for reinforcing in construction (in 10,000 metric tons). Falling inventory is a sign of rising demand.
Copper prices – Spot price for refined copper in Shanghai market (yuan/metric ton).
South Korean exports – South Korean exports in the first 20 days of each month (year-on-year change).
Factory inflation tracker – Bloomberg Economics-created tracker for Chinese producer prices (year-on-year change).
Small and medium-sized business confidence – Survey of companies conducted by Standard Chartered.
Passenger car sales – Monthly result calculated from the weekly average sales data released by the China Passenger Car Association.
Vermont Outdoor Recreation Economy December News – Vermont Biz
NEW MEMBERSHIP CYCLE: RENEW OR BECOME A MEMBER OF VOBA

The Vermont Outdoor Business Alliance was established in Dec 2018 as a statewide nonprofit organization of outdoor recreation businesses, organizations, and individuals working together to strengthen, expand, attract, and retain outdoor recreation economy businesses in Vermont. VOBA's charitable purpose is to educate Vermonters about outdoor recreation and educate Vermont outdoor recreation businesses about business development initiatives, collaboration opportunities and outdoor economy policy.
Currently, VOBA's 100 members work together to provide technical assistance and resources for outdoor business development in the areas of financing, workforce development, infrastructure and branding, while committed to investments in the two core pillars of the outdoor recreation economy: the state's natural landscapes and recreation assets and participation for all people. Embedded throughout VOBA work are efforts to advance justice, equity, diversity and inclusion (JEDI) in outdoor work places and outdoor spaces. Read VOBA's 2021 Annual Report.
VOBA's fourth annual membership cycle began on July 1, 2022 and runs through June 30, 2023. We invite you to join or renew your membership and receive benefits as an Industry Member, Supporting Associate, or Strategic Associate, including: Website and social media recognition; event and workshop participation; newsletter subscription; access to research and reports; networking and mentoring opportunities; media promotion; organizational decision making; and, work groups engagement. Additional benefits, such as voting rights, policy advocacy support, and promotional opportunities, apply to some categories.
As a nonprofit organization, VOBA relies on your member donations, which are also tax-deductible charitable donations. Thank you for your support and see you in the outdoors!
UK economy to shrink in 2023, risks 'lost decade': CBI
LONDON, Dec 5 (Reuters) – Britain's economy is on course to shrink 0.4% next year as inflation remains high and companies put investment on hold, with gloomy implications for longer-term growth, the Confederation of Business Industry forecast on Monday.
"Britain is in stagflation – with rocketing inflation, negative growth, falling productivity and business investment. Firms see potential growth opportunities but … headwinds are causing them to pause investing in 2023," CBI Director-General Tony Danker said.
The CBI's forecast marks a sharp downgrade from its last forecast in June, when it predicted growth of 1.0% for 2023, and it does not expect gross domestic product (GDP) to return to its pre-COVID level until mid-2024.
Britain has been hit hard by a surge in natural gas prices following Russia's invasion of Ukraine, as well as an incomplete labour market recovery after the COVID-19 pandemic and persistently weak investment and productivity.
Unemployment would rise to peak at 5.0% in late 2023 and early 2024, up from 3.6% currently, the CBI said.
British inflation hit a 41-year high of 11.1% in October, sharply squeezing consumer demand, and the CBI predicts it will be slow to fall, averaging 6.7% next year and 2.9% in 2024.
The CBI's GDP forecast is less gloomy than that of the British government's Office for Budget Responsibility – which last month forecast a 1.4% decline for 2023.
But the CBI forecast is in line with the Organisation for Economic Co-operation and Development (OECD), which expects Britain to be Europe's weakest performing economy bar Russia next year.
The CBI forecast business investment at the end of 2024 will be 9% below its pre-pandemic level, and output per worker 2% lower.
To avoid this, the CBI called on the government to make Britain's post-Brexit work visa system more flexible, end what it sees as an effective ban on constructing onshore wind turbines, and give greater tax incentives for investment.
"We will see a lost decade of growth if action isn't taken. GDP is a simple multiplier of two factors: people and their productivity. But we don't have people we need, nor the productivity," Danker said.
Reporting by David Milliken; editing by Diane Craft
Kevin Carmichael: Jobs numbers show Bank of Canada hasn't wrecked the economy after all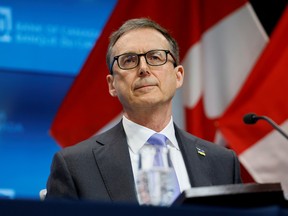 What if the Bank of Canada knows what it's doing?
Inflation is hovering around seven per cent, and the central bank's target is two per cent, so the easy answer is, "No, it doesn't have a clue what it's doing."
The news this week that the Bank of Canada lost money for the first time in its 87-year history only adds to the superficial notion that appointing Tiff Macklem to guide monetary policy was a mistake, even if the losses were incurred fighting a crisis that was unlike anything any living policymaker had ever seen.
"We didn't get everything right," Macklem told the House finance committee on Nov. 23. "We got a lot of things right. We have some lessons to learn."

The inflation miss was a serious mistake that warrants deeper scrutiny in case there are things that can be learned that will keep it from happening again. Macklem told lawmakers that as soon as inflation is back to target, "we are going to have to have a thorough review of how all our tools worked" through the COVID crisis.
When the Bank of Canada gets around to that review, it will turn up positives that are obvious to anyone who bothers to look, but end up obscured by the panic over inflation. The latest evidence that the Bank of Canada hasn't wrecked the economy arrived Dec. 2, when Statistics Canada reported that hiring was little changed in November, and the jobless rate dropped to 5.1 per cent, a possible sign that higher interest rates might be taking the steam out of the economy without severely hurting momentum.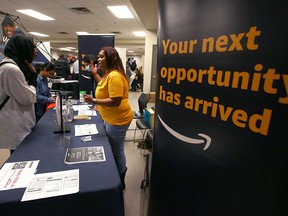 The dollar fell against the U.S. currency after the numbers were released, so some traders saw the news as a negative that would cause the Bank of Canada to balk at additional interest-rate increases. It's possible. Macklem was clear at the finance committee that he isn't finished, but Bay Street and Wall Street are split on whether that means more outsized interest-rate increases, or whether the Bank of Canada might be ready to taper its aggression, given its own forecasts show the economy could easily slide into a recession at any point over the next few months.
Statistics Canada said employers added 10,000 positions last month, less than the survey's margin of error, making it difficult to say more than the labour market stood still. However, the agency's monthly survey of households turned up 108,000 positions in October, an unusually large number, so hiring flatlined at a high level in November.

The jobless rate remains well inside any conventional definition of full employment, which is how economists describe an economy in which there are quantitatively enough jobs for everyone who wants one. Full-time employment increased by about 51,000 positions in November, and have increased by some 460,000 positions since November 2021, another sign of a strong labour market.
"It's quite clear that the labour market remains tight and in solid shape overall," Douglas Porter, chief economist at Bank of Montreal, said in a note to his clients.
Average hourly wages increased 5.6 per cent from November 2021, the sixth consecutive month that pay gains topped five per cent, a sign of upward inflationary pressure that the Bank of Canada has said it will be watching closely. Porter said the "still firm" pace of pay increases could leave Macklem uneasy about inflation heading into next week's interest-rate decision, and re-upped his prediction that policymakers will opt to raise the benchmark rate another half point, which would put the target at 4.25 per cent.
The Bank of Canada's benchmark rate was 0.25 per cent in March, and the possibility of an increase of four percentage points in less than a year will startle those who worried that a decade of ultra-low interest rates would make households and executives supersensitive to higher borrowing costs.
That worry could still be valid. Indeed, after getting beaten up earlier in the year for letting inflation get out of control, the Bank of Canada now regularly faces invective for causing a recession that hasn't yet happened.
Earlier this week, Statistics Canada reported that gross domestic product grew at an annual rate of 2.9 per cent in the third quarter, much faster than most forecasts. The GDP numbers, paired with the ongoing strength of the labour market, supports Macklem's bet that it is better to attack inflation now, when the economy is strong, rather than proceed tentatively, discover inflation is persistent, and end up having to raise interest rates when the economy is weaker. It might even be time to resume talking about a "soft landing," which is how Bay Street talks about the possibility that an inflationary economy can be slowed without crashing into a bad recession.
"We're entering 2023 at least in better shape than we have seen in many other moments in the past where we're entering a slowdown or a recession," Guy Cormier, chief executive of Desjardins Group, told the Financial Post's Barbara Shecter this week, observing that there is "still money" in the personal and business accounts of the financial institution's clients. "Yes, there will be a slowdown, but we feel that there are some positive conditions that could unfold in the next six, seven months."

Here's another positive: Statistics Canada reported that the employment rate of women aged 25 to 54 rose to 81.6 per cent in November, a record that further narrowed the gap with men. One of the goals of the Bank of Canada's assault on the COVID crisis was to keep traditionally marginalized groups from getting left behind, betting that would create the foundation for a sturdier recovery.

Macklem's not wrong when he ways the central bank got a lot of things right.

• Email: kcarmichael@postmedia.com | Twitter: carmichaelkevin