China's Xi turns to financial experts to tame economic risks – Aljazeera.com
As China struggles to deal with the slowdown of the world's second-largest economy, it has embarked on a new strategy of placing financial experts in provinces to manage risks and rebuild regional fortunes.
Since 2018, President Xi Jinping has put 12 former executives at state-run financial institutions or regulators in top posts across China's 31 provinces, regions and municipalities, including some who have grappled with banking and debt difficulties that have raised fears of a financial meltdown.
More:
Only two top provincial officials had such financial backgrounds before the last big leadership reshuffle in 2012, according to Reuters research.
Among financial experts recently promoted is Beijing Vice Mayor Yin Yong, a former deputy central bank governor, and Shandong Deputy Provincial Governor Liu Qiang, who rose through the country's biggest commercial banks, from Agricultural Bank of China to Bank of China.
Another newly promoted official, Chongqing Vice Mayor Li Bo, had until this year led the central bank's monetary policy department.
The appointments – overseeing economies larger than those of small countries – would appear to put those officials in the fast lane as China prepares a personnel reshuffle in 2022, when about half of the 25 members of the Politburo could be replaced, including Liu He, a vice-premier who is leading economic reform while doubling as chief negotiator in trade talks with the United States.
Bankers in demand
"Bankers are now in demand, as local governments are increasingly exposed to financial risks," said Chucheng Feng, a partner at Plenum, an independent research platform in Hong Kong.
"These ex-bankers and regulators are given the task of preventing and mitigating major financial risks."
The appointments have come as economic growth has slowed to its weakest in nearly three decades, while government infrastructure investment has fallen.
Five regional banks were hit with management or liquidity problems this year, raising the prospect of devastating debt bombs lurking around unexpected corners.
"We need to be well prepared with contingency plans," state news agency Xinhua said after a major annual economic meeting headed by Xi this month.
The economy faced "increasing downward economic pressure amid intertwined structural, institutional and cyclical problems", the news agency said.
With pressures mounting, local governments are expecting to take the lead in managing their financial scares and cutting the cost of rescue with local intervention, analysts say.
"Appointing financial vice governors to provinces can help better integrate financial policies into local practice, and to prevent financial risks beforehand," said He Haifeng, director of the Institute of Financial Policy at the Chinese Academy of Social Science, a government think-tank.
"Such appointments have also showcased a change of manner in official appointments."
Worth watching
Financial executives have long been shunned for leadership positions.
Banks were nationalised after the Communist Party took power in 1949 and many bankers were purged during the Cultural Revolution.
Xi started to stress the importance of financial expertise, and to elevate the status of executives, in 2017.
"Political cadres, especially the senior ones, must work hard to learn financial knowledge and be familiar with financial sectors," Xi said in a national meeting on financial affairs.
Half of the 12 former financial executives elevated to provincial leadership posts under Xi were born after 1970.
Liaoning's vice governor Zhang Lilin, 48, a veteran banker who spent two decades in the country's third-largest lender, Agricultural Bank of China, was appointed days after three state-controlled financial institutions announced investment in the then-troubled Bank of Jinzhou.
A risk disposal plan for the lender was a milestone this year in resolving problems facing high-risk financial institutions.
Tan Jiong, 53, former deputy head of Industrial & Commercial Bank of China, the world's largest lender by assets, was appointed in September to Guizhou.
The mountainous southwestern province is the most indebted in China, according to a report from Guosen Securities, with a debt ratio of 161.7 percent as of the end of 2017.
Some top political figures had in the past cut their teeth in the finance industry, such as Vice President Wang Qishan who was governor of the state-owned China Construction Bank in the early 1990s.
But the increasing numbers of financial executives taking top jobs signals a new avenue for promotion in China's one-party system, where leaders often spend years working their way up through provincial governments.
"For those who look beyond 2022, these officials are worth attention and they could be part of the new generation of leadership after Xi," said Feng.
"Central government will likely keep these officials in the local governments and promote them, and they have a higher chance of moving up the ladder."
Turkey's Erdogan replaces finance minister amid economic turmoil – Aljazeera.com
Nureddin Nebati takes on the role of finance minister after Lutfi Elvan resigns.
Turkish President Recep Tayyip Erdogan has replaced the country's finance minister after weeks of economic turmoil in which inflation soared as the lira plummeted to record lows.
The currency has lost more than 40 percent of its value against the US dollar this year, making it the worst-performing of all emerging market currencies.
According to a presidential decree issued near midnight on Wednesday, Erdogan accepted the resignation of Lutfi Elvan and appointed his deputy, Nureddin Nebati, as the new finance minister.
Nebati, 57, has a bachelor's degree in public administration and a master's degree in social sciences from Istanbul University. He also holds a doctoral degree in political science and public administration from Turkey's Kocaeli University.
His predecessor had only been in the role since November 2020, when he was appointed after the resignation of Erdogan's son-in-law, Berat Albayrak.
Elvan's year-long tenure was marked by numerous crises.
Earlier on Wednesday, the Turkish Central Bank intervened in markets to prop up the nosediving lira, which has lost nearly 30 percent in value against the dollar in just a month.
Under pressure from Erdogan, Turkey's officially independent central bank lowered its key interest rate in November for the third time in less than two months. It did so despite inflation approaching 20 percent – four times the government's target.
Erdogan believes that high interest rates cause high inflation – the exact opposite of conventional economic thinking – and has insisted he would keep rates low.
Turkey's currency hit yet another record low of more than 14 to the dollar before recouping some losses on Wednesday after a central bank move to sell reserves. One dollar bought 13.22 lira as of Wednesday afternoon.
The recovery, however, was short-lived after Erdogan appeared again to defend his "new economic model" against the "malice of interest".
Since 2019, Erdogan has sacked three central bank governors who opposed his desire for lower interest rates. The president, who has blamed the lira's troubles on foreigners sabotaging Turkey's economy and on their supporters in the country, believes lower rates will fight inflation, boost economic growth, power exports and create jobs.
On Tuesday, figures showed Turkey's economy had grown by 7.4 percent in the third quarter, compared with a year earlier, but some analysts believe the surge could be short-lived due to the high inflation and currency meltdown.
Meanwhile, public discontent appears to be on the rise.
Last week, demonstrators protested economic policies in the largest city of Istanbul and the capital, Ankara, while the main opposition Republican People's Party plans a rally for early elections on Saturday in the southern city of Mersin.
Dollar recovers in face of Omicron; commodity currencies slide
The U.S. dollar recovered from a loss on Wednesday after reports the Omicron coronavirus variant is spreading and oil prices turned down, hurting commodity currencies.
The dollar index against major currencies was up 01% in the afternoon in New York after having fallen 0.3% in the morning. The greenback gained against the dollars of Canada, Australia and New Zealand and against the euro and British pound.
"What you are seeing is a classic risk-off move in FX markets and that means the dollar outperforms against the commodity currencies," said Erik Bregar, an independent foreign exchange analyst.
The dollar lost to the Japanese yen currency, which is often seen as a safer haven, giving up 0.3% to 112.805.
The shifts underscored the hour-to-hour fragility of foreign exchange rates as traders weigh what the Omicron variant might do to plans that Federal Reserve Chair Jerome Powell signaled on Tuesday to move more quickly to raise U.S. interest rates.
The variant is becoming dominant in South Africa and has appeared in the United States.
"We've gotten these conflicting claims about the new variant, and Powell's comments really threw the markets for a loop," said Marc Chandler, chief market strategist at Bannockburn Global Forex.
"People are still pretty nervous," Chandler said.
The dollar's rebound started as a report from the Institute for Supply Management came out showing that U.S. manufacturing activity picked up in November amid strong demand for goods, keeping inflation high as factories continued to struggle with pandemic-related shortages of raw materials.
An earlier report on U.S. private payrolls suggested that Friday will bring a "solid jobs report" when the government posts more comprehensive payroll numbers, Chandler said.
"Friday's U.S. jobs data is the next big thing," he said.
The greenback is up nearly 7% this year. November was its strongest month since June.
The euro lost 0.2% on the day to $1.1314 at 3:21 pm ET (1507 GMT).
The British pound, often considered a risk-on currency, fell back 0.2% against the dollar after having been up 0.4%. The pound is struggling to recover after reaching its lowest level in nearly a year earlier this week on fears over vaccine effectiveness against the Omicron variant.
The Australian dollar lost 0.4% to $0.7103 and the New Zealand dollar lost 0.3% to $0.6805. [AUD/]
Prior to the tailspin caused by Omicron's advent, the main driver of exchange rates had been expectations of the different speeds at which central banks will raise interest rates.
In cryptocurrencies, bitcoin was up less than 1% at $57,220 at 3:17 pm ET (2017 GMT).
(Reporting by David Henry in New York; Additional reporting by Joice Alves and Elizabeth Howcroft in London; Editing by Jonathan Oatis and Andrea Ricci)
Biden says economy 'in strong shape' ahead of holidays – BBC News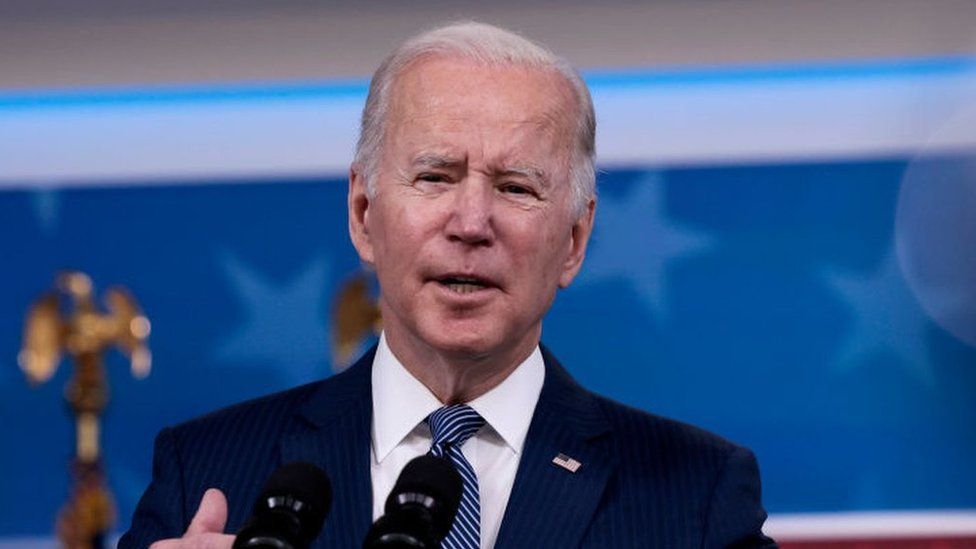 The US economy is in a strong position, President Joe Biden has said, thanks to action taken by the government to free up supply chain blockages and tackle the rising cost of living.
He predicted that prices, which have been rising sharply, would ease.
The president said policies to tackle bottlenecks at ports and lower the price of fuel were working.
"We're heading into a holiday season on very strong shape," he said. "It's not because of luck,"
Asked how supply chains would weather disruption from the new variant of coronavirus, President Biden said he was an "optimist", but that it was too soon to know what the impact might be.
As a result of the economic recovery a typical American family was now better off than before the pandemic struck, the president said, describing a 40% reduction in child poverty as "a moral victory".
"Americans on average have about $100 (£75.33) more in their pockets every month than they did last year [and] about $350 more each month than they did before the pandemic, even after accounting for inflation," the president said.
Since taking office, the Biden administration has pumped billions of dollars of stimulus into the US economy, including direct cheques to households and tax breaks.
Economic growth has rebounded as the impact of the pandemic began to ease, and after shrinking 30% in the first six months of 2020, the economy is now back at the size it was pre-pandemic.
However, higher demand for goods, and on-going disruptions to the supply and delivery of those goods, has helped push inflation up to 6.2% – the highest it has been for 31 years.
"I've used every tool available to address the price increases," President Biden said.
Releasing part of the US's oil reserves last month, in an action coordinated with several other nations, to try to bring down the price of fuel had been "making a difference", he added.
Independent economic analysis indicated his Build Back Better bill would reduce inflationary pressures, he stressed.
The bill was fully paid for, and would contribute to deficit reduction, by "making the largest corporations and the richest Americans pay a little more in taxes".
A change in mindset
The $1.9tn (£1.4tn) Build Back Better bill, which includes social and climate spending, still needs to be voted on in the US Senate.
Asked why he believed he would be able to bring down inflation when previous administrations in the 1970s and 1980s failed, the president said: "This is the first time I've seen labour and business so ready to cooperate.
"People are in a different state of mind than in the Carter and Nixon years."
Earlier this week, President Biden hosted the chief executives of several of the countries' largest manufacturers and retailers, including Walmart and CVS Health, Mattel and Best Buy.
The executives reported that their inventories were up and shelves well-stocked, ready to meet the consumer demand for the holidays, he said.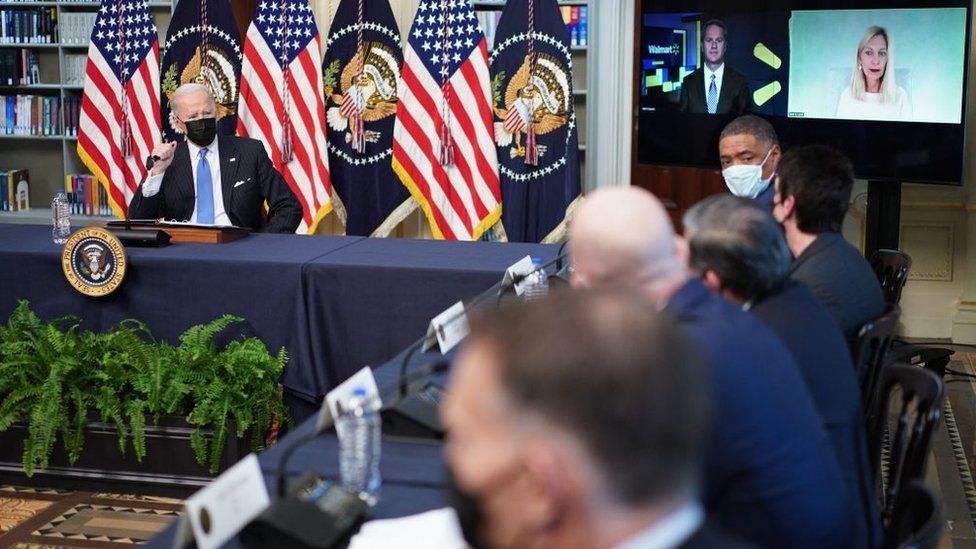 Biden said the administration had "broken up log jams" in the supply chain through various methods, such as by encouraging port operators to work longer hours.
He also pointed to the easing of rules over truck drivers' hours. The measures were working, he said, with the number of containers left sitting on docks for over eight days down by 40%.
Michael Pearce, US economist at Capital Economics, thinks the president was right to suggest that some of the stresses on the economy were starting to ease, but that all the problems wouldn't go away overnight.
"It's still the case that there are very severe supply problems. Even if they're starting to fade, it'll take some time for that to work its way through, especially now that inventory for a lot of goods is so lean," he told the BBC.
Inflation which remained would therefore persist well into next year, he said, in part thanks to the trillions of dollars pumped into the economy through the pandemic.
The Omicron variant, and expectations that it will hurt economic growth, were probably having a greater impact on the price of fuel, than the move to release oil reserves, Mr Pearce added.
Diane Swonk, chief economist at Grant Thornton, thinks Mr Biden's Build Back Better bill could have a pro-inflationary impact in the short term unless it was tweaked further by lawmakers.
She felt Omicron, the easing of supply chain problems, and a reduction in government stimulus over the coming months would "take the steam out of inflation but it won't cool it down enough".
"The risk is until we can really wrestle the virus to its knees we'll continue to see disruption, even as demand starts to slow again," said Ms Swonk.
"We're starting to see more broader based inflation that likely will linger longer."