Climate change voted Canadian Press' news story of the year for 2019 – Global News
In late September, hundreds of thousands of Canadians took to the streets across the country to demand more from their governments on climate change.
It was one of the largest mass protests in Canadian history, adding maple flavours to an international climate strike movement founded around Swedish teenager Greta Thunberg.
It was also a sign, many in the environment movement believed, of Canada's climate-change coming of age.
"2019 was like the year of climate awakening for Canada," says Catherine Abreu, the head of Climate Action Network Canada.
READ MORE: 'Catastrophic'– Canada set to miss 2030 emissions target by 15%, UN report says
It was a year that saw warnings Canada is warming twice as fast as the rest of the world, the imposition of a national price on pollution, a vote in Parliament to declare a climate emergency and a federal election in which climate was one of the few real issues to make its way through the din of nasty politics.
Climate change was chosen in a survey of reporters and editors across the country as the 2019 Canadian Press News Story of the Year.
"I don't think it can be anything but climate change," said Toronto Star senior editor Julie Carl. "It is gripping our attention, our reality and our imagination."
A decade ago, climate change was more academic than reality, but in recent years few Canadians haven't been touched directly by the kind of weather climate change may be causing: floods, fires, major storms, cold snaps, heat waves, longer winters, shorter growing seasons. In June, when Parliament voted to declare that we are facing a climate crisis, it came as parts of eastern Ontario, Quebec and New Brunswick were bailing out from the second once-a-century flood in three years.
In the survey, climate change had stiff competition, barely beating out the SNC-Lavalin saga, which itself had to fight its way into second ahead of the Toronto Raptors' NBA title. In western Canada, many votes were cast for the hunt for two men who murdered a couple and another man in British Columbia before fleeing to the muskeg of northern Manitoba, where they would take their own lives.
But for many editors, the decision to rank climate change No. 1 comes both from the impact it had in 2019 and its expected dominance in our lives in the future.
"There's no bigger story than the human-made altering of our own planet — even if you don't believe it," said Paul Harvey, senior editor at the Calgary Herald and Calgary Sun.

2:29


Climate change protesters demonstrate in Amsterdam airport, dragged out by police



Climate change protesters demonstrate in Amsterdam airport, dragged out by police
Canada's new environment minister, Jonathan Wilkinson, ran for office in large part because he wanted to do something to address climate change, a problem, he said in a recent interview, that "is a defining issue of our time."
It is also a defining issue for the Liberal government. Prime Minister Justin Trudeau ran on a promise to ramp up Canada's environment policies in 2015, including setting a path to reduce greenhouse-gas emissions and fix Canada's environmental review process for major projects.
But the government's decision first to approve the Trans Mountain pipeline expansion, and then spend $4.5 billion to buy the existing pipeline when political opposition threatened to derail the project, left environment advocates disappointed and room for his political critics to pounce.
"You. Bought. A. Pipeline," NDP Leader Jagmeet Singh countered in a news release, when Trudeau unveiled his climate plans during the election campaign and promised to lead the way to a greener country.

4:53


Greta Thunberg denounces world leaders' 'creative PR' in climate flight at UN summit



Greta Thunberg denounces world leaders' 'creative PR' in climate flight at UN summit
Climate change is also at the heart of the anger driving talk of western alienation _ and in the most extreme cases, separation _ as oilpatch workers, and others who depend on the oilpatch for their jobs, fear for their futures.
It leaves any government in Canada with a true conundrum: how to reduce emissions drastically without tanking an economy where oil, gas, manufacturing, and transportation are key. Unlike some small European nations, Canadians live far apart, in cities built around the automobile, and in places where heating and electricity needs in the winter months are high.
The political fight between Ottawa and the provinces over how best to manage climate change is a big part of the story and Canadians seem to want them both to win. Two-thirds of Canadians voted for parties advocating for carbon taxes while an equal number voted for parties that promised to complete the Trans Mountain pipeline.
"The vast majority of Canadians said, 'We want aggressive action on climate' but the vast majority of Canadians also are pragmatic in terms of saying, 'But we want to do this in a frame of doing this in a prosperous economy,' " Wilkinson said recently in an interview with The Canadian Press.

0:36


Blindfolded Extinction Rebellion demonstrators protest at UN Climate Conference



Blindfolded Extinction Rebellion demonstrators protest at UN Climate Conference
In 2019, Saskatchewan, Ontario and Alberta took Ottawa to court over the federal carbon tax. The first two already lost in their provincial courts of appeal and are appealing to the Supreme Court of Canada. Alberta 's case is on this week.
Ottawa's new environmental-assessment process for major projects makes climate change one of the considerations. It is one of the most hated bills in Alberta and Saskatchewan, where governments believe it will mean no new pipelines ever get built in Canada. For environment leaders, that is not a bad thing. For the energy sector, it's a death knell.
Several watchers also think not having a full climate plan helped sink Conservative Leader Andrew Scheer's election efforts.
Valerie Casselton, managing editor at the Vancouver Sun and Vancouver Province, said it "arguably" cost Scheer the election "in a year when the Liberals faced scandal after scandal but managed to rally by climbing onto their green platform planks."
© 2019 The Canadian Press
Canada sees 3,069 new coronavirus cases as total infections top 890K – Global News
Canada added 3,069 new cases of the novel coronavirus on Monday, pushing the total number of infections in the country to 890,703.
Health officials also said another 31 people have died after contracting COVID-19, meaning to date, the virus has claimed 22,276 lives in Canada.
However, since the disease was first detected, 838,095 people have recovered after falling ill.
In a series of tweets on Monday, Canada' top doctor Theresa Tam said Canada continues to "make progress with overall declines in severe illness and deaths."
"But the decline in case counts has slowed and #VariantsOfConcern are increasing so we need to remain vigilant," she wrote.
[ Sign up for our Health IQ newsletter for the latest coronavirus updates ]
According to Health Canada, as of March 7, a total of 2,039 cases of the variants of concern had been reported across Canada.

0:48


Ontario is seeing 'significant increase' in number of coronavirus variants



"We've got what it takes to keep these variants down — public health measures + individual precautions — and as #COVID19vaccines continue to roll out, our future keeps looking brighter," Tam wrote.
"Let's hold on together to not give these variants an inch."
So far, more than 2.5 million COVID-19 vaccines have been administered across Canada, meaning approximately 3.26 per cent of the country's population has now been inoculated.
While Canada's vaccine rollout has been slow, the federal government has repeatedly stated that all Canadians who want a COVID-19 vaccine will have access to one by the end of September.
New cases, deaths
In Ontario, 1,631 new cases and 10 new deaths were reported, while Quebec added 579 new infections and nine more fatalities.
Meanwhile, health officials in Saskatchewan said 97 more people have contracted the illness and one more person has died.
In Manitoba, 63 more people have tested positive for COVID-19, while also reporting one additional death.

1:20


Coronavirus: Manitoba's top doctor says positive tests being screened for variants



In Atlantic Canada 10 more people have tested positive for COVID-19.
Five new infections were reported in New Brunswick, while health authorities in Newfoundland and Labrador said three more people have fallen ill.
Prince Edward Island officials said two new cases were detected in the province.
None of the Maritime provinces or Newfoundland and Labrador reported any more fatalities on Monday.
In western Canada, hundreds of new cases were detected.
British Columbia added 385 new infections and four new fatalities, while health officials in Alberta said 304 more people have fallen ill. Six more deaths have occurred since Saturday in Alberta as well.
No new cases or deaths were reported in any of Canada's northern territories.
Global cases top 117 million
The total number of COVID-19 cases around the world topped 117 million on Monday.
According to the latest tally from Johns Hopkins University, a total of 117,055,507 people have been infected with the virus globally.
Since the coronavirus was first detected in Wuhan, China in late 2019, it has claimed 2,597,213 lives, according to Johns Hopkins.
The United States has reported the highest number of cases at 29,030,476. The country has also seen the most fatalities associated with COVID-19, with 525,541 to date.
© 2021 Global News, a division of Corus Entertainment Inc.
U.S. issues advice to those fully vaccinated, but no shift in Canada yet – CTV News
New U.S. guidelines say people fully inoculated against COVID-19 can drop some precautions when gathering with others, but at least two provincial health ministers say existing public health advice holds for now.
The Centres for Disease Control and Prevention said Monday that Americans who have waited two weeks since their second required shot can spend time with other immunized people indoors without masks or social distancing.
The same applies to gatherings by those at low-risk of severe disease, such as fully vaccinated grandparents visiting healthy grandchildren.
The U.S. guidelines recommend that fully vaccinated people continue to wear masks, avoid large gatherings and physically distance when in public.
British Columbia Health Minister Adrian Dix said Monday that physical distancing and other public health guidelines will be around for some time.
He said about 15 per cent of B.C.'s eligible residents are expected to be immunized by the end of the month, which is "nothing like herd immunity."
"The future is bright, but we can't live the future right now. We've got to live the now right now."
Dix does expect visiting restrictions to be loosened in B.C.'s long-term care homes this month as about 90 per cent of residents and staff have been vaccinated.
University of Alberta infectious diseases specialist Dr. Lynora Saxinger said evidence on which the U.S. health agency based its advice is "very much in evolution" and such recommendations might not work everywhere.
Virus variants with the potential to break through vaccine protection are also a "wild card," she said.
But Saxinger said the principles underlying the U.S. guidance make sense, especially since the initial vaccine rollout has targeted older individuals, many of whom have been kept away from their grandchildren for almost a year.
"They're basically taking a balance-of-probabilities approach to say that if you've received vaccine, you should be highly protected against severe disease. Therefore this should be hopefully OK."
Ontario Health Minister Christine Elliott said her province is still recommending people take precautions with gatherings and will take its cues from the National Advisory Committee on Immunization.
Ontario reported 1,631 new cases in its latest update, but said the higher-than-expected count was due to a system "data catch-up." The seven-day average for new cases was at 1,155.
There were also 10 more deaths linked to the novel coronavirus.
Ontario lifted stay-at-home orders in Toronto, Peel Region and North Bay on Monday — the last three regions subject to the government's strictest measures introduced two months ago.
Alberta also loosened some rules for banquet halls, community halls, conference centres, hotels, retail shops, performances and post-secondary sports, as hospitalizations stayed well below the provincial target of 450.
Health Minister Tyler Shandro said he believes it is safe enough to immediately ease more restrictions
The province reported 278 new cases of COVID-19 and six additional deaths. Six cases of the more contagious variant were also detected, bringing that total to 659. There were 254 people in hospital.
And residents in five regions of Quebec, including the capital, were again able to eat in restaurants and work out in gyms.
Restrictions remain in place in the Montreal area due to fear that variant cases will cause a spike in infections and hospitalizations.
Quebec reported 579 new cases in its update. New daily infections had been above 700 for the five previous days. The province also recorded nine more deaths.
All of New Brunswick shifted to a lower pandemic response level Monday. That means a circle of 15 regular contacts can socialize, up from 10. The Atlantic province had five new cases and 36 active ones.
Saxinger said a "judicious and slow" reopening is the safest approach.
She noted that many countries have seen their case counts come down, but the proportion of more contagious variants is higher, planting the seeds for a spike.
"We know that it's possible that the variants can be responsible for another surge, that a variant surge is harder to contain and you need longer and more stringent restrictions to contain them."
Also Monday, Prime Minister Justin Trudeau announced that Thursday will be a "national day of observance" to commemorate the 22,000 people in Canada who have died from COVID-19 and to acknowledge all the ways the virus has changed our lives in the last year.
This report by The Canadian Press was first published March 8, 2021
The latest news on COVID-19 developments in Canada for March 8 – The Tri-City News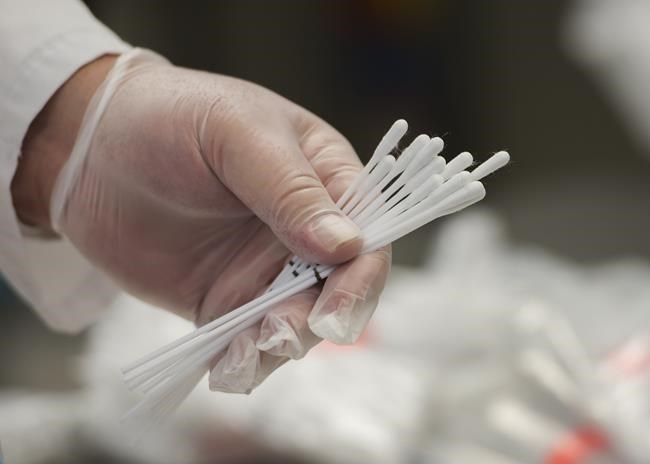 The latest news on COVID-19 developments in Canada (all times Eastern):
6:35 p.m.
Alberta is reporting 278 new cases of COVID-19 and six additional deaths.
The province says six cases of a more contagious variant have also been detected, bringing that total in Alberta to 659.
There are 254 people in hospital, with 36 of them in intensive care.
Health Minister Tyler Shandro says he believes it's safe enough to immediately lift some more public-health restrictions.
—
6:30 p.m.
Alberta is lifting more COVID-19 public-health restrictions, including allowing more people to shop in retail stores and malls.
Health Minister Tyler Shandro says the retail limit is increasing to 25 per cent capacity from 15 per cent.
He says banquet halls, community halls and conference centres can open for meetings, while weddings of up to 10 people and funeral services with a maximum of 20 people are allowed.
Lessons and practices for youth and post-secondary sports can go ahead with a cap of 10 participants.
And there can be rehearsals and performances — without an audience and confined to 10 people — for youth and adult dance, singing and theatre activities.
—
6:15 p.m.
B.C. is reporting 11 more deaths and 1,462 new cases of COVID-19 over the last three days as the death toll in the province nears 1,400.
Provincial health officer Dr. Bonnie Henry says more than 4,800 cases are active, including 240 people hospitalized with the illness.
She says 144 more cases of variants of concern have been detected in B.C. for a total of 394, of which 87 cases are active.
There have been 333,327 doses of COVID-19 vaccine administered in B.C., including nearly 87,000 second doses.
—
4 p.m.
Prince Edward Island is reporting two new cases of COVID-19 today.
Health officials say the new cases involve two men in their 20s.
They say one man recently travelled outside Atlantic Canada and the other is a close contact of a previously reported infection.
P.E.I. has 28 active reported cases of COVID-19.
—
3:05 p.m.
Saskatchewan is reporting 97 new cases of COVID-19 and two more infections caused by a more contagious variant.
Health officials say a provincial lab confirmed two additional cases of the variant first detected in the United Kingdom in the Regina area.
The ministry also confirmed a previously reported presumptive case to be the B.1.1.7 variant.
To date, Saskatchewan has seen nine cases of variants of concern.
—
3 p.m.
Quebec is announcing it will not follow recommendations from Canada's national vaccine expert panel regarding the newly approved Oxford-AstraZeneca vaccine.
The province said today in a news release its provincial vaccine expert committee is recommending that all approved doses be used immediately — particularly for people in their 70s — to reduce death and hospitalizations.
Canada's National Advisory Committee on Immunization has said the AstraZeneca vaccine is not recommended for people aged 65 years and over because of insufficient data.
Quebec says the fact the AstraZeneca vaccine doesn't need to be kept frozen will help officials conduct more mobile vaccinations campaigns and reach patients at home.
—
2 p.m.
Ontario's health minister says people won't be asked to provide proof of their pre-existing health conditions to access a COVID-19 vaccine during the second phase of the rollout.
Christine Elliott says she believes most people will come to the clinics when they are permitted and not take advantage of the honour system.
The vaccine will be offered starting in April to people with specific health conditions like organ transplant recipients, those living with obesity and those receiving treatments that suppress the immune system.
Elliott says local public health units will screen people as they arrive at the clinics and may be able to check with a person's family physician, but that will not be mandatory.
—
1:35 p.m.
New Brunswick is reporting five new cases of COVID-19 today.
Two cases in the Moncton region involve people in their 20s and are travel-related.
The other cases are in the Miramichi area and are linked to a previously reported infection.
There are currently 36 active reported cases in the province and three people in hospital with the disease, including one in intensive care.
—
1:35 p.m.
Manitoba is reporting 63 new COVID-19 cases and one death.
On a per capita basis, the northern part of the province continues to be hardest hit.
—
12:55 p.m.
Manitoba is expanding its vaccination program again.
The minimum age to book an appointment for the general public is being dropped by five years — to 60 and up for First Nations people and 80 and up for all others.
—
12:45 p.m.
Newfoundland and Labrador is reporting three new cases of COVID-19.
Health officials say all three cases involve close contacts of previously reported infections.
The province has 84 active reported cases and three people in hospital with the disease.
Newfoundland and Labrador has reported a total of 1,009 COVID-19 cases and six deaths linked to the virus.
—
12:15 p.m.
Prime Minister Justin Trudeau says March 11 will be a "national day of observance" for the COVID-19 pandemic.
The day is meant to commemorate the 22,000 people in Canada who have died from the disease and to acknowledge all the other ways lives have changed over the past year.
In a statement, Trudeau says that includes kids' missed birthday parties, seniors' increased isolation, lost jobs and failing businesses.
The day is also meant to honour workers in health care and other essential front-line services.
—
12 p.m.
Nova Scotia is reporting no new cases of COVID-19.
Health officials say the province has 24 active reported infections.
Two people in the province are in hospital with the disease, including one in intensive care.
Nova Scotia has reported a total of 1,659 COVID-19 cases and 65 deaths linked to the virus.
—
11:45 a.m.
Ontario is reporting 1,631 new cases of COVID-19 and 10 more deaths today.
The province says the daily case count is higher than expected due to a "data catch-up process" in its system.
No other details about the issue have been provided.
The province has lifted its stay-at-home order in Toronto, Peel Region and North Bay, the last three regions where it was still in effect.
—
11:05 a.m.
Quebec is reporting 579 new cases of COVID-19 as well as nine additional deaths due to the illness.
None of the deaths occurred in the past 24 hours.
Hospitalizations declined by two to 590, with 108 people in intensive care, which is one more than a day earlier.
The province administered 15,249 doses of vaccine Sunday, bringing the total to 564,302.
—
This report by The Canadian Press was first published March 8, 2021
The Canadian Press