Collaborative Fund Why this could be the right climate for investment – CMC Markets
In part one of this two part series, Lily Bernicker at Collaborative Fund explores the climate investment landscape, looking at where it's come from and where it's going.
Climate technology has not been an obvious fit for venture capital. These businesses have rarely found a way to grow large enough, quickly enough.
That said, climate clearly satisfies the venture requirement for massive markets. And as the climate crisis is caused by and affects every part of our global economy, decarbonisation is the biggest investment opportunity for impact and value creation over the next decade.
Given this potential, the question of whether or not venture dollars can be responsibly invested into climate businesses is not if, but when?
2006 seemed like the right moment. An Inconvenient Truth just came out, oil crossed $75 per barrel, and VCs doubled their investments in clean energy in just a year. Investors then went on to put more than $25bn in the sector from 2006-2011 giving rise to the infamous clean tech boom.
But the rush was short lived, and mainstream interest in the sector quickly contracted after the financial crisis and a few high-profile shutdowns, driving early-stage investing down to just 35 deals in 2013.
PWC Analysis of Early-Stage Climate Tech Investments (2013-2019)
At Collaborative Fund, we've gradually ramped up deployment from our first major climate investment in Beyond Meat [BYND] in 2015. At the time, plant-based meat alternatives weren't a radical innovation. They'd been around and geared towards vegans for years.
However, we recognised that demand for healthier substitutes and affinity for brands that align with how consumers see themselves couldn't be satisfied with existing products, and would only grow. Beyond Meat was the first to make mass market consumers feel good about a healthy and more sustainable choice that doesn't ask them to compromise on taste, nutrition, or value. This vision convinced us that they could become one of the biggest food companies in the United States.
Since then, we've been compelled to do more in the category, encouraged by trends like: increased spend on sustainable products, newly cost-competitive low-carbon technologies, and a wave of experienced founders entering the field.
These shifts have created new opportunities to invest in businesses where mitigating or adapting to climate change is a driver of performance rather than a limitation.
We've also been active through some of the industry's big setbacks. Our first clean energy investment was Dandelion Energy's seed round in 2017: the same month that the US announced its intent to leave the Paris Agreement and shortly after Solar City dodged a shutdown through their merger with Tesla [TSLA].
While the path to decarbonisation will never be a straight line, there have been irreversible advancements in technology and market pressures that make this generation of climate tech fundamentally different from the last.
As we've expanded our climate practice over the last five years, it's helped us to consistently track how and to what extent the market has changed. Luckily there has been some great research on the first cleantech boom. And there is increasing consensus on why it failed to deliver the returns VCs require, namely: cheap competition, technical challenges, and lack of capital availability.
At Collaborative Fund, we use these challenges as a model to explore how the market has shifted over time.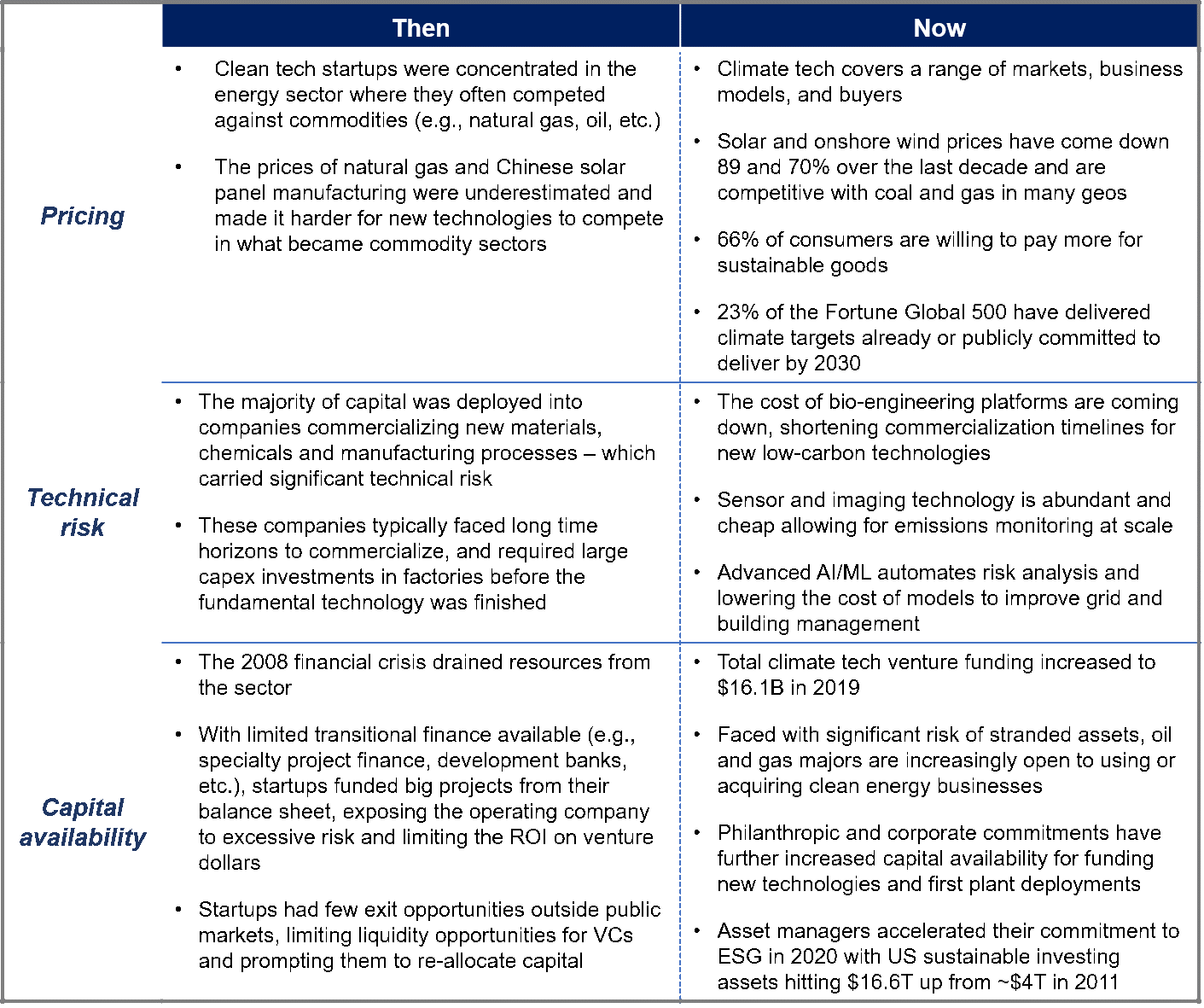 In the short term, even climate businesses built on mature technology will continue to face financing risk. But as commercialisation timelines get shorter and venture-backed climate businesses start to break out across every industry (not just energy), we anticipate a wave of traditional funding will enter the field.
Businesses that scale by preventing or mitigating the impact of the climate crisis fit squarely within the Collaborative Fund thesis. Markets value companies that are the best at satisfying demand at scale. Markets don't care (yet) how urgent the climate crisis is or how little time we have to deploy solutions to keep warming below 1.5°C.
Therefore, we don't either. We're technology and business model agnostic. We invest in deep tech, software, and everything in between. But we don't invest in companies that require users to compromise on performance or cost in exchange for climate impact.
This article was originally published by Collaborative fund on 16 December 2020. In Part II, they share the framework that they use to evaluate climate opportunities and what they're most excited for going forward.
Disclaimer Past performance is not a reliable indicator of future results.
CMC Markets is an execution-only service provider. The material (whether or not it states any opinions) is for general information purposes only, and does not take into account your personal circumstances or objectives. Nothing in this material is (or should be considered to be) financial, investment or other advice on which reliance should be placed. No opinion given in the material constitutes a recommendation by CMC Markets or the author that any particular investment, security, transaction or investment strategy is suitable for any specific person.
The material has not been prepared in accordance with legal requirements designed to promote the independence of investment research. Although we are not specifically prevented from dealing before providing this material, we do not seek to take advantage of the material prior to its dissemination.
CMC Markets does not endorse or offer opinion on the trading strategies used by the author. Their trading strategies do not guarantee any return and CMC Markets shall not be held responsible for any loss that you may incur, either directly or indirectly, arising from any investment based on any information contained herein.
*Tax treatment depends on individual circumstances and can change or may differ in a jurisdiction other than the UK.
Continue reading for FREE
Trump's Media Company to Get $1 Billion in Investment From SPAC – Bloomberg
Former President Donald Trump's media company said Digital World Acquisition Corp. has agreed to a $1 billion investment following the combination of both companies.
Trump first announced the plan to merge with the so-called blank-check firm in October that would help enable him to regain a social media presence after he was kicked off Twitter Inc. and Facebook Inc. platforms. The new enterprise will be in operation by the first quarter of 2022 and plans to start a social media company called Truth Social.
Gold Is a Green Investment. Owning it Can Be Tricky. – Barron's
Most investors don't think of gold as a sustainable investment. Historically, it has required large amounts of water, energy and toxic chemicals to mine and refine. Mining companies have been accused of exploiting developing countries and their workers.
Yet gold bullion—as opposed to miners—is surprisingly green. Once fashioned into bars, it just sits in vaults, having virtually no carbon footprint. According to the World Gold Council, there are 201,296 metric tons of previously mined gold in storage. https://www.gold.org/goldhub/data/above-ground-stocks Gold miners increase that stock by just 1.5% a year—3,000 tons.
Two money managers,



Franklin Templeton

and Sprott Asset Management, recently filed with regulators to launch the Franklin Responsibly Sourced Gold https://www.nyse.com/publicdocs/nyse/markets/nyse-arca/rule-filings/filings/2021/SR-NYSEArca-2021-73%20Pdf.pdf and the Sprott ESG Gold https://www.sec.gov/rules/sro/nysearca/2021/34-92506.pdf exchange-traded funds.
According to its filing, the Franklin ETF will seek "to predominantly hold responsibly sourced gold bullion, defined as London Good Delivery gold bullion bars produced after January 2012 in accordance with London Bullion Market Association's Responsible Gold Guidance." https://www.lbma.org.uk/responsible-sourcing/guidance-documents The Sprott one seeks to buy gold from miners that meet its proprietary environmental, social and governance criteria in addition to market association approval.
Neither Sprott nor Franklin Templeton were available to speak while seeking regulatory approval.
The London bullion association's 2012 Responsible Gold Guidance required gold to be sourced from refiners not linked to human rights abuses or armed groups, i.e., "conflict gold." The association's standards have evolved since then to include environmental criteria. Still, gold sourced after 2012 before those criteria were added could come from dirtier sources.
A 2021 open-letter https://www.globalwitness.org/en/press-releases/open-letter-lbma-concerns-responsible-sourcing-programme-fails-curtail-human-rights-abuse-and-illicit-gold-supply-chain/signed by five human rights groups said "downstream customers cannot have confidence that the LBMA's Good Delivery gold is free of human rights abuses and not linked to conflict."
The association responded to these accusations with its own open letter, https://www.lbma.org.uk/articles/lbma-responds-to-ngo-open-letter-on-responsible-sourcing stating that it "recognizes the challenges that all audit programs face, and whilst no program is perfect, we remain committed to continuous improvements, and ongoing engagement with stakeholders in addressing the supply-chain risks."
The new Sprott ETF should have a higher standard for sourcing gold because of its unique ESG criteria. But its regulatory filing acknowledges that it may not be able to find enough ESG-approved gold, so that the trust expects to hold some amount of unallocated [i.e., non-ESG approved] gold at any given point in time."
All of which is to say these new ETFs may not be much greener than traditional bullion ones.
Yet gold's carbon advantages are real. According to one study https://www.gold.org/goldhub/research/gold-and-climate-change-decarbonising-investment-portfolios by climate-risk analysis firm Urgentem, for a portfolio of 70% equities and 30% bonds, introducing a 10% allocation to gold (and reducing the other asset holdings by equal amounts) reduced portfolio carbon emissions intensity by 7%, while a 20% gold allocation lowered it by 17%.
"The emissions associated with holding gold are frankly a lot less than holding equities," says Terry Heymann, CFO of gold trade-group World Gold Council.
While bullion as a low-carbon investment makes sense, Heymann posits that the mining industry is also becoming ESG-friendly, pointing to the World Gold Council's 2019 publishing of its Responsible Gold Mining Principles https://www.gold.org/about-gold/gold-supply/responsible-gold/responsible-gold-mining-principles, which the Council's 33 member companies—including the world's largest miners—have all committed to following. The principles support the Paris Climate Accord's goal of producing zero carbon emissions by 2050.
"You're going to see a lot more use of renewables [at mines]— solar, hydro, or wind," Heymann says. "Secondly, you're going to see a move towards electric vehicles." He points to miner Newmont's (NEM) "all-electric mine" in Northern Ontario, https://mining.ca/mining-stories/goldcorp-electric/ which has a fleet of battery-powered trucks as an example of the industry's future.
Yet miners have a long way to go to convince ESG experts. The differences between bullion and mining stocks are "night and day," says Adam Strauss, co-manager of Appleseed (APPLX), an ESG-focused fund which has 7% of its portfolio in the



Sprott Physical Gold Trust

(PHYS). "Gold mining is a very dirty business."
A 2020 report by the Columbia Center on Sustainable Development and the Responsible Mining Foundation called the mining industry's efforts to achieve its sustainable development goals so far "cosmetic." https://www.responsibleminingfoundation.org/app/uploads/RMF_CCSI_Mining_and_SDGs_EN_Sept2020.pdf Although she acknowledges individual miners differ, Perrine Toledano, the CCSI's mining analyst, says that some miners "just cherry-pick the [sustainable goal] they want and then communicate on its positive impact."
Could an ESG ETF tracking just the 33 World Gold Council member companies that have agreed to its principles be sustainable? Sustainalytics, one of the largest ESG ratings services, gives mixed grades to different members, calling the ESG-risk of Chinese miner Zijin Mining Group "Severe," and rating it one of the worst companies in its entire coverage universe.
That said, those ratings could improve in time. "Every single one of our members is committed to implement the responsible gold mining principles, and I know that work is under way," says Heymann. "We've got four members in China, and they're all committed to doing this." This March, Zijin issued a release regarding its "ESG Report to emphasize Sustainable Development,"stating it continues "to improve our ESG performance in environmental and ecological protection, human rights protection, anticorruption, responsible supply chain and community engagement." and that it invested 1.92 billion renminbi in 2020, a 51% increase over 2019, on environmental protection.
"Having some sort of [ESG] guidance is very positive," Sustaianlytics mining analyst Dana Sasarean says about the Council's principles. "If the world requires gold, I think it's important to make sure that this gold is produced in the most responsible way. But there are challenges."
Write to editors@barrons.com
New retirement planning rule gets it right: Sustainable investing is here to stay – The Hill
To be sure, the previous administration went out of its way to prevent private retirement plans from taking ESG (environmental, social or governance) factors into consideration for investment decisions. But now that the Biden administration finalized the new rule this past week, plans will be able to select socially and environmentally responsible investments without fear of unfair regulatory interference. More importantly, it recognizes that a lack of positive ESG factors can increase an investment's risk and threaten its future viability. This is a major step in the right direction.
Over the last 25 years, there has been a regulatory back-and-forth over the U.S. Department of Labor's (DOL) guidance on the Employee Retirement Income Security Act of 1974 (ERISA). Under Democratic administrations, the DOL has looked favorably at ESG considerations like sustainability and equality and has not seen them as inconsistent with ERISA's dual fiduciary and loyalty duties. And it stands to reason: ESG deficiencies can represent major risks involving an investment's long-term growth, legal liability and public perception.
Predictably, the previous administration's DOL released a regulation that imposed new standards on ESG usage by ERISA plans simply to shield investments that are demonstrably irresponsible when it comes to ESG factors. But a new Biden administration DOL rule released Oct 13, rightfully ends this "ping-pong" between administrations, to remove any doubt of what's been clear all along: ESG factors are meaningful, material investment criteria.
Plan sponsors now have clear guidance to support integrating sustainable investing strategies into defined contribution plan design — namely, to rely on a well-documented, prudent process that emphasizes materiality, diversification, risk and return in evaluating the duty of care, while relying on "prudent experts" as needed.
Given sustainable investing is trending relatively recently in the U.S. Defined Contribution (DC) plan marketplace, DC plan-specific regulatory guidance and case law has been limited.
The Defined Contribution Institutional Investment Association (DCIIA) and the Intentional Endowments Network (IEN) have both recently released guides for integrating more ESG options in retirements plans. We define "sustainable investing" as an investment philosophy that seeks to generate financial value by incorporating environmental, social and governance values. This umbrella term includes multiple approaches, such as integrating ESG factors into a fund, as well as funds that incorporate macro ESG-themes. Portfolios are considered sustainable when decision-makers weigh the impact of ESG factors along with other traditional financial metrics in portfolio construction and investment management processes.
Sustainability challenges represent urgent, material risks and opportunities for investors. Just in the past few years, climate impacts have wreaked havoc, destroying lives and costing businesses, governments and investors hundreds of billions of dollars. Extreme inequality and racial injustice, laid bare by the pandemic, have driven social unrest and changed the landscape for corporate governance and stakeholder engagement. These intersectional issues of climate change and social equity are critical factors for fiduciaries to consider in the investment process. They increase both portfolio risk and the systemic risk.
As communities and governments around the world grapple with these issues, we are experiencing a transformational shift. People are demanding a "just transition" to a low-carbon economy that reduces greenhouse gas emissions while protecting workers and vulnerable communities and addresses inequality and injustice in the process.
Further, the scale of sustainable investment commitments, especially in the higher education space, is growing and impacting the market. Several endowments have moved on fossil fuel divestment and fossil fuel free investing (including recent announcements from Harvard, Boston University, MacArthur Foundation), Net Zero Portfolio commitments (Harvard, Stanford, Penn, Arizona State, Michigan) and racial equity (University of California, University of Chicago, Warren Wilson College). Now it is time for retirement plans to keep pace and include strong ESG options.
As Bill McKibben recently noted, "These divestments are so large that they're starting to have deep effects on the ability of the fossil fuel industry to expand."
It is time for regulation to catch up with reality. With the new ERISA rule in place, the legal framework for how retirement plans can finally analyze risk and value in ways that makes sense for all stakeholders as the market transforms to meet the social, environmental and even existential challenges we face today. And, as important, it allows employees to invest their values to help bring about a world that can support these institutions over the long term, and leaves no one behind.
Georges Dyer is co-founder and executive director of the Crane Institute of Sustainability, and leads its flagship initiative, the Intentional Endowments Network (IEN).