Condo king of Miami Jorge Perez bets big on Fisher Island
Just off the coast of Miami Beach, on ultra-exclusive Fisher Island, there is one crane on one construction site. It is the last plot of land available for development and an unlikely bet on luxury real estate at a time when the housing market appears to be in freefall.
Jorge Perez, also known as "the condo king of Miami," and his Related Group are behind the 10-story, 50-unit project that boasts a sell-out price of $1.2 billion. They paid $122.6 million for the land, at the top of the market.
Units start at $15 million. The project includes a $90 million, 15,000 square foot penthouse and a $55 million ground-floor villa with a half-acre backyard. The building will also have its own slip for mega yachts. Sales just started last month.
"Almost 30% of the units are spoken for," said Perez. "Contracts have gone out for over $300 million, and we haven't really done any marketing. Nevertheless, should the market slow down a little bit, we're in a fortunate position."
Buyers have to put down a 50% non-refundable deposit for pre-construction sales.
Perez said initial buyers hail from Brazil, New York, Canada, Mexico and Israel. He said he is seeing far more domestic interest than in the past, as Miami had traditionally been a haven for foreign investors. That appears to be echoing all over the city.
The view from South Florida
"Miami is an international-focused market – 80-90% international – but it flipped during pandemic," said Danny Hertzberg, a luxury real estate agent with Coldwell Banker and the Jills Zeder Group. "We'll continue to have this domestic demand for tax reasons, but at some point political instability or a weaker dollar will pull [international] people in."
Miami has been an outlier in the recent decline in both home sales and prices, with prices still quite strong in the city. The high end, however, has not been as resilient. Pending sales of homes priced above $5 million were down 89% in December year over year, according to Miller Samuel, a real estate appraisal firm.
"But the one thing to keep in mind in terms of Miami is that inventory is down 60% since pre-pandemic, so what's different is inventory is extremely limited," noted Jonathan Miller, CEO of the firm. "That throws out a lot of conventional wisdom on pricing."
Miller added that the Fisher Island project, "may not sell in five minutes but it's not out of the realm of possibility even in this market."
The property and its location are both unique. Fisher Island is a 216- acre, ultra-exclusive community, only accessible by ferry or yacht and only open to residents, their guests and guests of the small luxury hotel there. The last condo that sold on the island last year went for $40 million, according to a representative of Related Group.
Hertzberg said Perez's new building "checks a lot of boxes" for wealthier buyers who have a new mentality since the start of the pandemic.
"They want amenities, privacy and security. That's a major factor there. They want convenience. There is a private school there. Their own restaurants, their own grocery stores. A private beach," said Herzberg.
He also noted that instant admission to the golf club for residents is a huge draw. He said there is a five- to seven-year waitlist in greater Miami to join a golf club.
"I am sure they will sell out. The question of when is what happens in the economy and how aggressive they are on pricing," said Hertzberg. "If I was betting, they would be top of the list. It just has the right elements for the economy and the world we're in."
What the future may bring
Perez, who has developed hundreds of properties in South Florida and weathered the massive condo crash during the Great Recession, did not seem at all concerned about the future of his new project.
"Yes, the market across the country has gone down, particularly in luxury units, but we're finding that in enclaves that we have, like Fisher Island, we still see a great level of interest from those people that can afford the best," said Perez.
He does, however, worry about the broader economy and the broader real estate market.
"Of course, it bothers me. It bothers me every day. I wake up every day thinking about you know what is going to happen in the economy," said Perez. "We're thinking that interest rates and inflation has pretty much peaked. We're going to have a rough, in my opinion, one year to a year and a half, two years. And we are ready to weather that storm should it happen."
If Perez does get $90 million for the penthouse, it will be the priciest condo to sell in all of South Florida.
Nanaimo Real Estate Market Report: January 2023 – Nanaimo News NOW
[unable to retrieve full-text content]
Nanaimo Real Estate Market Report: January 2023 Nanaimo News NOW




Source link
Montreal home sales down 36% from January 2022: Quebec real estate association
MONTREAL — The Quebec Professional Association of Real Estate Brokers says Montreal's January home sales fell to a level not seen since 2009 as the market slowdown continued.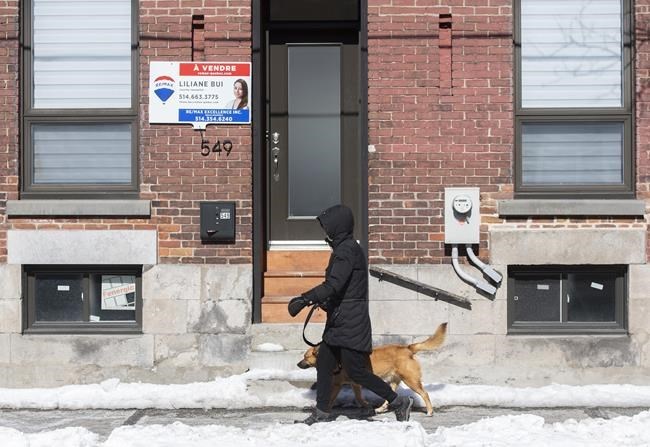 MONTREAL — The Quebec Professional Association of Real Estate Brokers says Montreal's January home sales fell to a level not seen since 2009 as the market slowdown continued.
The association says last month's sales totalled 1,791, down 36 per cent from 2,816 in January 2022.
Charles Brant, the association's market analysis director, says these numbers mean activity is approaching a historic low for the month of January and come as rising interest rates are weighing on homebuyers.
He says first-time homebuyers in particular are taking a cautious wait-and-see attitude despite recent drops in prices.
The median price of a single-family home edged down seven per cent to $500,000 year over year, while condos dipped three per cent to $370,000 and plexes dropped six per cent to $675,000.
As median prices fell so did new listings, which hit 4,598 compared with 4,808 a year ago.
This report by The Canadian Press was first published Feb. 7, 2023.
The Canadian Press
B.C. residential real estate investors unfairly 'painted as speculators': BCREA
Statistics Canada released data last week revealing 23.3 per cent of B.C. homeowners are also investors in the market. The Vancouver census metropolitan area (CMA) had an overall investment rate in condominiums and houses of 21.3 per cent.
"Investors often get kind of painted as speculators who are out to buy up housing and do nothing with it, or flippers or any other kind of pejorative terms that we add to investors. But what this data shows, and what's good to understand, is that they've really invested a lot in a primary rental in Canada," said Brendon Ogmundson. "A lot of the rental units that are being provided are smaller investors who own one unit and are renting it out."
Statistics Canada defines an investor as an "owner who owns at least one residential property that is not used as their primary place of residence." 
In B.C., 73 per cent of properties with multiple dwellings were owner-occupied investment properties. Investor-occupants are more common in the province, making up 9.6 per cent of owners.
This is due to a higher proportion of properties with multiple residential units – 11.7 per cent – such as laneway units or basement suites, according Statistics Canada. The national statistics agency said these types of units are more likely to be owner-occupied.
"So many owners in B.C. have chosen to also be landlords by renting out their basement suites or laneway houses and it's way, way different than any other province in this dataset," Ogmundson said. 

Statistics Canada data breaking down homeowners by investor-type. 
The region of Greater Vancouver A or Electoral Area A, which includes the University Endowment Lands, Barnston Island, Howe Sound communities, Indian Arm and Pitt Lake communities, had a higher proportion of houses and condominium apartments used as an investment at 42.1 per cent compared with the rest of the region. 
The City of Vancouver had a lower proportion at 32.5 per cent.
This difference is attributed to students attending the University of British Columbia, who are more likely to be renters or live in a second property owned by a family member, according to Statistics Canada. 
The proportion of condominium apartments owned for investment purposes by non-resident investors was the highest in B.C. among the provinces – seven per cent.
The rate of condominium apartments used as investment was lower in the Vancouver CMA (34 per cent) than the rest of the province.
Across B.C., non-residents and out-of-province investors owned 43,890 houses used as an investment. This number was typically higher in areas near the Alberta border. 
Out-of-province investors owned 1.6 per cent of homes in B.C., while in-province investors accounted for 9.8 per cent of all investors.