Coronavirus: Apple and France in stand-off over contact-tracing app – BBC News
France is pressing Apple to let its forthcoming coronavirus contract-tracing app work in the background on iPhones without building in the privacy measures the US company wants.
The country's digital minister confirmed the request in an interview given to Bloomberg.
France's system would let it glean more information about participating smartphone owners than Apple and its partner Google want to allow.
Privacy experts view it as a test case.
"Apple has no reason to agree to this demand and it would open the door to many other requests from other countries and entities," Prof Olivier Blazy from the country's University of Limoges, told BBC News.
"As a Frenchman, I think it would be useful to avoid being dependent on the Google-Apple solution but I think it's strange that the government strategy relies on trying to convince Apple to do something that is against its interest, with no incentive to do so."
Apple and Google announced on 10 April they were working together to provide a software building-block – known as an application programming interface (API) – that will let authorised Covid-19 contact-tracing apps work more efficiently.
Contact-tracing apps work by logging every time two or more users are close to each other for a substantial period of time.
If one device owner is subsequently diagnosed as being likely to have the virus, an alert can be sent to those they could have infected, who might be asked to self-isolate.
By using such an app in conjunction with other measures, it would in theory be possible to end wider lockdowns and still suppress the disease, so long as enough people take part.
Apple and Google's method relies on using Bluetooth signals to detect matches.
But they have deliberately designed it so neither they nor the apps' creators can see who has been given a warning.
The companies have said this is to guarantee "strong protections around user privacy", which in turn should encourage adoption.
By contrast, Inria – the French institute developing its StopCovid app – has developed a system of its own, called Robert (robust and privacy-preserving proximity tracing protocol).
It published details about it on Sunday on the code-sharing site Github.
And although the French government has promised adoption of the app will be voluntary and involve anonymised data, the document reveals there would be ways to "re-identify users or to infer their contact graphs" if desired.
"It's a misnomer to call it a privacy-preserving protocol," said University of Oxford computer scientist Prof Max van Kleek, who prefers the Apple-Google design.
"It does preserve privacy between users but not between the user and the government.
"And that leads to the risk that the government later repurposes the system to make sure that people obey a quarantine or other kinds of things the state might want to know."
The problem for Inria – and other countries developing their own contact-tracing apps – is Apple currently will not allow Bluetooth-based track-and-tracing to be carried out in the background.
So to work, the apps would have to remain active and on screen, limiting what else owners could do with their handsets and taking an extra toll on battery life.
The developers of Singapore's TraceTogether app attempted to get round this problem by offering a Power Save mode, which dims the display.
But users have still complained of being unable to make calls or use other apps at the same time and having accidentally bumped the app into the background when their handset was in their pocket.
And this has discouraged people from using it.
"We're asking Apple to lift the technical hurdle to allow us to develop a sovereign European health solution that will be tied to our health system," France's Digital Minister, Cedric O, told Bloomberg.
A spokesman for Apple referred BBC News to its earlier comments about privacy.
NHSX – which is testing an app of its own for the UK – faces a similar quandary and remains in discussions with Apple and Google about the matter.
"Apple and Google have a vested interest in protecting the privacy of their end-users," Prof Van Kleek said.
"That's not just from governments but also from potentially malicious adversaries.
"If you collect sensitive data, then it becomes more likely that that data will be leaked at some point, so from a cyber-security perspective there's lots of good reasons not to do so."
French lawmakers will vote on whether to proceed with the app, after the country's government backed down from an original plan to let MPs only debate but not decide the measure.
Assuming they support the initiative, Mr O has said he hopes to launch the tool on 11 May.
Redmi K40 & K40 Pro Damascus Black Hands On: 2021's Flagship Killer Duo – gizmochina
In the past couple of years, Redmi's K-series has been one of the most exciting flagship lineups in the market. The series practically took over the position of the flagship killer from OnePlus and has been consistently offering extremely value-for-money flagship devices.
This year's been no different with the new Redmi K40 and the K40 Pro bringing in top-notch specifications at fraction of the price of its competitors.
We've finally got both the Redmi K40 models in our office, so let's take a quick look at the design and specs of the Redmi K40 and K40 Pro in this hands-on.
Redmi K40 & K40 Pro Hands-On: First Impressions
The Redmi K40 and the K40 Pro share almost the same design and I think personally, this is the first time I'm intrigued by the appearance of the K-series. Traditionally, Redmi's K-series flagships have focused on excellent value for money without a special focus on appearance. But this time, both the Redmi K40 and the K40 Pro come with a premium-looking design. Even the camera module looks very refined and I personally find this camera setup at the back better looking than the Xiaomi Mi 11.
Another highlight of the design is its weight and thickness. Despite featuring a 4500mAh battery, both the models are relatively thin and lightweight. They both feature the same 7.8mm thickness and 196-gram weight. This is a huge upgrade from the Redmi K30 Pro from 2020 which weighed 218 grams and was 8.9mm thick.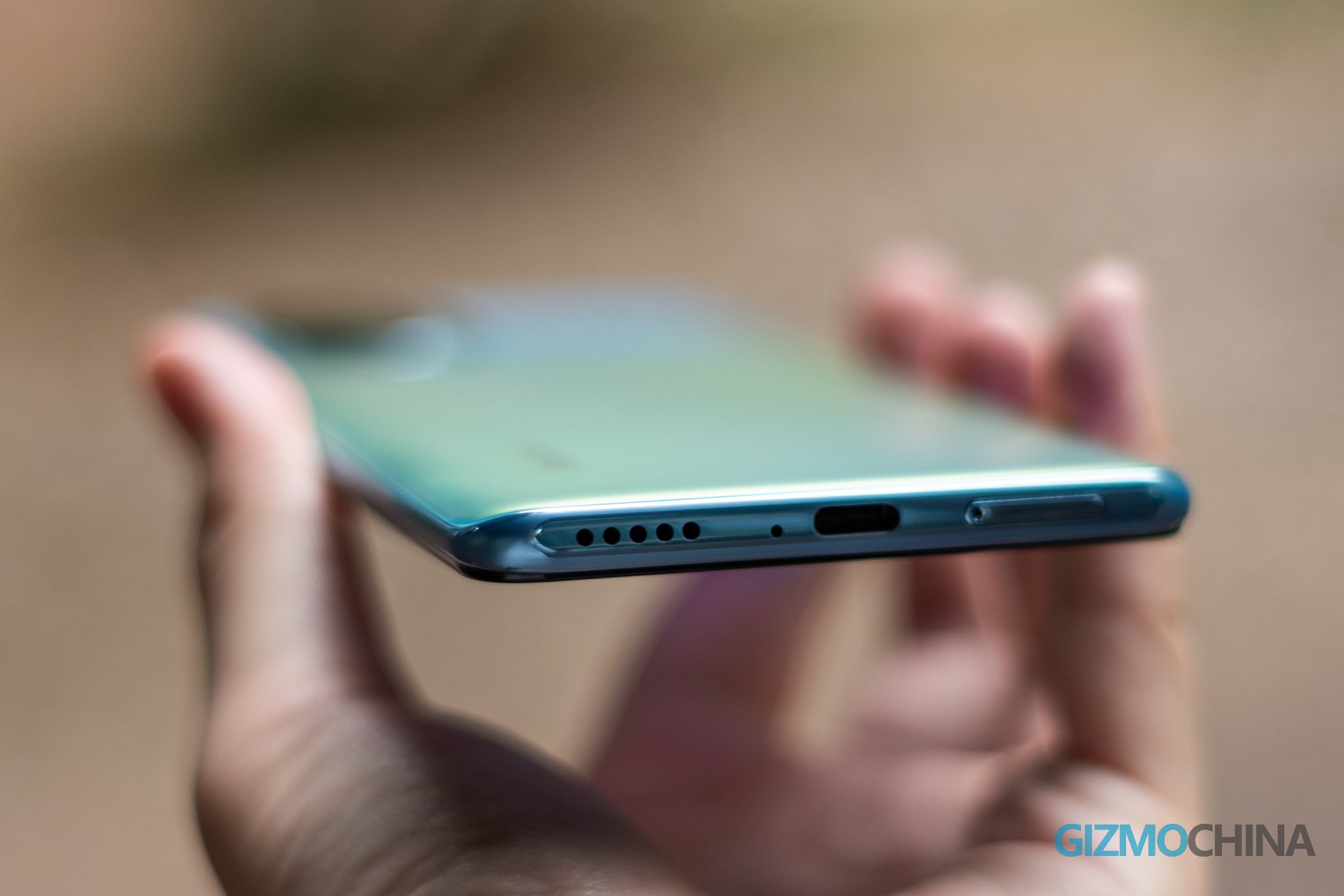 I would also like to add that the Damascus Black edition of the Redmi K40 Pro looks unique and interesting. I'm sure there'll be a lot of fans for this particular color of the model.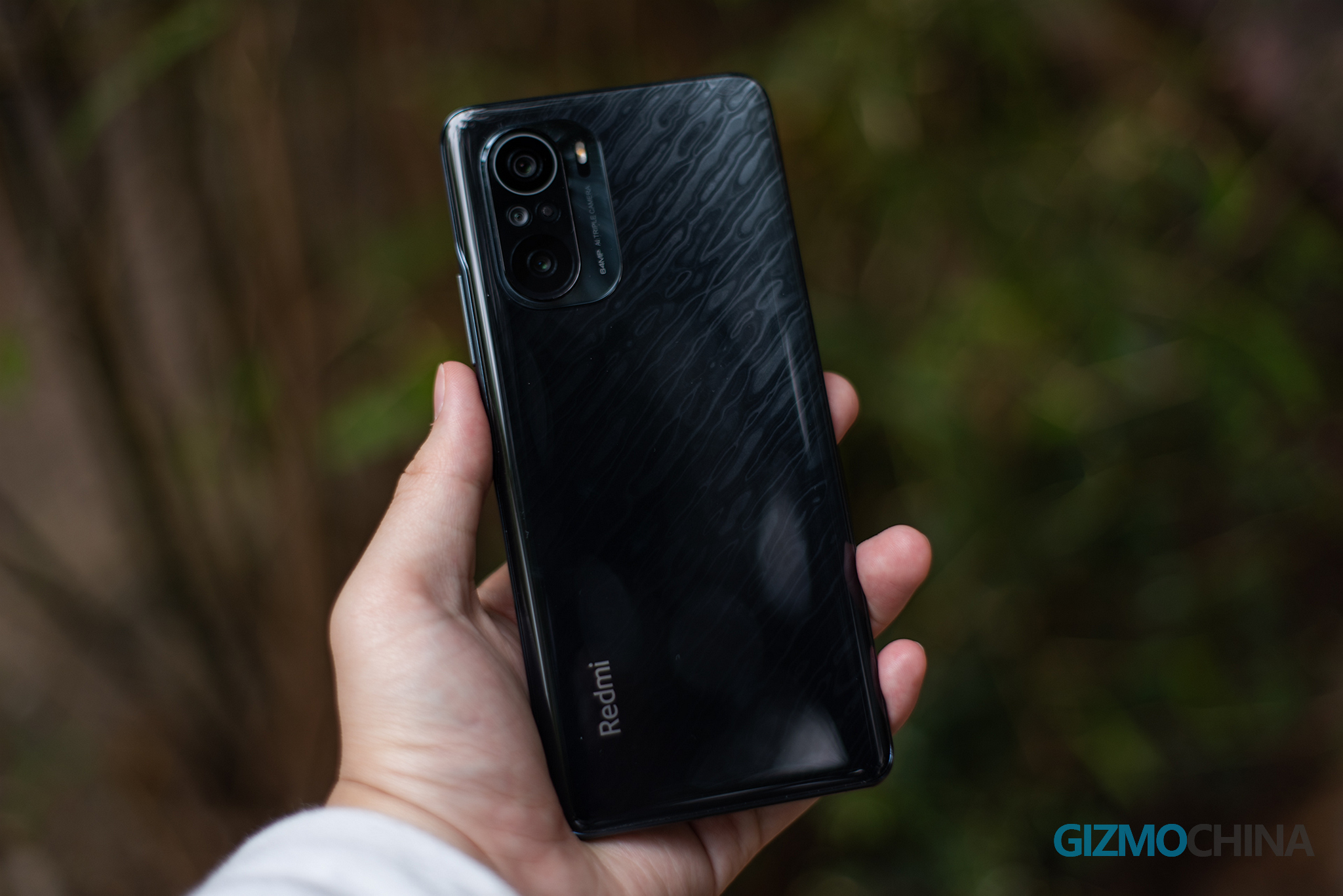 Coming to the front, the punch-hole camera on the top of the display is surprisingly small. It measures just 2.76mm which makes it among the smallest punch-hole cameras on a smartphone. The flat display also feels good, with zero miss touches and it can present full-display content better than a curved screen.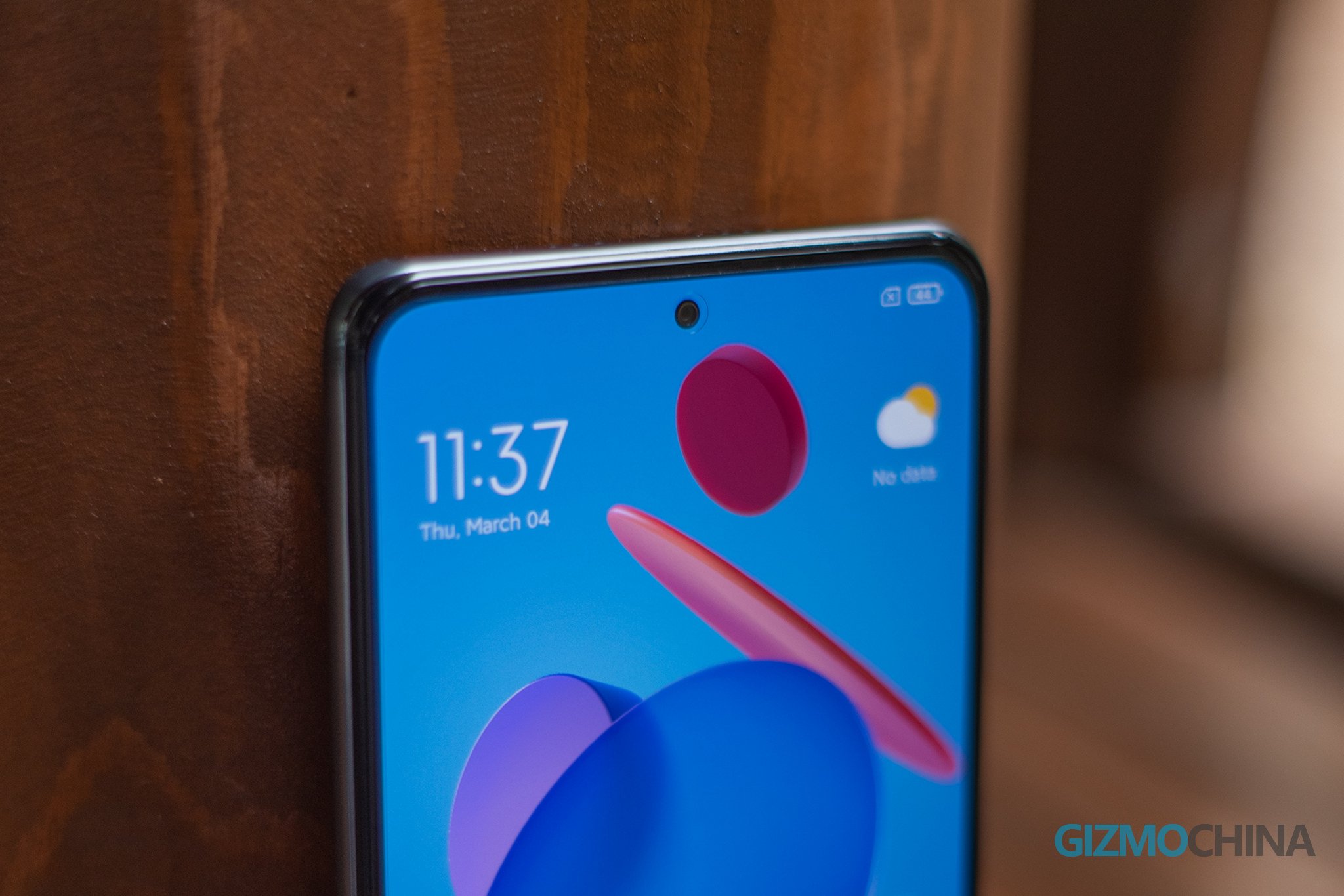 The E4 6.67-inch Super AMOLED panel also has wonderful details and color contrast. However, unsurprisingly, it's not as good as the 2K display on the Xiaomi Mi 11 (Our Review Here). The display also features an 'Adapative Color' option which adapts according to the surrounding light and presents a more comfortable screen experience for your eyes.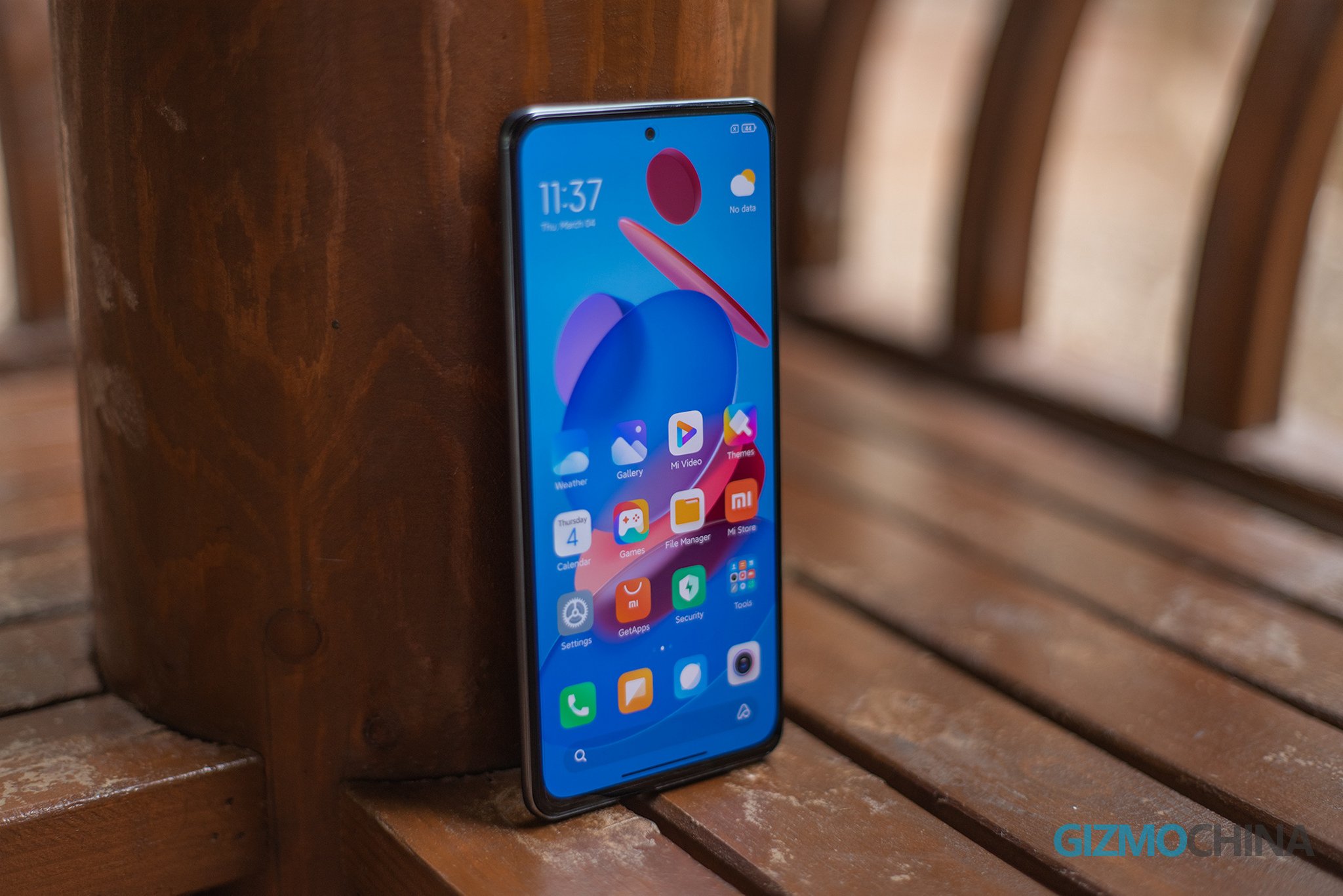 A surprising move in the Redmi K40 series is the inclusion of a physical fingerprint sensor on the side, integrated into the home button. The company has carried forward this design on the Redmi Note 10 series as well.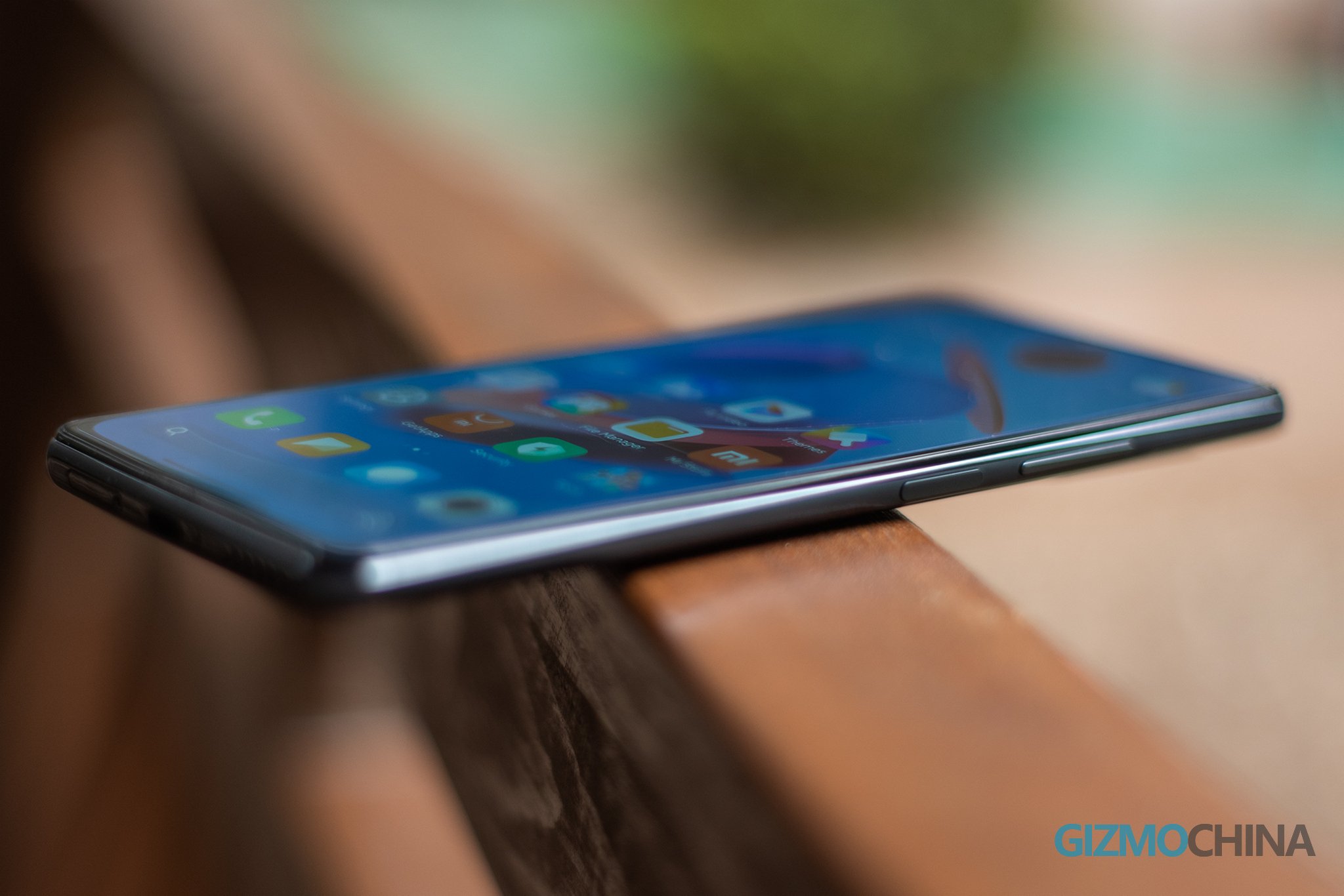 And there's a reason why this change makes sense. In our experience, this side-mounted fingerprint sensor was super fast. It's faster than most under-display fingerprint sensors in the market. And since the sensor is on the side, it doesn't come in between the overall premium design of the device. It looks no different than a regular power button on the side.
The stereo speakers with Dolby Atmos also sounded great in our initial use.
As for the cameras, you get a triple camera setup on both models. However, the Pro version gets a 64MP primary sensor while the standard version gets a 48MP shooter. Both of them share the same 8MP ultrawide and 5MP Macro shooters.
Redmi K40 vs K40 Pro Hands-On: Key Differences
Chipset: Snapdragon 870 vs Snapdragon 888
Main camera: IMX582 48MP vs IMX686 64MP
RAM: LPDDR5 5500mbps vs LPDDR5 6400mbps
5G: dual-sim card with single 5G standby vs dual-sim-card with dual 5G standby
Overall, the Redmi K40 and the K40 Pro bring a premium experience at an affordable price point. Our review videos of both the K-series models will be up in a few days, so stay tuned to that.
Meanwhile, if you have any specific questions, feel free to post them down below. We'll try to answer them in the review.
ALWAYS BE THE FIRST TO KNOW – FOLLOW US!
How to keep your online history private as tracking technology improves – CBC.ca
If you use the internet in any capacity, you've likely experienced this: after visiting one website, you may go to another website and find that it's showing you ads for the first one. Or ads for a website you've visited in the past.
This is all because these websites are collecting your personal information to target you with ads, according to CBC's Information Morning tech columnist Nur Zincir-Heywood, a professor in the computer science department at Dalhousie University in Halifax.
"Basically, the website tries to personalize our experience, so they collect information about us, and they store this information in a database at the website," she said.
"Then, to be able to find us in that database, they leave our identifiers on our computers, on our smartphone."
Those identifiers are called "cookies" — and they don't come with chocolate chips.
"They're small in size, but they do a great job in terms of profiling us," said Zincir-Heywood. "Think of them as cookie crumbs. They follow us."
But it doesn't stop there. Those websites may also have agreements with other companies that allow those third-party companies to leave their cookies on your computers and smartphones, too.
You might have seen messages popping up in your browser from time to time, asking you to manage your cookies, or accept cookies.
"They're asking … 'Do you want to be profiled?' Think of it that way," said Zincir-Heywood. "And I would like to hope that you say no."
Cookies can be potentially be hijacked by hackers, who may be able to take control of people's accounts and steal personal data.
Information Morning – NS7:00How to keep your online history private, even as Internet tracking technology improves
Our tech columnist Nur Zincir-Heywood shares tips on how you can get ahead of Internet tracking technology and keep your history private. 7:00
Zincir-Heywood said you can opt out of cookies by going to the privacy tab under the preferences menu of your browser, though some websites might not give you access without cookie permission.
If that happens, Zincir-Heywood said you can still accept the cookies and browse the website, but to make sure to delete your history and clear those cookies by using your preferences menu.
Browsing the web in incognito mode can also help bypass cookies, she said.
The new threat of favicons
While those measures may help with cookies, Zincir-Heywood says there's a new threat to internet privacy: favicons.
Favicons are the little icons you see in the corner of the tab while browsing a website. While those icons may appear harmless, Zincir-Heywood said researchers recently found they can be used as a way to follow someone's internet activity.
"This image can be piggybacked with information that can identify us. And just like a cookie, they can then be used to match us in a database," she said.
But unlike a cookie, there's no way to opt out of it because they are managed by your browser.
After this discovery, Zincir-Heywood said some browser companies acted on it, such as Brave, a privacy-enabled browser.
In a Wednesday blog post, Google's director of product management, ads privacy and trust, David Temkin, said the company continues "to get questions about whether Google will join others in the ad tech industry who plan to replace third-party cookies with alternative user-level identifiers.
"Today, we're making explicit that once third-party cookies are phased out, we will not build alternate identifiers to track individuals as they browse across the web, nor will we use them in our products."
While ad-blockers can be used to block targeted advertisements, Zincir-Heywood said they won't prevent your information from being collected.
"Hopefully now that we know about [favicons], some entrepreneurial [person] will come up with a way to block them, too," she said.
"But until then, keep a watch on it."
MORE TOP STORIES
After getting his COVID-19 vaccine, this 103-year-old jazz musician was ready to do some drinking – CBC.ca
Stanley Sepchuk was just a baby when the so-called Spanish flu killed tens of thousands of Canadians, but he got through it just fine.
In his teens, he sold the brand-new bicycle his father got for him so he could buy his first trumpet. He did it, his daughter says, because he was fascinated by music and wanted to give it a try.
That budding passion quickly turned into a way of life, starting with local gigs when he was about 17. He then went on to play alongside some of the greats, including Frank Sinatra.
The 103-year-old resident of Hudson, Que., has seen much in his long life, but lately he's been seeing nothing but the inside of his home so as to avoid catching COVID-19.
On Wednesday, he finally ventured outdoors with his daughter, Melody, to get inoculated against the coronavirus at a makeshift vaccine site at Decarie Square in Côte Saint-Luc, Que., on the Island of Montreal.
A joker with a broad smile, Sepchuk said he was looking forward to the vaccine "more or less. Mostly more."
A recent fall has him in a wheelchair for now, but his spirits were high, even with safety goggles and a mask on his face as he was administered the potentially life-saving vaccine.
Even before he got the shot, Sepchuk was ready to cap off the long day with some wine.
WATCH: One of Quebec's oldest veterans get vaccinated
Stanley Sepchuk is one of Quebec's oldest Second World War veterans, and was once a popular jazz musician. He survived the 1918 pandemic, and now he's getting vaccinated to make it through another one. 1:54
Music and 'looking for girls'
Sepchuk is no stranger to enjoying a drink after a long day. He used to play clubs across Montreal at a time when the city's nightlife was hopping with live music, dancing and plenty of booze.
In his 20s, during World War II, he served as a trumpeter for the Royal Canadian Air Force Band.
He went on to become a popular jazz musician, playing his trumpet, trombone, singing and, he said, "looking for girls."
Sepchuk, who went by the stage name of Stan Martin, was the music director of the McGill University's production of Red and White Revue in 1949. He also played at the first Montreal Jazz Festival in 1980.
As well as Sinatra, Spechuk accompanied plenty of big-name musicians such as Chubby Checker, Oscar Peterson, Dean Martin and Louis Armstrong.
While Peterson was local, many others came from afar to play Montreal.
They chose Spechuk and his band, Stan Martin and his Orchestra, to take the stage with them, as he was considered the best in town. Sinatra became a regular, and Spechuk got to know him well.
"We had a little tiff now and again, but he was OK," Sepchuck remembered. "Nice fellow."
Veteran of WW II
Sepchuk, a father of four, is now considered Quebec's oldest veteran of WW II, his daughter says.
He lived most of his life in Montreal but moved west to Hudson in his 80s as he slowly began retiring from the music scene.
At the Hudson Legion Branch #115, he is known as Stan the Man. Sepchuk says he is 104, noting this is his 104th year.
For his 100th birthday in November 2017, the local newspaper, The Journal, asked him if he still played the trumpet and he is quoted as saying: "Hey, I'm just glad to be breathing!"
He cracked a similar joke with CBC Montreal when asked the same question on Wednesday.
"Oh my God," he said. "I'm lucky to be alive."
After getting the shot, he gave a thumbs up and waved to health-care staff on his way out. He said getting the vaccine was "OK" and he feels "like I felt yesterday."
He said it was time to go home, get some sleep and do some drinking.