Coronavirus: Apple and France in stand-off over contact-tracing app – BBC News
France is pressing Apple to let its forthcoming coronavirus contract-tracing app work in the background on iPhones without building in the privacy measures the US company wants.
The country's digital minister confirmed the request in an interview given to Bloomberg.
France's system would let it glean more information about participating smartphone owners than Apple and its partner Google want to allow.
Privacy experts view it as a test case.
"Apple has no reason to agree to this demand and it would open the door to many other requests from other countries and entities," Prof Olivier Blazy from the country's University of Limoges, told BBC News.
"As a Frenchman, I think it would be useful to avoid being dependent on the Google-Apple solution but I think it's strange that the government strategy relies on trying to convince Apple to do something that is against its interest, with no incentive to do so."
Apple and Google announced on 10 April they were working together to provide a software building-block – known as an application programming interface (API) – that will let authorised Covid-19 contact-tracing apps work more efficiently.
Contact-tracing apps work by logging every time two or more users are close to each other for a substantial period of time.
If one device owner is subsequently diagnosed as being likely to have the virus, an alert can be sent to those they could have infected, who might be asked to self-isolate.
By using such an app in conjunction with other measures, it would in theory be possible to end wider lockdowns and still suppress the disease, so long as enough people take part.
Apple and Google's method relies on using Bluetooth signals to detect matches.
But they have deliberately designed it so neither they nor the apps' creators can see who has been given a warning.
The companies have said this is to guarantee "strong protections around user privacy", which in turn should encourage adoption.
By contrast, Inria – the French institute developing its StopCovid app – has developed a system of its own, called Robert (robust and privacy-preserving proximity tracing protocol).
It published details about it on Sunday on the code-sharing site Github.
And although the French government has promised adoption of the app will be voluntary and involve anonymised data, the document reveals there would be ways to "re-identify users or to infer their contact graphs" if desired.
"It's a misnomer to call it a privacy-preserving protocol," said University of Oxford computer scientist Prof Max van Kleek, who prefers the Apple-Google design.
"It does preserve privacy between users but not between the user and the government.
"And that leads to the risk that the government later repurposes the system to make sure that people obey a quarantine or other kinds of things the state might want to know."
The problem for Inria – and other countries developing their own contact-tracing apps – is Apple currently will not allow Bluetooth-based track-and-tracing to be carried out in the background.
So to work, the apps would have to remain active and on screen, limiting what else owners could do with their handsets and taking an extra toll on battery life.
The developers of Singapore's TraceTogether app attempted to get round this problem by offering a Power Save mode, which dims the display.
But users have still complained of being unable to make calls or use other apps at the same time and having accidentally bumped the app into the background when their handset was in their pocket.
And this has discouraged people from using it.
"We're asking Apple to lift the technical hurdle to allow us to develop a sovereign European health solution that will be tied to our health system," France's Digital Minister, Cedric O, told Bloomberg.
A spokesman for Apple referred BBC News to its earlier comments about privacy.
NHSX – which is testing an app of its own for the UK – faces a similar quandary and remains in discussions with Apple and Google about the matter.
"Apple and Google have a vested interest in protecting the privacy of their end-users," Prof Van Kleek said.
"That's not just from governments but also from potentially malicious adversaries.
"If you collect sensitive data, then it becomes more likely that that data will be leaked at some point, so from a cyber-security perspective there's lots of good reasons not to do so."
French lawmakers will vote on whether to proceed with the app, after the country's government backed down from an original plan to let MPs only debate but not decide the measure.
Assuming they support the initiative, Mr O has said he hopes to launch the tool on 11 May.
Teardown reveals major iPhone 12 design changes to include 5G – AppleInsider
The customary teardown of the iPhone 12 and iPhone 12 Pro reveals changes Apple has made to the design of the models to accommodate 5G support, as well as how strikingly similar the two models are internally.
Apple's latest iPhone models started to arrive with consumers on Friday, so it wasn't long after release that the first teardown videos of the devices started to surface. In the first fully-detailed disassembly of the iPhone 12 and iPhone 12 Pro, iFixit indicates there's some changes in the design over the iPhone 11 generation, in order to add 5G functionality.
The initial stage of gaining access in the teardown hasn't changed much for 2020, with the use of Pentalobe screwdrivers, suction cups, picks, and heat used to lever open the display. Rather than opening on the left-hand edge, a routine that has been in play since the iPhone 7, the iPhone 12 opens from the right-hand edge.
An initial glance at the insides of both non-Pro and Pro models simultaneously has no indications one is better than the other, until the removal of the camera shield. It seems that the two were constructed so alike that Apple uses a plastic spacer in the iPhone 12 where the third camera and LiDAR sensor would be located in the iPhone 12 Pro.
The iPhone 12 and Pro cameras, as well as a camera spacer [via iFixit]
Another change for 2020 is the flipping of positions for the SIM tray, logic board, and battery, which is thought to be due to the larger logic board housing Qualcomm's 5G chips. The logic board includes the Apple A14 Bionic SoC layered with Micron memory, Samsung flash storage, Qualcomm's 5G and LTE transceiver, Qualcomm's 5G modem, Apple's U1 chip and power management controller, and an Avago power amplifier and integrated duplexer.
To make 5G work properly, the smartphones were found to have mmWave antenna modules embedded in the side of the frame and on the back of the logic board.
For other components, it was found that Apple had changed how the speakers were held in place, with it using Phillips screws and bright orange rubber gaskets instead of adhesive, which may aid repairs. The MagSafe charging arrays use 18 magnets to align the coils in place with the charger, with the polarity of the magnets thought to "expand the effective placement of the phone" while still maintaining proper alignment.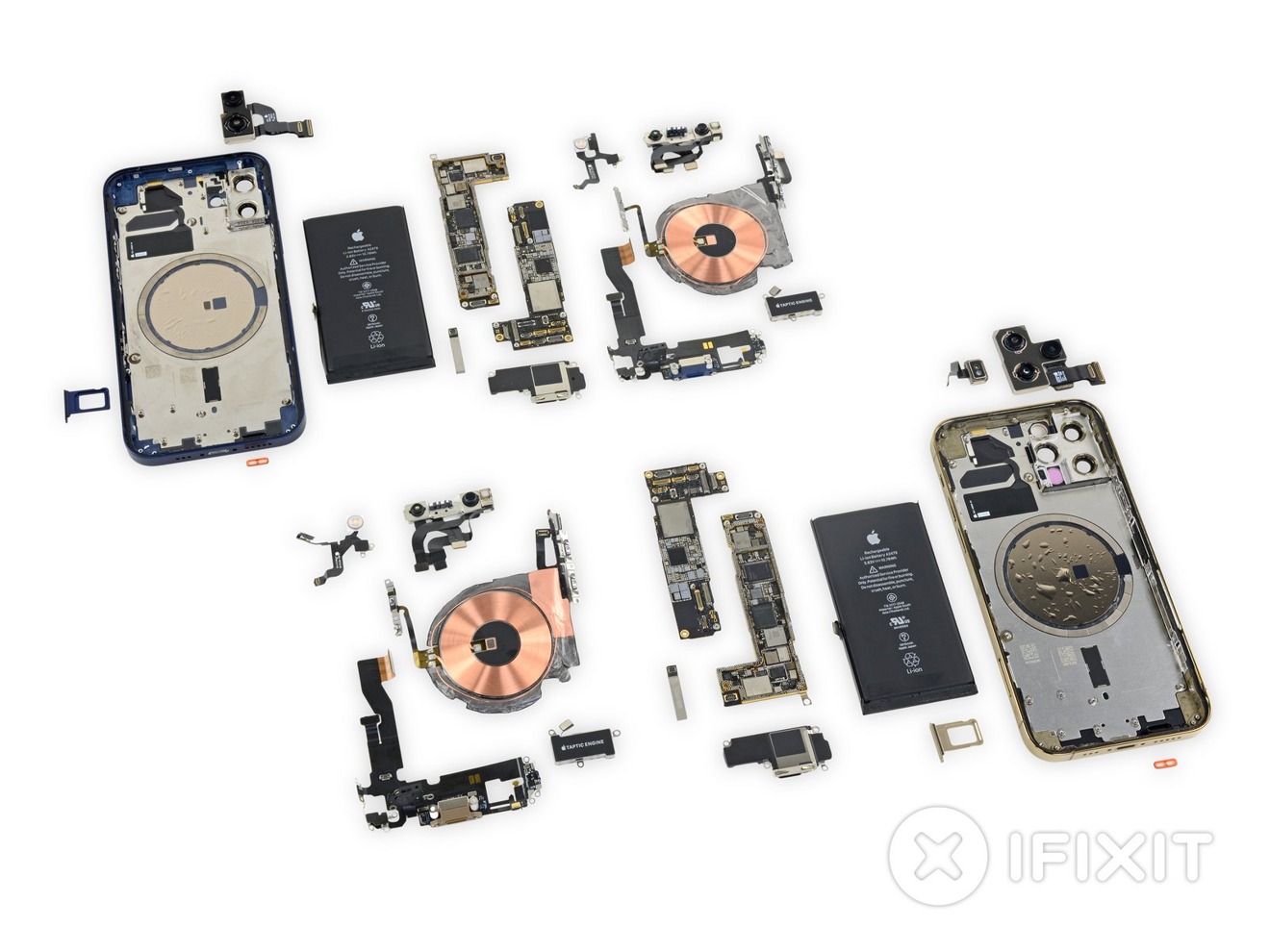 A side-by-side component view of the iPhone 12 and iPhone 12 Pro [via iFixit]
In summing up the new models, iFixit suggests Apple has made "some serious design compromises" to add 5G components, with the loss of elements like the L-shaped battery and the smaller logic board. Though not "death by a thousand cuts," the concessions made by Apple makes the iPhones feel "the least inventive."
iFixit gave the iPhone 12 Pro and iPhone 12 a "Repairability Score" of 6 out of 10. While display and battery replacements stay as a priority along with modular components inside and the use of screws, the continued use of glue and the increased waterproofing measures "complicate some repairs," while a broken glass back replacement will requiring the removal of every component from the device.
Forget iPhone 12: iPhone 13 leak reveals a game changing upgrade – Tom's Guide
The iPhone 12 and iPhone 12 Pro are both a big step forward from the iPhone 11 series, but they're not without their faults. The biggest issue is shorter battery life over 5G, which probably led to Apple's decision not to adopt 120Hz screens this time around.
There are two likely culprits here. The first is pretty obvious: the iPhone 12 family has lower-capacity batteries than the iPhone 11 lineup. The iPhone 12 and iPhone 12 Pro pack a 2,815 mAh battery, compared to 3,110 mAh for the iPhone 11 and 3,046 mAh for the iPhone 11 Pro.
The second cause is slightly trickier: the introduction of 5G is clearly a battery drain as our iPhone 12 battery tests show. But there's still something Apple can do about this, and the good news is it has already committed to taking that step in the upcoming iPhone 13.
A recent teardown video on Chinese social networking site Weibo proved what many feared: the iPhone 12 uses Qualcomm's 7-nanometer X55 5G modem, which isn't known for its power efficiency.
But Apple has already confirmed that this will change in the iPhone 13, and not via the usual insider leaks. Instead, the company revealed its plans on page 71 of its settlement with Qualcomm.
"Apple intends to commercially launch… New Models of Apple Products during the time period between June 1, 2021 and May 31, 2022 (the '2021 Lanch'), some of which use the SDX60 Qualcomm Chipset," the document explains.
That's a big deal. The 5-nanometer X60 chipset can integrate directly into a phone's chipset, meaning a smaller footprint and lower battery drain. Not only that, but 5G performance should be better too, as it can combine mmWave and Sub-6GHz 5G networks simultaneously.
Ahead of the iPhone 12's release, some rumors suggested that the handset would get this game changing upgrade early, but sadly that didn't come to pass. This was not surprising, though, given Qualcomm itself said that phones with the chip would first emerge next year.
Even without this 5G modem, though, the iPhone 12 family is a big upgrade over its predecessor. Not only is it 50% faster in performance, but 5G connectivity across the board means faster browsing and downloads. There's also the introduction of MagSafe wireless charging and Ceramic Shield, which Apple says provides up to four times the level of protection from drops.
It all adds up to a compelling package and, as we said in our four-star iPhone 12 review, "a serious step forward for the most popular iPhone." Our 4.5-star iPhone Pro review was even more glowing, stating that it "beats every Android phone in its class in terms of performance and camera quality, even if it's a step behind in battery life."
PSA: Non-iPhone 12 Models Charge Super Slowly With MagSafe Charger – MacRumors
Alongside the iPhone 12 models, Apple introduced a new $39 MagSafe Charger that's meant to work with the magnets in the iPhone 12 Pro models to charge them up at a maximum of 15W.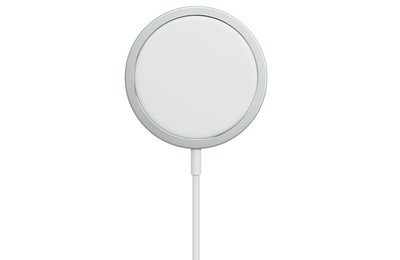 The MagSafe Charger is technically able to be used with older iPhones, but it's not a good idea because the charging with non-iPhone 12 devices is so slow.
We did two tests with the iPhone XS Max, draining the battery down to 1 percent, putting it in Airplane Mode, and then charging for a half an hour.
In the first test, the MagSafe charger charged the ‌iPhone XS‌ Max to 13 percent in 30 minutes, and in the second test, it charged the ‌iPhone XS‌ Max to 14 percent in 30 minutes.
We've tested a lot of Qi-based wireless chargers and have never seen 7.5W Qi charging speeds that slow. For reference, a 7.5W charger is able to charge an iPhone to about 25 percent in a half hour.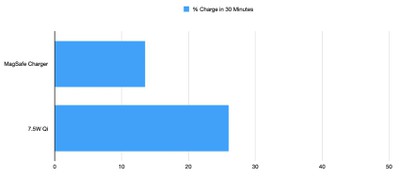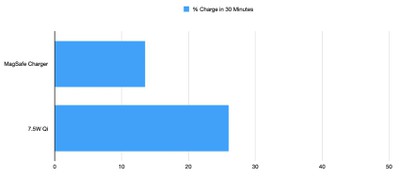 We specifically tested the ‌iPhone XS‌ Max in the exact same conditions as the MagSafe charger with a standard 7.5W Belkin charger and it charged to 26 percent in the 30 minute window.
For those who don't have an ‌iPhone 12‌ and were considering getting a MagSafe charger to use with an older ‌iPhone‌, don't. It's not worth it for the slow charging speeds and you're better off with a standard Qi charger.
The MagSafe charger will work fine with the ‌iPhone 12‌ and should charge faster than Qi, but it's not as fast as charging with the Lightning to USB-C cable and a 20W power adapter, as Joanna Stern found out in a charging speed test. That's not too surprising because a Lightning to USB-C charger paired with a 20W+ power adapter enables fast charging, where the ‌iPhone 12‌ models can charge to 50 percent in one half hour.