Coronavirus: What's happening in Canada and around the world on Tuesday – CBC.ca
The latest:
Ontario Premier Doug Ford said his government is considering additional restrictions to combat a surge in COVID-19 cases and urged people not to gather over the upcoming long weekend.
Ford said he is "extremely concerned" about rising infections and stressed that residents must follow public health rules.
"Don't make plans for Easter," he said. "I won't hesitate to lock things down if we have to."
Ford would not specify what measures are being considered, but he said he will consult Chief Medical Officer of Health Dr. David Williams before making a decision.
The province has seen rising COVID-19 rates for weeks, fuelled by the spread of more transmissible variants of the virus. Ontario reported 2,336 new cases of COVID-19 and 14 additional deaths on Tuesday. Hospitalizations stood at 1,090, with 387 people in intensive care units, according to data released by the province.
Ford was asked about whether Ontario might adjust its vaccination plan based on the fact that younger people now make up the majority of the province's COVID-19 cases.
"Our goal is to make sure we take care of the most vulnerable," he said of the province's strategy to vaccinate in descending order of age groups, adding there are no plans to change that strategy.
Meanwhile, an infectious disease expert on Ontario's COVID-19 science table told CBC News that the pandemic is "completely out of control" and that total hospitalizations are already more than 20 per cent higher than at the start of the last province-wide lockdown.
Trudeau promises more vaccine dose arrivals
Earlier, Prime Minister Justin Trudeau said Canadians just need to hold on "a little longer," adding that even more COVID-19 vaccine doses will arrive this spring.
Pfizer is going to send five million more doses to Canada in June than it previously planned, Trudeau said, and AstraZeneca will ship 4.4 million by the end of that month.
Procurement Minister Anita Anand also confirmed on Tuesday that the first deliveries of the Johnson & Johnson vaccine will arrive in Canada at the end of April, though she said she couldn't say yet how many of the 10 million doses that Canada purchased will be in the initial shipment.
Even without J&J, and barring any unexpected interruptions in production or export of vaccines, Canada is in line to receive more than 44 million doses before Canada Day.
That should mean all adults over 18 will be offered a vaccine sooner than originally anticipated and that the wait for a second dose may not be as long as four months. Canada needs about 31 million doses to offer at least one shot to every adult.
The news, however, comes as concern about the AstraZeneca-Oxford vaccine has pushed all provinces to stop using it for people under age 55 pending further analysis.
WATCH | Dr. Bonnie Henry says B.C. needs a 'circuit-breaker to stop this virus now':
Dr. Bonnie Henry says health officials have agonized over bringing in additional restrictions but the exponential growth in cases has made it necessary. 1:28
Dr. Theresa Tam, Canada's chief public health officer, said on Tuesday that COVID-19 activity has been steadily increasing for several weeks. The ongoing increase in infection rates is now playing out in hospitals, she said, and placing "renewed strain" on the health-care system.
To date, more than 9,000 variant of concern cases have been reported across Canada — with the B117 variant first reported in the U.K. accounting for 90 per cent of the variant cases, Tam said.
"New variant case numbers represent the tip of the iceberg, as there are thousands more cases that have screened positive for problematic mutations," Tam said.
---
What's happening in Canada
As of 1:30 p.m. ET Tuesday, Canada had reported 975,021 cases of COVID-19, with 46,217 cases considered active. A CBC News tally of deaths stood at 22,921.
Canada has signed on to a joint declaration with 13 other countries voicing concerns with an international report on the origins of the COVID-19 pandemic. The statement outlines the nations' unease after World Health Organization experts went to study the original outbreak of the virus in China's Wuhan province.
Other signatories include the United States, Australia, Israel, Japan, Denmark and the U.K. The countries decry what they call the significant delays and lack of access to complete, original data and samples that the international study team faced in China.
The statement goes on to say that the international community must understand how COVID-19 began circulating in the local population to improve future pandemic responses. Such a response can only happen if experts can study the origins of COVID-19 free from interference and undue influence, the statement added.
In Quebec, health officials reported 864 new cases of COVID-19 and seven additional deaths on Tuesday. A provincial dashboard put the number of COVID-19 hospitalizations at 487, with 126 people in intensive care.
Newfoundland and Labrador reported two new COVID-19 cases on Tuesday — both related to domestic travel, according to a news release from the provincial Department of Health.
Both Prince Edward Island and Nova Scotia reported three new cases of COVID-19 on Tuesday.
Health officials in New Brunswick reported 14 new cases of COVID-19 on Tuesday. Eight of the new cases are in the Edmundston region and involve contacts of previously reported infections, officials said.
Manitoba reported 77 new COVID-19 cases on Tuesday, according to a provincial news release. The province also announced that another 11 screened or sequenced cases stemming from the more contagious coronavirus variants have been identified.
---
What's happening around the world
As of Tuesday afternoon, more than 127.8 million cases of COVID-19 had been reported worldwide, according to a tracking tool maintained by Johns Hopkins University. The global death toll stood at more than 2.7 million.
More than 20 heads of government and global agencies in a commentary published Tuesday called for an international treaty for pandemic preparedness that they say will protect future generations in the wake of COVID-19.
But the commentary included few details to explain how such an agreement might actually compel countries to act more co-operatively.
WATCH | WHO, some world leaders urge creation of pandemic treaty:
The World Health Organization says a global treaty should be crafted for future pandemic preparedness before the current coronavirus pandemic ends. But the U.S. and China were not part of the initial push for such a treaty. 2:45
World Health Organization Director General Tedros Adhanom Ghebreyesus and leaders including British Prime Minister Boris Johnson, Premier Mario Draghi of Italy and President Paul Kagame of Rwanda proposed "a renewed collective commitment" to reinforce preparedness and response systems by leveraging the UN health agency's constitution.
Trudeau is not listed among the signatories to the letter, nor are the leaders of China, Russia or the United States.
When asked about China, Russia and the U.S., Tedros said signatories to the letter mainly joined through an opt-in process in which countries signalled their wish to join, though he noted that in some instances, the WHO invited regional representation.
"The comment from member states, including U.S. and China, was actually positive," Tedros said. "And we hope the future engagements will bring all countries."
In the Asia-Pacific region, Australia's Queensland state warned that more cases were expected to emerge as authorities scrambled to contain an outbreak linked to the virulent B117 variant, throwing Easter travel plans into disarray.
India reported the highest daily increase in coronavirus cases in five months, with the second wave of the disease driven by surging infections in the country's richest state Maharastra.
In the Americas, U.S. President Joe Biden urged states to pause reopening efforts, and a top health official warned of "impending doom" amid a surge in COVID-19 cases that threaten efforts to quash the coronavirus pandemic.
Honduras said it would temporarily restrict arrivals from South America, citing fears about the variant first discovered in travellers from Brazil entering its territory.
In Africa, Ethiopian health authorities on Tuesday received 300,000 doses of China's Sinopharm COVID-19 vaccine. The shots arrived a day after the East African country introduced stricter lockdown measures to stem a spike in infections.
Earlier in March, Ethiopia received nearly 2.2 million doses of the AstraZeneca vaccine through the COVAX initiative that ensures vaccine access for low- and middle-income countries.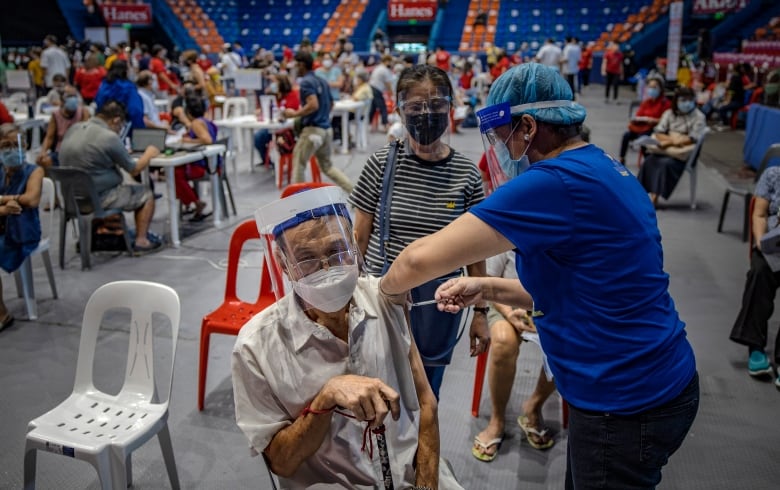 Johnson & Johnson said it's agreed to provide up to 400 million doses of its one-dose COVID-19 vaccine to African countries, starting this summer. The drugmaker said under its agreement with the African Vaccine Acquisition Trust, the company will provide up to 220 million vaccine doses for the African Union's 55 member countries, with delivery beginning in the July-to-September quarter. The trust will be able to order 180 million additional doses from J&J, for a total of up to 400 million shots through 2022.
The company's vaccine still must receive authorization from regulators in the African countries, but the World Health Organization approved it for emergency use on March 12. In late-stage testing, J&J's vaccine prevented about 67 per cent of symptomatic infections with the coronavirus and was 85 per cent effective at preventing severe disease, beginning 28 days after vaccination.
In Europe, Italy has imposed a five-day quarantine on people entering from other EU countries in a bid to deter Easter getaways and limit the spread of the coronavirus.
Health Minister Roberto Speranza says he signed the new ordinance Tuesday. It requires a virus test before arriving in Italy, five days of quarantine once here and another virus test to get out of quarantine for anyone entering Italy from the EU.
In Germany, authorities in Berlin and Munich are again suspending the use of AstraZeneca's coronavirus vaccine for residents under age 60 due to new reports of unusual blood clots in people who recently received the shots, officials said Tuesday. The action was taken as a precaution ahead of a meeting later Tuesday of representatives from Germany's 16 states and further recommendations were expected from national medical regulators, said Berlin's top health official, Dilek Kalayci.
Germany is also extending virus-related border controls along its border with the Czech Republic by a further 14 days but ending entry requirements for people coming from the Austrian region of Tyrol.
WATCH | Why the Czech Republic is being hit hard by the 3rd wave:
Experts say poor contact tracing and vaccine hesitancy are among the reasons why the Czech Republic now has some of the highest COVID-19 infection and death rates in the world, despite having low rates earlier in the pandemic. 2:01
Britain will focus on vaccinating the whole of its adult population before it can provide any surplus shots to other countries such as Ireland, British business minister Kwasi Kwarteng said on Tuesday. More than 30 million Britons have received their first shots in the fastest vaccine rollout in Europe, with the aim of offering shots to all adults by the end of July.
However, Britain has found itself involved in a public spat with the European Union, where the vaccination program has been much slower, over the supply of doses.
In the Middle East, Israel has reopened its border crossing with neighbouring Egypt for the first time since the start of the coronavirus pandemic. Israeli authorities on Tuesday started allowing 300 citizens per day to enter and exit for the purpose of tourism in the Sinai Peninsula, provided they pass coronavirus tests before each crossing and are vaccinated against COVID-19 or recovered from it.
Factbox-Latest on the worldwide spread of the coronavirus
(Reuters) -A recent surge in COVID-19 cases could see major parts of Japan slide back into states of emergency with authorities in Tokyo and Osaka looking at renewed curbs, while quarantine-free travel started between Australia and New Zealand for the first time in more than a year.
DEATHS AND INFECTIONS * Eikon users, see COVID-19: MacroVitals https://apac1.apps.cp.thomsonreuters.com/cms/?navid=1592404098 for a case tracker and summary of news.
EUROPE
* The number of coronavirus patients in intensive care units in France edged up on Sunday, amid a nationwide lockdown to try to stem a third wave of infections.
* British scientists launched a trial which will deliberately expose participants who have already had COVID-19 to the coronavirus again to examine immune responses and see if people get reinfected.
* Italy will ease curbs in many areas from April 26, warning caution was still needed to avoid any reversals in the reopening of many long-shuttered activities.
AMERICAS
* Just more than half of U.S. adults have now received at least one COVID-19 vaccine dose, data from the U.S. Centers for Disease Control and Prevention showed on Sunday, with nearly 130 million people aged 18 years or more having received their first shot.
* Dr. Anthony Fauci on Sunday predicted that U.S. health regulators will end the temporary pause on distributing Johnson & Johnson's COVID-19 vaccine, adding he expects a decision could come as soon as Friday.
* Canada will present a budget with billions of dollars for pandemic recovery measures as COVID-19 infections skyrocket, C$2 billion ($1.6 billion) toward national childcare, and new taxes on luxury goods.
* The Canadian province of Ontario will begin offering AstraZeneca's COVID-19 vaccine on Tuesday to people turning 40 or older this year.
* Venezuelan President Nicolas Maduro said on Sunday the government has made a second payment to the World Health Organization's COVAX initiative to access around 11 million COVID-19 vaccines.
ASIA-PACIFIC
* India's capital New Delhi recorded 25,500 coronavirus cases in a 24-hour period, with about one in three people tested returning a positive result, its chief minister said, urging the federal government to provide more hospital beds to tackle the crisis.
* Pfizer CEO Albert Bourla has agreed to Japanese Prime Minister Yoshihide Suga's request to supply additional doses of the COVID-19 vaccine, the vaccine minister of Japan said on Sunday.
MIDDLE EAST AND AFRICA
* The coronavirus variant discovered in South Africa can break through the protection provided by Pfizer and BioNTech's COVID-19 vaccine to some extent, a real-world data study in Israel found.
* Vaccination against COVID-19 is a requirement to perform the Umra pilgrimage to Mecca, Saudi state TV said on Sunday, citing a government official.
* Tunisia on Saturday announced the closure of all schools until April 30, as well as restrictions on movement, to slow the spread of the novel coronavirus.
MEDICAL DEVELOPMENTS
* China's Sinovac COVID-19 vaccine was 67% effective in preventing symptomatic infection, data from a huge real-world study in Chile has shown, a potential boost for the jab which has come under scrutiny over its level of protection against the virus.
ECONOMIC IMPACT
* Asian shares hovered near 1-1/2 week highs on Monday, helped by expectations monetary policy will remain accommodative the world over, while COVID-19 vaccine rollouts help ease fears of another dangerous wave of coronavirus infections. [MKTS/GLOB]
(Compiled by Krishna Chandra Eluri, Devika Syamnath and Milla Nissi; Edited by William Maclean, Anil D'Silva and Subhranshu Sahu)
New Zealand says 'uncomfortable' with expanding Five Eyes
SYDNEY (Reuters) – New Zealand said it is "uncomfortable" with expanding the role of the Five Eyes, a post-war intelligence grouping which also includes the United States, Britain, Australia and Canada, recently criticised by China.
China is New Zealand's largest trading partner, and Foreign Affairs Minister Nanaia Mahuta said in a speech that New Zealand sought a predictable diplomatic relationship.
New Zealand will find it necessary to speak out on issues where it does not agree with China, including developments in Hong Kong and the treatment of Uyghurs in Xinjiang, she said in a speech on Monday to the government-funded New Zealand China Council.
In later comments to media reported by New Zealand's Newshub, Mahuta said New Zealand didn't favour invoking the Five Eyes for "messaging out on a range of issues that really exist out of the remit of the Five Eyes".
"We are uncomfortable with expanding the remit of the Five Eyes," she said.
China's foreign ministry has repeatedly criticised the Five Eyes, after all members issued a joint statement about the treatment of Hong Kong pro-democracy legislators in November.
Last month, Chinese foreign ministry spokeswoman Hua Chunying said "the Five Eyes have taken coordinated steps to gang up on China", after Australia and New Zealand issued a joint statement on Xinjiang.
Last year, the Five Eyes discussed cooperation beyond intelligence sharing, including on critical technology, Hong Kong, supply chains and the COVID-19 pandemic, according to a statement by Australia's Foreign Minister Marise Payne in 2020.
Mahuta's office told Reuters it couldn't provide a copy of her comments on the Five Eyes.
Payne will travel to New Zealand on Wednesday for meetings with Mahuta and Prime Minister Jacinda Ardern, the first diplomatic visit between the neighbouring countries since borders reopened both ways.
Canberra has recently endured a rockier relationship with Beijing than Wellington, with Australia's trade minister unable to secure a call with his Chinese counterpart as exporters were hit with multiple trade sanctions from China.
A diplomatic dispute between China and Australia worsened in 2020 after Canberra lobbied for an international inquiry into the source of the coronavirus pandemic.
China and New Zealand upgraded a free trade agreement in January, when, Mahuta said, trade ministers had held a "constructive" call.
(Reporting by Kirsty Needham; Editing by Michael Perry)
Australia to hold inquiry to examine military suicides
By Colin Packham
CANBERRA (Reuters) – Australia will hold a Royal Commission to examine suicides among serving and former military personnel, Prime Minister Scott Morrison said on Monday, bowing to public pressure to find ways to stem a mounting toll.
More than 500 have died from suicide since 2001, government data shows, a statistic that has fuelled public anger, including among the prime minister's own Liberal party.
"I think and I hope it will be a healing process," Morrison told reporters in Canberra, as he announced his call for a commission to be set up.
"I hope it will be a process by which veterans and families can find some comfort, but it obviously can't replace the loss."
The issue became prominent in Australia following a high-profile campaign by Julie-Ann Finney, whose son David, a former naval petty officer, committed suicide in 2019 after he had earlier been deployed to Iraq, East Timor and Bougainville.
Australian troops have been involved in conflicts in Iraq and Afghanistan, and deployed for humanitarian missions in the Pacific.
The United States, Britain and Canada are also exploring ways to reduce suicide rates among serving and former military personnel.
Morrison said he hopes the Royal Commission will begin hearings later this year. Final recommendations are expected in 2023, he said. A permanent national commissioner will be tasked with ensuring the recommendations are enforced.
(Reporting by Colin Packham; Editing by Simon Cameron-Moore)