Historic Amazon union drive set to conclude – BBC News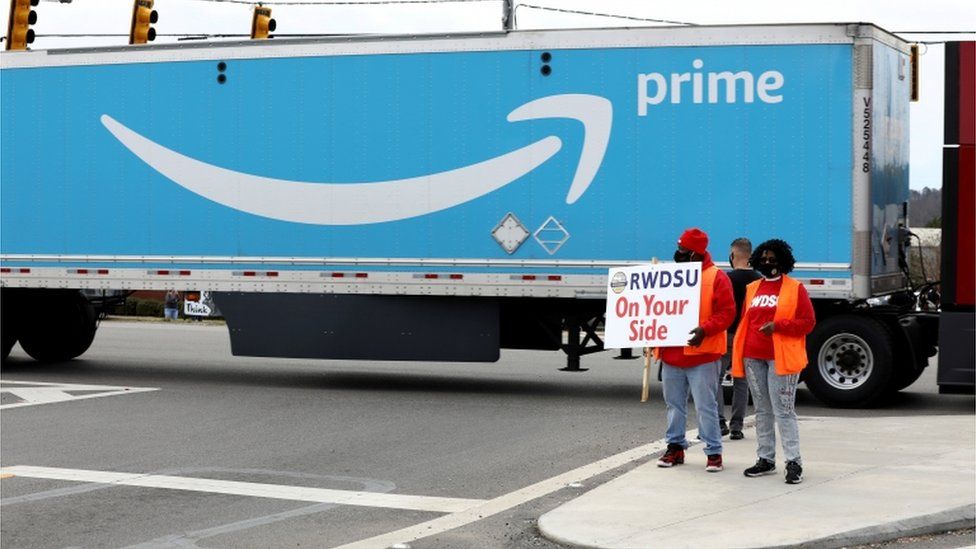 Officials are set to reveal the outcome of a high-profile battle in Bessemer, Alabama that could establish the first unionised Amazon warehouse in the US.
Ballots will start being counted on Tuesday after more than a month of voting ends on Monday.
The fight is a key test for Amazon, which has faced criticism around the world over its working conditions during the pandemic.
The e-commerce giant has fiercely opposed the effort.
If it loses, it would be forced to enter formal negotiations with representatives from the Retail Wholesale and Department Store Union (RWDSU) over a contract for nearly 6,000 staff at the warehouse, located just outside Birmingham, a city in the north central region of Alabama.
With both sides likely to challenge some of the votes, the results of the ballot are not expected to be known for some time.
Amazon says it offers competitive pay and benefits. It has also tried to persuade workers that the union would not be able to win more for its members, even while the union collects hundreds of dollars in dues payments.
But union organisers have said staff are fed up with the relentless and impersonal treatment they receive.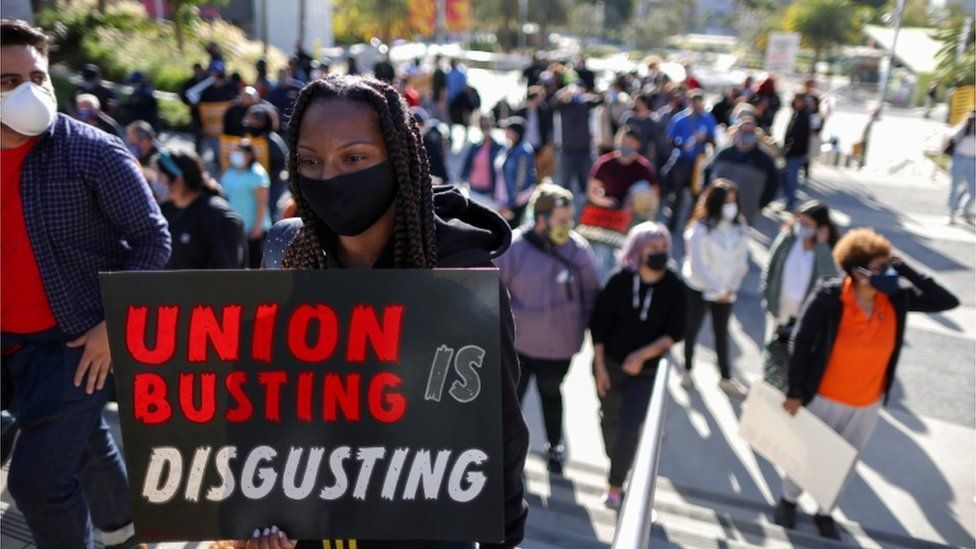 Amazon, the second largest employer in the US after Walmart, has long faced criticism over its working conditions.
The complaints hit new intensity last year, as the pandemic brought a surge of business and profit while raising health risks.
Workers in Spain, Italy, France and elsewhere have protested and held strikes, including this week in Germany.
The vote in the US is the first time since 2014 that Amazon has faced a formal union drive in the US.
If organisers succeed against the company in Alabama, many pro-union backers are hopeful it will inspire workers elsewhere to take a stand and set a new work standard for its US workforce.
Political support
"The reason that Amazon is putting so much energy to try to defeat you is they know that if you succeed here, it will spread all over this country," Senator Bernie Sanders told workers at a recent union rally.
Mr Sanders is among the many Democratic politicians and celebrities who have endorsed the union effort in Alabama.
Last month, President Joe Biden also appeared to back the drive, in a video that called the Alabama vote a "vitally important choice" and warned against company efforts to intimidate workers, though he did not mention Amazon by name.
Unusually, at least one prominent voice from the typically anti-union Republican Party has chimed in with support as well: Florida Senator Marco Rubio, who wrote in a recent opinion piece that "uniquely malicious corporate behaviour like Amazon's justifies a more adversarial approach to labour relations".
In recent days, Amazon officials have been unusually outspoken in defending the company, contesting claims from politicians about how much it paid in taxes, among other issues.
All we want to know is why the Sen is one of the most powerful pols in VT for 30+ yrs and their min wage is STILL only $11.75.AMZN's min wage is $15 + great health care from Day 1.The Sen should save his finger wagging lecture until after he actually delivers in his own backyard. https://t.co/dRo2Tv1xDQ

— Dave Clark (@davehclark) March 25, 2021
Dave Clark, Amazon's retail chief, wrote on Twitter that Mr Sanders should "save his finger wagging lecture" until he delivers on a promise to raise the US minimum wage to $15 an hour – where Amazon sets its starting pay.
Mr Sanders said the pushback was a sign the company was "getting nervous".
U.S. President Biden seeks to boost fuel economy to thwart Trump rollback – CTV News
DETROIT —
The Biden administration wants automakers to raise gas mileage and cut tailpipe pollution between now and model year 2026, and it has won a voluntary commitment Thursday from the industry that electric vehicles will comprise up to half of U.S. sales by the end of the decade.
The moves are big steps toward U.S. President Joe Biden's pledge to cut emissions and battle climate change as he pushes a history-making shift in the U.S. from internal combustion engines to battery-powered vehicles. They also reflect a delicate balance to gain both industry and union support for the environmental effort, with the future promise of new jobs and billions in new federal investments in electric vehicles.
The administration on Thursday announced there would be new mileage and anti-pollution standards from the Environmental Protection Agency and Transportation Department, part of Biden's goal to cut U.S. greenhouse gas emissions in half by 2030. It said the auto industry had agreed to a target that 40% to 50% of new vehicle sales be electric by 2030.
Both the regulatory standards and the voluntary target will be included in an executive order that Biden plans to sign later Thursday.
The standards, which have to go through the regulatory process including public comments, would reverse fuel economy and anti-pollution rollbacks done under President Donald Trump. At that time, the increases were reduced to 1.5% annually through model year 2026.
Still, it remained to be seen how quickly consumers would be willing to embrace higher mileage, lower-emission vehicles over less fuel-efficient SUVs, currently the industry's top seller. The 2030 EV targets ultimately are nonbinding, and the industry stressed that billions of dollars in electric-vehicle investments in legislation pending in Congress will be vital to meeting those goals.
Only 2.2% of new vehicle sales were fully electric vehicles through June, according to Edmunds.com estimates. That's up from 1.4% at the same time last year.
The White House didn't release information on the proposed annual mileage increases late Wednesday, but Dan Becker, director of the safe climate campaign for the Center for Biological Diversity, said an EPA official gave the numbers during a presentation on the plan.
The official said the standards would be 10% more stringent than the Trump rules for model year 2023, followed by 5% increases in each model year through 2026, according to Becker. That's about a 25% increase over the four years.
Last week, The Associated Press and other news organizations reported that the Biden administration was discussing weaker mileage requirements with automakers, but they apparently have been strengthened. The change came after environmental groups complained publicly that they were too weak to address a serious problem.
Transportation is the single biggest U.S. contributor to climate change. Autos in the U.S. spewed 824 million tons (748 million metric tons) of heat-trapping carbon dioxide in 2019, about 14% of total U.S. emissions, according to the EPA.
The voluntary deal with automakers defines an electric vehicle as plug-in hybrids, fully electric vehicles and those powered by hydrogen fuel cells.
Environmental groups said the administration should move faster.
"This proposal helps get us back on the road to cleaning up tailpipe pollution," said Simon Mui of the Natural Resources Defense Council. "But given how climate change has already turned our weather so violent, it's clear that we need to dramatically accelerate progress."
Scientists say human-caused global warming is increasing temperatures, raising sea levels and worsening wildfires, droughts, floods and storms globally.
"We urgently need to cut greenhouse gas pollution, and voluntary measures won't cut it," Becker said.
Several automakers already have announced similar electric vehicle sales goals to those in the deal with the government. Last week, for instance, Ford's CEO said his company expects 40% of its global sales to be fully electric by 2030. General Motors has said it aspires to sell only electric passenger vehicles by 2035. Stellantis, formerly Fiat Chrysler, also pledged over 40% electrified vehicles by 2030.
The Trump rollback of the Obama-era standards would require a projected 29 mpg in "real world" stop-and-start driving by 2026. It wasn't clear what the real world mileage would be under the Biden standards. Under Obama administration rules, it would have increased to 37 mpg.
Automakers said they would work toward the 40% to 50% electric vehicle sales goal.
"You can count on Toyota to do our part," said Ted Ogawa, the company's North America CEO.
General Motors, Stellantis and Ford said in a joint statement that their recent electric-vehicle commitments show they want to lead the U.S. in the transition away from combustion vehicles.
They said the change is a "dramatic shift" from the U.S. market today, and can only happen with a policies that include incentives for electric vehicle purchases, adequate government funding for charging stations and money to expand electric vehicle manufacturing and the parts supply chain.
The United Auto Workers union, which has voiced concerns about being too hasty with an EV transition because of the potential impact on industry jobs, did not commit to endorsing a 40% to 50% EV target. But UAW said it stands behind the president to "support his ambition not just to grow electric vehicles but also our capacity to produce them domestically with good wages and benefits."
Under a shift from internal combustion to electric power, jobs that now involve making pistons, fuel injectors and mufflers will be supplanted by the assembly of lithium-ion battery packs, electric motors and heavy-duty wiring harnesses.
Many of those components are now built overseas, such as China. Biden has made the development of a U.S. electric vehicle supply chain a key part of his plan to create more auto industry jobs.
"We are in a global competition for who gets to make the clean cars of the future, and President Biden's leadership means that we'll develop that manufacturing and those supply chains right here in America," said Sen. Tom Carper, D-Del., who chairs the Senate Environment and Public Works Committee.
In a bipartisan infrastructure bill awaiting Senate passage, there is US$7.5 billion allocated for grants to build charging stations, about half of what Biden originally proposed. He wanted $15 billion for 500,000 stations, plus money for tax credits and rebates to entice people into buying electric vehicles.
The Alliance for Automotive Innovation, a large industry trade group, said it will work with the administration to reach zero carbon emissions from transportation. But it said the best opportunity for environmental benefits will come after 2026 as more electric vehicles are sold.
The industry, it said, will invest more than $300 billion in electrification by 2025, producing 130 electric models by 2026. Only about 50 are available today.
——
Associated Press writers Hope Yen and Seth Borenstein in Washington contributed to this report
As a Job Seeker There Are 3 Job Search Truisms You Need to Accept
A job search has many moving parts; your mindset is the most critical part. Tackling challenges, such as a job search, is easier if you have the right mindset.
Job search success isn't achieved through wishful thinking — how you wish things to be. Success is achieved by adapting to, better yet embracing, realities, not beating your head against walls that won't crumble down.
The following are three "job search truisms" every job seeker needs to accept if they want to minimize their job search frustrations and mitigate the time it takes to find their next job.
You're not owed a job, career or even to make a living.
With a sense of entitlement being so prevalent these days, I often see bitterness amongst job seekers ["I'm not getting what I deserve.", "I'm not getting what I want."]. Anger hinders a job seeker, along with increasing false pride, which becomes an insurmountable obstacle.
The easiest way to be disappointed, unhappy, frustrated, angry, or become depressed is to have an expectation you're owed. You, and only you, are responsible for your job search.
The upside of assuming no one owes you: You energetically help yourself. For many people, this is a massive mind shift! Approaching your job search with an "I'm helping myself" mindset gives you a considerable mental boost, which is to your advantage. As well, such a perspective will carry you through the roller coaster of emotions you'll be dealing with throughout your job hunt.
Employers own their hiring process.
You may recall my column back in April, There's No Universal Hiring Methodology. I brought up the fact, never mentioned by career experts, that no two hiring managers access candidates the same way. This also applies to companies — no two companies hire the same way.
As a job seeker, you need to accept that employers own their hiring process, which is their prerogative. A sense of entitlement has made it common today for job seekers to complain about how employers hire. What a waste of energy! Complaining won't change how employers decide to hire.
Many candidates try to circumvent the employer's hiring process or skip steps. By following the employer's application instructions, as frustrating as they sometimes are, you're setting yourself apart from your competition. Being able to follow instructions is a prerequisite for any job. Thus, employers look for this "willingness to follow instructions" in candidates.
Today, networking is non-negotiable.
The most decisive route to job search success is to do what others are afraid to do, which is to network.
Networking is creating a fabric of personal contacts that can provide support, feedback, insight, resources, and information. In 2021, and for the foreseeable future, it'll be raining resumes. Ask yourself: Who's more likely to be hired, a stranger the hiring manager doesn't know, or someone they're somewhat acquainted with, or a referral? Your answer should convince you of the power of networking.
It's common knowledge most jobs are unadvertised. Undeniable, those who build and nurture a professional network land the plumb jobs. However, many job seekers create excuses [e.g., they're an introvert, networking feels sleazy, everyone's too busy to listen to them] to avoid networking, even though networking has proven to be the most efficient way to finding a job.
Whatever your hang-ups [READ: limiting beliefs] are about networking, get over it! As a job seeker, your primary goal is to connect with people who can assist in your job search. Nothing will get you into an organization faster than having an inside person vouching for you.
Here are a few tips to get you started networking:
Reconnect with old colleagues and alumni you've lost touch with.
Leverage social media — connect with people online [LinkedIn, Facebook].
Become comfortable talking to strangers.
Read: Coffee Lunch Coffee: A Practical Field Guide for Master Networking, by Alana Muller
Read: Never Eat Alone: And Other Secrets to Success, One Relationship at a Time, by Keith Ferrazzi
A job search is a huge undertaking. Having a mindset aligned with today's job market's realities is key to achieving job search success in the least amount of time. Mindset is everything!
______________________________________________________________
Nick Kossovan, a well-seasoned veteran of the corporate landscape, offers advice on searching for a job. You can send him your questions at artoffindingwork@gmail.com.
July housing sales in Toronto down compared to last year, but still above average – CP24 Toronto's Breaking News
The Toronto Regional Real Estate Board says housing demand in July dropped compared to the previous year, but still remains above average for the season in 2021.
The board says nearly 9,400 home sales were reported in July, down 14.9 per cent compared to July 2020, which set a record for housing sales in the summer month.
On a seasonally adjusted basis, the board says July's sales were down by two per cent compared to June.
The board also says the Toronto housing market tightened in July, with the month's sales accounting for a greater share of listings compared to July 2020.
It says the average price for all home types combined was just over $1 million, up 12.6 per cent compared to a year ago.
On a seasonally adjusted basis, the board says the average price of all home types was up 0.9 per cent compared to June.
"The annual rate of price growth has moderated since the early spring but has remained in the double digits. This means that many households are still competing very hard to reach a deal on a home," said TRREB Chief Market Analyst Jason Mercer in a statement.
"This strong upward pressure on home prices will be sustained in the absence of more supply, especially as we see a resurgence in population growth moving into 2022."
Mercer noted that there is a large backlog of people seeking permanent residency or citizenship status in Canada due to the pandemic, which will lead to continued pressure on the Toronto area's housing market.
This report by The Canadian Press was first published Aug. 5, 2021.