Coronavirus: What's happening in Canada and around the world on Tuesday – CBC.ca
The latest:
Ontario Premier Doug Ford said his government is considering additional restrictions to combat a surge in COVID-19 cases and urged people not to gather over the upcoming long weekend.
Ford said he is "extremely concerned" about rising infections and stressed that residents must follow public health rules.
"Don't make plans for Easter," he said. "I won't hesitate to lock things down if we have to."
Ford would not specify what measures are being considered, but he said he will consult Chief Medical Officer of Health Dr. David Williams before making a decision.
The province has seen rising COVID-19 rates for weeks, fuelled by the spread of more transmissible variants of the virus. Ontario reported 2,336 new cases of COVID-19 and 14 additional deaths on Tuesday.
Critical Care Services Ontario (CCSO) says 46 more people with the illness were taken to intensive care units since yesterday morning, bringing the current total to 410. Admissions of COVID-19 patients to ICUs peaked at 420 in mid-January, during the height of the second wave in the province.
CCSO compiles a daily internal report that hospitals and health organizations use for planning. The latest data show that COVID-19 patients require, on average, about two weeks of critical care, according to the agency.
Ford was asked about whether Ontario might adjust its vaccination plan based on the fact that younger people now make up the majority of the province's COVID-19 cases.
"Our goal is to make sure we take care of the most vulnerable," he said of the province's strategy to vaccinate in descending order of age groups, adding there are no plans to change that strategy.
Meanwhile, an infectious disease expert on Ontario's COVID-19 science table told CBC News that the pandemic is "completely out of control" and that total hospitalizations are already more than 20 per cent higher than they were at the start of the last provincewide lockdown.
Trudeau promises more vaccine dose arrivals
Earlier, Prime Minister Justin Trudeau said Canadians just need to hold on "a little longer," adding that even more COVID-19 vaccine doses will arrive this spring.
Pfizer is going to send five million more doses to Canada in June than it previously planned, Trudeau said, and AstraZeneca will ship 4.4 million by the end of that month.
Procurement Minister Anita Anand also confirmed on Tuesday that the first deliveries of the Johnson & Johnson vaccine will arrive in Canada at the end of April, though she said she couldn't say yet how many of the 10 million doses that Canada purchased will be in the initial shipment.
Even without J&J, and barring any unexpected interruptions in production or export of vaccines, Canada is in line to receive more than 44 million doses before Canada Day.
That should mean that all adults over 18 will be offered a vaccine sooner than originally anticipated and that the wait for a second dose may not be as long as four months. Canada needs about 31 million doses to offer at least one shot to every adult.
The news, however, comes as concern about the AstraZeneca-Oxford vaccine has pushed all provinces to stop using it for people under age 55 pending further analysis.
Dr. Theresa Tam, Canada's chief public health officer, said on Tuesday that COVID-19 activity has been steadily increasing for several weeks. The ongoing increase in infection rates is now playing out in hospitals, she said, and placing "renewed strain" on the health-care system.
To date, more than 9,000 variant of concern cases have been reported across Canada — with the B117 variant first reported in the U.K. accounting for 90 per cent of the variant cases, Tam said.
"New variant case numbers represent the tip of the iceberg, as there are thousands more cases that have screened positive for problematic mutations," Tam said.
---
What's happening in Canada
As of 7:30 p.m. ET Tuesday, Canada had reported 976,604 cases of COVID-19, with 46,395 cases considered active. A CBC News tally of deaths stood at 22,926.
Canada has signed on to a joint declaration with 13 other countries voicing concerns with an international report on the origins of the COVID-19 pandemic. The statement outlines the nations' unease after World Health Organization experts went to study the original outbreak of the virus in China's Wuhan province.
Other signatories include the United States, Australia, Israel, Japan, Denmark and the U.K. The countries decry what they call the significant delays and lack of access to complete, original data and samples that the international study team faced in China.
The statement goes on to say that the international community must understand how COVID-19 began circulating in the local population to improve future pandemic responses. Such a response can only happen if experts can study the origins of COVID-19 free from interference and undue influence, the statement added.
In Quebec, health officials reported 864 new cases of COVID-19 and seven additional deaths on Tuesday. A provincial dashboard put the number of COVID-19 hospitalizations at 487, with 126 people in intensive care.
Newfoundland and Labrador reported two new COVID-19 cases on Tuesday — both related to domestic travel, according to a news release from the provincial Department of Health.
Both Prince Edward Island and Nova Scotia reported three new cases of COVID-19 on Tuesday.
Health officials in New Brunswick reported 14 new cases of COVID-19 on Tuesday. Eight of the new cases are in the Edmundston region and involve contacts of previously reported infections, officials said.
Manitoba reported 77 new COVID-19 cases on Tuesday, according to a provincial news release. The province also announced that another 11 screened or sequenced cases stemming from the more contagious coronavirus variants have been identified.
Saskatchewan reported 164 new cases of COVID-19 and one related death on Tuesday.
The Ministry of Health also said stricter public health rules for Regina and surrounding communities will be in place for at least another week. A ban on household visits and restrictions permitting restaurants to only offer takeout or delivery services will now be reviewed April 12.
As well, the Saskatchewan Health Authority announced that people older than 60 in the province can register for a COVID-19 vaccine appointment beginning Wednesday morning.
Alberta reported 576 new COVID-19 cases and four related deaths on Tuesday.
As well, Alberta Health Services said 49 members of the public who attended vaccination appointments on March 23 and 25 at the South Calgary Health Centre may have been exposed to COVID-19 and should get tested. The agency said the risk is low because of strict safety protocols at the site.
British Columbia reported 840 new cases of COVID-19 on Tuesday. A retail group said criticism of young people by Premier John Horgan could be replaced by better ways of educating them about the risks of COVID-19.
Greg Wilson, a director for the B.C. division of the Retail Council of Canada, said he understands Horgan's frustration as cases rise, but social media or other channels may be a way of reaching youth rather than hour-long briefings.
Horgan asked those in the 20-39 age group not to "blow this for the rest of us" as the province introduced new pandemic measures Monday, saying the higher infection rates were putting everyone in a challenging situation.
"Do not blow this for your parents and your neighbours and others who have been working really, really hard making significant sacrifices so we can get good outcomes for everybody," Horgan said during a briefing with Dr. Bonnie Henry, the provincial health officer, and Health Minister Adrian Dix.
WATCH | Dr. Bonnie Henry says B.C. needs a 'circuit-breaker to stop this virus now':
Dr. Bonnie Henry says health officials have agonized over bringing in additional restrictions but the exponential growth in cases has made it necessary. 1:28
Wilson said young workers in the retail sector have generally been pleased with the COVID-19 response in B.C., where stores have remained open even as some other provinces imposed restrictions.
"If I were a 20-to-39-year-old, I'd be insulted. But you know, I have to look at the broader picture. And the broader picture is that for retail workers in B.C., we've had a much better pandemic experience because the government has protected retail shops," Wilson said.
---
What's happening around the world
As of Tuesday afternoon, more than 127.8 million cases of COVID-19 had been reported worldwide, according to a tracking tool maintained by Johns Hopkins University. The global death toll stood at more than 2.7 million.
More than 20 heads of government and global agencies in a commentary published Tuesday called for an international treaty for pandemic preparedness that they say will protect future generations in the wake of COVID-19.
But the commentary included few details to explain how such an agreement might actually compel countries to act more co-operatively.
WATCH | WHO, some world leaders urge creation of pandemic treaty:
The World Health Organization says a global treaty should be crafted for future pandemic preparedness before the current coronavirus pandemic ends. But the U.S. and China were not part of the initial push for such a treaty. 2:45
World Health Organization Director General Tedros Adhanom Ghebreyesus and leaders including British Prime Minister Boris Johnson, Premier Mario Draghi of Italy and President Paul Kagame of Rwanda proposed "a renewed collective commitment" to reinforce preparedness and response systems by leveraging the UN health agency's constitution.
Trudeau is not listed among the signatories to the letter, nor are the leaders of China, Russia or the United States.
When asked about China, Russia and the U.S., Tedros said signatories to the letter mainly joined through an opt-in process in which countries signalled their wish to join, though he noted that in some instances, the WHO invited regional representation.
"The comment from member states, including U.S. and China, was actually positive," Tedros said. "And we hope the future engagements will bring all countries."
In the Asia-Pacific region, Australia's Queensland state warned that more cases were expected to emerge as authorities scrambled to contain an outbreak linked to the virulent B117 variant, throwing Easter travel plans into disarray.
India reported the highest daily increase in coronavirus cases in five months, with the second wave of the disease driven by surging infections in the country's richest state, Maharashtra.
In the Americas, U.S. President Joe Biden urged states to pause reopening efforts, and a top health official warned of "impending doom" amid a surge in COVID-19 cases that threaten efforts to quash the coronavirus pandemic.
Honduras said it would temporarily restrict arrivals from South America, citing fears about the variant first discovered in travellers from Brazil entering its territory.
In Africa, Ethiopian health authorities on Tuesday received 300,000 doses of China's Sinopharm COVID-19 vaccine. The shots arrived a day after the East African country introduced stricter lockdown measures to stem a spike in infections.
Earlier in March, Ethiopia received nearly 2.2 million doses of the AstraZeneca vaccine through the COVAX initiative that ensures vaccine access for low- and middle-income countries.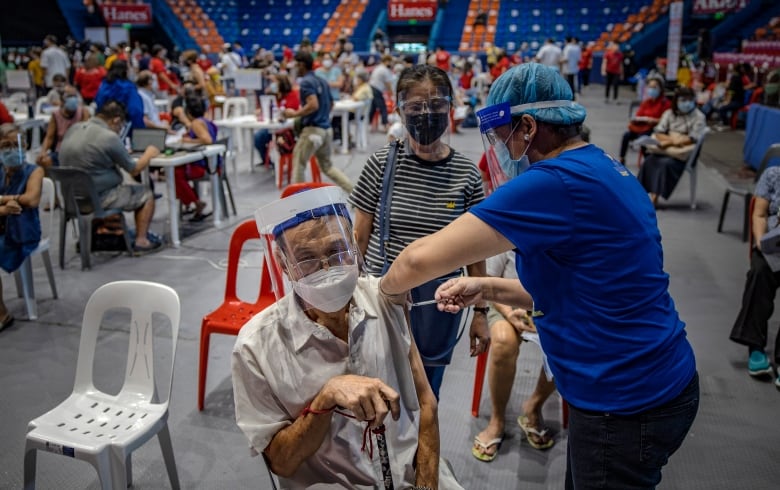 Johnson & Johnson said it's agreed to provide up to 400 million doses of its one-dose COVID-19 vaccine to African countries, starting this summer. The drugmaker said under its agreement with the African Vaccine Acquisition Trust, the company will provide up to 220 million vaccine doses for the African Union's 55 member countries, with delivery beginning in the July-to-September quarter. The trust will be able to order 180 million additional doses from J&J, for a total of up to 400 million shots through 2022.
The company's vaccine still must receive authorization from regulators in the African countries, but the World Health Organization approved it for emergency use on March 12. In late-stage testing, J&J's vaccine prevented about 67 per cent of symptomatic infections with the coronavirus and was 85 per cent effective at preventing severe disease, beginning 28 days after vaccination.
In Europe, Italy has imposed a five-day quarantine on people entering from other EU countries in a bid to deter Easter getaways and limit the spread of the coronavirus.
Health Minister Roberto Speranza says he signed the new ordinance Tuesday. It requires a virus test before arriving in Italy, five days of quarantine once here and another virus test to get out of quarantine for anyone entering Italy from the EU.
In Germany, authorities in Berlin and Munich are again suspending the use of AstraZeneca's coronavirus vaccine for residents under age 60 due to new reports of unusual blood clots in people who recently received the shots, officials said Tuesday. The action was taken as a precaution ahead of a meeting later Tuesday of representatives from Germany's 16 states and further recommendations were expected from national medical regulators, said Berlin's top health official, Dilek Kalayci.
Germany is also extending virus-related border controls along its border with the Czech Republic by a further 14 days but ending entry requirements for people coming from the Austrian region of Tyrol.
WATCH | Why the Czech Republic is being hit hard by the 3rd wave:
Experts say poor contact tracing and vaccine hesitancy are among the reasons why the Czech Republic now has some of the highest COVID-19 infection and death rates in the world, despite having low rates earlier in the pandemic. 2:01
Britain will focus on vaccinating the whole of its adult population before it can provide any surplus shots to other countries such as Ireland, British business minister Kwasi Kwarteng said on Tuesday. More than 30 million Britons have received their first shots in the fastest vaccine rollout in Europe, with the aim of offering shots to all adults by the end of July.
However, Britain has found itself involved in a public spat with the European Union, where the vaccination program has been much slower, over the supply of doses.
In the Middle East, Israel has reopened its border crossing with neighbouring Egypt for the first time since the start of the coronavirus pandemic. Israeli authorities on Tuesday started allowing 300 citizens per day to enter and exit for the purpose of tourism in the Sinai Peninsula, provided they pass coronavirus tests before each crossing and are vaccinated against COVID-19 or recovered from it.
Biden, Suga to send signal to assertive China at U.S.-Japan summit
By Linda Sieg and David Brunnstrom
TOKYO/WASHINGTON (Reuters) – Japanese Prime Minister Yoshihide Suga and U.S. President Joe Biden will highlight Tokyo's central role in Washington's strategy to counter the challenge of an increasingly assertive China at a summit on Friday.
While that emphasis on Japan's key status will be welcome in Tokyo, where some politicians are pushing for a tougher stance towards Beijing, it also raises questions about how far Tokyo can go to meet demands on regional defence and human rights.
"This will be the precursor to a series of meetings among like-minded countries to send the right signal to Beijing," Kunihiko Miyake, an adviser to Suga, told Reuters.
Suga took over as premier last September, inheriting a China policy that sought to balance security concerns with deep economic ties.
But striking that balance has become harder as China increases maritime activities in the East and South China Seas and near Taiwan, which Beijing considers a wayward province.
Rights concerns have deepened over the treatment of Muslim Uighurs in China's Xinjiang region. China denies abuses, but Washington says Beijing is perpetrating a genocide.
Suga will be the first foreign leader to meet Biden in person since the president took office, something that could give Suga a boost ahead of a general election this year.
"Asking Suga to meet the president first means a lot – that China competition is critical and who is the best partner? Japan," said Toshihiro Nakayama of Japan's Keio University.
"That also means that Japan has to do more."
Suga told reporters before leaving for Washington he hoped to strengthen the alliance based on the shared values of freedom, democracy, human rights and rule of law, show the two countries' leadership in creating a "free and open Indo-Pacific" and build a relationship of trust with Biden.
Besides regional security, the two are also expected to discuss climate change, supply chain resilience, a global semiconductor shortage and COVID-19.
Marc Knapper, the senior official for Japan and Korea at the U.S. State Department, said issues that would be "front and centre" in the discussions included "China's unilateral attempts to change the status quo in the East China Sea, South China Sea; what's happening within China, and…around China, Taiwan, Hong Kong."
He told an event at Washington's Center for Strategic and International Studies there would also be discussion of North Korea's nuclear missile program, which threatens both Japan and the United States, and ways to address "existential issues of our time, climate change, clean energy, COVID-19."
Japan is grappling with rising coronavirus infections with fewer than 100 days from the planned start of the Summer Olympics in Tokyo.
'PEACE AND STABILITY'
In a statement after a March meeting of U.S.-Japan defence and foreign ministers, the two sides "underscored the importance of peace and stability in the Taiwan Strait" and shared "serious concerns" about human rights in Hong Kong and Xinjiang.
The United States, the European Union, Britain and Canada have imposed sanctions on Chinese officials for alleged abuses in Xinjiang and some Japanese lawmakers think Tokyo should adopt its own law allowing it to do the same, while Japanese executives worry about a backlash.
Japanese officials were divided over whether Suga should endorse a strong statement on Taiwan, despite U.S. urging, or Xinjiang, two Japanese ruling party lawmakers familiar with the discussions said.
A Japanese foreign ministry official said it was not decided whether there would be a joint statement after the summit.
Asked to comment, a senior U.S. official said: "We would not want Japan to make any statements that they do not fully support."
Any comments by Suga on either Taiwan or human rights will be closely watched by China, which has warned Tokyo against "being misled" by countries biased against Beijing.
Taiwan is China's most sensitive territorial issue and a source of major friction with Washington, which is required by U.S. law to provide the island with the means to defend itself.
While Tokyo has no official diplomatic relations with Taipei, non-governmental engagement has flourished. Some Japanese lawmakers want even closer ties.
The last time U.S and Japanese leaders referred to Taiwan in a joint statement was in 1969, when Japan's prime minister said maintenance of peace and security in the "Taiwan area" was important for its own security. That was before Tokyo normalised ties with Beijing.
Japan hosts over 50,000 U.S. military personnel and, experts say, would be unlikely to stand idly by in any Taiwan crisis, although many ordinary citizens would probably be wary of entanglement.
(Reporting by Linda Sieg in Tokyo and David Brunnstrom and Steve Holland In Washington; Additional reporting by Yoshifumi Takemoto, Kiyoshi Takenaka and Elaine Lies; Editing by David Dolan, Michael Perry and Chizu Nomiyama)
After Air Canada lifeline, small carriers seek aid as virus looms ahead of summer travel
By Allison Lampert and Steve Scherer
MONTREAL (Reuters) –Canada is facing industry calls to extend financial aid to smaller airlines, after offering a C$5.9 billion ($4.71 billion)life-line to Air Canada, as new COVID-19 variants loom ahead of the vital summer travel season.
The timing of Monday's deal, which saw the Canadian government take a 6% equity stake in Air Canada, was partly designed to secure "access to air travel when it returns," as the country's vaccine rollout ramps up this summer, a source familiar with the discussions said.
But with the spread of new variants threatening to overtake the pace of vaccination, early hopes for a relaxation of Canada's strict travel requirements ahead of summer are fading.
Fears of a delayed recovery, along with the Air Canada deal, has upset the "level playing field" for air service, with smaller carriers asking for financial support.
"We want everyone to have access to the same programs," said John McKenna, chief executive of the Air Transport Association of Canada (ATAC), which represents smaller carriers.
On Wednesday, Air Canada joined rival WestJet Airlines in extending a three-month suspension of sun-destination flights to the Caribbean and Mexico originally slated to end on April 30, reflecting the government's current warnings against international travel. [L1N2M71SG]
The planned April reopening of a bubble in Atlantic Canada, which would allow travel among the region's four provinces without the need to self-isolate, was postponed this week until at least May 3 over COVID-19 concerns.
WestJet said its previously-planned schedule for Atlantic Canada remains unchanged.
Canada's vaccine roll out has been slow, but it is ramping up now. By the end of June, some 44 million doses are expected, and everyone who wants to be fully inoculated will be by the end of September, Prime Minister Justin Trudeau has promised.
Trudeau said in a radio interview this week that he supports Canadian provinces which choose to close their borders to help curb the spread of COVID-19.
Canada's Liberal government, which will deliver its first budget in two years next week, has said talks with carriers like Onex Corp-owned WestJet are ongoing.
"We hope that the other agreements come as soon as possible," the source familiar with the talks said, adding that "different airlines have different needs".
WestJet spokeswoman Morgan Bell said the airline is optimistic that a successful vaccine roll-out will support summer travel and expects "government policy will transition" with mounting jabs.
Canada, with some of the world's toughest travel rules, has a mandate that its citizens and residents arriving from abroad self-isolate for 14 days.
Health Canada advised Canadians in a statement to avoid traveling outside the country "for the foreseeable future."
Calgary-based WestJet has asked the government to end an order requiring international arrivals to quarantine for up to three days in a hotel in favor of COVID-19 testing.
The government must decide whether to renew the controversial hotel order, which expires on April 21.
McKenna also urged the government to relax restrictions on travel with neighboring United States.
"The government can come up with all the financial help they want," ATAC's McKenna said. "But until those things are relaxed we can't do anything."
($1 = 1.2515 Canadian dollars)
(Reporting By Allison Lampert in Montreal and Steve Scherer in Ottawa. Additional reporting by David Ljunggren in Ottawa; editing by Diane Craft)
U.S. seeks to polish tarnished reputation with new climate change pledges
By Valerie Volcovici and Kate Abnett
WASHINGTON/BRUSSELS (Reuters) -The United States hopes to restore its shattered credibility when it hosts a climate change summit next week by pledging to cut its greenhouse emissions by at least half and securing agreements from allies for faster reductions, according to two sources familiar with the matter.
A 50% reduction from 2005 levels by 2030 is a minimum level urged by environmental groups, hundreds of corporations and European Union lawmakers. It would be the first upgrade of the U.S. climate target since 2015, when former President Barack Obama pledged a 26%-28% reduction by 2025.
Washington was also close to clinching deals with the governments of Japan, South Korea and Canada to accelerate their targets to decarbonize, the two sources said. It was not immediately clear if those nations would make announcements at the event, and representatives of those countries have not commented on the discussions.
The stakes for the meeting are high. Leaders from roughly 40 countries including China, India, Brazil and Russia have been invited, with hopes they will double down on past pledges to reduce climate warming emissions. So far, international pledges to decarbonize would shave only 1% off global emissions by 2030 compared with 2010 levels, a fraction of what scientists say is needed to avert the worst impacts of climate change.
The virtual summit on April 22-23, kicking off on Earth Day, will be an opportunity for Democratic President Joe Biden to reclaim U.S. leadership in global climate efforts, after four years during which his predecessor, Republican Donald Trump, downplayed the issue to support the oil and coal industries.
Biden's climate envoy, John Kerry, has spent the last few months on countless Zoom appearances and on a globe-hopping tour, concluding this week in China and South Korea, to persuade countries to use next week's summit to hike their commitments to protect the planet.
The Biden administration has been laying the groundwork for its new target, unveiling a $2 trillion infrastructure package to expand clean energy and transport.
The European Union last year agreed to reduce its net emissions at least 55% by 2030 from 1990 levels – currently the most ambitious among big emitters.
"All eyes are on the Biden summit next week as a key moment for John Kerry's diplomatic skills to be put to work in aligning all countries with a halving of emissions in this decade, as science demands," said Christiana Figueres, former executive secretary of the United Nations Framework Convention on Climate Change.
PATIENCE WEARING THIN
Next week's U.S. summit is the first in a string of meetings of world leaders – including the G7 and G20 – ahead of the United Nations climate summit in November, known as COP26. That serves as the deadline for nearly 200 countries to update their climate pledges under the Paris Agreement, an international accord set in 2015 to combat global warming.
But as global powers tussle over percentage points, in countries already facing the impacts of a warming world, patience is wearing thin.
Developing countries – many of which are vulnerable to rising seas, heatwaves and rainfall made more severe by climate change – are expected to offer their own goals at the summit, said Pablo Vieira, director of the NDC Partnership, which has been helping developing nations craft their climate targets.
They will also repeat their demand that rich nations offer more money to help them cut emissions and adapt to the impacts it is already unleashing in countries like Bangladesh, South Sudan and the Marshall Islands.
YOU'RE ALL INVITED
U.S. talks with Japan, South Korea and Canada have focused on trying to get each country to commit to cut emissions at least 50% by 2030, according to the two sources familiar with the U.S. negotiations.
Japan and South Korea both rely on coal for power generation and winding that dependence down and their finance of coal plants abroad could yield significant emissions cuts in the next 10 years, the sources said.
Canada may have a tougher challenge.
"We don't have quite that luxury here because coal is a much smaller part of our grid," Canada's Environment Minister Jonathan Wilkinson said. But he added: "We are working to stretch as far as we can."
Canada, which has a large oil industry, currently has a target to cut emissions 30% below 2005 levels by 2030.
Other major emitters appear less keen to take the plunge, including India, China, Brazil and Russia.
India, the third-largest emitting country behind China and the United States, is resisting because it expects more developed nations to take on the bulk of global reductions.
"What we are suffering today is caused a 100 years ago," said Prakash Javadekar, India's Minister of Environment, Forest & Climate Change, pointing to emissions from the United States and Europe. "Historical responsibility is a very important aspect. We cannot just forget it."
China's special climate envoy, Xie Zhenhua, was meeting with Kerry in Shanghai this week to discuss climate change, the foreign ministry said. China promised last year that its greenhouse gas output would peak by 2030, a target environmental groups say is insufficient.
U.S. and Brazilian officials, meanwhile, have been working since February on a billion-dollar deal to fund Brazil's protection of the Amazon rainforest, but diplomatic sources said a deal is unlikely by April 22.
Russia, another big emitter, has not yet confirmed if President Vladimir Putin will participate in the summit. With Moscow's ties with the West at a post-Cold War low, the U.S. summit has generated little buzz in Russia.
(Reporting by Valerie Volcovici in Washington and Kate Abnett in Brussells; Additional reporting by Neha Arora and Sanjeev Miglani in New Delhi, Thomas Balmforth in Moscow, Tony Munroe in Beijing, Jake Spring in Brasilia and David Ljunggren in OttawaEditing by Richard Valdmanis, Katy Daigle and Lisa Shumaker)