COVID-19: Dr. Bonnie Henry dials back last call on New Year's Eve – Vancouver Sun
Article content continued
Falconer, however, suspects people will be cancelling reservations en masse "and you're going to see people going to house parties," instead of restaurants where owners have invested in Plexiglas barriers and operate under WorkSafe-mandated COVID-19 safety plans.
Ian Tostenson, CEO of the B.C. Restaurant and Food Service Association, said his organization received the order "about a minute" before Henry's media conference, which left him "profoundly disappointed."
Restaurants have likely spent "hundreds of thousands of dollars" on special menus, champagne and other mementoes, and "we'll probably see restaurants lose, you know, 25 to 50 per cent of (their) potential sales."
The 8 p.m. timing of last call makes second seatings more difficult to accommodate, Tostenson said, but if Henry had consulted with the industry ahead of time, they could have reached a middle ground of perhaps 9 p.m.
Tostenson was already expecting a "very, very understated (and) low-key" New Year's Eve, without any scheduled parties or celebrations due to Henry's last order Nov. 8 that restricted social interactions to people's own households.
Sales in the sector plummeted after that order, Tostenson said, but establishments are holding out hope for an increase in takeout business for the evening.
The order will put an additional crimp in business for Seasons in the Park, which has a three-course New Year's dinner planned and has taken reservations from couples mostly, but some family households as well.
"It won't be celebratory in any way, shape or form," said Seasons in the Park general manager Richard Baker of the New Year's Eve dinner planned at his restaurant in picturesque Queen Elizabeth Park.
CLICK HERE to report a typo.
Is there more to this story? We'd like to hear from you about this or any other stories you think we should know about. Email vantips@postmedia.com
With COVID-19 cases trending down in Ontario, could small businesses see the light at the end of the lockdown tunnel? – ThePeterboroughExaminer.com
Ontario business owners are eagerly looking for the light at the end of the lockdown tunnel as COVID-19 cases steadily drop each day — but public health experts say we've got a long road ahead before the province can safely open its doors again.
COVID-19 cases in Ontario have been trending downward by the day — the province announced 1,958 new cases Monday, down from 2,417 on Sunday and 2,578 last Monday. The Monday before that, Jan. 11, the province reported 3,338 new cases.
But on Sunday, Canada's chief public health officer Dr. Theresa Tam said it's too soon to know whether this trend will continue.
"While community-based measures may be starting to take effect in some areas, it is too soon to be sure that current measures are strong enough and broad enough to maintain a steady downward trend across the country," she said in a statement.
The threat of the new virus variants also looms; one disease forecasting company told the Star that the province could see nearly 4,000 cases a day by the end of March if the new U.K. variant takes hold and schools reopen as planned.
Peter Jüni, scientific director of the Ontario COVID-19 Science Advisory Table, said the U.K. variant and South Africa variant are both quite worrying, and make it all the more important to stay in a strict lockdown until cases are under control.
"We may be over the hill, but we're not out of the forest," he said.
Epidemiologist and assistant professor at the Faculty of Information at the University of Toronto Colin Furness said the downward case trend combined with mobility data show the lockdown restrictions are working. But past the short term, he's less optimistic, especially if the new variants take hold.
"I worry that we're going to be up to several thousand cases a day, many thousands … if a new variant really takes hold," he said.
Furness is advocating for widespread testing as a way of loosening the lockdown restrictions.
"I think if businesses want to open, they need to start demanding rapid testing," he said.
On Jan. 18, Ontario's Chief Medical Officer of Health David Williams said the province's daily case count needs to fall below 1,000 before the lockdown measures can be lifted. He added he'd like to see the number of COVID-19 patients in intensive care units drop below 150.
But Furness thinks the decision to lift the lockdown can't be made based on a single number.
"It's not the number, it's the trajectory and the narrative," he said.
Andrew Morris, an infectious disease specialist at Sinai Health and University Health Network, said while the downward trend is encouraging, he too would look for more than that before undoing the current restrictions.
Morris would prefer to wait until cases are "very, very low" and then begin reopening bit by bit, beginning with schools.
He agreed that the province should look at "a bunch of factors" before deciding to ease restrictions, not simply the daily case count — such as health care capacity, but not just in terms of beds and ventilators.
"I think what we also need to be thinking about is the effects on the workforce," he said. "It's not just the numbers."
Ryan Mallough, the director of provincial affairs, Ontario at the Canadian Federation of Independent Business (CFIB), said the organization is calling on the government to come up with a plan to reopen small businesses at a limited capacity — even by-appointment shopping would be better than nothing, said Mallough.
Loading…
Loading…Loading…Loading…Loading…Loading…
He added that business owners want to have some kind of certainty, some date or number to look forward to, instead of being surprised with a reopening and scrambling to prepare.
"It has been incredibly difficult for business owners to survive with no in-store customers. And the longer this goes, the more difficult recovery is going to be and, honestly, the more businesses will wind up losing," said Mallough.
Mallough also noted the ongoing frustration over big-box stores still being allowed to sell non-essential items alongside groceries and essentials, something the CFIB has deemed unfair since the lockdown began.
"At bare minimum from a fairness perspective, if we're going to continue with a lockdown, then those big box stores really should be limited," said Mallough.
Jüni said the government should be making clear the difference between essential and non-essential, and agreed that the government could also be "more stringent" about that distinction to make the lockdown as effective and fair as possible.
"If feasible, if one is able to distinguish between essential and non-essential parts (of a big box store), this would make a difference," he said.
The province recently launched the Small Business Support Grant, which provides up to $20,000 for eligible businesses struggling under lockdown restrictions.
For many businesses, this has been helpful, and easy to access, said Mallough.
But the CFIB is also asking the government to expand the grant, since there are some small businesses that aren't eligible, he said, such as businesses deemed "essential" that are nevertheless seeing dramatic drops in revenue.
Emily Hogeveen, a spokesperson in the Minister of Finance's office, said as of 7 a.m. Monday morning, the province has received around 51,000 applications for the Small Business Support Grant.
Hogeveen said the ministry is aware that many businesses are facing revenue shortfalls, and the government is reviewing the program to ensure that it best serves the businesses that need it most.
With files from Kenyon Wallace and The Canadian Press
Ontario working to adapt to the delay of Pfizer BioNTech vaccines: Public health officials – SooToday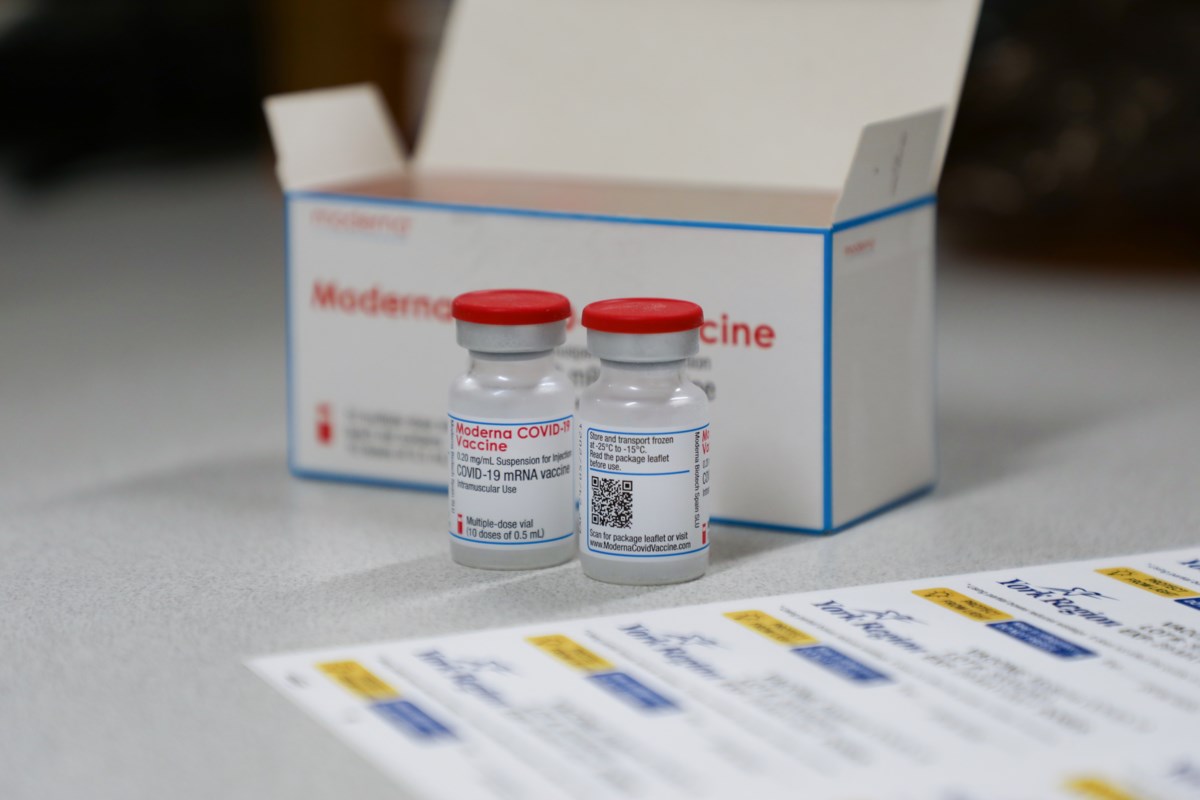 In response to the Pfizer BioNTech delay in delivering vaccines to Ontario, public health officials in this province could extend the interval between the two doses that are given to some less-vulnerable vaccine recipients. Pfizer revealed last week it had to shut down production for one week so it could scale ups European manufacturing capacity.
Both the Pfizer BioNTech and Moderna vaccines that are provided in Ontario are double-dose vaccines, meaning the first dose is administered one day and then the follow-up second dose is delivered 21 to 28 days later.
Despite the shortage, Ontario officials told a technical briefing Monday that the plan is to accelerate the vaccines going out to long-term care homes, to high risk retirement homes and to First Nations elder care homes.
"With uncertainty and reduced allocations we will be reallocating vaccines to 14 public health unit regions that haven't received any vaccine yet so that they can begin to vaccinate their vulnerable populations, starting this week," said a public health official.
She said Ontario is working on a new strategic approach. This will include a focus on areas where Ontario can reduce risk of illness and death for the most vulnerable populations.
"We're accelerating the vaccination of residents in long-term care homes, high-risk retirement homes and First Nations elder care homes," she added.
Ontario is also planning to expand the time allocation between first and second dosages on the Pfizer BioNTech vaccine.
"We will be extending the interval between doses in some situations and only as needed to support the vaccinations of the most vulnerable populations. For resident groups, in long-term care, in high-risk retirement homes and elder care homes, we will be maintaining the recommended maximum interval of 21 to 27 days and for all other groups, we will expand that interval to no more than 42 days."
The idea of expanding the time interval was taken into account during the vaccine trial studies and was proven effective with time intervals from 19 days to 42 days, the briefing was told.
The health ministry official said this measure is supported by the World Health Organization as well as the Centers for Disease Control, based in the United States.
The effort is also being accelerated for remote and isolated First Nations communities.
Despite the one-week delay from Pfizer, the company has stated it will live up to the contractual obligation to provide Canada with a total of four million doses of vaccine by the end of March, the briefing was told.
In response to a media question about the reliability of the Moderna vaccine delivery, the briefing was told that Moderna delivers its vaccines every three weeks, and in both instances, the vaccines from Moderna had arrived on time in Ontario. The next delivery, of about 80,000 doses, is expected on Monday February 1, 2021. There has been no indication that Moderna's delivery schedule will be changed.
Provinces set back COVID-19 vaccinations as deliveries grind to halt – Abbotsford News
Some provinces were forced to push back vaccination for health-care workers and vulnerable seniors on Monday as deliveries from a major manufacturer ground to a temporary halt.
Canada is not due to receive any Pfizer-BioNTech vaccines this week as the company revamps its operations, and deliveries are expected to be slow for the next few weeks.
Prime Minister Justin Trudeau has stressed that the delay is only temporary and that Canada is expected to receive 4 million doses of the Pfizer vaccine by the end of March.
As Parliament resumed Monday, Trudeau faced a barrage of questions from MPs of all parties as they blasted the Liberal government for what they described as a botched approach to rolling out vaccines.
Both Trudeau and Procurement Minister Anita Anand repeated the government's promise that by the end of September, all Canadians wishing to be vaccinated will have received their shots.
Trudeau added that the country is still receiving shipments of the Moderna vaccine.
READ MORE: B.C. dentists argue for COVID-19 vaccine priority after 'disappointing' exclusion from plan
Earlier Monday, Deputy Prime Minister Chrystia Freeland said there is "tremendous pressure" on the global supply chain for vaccines that the government has tried to mitigate.
"We are working on this every single day, because we know how important vaccines are to Canadians, to first and foremost the lives of Canadians and also to our economy," she told a news conference in Ottawa by video.
Despite the vaccine delay, some provinces continued to report encouraging drops in the number of new cases and hospitalizations.
Ontario reported fewer than 2,000 cases, as well as fewer people in hospital. It was a similar story in Quebec, where hospitalizations dropped for a sixth straight day.
Newfoundland and Labrador also reported no new cases of COVID-19 for a third straight day.
CoronavirusFederal Politicsvaccines