PlayStation Plus Free Games announced for January: Maneater, Shadow of the Tomb Raider, Greedfall – Gadgets 360
PlayStation Plus subscribers can kick off 2021 with an impressive selection of free games – Maneater, Shadow of the Tomb Raider, and Greedfall. While PlayStation 5 users can get their hands on all three games, PlayStation 4 users will get free access to just the last two. Since Sony launched the next-gen PS5 in November, it has been looking to offer a free game exclusively for the new console. With Maneater, it appears to have set the ball rolling. The PlayStation 5-version of the title has been specially upgraded to show off the console's hardware prowess, including ray-tracing support and 4K resolution at 60 fps. PS5 players can also access the other two titles via backwards compatibility.
All three games will be available for download starting Tuesday, January 5, until February 1, the company announced in a blog post. Both PS5 and PS4 players will still have access to last month's free game lineup – Just Cause 4, Rocket Arena, and Worms Rumble – until Monday, January 4. As an added bonus for PS5 owners, indie launch title Bugsnax will still be available for a last round of downloads until January 4. Here's a quick look at the free games on offer for PS Plus subscribers in January:
Maneater
If you've seen the Steven Spielberg-classic Jaws, you won't face much problem in understanding what Maneater's all about. You start off as a baby shark (do-do-do-do-do-do) and your goal is to become an apex predator by chomping down humans and other aquatic monsters. The open-world RPG, or SharkPG, is actually a whole lot of fun. It involves a surprisingly-detailed levelling up structure, and there's a certain joy in seeing your wee little fish grow into a super-powered monster. It may not require too many skills to execute the perfect kill, but the game offers enough options to players to find their own playing style at their own pace.
If you're on PlayStation 4, you can purchase the game via PlayStation Store for Rs. 2,499/ $39.99.
Shadow of the Tomb Raider
The third chapter in the Lara Croft franchise reboot trilogy, Shadow of the Tomb Raider continues Lara's journey from 2015's Rise of the Tomb Raider as the adventurer races through the wild jungles of South America to stop a Mayan apocalypse. While the action-RPG may not be as great as the first two titles in the series, it still offers some memorable moments and tense encounters, making it a good-enough title to spend a few hours with, especially since its free.
If you aren't a PlayStation Plus subscriber, you can purchase the title via PlayStation Store for Rs. 874/ $14.99.
Greedfall
Developed by French studio Spiders, Greedfall allows players to take a deep dive into the world of old-school RPG mechanics as they explore a medieval island and fend off invaders, supernatural threats, while experiencing a surprisingly engaging story. A sleeper hit, Greedfall is sure to keep gamers busy for hours.
If you aren't subscribed to PlayStation Plus, you can purchase the game via PlayStation Store for Rs. 2,999/ $49.99.
As always, you will need to have an active PlayStation Plus subscription to have continued access to the games, once you've added them to your library. PlayStation Plus subscriptions are available in India at Rs. 499 for a month, Rs. 1,199 for three months, and Rs. 2,999 for 12 months.
---
Will Xbox Series S, PS5 Digital Edition fail in India? We discussed this on Orbital, our weekly technology podcast, which you can subscribe to via Apple Podcasts, Google Podcasts, or RSS, download the episode, or just hit the play button below.
Streamer AverageHarry accuses Twitch of hypocrisy – TalkEsport
Streamer AverageHarry was handed a permanent ban after it was revealed that his account was created before the age of 13, following which Twitch was accused of hypocrisy as other streamers with similar accounts were treated differently.
Twitch has informed AverageHarry about the possibility of vacating his current account as he was 13 at the time of creation which is against their terms. Fast forward two years, he is 15 now which is insufficient for Twitch to let him have his way with the account, rather they asked him to recreate an account and start over which left him in tears as all the effort he put in for the past two years is about to go in vain.
The minimum criteria to make partner:
Complete the Path to Partner achievement to demonstrate large, engaged viewership/following on other services.
Broadcast content that conforms to our Community Guidelines, Terms of Service and DMCA Guidelines.
Those who complete Path to Partner should be able to maintain the criteria set forth in the achievement on a consistent basis.
However, the post did mention that these are the "minimum criteria" and that they look for more things in a streamer before they uplift them to Partner status from Affiliate. One of those things that Twitch looks for is the age that AverageHarry lacks.
After he was denied partnership, Twitch had already made him aware of this, but the controversy surfaced when it was revealed that another popular streamer in TommyInnit was given a different treatment given the fact his account was created when he was aged 11. A redditor pointed it out for us, while exposing the hypocrisy on the side of Twitch.
Now its up to Twitch to either make their platform fair for everyone or keep their reputation as tarnished as it is now. There is no doubt that Harry's case was unfairly judged. With the recent information that came to light, Twitch are getting blasted by fans for the difference in their treatment, the most reasonable outcome would be return Harry his account and restructure their bylaws.
New Microsoft advert claims the Surface Pro 7 is a better option than the MacBook Pro 13, including for gaming – Notebookcheck.net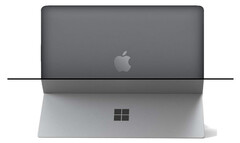 Microsoft is heavily promoting the Surface Pro 7 with recent price drops now accompanied by a new advert comparing the Surface Pro 7 to the MacBook Pro 13 M1. The advert is done in a presentation style and shows why Microsoft thinks you should choose its 2-in-1 device over Apple's laptop.
Views, thoughts, and opinions expressed in the text belong solely to the author.
The reasoning is mostly around the Surface's dual tablet/laptop nature and the use of Windows, which makes sense since this was the niche the Surface Pro line popularised after the release of Windows 8. We can't deny that the inclusion of a touch screen and pen input adds value to how users interact with the device. There is also logic in the argument that the Surface Pro 7 can "run your favourite apps" since the x86 processor and Windows OS gives access to a vast library of modern and legacy software.
Where the advert veers off into murky territory is the claim that it's a much better gaming device, presumably because of the massive catalogue of Windows games. This is also where the point Microsoft is making starts to fall apart too. Yes, the Surface Pro 7 has enough power to play older or lighter games, but its CPU and GPU performance is outclassed by the ARM-powered MacBook Pro 13 against which Microsoft is comparing it.
This gets us wondering whether Microsoft is even making the right comparison. The recent price drop shows that Microsoft is focusing on selling the Surface Pro 7 right now, but can they rightly compare a laptop to a 2-in-1 and then penalise the laptop for not having tablet features? We can't help but think that Microsoft is avoiding the iPad Air 4 or iPad Pro 2020 with Magic Keyboard because they share characteristics such as the touchscreen and pen/pencil input. The iPad is also an arguably better tablet gaming experience, as long as you aren't trying to play the latest console/PC releases. The Surface Pro 7 and the iPad Pro are both creators devices, so Microsoft would have only had the operating system to promote as the main point of difference.
Perhaps the Surface Laptop 3 would have been a more appropriate comparison. The boxes are still ticked for touch screen and pen input, even if the awkward angle makes the pen useless for anything other than quick mark-up. Maybe Microsoft just needs to move some excess Surface Pro 7 stock before the announcement of the Surface Pro 8.
PewDiePie Announces "Big Change" to His YouTube Channel – ComicBook.com
PewDiePie has announced a big change to his YouTube channel, inspired by the likes of Corpse Husband, Dream, and a growing trend amongst popular streamers on Twitch and YouTube. After a two-week break from YouTube, the platform's most popular content creator is back. In the build-up to his return, the king of YouTube teased a "big reveal." Following up this tease, today, PewDiePie released a new YouTube video titled, "I'm Back With A Huge Announcement." And as you would expect, the video is already trending and has nearly two million views. Of course, every PewDiePie upload achieves wild engagement, but this video, in particular, is garnering extra attention for the aforementioned announcement.
For those that haven't seen the video, PewDiePie is taking a page out of the playbook of Dream, Corpse Husband, Pokimane, and other streamers and YouTubers and will now hide his identity behind an avatar. According to PewDiePie, he's getting rid of his self-facing camera and doing the "reverse face reveal" to stay relevant.
"I've realized that the only way for me to stay relevant at this point… it's necessary for me to do this," said PewDiePie, clearly joking. "Corpse Husband… no face cam, no face reveal, massively popular. Dream… no face cam, no face reveal, massively popular."
Right now, the YouTuber hasn't decided on a final avatar, but for most of the video, he did use a temporary one, or more specifically, the avatar below:
For now, it remains to be seen how permanent this change will be. In the video, PewDiePie asks fans for help in finding and choosing an avatar, suggesting at the very least the avatar above won't be around for long. Again though, it's hard to gauge how long PewDiePie will keep this going. In the video, he's clearly joking around and perhaps poking fun at the trend, but it also seems like he's going to keep the avatar at least for a little while.
For more coverage on all things gaming — including all of the latest on PewDiePie — click here or check out some of the relevant links listed below: