COVID-19: How do we control the virus from here? – CTV News
With much of Canada in the midst of a summer wave of COVID-19, public health officials and physicians have mixed views on how provinces and territories respond from this point on.
Although COVID-19 testing is not as widespread as it used to be, other metrics such as wastewater testing show cases are on the rise. The more infectious BA.4 and BA.5 Omicron subvariants now make up a majority of the samples collected and genome sequenced, data from the Public Health Agency of Canada shows.
Over the past few weeks, physicians have been asked whether certain public health restrictions, such as mask mandates, need to be put in place in order to control the latest, or seventh, wave of COVID-19.
"I think that if you're doing things outside you really don't need the masks unless it's really crowded, and I think that's where people use their discretion," infectious disease specialist and University of Toronto faculty member Dr. Anna Banerji told CTV's Your Morning on Thursday.
"But I think in certain places if the numbers are going up — and we expect the numbers to go up again in September — that there should be certain places that they should have mask mandates."
This would include settings where there are vulnerable people, she said, such as hospitals and long-term care homes.
Whether provinces choose to bring back certain restrictions will depend on their own situations, she said, with measures in the Maritimes differing from those in Ontario, for example.
PROVINCES NOT BRINGING RESTRICTIONS BACK YET
Provinces and territories have lifted nearly all of their COVID-19 public health restrictions, including mask mandates, in recent months and many don't appear willing to reinstate those measures.
"You know, these largely end up being political decisions, they really do," infectious disease specialist and University of Toronto faculty member Dr. Isaac Bogoch told CTV News Channel on July 8.
"So I think what we can do in this context is have appropriate messaging."
That messaging, he said, includes getting up-to-date on vaccines, which help prevent more severe illness, wearing a high-quality mask indoors where COVID-19 is most likely to transmit, and if possible doing activities outdoors.
"These are just simple steps that people can take to help protect themselves and those around them," he said.
Last week, Ontario Chief Medical Officer of Health Dr. Kieran Moore said the province is not planning to bring back public health restrictions.
At the time, he said he expected Ontario to reach the peak of its current wave, which he described as moving at a "slower trajectory" with "less severe" outcomes, in the following two weeks.
That said, Moore added that he would act accordingly if COVID-19 threatened the province's health-care system, although even that would be a "contingency for the fall."
Ontario long-term care homes saw new COVID-19 outbreaks more than double in the first week of July in light of the summer wave. Masking is still required in long-term care and retirement homes in Ontario.
A report from Public Health Ontario, for the week of July 10, shows that deaths in the province from COVID-19 have remained stable, with between 29 and 40 deaths reported weekly in the previous four weeks.
Even as COVID-19 cases rose in the spring, hospitalizations in Canada did not reach the previous peak of the winter Omicron wave, nor has the latest summer wave.
However, hospitalizations tend to lag reports of new cases and Public Health Ontario said that individuals 80 and older continue to have higher rates of hospitalization and death compared to other age groups.
As evidenced by the first Omicron wave in the winter, even if a smaller proportion of people who get the subvariant end up in hospital, a massive rise in cases could result in more people being hospitalized.
B.C. Health Minister Adrian Dix said on July 4 that preparations are underway to fight any potential COVID-19 surges this fall, but there are no immediate plans to return to a provincewide mask mandate.
In Quebec, Health Minister Christian Dubé said during a news conference on July 7 the province would not reimpose health measures. Quebec has reported more hospitalizations currently than any other province.
THIRD AND FOURTH DOSES
Public health officials and infectious disease specialists continue to recommend that residents get a third vaccine dose, with some provinces widening eligibility for fourth doses to all adults.
Toronto epidemiologist Dr. Prabhat Jha told CTV News Channel on July 11 that along with masking indoors, a third dose will offer the best protection against a fall wave of COVID-19.
He also believes the definition of being "fully vaccinated" should change to three doses, although uptake has lagged compared to first and second doses.
As of June 27, almost 56 per cent of people 12 and older have received at least one booster, the Public Health Agency of Canada reports.
"Politicians have lost interest and the public has lost interest, but that remains the single most important strategy and I would like to see a much clearer push on those before we even talk about fourth doses, which are relevant but only for a really subset of the population," Jha said.
Dr. Dale Kalina, an infectious disease physician at Joseph Brant Hospital in Burlington, Ont., told CTV News Channel on July 9 that the current vaccines are still doing a good job of preventing severe disease.
"Of course, the importance of three doses of a vaccine for the vast majority of people can't be understated," he said.
"And then of course adding to that four doses, in general for people whose immune systems aren't going to respond as well, and I think that's where we are right now with respect to vaccines."
But even if hospitalizations and deaths don't reach levels seen in past waves, greater spread of the virus will have an effect on society, whether it's from more people developing long-COVID symptoms or having to miss work, particularly in hospitals, Montreal-based epidemiologist and cardiologist Dr. Christopher Labos told CTV News Channel on July 7.
"If we continuously allow COVID to just infect large swaths of the population, we are going to have a huge number of people left with debilitating symptoms and that's going to make it hard for society to function," he said.
"When we talk about living with COVID, we're not going to be able to live with COVID if everybody is sick."
With files from CTV News and The Canadian Press
Indian government warns of rise in hate crimes, 'anti-India activities' in Canada – CBC News
The Indian government says there's been a rise in "hate crimes, sectarian violence and anti-India activities" in Canada and is warning Indian nationals in the country, including students, to be on the alert.
The news release issued by the Indian Ministry of External Affairs on Friday did not say what prompted the warning. It said the ministry and Indian diplomats have brought several incidents to the attention of Canadian authorities. It also said the alleged perpetrators have not been brought to justice.
"In view of the increasing incidences of crimes as described above, Indian nationals and students from India in Canada and those proceeding to Canada for travel/education are advised to exercise due caution and remain vigilant," the release said.
The release also did not point to any data or evidence of an increase in hate crimes.
CBC News has reached out to the Indian Ministry of External Affairs for more details but has not received a response. A number of Canadian federal government departments also have not responded to CBC's queries.
Latest advisory for Indian Nationals and Students from 🇮🇳 in 🇨🇦 <a href="https://twitter.com/cgivancouver?ref_src=twsrc%5Etfw">@cgivancouver</a> <a href="https://twitter.com/IndiainToronto?ref_src=twsrc%5Etfw">@IndiainToronto</a> <a href="https://twitter.com/MEAIndia?ref_src=twsrc%5Etfw">@MEAIndia</a> <a href="https://t.co/0YZo6KGZFU">https://t.co/0YZo6KGZFU</a>

&mdash;@HCI_Ottawa
Earlier this week, Sikh organizers held what they called a referendum in Brampton, Ont. on whether there should be an independent Sikh state in northern India called Khalistan.
Proponents of Khalistan seek to establish a Sikh homeland in India's Punjab region. The movement's activities in Canada have caused tension between the Canadian and Indian governments, and also internally within the Liberal caucus.
Capt. Amarinder Singh, the former chief minister of Punjab, has even accused senior ministers in the Trudeau government of sympathizing with the movement — accusations they've denied.
The advisory was issued a day after an Indian government official condemned the Brampton vote in a news conference.
Arindam Bagchi, a spokesperson for the Indian Ministry of External Affairs, called it a "farcical exercise" and said it was held by "extremists and radical elements."
Bagchi added that the matter has been brought up with the Canadian government through diplomatic channels.
"The government of Canada has reiterated that they respect the sovereignty and territorial integrity of India, and that they will not recognize the so-called referendum," Bagchi said.
Statistics Canada said in a report earlier this year that there were 119 police-reported hate crimes in Canada targeting the South Asian population in 2020 — an increase of 38 incidents over 2019.
Police investigating vandalism incidents
Earlier this week, a Hindu temple in Toronto was defaced with the word "Khalistan" as well as "Death to India" in Urdu.
A spokesperson for Toronto Police told CBC News on Friday that the investigation is ongoing and they have not identified a suspect.
"The Hate Crime Unit has not seen a notable trend in hate crimes against people of Indian/South Asian descent," the spokesperson said.
"We do understand that underreporting of hate crimes is a challenge and that the numbers reported may not accurately reflect what is occurring in our city."
In July, vandals defaced a statue of Indian civil rights activist Mahatma Gandhi in Richmond Hill — again, with the word "Khalistan." York Regional Police said they're investigating the vandalism as a hate crime.
A spokesperson for York police told CBC News Friday that they have not identified any suspects yet.
Statement is intimidation, expert says
Chinnaiah Jangam, an associate professor of history at Carleton University who specializes in South Asia, said the threat to Indian nationals alleged in the advisory is exaggerated.
"Though there is a right-wing extremism asserting [itself in Canada], I don't think there is any threat to any minorities here," Jangam told CBC News.
He said the target audience for the advisory may not be Indian nationals in Canada but rather supporters of the ruling Hindu nationalist Bharatiya Janata Party (BJP) and its leader, Indian Prime Minister Narendra Modi — as well as BJP and Modi critics abroad.
"Most importantly, the issue of the statement has domestic implications in Indian politics," Jangam said.
"It is for consumption of [Modi's] own vote base in India, and also to basically suppress any sort of dissent toward India in North America."
Jangam has reported being the target of harassment and threats over his criticism of the Modi government and the BJP.
Tensions between local Indian Hindus and Muslims in Leicester, U.K., boiled over into unrest last week. The BBC reports that authorities arrested 47 people in relation to the incident.
Jangam said Indian government officials may be reacting to the events in Leicester by looking to suppress criticism of the Indian government's treatment of minorities.
"They are preparing some sort of ground," he said. "It's very concerning."
Online news bill could revive local papers in Canada, MPs told – The Globe and Mail
Ottawa's online news bill – which would force tech giants Google GOOGL-Q and Facebook META-Q to pay for reusing articles produced by Canadian news organizations – would help revive the flagging local news industry, spokesmen for papers across the country told a committee of MPs on Friday.
They said local papers, which have been closing across Canada, hemorrhaging staff and losing advertising revenue, could see a huge cash injection from tech giants and begin hiring again, if the bill becomes law.
"A weakened press, threatened with abandoning its mission and disappearing after decades of existence, is seriously endangering our democracy," said Benoit Chartier, chair of the board of Hebdos Quebec, which represents the province's independent local press. Mr. Chartier publishes a number of local papers, including Le Courrier de Saint-Hyacinthe, one of the oldest French language newspapers in North America.
Paul Deegan, president and CEO of News Media Canada, which represents big and small news organizations, said there is now a "significant imbalance of power between tech giants and Canadian news outlets."
He said the bill would enable small papers to join together to negotiate deals with Google and Facebook, which has been renamed Meta, for using their content.
Facebook, Google and Apple have already signed some partnerships with news organizations in Canada, including The Globe and Mail.
The architect of a similar law in Australia, which Canada's Bill C-18 is based on, told MPs that there has been a $200-million (Australian) annual injection into Australia's news industry, since the law was introduced.
Rod Sims, who was chair of the Australian Competition and Consumer Commission when it implemented its news media bargaining code, said the law had prompted Google and Facebook to do deals with almost all news outlets in Australia, including small newspaper groups.
The law has also led the Guardian, a British news outlet, to expand its Australian operations and hire many more journalists, he said.
Mr. Sims, a professor at the Australian National University, said the code's aim had been to address a massive imbalance in bargaining power between tech giants and media outlets that meant fair commercial deals could not be struck.
Like its Australian model, Canada's bill would force the tech giants to do deals with news outlets and pay for posting news or links to articles, if they have not already done so voluntarily.
David Skok, founder & CEO of The Logic, an independent news outlet focusing on business and technology, said the bill is "a backstop forcing publishers and platforms to come to the table for fair, equitable, and transparent agreements that don't privilege only those with negotiating power."
But Prof. Michael Geist, an expert in internet law at the University of Ottawa's law school, warned that the wording of Bill C-18 is flawed and likely to prompt legal challenges.
He said the bill contravenes several treaties, such as the Berne Convention, which aims to protect the rights of authors but allows the use of quotations, including those of newspaper articles.
"There is no question that this will be challenged on a number of different levels," he told the Commons heritage committee.
Jen Gerson, an independent journalist and co-founder of the Line, an online newsletter, expressed fear that the bill would "backfire spectacularly."
She said news publishers, rather than the platforms, benefit if Google or Facebook posts links to news articles. Ms. Gerson warned that Facebook and Google could respond to the law by "restricting access to mainstream news articles."
Australia's law led to a fierce backlash from the tech giants. Facebook protested by temporarily blocking news on its platform across Australia.
Google has written to each MP and senator saying there are multiple flaws in Bill C-18 as well as "misconceptions" about how an online-news law would work in practice.
The proposed law would prevent tech giants penalizing or giving preference to news organizations it has done deals with.
Google has said this could affect the way it ranks news on its search engine and moderates content. Currently the search engine elevates information from "trusted sources."
Fiona smashes into Atlantic Canada, washing away homes and knocking out power – CBC.ca
​​​​​​Hundreds of thousands of customers in Eastern Canada are without power as post-tropical storm Fiona brings intense, hurricane-strength winds and torrential rains to swaths of Nova Scotia, Prince Edward Island, New Brunswick, Newfoundland and Quebec's Magdalen Islands.
Part of the town of Port aux Basques, N.L., has been placed under an evacuation order after storm surge swept away multiple homes and structures to sea. It's unclear if there are any casualties. The town has also declared a state of emergency.
Fiona made landfall in Nova Scotia shortly after 4 a.m. AT between Canso and Guysborough.
The Canso Causeway, which links Cape Breton to mainland Nova Scotia, is closed to high-sided vehicles.
As of 10:45 a.m. AT, more than 405,000 Nova Scotia Power customers were without electricity. The company says it has more than 525,000 customers. It said people can go the utility's outage map for estimated restoration times.
CBC Radio is providing live updates on Hurricane Fiona around the clock. Listeners are invited to call in to share their storm experiences and any emergency updates from their communities at 1-800-565-5550. Listen online via CBC Lite, which uses less data, or over the air (90.5 FM in Halifax, 92.1 FM in Sydney, 96.1 FM in Charlottetown or check your local frequency here).
P.E.I.'s Maritime Electric said more than 82,000 out of a possible 86,000 customers were without power.
N.B. Power was reporting more than 55,000 outages, concentrated in the province's southeast. The outages are mostly in areas the company groups as "Shediac Cap Pelé," "Moncton Riverview Dieppe" and "Sackville Port Elgin."
Conditions are like nothing we've ever seen. We are logging reports of downed trees and wires but will only be responding to emergency calls. -Dispatcher Kelly ☎️ <a href="https://t.co/gX7YPTPDSN">pic.twitter.com/gX7YPTPDSN</a>

&mdash;@ChtownPolice
Newfoundland Power was reporting 1,133 customers without power, and Hydro Quebec reported 4,232 without power in the Gaspésie–Îles-de-la-Madeleine region and1,684 in the Magdalen Islands.
Hurricane or tropical storm warnings are in place throughout most of Atlantic Canada and southern Quebec.
State of emergency declared in Cape Breton
The Cape Breton Regional Municipality and neighbouring Victoria County have declared a local state of emergency and are asking residents to stay at home.
The Canadian Red Cross has opened a shelter at Centre 200 in Sydney, N.S., however it was without power on Saturday morning. The municipality is planning to open additional comfort centres when local travel is safe.
North Sydney fire Chief Lloyd MacIntosh spoke with CBC News as he was transporting a woman from her home to a safe location after the roof blew off her house.
"We pulled up, well, literally half of the roof was gone," MacIntosh said. "It's been an adventurous night to say the least."
MacIntosh said there's been a lot of damage in North Sydney.
"Every intersection, every block of North Sydney is filled with trees. Trees have come down on homes, trees have come down on cars, there's buildings that have collapsed and there's quite a bit of damages," he said.
"The daylight will bring quite a few surprises for a few people."
Part of a steeple came down from St. Joseph Church in Cape Breton Regional Municipality, a building that's more than 100 years old.
Cellular networks spotty
Cellular networks were spotty across Nova Scotia and P.E.I. Saturday. Many were unable to get a cell signal to make calls or access internet.
Bell Aliant acknowledged the outages in a tweet posted Saturday morning. The telecom company they were working with utility companies to restore full power to their cellular sites as soon as possible.
"Numerous wireline and cell sites in Atlantic are impacted by power outages across the provinces. As battery back up power will begin to deplete, our teams will be activating generators to keep sites up and running," the company tweeted.
Rogers also tweeted they are aware of the outages and their local crews will work to get services up and running.
CBC News has contacted Bell Aliant and Rogers for an update on restoration times.
Tree fell on fire truck with crew inside
Erica Fleck, the assistant chief of Halifax Regional Fire and Emergency, said a tree fell on a fire truck that had a crew inside. There were live wires.
She said the fire crew stayed in the truck as Nova Scotia Power technicians worked to get the crew out safely.
"The power lines are down everywhere," she said. "It's not safe to be on the roads."
Fleck cautioned that response times will be longer because fire crews will have to remove downed trees that are in their way.
In a tweet, Environment and Climate Change Canada said the highest wind gust reported in Nova Scotia has been 179 km/h in Arisaig, north of Antigonish on Nova Scotia's coast.
CBC meteorologist Tina Simpkin said wind gusts of 100 km/h were recorded in Moncton, N.B., shortly after 6 a.m.
Wind gusts of up to 100 km/h are expected in some areas of the province over the next 24 hours, with sustained winds clocking in at 65 km/h.
'Like nothing we've ever seen': Charlottetown police
In a tweet, Charlottetown police said they are logging reports of downed trees and wires but are only responding to emergency calls.
"Conditions are like nothing we've ever seen," the force said in a post on Twitter.
CBC meteorologist Ryan Snoddon said the storm approached Nova Scotia at 64 km/h but slowed significantly as it arrived in the province. This will be a long-duration event for P.E.I. and eastern Nova Scotia, he said.
By 9 a.m., the centre of the storm will be moving to the western side of Cape Breton and it will slowly depart Nova Scotia.
Winds will ease in mid-to-late morning for central Nova Scotia and late afternoon or evening for eastern Nova Scotia, he said.
Nova Scotia Power's efforts to restore electricity are being hampered by strong winds.
"We're still seeing significant wind gusts, specifically Cape Breton," said Peter Gregg, company president and CEO. "Until those wind gusts come down, we won't be able to get crews out there. But we're making progress in Halifax."
Environment Canada said Fiona will reach the Quebec Lower North Shore and southeastern Labrador by late Saturday night.
The agency said severe winds and rainfall, large waves and storm surges were all occurring.
Environment Canada said rainfall will be significant, particularly north and west of Fiona's track, where it could lead to flooding. Some areas could see as much as 200 millimetres of rain. About 120 millimetres had already been reported in some weather stations in eastern Nova Scotia by 3 a.m.
Some waves along Nova Scotia's Eastern Shore could build to be more than 10 metres, with waves along southern Newfoundland on Saturday morning reaching higher heights.
"Waves over eastern portions of the Gulf of St. Lawrence and Cabot Strait could be higher than 12 metres," Environment Canada said.
While we wait for the NHC's official call, it looks like <a href="https://twitter.com/hashtag/Fiona?src=hash&amp;ref_src=twsrc%5Etfw">#Fiona</a> has recently made landfall between Canso and Guysborough. With an unofficial recorded pressure at Hart Island of 931.6 mb, this makes Fiona the lowest pressured land falling storm on record in Canada. <a href="https://t.co/TYo9G05sUz">pic.twitter.com/TYo9G05sUz</a>

&mdash;@ECCC_CHC
It said the western Gulf will see waves from the north up to eight metres in some places, "which will probably cause significant erosion for north-facing beaches of Prince Edward Island."
The forecaster said the Magdalen Islands will also see some coastal erosion from waves.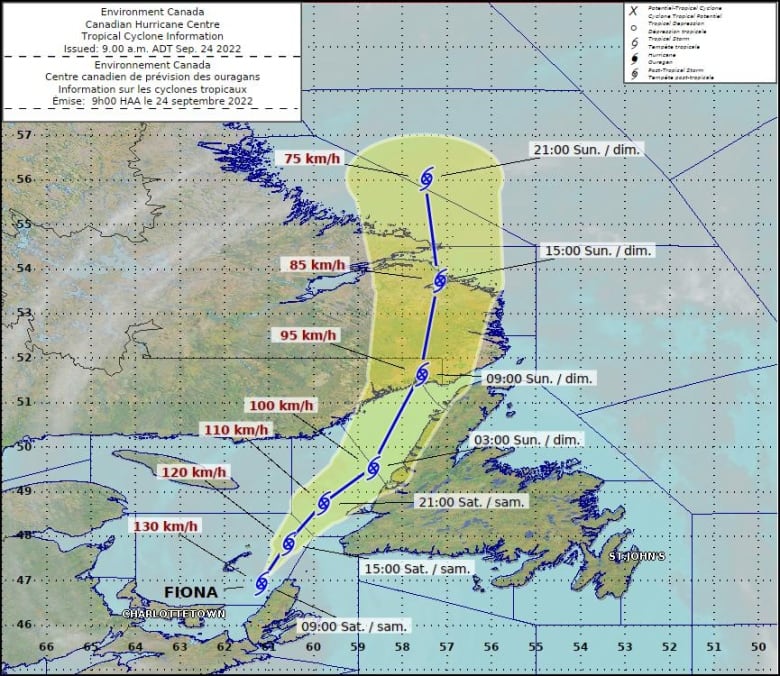 Coastal flooding is a big concern for Nova Scotia, Prince Edward Island, the Magdalen Islands, eastern New Brunswick and southwest Newfoundland.
"The highest risk for coastal flooding will be a combination of storm surge with large waves moving onshore," Environment Canada said.
Hurricane Fiona arrived in Nova Scotia as a post-tropical storm Saturday morning. In Halifax, the largest community impacted, as CBC's Ellen Mauro reports, there were widespread power outages and downed trees throughout the city.
"This is is definitely going to be one of, if not the most powerful tropical cyclones to affect our part of the country," said Ian Hubbard, meteorologist for the Canadian Hurricane Centre in Dartmouth, N.S. "It's going to be definitely as severe and as bad as any I've seen."
MORE TOP STORIES