COVID-19 vaccine update: Pfizer may be the frontrunner, but Canada has hedged its bets – The Conversation CA
Pfizer and BioNTech have surprised the world, and given it hope, with the preliminary results of the Phase 3 clinical trial of their coronavirus vaccine.
They announced on Nov. 9 that the early analysis of the data from the Phase 3 clinical trial, which is still ongoing, showed the vaccine was 90 per cent effective. The unexpectedly high figure still needs to be confirmed in larger numbers and over time. The vaccine is simple to manufacture, but its storage is more complex (the vaccine must be kept at very low temperatures). Large-scale production is expected to begin shortly.
Laboratories around the world are in a race to produce a COVID-19 vaccine. While the finish line is now in sight for Pfizer and BioNTech, the World Health Organization (WHO) lists 202 vaccine candidates, 47 of which are in human trials.
Canada has not put all its eggs in one basket in its plan to protect Canadians from the novel coronavirus. In addition to Pfizer and BioNTech, it has signed six other contracts: Moderna, Sanofi and GlaxoSmithKline, Johnson & Johnson, Novavax, AstraZeneca and Medicago. Canada recently announced it had reserved 56 million additional doses of vaccine from Pfizer and BioNTech, on top of the 20 million doses it had already purchased, bringing its order to 76 million.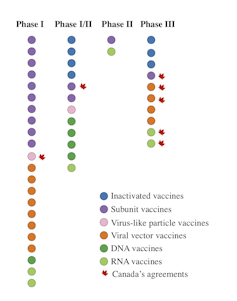 Canada has secured access to a total of 414 million doses of COVID-19 vaccines from different sources. More importantly, Canada has ensured that it has diversified the types of vaccines it will have.
Scientists are using different platforms to develop COVID-19 vaccines. Some vaccine candidates in clinical trials exploit mechanisms already used in other vaccines. Others are based on innovative approaches that have never been tested before. Here is an overview of the different types of vaccines.
Inactivated vaccines
Inactivated vaccines have been in use since the 1880s. The viruses in these vaccines have been rendered inactive by chemical treatment, as with SARS-CoV-2 candidate vaccines, or by physical treatment.
With this type of vaccine, the immune system encounters the virus in its entirety. It can mount a defence when it detects the viral spike protein (also called spicule or S-protein), envelope and nucleoprotein.
Currently, seven inactivated vaccine candidates are being tested in humans. Of these, three are in Phase 3 clinical trials. Unlike Phase 1 and Phase 2, which are used to evaluate a vaccine's tolerability, safety and ability to induce an immune response, a Phase 3 clinical trial allows scientists to test its efficacy.
Recombinant proteins
Recombinant protein vaccines fall into two categories: subunit and virus-like particle vaccines.
For subunit protein vaccines, a viral protein is produced in large quantities in a living "factory," such as a bacterium, plant, mammalian or insect cell. When the viral protein is presented to the immune system, it triggers a reaction.
The 13 subunit vaccine candidates currently in Phase 1, 2 or 3 clinical trials are composed of either the entire spike protein or a specific portion of the spike protein called the 'receptor binding domain'.
Virus-like particle vaccines are composed of a set of viral proteins that mimic the shape of the virus. This particle "pseudo-virus" is an empty shell, devoid of genetic material and non-infectious, but this does not prevent the immune system from recognizing it.
Viral vector vaccines
This approach is based on using a virus that is non-pathogenic or of little danger to humans. In the case of the 12 vaccine candidates of this type currently being studied in humans, the viral vectors are mostly adenoviruses. They represent a large group of viruses that can cause colds and conjunctivitis, among other symptoms.
Used as Trojan horses, these viruses are modified to express the SARS-CoV-2 spike protein following vaccination. Viral vector vaccines are a recent strategy, but were used in the development of the Ebola virus vaccine.
RNA and DNA vaccines
Despite differences in their composition, DNA and mRNA (messenger RNA) both contain genetic information for protein production. While an RNA molecule can directly produce that information, DNA requires an intermediate transcription step.
RNA or DNA vaccine candidates differ from other strategies in two ways. First, it is a novel strategy: there is no RNA or DNA vaccine on the market. Second, they are the only vaccine candidates composed solely of genetic material.
In the case of RNA vaccines, messenger RNA molecules are wrapped in lipid nanoparticles. Once the vaccine is injected, the RNA serves as a template for the body's cells to produce a viral protein — the spike protein, to be precise.
DNA vaccines, on the other hand, are made up of a circular DNA (called a plasmid). This DNA will be transcribed into RNA, which will again serve as a template.
Six RNA vaccine candidates are currently being tested in humans, two of which are in Phase 3. The five DNA vaccine candidates are in Phase 1 and 2 clinical trials.
Canada in the vaccine race
The following is an overview of each company that has an agreement with the federal government, the type of vaccine in development and the number of doses reserved by Canada.
Pfizer/BioNTech: 76 million doses reserved
BioNTech, in Germany, and Pfizer, in the United States, are jointly developing an RNA vaccine. This candidate encodes for the manufacture of the spike protein.
The Phase 3 clinical study is continuing with more than 43,000 patients in the U.S., Argentina, Brazil, Germany, Turkey and South Africa. The vaccine is reported to be more than 90 per cent effective and has not caused any serious side-effects.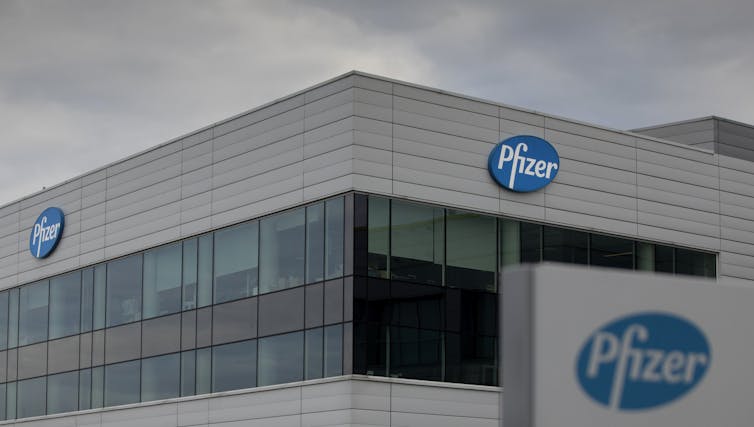 Despite these encouraging preliminary results, Pfizer and BioNTech have not yet crossed the finish line. Detailed data have not been published and questions remain, including the age and risk factors of the vaccinated individuals and the duration of protection. The clinical trial is ongoing and more data will be analyzed.
Moderna: 56 million doses reserved
The vaccine candidate of Moderna, a U.S.-based biotechnology company, is an RNA vaccine. Once injected, it allows the expression of the spike protein. Currently in Phase 3 clinical trials, the vaccine is being tested in 30,000 individuals in different regions across the United States.
Johnson & Johnson: 38 million doses reserved
Johnson & Johnson's candidate is a viral vector vaccine composed of a human adenovirus that has been modified to render it incapable of multiplying, but capable of expressing the SARS-CoV-2 spike protein. The Phase 3 clinical trial, which began in September 2020, is taking place in several countries and will involve 60,000 participants.
AstraZeneca/University of Oxford: 20 million doses reserved
Oxford University is partnering with AstraZeneca on a viral vector vaccine. The vaccine candidate is composed of a modified chimpanzee adenovirus that expresses the spike protein. It is in Phase 3 clinical trials.
Novavax: 76 million doses reserved
The vaccine candidate of Novavax, a U.S. company, is based on the recombinant protein strategy. It is composed of the spike protein and an adjuvant, a booster used in vaccines to increase the immune response. The Phase 3 clinical trial began in September 2020 and involves 10,000 participants in the United Kingdom.
Sanofi/GSK: 72 million doses reserved
The candidate from the French company Sanofi and the British giant GlaxoSmithKline (GSK) is composed of an adjuvant and recombinant version of the spike protein, produced in a living factory (baculoviruses). Phase 1 and 2 clinical trials are currently testing its safety, tolerability and ability to induce an immune response.
Medicago: 76 million doses reserved
Developed by the Québec-based company Medicago, this vaccine candidate is composed of virus-like particles. These are produced in plants infected with bacteria that have been genetically modified to produce several SARS-CoV-2 proteins. These plants thus become production plants.
Researchers can extract the particles from the leaves and purify them. Medicago's vaccine candidate is currently in Phase 1 clinical trials and results are also promising.
Looking to buy local? Small Business Saturday could be your best chance – Global News
A new retail shopping event has arrived, encouraging consumers to support local, independent businesses during the holiday season.
Small Business Saturday, wedged between Black Friday and Cyber Monday, is the latest sales campaign aimed at holiday shoppers.
But unlike its larger retail counterparts, which tend to shine a spotlight on big box stores, Small Business Saturday suggests consumers support their neighbourhood mom-and-pop shops.
[ Sign up for our Health IQ newsletter for the latest coronavirus updates ]
The day comes during the critical holiday shopping season as many small businesses struggle to survive the second wave of the COVID-19 pandemic.

2:06


Shoppers brave crowds and COVID-19 risks for Black Friday bargains



Laura Jones, executive vice-president of the Canadian Federation of Independent Business, says 2020 has been one of the toughest year's ever for many businesses.
She says the retail event is urging people to support small businesses online, using curbside pick-up or in-person shopping where possible.
© 2020 The Canadian Press
Nova Scotia reports 14 new cases of COVID-19 Saturday – HalifaxToday.ca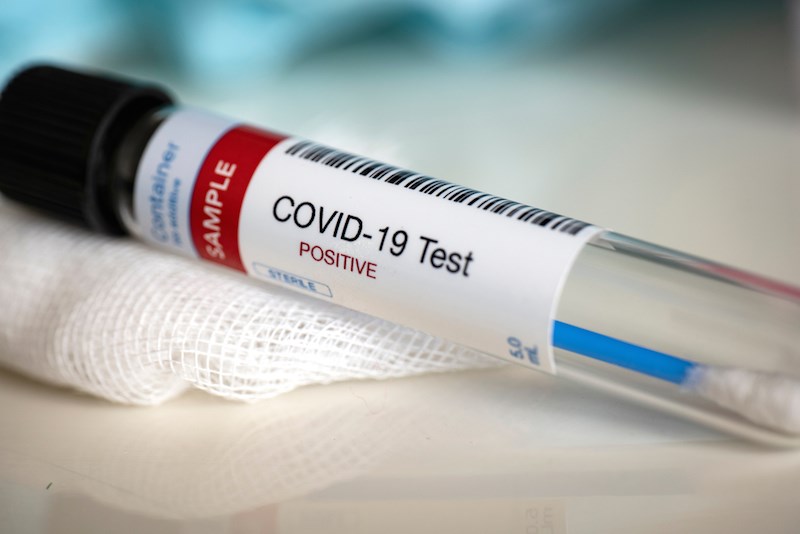 NEWS RELEASE
COVID-19/HEALTH/WELLNESS
*************************
As of today, Nov. 28, Nova Scotia has 125 active cases of COVID-19. Fourteen new cases are being reported today.
Twelve cases are in Central Zone, one is in Western Zone and one in Northern Zone.
"Black Friday weekend usually draws crowds from across the province to the Halifax area to shop, but that must change this year," said Premier Stephen McNeil. "I want to remind all Nova Scotians that we are asking you to avoid non-essential travel in and out of western and central HRM and parts of Hants County. If you are doing some shopping this weekend, it's best to stay close to home and buy local. You'll be supporting the businesspeople in your community and doing your part to slow the spread of COVID-19."
Nova Scotia Health Authority's labs completed 3,644 Nova Scotia tests on Nov. 27.
There were 670 tests administered at the rapid-testing pop-up site in Dartmouth yesterday and three positive results. The individuals were directed to self-isolate and have been referred for a standard test.
Since Oct. 1, Nova Scotia has had 42,989 negative test results, 190 positive COVID-19 cases and no deaths. No one is currently in hospital. Cases range in age from under 10 to over 70. Sixty-five cases are now resolved. Cumulative cases may change as data is updated in Panorama.
"A few days ago, we introduced new restrictions in Halifax and Hants County. I know it's not easy, but it will allow us to slow the spread of COVID-19," said Dr. Robert Strang, Nova Scotia's chief medical officer of health. "The retail sector and restaurant and bar owners have all stepped up and adapted to ensure they continue to follow all public health measures. Now it is up to Nova Scotians to ensure they are doing their part to limit the spread of COVID-19."
Visit https://covid-self-assessment.novascotia.ca/ to do a self-assessment if in the past 48 hours you have had or you are currently experiencing:
— fever (i.e. chills/sweats) or cough (new or worsening)
Or:
Two or more of the following symptoms (new or worsening):
— sore throat
— runny nose/ nasal congestion
— headache
— shortness of breath
Call 811 if you cannot access the online self-assessment or wish to speak with a nurse about your symptoms.
When a new case of COVID-19 is confirmed, public health works to identify and test people who may have come in close contact with that person. Those individuals who have been confirmed are being directed to self-isolate at home, away from the public, for 14 days.
Anyone who has travelled outside of Atlantic Canada must self-isolate for 14 days. As always, any Nova Scotian who develops symptoms of acute respiratory illness should limit their contact with others until they feel better.
It remains important for Nova Scotians to strictly adhere to the public health order and directives — practise good hand washing and other hygiene steps, maintain a physical distance when and where required. Wearing a non-medical mask is mandatory in most indoor public places.
Rules concerning interprovincial travel within Nova Scotia, New Brunswick, Prince Edward Island and Newfoundland and Labrador have changed. The premiers of all four Atlantic provinces are cautioning against non-essential travel into neighbouring provinces. Currently, all non-essential travel into Prince Edward Island, New Brunswick and Newfoundland and Labrador requires a 14-day self-isolation. All public health directives of each province must be followed. Under Nova Scotia's Health Protection Act order, visitors from outside Atlantic Canada must self-isolate for 14 days unless they completed their self-isolation in another Atlantic province.
Nova Scotians can find accurate, up-to-date information, handwashing posters and fact sheets at https://novascotia.ca/coronavirus. Due to technical difficulties, the website will not be updated today.
Businesses and other organizations can find information to help them safely reopen at https://novascotia.ca/reopening-nova-scotia.
Quick Facts:
— testing numbers are updated daily at https://novascotia.ca/coronavirus
— a state of emergency was declared under the Emergency Management Act on March 22 and extended to Dec. 13
— online booking for COVID-19 testing appointments is available for Nova Scotians getting a test at all primary assessment centres or at the IWK Health Centre in Halifax
— ongoing voluntary testing has been introduced to monitor, reduce and prevent the spread of COVID-19 in long-term care. Volunteers, designated caregivers and employees who provide direct care to residents will be tested every two weeks. The ongoing testing will start at three long-term care locations: Northwood, Ocean View and St. Vincent's and will expand to six more facilities over the next two weeks
Additional Resources:
Government of Canada: https://canada.ca/coronavirus
Government of Canada information line 1-833-784-4397 (toll-free)
The Mental Health Provincial Crisis Line is available 24/7 to anyone experiencing a mental health or addictions crisis, or someone concerned about them, by calling 1-888-429-8167 (toll-free)
Kids Help Phone is available 24/7 by calling 1-800-668-6868 (toll-free)
For help or information about domestic violence 24/7, call 1-855-225-0220 (toll-free)
For more information about COVID-19 testing and online booking, visit https://novascotia.ca/coronavirus/symptoms-and-testing/
The COVID-19 self-assessment is at https://covid-self-assessment.novascotia.ca/
*************************
What happens if someone refuses vaccination? Ethicists urge clarity on COVID-19 rollout – CTV News
TORONTO —
When the first doses of COVID-19 vaccines finally arrive in Canada, the country will need to grapple with a series of difficult questions that ethicists fear we haven't spent enough time answering.
For example, which groups should get vaccinated after those most vulnerable? How long will it take for everyone to get their shot? And what happens if a person refuses to get vaccinated?
The clock is ticking to address those questions. Pfizer's vaccine candidate, which is more than 90-per-cent effective according to the company's preliminary results, could be approved for use in Canada before Christmas, according to Health Canada's chief medical adviser.
Kerry Bowman, a bioethicist and assistant professor at the University of Toronto's faculty of medicine, said the lack of clarity on a number of key issues involving Canada's rollout is "beginning to make people very anxious."
"Because we don't really have a clear plan yet. Or if we do, it's not available and transparent to the majority of Canadians," Bowman told CTV News.
WHO GETS VACCINATED FIRST?
Federal health authorities have not released a comprehensive list of what order the vaccine will be delivered. For now, four key groups have been given priority to receive the vaccine, according to recommendations from the National Advisory Committee on Immunization.

Those groups include those at risk of severe illness and death (such as the elderly or those with pre-existing conditions), essential workers most likely to transmit the disease (such as health-care workers), those at risk who live in communities that could suffer disproportionate consequences (such as isolated Indigenous communities), and other workers providing services that contribute to "the functioning of society."
The committee purposefully left those definitions broad so that policy-makers tasked with plotting provincial roll-outs could define them as they see fit.
But after those groups, who comes next?
Research suggests racialized Canadians are at higher risk than white Canadians of having pre-existing conditions that could put them at risk of severe outcomes from COVID-19.
Employers whose businesses have been sidelined due to COVID-19 will also be among those most keen to get vaccinated. A recent Statistics Canada survey suggested that five per cent of businesses were actively considering bankruptcy or closure this fall. Anxieties are running highest among the arts, entertainment and hospitality industries, with nearly 30 per cent worried they'll need to resort to layoffs, bankruptcy or closure within six months.
Whatever happens, there will inevitably be a period of time in 2021 when the limited supply of vaccines will create a society of haves and have-nots. Those months will be challenging, says Alison Thompson, an ethicist with the University of Toronto.
"This is very concerning because then we have a society that is really a two-tiered society that is based on some kind of biological grounds," she said.
CAN YOU REFUSE THE VACCINE?
It's impossible for anyone to be forced to take the COVID-19 vaccine once it's available. But there could be real-life consequences to refusal.
"People that don't want the vaccine, we all know, have an absolute right not to have it. I mean, it is their bodies without question," Bowman said. "But that is an ethical concern because what will likely happen to people within that group is more and more opportunities may slowly be shut off to them."
For instance, individuals who aren't vaccinated may miss out on returning to the workplace or could face other restrictions involving group gatherings.
To make matters trickier, the vaccine will not be immediately available for certain groups. Pregnant women and children, who are not involved in clinical trials of the experimental vaccines, will be excluded from vaccination until more clinical trial data is available.
This exemption may be inconvenient, but it's standard in these sorts of trials for safety reasons, Thompson said.
"Pregnant women are often excluded from clinical trials on many pharmaceutical products, including vaccines, because of the risk to the fetus that she carries and her own health," she said.
IMMUNITY PASSPORTS?
The idea of "immunity passports" was floated early on in the pandemic as some governments expressed optimism that individuals who'd recovered from COVID-19 and tested positive for virus-fighting antibodies could be given greater freedoms to travel or return to work.
However, the World Health Organization dismissed the idea, saying there wasn't enough evidence yet on the effectiveness or longevity of immunity through antibodies.
Vaccines may give new attention to the notion of "immunity passports" — a possibility that Thompson said needs to be handled thoughtfully.
"I think we need to think very carefully about how we use people's immune status to grant them access to employment and travel and things like that," she said.
WHAT HAPPENS IF SOMEONE SUFFERS SIDE EFFECTS?
All vaccines currently being study are tested for both their effectiveness and safety. Before reaching the general public, Health Canada needs to approve that the vaccine is safe enough for public use. 

Even so, there's a chance that some individuals could suffer long-term side effects from a COVID-19 vaccine, Bowman said. It's simply too early to know for certain.
"I have never heard of a vaccine that is 100-per-cent bulletproof safe, and I have no belief that this will be any different."
However, he added: "It all sounds very good so far."
In the event that someone suffers negative side effects of the vaccine, some advocates believe they should be financially compensated. At least 19 countries already have programs in place that compensate individuals injured by vaccines, but Canada does not, except for Quebec.
Thompson said it's time for Canada to consider its own national compensation program.
"There are things we can be doing from the government side, to really help people view (vaccines) as more trustworthy," she said, pointing to such a program.
CAN YOU CHOOSE WHICH VACCINE YOU WANT?
With several vaccine candidates in the race to be approved first, with Pfizer and Moderna leading the pack, it's possible that Canada could have several different vaccines on the market in 2021. However, experts told CTVNews.ca last week that there is no health benefit to receiving more than one type of vaccine.

As for personal choice, it's unlikely that Canadians will have the option to choose which vaccine they want.
"I suspect that choice will not be an issue as the vaccines arrive in Canada. There will be a strategy to roll out vaccination, prioritizing the most vulnerable and front-line workers," said Dr. Eleanor Fish, an immunology professor at the University of Toronto.
In the face of so many looming questions, Bowman said it's important to "get this right."
"So much of vaccine distribution is tied to ethics now," he said. "It's going to be a challenge."