Covid vaccine: First 'milestone' vaccine offers 90% protection – BBC News


.css-94m6rd-HeadingWrapperborder-bottom:solid 1px #BABABA;padding-bottom:1.5rem;.css-94m6rd-HeadingWrapper > *:not([hidden]):not(style) ~ *:not([hidden]):not(style)margin-top:1rem;.css-vk3nhx-ComponentWrappermargin:1.5rem 0;
.css-1759m9z-StyledFigurefont-family:ReithSans,Helvetica,Arial,freesans,sans-serif;font-weight:400;font-size:0.875rem;line-height:1.125rem;
.css-uf6wea-RichTextComponentWrappermargin:1rem 0;max-width:36.25rem;
.css-83cqas-RichTextContainercolor:#3F3F42;.css-83cqas-RichTextContainer > *:not([hidden]):not(style) ~ *:not([hidden]):not(style)margin-top:1rem;
.css-14iz86j-BoldTextfont-weight:bold;The first effective coronavirus vaccine can prevent more than 90% of people from getting Covid-19, a preliminary analysis shows.
The developers – Pfizer and BioNTech – described it as a "great day for science and humanity".
Their vaccine has been tested on 43,500 people in six countries and no safety concerns have been raised.
The companies plan to apply for emergency approval to use the vaccine by the end of the month.
No vaccine has gone from the drawing board to being proven highly effective in such a short period of time.
There are still huge challenges ahead, but the announcement has been warmly welcomed with scientists describing themselves smiling "ear to ear" and some suggesting life could be back to normal by spring.
"I am probably the first guy to say that, but I will say that with some confidence," said Sir John Bell, regius professor of medicine at Oxford University.
.css-1pzprxn-BulletListContainermargin-left:1.5rem;.css-1pzprxn-BulletListContainer *:not([hidden]):not(style) ~ *:not([hidden]):not(style)margin-top:1rem;.css-1pzprxn-BulletListContainer ullist-style-type:disc;.css-1pzprxn-BulletListContainer ollist-style-type:decimal;
.css-yidnqd-InlineLink:linkcolor:#3F3F42;.css-yidnqd-InlineLink:visitedcolor:#696969;.css-yidnqd-InlineLink:link,.css-yidnqd-InlineLink:visitedfont-weight:bolder;border-bottom:1px solid #BABABA;-webkit-text-decoration:none;text-decoration:none;.css-yidnqd-InlineLink:link:hover,.css-yidnqd-InlineLink:visited:hover,.css-yidnqd-InlineLink:link:focus,.css-yidnqd-InlineLink:visited:focusborder-bottom-color:currentcolor;border-bottom-width:2px;color:#B80000;@supports (text-underline-offset:0.25em).css-yidnqd-InlineLink:link,.css-yidnqd-InlineLink:visitedborder-bottom:none;-webkit-text-decoration:underline #BABABA;text-decoration:underline #BABABA;-webkit-text-decoration-thickness:1px;text-decoration-thickness:1px;-webkit-text-decoration-skip-ink:none;text-decoration-skip-ink:none;text-underline-offset:0.25em;.css-yidnqd-InlineLink:link:hover,.css-yidnqd-InlineLink:visited:hover,.css-yidnqd-InlineLink:link:focus,.css-yidnqd-InlineLink:visited:focus-webkit-text-decoration-color:currentcolor;text-decoration-color:currentcolor;-webkit-text-decoration-thickness:2px;text-decoration-thickness:2px;color:#B80000;Stock markets rocket on Covid vaccine hopes
.css-mysbf6-ComponentWrapper-CrossheadComponentWrappermargin:1.5rem 0;max-width:50rem;padding-top:1rem;max-width:36.25rem;
.css-1jlqpzd-StyledHeadingfont-family:ReithSerif,Helvetica,Arial,freesans,sans-serif;font-weight:500;font-size:1.5rem;line-height:1.75rem;color:#3F3F42;@media (min-width:37.5rem).css-1jlqpzd-StyledHeadingfont-size:2rem;line-height:2.25rem;.css-1jlqpzd-StyledHeading:focusoutline-style:none;.css-1jlqpzd-StyledHeading:focus-visibleoutline-style:auto;
How effective could it be?
A vaccine – alongside better treatments – is seen as the best way of getting out of the restrictions that have been imposed on all our lives.
The data shows that two doses, three weeks apart, are needed. The trials – in US, Germany, Brazil, Argentina, South Africa and Turkey – show 90% protection is achieved seven days after the second dose.
However, the data presented is not the final analysis as it is based on only the first 94 volunteers to develop Covid so the precise effectiveness of the vaccine may change when the full results are analysed.
Dr Albert Bourla, the chairman of Pfizer, said: "We are a significant step closer to providing people around the world with a much-needed breakthrough to help bring an end to this global health crisis."
Prof Ugur Sahin, one of the founders of BioNTech, described the results as a "milestone".
.css-18mjolk-ComponentWrappermargin:1.5rem 0;max-width:50rem;
When will the vaccine be available?
A limited number of people may get the vaccine this year.
Pfizer and BioNTech say they will have enough safety data by the third week of November to take their vaccine to regulators.
Until it has been approved it will not be possible for countries to begin their vaccination campaigns.
The two companies say they will be able to supply 50 million doses by the end of this year and around 1.3 billion by the end of 2021. Each person needs two doses.
The UK should get 10 million doses by the end of the year, with a further 30 million doses already ordered.
Who would get it?
Not everyone will get the vaccine straight away and countries are each deciding who should be prioritised.
Hospital staff and care home workers will be near the top of every list because of the vulnerable people they work with, as will the elderly who are most at risk of severe disease.
The UK is likely to prioritise older resident in care homes and the people that work there.
People under 50 and with no medical problems are likely to be last in the queue.
Are there any potential problems?
There are still many unanswered questions as this is only interim data.
We do not know if the vaccine stops you spreading the virus or just from developing symptoms. Or if it works equally well in high-risk elderly people.
The biggest question – how long does immunity last – will take months or potentially years to answer.
There are also massive manufacturing and logistical challenges in immunising huge numbers of people, as the vaccine has to be kept in ultra-cold storage at below minus 80C.
The vaccine appears safe from the large trials so far but nothing, including paracetamol, is 100% safe.
How does it work?
There are around a dozen vaccines in the final stages of testing – known as a phase 3 trial – but this is the first to show any results.
It uses a completely experimental approach – that involves injecting part of the virus's genetic code – in order to train the immune system.
Previous trials have shown the vaccine trains the body to make both antibodies – and another part of the immune system called T-cells to fight the coronavirus.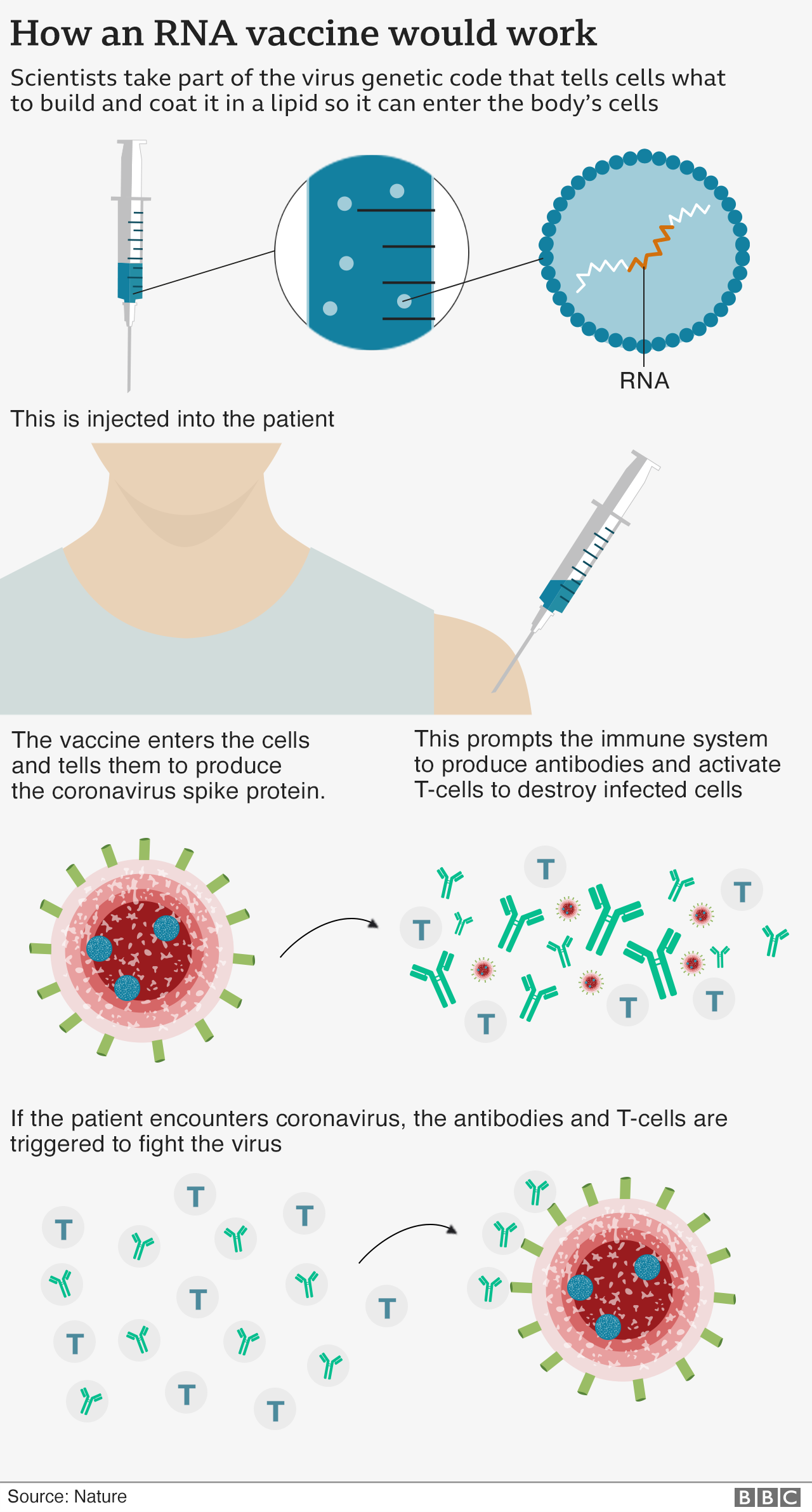 What has the reaction been?
The UK's chief medical advisor Prof Chris Whitty said the results showed the "power of science" and was a "reason for optimism" for 2021.
.css-1kgou70-ComponentWrapper-IncludeComponentWrappermargin:1.5rem 0;.css-1kgou70-ComponentWrapper-IncludeComponentWrapper iframemax-width:100%;
Preliminary news that the Pfizer/BioNTech vaccine is effective demonstrates the power of science against COVID. We must see the final safety and efficacy data, but it is very encouraging.

It is essential we continue to suppress COVID, but it is a reason for optimism for 2021.

— Professor Chris Whitty (@CMO_England) November 9, 2020
The US president-elect Joe Biden said it was "excellent news".
"It is also important to understand that the end of the battle against Covid-19 is still months away," he added.
The UK Prime Minister's official spokesman said the results were "promising" and that "the NHS stands ready to begin a vaccination programme for those most at risk once a Covid-19 vaccine is available".
Prof Peter Horby, from the University of Oxford, said: "This news made me smile from ear to ear.
"It is a relief… there is a long long way to go before vaccines will start to make a real difference, but this feels to me like a watershed moment."


.css-po6dm6-ItalicTextfont-style:italic;Follow James on Twitter


.css-i4prj8-CommentsWrappermargin:0.5rem 0;.css-144ki52-SectionWrappermargin:1.5rem 0;padding-top:1.5rem;
COVID-19: B.C. ready for vaccine distribution by January, says provincial health officer – Gananoque Reporter
371 people have died from COVID-19 since March, including a record 13 reported on Wednesday
Rapid COVID-19 testing is on its way in B.C. and the province will be vaccine-ready by January, the provincial health officer said Wednesday.
Dr. Bonnie Henry reported a record day for COVID-19 deaths in B.C. with 13 deaths between noon on Tuesday and noon on Wednesday, with 738 new cases.
Henry said the federal government had given the province 131 ID Now rapid-test machines that can provide a result in less than 15 minutes, and 27,000 test kits. B.C. also has 500,000 COVID-19 antibody tests.
"We are expecting more of the tests to arrive, both the machines and the test kits, in the coming months," Henry said. "And we will be looking at how to best deploy them across the province to rapidly detect outbreaks."
Henry said these rapid tests still required a nasopharyngeal swab, which was uncomfortable for the person being tested.
These were not same test used by the film industry in B.C. or by the NHL during the playoffs.
Henry said the downside of a rapid test was that it could not detect COVID when the person had no symptoms.
"Right now, we're limited in how we can use these," she said.
"They are also only licensed for use in people who are symptomatic – so people who have symptoms. And we know that even in that case, they're not as sensitive. They're not as able to pick up the virus as the regular NAT tests that we do on an ongoing basis that go to the lab."
She said a promising development was a self administered swab that would go into the nose, but not all the way back to the throat. Rapid testing still requires a health-worker to insert the swab, she said.
Henry said the bright light in this second wave of B.C.'s COVID fight was that vaccines were in sight.
Two vaccines have received emergency use approval – Pfizer and Moderna – and both have deals in place to supply the Canadian government.
She said a B.C. COVID-19 vaccine program has been created and she was confident the B.C. Centre for Disease Control would be ready to distribute either the Pfizer or Moderna vaccine in January 2021.
"We know, for example, that the Pfizer vaccine will come in frozen trays of 975 doses and it has to be reconstituted," Henry said.
The federal government has not revealed how the vaccines will distributed to the provinces.
"But we expect and what we're planning for is first week of January, week 1 of 2021, to be ready to deliver the Pfizer and Moderna vaccines. And we will have phases after that."
COVID-19 cases in Fraser Health were underreported between Nov. 17-24 by 255 cases due to data transfer errors, Henry said.
The reporting gaps between the laboratories and the health authority during those days were detected on Tuesday.
Some days were under-reported and some were over-reported, with and overall 255 cases not reported. The new data will appear on the B.C. Centre for Disease Control website within two days, Henry said.
Fraser Health has been a COVID hotbed in B.C., accounting for around 70 per cent of cases.
There have been 108 deaths so far in November, mostly in Fraser Health.
Henry said that of the 7,616 active cases of the disease, 294 people were in hospital including 61 in intensive care.
Health Minister Adrian Dix said B.C. hospital beds were 72.3 per cent full, while 66 per cent of intensive care beds are occupied.
Henry said there had been no new health-care facility outbreaks. There are 57 active health-care outbreaks, with 52 in long-term care homes. There were no new community outbreaks reported in B.C., while the Royal Columbian Hospital in New Westminster has been declared over.
Henry said her office was reviewing its tougher COVID-19 restrictions as the Dec. 7 expiry loomed.
"We are looking at every option that we have. We've never had a lockdown in that sense here in B.C., and we are looking at the important things that we can do to make a difference where transmission is happening.
"We are going through all of the options over the next ten days to two weeks. So by Dec. 7, we will know what we need to do from here."
---
Get the latest COVID-19 news delivered to your inbox weeknights at 7 p.m. by subscribing to our newsletter here.
---
CLICK HERE to report a typo.
Is there more to this story? We'd like to hear from you about this or any other stories you think we should know about. Email vantips@postmedia.com.
Manitoba's COVID-19 vaccine task force is waiting on Ottawa: provincial health minister – CBC.ca
Manitoba's health minister says a team of public servants, minus the province's top doctor, has been enlisted to get a COVID-19 vaccine into the arms of as many people as possible.
But Cameron Friesen said the provincial task force is restrained by circumstances beyond their control.
"There is only so much advanced planning that we can do until we are in need of the detail that only the federal government can provide," Friesen told reporters Wednesday.
As the first batch of COVID-19 vaccines is slated to arrive by early 2021, Manitoba insists its task force devoted to the coveted shot in the arm is doing everything possible, before then.
The province said the task force is preparing for the needs of each vaccine candidate, such as freezer capacity, by identifying the resources Manitoba already has and those it still requires.
The group is speaking with key stakeholders, participating on national vaccine committees and ensuring the province has the means of tracking new vaccines from inventory to uptake, the government said in an email.
The task force will also make decisions on vaccine priority groups, as well as the logistics of receiving, storing and distributing it.
"This work involves significant risks, it involves significant contingency planning," Friesen said.
"But those things, we will be ready for. We need the federal government, though, to say what's happening."
Friesen went on to cite the United States' COVID-19 task force, named Operation Warp Speed, and implied that Canada's effort might be lagging behind.
"It seems that we have a slow-lane approach to vaccine, at least expressed thus far from the federal government," Friesen said.
Ottawa has deals in place to buy the vaccine and distribute them to provinces and territories, but Friesen said over the past week that Manitoba doesn't know much in terms of vaccine, distribution and storage planning.
He said a phone call Tuesday involving his federal counterpart, Patty Hajdu, didn't alleviate his concerns.
Premier Brian Pallister told a national audience on CBC's Rosemary Barton Live Sunday that Manitoba needs national criteria to ensure fairness in distributing a vaccine. He added that vulnerable people and health-care workers are expected to be first in line.
WATCH | Manitoba's premier says vaccine rollout should be equitable:
Brian Pallister cautions against 'piecemeal' plans for access to COVID-19 vaccines and wants a standard in place across all provinces and territories. 1:28
The province said in an email Wednesday that Manitoba has received an estimate on the number of available vaccine doses from the federal government, but would not reveal what that number is.
Other provinces, including Saskatchewan and Ontario, have revealed an estimated dosage.
Manitoba's task force will be comprised of staff from various government departments, including Health, Seniors and Active Living, Finance, and Central Services.
Dr. Brent Roussin will not be at the table, Friesen confirmed.
"Our chief provincial public health officer is very busy with his assigned duties, so therefore, we cannot task him also with this," Friesen said, "but we have expertise here. We have taken a whole-of-government approach."
The NDP's health critic said Roussin's voice shouldn't be missing from the table.
"I was surprised to hear that Dr. Roussin wouldn't be taking the lead in terms of what the vaccine's going to look like once it reaches Manitoba and how that those decisions are going to be made," Uzoma Asagwara said.
They added that the province should focus less on blaming Ottawa and more on preparing.
"We know it ends up with us being in a position to react instead of being proactive," Asagwara said.
"Where they've made many mistakes during this pandemic," Asagwara said of the government, "this is an opportunity to get it right."
Doctors Manitoba wants to be consulted
Doctors Manitoba, which represents physicians in the province, has yet to be consulted by provincial officials on vaccine rollout. President Dr. Cory Baillie hopes that will change.
"At this point, we'd like to ensure that physicians are involved in deciding who receives the vaccine first and ensure that physicians are involved in giving the vaccine," he said.
"We know that physicians have built up trust with their patients and we think building on that trust is going to be very important in order to ensure maximum uptake in the population of the coronavirus vaccine."
Friesen has previously said the vaccine distribution plan will be guided, in part, by the annual flu vaccination campaign, with some notable distinctions.
Anti-maskers need to reflect on the true meaning of 'injustice,' B.C. health officials say – CBC.ca
B.C.'s health minister is imploring belligerent anti-maskers to have some compassion and perspective when it comes to the true meaning of injustice.
During Wednesday's COVID-19 briefing, Adrian Dix described wearing a mask in indoor public spaces, in compliance with B.C. law, is "a sign of respect for one another."
For those who claim their rights and freedoms have been unjustly curtailed by the mask mandate, Dix asked for consideration of staff and patients at Burnaby Hospital, who are dealing with a deadly outbreak and the aftermath of a fire at the same time.
"That's unjust. It's unjust that all of the people have to go through this, but we do, together," Dix said.
"So when people use terms of injustice, they should be properly applied."
He also spoke of Wednesday's record-high 13 deaths from the novel coronavirus, and how awful those losses are for families and friends left behind.
Dix said for the most part, he sees British Columbians pulling together to do their part during this second wave of the pandemic. Most people are respecting physical distancing measures, washing their hands, staying home when they're sick and wearing masks, the health minister said.
"Others need to reflect when they claim injustice here about wearing a mask … because there are people here who are genuinely suffering and working hard in extraordinary circumstances and we need to be with them," Dix said.
On Tuesday, the province announced $230 fines for anyone who does not comply with its mandatory mask order.
The mandate requires workers and members of the public to wear face coverings in all retail environments, restaurants and indoor public spaces, including common areas of workplaces, except when eating or drinking.
The B.C. government says anyone who is not wearing a mask, who does not leave a space when asked, or who responds with belligerent or abusive behaviour is subject to the fine.
Provincial Health Officer Dr. Bonnie Henry said Wednesday that she "has no time" for people who are aggressive or rude about refusing to wear a mask, or those who spread conspiracy theories about COVID-19.
"I have no time for people who believe that wearing a mask somehow makes them ill or is a sign of lack of freedom," Henry said.
"To me, it's about a sign of respect for our fellow people who are suffering through this with us."