Covid vaccines: Paediatricians on frontlines of child jab plan – BBC News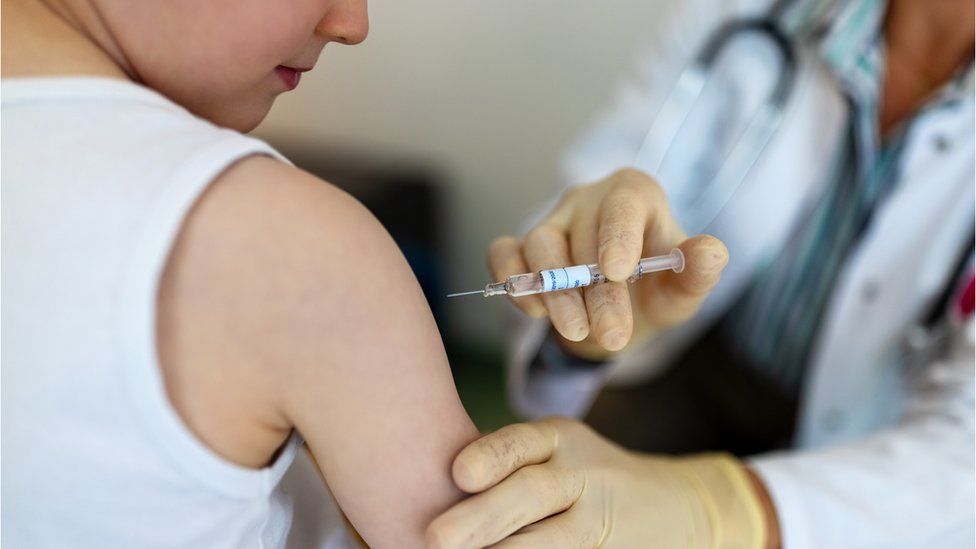 Paediatric doctors could soon find themselves on the front lines of a US government plan to get some 28 million school-aged children in line for their coronavirus jabs.
Advisory boards to the Food and Drug Administration (FDA) and the Centers for Disease Control and Prevention (CDC) will meet in the coming days to discuss authorising the Pfizer vaccine for children between five and 11 years old.
Data from the company's clinical trials found that a paediatric dose of the vaccine – one third of that given to adults and adolescents – was safe and 90% effective.
If health officials approve the jab, 15 million doses will go out to paediatric offices, children's hospitals and pharmacies around the country.
When could jabs for young children be approved?
The Pfizer vaccine is already approved for American adults and adolescents, but it has not yet been approved for most school-aged children.
Among those between five and 11 years old, there have been about 1.8 million cases confirmed in the US, according to the CDC. Fewer than two hundred have died, and most of those had underlying medical conditions.
Some medical experts say that, given the persistence of the Delta variant and the return to in-person schooling, vaccinating children is a crucial next step in fighting the pandemic.
"Parents need to understand the urgency of vaccination because the pandemic is not over," said Dr James Versalovic, pathologist in chief at Texas Children's Hospital (TCH).
Dr Versalovic estimates at least 1,500 children have been diagnosed since the beginning of the pandemic with the virus at TCH, the largest children's hospital in the US. "No age group has been spared," he said.
On Tuesday, an independent advisory committee to the FDA will vote on whether to recommend an emergency use authorisation for the Pfizer jab for children between five and 11 years old.
The CDC will follow suit on 2 November.
What kind of opposition does it face?
Vaccine hesitancy remains a challenge for US medical authorities. Uptake in the adult population has stalled below 60% over the past several months.
Some parents have expressed concern about hundreds of cases of myocarditis, an inflammation of the heart muscle, that have been reported predominantly in young adults who took the vaccine, mostly after the second jab.
Dr Liz Mumper, chief executive of the Rimland Center for Integrative Medicine, thinks "children should not be given treatments they do not need", pointing to their low risk of contracting Covid and to the lack of long-term data on Covid vaccines.
"I am opposed to rolling these vaccines out to all children in a one size fits all model," she said. "The vast majority of children already have mild cases."
In an interview with the BBC World News America programme, an FDA advisory board member acknowledged it would be a tough decision to make.
"It'll be somewhat hard. We'll be looking at data on several thousand children and then making decisions for millions of children," said Dr Paul Offit.
What would a rollout look like?
The federal government has indicated that, once the vaccine is approved, it will ship paediatric doses to states almost immediately.
Last week, it announced plans to distribute the jabs via more than 25,000 paediatric offices and 100 children's hospitals, as well as through pharmacies, school-based clinics and community health centres.
The plan is designed to take into account that, for this age group, everything from dosing to counselling support from clinicians to the post-jab waiting period looks different than for other age groups, and parents will need a trusted voice in the room.
"It's one thing to have Dr Fauci on the national news say you should get your kid vaccinated, but it's another thing for a trusted physician in the community to have that direct conversation with families," says Amy Wimpey Knight, president of the Children's Hospital Association.
Mass vaccination sites are not good settings for jabbing young children, Ms Knight tells the BBC, so state and local health officials will need to quickly link up with schools, community centres and doctors' offices instead.
"All plans are local. That's what we learned the first time," she says.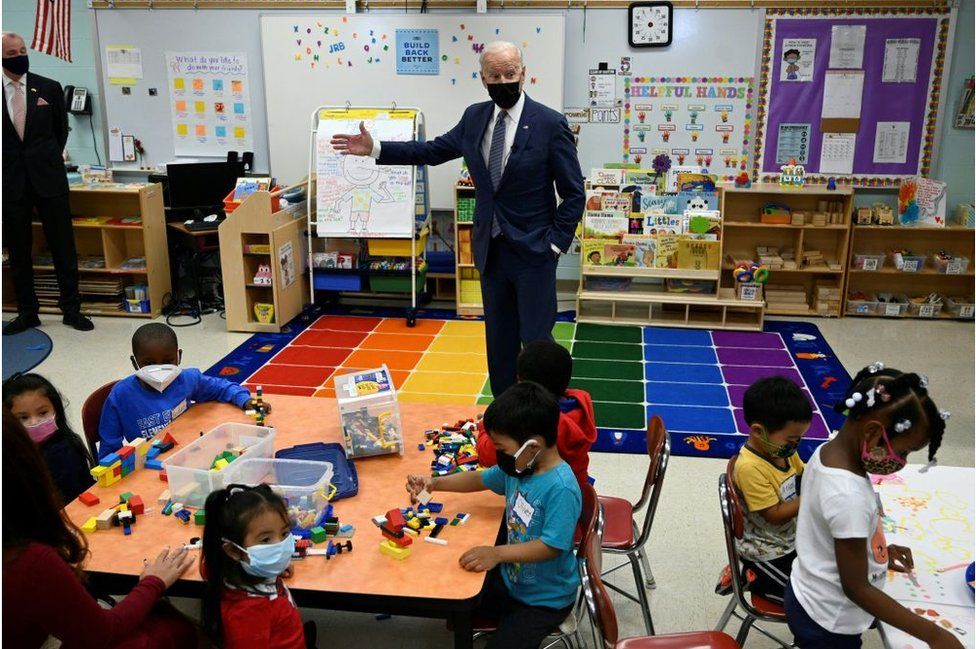 Do doctors support the plan?
Patients at Texas Children's Hospital participated in Pfizer's clinical trials for children. Any side effects were "easily treatable and monitored", said Dr Versalovic.
"We are fully confident in the paediatric Covid vaccines. It's been tailored to children," he said, referring to the reduced dosage.
For a large provider like TCH, ensuring adequate supply at multiple care locations will be of primary concern, he said.
At smaller paediatric practices, physicians are a bit more circumspect.
Dr Robert Dracker, medical director of Summerwood Pediatrics in upstate New York, warned that a vaccine rollout for kids will collide with other realities: the onset of flu season, the mental health crisis of school children, and staffing shortages.
"Paediatricians' offices have been struggling terribly over the last few years," he said.
Dr Dracker says state health officials have set out guidelines and plan to dispense 300-dose allotments to his office. But he is frustrated by the lack of co-ordination.
"We have to try and contact all of our parents to find out how many of them might want their child vaccinated, and then set up separate clinic times," he explained.
"Instead of dictating what we have to do, [government officials] really need to listen to the input of practising physicians," he said.
CN trains rolling again after B.C. tracks repaired amid mounting backlogs – CBC.ca
Amid growing backlogs, Canadian National Railway Co. says trains are moving again in southern British Columbia after the third atmospheric river in two weeks descended on the region.
CN says service resumed Sunday after crews worked around the clock on the Vancouver-Kamloops corridor, which was first cut by mudslides and washouts amid torrential rain in mid-November.
The country's largest railroad operator restored limited activity along the vital supply link late last month before opting to close the line again a week ago as more downpours triggered further flooding, landslides and debris.
"CN crews will continue to monitor both the rail infrastructure as well as the terrain over the coming days and weeks," CN spokesperson Jonathan Abecassis said in an email.
The restored connection will allow freight to flow to and from the Port of Vancouver and begin to clear the massive backlogs of incoming shipping containers and outgoing grain.
The repaired lines will also allow Canadian Pacific Railway Ltd, which shares tracks with CN through part of the Fraser Valley, to boost its shipments.
End of year is a critical time for shipment of grain — canola in particular — with the bulk of Canadian grain transported via rail to B.C. ports.
Some can be diverted to Prince Rupert, B.C., the United States or Thunder Bay, Ont., but the window for the latter is nearly closed as winter ice looms, while rail cargo generally is hard to divert en masse.
"Regardless of when the traffic on the mainlines resume handling normal levels of traffic, the reverberations back through the grain supply chain in Western Canada (and all commodities) will be measured in months," Steve Pratte, policy manager at the Canadian Canola Growers Association, said in an email.
Grain strain
The backlog of Prairie grain may lose much of its value if trains can't ship it to port before spring, when prices typically drop amid heightened global supply, according to the Western Grain Elevator Association.
Contract extension penalties and demurrage fees — issued by a shipping line when freight exceeds the time allotted at a terminal — also present a threat for farmers and grain elevators trying to clear out brimming barns and silos.
The number of grain cars unloaded at West Coast ports dropped by 83 per cent year over year in the third week of November, according to the federal grain monitoring program's latest update.
As of Nov. 28, there were 24 grain vessels at berth or at anchor around the Port of Vancouver waiting for deliveries of up to 1.4 million tonnes of grain — mainly wheat, canola and barley — the update states.
"These shipments are critical to ensure that Canadian farms get the cash flow required to cover the operating costs accumulated through the season, and it is a race against winter every year to try to get as much grain to port before winter conditions settle in," Geoff Backman, markets manager at the Alberta Wheat and Barley Commission, said in a statement.
SEC probing Tesla after whistleblower alleges company hid solar panel fire risk – CBC.ca
The U.S. securities regulator has opened an investigation into Tesla Inc. over a whistleblower complaint that the company failed to properly notify its shareholders and the public of fire risks associated with solar panel system defects over several years, according to a letter from the agency.
The probe raises regulatory pressure on the world's most valuable automaker, which already faces a federal safety probe into accidents involving its driver assistant systems. Concerns about fires from Tesla solar systems have been published previously, but this is the first report of investigation by the securities regulator.
The U.S. Securities and Exchange Commission (SEC) disclosed the Tesla probe in response to a Freedom of Information Act request by Steven Henkes, a former Tesla field quality manager, who filed a whistleblower complaint on the solar systems in 2019 and asked the agency for information about the report.
"We have confirmed with Division of Enforcement staff that the investigation from which you seek records is still active and ongoing," the SEC said in a Sept. 24 response to Henkes, declining his request to provide its records. The SEC official said the letter should not be taken as an indication by the agency that violations of law had occurred.
Reuters was able to confirm the response.
Safety violations
Henkes, a former Toyota Motor quality division manager, was fired from Tesla in August 2020, and he sued Tesla, claiming the dismissal was in retaliation for raising safety concerns. Tesla did not respond to Reuters' emailed questions, while the SEC declined to comment.
In the SEC complaint, Henkes said Tesla and SolarCity, which it acquired in 2016, did not disclose its "liability and exposure to property damage, risk of injury of users, fire etc to shareholders" prior and after the acquisition.
Tesla also failed to notify its customers that defective electrical connectors could lead to fires, according to the complaint.
Tesla told consumers that it needed to conduct maintenance on the solar panel system to avoid a failure that could shut down the system. It did not warn of fire risks, offer temporary shutdown to mitigate risk, or report the problems to regulators, Henkes said.
More than 60,000 residential customers in the U.S. and 500 government and commercial accounts were affected by the issue, according to his lawsuit filed in November last year against Tesla Energy over wrongful termination.
It is not clear how many of those remain after Tesla's remediation program.
Safety calls ignored, whistleblower alleges
Henkes, a longtime quality manager at Toyota's North American quality division, moved to SolarCity as a quality engineer in 2016, months before Tesla acquired SolarCity. After the acquisition, his duties changed and he became aware of the widespread problem, he told Reuters.
Henkes, in the SEC complaint, said he told Tesla management that Tesla needs to shut down the fire-prone solar systems, report to safety regulators and notify consumers. When his calls were ignored, he proceeded to file complaints with regulators.
"The top lawyer cautioned any communication of this issue to the public as a detriment to the Tesla reputation. For me this is criminal," he said in the SEC complaint.
Litigation and concerns over faulty connectors and Tesla solar system issues stretch back several years. Walmart in a 2019 lawsuit against Tesla said the latter's roof solar system led to seven store fires. Tesla denied the allegations and the two settled.
Business Insider reported Tesla's program to replace defective solar panel parts in 2019.
Several residential customers or their insurers have sued Tesla and parts supplier Amphenol over fires related to their solar systems, according to documents provided by legal transparency group PlainSite.
Henkes also filed a complaint with the U.S. Consumer Product Safety Commission, which CNBC reported this year was investigating the case. CPSC and Amphenol didn't respond to requests for comment.
COVID-19 antiviral drug molnupiravir to be manufactured in Canada – CTV News
TORONTO —
Merck Canada announced on Monday that it is partnering with Thermo Fisher Scientific to manufacture the investigational COVID-19 antiviral drug molnupiravir at a facility in Whitby, Ont., for distribution to global markets.
The Canadian location will produce doses of molnupiravir, developed in collaboration with Ridgeback Biotherapeutics, for distribution in Canada, the U.K., the European Union, Asia Pacific, and Latin America, pending approvals in those respective regions. The drug is awaiting approval by Health Canada.
The facility was chosen because of its capacity, capability, and the speed with which it is able to produce the drug, Merck Canada's new president Marwan Akar said during a press conference.
Thermo Fisher's existing Whitby manufacturing site is one of three locations in the world that will produce molnupiravir.
"We are marking a very key milestone, and rebuilding Canada's biomanufacturing capability," Minister of Innovation, Science and Industry Francois-Philippe Champagne said during the news conference.
"We'll be producing COVID medications for Canadians and indeed for the world…so to me this is a very big step in how we intend to reveal our biomanufacturing sector in Canada."
Earlier in the pandemic, Canada came under criticism for its inability to manufacture COVID-19 vaccines domestically, leaving Ottawa reliant on U.S. and European manufacturers to produce and provide doses.
Minister Champagne said the latest announcement is part of the government's efforts to ensure Canada is better prepared and that "we redesign the supply chain so whatever may come next, we would be ready."
The new manufacturing deal will also help Ontario's economic recovery with a $19 million capital investment supporting more than 50 high-paying jobs in the region, according to Victor Fedeli, Ontario Minister of Economic Development, Job Creation and Trade.
Last week, the federal government signed a deal with Merck to purchase 500,000 molnupiravir pills, with an option for another half million, pending approval. Request for approval of the drug was submitted in August.
Antiviral drug treatments are considered another tool in the fight against COVID-19, experts say, after personal protective equipment, testing, and vaccines.