Creative Ideas Flourish As Windsor's Art & Craft Stores Pivot During Pandemic – windsoriteDOTca News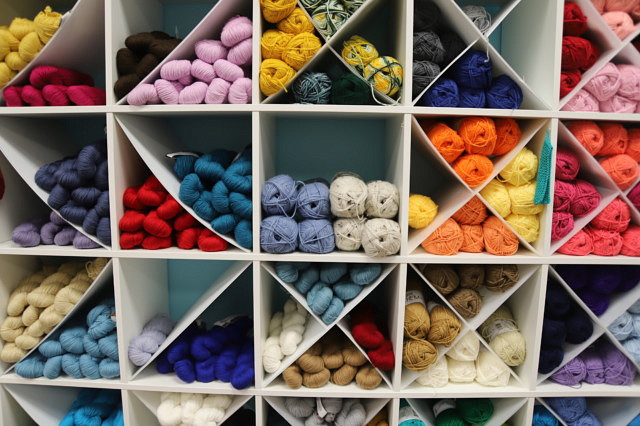 With most people spending a lot of extra time at home these past months, Windsor's art and craft establishments have helped to keep locals interested in fresh, new arts and crafts, all while pivoting their businesses for changing times.
There are many quality shops in town to nurture your crafting and creating needs, or to help start something new whether it is your first or hundredth project.
From drawing to knitting, your crafting cravings can be satisfied in just a short drive around town while supporting local.
Article Continues Below Local Sponsor Message
Looking to have your imagination brought to life? Come see what's going on at Beatnik Art Supplies…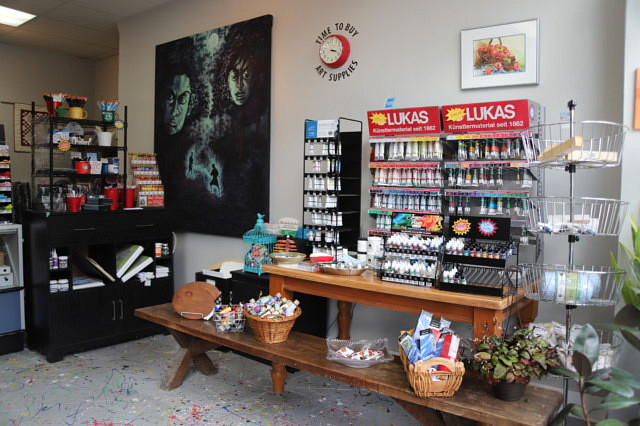 Beatnik Art Supplies is an art store "by artists for artists," as described by owner Katrina Rutter. The shop is run by her and her son, Julian Pawlaczyk, who are both well versed with many of the items they offer in-store.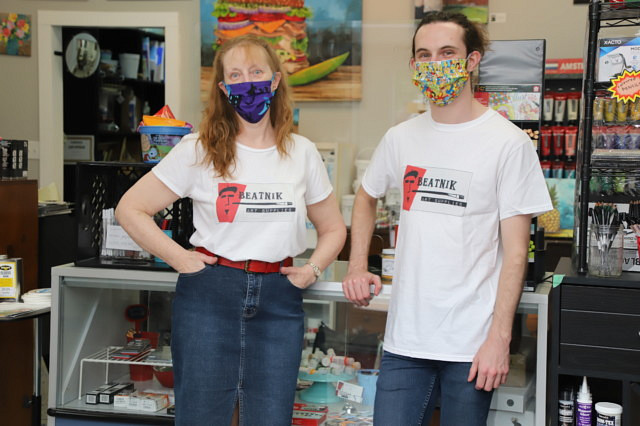 A painter at heart, Rutter reflects on how everything has changed since the pandemic changed the world we are in. She closed Beatnik's physical location in March as a lot of other businesses did, but "we started doing deliveries and curb-side pick up," she explains. "So we never actually closed… just the store front."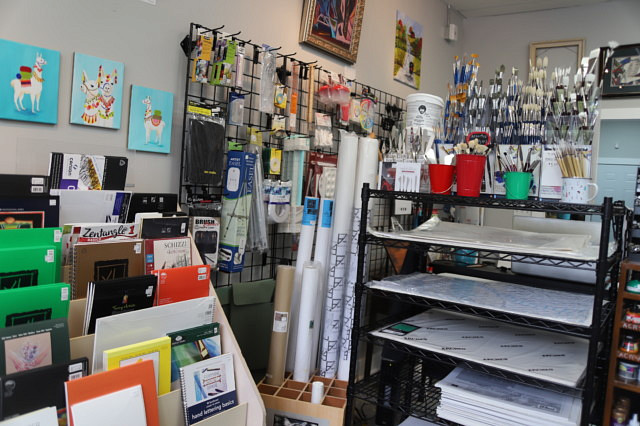 "We delivered as far as Cottam," Rutter says.
Before they reopened the physical store, the set up had to be changed a bit to be able to follow guidelines and keep everyone safe.
"Everything was all open before…but not we have to be behind the [Plexiglas] barrier," Rutter says.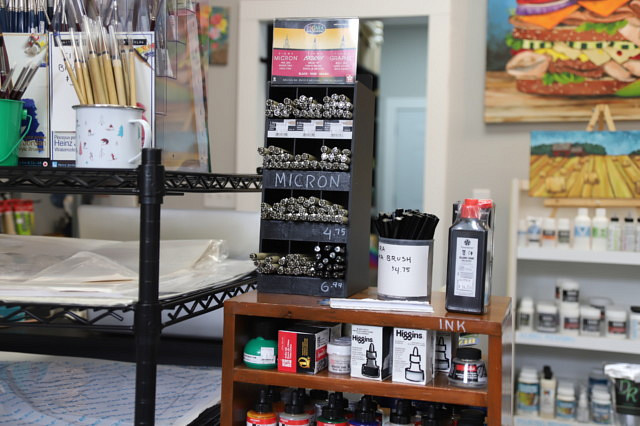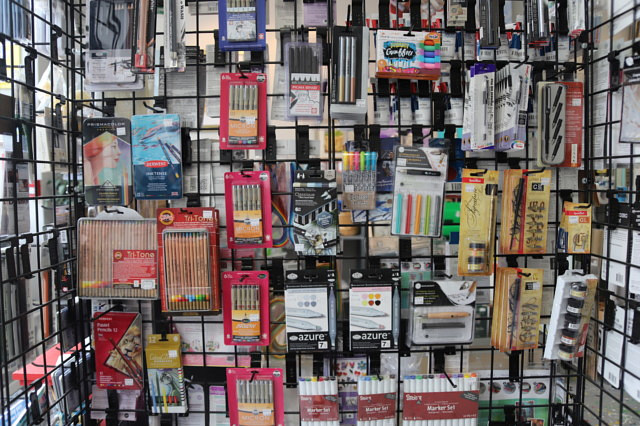 The store sells a variety of paints, including watercolour, gouache, and oil, as well as charcoal, graphite, pen and ink, block printing, and much more.
With a lot more people staying home, Rutter noticed some new clientele popping by.
"We've noticed people who want to try art because they have the extra time to do it right now," she says. "There have been a lot of beginners looking to try something new."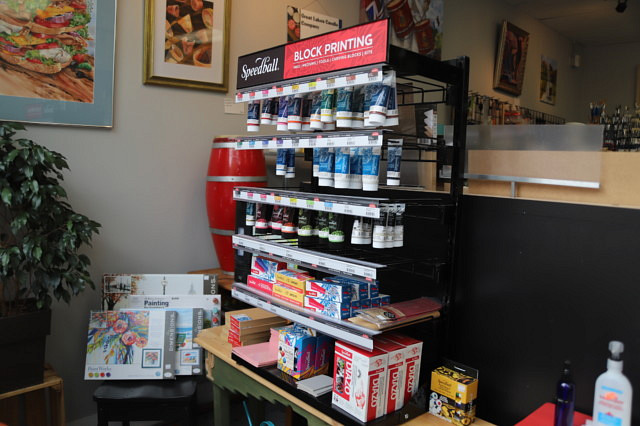 "We both have a good art background and give good suggestions of what would be good for anyone who comes in of any skill-level," Rutter says. "We don't want people to waste their money."
The shop stocks higher-end paints and products as well as items more suited for beginners and those wanting to try a craft out. "We try and supply stuff that is popular in the local area," she explains.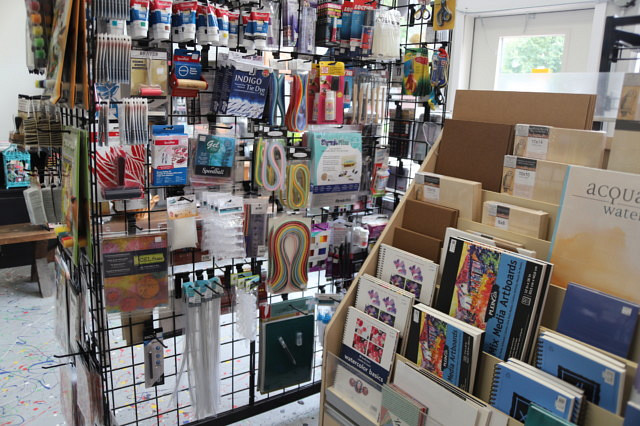 "It was a bit difficult to get supplies at the start of the pandemic," Rutter mentions. "There was a good five months where there was no art paper, due to a pulp shortage. We just started to receive paper again."
The pandemic also halted classes that would have taken place at the store.
"There was also the issue that some supplying factories had just completely shut down," Rutter says, mentioning that she noticed a shortage of paints, mediums, and various other items.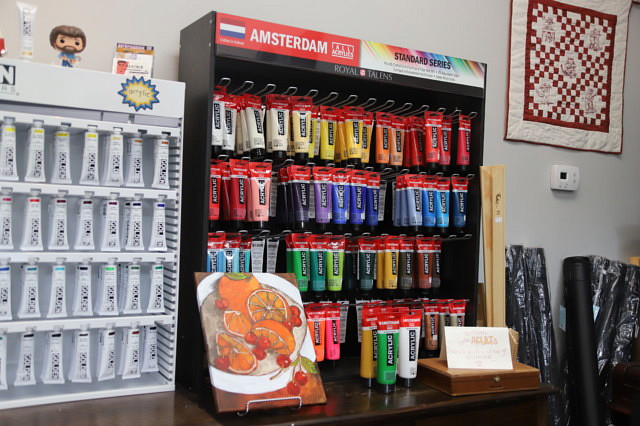 Like many local business, however, the team at Beatnik Art Supplies has persevered and has enjoyed welcoming back artists in to their storefront.
"We used to have the Beatnik Café in California," Rutter says. "It was a really fun time. We had all sorts of musicians come, and fabulous open-mic nights. Beatnik is all about music and art — we did the music, so now we're doing the art."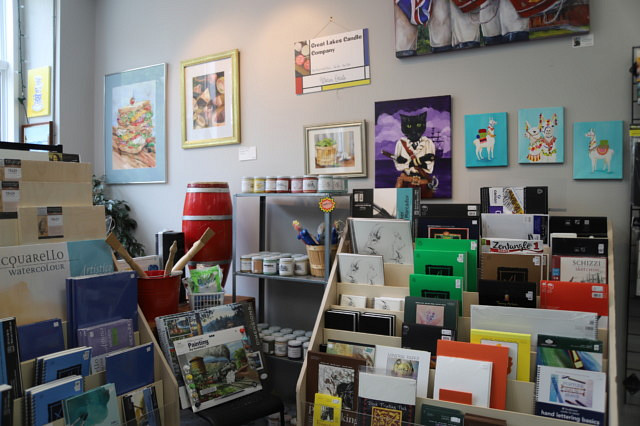 Rutter says since opening two-and-a-half years ago, the neighbourhood has been incredibly welcoming and friendly. She says many locals wave hello when walking by.
"We get a lot of questions from continuing artists that come in," Rutter says. "Which is great because we are helpful as we are artists as well. Some customers even call us on the phone with questions, varying from the paint application to mediums."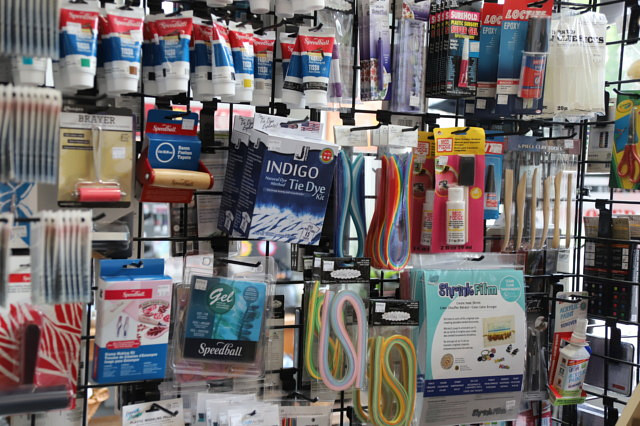 "Everyone comes in here with a common interest; we all have art in common," she says. "We're all friends because of art."
The pair hopes to eventually host demonstrations on their social media accounts, including their Facebook which you can find here.
Bring your imagination to life and visit Beatnik Art Supplies at 224 Erie Street West.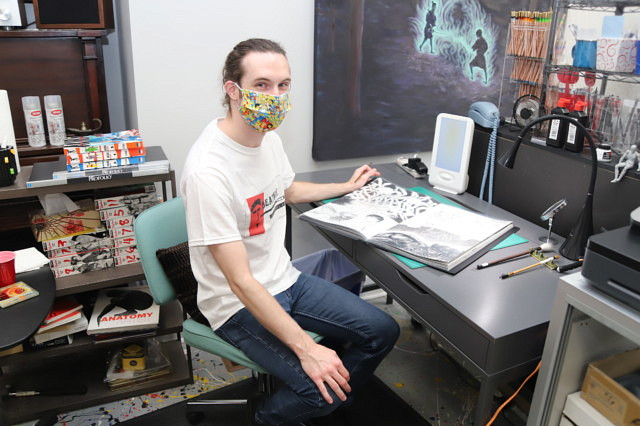 Gearing up for the colder weather and thinking about becoming a maker? Little Sheep Boutique might just be up your alley…
Little Sheep Yarn Boutique aims to create an environment where everyone feels they can be comfortable in creativity.
"Everybody has the capacity for creativity," says co-owner Kate Rosser-Davies. "So we are focused very much so on helping people with whatever type of creativity they have and helping them figure out what they want to do."
The yarn store offers a huge selection of yarns in both natural and synthetic varieties, as well as the tools a maker would be seeking. There is also finished goods on the floor for sale, as well as accents for projects like buttons and pom-poms. Items for both knitting and crocheting can be found at Little Sheep Yarn Boutique, as well as a small amount of sewing notions.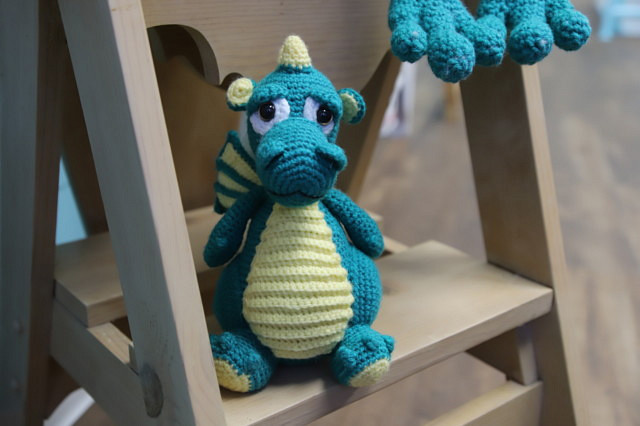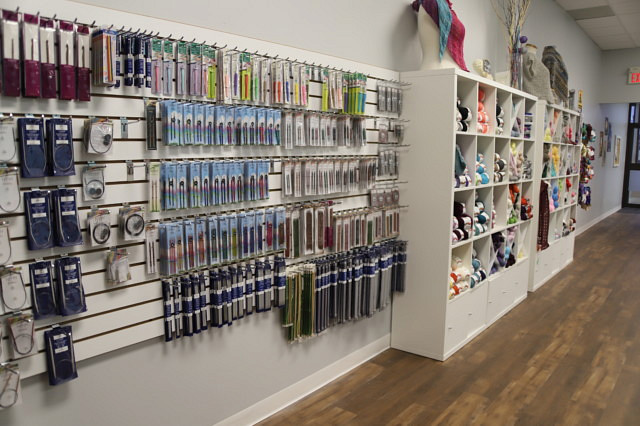 "The store is for all skill-levels and all price-ranges," Rosser-Davies says. "We would typically have classes. We love teaching people."
"We try and feature local artists and makers wherever possible," she says. "We carry several yarns that come from indie dyers in Ontario. We have featured yarns from Windsor to Muskoka to St. Thomas and beyond."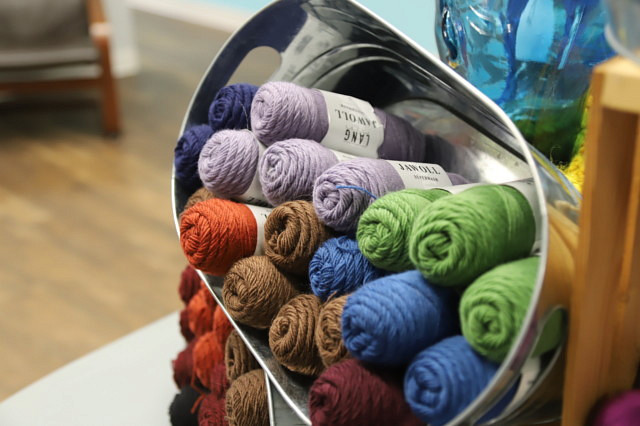 "The first little while of the pandemic, right after the schools closed, we had a rush of people trying to stock up," Rosser-Davies says. "We had to make sure we managed it to not have too many people in the store."
Rosser-Davies says at times people were lining up to get yarn.
"People didn't want to be bored at home with nothing to do," she says. "Then in April, we shut down. We had to completely, from the ground up, change our website to allow for online sales. In late April, once the website was up, we started doing yarn deliveries. I delivered by bike, and we also had car-driven deliveries. We also shipped to a certain extent."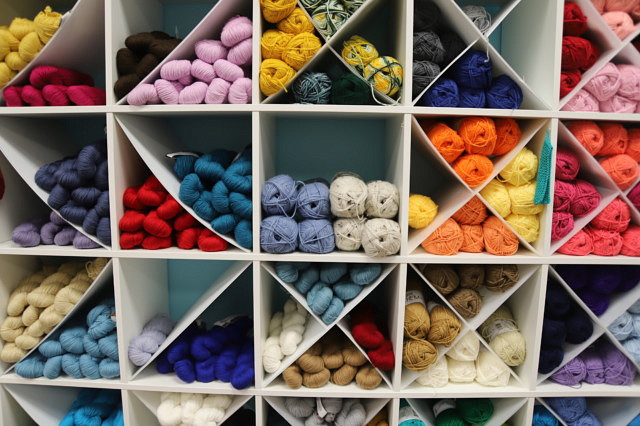 "I probably biked over 500 kilometres doing deliveries," Rosser-Davies recalls cheerily. She mentions her parents were also a great help to her and co-owner Susan Garrett when they were doing deliveries.
"Our customers stuck by us, too," Rosser-Davies says. "That's the part that gave us a lot of comfort. Our customers didn't abandon us to get cheaper yarn — they know we are far and have a superior product.
"The small business community just completely depends on people in the area who care for us," she says. "There's no small business that will make it through this without customers who care, and we are so lucky to have that."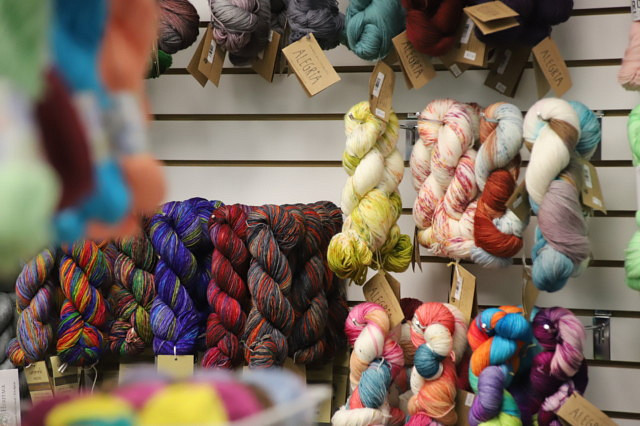 The shop started offering kits early on in the summer to help keep people busy. The kits came with yarn and a pattern
"When customers bought our kits, they would send us well-wishes, saying how they missed us and missed our social knitting nights," Rosser-Davies says.
Once able to, in the early summer, Little Sheep Yarn Boutique opened their doors — but only for a short time at their previous location to host a moving sale. The new location is larger and can hold more customers while safely following the guidelines. "We wanted to grow," Rosser-Davies says. "The old location was small, meaning we couldn't add more yarns and couldn't host larger classes."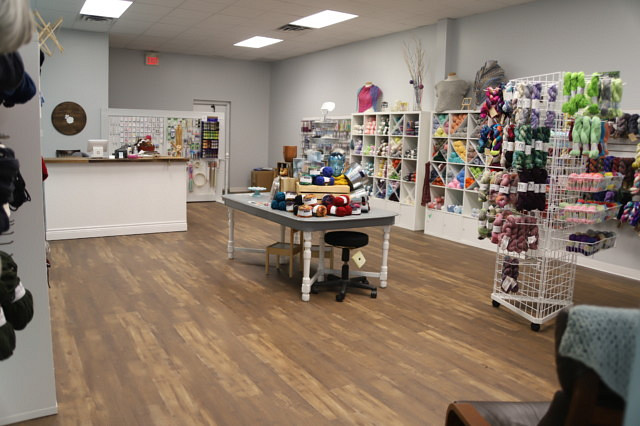 "Our Wednesday night socials were always super popular," she says. "When everything was shut down, we were sad and missed everyone. So we thought to try a Zoom call."
Although it was a slow start, Rosser-Davies says they now have regulars who attend weekly, and new people popping in here and there.
"It's been sort of nice, as we have been able to host people who weren't able to come to the in-person socials previously," she says.
Small, in-person classes are beginning to spring up once again, but in adjusted fashions and with all safety rules being followed; masks are mandatory.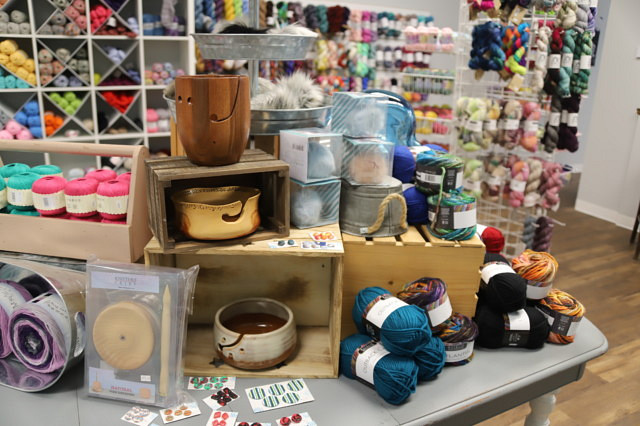 Rosser-Davies welcomed new customers who found the shop during the pandemic and says they build a trust relationship with people at a higher risk of contracting COVID-19.
"A lot of makers were calling us who were in the habit of shopping for their yarn in big box stores," she says, mentioning how customers were more comfortable to come to the much less crowded environment at Little Sheep.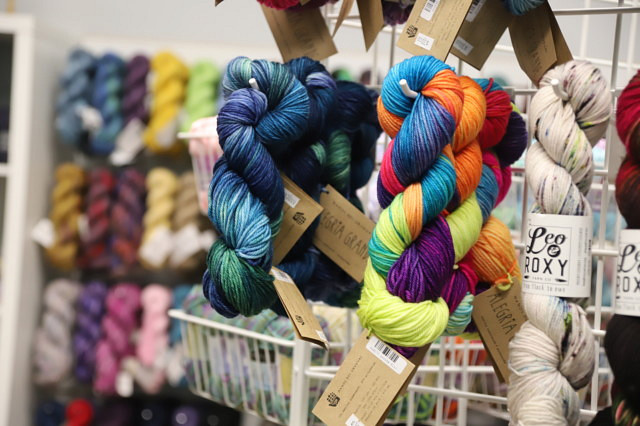 "I like to think being a maker gives you a certain amount of community," Rosser-Davies says. "Doing something with your hands, it feels good."
"When the world outside is chaotic — and it is — the fact that you can sit with something and work on it, and have control over it, and suddenly, an evening has gone by and you've produced something beautiful," she says. "I find it a great way to ease my anxiety; it's an anxious time right now. It's a privilege to be able to step away from that and put your hands to work and silence everything else. That's the only way to keep your energy up for some people. It is very easy to feel the burden from the outside world, and for me anyway, this is how I recharge."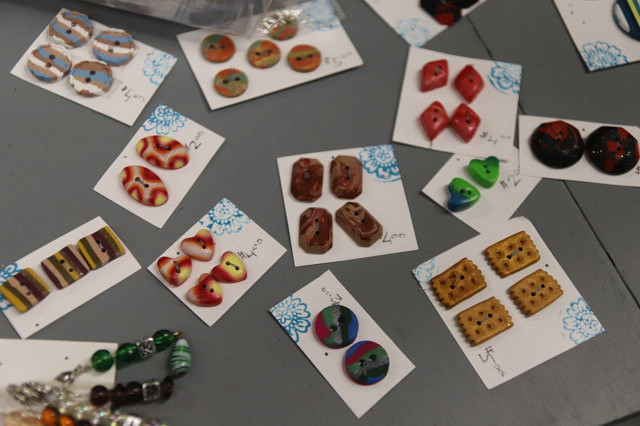 Little Sheep Yarn Boutique welcomes yarn-loving customers of any skill-level, and of any specialty whether it be for knitting or crocheting or both (bi-stitchual, as they call it.) Rosser-Davies and Garrett love to help customers who visit in search of their next project, or who need help troubleshooting a current one.
Visit Little Sheep Yarn Boutique and get your stitch on at 521 Erie Street East, or visit them virtually on their website here, and their Facebook here.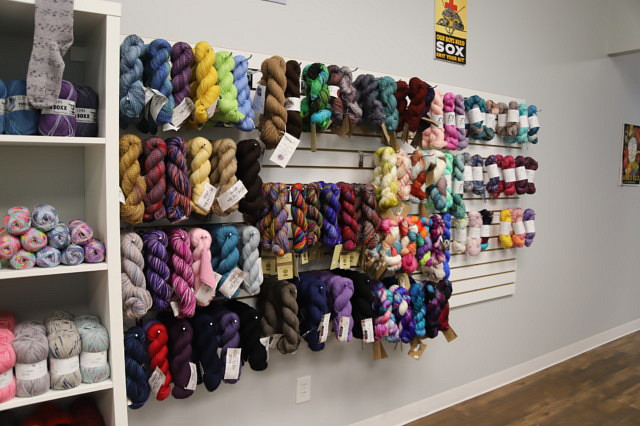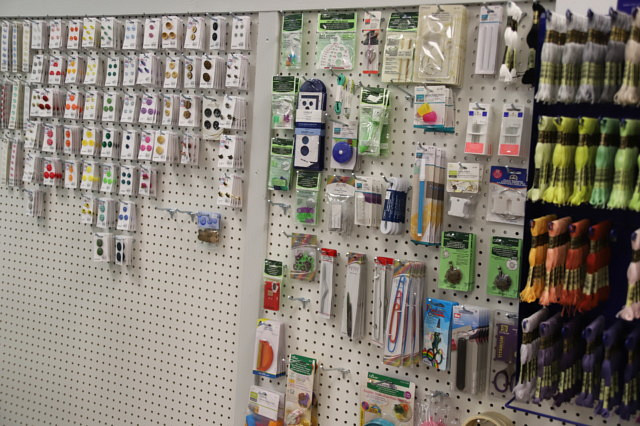 Looking to start a unique new venture, or find the best gift ever? Lets check out Simply Stained Glass….
Simply Stained Glass does not simply give a local the ability to purchase amazing works of art — they also stocks supplies to allow the customer to become the artist if they so please.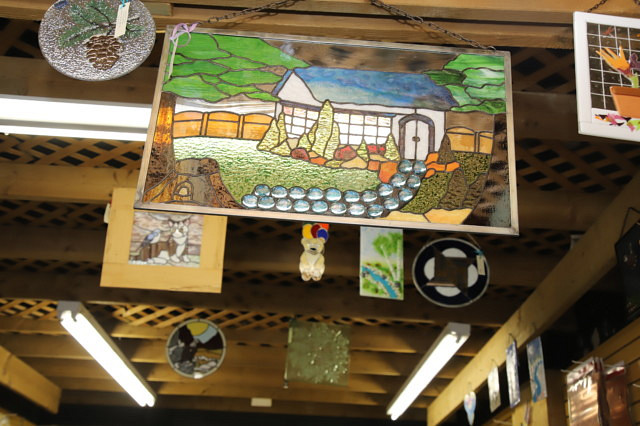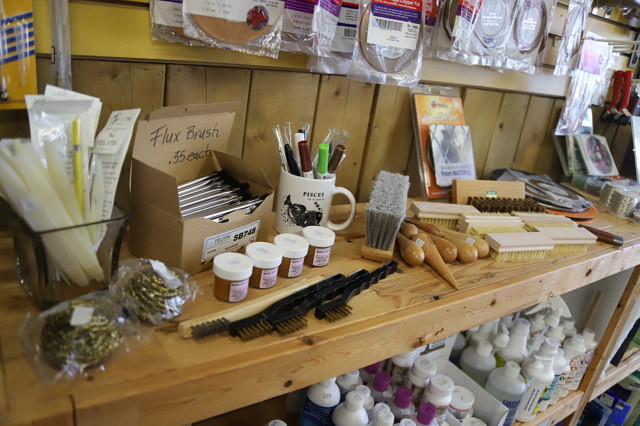 Denise Presland, owner, describes Simply Stained Class as a place for artists and beginners adventuring in to the world of glass. "It's a place for art-seekers," she says.
The store stocks glass, various supplies for stained glass work as well as finished pieces for purchase. Presland had been introduced to the art about 18 years ago by her sister, and started off doing glass art and fusing glass.
She stepped out of the craft for a short time, and got back in to it full-throttle. "I was doing a lot of work out of my house and it made me realize I'm not the only one with an interest in this," she explains.
Presland is able to offer repairs as well as custom orders in addition to her supplies that can be found in-store and online.
The shop also offers classes for the art, however, the pandemic had put that on hold for a bit. The first class since March took place in late September with a much smaller capacity.
"Normally we have classes from September through to April, during the cooler months," Presland explains, as this year had to be cut short.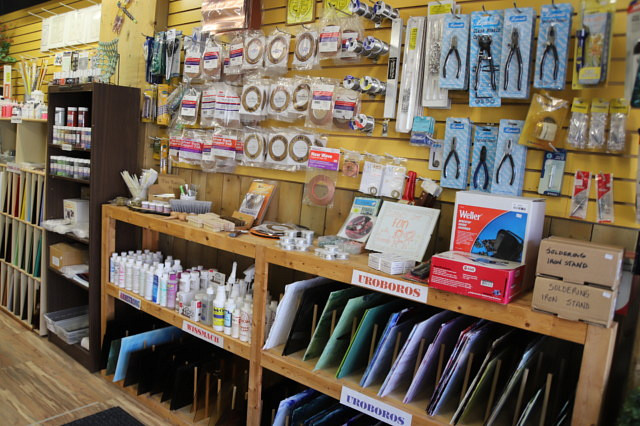 "Our website really picked up since April, while people had the time to get back to their projects," she says. The store was shipping near and far for those seeking supplies.
"We closed in March, and opened back up once we were allowed to in-store," Presland explains. "But our online shop never closed."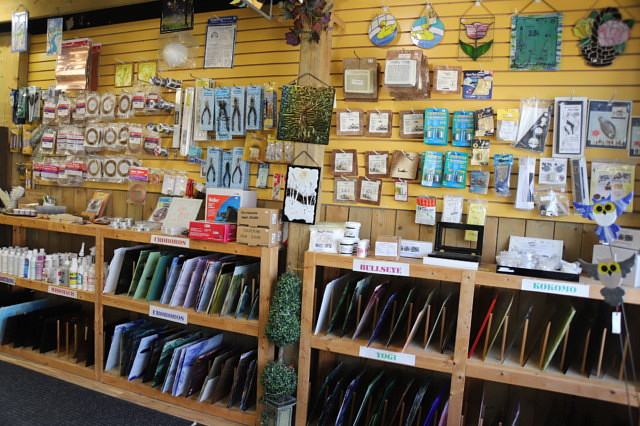 "Shipments of supplies to the shop have been a bit slower since the pandemic, and some glass supplies are a bit more difficult to get, but it's getting better," she says.
The store sells traditional glass — imported from Mexico and Europe — which Presland says is the same as what's used in churches. They receive large sheets of glass, and cut them in to the sizes that customers need. This glass is strictly flat panels.
Fusing glass, specifically "96 COE", is also offered at Simply Stained Glass, which is used as an "art glass." This can be used to make things such as bowls and platters, or also just kept flat, with the use of a kiln.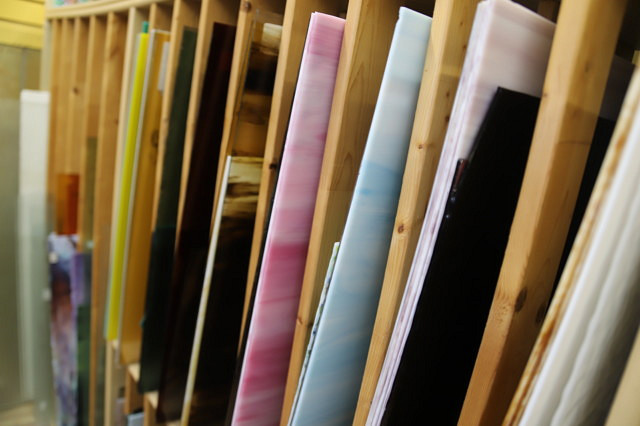 Both types of glass come in "all colours that you can think of," Presland notes.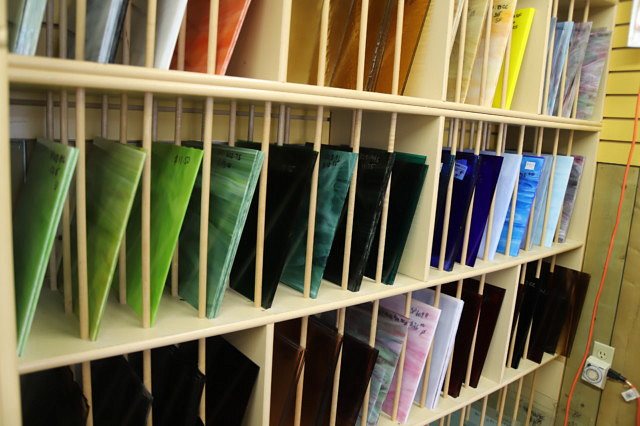 Odds and ends to be added in to glass projects, such as dichroic glass and bevels as well as powdered glass, are available to purchase.
Presland recommends taking a class before jumping into the glass arts, and carries items for those who have already tinkered in the craft to help continue their work.
"In my classes, everything is included…you just have to buy your own glass," Presland says. "We also typically offer workshops which would be one-shots. Afterwards, we just put the piece in the kiln, and the participants can come by to pick it up later on. By the time you finish a beginners class, you'll have enough knowledge to continue on your own."
Although, with fusing projects, a larger kiln would be needed if at-home projects were being sought; only a small kiln is available for sale at the store.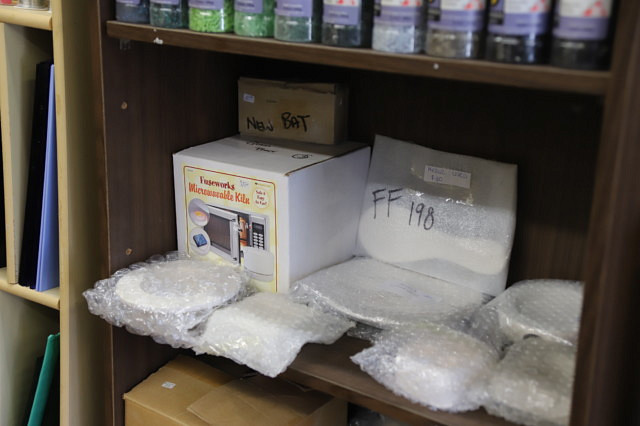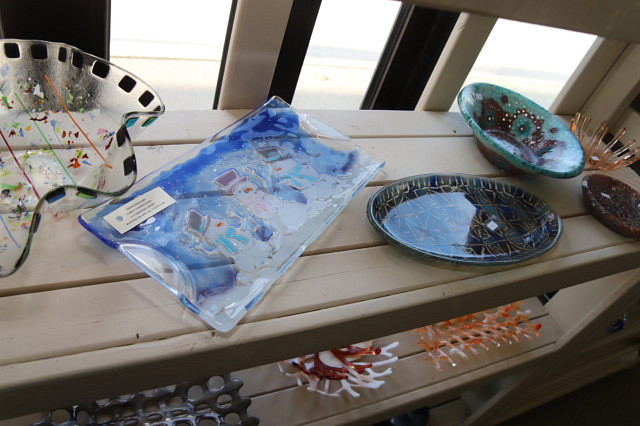 In addition to supplies, the store sells jewelry, magnets, night lights, garden sticks, bowls, jewelry boxes and many already-finished projects. Custom orders are always welcome and Presland can accommodate people's ideas and needs. She says kitchen cabinet doors have become quite popular lately.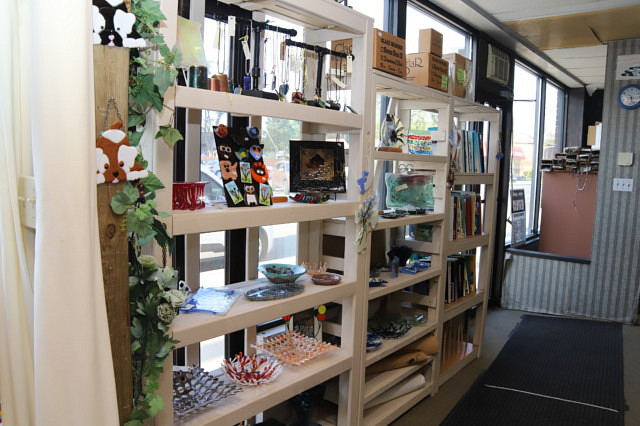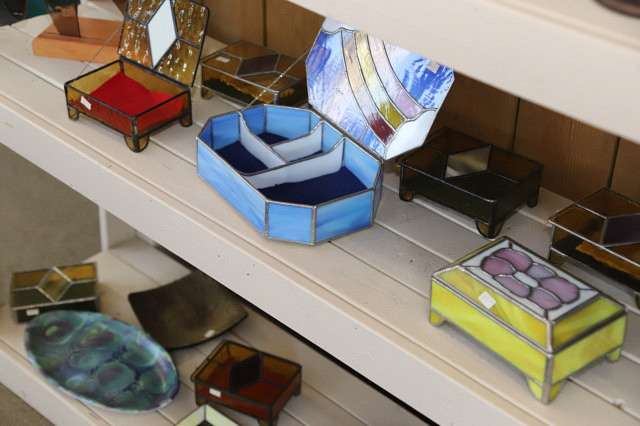 Supplies for sale at Simply Stained Glass also include different coloured foils, brushes, smoke absorbers, specialized grinders, scissors, and scrap glass.
Presland points out how diverse glass work can be, including making stepping stone with glass mosaics, sun catchers, and so much more.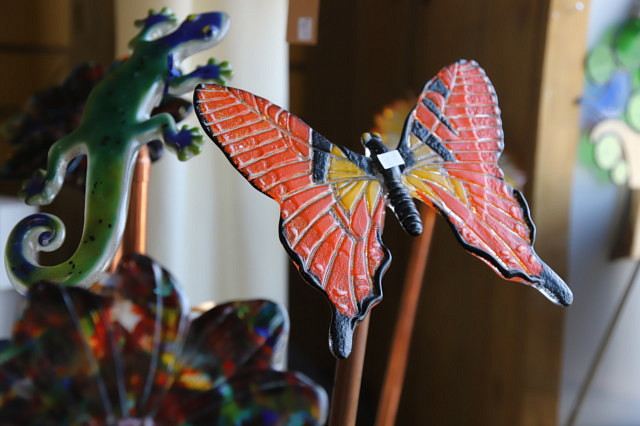 "I always tell people if they have never been in a stained glass store before to come and check it out to see what inspires you," she says. "People don't realize there's such a variety of colours and textures. It's not just a window: it's art."
Check out Simply Stained Glass for yourself at 3919 Seminole Street, or find out more on their website here.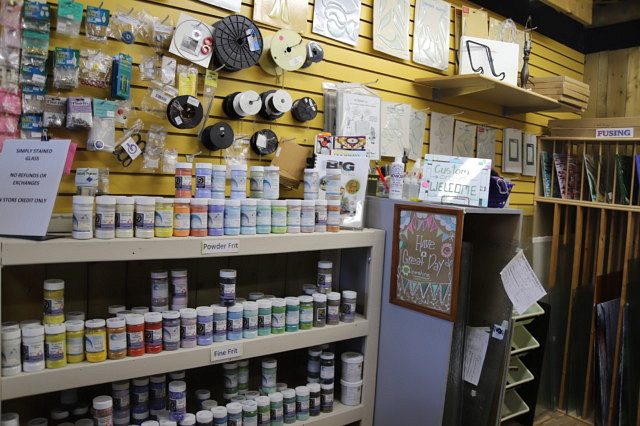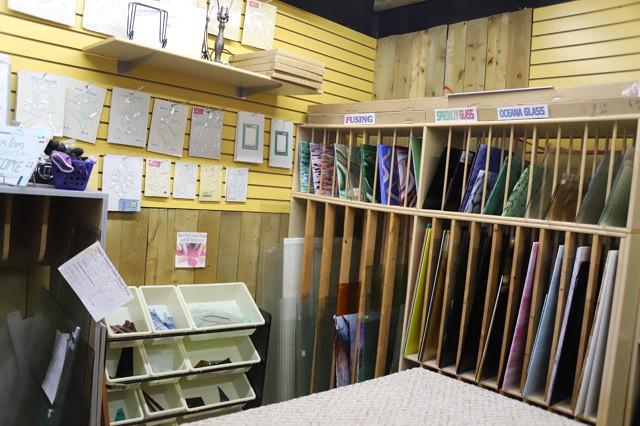 Looking to keep the kid's hands busy, or need some inspiration for some at-home art class? Art Lab has got you covered…
The Art Lab was typically a place for kids to gather and get a little messy while being able to express their creativity.
"Pretty much everything has change for us…in every way," Samantha Walker, co-owner, explains, who has her own two children at home to think about.
Walker, alongside her husband Matt Bolton, had to take a step back when the pandemic shut down everything in March.
The two had just obtained a larger space to be able to accommodate more people.
"We couldn't have people in the studio anymore," Walker says. "So we had to find a way to do what we do and bring it to people's houses — and thankfully, we can do that."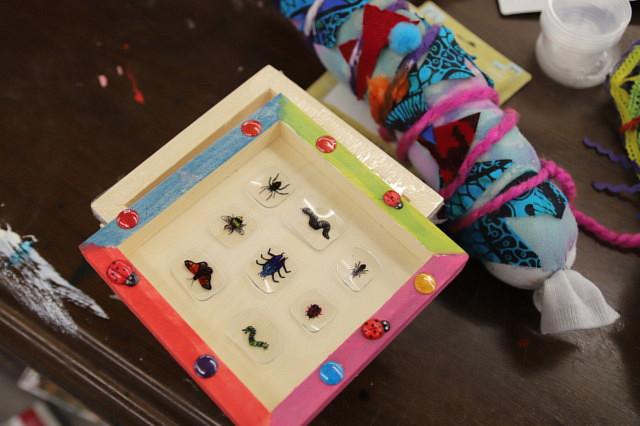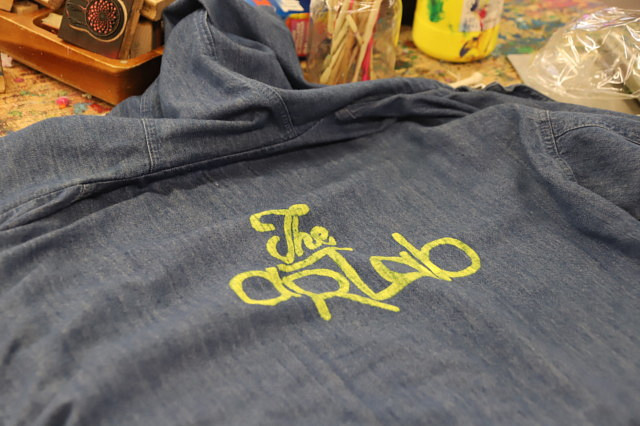 The establishment previously relied heavily on events such as field trips and parties, but the Art Lab team pivoted quickly in a direction that would still allow for local youth to get creative while stuck at home.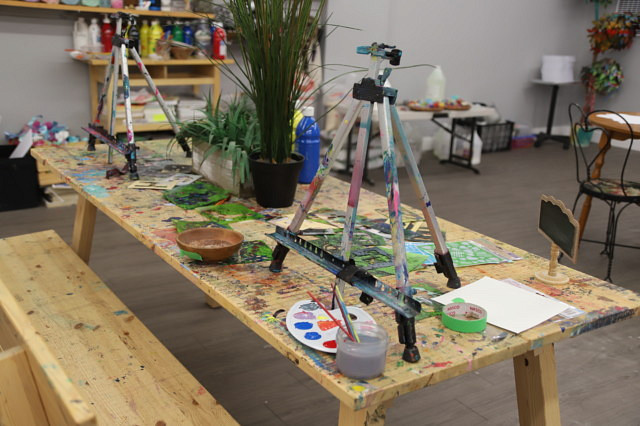 "We totally closed for the first two weeks, and then came out with our art kits," Walker explains.
The first art kits that Walker and the Art Lab team put together were dollhouse creating kits, donut making kits, and slime kits.
"The community was amazing when I first started the art kits; they were all over it," says Walker. "I was selling out fast. Autism Ontario were buying a lot of kits for their families, which we are so thankful for…it really helped."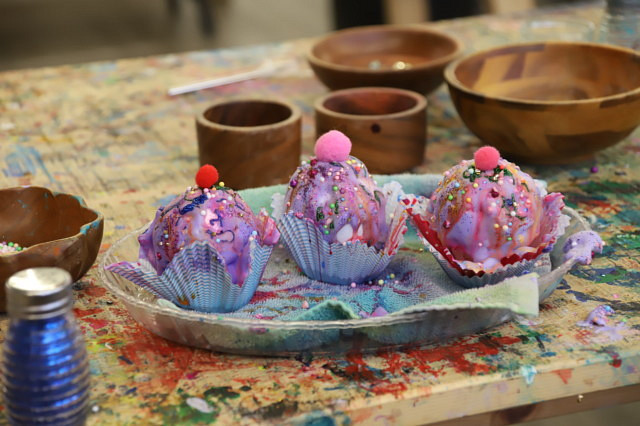 Once they could re-open their storefront, the Art Lab slowly started taking small private bookings for things such as family birthday celebrations, private home school art sessions, slime making sessions, and splatter room bookings.
"We're not rushing anything," Walker says. "We're not trying to put the community or kids at risk when we don't have to."
With kids missing out on art classes at school, the Art Lab is also hoping to fill the gap.
Now, with the future unpredictable, Walker has brought to fruition an Art Lab subscription box to fill that artistic void some children may be feeling, allowing them to lift their creative reach to be near and far.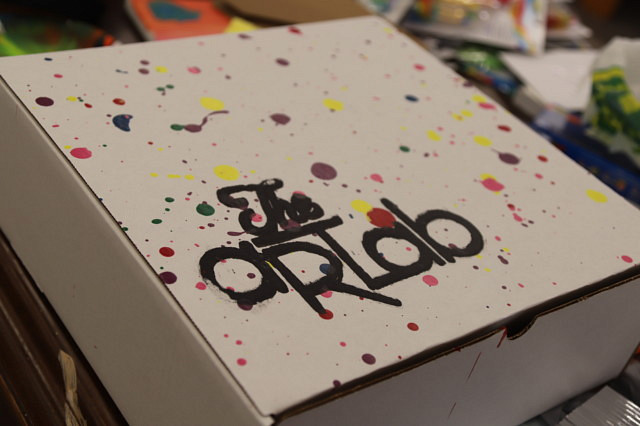 "The subscription box was the perfect solution to keep the Art Lab alive," Walker explains. "It allows us to connect with customers, and also lets me be present as a mom myself."
"Subscription boxes come with four activities, which is designed for one activity per week," she says.
Activities include dying items, measuring, mixing, has kids use fine motor skills, aids creativity and are self-esteem building.
"They're all process-based activities," Walker explains. "It's more about the process than the final product. It's for fun and we focus on how fun it is. The end result is still awesome."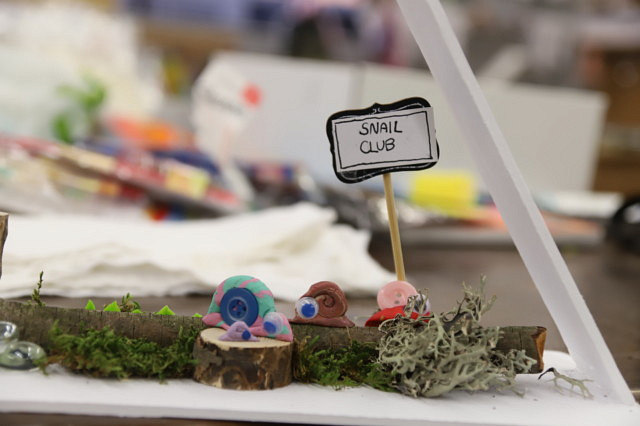 "We are trying to make it a learning through art sort of thing," she says. "So not only is it fun, they get something valuable out of it."
Each activity from the subscription box comes with a video "class" where Walker unboxes the project and teaches people how create the project as she would have during a regular in-person class.
"Art Lab is a place to get creative," Walker says. "We believe art is a feeling and an experience."
Get creative and find something fun for the whole family at the Art Lab located at 894 Ottawa Street, or visit them online on their website here and Facebook page here.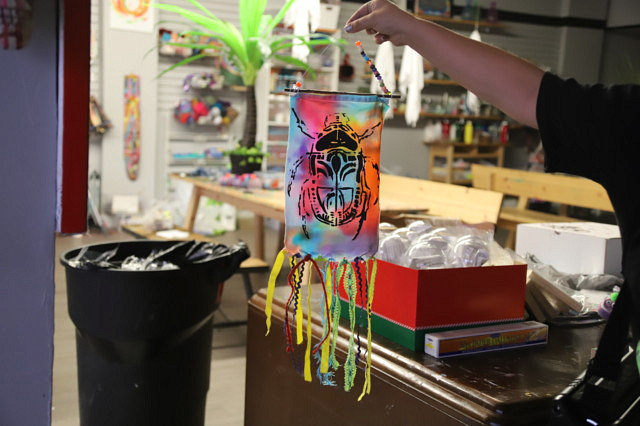 Crafting not your thing? Check out other hobby shops we took you shopping through here.
Just Art auction for Iranian refugee family an opportunity to give 'a gift with meaning' – TheSpec.com
A family of recently arrived refugees from Iran is learning that art is vitally important to any new home, not because something is needed to go on the walls but because, in their case, art in a sense "is" the walls.
Art will help put a roof over their heads and shelter around their sides and keep them warm through a cold Canadian winter.
The people in this city who paint and create and sculpt and so forth are artists because of the way they see and are they ever seeing this holiday season, seeing to the needs, those critical first-year needs, that refugee families find themselves facing as they adjust to a new life. Housing, health care, language classes to name a few.
So the Just Art online art auction that starts Friday, Dec. 4, could not come at a better time for an Iranian family of three — a mother and her two grown daughters who have arrived since September, after waiting five years in Turkey, and were among the first refugees allowed into Canada after a six-month suspension of immigration resulting from the pandemic.
"Guide and Lights" by Mike Kukucska.
The impetus for the auction was, interestingly, furnished by an artist, Rachel Hawkes Cameron, who was in the process of leaving Hamilton as the new family was arriving, almost as tough they were passing each other on opposite ways through the door.
Hawkes Cameron did not want to leave without contributing to the fundraising part of a larger effort she had wanted to help with, the sponsorship of the family by a team of volunteers connected with St. John the Evangelist Anglican Church on Locke Street (a team from the church had already sponsored a Syrian family earlier this decade).
But how do you fund-raise during a pandemic? This, says sponsorship committee volunteer Sarah Wayland, was the frustrating riddle.
"Full Moon and Waves" by E. Robert Ross.
"So many small businesses are tapped out," she says. "We decided to focus on the art."
It was Hawkes Cameron who donated an abstract painting of her in the absence of anything else she could give and that started a great momentum.
Now more than 40 Hamilton area artists, both established and emerging, have contributed almost 60 pieces, in a wide variety of price ranges, to the online auction that will run from Friday to Dec. 10.
Some of those featured are Sylvia Simpson, E. Robert Ross, Tom Wilson, Lee Munn, Sandee Ewasiuk and Gordon Leverton.
Once the call went out, especially through the Kirkendall neighbourhood hub Facebook page, the creators stepped up.
"Looking on the Brighter Side" by Lee Munn
Loading…
Loading…Loading…Loading…Loading…Loading…
"Just Art resonated significantly with me, as my art subjects are homes, and I attempt to capture the beauty of the home in the community they serve. I'm proud to participate, knowing that all proceeds will support this refugee family of three women settle in our community," said Hamilton painter Gordon Leverton.
The public is invited to bid on works between those dates, Dec. 4 and Dec. 10, by visiting justart.rockonlocke.ca.
Wayland says that the team conservatively estimates that the family's first year costs will be $46,000.
"Rents alone — they've really gone up (in Hamilton)," says Wayland.
"This is an opportunity to give gifts with meaning."
Cannisters by Louise McCann
Pandemic blues? Online art therapy might help you work through your feelings – CBC.ca
It doesn't matter where they are in the world. Most of Michelle Winkel's patients are struggling with the exact same thing right now, and that's anxiety.
"It was a significant problem before the pandemic," says Winkel, clinical supervisor at the Virtual Art Therapy Clinic and co-founder of the Canadian Institute for Art Therapy (CIIT) in Victoria. (In fact, anxiety disorders are the most prevalent mental health issues period, according to the Canadian Mental Health Association.) But recently, says Winkel, the problem "has absolutely magnified" at the clinic, and the reason should be as plain as the three-ply reusable mask on your face.
COVID's impact on mental health is occasionally discussed as a sort of shadowy bonus pandemic, hitting everyone differently — but affecting everyone, just the same. In May, a crowdsourced study from Statistics Canada reported that 88 per cent of respondents had experienced anxiety symptoms — things like "feeling nervous, anxious or on edge" — sometime in the two weeks before they were polled. And nearly a quarter said they had "fair or poor mental health." (Compare that to a similar survey from two years prior: back then, a mere 8 per cent were feeling similarly meh.)
"Obviously with COVID, life is pretty stressful," says Winkel. Since April, her online clinic has provided support to patients working through their anxiety or depression or stress. And it's one of several virtual resources that offers a space to heal through art.
So … art therapy? What does that mean exactly?
"I believe that art-making is therapeutic," says Winkel. But there's a distinction between chilling at home with pack of Crayolas and engaging in art therapy. Per the textbook definition on the Canadian Art Therapy Association (CATA) website, the practice mixes psychotherapy with art-making. ("Using imagery, colour and shape as part of this creative process," they say, "thoughts and feelings can be expressed that would otherwise be difficult to articulate.") And it's facilitated by a certified art therapist, someone trained in the field at a graduate level.
"Usually clients come because of a pain point," says Winkel. "We may use some art-making to explore that."
Absolutely no experience is required. "They do not need to be artists or feel artistic at all," says Winkel. And during a session, the art therapist might guide a creative exercise. It's not always about making a picture or a painting, she explains. A common prompt might be something like: "Show me what you're struggling with."
"Let's say it's a feeling of anxiety. Well, you could choose an animal that feels like that. Express it in some kind of image."
By making art, and reflecting on the process, the patient is working to get a better handle on what they're experiencing. "For a lot of folks these days, it's about communicating with themselves first," says Winkel. "How can I tolerate the anxiety of this scary, scary stuff that's going on in a way that's a little bit healthier for me?" Insight can change how they're able to negotiate those feelings going forward. And the art therapist's there to guide the process.
"Having someone there to facilitate, to develop a safe and trusting environment to be able to make art is the healing piece, we think."
Is online therapy the right fit?
Art therapy has a variety of applications, but sticking to the example of what Winkel and her team are doing at the Virtual Art Therapy Clinic, she says most of their participants face she calls "daily challenges in living." They aren't arriving with a doctor's diagnosis, but maybe they've been feeling anxious or low or isolated. (The website encourages folks in crisis to seek other treatment.) "It can be as simple and humble as that they're feeling a bit stressed and they'd like a few sessions to explore stress management. And that would be a very suitable thing to deal with in art therapy."
The clinic's sessions are open to both adults and children, and they're led over Zoom by senior students at CIIT. (So, special art materials aren't required, but a working webcam is.) Before the first appointment's booked, participants go through a free "meet and greet" assessment. They get to talk about their needs and ask any questions they might have. The sessions themselves are offered on a pay-what-you-can model, starting at $10. Continuing with further sessions is up to the participant. "We have many who just come for a handful, get what they need, and then stop," says Winkel.
OK, so where else are people doing it?
The Virtual Art Therapy Clinic is, of course, just one option. To find an individual therapist offering virtual sessions, Winkel recommends searching directories like the one on the CATA website. Or, you could try something altogether different, like an online Art Hive.
An Art Hive?
Yep. They're a network of community art studios that welcome folks of all ages and abilities. The concept originated at Concordia University in Montreal, which runs multiple Art Hives through its campus — and in the Before Times, these spaces would welcome anybody and everybody to gather and create (using a stash of free materials). Since March 20, the Concordia chapters have been hosting meet-ups on Zoom, and at least 21 Canadian Art Hives are currently active online. Some focus on visual art-making. At Concordia, they also run regular Art Hives for music and movement. And while these sessions aren't necessarily presided over by a certified art therapist, Rachel Chainey, national network coordinator for Art Hives Network, says that the project's guiding philosophy is "rooted in art therapy."
Each session has a facilitator, she says, who's there to make everyone feel welcome and free to create. "The Art Hive seeks to bring people together around a common idea, which is creativity and art-making," she says. "Importantly, in terms of mental health, it creates a safety net. People often, you know — not everyone will go to therapy. And not everyone has access to individual therapy or even group therapy, whether for financial reasons, whether it's for cultural reasons. The Art Hive forms a community around a person. […] There will be a community of people checking on them."
What do people get out of it?
Marguerite Dorion, 76, is a recent Art Hive convert. Pre-pandemic, she was aware of the IRL locations in Montreal, but as a busy YMCA volunteer, she never really took part. Now? "My gosh, it's nearly my whole day," she says, and because the programming's online, she's been exploring Art Hives beyond the city. "It's very casual, very welcoming," she says, and of all the things she loves about the experience — including the joy of painting and learning new things — it's the community aspect that's most important to her. "In French we call it 'en réseau,' which means a link between many people."
Making art with a group, albeit over Zoom, felt novel to Alexandra O. Carlsson when she joined her first Art Hive. But week over week, she says, "you start to recognize faces, and almost feel a kind of camaraderie." A 33-year-old occupational therapist from Kingston, Ont., Carlsson takes part in a virtual session run through the Agnes Etherington Art Centre at Queen's University. At first, she was there out of professional curiosity. "But I slowly realized that it was actually very therapeutic for myself," says Carlsson. "Every time I finished Art Hive I was like, 'Wow, that was something that I did today that I didn't even know I needed.' Self-care is such a trendy term, but it felt like such a wonderful creative outlet for myself. And it really helped me decompress after a busy day."
"People there, they break their social isolation," says Chainey of Art Hives. "They find a place of belonging. It helps them find meaning. Often creativity is connected to finding purpose, meaning, self worth, feeling proud of oneself. So these are all things that contribute to enhanced well-being."
That last Art Hive … it's run by a museum?
Yes, some museums host virtual Art Hives, too. The Montreal Museum of Fine Arts, for example, is developing its own online version, and Stephen Legari, the museum's program officer for art therapy, says it should be live in the next few weeks. It'll be the closest facsimile to dropping in on the MMFA's real-life Art Hive — the only one of its kind in a museum. It is, of course, closed due to COVID-19, but pre-pandemic, people were free to make arts and crafts with support from on-site educators and art therapists. Legari says 2,500-3,000 visitors made use of the studio each year.
And beyond plans for that aforementioned virtual meet-up, there are other resources available on the MMFA's website. In the spring, Legari produced a bunch of short videos that lead the viewer through different art-therapy exercises inspired by pieces from the museum's collection. More are in the works, he says, and they should arrive in the New Year.
[embedded content]
But are any of these online options a substitute for the IRL thing?
Both have their pros and cons. There are the obvious practical challenges: technology opens these services to people living anywhere, but there are still folks who get left behind. Some people struggle with computer literacy. Others can't afford the right hardware. And beyond all that, maybe Zoom just isn't your thing.
Since May, Winkel's been studying the effectiveness of online art therapy, specifically as it pertains to treating anxiety. Nine therapists have been following 36 clients at the Virtual Art Therapy Clinic. At the beginning and end of each session, these patients are asked to rate their anxiety on a scale of zero to 10, and going off her findings so far, virtual sessions have merit. "What we're noticing is about a 38 per cent improvement from the beginning of the session to the end," she says. "So, it's a very sizeable improvement, meaning that the clients feel a lot less anxious at the end, even if they spend one hour working with someone." The research, however, is still ongoing.
Chainey acknowledges there are some things that are missing from the virtual experience, especially when it comes to her real-life Art Hive venues — community hubs that are crammed with craft materials and artwork. "It's such a rich environment, so nourishing for people's creativity," she says. "You cannot replicate that online, however hard you try." But the fundamental spirit is still there.
"I notice that often people attend an Art Hive because they want to feel seen by others. That's why they choose to come instead of creating in isolation," she says.
"I think that this sense of feeling connected, supported, seen […] that happens online."
ARTS AROUND: Rollin Art Centre lights up for Christmas – Alberni Valley News
Christmas at the Rollin Art Centre is happening now until Dec. 23.
Come and stroll the magically lit gardens, then pop upstairs to the gallery (with COVID-19 safety protocols in place) and visit Mistletoe Market, where you will find hundreds of gift items for all your shopping needs.
The number of guests will be limited to four people. Guests must wear a mask and hand sanitize at the entrance.
All locally made, the market is a showcase of local artists, artisans and crafters. You will find something for everyone on your list: pottery, jewellery, scarves, photographs, original paintings, glass works, quilted stockings, holiday cards, ornaments and much more!
We are open late every Friday (11 a.m. to 8 p.m.). The gallery is located at the corner of Argyle Street and Eighth Avennue. We are also wheelchair accessible.
MEMBERSHIP APPRECIATION DAYS
The Community Arts Council is holding its annual members appreciation days with two days of savings! If you are a current member, join us in the gallery on Friday, Dec. 4 (open late from 11 a.m. to 8 p.m.) and Saturday, Dec. 5 (11 a.m. to 4 p.m.) to receive 20 percent off all items in the gift shop and gallery, excluding ticket sales.
This is also a great time to renew your 2021 membership—don't forget!
MYSTERY BAG OF BOOKS
Surprise! For just $20 you will get 10 books in one bag, all in the same genre!
By purchasing a bag of books, you will also be helping the Rollin Art Centre during this difficult time! Choose from Christmas novels, crafts, DIY books, fiction, travel, gardening, cooking, home improvements, art, spiritual, romance, fantasy, mystery, pre-teen chapter books (e.g. Nancy Drew), children's books and so much more.
These make great Christmas gifts! Bags are now available at the Rollin Art Centre. Get yours now because they sell out fast! Your support for the Rollin Art Centre is greatly needed and much appreciated.
ARTIST AND STUDIO GUIDE
The Community Arts Council is designing a new Alberni Valley artist and studio guide. If you are interested in being included in this brochure/guide, please call the Rollin Art Centre for more information at 250-724-3412.
The guide will include local artists and a map. Five thousand guides will be printed and distributed to the tourist information centre and local hot spots. The extended deadline is Jan. 31, 2021.
Melissa Martin is the Arts Administrator for the Community Arts Council, at the Rollin Art Centre and writes for the Alberni Valley News. Call 250-724-3412. Email: communityarts@shaw.ca.