Crypto's Biggest Crash Saw Guy Playing League Of Legends While Luring Investors [Update]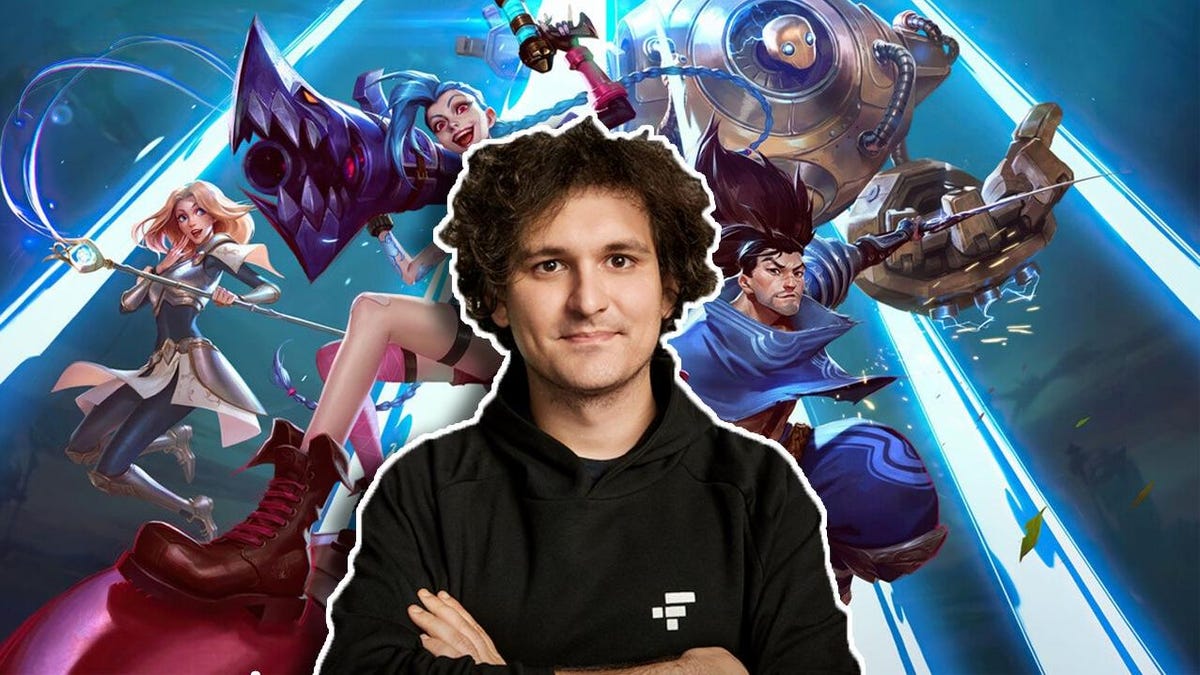 At the center of all this, though, is Bankman-Fried. There have been all manner of crypto scams, but the whole point of FTX was that it was supposed to be legit, in part because it was run by a really smart guy. None of this crypto shit makes any sense to you? Don't worry, this guy has figured it out, and he's going to make you and him billions with his really smart ideas about finance and crypto. And he's going to do it ethically. "A 30-Year-Old Crypto Billionaire Wants to Give His Fortune Away," reads one Bloomberg headline. "Sam Bankman-Fried drives a Corolla, sleeps on a beanbag, and has a Robin Hood-like philosophy."
G/O Media may get a commission
And a lot of people were convinced. Even if you don't think you've ever heard of FTX or Bankman-Fried, you probably saw the roughly $25 million commercial for both featuring Larry David at this year's Super Bowl. The man poured $40 million into the 2022 midterm races to push the importance of pandemic preparedness. Stonk memelords were absolutely convinced that GameStop's NFT partnership with FTX was going to help take the ailing video game retailer to the moon.
Bankman-Fried was so smart, in fact, that he could pitch some of the biggest investors in the world on why they should give him their money all while in the middle of a League of Legends teamfight. According to a September profile of Bankman-Fried, he was doing just that while in a Zoom call with venture capital firm Sequoia trying to secure additional funding for FTX by talking about how the crypto exchange would become a "super app." Here is an excerpt:
That's when SBF told Sequoia about the so-called super-app: "I want FTX to be a place where you can do anything you want with your next dollar. You can buy bitcoin. You can send money in whatever currency to any friend anywhere in the world. You can buy a banana. You can do anything you want with your money from inside FTX."

Suddenly, the chat window on Sequoia's side of the Zoom lights up with partners freaking out.

"I LOVE THIS FOUNDER," typed one partner.

"I am a 10 out of 10," pinged another.

"YES!!!" exclaimed a third.

What Sequoia was reacting to was the scale of SBF's vision. It wasn't a story about how we might use fintech in the future, or crypto, or a new kind of bank. It was a vision about the future of money itself—with a total addressable market of every person on the entire planet.

"I sit ten feet from him, and I walked over, thinking, Oh, shit, that was really good," remembers Arora. "And it turns out that that fucker was playing League of Legends through the entire meeting." "We were incredibly impressed," Bailhe says. "It was one of those your-hair-is-blown-back type of meetings."

Not only that, Arora says, but League of Legends is the kind of multiplayer online battle arena video game where every four minutes or so of tactical maneuvering is punctuated by ten seconds of action known as a gank—gamer slang for "gang killing"—where you and your team gang up on an enemy. "There's a fight that happens, basically," says Arora, who was watching over SBF's shoulder as he answered that final question from Sequoia, "and I'm like, This guy is fucking in a gank!"
After that meeting, Sequoia ended up investing over $200 million in FTX. But really they were investing in Bankman-Fried, the Magic: The Gathering nerd and finance whiz who was going to deliver them one app to rule them all right after he pub-stomped some randos (FTX is also a $210 million sponsor of pro League team TSM). Yesterday, Sequoia zeroed out that entire investment as worthless.
"I don't know how I know, I just do," Adam Fisher, the author of the above excerpt, wrote in his glowing September profile. "[Sam Bankman-Fried] is a winner."
"Published 6 weeks ago," a commenter quoting that part responded online. "Aged well, hasn't it?"
Fisher wrote back, "It's cringe-y in retrospect. I'm not quitting my day job to become a tech investor, I'll tell you that."
But Fisher is just a freelancer. Who paid for the profile? Why, Sequoia of course. You can read "Sam Bankman-Fried Has a Savior Complex—And Maybe You Should Too" over on its website, but with a new editor's note.
"We are in the business of taking risk," reads part of a letter updating partners. "At the time of our investment in FTX, we ran a rigorous diligence process."
Update 11/11/22 9:23 a.m. ET: Sequoia nuked the Bankman-Fried profile from its website. The company did not respond to a request for comment.
Update 11/14/22 3:00 p.m. ET: According to an investigation by the Financial Times, Bankman-Fried also apparently sucked at League of Legends. Clearly his rank didn't fair any better than his crypto.
A shortage of pilots is making travel chaos in Canada even worse – CBC News
From pandemic-related travel restrictions to extreme weather events, Canada's travel industry has navigated an unprecedented amount of uncertainty of late. And now, just as demand for travel has returned to its 2019 level, airlines are navigating their next patch of turbulence: a lack of qualified pilots.
According to Transport Canada, in a typical pre-pandemic year, roughly 1,100 pilot licences were issued. When complemented by foreign-trained pilots, that was generally more than enough to satisfy the needs of carriers as large as WestJet and Air Canada, all the way down to regional, charter and cargo airlines.
But as demand for flying collapsed in 2020, so did the number of new pilots getting their paperwork. Government data shows less than 500 licences were awarded in 2020, a figure that fell to less than 300 in 2021 and just 238 last year.
The department told CBC News in a statement that while labour shortages in the airline sector has been "identified as a priority area for action," there are no current plans to loosen regulations. But the agency says it's doing what it can to "increase the competitiveness of the Canadian flight training industry as well as improve the viability of aviation careers to address any shortages."
Whatever changes do come will do little to help anyone in the short term, and travellers are already seeing the impact of the industry's current labour crunch.
Staff shortages were a factor in charter airline Sunwing's cancellation of 67 flights over the last two weeks of December, along with extreme weather.
Salaries for experienced pilots generally go up faster and higher at the major airlines than they do at most others, they are so typically able to have their pick among those available. That causes shortages just about everywhere else.
The head of the Air Transport Association of Canada says it's a problem that had been brewing for many years, even before the pandemic.
"We haven't had enough pilots for a long time, mostly at the regional level," John McKenna said.
Long, expensive process
Getting a commercial licence is the last step in a multi-year process of becoming a pilot, a journey that can cost tens of thousands of dollars and take years.
In Canada, for many that journey ends with a dream job at either WestJet or Air Canada, but because of the expense and time commitment of training a new pilot, the major airlines often hire top staff from smaller carriers instead of methodically developing their own.
"Their fishing grounds is the regional carriers. And the regional carriers go down to the smaller carriers, air taxi groups … those levels have been hurting for many years," McKenna said.
Canada's two biggest airlines told CBC News in emailed statements that while there is indeed a higher than normal demand for pilots right now, both of them are managing to meet their needs.
"As a large global carrier operating the most modern, largest aircraft, we are a very desirable destination for talented pilots," AIr Canada said. "As a result, we are able to attract pilots as required."
"We have and continue to responsibly manage and plan our operations to meet the anticipated demand of our guests and are fully staffed across our network to support our operation," WestJet said.
That's not the case for everyone else. Small airlines often have so few pilots on staff that it doesn't take the loss of very many to stop planes from flying.
In the fall, Sunwing applied to bring in more than 60 temporary foreign workers to meet demand for pilots, but that application was rejected, which exacerbated the chaos seen at the end of 2022. The airline has since cancelled almost all flights out of Saskatchewan and most out of Manitoba for the rest of the winter travel season.
Pandemic reduced numbers, too
It's not just the big boys gobbling up all the qualified pilots, either. Many simply left the profession during the pandemic.
"Two years ago, to the day, literally almost every pilot [was] out of work," says Dave Boston, a pilot with 25 years experience who's also the man behind Edmonton-based aviation job board, Pilot Career Centre.
Faced with furloughs and layoffs at airlines big and small, many pilots tried to wait it out, but many simply moved on, he told CBC News in an interview.
"Many who had businesses or other interests, after maybe six months to a year, had to put food on the table, and they left the industry," Boston said.
For the pilots who are left, headhunting is the new normal. He says he hears from desperate airlines every day, because they either can't find the staff, or just lost yet another one. "It's very common for pilots, unfortunately, to work there for six months [then] get a surprise interview that they don't expect to get, and then they're gone," he said.
"It's a real challenge right now."
One person hoping to meet that challenge is Zona Savic, a soon-to-be graduate of one of Canada's premier aviation schools, Seneca College in Peterborough, Ont.
While she had planned to go into engineering, she joined the Air Cadets while in high school, and was quickly bitten by the aviation bug.
"I just knew from the moment that I was in that plane, this is what I was going to do," she told CBC News in an interview.
She's on track to get her pilot's licence soon, and while she may do additional training to become an instructor herself, she says it's a load off her mind to know that she won't have to worry about finding a job.
And even better for the industry, she has no qualms about working her way up at smaller carriers flying niche, remote routes.
" I just love the feeling of flying, so if that's what I'm doing, I don't really care if I'm in Paris, or in Nunavut," she says. "Anything is good for me, as long as I get to experience that."
Q4 economic growth slows to 1.6% as aggressive hikes bite – BNN Bloomberg
Canada's economy geared down at the end of 2022, growing at about half the pace of the third quarter and setting the stage for a period of little to no growth.
Preliminary data suggest gross domestic product was flat in December as increases in retail, utilities and the public sector were offset by decreases in the wholesale, finance and oil and gas industries, Statistics Canada reported Tuesday in Ottawa. That followed a 0.1 per cent gain in November, which matched economist expectations in a Bloomberg survey, and a 0.1 per cent increase in October.
Overall, the monthly gains point to annualized growth in the fourth quarter of 1.6 per cent, according to an initial estimate from the statistics agency. Though it will likely be revised, it's down sharply from a 2.9 per cent pace in the third quarter, 3.2 per cent during April to June, and 2.8 per cent in the first three months of last year.
The numbers show that higher interest rates, which have jumped 425 basis points since last March, are slowing economic activity and weighing on consumption. The lagged effects of the Bank of Canada's aggressive tightening campaign are expected to drag growth to a halt this year, with economists seeing two quarters of shallow contraction in the first half of 2023.
That's a key reason why Governor Tiff Macklem and his officials said this month they plan to hold the benchmark overnight lending rate at 4.5 per cent if growth and inflation evolve broadly in line with their outlook. While the 1.6 per cent growth in the final quarter is slightly stronger than policymakers forecast last week, signs of slowing demand are mounting.
"The economy hasn't yet absorbed the impact of past rate hikes," James Orlando, an economist at Toronto-Dominion Bank, said in a report to investors. "Even though today's growth numbers are holding up well, the BoC can feel comfortable keeping its policy on cruise control a little while longer."
In November, growth in services-producing industries was partially offset by a decline in the goods sectors, the statistics agency said. Interest-rate increases continued to dampen activity for real estate agents and brokers, residential building construction, and legal services which have been trending downward since spring.
Construction dropped 0.7 per cent, with new construction of single detached homes and home improvement leading the decline. Accommodation and food services contracted 1.4 per cent on lower activity in bars and restaurants. Retail trade decreased 0.6 per cent, with the food and beverage subsector falling to its lowest level since April 2018.
The central bank expected fourth-quarter growth of 1.3 per cent annualized, while economists in Bloomberg surveys predicted a gain of 0.9 per cent. Official data for December and the fourth quarter will be released Feb. 28.
Based on initial estimates, Canada's economy expanded 3.8 per cent in 2022, broadly in line the Bank of Canada's estimate for a 3.6 per cent growth.
"The overriding message is that the economy is just managing to keep its head above water, which squarely fits with the BoC's view," Doug Porter, chief economist at Bank of Montreal, said in a report to investors.
Nike sues Lululemon, says footwear infringes patents – CTV News
Nike sued Lululemon Athletica on Monday, saying that at least four of the Canadian athletic apparel company's footwear products infringe its patents.
Nike in a complaint filed in Manhattan federal court said it has suffered economic harm and irreparable injury from Lululemon's sale of its Blissfeel, Chargefeel Low, Chargefeel Mid and Strongfeel footwear.
Nike said its three patents at issue concern textile and other elements, including one addressing how the footwear will perform when force is applied.
The Beaverton, Oregon-based company is seeking unspecified damages.
Lululemon, based in Vancouver, British Columbia, did not immediately respond to requests for comment.
(Reporting by Jonathan Stempel in New York; editing by Christopher Cushing)