Cubans take to streets in rare protests over lack of freedoms and worsening economy – CNN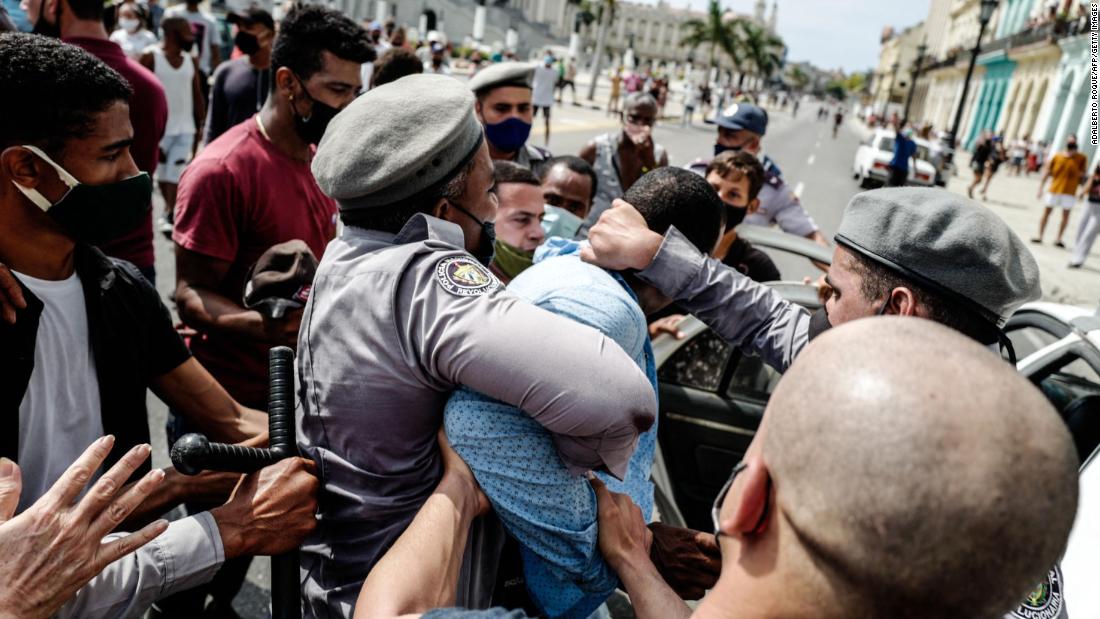 Demonstrators complained about a lack of freedom and the worsening economic situation during the rare protests, according to people who spoke to CNN and videos from multiple cities, including capital Havana.
Many chanted for "freedom" and called for President Miguel Díaz-Canel to step down.
Multiple protesters were arrested by police, who used tear gas to break up some demonstrations. In Havana, a CNN team witnessed demonstrators being forcibly arrested and thrown into the back of vans by police officers. There were also violent clashes, where protesters turned over a police car and threw rocks at officers.
In a nationally televised address, President Díaz-Canel said US trade sanctions had created economic misery on the communist-run island.
Díaz-Canel did not offer the protesters any concessions in his speech, but instead urged his supporters to physically confront them. "The order to combat has been given," he said at the end of his appearance, "Revolutionaries need to be on the streets."
In the city of San Antonio de los Baños, just outside Havana province, hundreds of people defied a heavy police presence to air their complaints.
One resident who did not wish to be identified told CNN that residents had been enduring power outages for a week and that had "detonated" the growing outrage.
Social media platforms are being restricted in Cuba, according to internet monitor NetBlocks.
NetBlocks tweeted on Monday that "Social media and messaging platforms restricted in #Cuba from Monday on state-run internet provider ETECSA; real-time network data corroborate reports of internet disruptions amid widening anti-government protests; incident ongoing #CubaSOS."
The NetBlocks website said its metrics showed that WhatsApp, Facebook, Instagram and some Telegram servers were being disrupted.
Videos uploaded to social media showed how the spontaneous protest movement has gained momentum, with streams appearing of other protests in a handful of cities and towns across the island.
In some of the videos, people shouted they "weren't afraid" or that they wanted liberty or access to coronavirus vaccines.
President Díaz-Canel made an unplanned stop in San Antonio de los Baños on Sunday after police had cleared protesters, while
Cuban government officials
blamed the protests on "salaried agents" on Twitter.
Calls for restraint
On Monday, US President Joe Biden called on the Diàz-Canel government to "hear their people and serve their needs."
"We stand with the Cuban people and their clarion call for freedom and relief from the tragic grip of the pandemic and from the decades of repression and economic suffering to which they have been subjected by Cuba's authoritarian regime," Biden said in a statement.
White House National Security Advisor Jake Sullivan also tweeted on Sunday night, "the U.S. supports freedom of expression and assembly across Cuba, and would strongly condemn any violence or targeting of peaceful protesters who are exercising their universal rights."
Other US officials also urged for restraint, saying Cubans had the right to protest. "We are deeply concerned by "calls to combat" in #Cuba. We stand by the Cuban people's right for peaceful assembly. We call for calm and condemn any violence," Julie Chung, acting assistant secretary for the Department of State's Bureau of Western Hemisphere Affairs, tweeted Sunday.
"For decades, Cuba's dictatorship has used violence and repression to silence its people, rather than permit the free exercise of democracy and their basic social rights," Senate Foreign Relations Committee Chairman Bob Menendez said in a statement.
"This must end. The world's eyes are on Cuba tonight and the dictatorship must understand we will not tolerate the use of brute force to silence the aspirations of the Cuban people," he added.
Other world leaders have also weighed in, with Brazilian President Jair Bolsonaro criticizing socialist regimes on the continent. People went on the streets to ask for "freedom," and received "rubber bullets, beatings, and prison," he said.
Strained US-Cuba relations
But statements from US leaders have prompted angry criticism from Cuban authorities, who argue that US sanctions are the cause of Cuba's ailing economy.
US-Cuban relations are at their lowest point in years. The Trump administration enacted some of the toughest economic measures against Cuba in decades, and so far, the Biden administration
seems reluctant to lift them
.
The already struggling Cuban economy has been hit hard as tourism and good imports have dropped steeply during the pandemic. On Sunday, Cuban health officials reported a record single-day increase for new
Covid-19 cases and deaths
.
President Diàz-Canel criticized the protests, calling demonstrators vandals who "broke into the stores and stole [many] items." He pointed to "restrictive measures" by the Trump administration that caused "a very rough period of time, where we were going to have many difficulties and economic scarcities."
Cuba's Minister of Foreign Affairs Bruno Rodriguez also criticized Sullivan's statement on Monday, saying he had "no political or moral authority to speak about Cuba."
"His government has allocated hundreds of millions of dollars to promote subversion in our country & implements a genocidal blockade, which is the main cause of economic scarcities," Rodriguez added in a tweet.
Mexican President Andrés Manuel López Obrador also called on the US to suspend their Cuba trade embargo as a humanitarian gesture. "No country in the world should be fenced in, blockaded — that's the opposite of human rights," he said.
When asked why Biden had not yet reversed Trump's policies towards Cuba, White House Press Secretary Jen Psaki said the US had continued to provide humanitarian assistance and medical supplies — but added, "I have nothing to preview for you in terms of a change of policy."
In a statement on Sunday, US Secretary of State Tony Blinken pushed back against criticisms from the Cuban government, saying "it would be a grievous mistake for the Cuban regime to interpret what is happening in dozens of towns and cities across the island as the result or product of anything the United States has done."
"That is what we are hearing and seeing in Cuba, and that is a reflection of the Cuban people, not of the United States or any other outside actor," he said.
UK's Johnson expects steady recovery for economy this year – Financial Post
Article content
LONDON — British Prime Minister Boris Johnson said Britain's economy would show a steady recovery this year albeit with "bumps on the road" after the country posted a strong increase in the number of employees on company payrolls in June.
"You're seeing the job numbers increasing and I think the rest of this year there will still be bumps on the road but I think you'll see a story of steady economic recovery," Johnson told LBC radio on Wednesday.
(Reporting by Guy Faulconbridge and Kate Holton, writing by Elizabeth Piper Editing by William Schomberg)
Fed Considers Tapering Bond Purchases as Economy Grows – The New York Times
Federal Reserve officials are gathering in Washington this week with monetary policy still set to emergency mode, even as the economy rebounds and inflation accelerates.
Economists expect the central bank's postmeeting statement at 2 p.m. Wednesday to leave policy unchanged, but investors will keenly watch a subsequent news conference with the Fed chair, Jerome H. Powell, for any hints at when — and how — officials might begin to pull back their economic support.
That's because Fed policymakers are debating their plans for future "tapering," the widely used term for slowing down monthly purchases of government-backed debt. The bond purchases are meant to keep money chugging through the economy by encouraging lending and spending, and slowing them would be the first step in moving policy toward a more normal setting.
Big and often conflicting considerations loom over the taper debate. Inflation has picked up more sharply than many Fed officials expected. Those price pressures are expected to fade, but the risk that they will linger is a source of discomfort, ramping up the urgency to create some sort of exit plan. At the same time, the job market is far from healed, and the surging Delta coronavirus variant means that the pandemic remains a real risk. Policy missteps could prove costly.
The Fed's balance sheet has grown, thanks to bond-buying.
The Federal Reserve has swollen its balance sheet by buying bonds to bolster the economy during the pandemic, making it a bigger player in markets.
Here are a few key things to know about the bond-buying, and key details that Wall Street will be watching:
The Fed is buying $120 billion in government backed bonds each month — $80 billion in Treasury debt and $40 billion in mortgage-backed securities.

Economists mostly expect the central bank to announce plans to slow those purchases this year, perhaps as soon as August, before actually dialing them back late this year or early next. That slowdown is what Wall Street refers to as a "taper."

There's a hot debate among policymakers about how that taper should play out. Some officials think the Fed should slow mortgage debt buying first because the housing market is booming. Others have said mortgage security buying has little special effect on the housing market. They have hinted or said they would favor tapering both types of purchases at the same speed.

The Fed is moving cautiously, and for a reason: Back in 2013, markets convulsed when investors realized that a similar bond-buying program after the financial crisis would slow soon. Mr. Powell and crew do not want to stage a rerun.

Bond-buying is just one of the Fed's policy tools, and is used to lower longer-term interest rates and to get money chugging around the economy. The Fed also sets a policy interest rate, the federal funds rate, to keep borrowing costs low. It has been near zero since March 2020.

Central bankers have been clear that tapering off bond purchases is the first step toward moving policy away from an emergency setting. Increases in the funds rate remain off in the distant future.
IMF warns of growing poverty, unrest and geopolitical tensions – Al Jazeera English
The global economic recovery continues, but with a widening gap between advanced economies and many emerging market and developing economies thanks to vaccine inequity and a lack of fiscal support, the International Monetary Fund (IMF) warned on Tuesday
While the latest update to the IMF's World Economic Outlook sees the global economy still growing 6 percent this year – unchanged from its April estimate – Chief Economist Gita Gopinath noted that the composition of the recovery continues to change.
"The recovery is not assured until the pandemic is beaten back globally," Gopinath told reporters during a virtual press conference as she presented the latest outlook titled Fault Lines Widen in the Global Economy.
The IMF sees global growth decelerating to 4.9 percent next year. Advanced economies are expected to achieve 4.4 percent growth in 2022 – down from 5.6 percent in 2021 – while growth in emerging and developing economies is seen slowing to 5.2 percent in 2022 from an expected rebound 6.3 percent in 2021.
Rich, emerging and developing nations all took an economic beating last year when the coronavirus pandemic forced governments to close borders, shut businesses and idle manufacturing hubs worldwide.
As countries rolled back COVID restrictions this year, growth forecasts jumped as people emerged from lockdowns and unleashed pent-up demand for products and services. That demand surge though is expected to moderate next year.
Developed economies armed and shielded with a healthy supply of COVID-19 vaccines and fiscal firepower have managed to open up businesses and resume operations. But the emergence of new COVID variants and infection spikes laces uncertainty into the recovery path.
Growth in the US, the world's largest economy, is seen slowing to 4.9 percent in 2022 after a bounce back of 7.0 percent expected this year. Europe is also expected to slow to 4.3 percent in 2022 from 4.6 in 2021.
Growth in the Middle East and Central Asia is expected to decelerate to 3.7 percent next year from 4.0 in 2021, while emerging and developing Asian economies are expected to dip more than a point from 7.5 in 2021 to 6.4 in 2022.
Latin America and the Caribbean are forecast to experience the sharpest fall from 5.8 percent in 2021 to 3.2 in 2022 after plummeting 7.0 in 2020.
Sub-Saharan Africa is the only region that is expected to see growth climb – from 3.4 in 2021 to 4.1 percent in 2022.
Vaccines & trillions in fiscal support
Vaccine inequality is seen as a chief driver of the widening gulf between recoveries in developed and less developed economies.
Close to 40 percent of people in advanced economies have been fully vaccinated compared with only 11 percent in emerging market economies and a tiny fraction in low-income developing countries.
Fresh waves of COVID-19 cases this year, notably in India are a major source of the deepening inequality between rich and poor nations.
"The emergence of highly infectious virus variants could derail the recovery and wipe out four and a half trillion dollars cumulatively from global GDP by 2025," Gopinath warned.
To make matters worse, poor countries and even emerging markets lack access to the funds necessary to jolt economies back to health. Advanced economies, on the other hand, passed $4.6 trillion in fiscal support for 2021 and beyond. In developing economies, most measures expired last year.
And some emerging markets like Brazil, Hungary, Mexico, Russia and Turkey have also started raising interest rates to contain soaring inflation triggered by supply chain bottlenecks as economies reopen. Higher interest rates cool economic growth.
"A worsening pandemic and tightening financial conditions would inflict a double blow to emerging markets and developing economies and severely set back their recoveries," Gopinath warned.
Inflation & action
A significant portion of the "abnormally high inflation" readings is transitory, resulting from the pandemic's hit to vital parts of the economy such as travel and hospitality, and from a comparison with last year's abnormally low readings, Gopinath said.
The IMF forecasts inflation to remain elevated next year. In emerging markets and developing economies food price pressures and currency depreciation will continue to create yet another worrying disparity in economic recovery.
Major central banks must clearly communicate their outlook for monetary policy and ensure that inflation fears do not trigger rapid tightening of financial conditions, the IMF stressed.
The Fund's proposal to end the pandemic, endorsed by the World Health Organization, the World Bank, and the World Trade Organization, sets a goal of vaccinating at least 40 percent of all people in every country by the end of 2021 and 60 percent by the middle of 2022.
The IMF urges at least 1 billion vaccine doses to be shared in 2021 by countries with more than enough of them and calls on manufacturers to prioritise deliveries to low and lower-middle-income countries.
The fund said its allocation of some $650bn worth of its reserve currency, known as Special Drawing Rights, should be completed quickly to help countries in need fund their spending needs. Greater action is also needed to ensure the G-20 successfully delivers on debt restructuring for countries where debt has ballooned and become unsustainable, said the IMF.
Gopinath further urged countries to focus more on reducing carbon emissions and slowing the rise in global temperatures to avoid yet another human and financial catastrophe. As it stands now, only 18 percent of recovery spending has been on low carbon activities.
"Concerted policy actions…can make the difference between a future where all economies experience durable recoveries or one where divergences intensify, the poor get poorer and social unrest and geopolitical tensions grow," she said.