Cubans take to streets in rare protests over lack of freedoms and worsening economy – CNN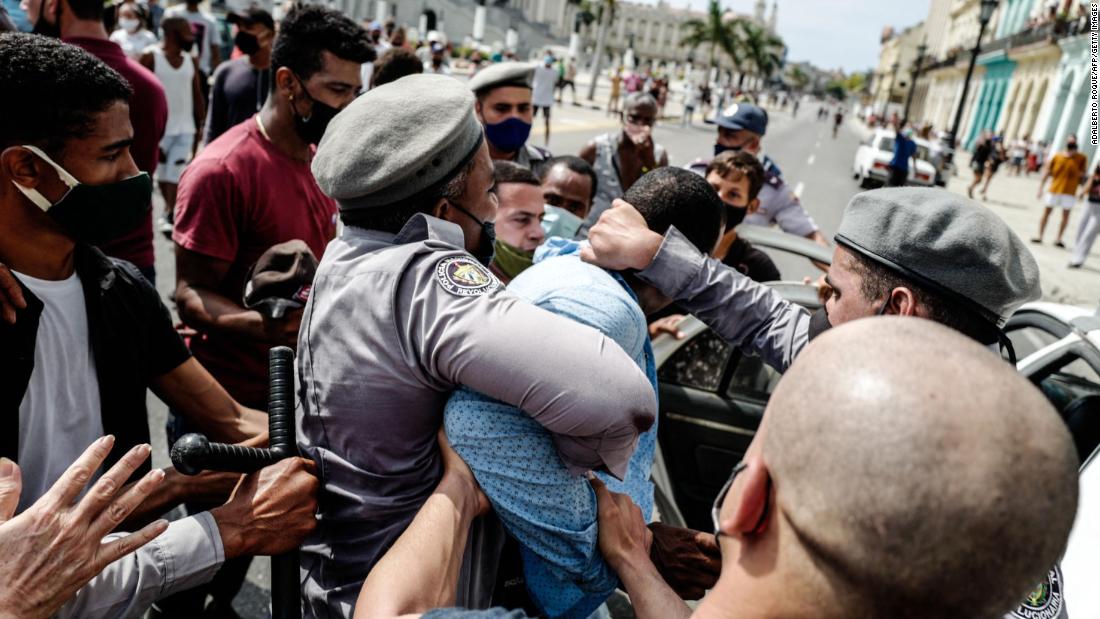 Demonstrators complained about a lack of freedom and the worsening economic situation during the rare protests, according to people who spoke to CNN and videos from multiple cities, including capital Havana.
Many chanted for "freedom" and called for President Miguel Díaz-Canel to step down.
Multiple protesters were arrested by police, who used tear gas to break up some demonstrations. In Havana, a CNN team witnessed demonstrators being forcibly arrested and thrown into the back of vans by police officers. There were also violent clashes, where protesters turned over a police car and threw rocks at officers.
In a nationally televised address, President Díaz-Canel said US trade sanctions had created economic misery on the communist-run island.
Díaz-Canel did not offer the protesters any concessions in his speech, but instead urged his supporters to physically confront them. "The order to combat has been given," he said at the end of his appearance, "Revolutionaries need to be on the streets."
In the city of San Antonio de los Baños, just outside Havana province, hundreds of people defied a heavy police presence to air their complaints.
One resident who did not wish to be identified told CNN that residents had been enduring power outages for a week and that had "detonated" the growing outrage.
Social media platforms are being restricted in Cuba, according to internet monitor NetBlocks.
NetBlocks tweeted on Monday that "Social media and messaging platforms restricted in #Cuba from Monday on state-run internet provider ETECSA; real-time network data corroborate reports of internet disruptions amid widening anti-government protests; incident ongoing #CubaSOS."
The NetBlocks website said its metrics showed that WhatsApp, Facebook, Instagram and some Telegram servers were being disrupted.
Videos uploaded to social media showed how the spontaneous protest movement has gained momentum, with streams appearing of other protests in a handful of cities and towns across the island.
In some of the videos, people shouted they "weren't afraid" or that they wanted liberty or access to coronavirus vaccines.
President Díaz-Canel made an unplanned stop in San Antonio de los Baños on Sunday after police had cleared protesters, while
Cuban government officials
blamed the protests on "salaried agents" on Twitter.
Calls for restraint
On Monday, US President Joe Biden called on the Diàz-Canel government to "hear their people and serve their needs."
"We stand with the Cuban people and their clarion call for freedom and relief from the tragic grip of the pandemic and from the decades of repression and economic suffering to which they have been subjected by Cuba's authoritarian regime," Biden said in a statement.
White House National Security Advisor Jake Sullivan also tweeted on Sunday night, "the U.S. supports freedom of expression and assembly across Cuba, and would strongly condemn any violence or targeting of peaceful protesters who are exercising their universal rights."
Other US officials also urged for restraint, saying Cubans had the right to protest. "We are deeply concerned by "calls to combat" in #Cuba. We stand by the Cuban people's right for peaceful assembly. We call for calm and condemn any violence," Julie Chung, acting assistant secretary for the Department of State's Bureau of Western Hemisphere Affairs, tweeted Sunday.
"For decades, Cuba's dictatorship has used violence and repression to silence its people, rather than permit the free exercise of democracy and their basic social rights," Senate Foreign Relations Committee Chairman Bob Menendez said in a statement.
"This must end. The world's eyes are on Cuba tonight and the dictatorship must understand we will not tolerate the use of brute force to silence the aspirations of the Cuban people," he added.
Other world leaders have also weighed in, with Brazilian President Jair Bolsonaro criticizing socialist regimes on the continent. People went on the streets to ask for "freedom," and received "rubber bullets, beatings, and prison," he said.
Strained US-Cuba relations
But statements from US leaders have prompted angry criticism from Cuban authorities, who argue that US sanctions are the cause of Cuba's ailing economy.
US-Cuban relations are at their lowest point in years. The Trump administration enacted some of the toughest economic measures against Cuba in decades, and so far, the Biden administration
seems reluctant to lift them
.
The already struggling Cuban economy has been hit hard as tourism and good imports have dropped steeply during the pandemic. On Sunday, Cuban health officials reported a record single-day increase for new
Covid-19 cases and deaths
.
President Diàz-Canel criticized the protests, calling demonstrators vandals who "broke into the stores and stole [many] items." He pointed to "restrictive measures" by the Trump administration that caused "a very rough period of time, where we were going to have many difficulties and economic scarcities."
Cuba's Minister of Foreign Affairs Bruno Rodriguez also criticized Sullivan's statement on Monday, saying he had "no political or moral authority to speak about Cuba."
"His government has allocated hundreds of millions of dollars to promote subversion in our country & implements a genocidal blockade, which is the main cause of economic scarcities," Rodriguez added in a tweet.
Mexican President Andrés Manuel López Obrador also called on the US to suspend their Cuba trade embargo as a humanitarian gesture. "No country in the world should be fenced in, blockaded — that's the opposite of human rights," he said.
When asked why Biden had not yet reversed Trump's policies towards Cuba, White House Press Secretary Jen Psaki said the US had continued to provide humanitarian assistance and medical supplies — but added, "I have nothing to preview for you in terms of a change of policy."
In a statement on Sunday, US Secretary of State Tony Blinken pushed back against criticisms from the Cuban government, saying "it would be a grievous mistake for the Cuban regime to interpret what is happening in dozens of towns and cities across the island as the result or product of anything the United States has done."
"That is what we are hearing and seeing in Cuba, and that is a reflection of the Cuban people, not of the United States or any other outside actor," he said.
The global economy is falling below expectations – The Economist
For a look behind the scenes of our data journalism, sign up to Off the Charts, our weekly newsletter
IT IS WELL known that markets hate uncertainty. Bad news, then, that by one measure the world economy is throwing up more nasty surprises for investors. Citigroup's global economic-surprise index (CESI), which measures the degree to which macroeconomic data announcements beat or miss forecasts compiled by Bloomberg, has fallen into negative territory for the first time since November (the indices for America and China have been negative since mid-May). Since the summer of 2020 economic indicators had tended until recently to surprise on the upside. But as inflation has surged and consumer confidence has flagged, they are now failing to meet forecasters' expectations. (See chart.)
Measures of economic surprises appear to be a useful way to gauge market sentiment. When the economy is booming data releases will typically be better than analysts expected, boosting the CESI. During an economic downturn, economic statistics will fall below the consensus estimate, leading to negative surprises. From June 2020 to July 2021, when the CESI for America was positive thanks to upbeat employment, inflation and housing figures, the S&P 500 index of big American firms rose by 38%. Since then the CESI has bounced above and below zero, and shares have fallen by roughly 9%.
In a paper published in 2016 Chiara Scotti, an economist at the Federal Reserve, constructed her own surprise index based on five indicators: GDP, industrial production, employment, retail sales and manufacturing output. America's index also measured personal income. Ms Scotti found that positive economic surprises in America were associated with appreciation of the dollar relative to the euro, pound sterling and yen. (In fact, Citi's index was designed by the bank's foreign-exchange unit for trading currencies, not stocks.)
But the surprise index can be hard to interpret. The CESI includes both backward- and forward-looking macroeconomic indicators, and is weighted in favour of newer releases and those that tend to have the biggest impact on markets. Because the index reflects economic performance relative to expectations, it can be negative during expansions if forecasters are too optimistic, and positive during contractions if they are too gloomy. But as Citi analysts wrote in a research note, "coincident rather than causal relationships are relied on even if they have no consistency whatsoever." ■
Sri Lanka Economy Shrinks 1.6% Amid Political Chaos, Inflation – BNN
(Bloomberg) — Sri Lanka's economy fell back into contraction last quarter as the country battled its worst economic problems since independence, with emergency aid to stabilize the island nation proving elusive.
Gross domestic product declined 1.6% in the quarter ended March from a year earlier, the Department of Census and Statistics said in a statement on Tuesday. That's shallower than a 3.6% contraction seen by economists in a Bloomberg survey and compares with a revised 2% expansion in the previous quarter.
The contraction likely marks the beginning of a painful and long recession for the country, whose Prime Minister Ranil Wickremesinghe last week said the economy had "completely collapsed." The crisis follows years of debt-fueled growth and populist fiscal policies, with the Covid-19 pandemic's hit to the dollar-earning tourism industry serving as the last straw.
Absence of foreign exchange to pay for import of food to fuel led to red-hot inflation, the fastest in Asia, triggering protests against the government led by the Rajapaksa clan that eventually led to the resignation of Mahinda Rajapaksa as premier. While the months-long protests hurt business activity in parts of the country, the government on Monday imposed new curbs, which includes a call to residents to stay home until July 10 to conserve fuel.
That will depress activity further, while raising the risk of more unrest given lingering shortages of essential goods.
Sri Lanka is in talks with the International Monetary Fund for aid to tide over the crisis, with at least $6 billion needed in the coming months to prop up reserves, pay for ballooning import bills and stabilize the local currency. The central bank has raised interest rates by 800 basis points since the beginning of the year to combat price gains that touched 39%.
Other details from the GDP report include:
For the first quarter, the services sector grew 0.7% from a year earlier
Industrial production slipped 4.7% and agriculture output contracted 6.8%
©2022 Bloomberg L.P.
China's economy recovering but foundation not solid, premier says – Financial Post
Article content
BEIJING — China's economy has recovered to some extent, but its foundation is not solid, state media on Tuesday quoted Premier Li Keqiang as saying.
China will strive to drive the economy back onto a normal track and bring down the jobless rate as soon as possible, Li was quoted as saying.
"Currently, the implementation of the policy package to stabilize the economy is accelerating and taking effect. The economy has recovered on the whole, but the foundation is not yet solid," Li was quoted as saying.
Article content
"The task of stabilizing employment remains arduous."
China's economy showed signs of recovery in May after slumping the previous month as industrial production revived, but consumption remained weak and underlined the challenge for policymakers amid the persistent drag from strict COVID-19 curbs.
China's nationwide survey-based jobless rate fell to 5.9% in May from 6.1% in April, still above the government's 2022 target of below 5.5%.
In particular, the surveyed jobless rate in 31 major cities picked up to 6.9%, the highest on record. Some economists expect employment to worsen before it gets better, with a record number of graduates entering the workforce in summer.
Li vowed to achieve reasonable economic growth in the second quarter, although some private-sector economists expect the economy to shrink in the April-June quarter from a year earlier, compared with the first quarter's 4.8% growth.
(Reporting by Kevin Yao and Beijing newsroom; Editing by Andrew Heavens, William Maclean)