Dallas startup InspireMore wants a 'righteous disruption' of mainstream media that'll make you smile – The Dallas Morning News
Earlier this year, the team at Dallas-based media startup InspireMore learned about a troubling case of elementary school bullying from nonprofit Behind Every Door.
McKenzie Steward, who was born with albinism, had been bullied by other students because of her skin condition. So the InspireMore team put out a request to readers to submit kind letters to the fifth-grader.
"It was truly one of the most cool moments because we got over 500 letters," InspireMore co-founder and chief marketing officer Hunter Stensrud said.
Partnering with Behind Every Door, InspireMore ended up compiling the crowdsourced letters and artwork into a book and giving it to Steward and her mother. A video recording and article about this became content shared with the site's followers, thanking them for their participation.
"Each person is made uniquely beautiful, which means there is no one else like you," Behind Every Door operations director Darrion Lewis read aloud from the book of letters given to Steward earlier this year as she sat in a folding chair beside him, fidgeting with her hands and smiling coyly.
The update on Steward's saga published to InspireMore's website joined headlines like "Woman Flies Abused Dog 2,500 Miles To Shower Her With Love And Healing" and "Disney Princesses Help 6-Yr-Old With Autism Find His Confidence."
[embedded content]
InspireMore, now in its fifth year, was launched out of the Dallas Entrepreneur Center in March 2014. It was driven by a singular mission: inspire overwhelmed media consumers to realize how much good there is in the world.
Some stories are aggregated by InspireMore's staff from mainstream media outlets where they may be buried by news with greater public implications. Others are dug up by the site's crew of half a dozen writers who scour social media for tales of heroism and empathy.
Stensrud and InspireMore founder Robert Neely didn't study journalism and they've never worked in news. They don't consider themselves or their team to be journalists.
"Our team really cares about others, really loves media and wants to find things that are interesting," Neely said.
Neely is a former strategy and operations consultant for Deloitte who went on to study the human condition at the faith-based Kanakuk Institute. Stensrud was a marketing strategist for Reap Marketing.
To them, InspireMore is a platform for connecting people as well as a supplement to readers' existing media diets.
"We don't want to replace the news," Neely said.
He refers to it as "righteous disruption."
"You know, a lot of things that are reported on can be depressing," he said.
InspireMore's early mission, which was based on bringing as much attention as possible to positive and inspiring stories, has evolved in the years since. It's started to become more focused and purposeful, Neely said.
"When you have attention, and eyeballs, and you have people's passion — how do you leverage that?" Stensrud noted.
Since launching, the company has reached up to 3 million readers monthly and donated $125,000 to charity. InspireMore even rose to become the 15th-most visited mobile website in the U.S. in June 2017, according to Quantcast data.
The startup moved into new offices in Dallas' West End in 2018 and is in a fundraising round now to bring in more than $2.7 million. Neely said he hopes the company will see profitability by mid-2020.
The company makes money primarily by selling advertising on its site and with sponsored posts across its social media profiles and newsletters.
But it wasn't always this way.
In its first year of operation, Neely said InspireMore barely made money and hardly anybody took home a salary as the company worked to find its footing in the media landscape.
Social media algorithms have changed over the past several years, with Facebook's deprioritization of publishers being among the most notable, forcing media outlets to find new avenues to reach audiences.
"We were getting a lot of social traffic," Neely said. "But people weren't as attached to the brand as we wanted and it's because of how we were reaching them, how they were visiting our site, how we were engaging them."
The company wants to build a "tribe" around the InspireMore brand, a group of people who are driven not just by a cynicism toward negative news media and social media platforms but by a desire to see more good in their lives.
In this vein, Neely and Stensrud hope to develop an app and build more strategic partnerships like they did recently with the Mister Rogers film A Beautiful Day in the Neighborhood. The partnership with film distributor Sony Pictures and Dallas-based Vomo encouraged people around the country to partake in community service in November, as well as promoted the film through email sponsorships, sponsored articles and social promotion.
The company is also exploring hyperlocal email newsletters — including one specifically for Dallas residents.
Netflix is not in deep trouble. It's becoming a media company – CNN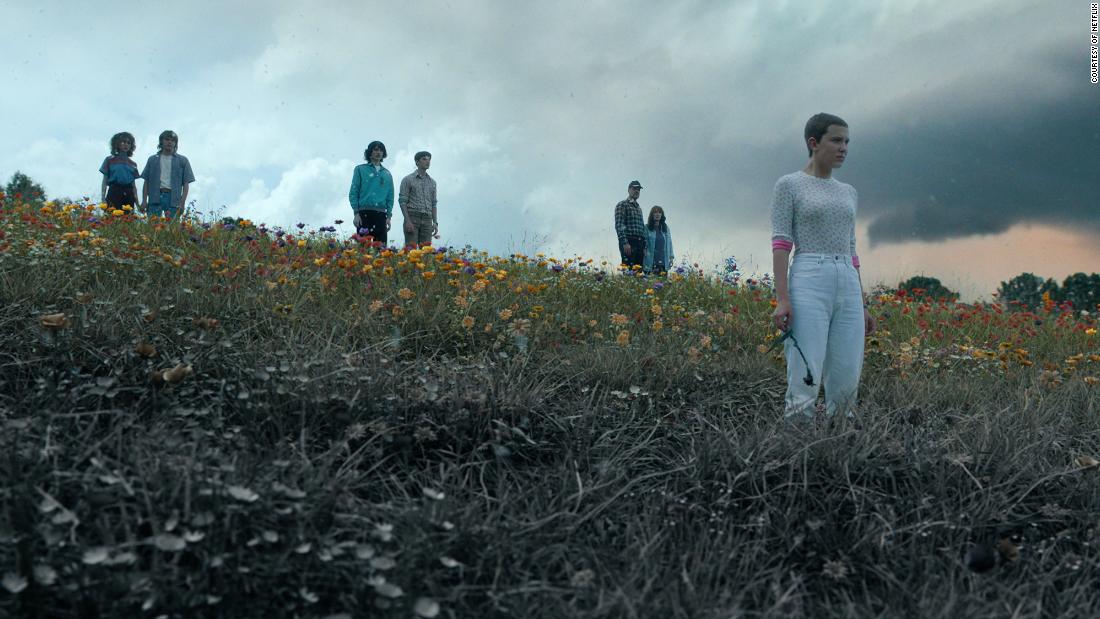 New York (CNN Business)Netflix has had a terrible 2022. In April, it said it lost subscribers for the first time since 2011. Its stock has tumbled more than 60% so far this year.
Yet its recent struggles may not be the start of a downward spiral or the beginning of the end for the streaming giant. Rather, it's a sign that Netflix is becoming a more traditional media company.
Netflix
(NFLX)
was originally valued as a Big Tech company, part of the Wall Street acronym, "FAANG," which stood for
Facebook
(FB)
,
Apple
(AAPL)
,
Amazon
(AMZN)
, Netflix and
Google
(GOOG)
. Wall Street once valued the company at about $300 billion — a number on par with many Big Tech companies that Netflix's business model ultimately couldn't live up to.
"I think Netflix was extremely overvalued," Julia Alexander, director of strategy at Parrot Analytics, told CNN Business. "Unlike those companies that have different tentacles, Netflix does not have a lot of tentacles."
But Netflix was never really a tech company.
Yes, it relied on subscriber growth like many companies in the tech world, but its subscriber growth was built on having films and TV shows that people wanted to watch and pay for. That's more a like a studio in Hollywood than a tech company in Silicon Valley.
Netflix looked a lot more like a tech company than, say, Disney, Comcast, Paramount or CNN parent company Warner Bros. Discovery. But as those traditional media companies start to look a lot more like Netflix, Netflix in turn is starting to take page out of its rivals' playbooks: It's going to
start serving ads
and it has been releasing some shows over the course of weeks and months rather than all at once.
Netflix has said that its cheaper ad tier and clampdown on password sharing may come next year. It's partnering with
Microsoft
(MSFT)
for its
ad business.
"I think in many ways the moves Netflix are making suggest a transition from tech company to media company," Andrew Hare, a senior vice president of research at Magid, told CNN Business. "With the introduction of ads, crackdown on password sharing, marquee shows like 'Stranger Things' experimenting with a staggered release, we are seeing Netflix looking more like a traditional media company every day."
Hare added that Netflix's former business strategy, which was "once sacrosanct is now being thrown out the window."
"Netflix once forced Hollywood deeply out of its comfort zone. They brought streaming to the American living room," he said. "Now it appears some more conventional practices could be what Netflix needs."
At Netflix right now, "a lot of these strategic moves are being made as they mature and move into the next phase as a company," noted Hare. That includes focusing on cash flow and revenue rather than just growth.
"In other words, old school business," he said.
— CNN Business' Moss Cohen contributed to this report.
City of Brandon – August 7th Media Release – City of Brandon –
For the last 24 hours:
Drinking in Public Leads to Multiple Criminal Charges:
At about 11:40 AM Saturday morning, it was reported that a male subject was acting bizarrely in and around the 700 block Rosser Ave. When located in the area, the 21 year-old was drinking an alcoholic beverage so was detained under the LGCCA. He was subsequently found to be in breach of multiple conditions of two separate Probation Orders. Search incident to arrest revealed a machete in his backpack. He disclosed taking an unknown quantity of unknown pills, so was released on appropriate police imposed conditions as he was receiving medical assessment and treatment. He is to appear in Court on October 3rd, facing one count of possessing a weapon and six counts of failing to comply with a Probation Order.
Break & Enters:
An unlocked attached residential garage on Falcon Crescent was entered overnight on Friday and tools were stolen. Some of those were recovered strewn across neighbouring property.
A resident in the 300 block 27th Street reported that the detached garage had been forcibly entered overnight Thursday – Friday. The complainant was unsure if anything had been stolen but the walk-through door frame had been damaged during the incident.
Theft With Threat:
At about 3:50 PM Saturday afternoon, it was reported that a resident in the 700 block 20th Street had been robbed of a bicycle approx. 20 minutes prior, while in his back yard. Police attended and spoke with the victim who related that an unknown male came into his back yard and stole an old bicycle of no value, and brandished a knife while doing so. The suspect left without further incident. The suspect was described as Indigenous in appearance, 6'5", skinny, wearing a blue hoodie, black bandana and hat. The knife was pulled from the front right pants' pocket.
Arrest Warrants:
A 28 year-old female was encountered in the 700 block 18th Street Saturday evening, with personal effects strewn about a business vestibule. A records query revealed a warrant for arrest for failing to comply with a Probation Order. She was arrested and released on scene with a court date of October 3rd.
Just before midnight Saturday night, Brandon RCMP advised having a 51 year-old male in custody on the strength of a BPS held warrant for arrest for sexual assault. RCMP had attended to a complaint in Glenboro and encountered the accused. He is held in custody and will appear before the court later today.
Motor Vehicle Collision With Injuries:
At 11:15 PM Saturday night, 911 reported a two vehicle collision at the intersection of Russell Street and Madison Crescent. Two occupants were stuck in a vehicle that had rolled over onto its' side. The investigation revealed that the driver of the rolled vehicle failed to stop at the stop sign. That driver was transported to BRHC by EMS with non-life threatening injuries. The second driver was uninjured.
Others:
Several people were detained from separate incidents, for their own safety or to prevent a breach of the peace, due to their level of intoxication. They will be held in custody until sober enough to care for themselves.
RELEASE AUTHORIZED BY:
A/Staff Sergeant Dallas Lockhart, #101
C Platoon
~~~~~~~~~~~~~~~~~
Anyone with information on any unsolved crime is asked to call Brandon Crime Stoppers at 204-727-(TIPS) 8477, www.brandoncrimestoppers.com or by texting BCSTIP and your message to CRIMES (274637). Crime Stoppers pays up to $2000.00 cash for information that leads to the solution of a crime.
CRIME STOPPERS 204-727-TIPS
Social Media Buzz: Taiwan, Indiana Abortion Ban, Kim and Pete – Bloomberg