Lindsey Vonn goes social with P.K. Subban marriage proposal – The Globe and Mail
Lindsey Vonn popped the question to hockey star P.K. Subban.
"Merry Christmas and happy holidays everyone!! On our 2 year anniversary, in a 'non traditional' move, I asked PK to marry me and he said, Yes [bashful emoji]!" Vonn tweeted on Christmas Day. "Women aren't the only ones who should get engagement rings!"
The former ski racer closed the tweet with the hashtags "MerryChristmas" and "equality."
Vonn linked a picture of herself and Subban with the ring, with the couple wearing matching striped pyjamas in front of a Christmas tree with three dogs in the foreground. She also posted a close-up of Subban flashing the ring, with the words "Drip drip"and a blue teardrop.
Vonn also said on social media in August that they were engaged.
The 35-year-old Vonn recently retired from a skiing career that included three Olympic medals, four overall World Cup titles and 82 World Cup race wins, a record for a woman.
The 30-year-old Subban and won the 2013 Norris Trophy with Montreal as the NHL's top defenceman. He was traded to New Jersey from Nashville in June.
Stamkos out for remainder of playoffs – TSN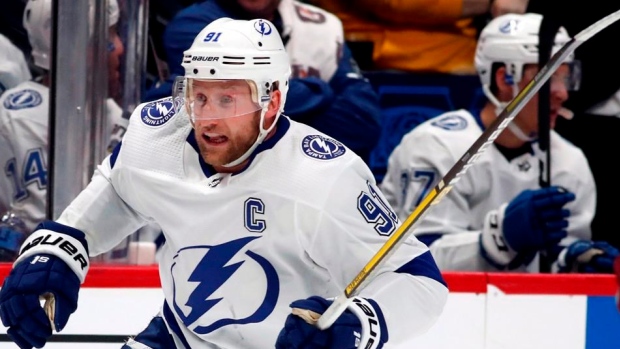 Tampa Bay Lightning head coach Jon Cooper said forward Steven Stamkos will not return in the Stanley Cup Playoffs. "Hopefully next time we see him on the ice is during the trophy presentation," Cooper said.
The 30-year-old returned to the Lightning lineup for the first time since February in Game 3 and scored a goal, but only had five shifts, playing just 2:47.
Stamkos skated off gingerly at the end of his final shift in the first period and was not on the bench for the start of the second. He returned to the bench and took a few twirls to test out the injury but did not return and was deemed "unfit to play" for Game 4.
Stamkos, who last played Feb. 25, had surgery in early March and aggravated the injury at least once over the summer.
Tampa Bay leads the series 3-2.
French Open begins as top players grumble over cold weather – CNN International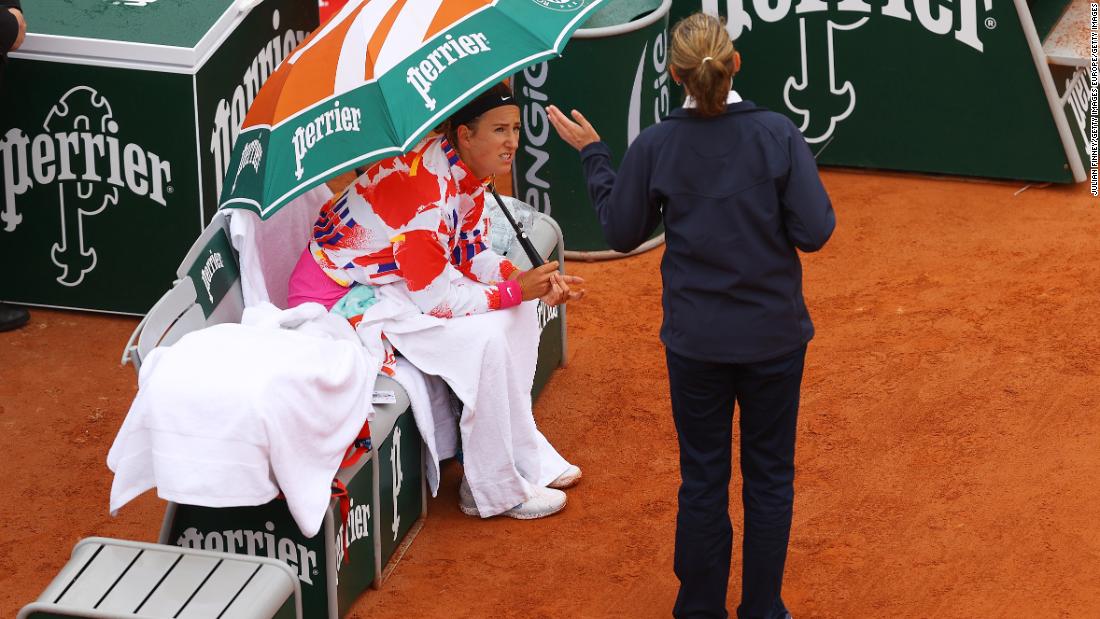 The tournament's 10th seed was 2-1 up against Montenegro's Danka Kovinic in the first round when she took matters into her own hands after light rain paused the match.
When she was asked to remain on court by a match official while a decision was taken about whether play should continue, the Belarusian tennis player said she would not carry on waiting outside.
"I'm not going to sit here because I'm going to get frozen," she told the supervisor.
After complaining that it was only 8 degrees Celsius (46.4 degrees Fahrenheit), the two-time grand slam winner said she lived in Florida and was "used to hot weather."
"It's ridiculous, it's too cold. What's the point? Sitting here like ducks," Azarenka added.
When the match resumed 50 minutes later, the Belarusian quickly took control of the game, beating her opponent 6-1 6-2 in just over an hour. Her victory was watched by just nine spectators,
according
to Reuters.
Speaking about the interruption, Azarenka said: "I think it's very tricky at the moment to have these conditions. So definitely not going to sit here and complain, but sometimes I think there are smarter ways to handle situations."
Over in the men's draw, Spain's Rafael Nadal, who is hoping to win his 13th French Open title, has also stressed that conditions are different this year, after the clay tournament was delayed from May to late September because of the coronavirus pandemic.
"The ball is super slow, heavy. It's very cold. Slow conditions," Nadal said.
The Spaniard also said that he has "always" been "beatable" on clay, commenting that Novak Djokovic has defeated him "a lot of times" on the surface.
Nadal's opening match against the Belarusian Egor Gerasimov is scheduled for Monday.
Tonight's lineup: Zeuch starts – Bluebird Banter
It looks like there has been a change in starting pitcher for tonight. I thought Matt Shoemaker was to start, but now the Blue Jays are saying T.J. Zeuch gets the start.
I hope there isn't a injury reason for the switch. Charlie Montoyo is to talk to the media soon so we'll hear why the change was made.
Bo Bichette and Randal Grichuk both sit today. Joe Panik plays short and Jonathan Davis is in center.
Update:
No injury to Shoemaker:
All's well with Matt Shoemaker, per Blue Jays manager Charlie Montoyo. Club held him out of today's start to preserve rotation options for wild card series. He threw a side session instead.

Blue Jays now have Hyun-jin Ryu, Taijuan Walker & Shoemaker all available to pitch Game 1

— Arden Zwelling (@ArdenZwelling) September 26, 2020