Dawoud Bey wants to deterritorialize art: 'When I'm in these spaces, it opens up space for the Black community'
For the better part of five decades, photographer Dawoud Bey has aimed his lens at the faces and spaces of Black Americans. Starting in his native New York in the 1970s and, more recently, traveling to the Deep South, he has created a critically acclaimed body of work that both honors history and illuminates everyday life.
Last month, the renowned artist debuted his first-ever Los Angeles solo show, "Dawoud Bey: Pictures 1976 – 2019," at Sean Kelly gallery in Hollywood. The exhibition, which runs through June 30, is a sampler of his work spanning from his "Harlem, U.S.A." series to "In This Here Place," capturing scenes from Louisiana plantations.
The exhibition coincides with the opening of "Dawoud Bey & Carrie Mae Weems: In Dialogue" at Getty Center. On view through July 9, that exhibition traces the career milestones of the two celebrated photographers, who are contemporaries as well as friends. As with the gallery show, there are images from Bey's late-'80s "Street Portraits" series and his three landscape-focused collections — "Harlem Redux," an exploration of a gentrifying neighborhood; as well as "Night Coming Tenderly, Black" and "In This Here Place," both of which address the past enslavement of African Americans. Unique to the Getty exhibition is Bey's "Birmingham Project," a collection of portraits commemorating the children who lost their lives in the 1963 bombing of the 16th Street Baptist Church in Alabama.
Bey, who lives in Chicago and is a Columbia College professor of photography, traveled to Los Angeles in April for the opening events of both shows. When he wasn't participating in gallery talks, he visited the local exhibits of artists whose work he admires, including Henry Taylor, Robert Pruitt and Milford Graves. Asked why his first major L.A. shows had only just now come to pass, he quipped, "Well, you can't invite yourself in, you know; someone has to invite you!"
While discussing his work, he spoke slowly and deliberately, using the same intention and decorum that he's long applied to his craft. What some viewers may see as impromptu street shots at a hasty glance are so much deeper to him.
"There was a sense — as contradictory as it sounds — of informal ceremony to that work," he said of his early photographs. "It was very much the kind of thing that one would encounter in going to a studio, except I'm out in the streets. The streets were my backdrop."
He went on to reflect on the evolution of his practice. The following conversation has been edited for length and clarity.
What does it mean to you to have these two shows open together in this town, at this moment in time?
I have spent significant time here in L.A.; I have a community here. I have been supported by institutions here in L.A. — LACMA's had my work in their collection for a long time, and the Getty too. But to have both of these exhibitions up simultaneously, it's a moment that I'm grateful for, excited about. It certainly marks a very particular moment, in terms of where I am in my career after 45 years of making work.
One of the reasons I do the work I do is to try to deterritorialize these spaces. That's very much a part of the ambition that drives my work. I'm acutely aware that when I'm in these spaces, it opens up space not only for other Black artists, but for the larger Black social community. And that really matters to me. I still remember when I was young, I never encountered another Black person in most of the places that I was going to. Making my first trip to Marlborough Gallery on 57th Street [in New York City] and walking into that space, I knew they were aware of my Black presence and I assumed, "A lot of Black teenagers don't come walking up in here to see Richard Avedon, but I don't care — I'm here to see it." That was why it was so gratifying opening night at the Getty to see all of these young Black folks and for them to feel like they had a reason to be there and that this was a place that could be theirs as well.
The first room in the Getty exhibition juxtaposes Carrie Mae Weems' early depictions of domestic life with your early streetside photographs. Did you ever consider capturing your subjects' interior lives?
My interest, when I was making portraits, had always been in the public and semi-public self-presentation of Black people in those spaces, not "Can I go home with you?" [or] "Can we cross the threshold to the other side?" I was really interested in the idea of how people are in the public spaces that they live in and wrapping the narrative of those spaces around them.
During that portrait period, how would one of your typical work days play out?
That day would look like me walking around with my conspicuous large-format camera on a tripod resting on my shoulder, drawing attention to myself and looking at people as they were looking at me. I was keenly aware that the people I was asking to participate in this probably never encountered someone doing what I was doing. Sometimes, I would just sit on the stoop, waiting for people to come by. Once I enter into their space with this camera, it's a very different situation than what existed before. What I worked towards was getting them back to that place before I momentarily disrupted their lives — that appearance of the same kind of casual, relaxed assurance before this stranger walked up to you — to kind of conceptually wind the clock back, like, "Let's get back to what you were doing before."
How has your practice changed over the past half-century?
When I started out photographing in Harlem in the 1970s, I was very conscious of the fact that I was not only making work in order to shape perceptions about that community and the Black people that lived in it, I was also making work in response to my sense of the history of Black representation in photography, and the history of photography in general. So that meant that I was aware not only of Roy DeCarava and other Black photographers, such as the Kamoinge collective, but also photographers like Walker Evans, Robert Frank, Dorothea Lange, Richard Avedon and Irving Penn, whose work was considered foundational. I am now working to include a Black voice within the history of the landscape tradition in photography.
I've also, from the beginning, drawn inspiration from sources outside of photography, such as music, painting and other art forms. So I don't think I've really changed over that time; I've been able to refine and evolve my ideas and sharpen my ability to execute them consistently through rigorous practice.
What sparked that interest in pivoting from portraits to landscape photography?
Conceptually, the "Birmingham" work is what began this desire to intentionally look back and forward at the same time. I decided I would continue by making work about the Underground Railroad. There was no one to make photographs of, so it was clear that I was going to have to let that trope of the portrait go. So it became about the place — the real and imagined places of fugitivity for escaping African Americans. That was preceded by "Harlem Redux," which was really central to my figuring out a language for making photographs about the Black past and present, in the absence of the portrait being the anchor for the work. By the time I got to making this work about the Underground Railroad and Black fugitivity, I'd become very comfortable with where the two sides, the top and bottom, are of a landscape photograph. Before "Harlem Redux," it was so expansive, like, "Where does this picture start and stop?"
The "Night Coming Tenderly, Black" work was also, conceptually, deeply informed by DeCarava's work … also this Langston Hughes poem ["Dream Variations"] with the last couplet that goes: "Night coming tenderly, Black like me." I thought about the idea of this tender blackness wrapping itself around these fugitive African Americans moving towards the border in order to make their passage to Canada. It became a question of how to make the photographs at such a scale that brought both the expansiveness and the rich physicality of the landscape into the work. People said, "Dawoud, the people disappeared!" I said, "They're still there, except they're back here looking out at the world, rather than being looked at."
How did it feel going from contemporary Harlem, which has been changing so rapidly, to rural landscapes that have remained largely unchanged after all this time?
People are like, "My God, Dawoud! You were at the plantation; I could never go there!" You need to go there. You need to go and feel the places where this history happened. You need to stand there. You need to be present. I'm not standing there in a rage on the plantation or even in a state of emotional turmoil because I wouldn't be able to do the work that I need to do. I need to figure out a formal and optical strategy for making this place breathe and come alive. Making something is very different than the emotions that we bring. That's what gets you there, but once you're there, you gotta do the work.
I'm always conscious that I'm making this work for history. I'm making this work in the service of our ancestors. It's really to keep our ancestors in the conversation so that they and that history will not be forgotten, even in the context of the Sean Kelly gallery or up on the mountain at the Getty.
This story originally appeared in Los Angeles Times.
Theatre, art, and water security central in international USask exhibition – USask News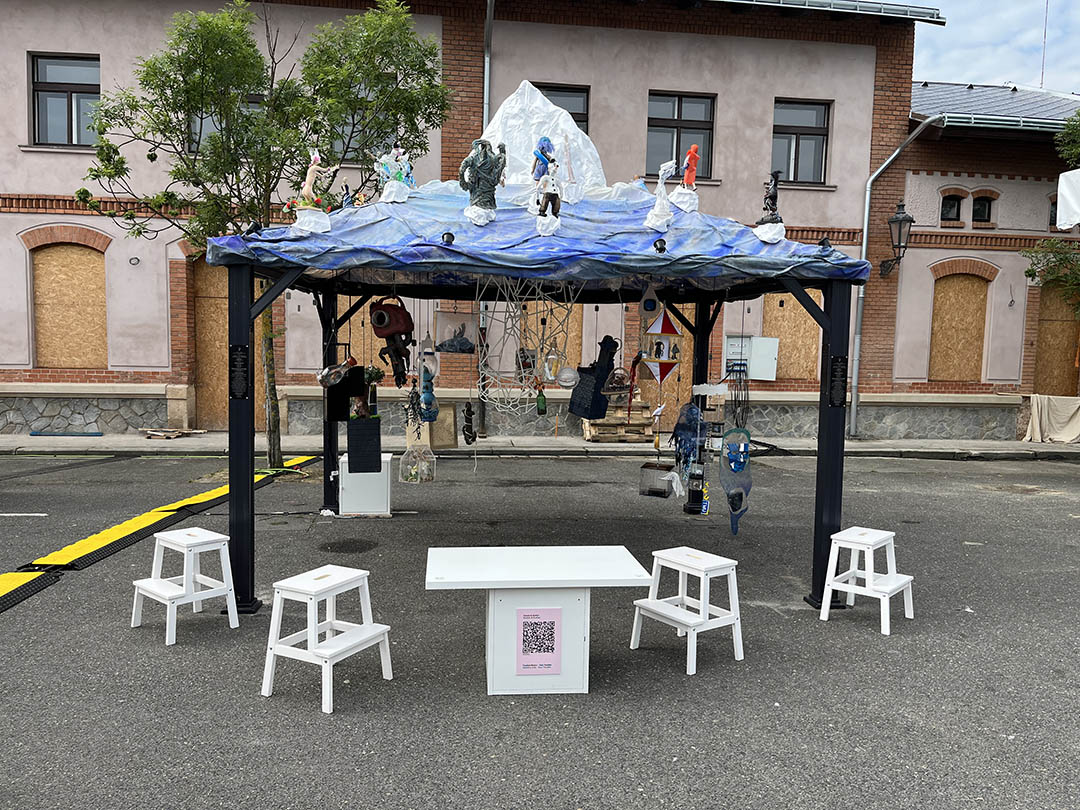 Per Orosz, the main "gazebo-like" structure is meant to invoke the idea of an iceberg, with other art pieces attached above or suspended below the structure's roof to symbolize thoughts and ideas that are either visible and talked about, or metaphorically "below the surface" when it comes to water security.
Six USask undergraduate students and two recent alumni contributed artwork to the exhibit. In addition, 20 USask students will be travelling to Prague to perform and engage with the public for the Canadian exhibition. Overall, around 150 students from across Canada will be participating in the exhibition at PQ.
Orosz spoke glowingly about the students' dedication to creating something that reflected ideas of water security and access to clean water in Canada, as well as their eagerness to collaborate with like-minded students from across the country.
"I feel pure pride for what USask does," she said. "It's an international stage, we're showing off the work to the rest of the world, but it's also important to show off to the rest of Canada."
In addition, Dr. Graham Strickert (PhD) with USask's School of Environment and Sustainability, and the Global Institute for Water Security, spoke to the students involved with the project about being mindful and thoughtful about the topic their artwork is focusing on.
USask has identified water as one of its signature areas of research that garners the university recognition and distinction around the world. Orosz and the students taking part in the PQ exhibition are shining a light on that focus in a unique and interdisciplinary way.
"What's important about these kinds of connections between art and science is that we're collaborating and feeding off of each other," Orosz said. "We're showing that scientists are hearing from us and thinking about new ways to approach their work, and we think about new ways to approach ours."
Richmond youth visual art contest draws worldwide participation – Richmond News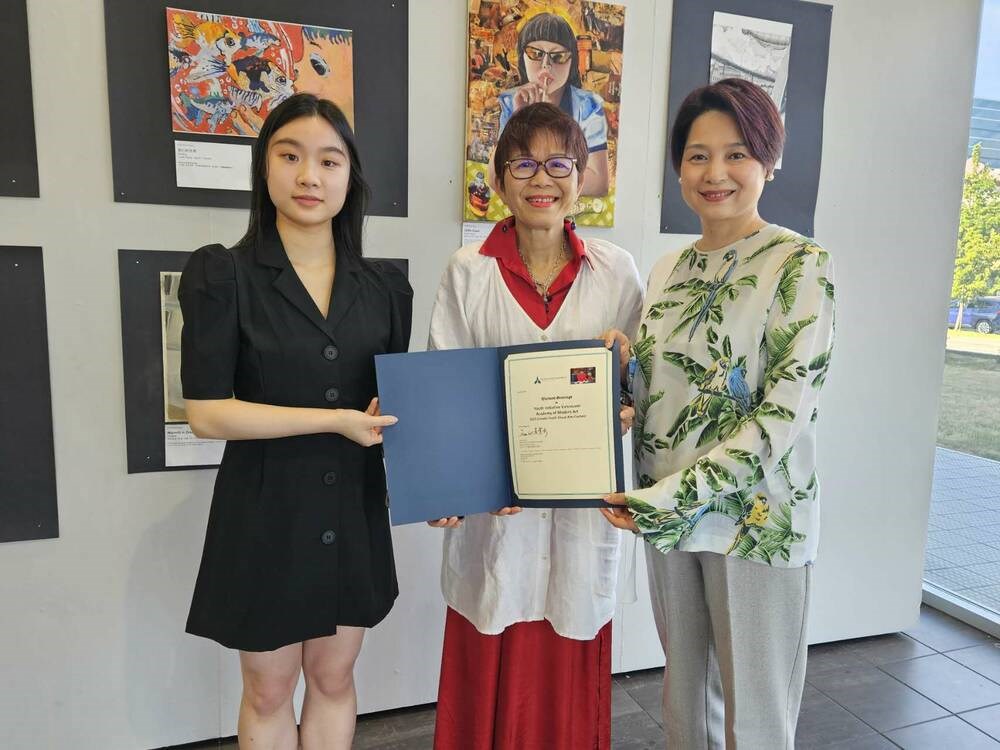 A Richmond-based visual art contest has received hundreds of submissions from across the world this year.
Canada Youth Visual Art Contest, an annual competition open to young people around the world is held by Youth Initiative Vancouver and Academy of Modern Art (AOMA) and was first launched in 2021.
This year, the contest received 660 pieces of artwork from 13 countries. The majority of the artwork will be on display at Lipont Place on No. 3 Road this weekend and can be viewed online after.
"Our competition was to connect young artists worldwide, especially during the global segregation because we started during the pandemic years," said Yoshier Hu, a student from Hugh McRoberts secondary and co-president of Youth Initiative Vancouver.
"We believe art is basically a universal language for creativity, especially in youth."
The contest is open to any type of art media, including traditional painting, mixed media, digital art, photography, 3-D models, sculptures and more.
A jury panel from different countries have selected 177 artworks as award recipients that will be announced at an award ceremony in Vancouver Saturday evening. More than 300 young artists are expected to attend the in-person event. The students also hope to raise funds for charities through the contest with the goal of raising $15,000 this year, Hu explained.
"In the past, we have raised money for UNICEF Canada, BC Children's Hospital Foundation, and this year we are doing VGH and UBC Hospital Foundation," she said.
"One of our main fundraising methods is artwork donation and charity auctions. Contestants and award recipients can choose to donate their artwork, and then we will auction it and raise funds that way."
The winning artwork will be available on AOMA's website.
This TikToker Shared a Brilliant Way to Make Thrifted Art Look More Modern – Apartment Therapy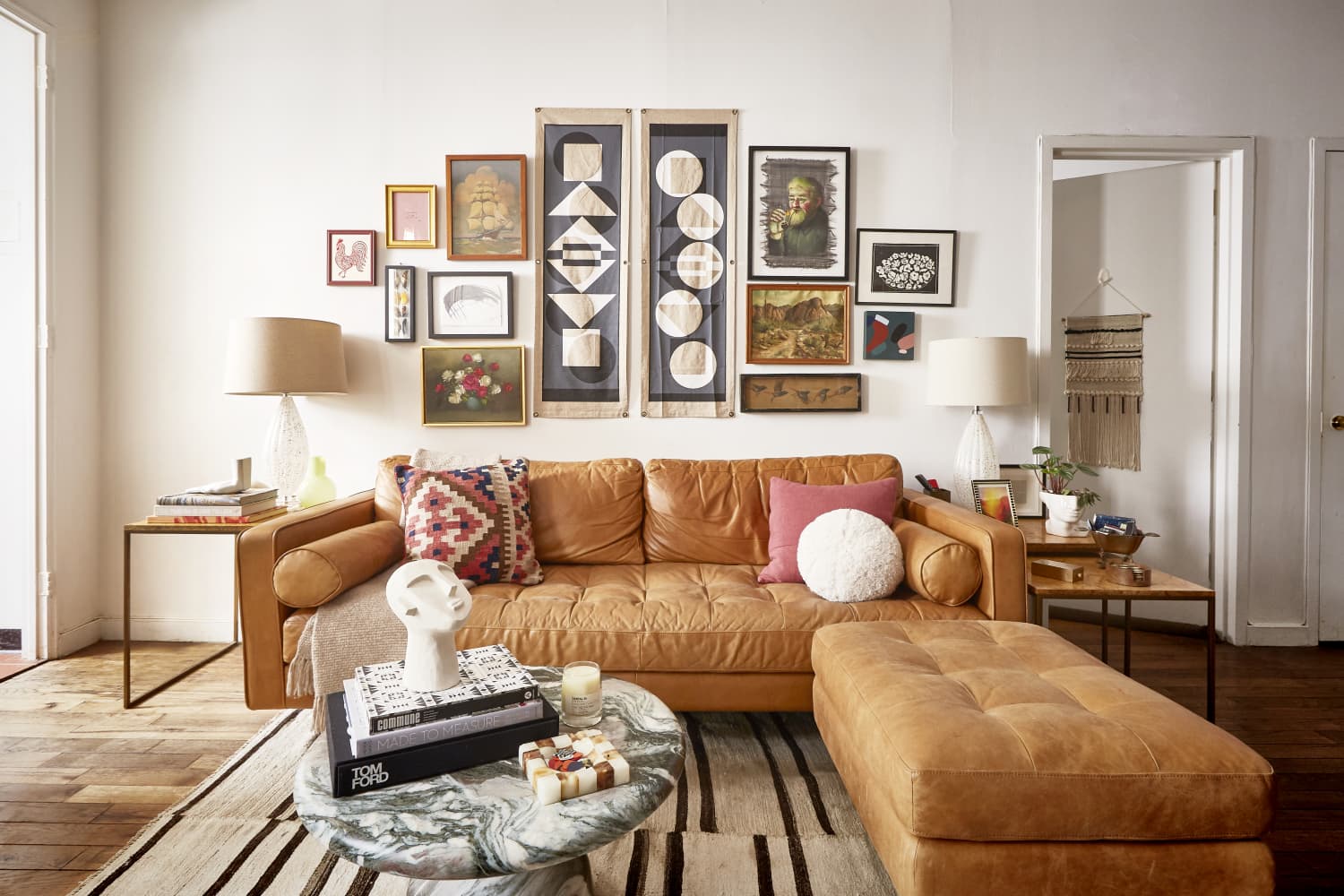 We independently select these products—if you buy from one of our links, we may earn a commission. All prices were accurate at the time of publishing.
Have you ever found gorgeous vintage art that doesn't quite mesh with the more modern aspects of your home? According to a viral TikTok, the solution is simple: You can spruce up any piece by giving its art mat a fresh coat of paint.
Content creator Christina Dennis (@thediymommy) shared this tip in a recent video, in which she recounts how she found a vintage floral painting at her local thrift store. After noting that the artwork comes with a dated-looking mat, she decided to freshen it up.
First, Dennis protected the original artwork by dividing it from its art mat with masking tape. Then, she covered the mat with black acrylic paint. After the acrylic paint, she returned the artwork to its frame, complete with a fresh new pop of color that contrasts with the cream background of the original piece.
"This makes this floral art really stand out and [adds] some drama to this piece," she writes in the video.
"I love how this turned out, and I think it truly updated this piece!" Dennis captioned her TikTok.
Judging by the video's popularity, plenty of DIY enthusiasts agree. At the time of writing, Dennis' TikTok has received over 12,400 likes and 142,700 views.
"Looks amazing!" one TikToker commented. "Would've loved a sage or dark green too!"
Another added: "OMG! Didn't see this coming!! Absolutely love it!!"
Other commenters chimed in with some tips for making the most out of Dennis' art mat hack.
"Another way is to add some gold leaf to an existing painting," a viewer wrote.
If you try this DIY for yourself, one commenter stresses the importance of keeping the artwork in a temperate room.
"I work in framing," they said. "If you want to keep this art long-term, beware of humidity. The art will stick to the glass."