Decade in review: 2012 brought Qi wireless charging and reinvented how we juice up our phones – iMore
Apple didn't invent or create Qi wireless charging and was actually one of the last major phone manufacturers to include wireless charging in their phones. Apple doesn't even have an official branded Qi wireless charging pad of its own. Apple doesn't really have anything to do with Qi charging, and inductive charging in general, except when you start to look at the bigger picture.
The Qi charging standard for inductive charging changed the landscape of smartphones as we knew it, and when it comes to the future of all phones — iPhone included — the technology has a ton to offer.
A brief history of Qi wireless charging
Qi is an open interface that is used for wireless power transfer via inductive charging that was developed by the Wireless Power Consortium. That's a fancy way of saying it's a bunch of companies that work together to promote the use of Qi wireless charging around the world.
Qi is a standard for inductive charging, but there were other organizations competing with Qi for a while. The biggest competitor was likely the Power Matters Alliance. Qi has largely "won" the wireless charging war. as now Qi wireless charging is available in many smartphones from almost every major phone manufacturer. Of course, it all started with one.
Remember Windows Phone? Qi wireless charging sure does
While Qi was "invented" in 2008, the first widely-available phone to adopt the Qi standard and feature wireless charging was the Nokia Lumia 920 in 2012. The Samsung Galaxy S3 (also made available in 2012) was Qi wireless charging compatible with an additional accessory, but Nokia put it into the phone itself.
Fun fact: The picture above is so old, it still has the watermark from when our sister site, Windows Central, was called Windows Phone Central — where has the time gone!
2012 marks the year when the idea of charging your phone with a cable plugged into your device started to become a thing of the past. Suddenly, you could put your phone down on a charging pad and watch the battery percentage go up — it was kind of like magic.
What does this have to do with Apple?
Look, it's no secret that Apple was a little late to the Qi wireless charging game. It didn't include inductive charging into its iPhone lineup until the iPhone 8, iPhone 8 Plus, and iPhone X was released in the fall of 2017, and by that point, plenty of other companies had been including it in their phones for a few years.
The benefit of Apple waiting a bit longer is that the company avoided the brief period where multiple wireless charging standards were prominent. Adopting the Qi standard once it came out on top was an easy decision, plus with the iPhone X being the 10th anniversary of the iPhone, a big design overhaul made a lot of sense. Regardless of why or why not Apple waited, Apple getting into the Qi wireless charging game is a big win for everyone, not just Apple users.
Regardless of whether you love or hate the iPhone, it's one of the top-selling smartphones around the world. Lots of people use it every day, and therefore, when a company like Apple adopts new technology, the industry follows suit.
The adoption of Qi wireless charging has rapidly increased over the last few years. Airports have charging pads all over. IKEA makes lamps that have built-in Qi charging pads; even Starbucks includes tables with charging pads inside so you can enjoy your java and charge your phone. I'm not saying this growth is entirely because of Apple ( that would be a ridiculous claim), but it's contribution certainly didn't hurt.
What will Qi do for the future?
Recently, the internet went crazy when the rumor was reported that by 2021 the iPhone might have absolutely no ports at all. The headphone jack has been gone a while now, but this would mean the Lightning port would also be gone. There is absolutely no way this would even be in the realm of possibility if Qi wireless charging hadn't made its way into the smartphone world back in 2012.
Of course, this is just a rumor, and that doesn't mean changing to a portless design wouldn't be without its problems. Over the air updates and device data recovery can be tricky but put all your doubt away for a second and think of what this could mean for the future.
Wireless charging, as of right now, is only so fast, but it's getting faster — and something like a portless phone would only encourage development in these areas. Waterproofing phones without ports is easier (and less expensive to some degree), charging devices with other devices (like you can with Samsung's flagship) would become even more useful, and likely prominent. The future is pretty bright for a world where Qi wireless charging reigns supreme.
None of it would be possible without the Qi wireless charging standard being included in the Lumia 920 in 2012.
We may earn a commission for purchases using our links. Learn more.
Honor V40 5G is official with Dimensity 1000+, 50MP main camera – GSMArena.com news – GSMArena.com
Honor has announced its first phone since the company officially separated from Huawei – say hello to the Honor V40 5G. The device comes with a Dimensity 1000+ chipset, a new 50 MP camera, and speedy charging.
The screen of the Honor V40 5G is a 6.72" OLED with curved sides and a pill-shaped punch hole for the dual selfie cameras. The panel supports a 120Hz refresh rate and up to 300Hz touch sampling rate and a resolution of 2676 x 1236 pixels.
On the back, we have three cameras – the main one comes with a 50 MP RYYB sensor that is 1/1.56" big. The pixel size is 1.0µm, but in the 4-in-1 pixel-binned mode it goes to 2µm. The other two cameras are an 8MP ultrawide-angle shooter and a 2MP cam for close-up shots. There is also laser autofocus, placed right next to the single LED flash.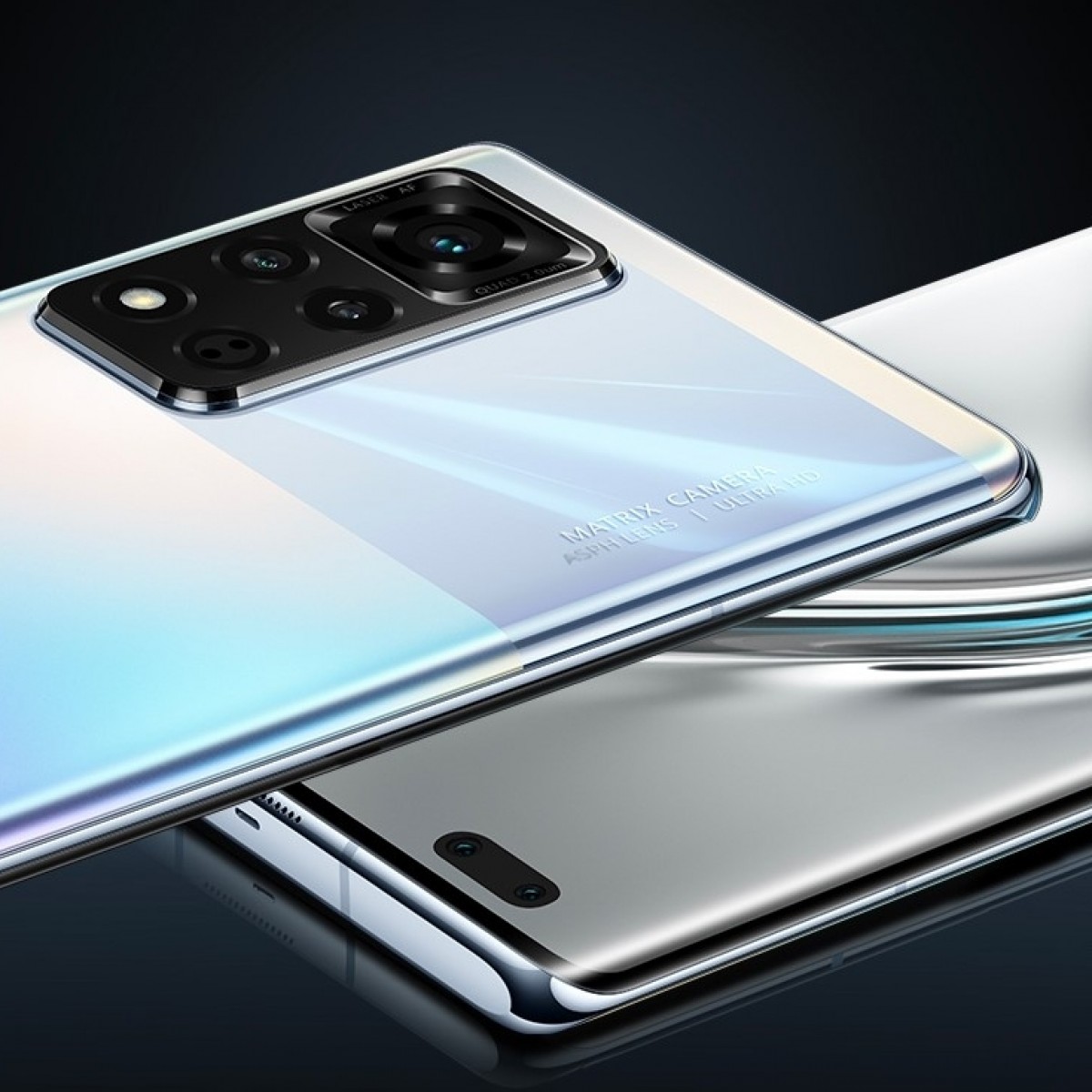 While Honor is an independent company now, the phone was mostly developed under Huawei ownership so it's no surprise to see that the 4,000 mAh battery supports 66W wired charging. This lets you go from flat to 100% in 35 minutes. Wirereless charging speeds are impressive too – up to 50W and a 50% charge in 35 minutes. These are the same speeds in the Huawei Mate 40 Pro smartphone.
Speaking about inherited technology, the Honor V40 5G comes with Magic UI 4.0, sadly, with Android 10 underneath. There was no word whether the phone would have Google Services because the event was in China, where phones ship without those anyway.
The Honor V40 5G is already up for sale in three colors – Night Black, Titanium Silver, Rose Gold – and comes in two memory configurations – 8/128 GB or 8/256 GB. Price starts from CNY3,599 ($556/€455) and goes up to CNY3,999 ($620/€505).
The event also saw the Honor MagicBook 14 and MagicBook 15 get new Intel-powered versions. The new iterations feature an 11th-gen Intel Core i7 processor with an Nvidia GeForce MX450 graphics card.
Thanks to the new processor, the notebooks now support Wi-Fi 6 with a 2X2 MIMO dual-antenna design for wireless speeds up to 2400 Mbps.
Honor announces its first post-Huawei phone – The Verge
Honor has announced the new V40 5G flagship phone, its first since Huawei sold the company off to a Shenzhen-based consortium of Chinese partners. The phone is exclusive to China for now, but Honor's V-series usually makes its way to the rest of the world under "View" branding.
The V40 has a 6.72-inch OLED screen with a 120Hz refresh rate and is powered by a MediaTek Dimensity 1000+ processor. The primary camera has a 1/1.56-inch 50-megapixel sensor. The 4,000mAh battery can be charged wirelessly at 50W or at 66W with a cable.
Huawei announced that it was selling off Honor in November due to "tremendous pressure" and a difficulty in securing an adequate supply chain. While Honor was operated independently from Huawei, it relied on the parent company for much of its technology, such as HiSense's Kirin processors. That meant it was hit just as hard by US sanctions banning US companies from doing business with Huawei.
The V40 phones will of course have been in development since earlier than November, but now that Huawei has divested itself of Honor, the international "View 40" version of the V40 may be able to ship with Google services on board. That would allow Honor to sell phones in Western markets and beyond without the huge disadvantage of having to rely on Huawei's AppGallery, which still can't compete with Google's Play Store outside of China, where Google has no presence.
At the same time, Honor no longer has the advantage of relying on Huawei's supply chain, so it's going to have work to do in order to establish itself as a strong brand in its own right once the phones launch elsewhere. For now, it's available in China with prices starting at 3,599 yuan (~$550) for a model with 8GB of RAM and 128GB of storage. 3,999 yuan (~$620) doubles the storage to 256GB.
Samsung's Galaxy S21 Ultra 'Silicon Cover with S Pen' bundle costs $69 – MobileSyrup
When Samsung's Galaxy S21 Ultra was first announced, it was unclear exactly how much the smartphone's 'Silicone Cover with S Pen' bundle would cost.
Though we still don't have an official release date, the pair of accessories are currently on sale for $69 (the regular price is $99). While the package is available to pre-order now, it doesn't start shipping until January 26th.
It also looks like the S Pen will be sold on its own without the case according to Samsung's website. That said, pricing isn't yet listed.
The S21 Ultra is the first Samsung S series smartphone to feature S Pen support. While using a stylus with the device works great, Bluetooth-powered functionality like 'Air Gestures' aren't compatible. It's also worth noting that while the S21 Ultra's Silicon Cover looks fine, the S Pen compartment seems to add a substantial amount of bulk to the device's one side. This could make the already larger smartphone even more difficult to hold with one hand.
It's unclear what the S21 Ultra's S Pen compatibility means for the future of Samsung's Note line. With the S21 Ultra featuring S Pen support, there's a possibility Samsung could have plans to kill off the Note, especially if the stylus is also coming to the Galaxy Fold 2.
For more on Samsung's Galaxy S21 Ultra, check out my review of the smartphone.