Decade in review: What the smartphone has wrought – Japan Today
When the first Apple iPhone hit the market in 2007, not everyone was convinced it would supplant the flip-phone. When Google's Android software system arrived a year later, the Blackberry still seemed to have bright future.
But with the iPhone 4 in 2010, featuring a high-resolution display, sleek design and front-facing camera, our collective fate was sealed. Here are 10 ways the smartphone has made its mark over the decade.
Access everywhere
Today some 5 billion smartphones are in use around the world, according to Canalysis Research. The total number of internet subscriptions has soared to 7.2 billion globally from 1.3 billion in 2010, the vast majority of them mobile subscriptions, International Telecommunications Union data shows. The explosion in connectivity has been especially dramatic in the developing world, where there are now more mobile connections than people.
Tech uber alles
Apple Inc, once a niche computer company, is now one of the world's most valuable companies thanks to the iPhone. The five largest Fortune 500 technology companies – Apple, Amazon, Google, Microsoft and Facebook – currently boast a market cap of $4.7 trillion, compared with about $800 billion for the top five in 2010. Not all of that is due to the smartphone, of course, but the mobile-related technologies and services accounted for nearly$4 trillion in economic activity in 2018, according to trade group GSMA.
There's an app for that
Whether we're hailing a cab, ordering food, playing a game, finding a date, listening to music or shopping for just about anything, there's a good chance we'll be doing it with a smartphone app that didn't exist in 2010. Many of most popular apps are free, but consumers are still expected to spend more than $120 billion in app stores during 2019, according to App Annie, a mobile apps analytics firm.
Feed me
The endless scroll on Facebook, Instagram, Twitter and other social media apps now consumes 34 minutes of every U.S. adult's day, according to Nielsen. Fewer people are sitting on the sofa to watch live TV at set times, and advertisers are following. Mobile ad spending surpassed TV for the first time in 2018 in terms of percentage share of the U.S. market, according to research firm eMarketer. We can also thank the smartphone for Instagram influencers, "sextortion," and fake news.
Smile for the (smartphone) camera
Global shipments of digital cameras dropped from their 2010 peak of 121 million to just 19 million units in 2018, according to the Camera & Imaging Products Association (CIPA). Meantime the latest phones pack as many four camera lenses and cutting edge software that makes it easier than ever to get that perfect shot. The front-facing camera might be the busiest: Google reports that its Android devices take 93 million selfies every day.
Where am I?
The satellite tracking technology known as GPS, combined with information from cell towers and Wi-Fi networks, has made the smartphones incredibly powerful tracking devices. Google maps and its poorer cousins enable even the most directionally impaired find their way around unfamiliar locales with ease.
For the privacy-minded, though, it's a disaster: Phone companies and app makers routinely record the movements of subscribers and sell that data to advertisers, a $20 billion-a-year business. The data is "anonymized," but as numerous studies and a recent New York Times investigation have revealed it is often a simple matter to identify who is behind the dot on the map. Nearly 50 percent of companies surveyed by Verizon this year used or planned to soon use smartphone management tools to track their employees.
You can look it up
The 2010 edition of the venerable Encyclopedia Britannica, all 32 volumes and 129 pounds of it, turned out to be the last. But untold barroom arguments or dining room debates can now be settled on the spot: Wikipedia is consulted more than 240 million times daily.
Distracting ourselves to death
In 2018 alone in the United States, 2,628 fatal crashes involved a distracted driver, and of those deadly crashes, about 13% involved mobile phone use, according to the National Highway Traffic Safety Administration (NHTSA).
Forget your wallet
Apple Pay and Google Pay are still afterthoughts for most U.S. consumers, but China may be a harbinger. Alipay and WeChat pay, China's two big smartphone payment services, have reached a combined adoption rate of over 80% since they were launched around the beginning of the decade, according to a study by Bain. The QR code now peppers storefront windows. Even streetside beggars have adapted, sometimes rejecting cash and asking that payments be made via WeChat Pay or Alipay.
Say what?
Among the major casualties of the smartphone era is the conventional phone call itself: ubiquitous messaging apps have helped make video calls, GIFs, emojis and audio messaging preferred modes of communication. In the UK, for example, the total number of minutes spent on voice calls fell from 254 billion in 2013 to 206 billion in 2018, and the number of text messages dropped from 129 billion to 74 billion over the same period, according to Ofcom. Mobile data usage, meanwhile, jumped almost nine-fold between 2013 and 2018. The number of available emojis has nearly tripled to almost 3,000 since 2010.
© (c) Copyright Thomson Reuters 2019.
New Samsung Galaxy S20 Ultra renders update camera setup design – GSMArena.com news – GSMArena.com
Samsung's upcoming Galaxy S20 lineup will offer a number of firsts for the flagship series. Some of the most anticipated novelties this time around will be the new camera sensors around the back. We've had a good look at what to expect thanks to the plethora of renders and leaks but a new development suggests the Galaxy S20 Ultra will have a different camera appearance than what we've seen so far.
Prominent leakster Ishan Agarwal tweeted a render of the S20 Ultra's back camera setup which features a dual-tone housing with a glossy black shade on the inside and a matte grey finish on the outside. The S20 Ultra is expected to come with an all-new 108MP main shooter, 12 MP ultrawide snapper and a ToF module.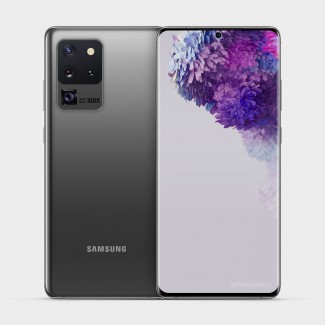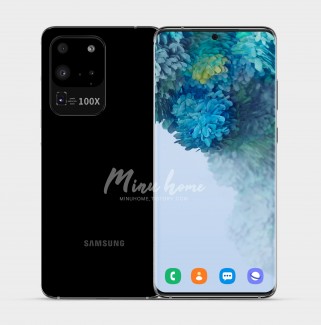 S20 Ultra renders from Ben Geskin (left) and MINU (right)
Despite these impressive sensors the star of the show might be the 48MP periscope telephoto module which will be capable of 10x optical and up to 100x digital zoom. According to the new leak, Samsung will actually place a 100x sign alongside the periscope cam alongside its marketing name.
The new design was also confirmed by IceUniverse and Korean designer MINU which puts more substance to the speculations. With just three weeks to go until Samsung's big February 11 Unpacked event, we'll surely come across event more leaks about the S20 series so stay tuned.
Samsung names Roh Tae-moon new smartphone boss – The Verge
Samsung Electronics has appointed Roh Tae-moon its new mobile chief, taking over from co-ceo DJ Koh, who'll continue to lead the chaebol's IT and mobile communications division. Roh, 52, is said to be "an engineering maven," according to Bloomberg, "who's meticulous about phone features."
Roh joined Samsung in 1997 and has been a key player in the research and development of the Galaxy device lineups. He's also been instrumental in cutting costs, according to Reuters, through the outsourcing of handset production to better compete with Chinese handset makers like Huawei.
Samsung continues to dominate mobile handset marketshare globally, but has seen an increase in competition at the low- and mid-tier levels from Chinese competitors like Huawei, Vivo, and Oppo. Roh will be tasked with growing important markets like China and India as well as making foldables successful, after Samsung stumbled with the Galaxy Fold.
Samsung is expected to unveil its second-generation foldable alongside its new Galaxy S20 flagship series of phones at an event on February 11th in San Francisco.
Samsung Galaxy S20 rumors: 40-MP selfie camera, leaked photos, latest specs – CNET
We're weeks away from Samsung's Unpacked event on Feb. 11 in San Francisco, but the rush of leaked blurry photos and specs is pointing to three versions of a phone called the Galaxy S20, and not the Galaxy S11 as originally suspected. What's in the mix? 5G, tons of cameras, a giant battery and extra-fast 120Hz screens, according to the many rumors.
Unlike the $2,000 Galaxy Fold or $1,100 Galaxy Note 10 Plus, Samsung's next family of premium devices will be designed to appeal to mainstream consumers, not just enthusiasts looking for the most cutting-edge or powerful phone.
Samsung's Galaxy S20 family of phones is especially noteworthy for its likely role in bringing 5G's faster data speeds to the masses. Samsung got a start on the faster data network in 2019 with four 5G phones — the S10 5G, Note 10 Plus 5G, Galaxy A90 5G and Galaxy Fold (in the UK and South Korea). But it's now in 2020 that 5G networks are starting to become widespread, and that the technology inside the device — like the Qualcomm Snapdragon 865 — is more powerful and streamlined than the first generation of 5G chipsets.
Heading into the Galaxy S20 launch, Samsung is in a much stronger position than it was a year ago. The brand made waves in 2019, nabbing a CNET Editors' Choice Award for the Galaxy Note 10 and releasing the unforgettable Galaxy Fold. 2020 is only destined to get better — and that includes Samsung's next foldable phone, which could be called the Galaxy Z Flip.
There are a lot of specs to absorb, so here they are: the most important rumored features of the phone we're calling the Galaxy S20, plus what we don't know and what we think we might get. I throw in my own educated guesses too, because Samsung often follows historical patterns and topical trends. Here we go!
Galaxy S20, S20 Pro, S20 Ultra
The exact names of the three Galaxy S20 models have been bouncing around, but people are starting to settle on Galaxy S20 for the "standard" version, S20 Pro or S20 Plus 5G for the middle version and S20 Ultra 5G for what is presumably the largest, most advanced of the three.
Early rumors said they'd be the S11E, S11 and S11 Plus, but the latest nomenclature hews a lot closer to Apple's strategy with the iPhone 11, the base model for that line.
Here are the rumored specs in aggregate, based on Max Weinbach from XDA Developers, My Smart Price and Twitter leakers Ice Universe and Evan Blass.
Galaxy S20 5G (rumored specs)
Galaxy S20 Pro/Plus 5G (rumored specs)
6.7-inch AMOLED display with 120Hz refresh rate
Cameras: 12-megapixel main, 64-megapixel telephoto and 3x digital zoom, 12-megapixel ultrawide, time-of-flight sensor
10-megapixel front-facing camera
128GB of storage (starting)
12GB RAM
4,500-mAh battery with 25-watt fast charging
Qualcomm Snapdragon 865 processor
Galaxy S20 Ultra 5G (rumored specs)
6.9-inch AMOLED display with 120Hz refresh rate
Cameras: 108-megapixel main, 48-megapixel telephoto with 10x optical zoom, 12-megapixel ultrawide, time-of-flight sensor
40-megapixel wide front-facing camera
128GB, 256GB, 512GB internal storage
MicroSD card support, 12GB or 16GB RAM
5,000-mAh battery with optional 45-watt fast-charger
Qualcomm Snapdragon 865 processor
Confirmed: Feb. 11 launch date in San Francisco
Samsung has officially announced its Unpacked event for Feb. 11 at San Francisco's Palace of Fine Arts. It's widely believed that Samsung will also take the wraps off its second foldable phone, perhaps called the Galaxy Bloom, which bends into a square, similar to the Motorola Razr.
Look for the Galaxy S20 to go on preorder shortly after Feb. 11, with phones shipping a week or two after the reveal. I'll continue to update this story with fresh rumors, so come back for more.
Wait, what happened to the Galaxy S11?
If you thought Samsung's next flagship phone was going to be called the Galaxy S11, you're in good company. But the scuttlebutt now is that Samsung will align the product name with the year, so Galaxy S20 for 2020, Galaxy S21 for 2021 and so on.
I have a thing about product names becoming ridiculously long or meaningless, especially when thinking about the following generation. At some point, the Galaxy S series did have to top out, unless you really expect to buy the Galaxy S34 and Galaxy Note 52. With a new system, those numbered names just get higher, faster.
108-megapixel camera, periscope lens, monster optical zoom
We've already gone over what cameras might go with which S20 version. Let's dig into those a bit more, because a rumored 108-megapixel main camera sensor for the S20 Ultra is something to talk about.
Logic holds that the larger the camera pixel, the more light can flow in, the better the photo is. That's why more megapixels won't necessarily mean better photos. The camera processing plays a huge role in image quality. Is this madness?
It sounds like madness. But Chinese brand Xiaomi already beat Samsung to it with the Mi CC9 Pro, which has a 108-megapixel camera.
A 108-megapixel camera may sound insane, but the Snapdragon 865 chip we talked about above can support a 200-megapixel camera. You may not be using all 108 million pixels all the time, but having that extra resolution can be helpful for zooming in and cropping. If you like the sound of all that, thank Qualcomm for making it happen.
Twitter leaker Weinbach corroborates that the S20 Ultra 5G will be the only one to get the 108-megapixel camera of the three new phones, with a 48-megapixel 10x optical zoom lens and a 12-megapixel ultrawide-angle lens for group and landscape shots to go along with it.
Meanwhile, leaker Ice Universe tweeted that the S20 and S20 Plus will have 12-megapixel cameras, while the two higher-end devices will also have time-of-flight sensors (ToF), which are useful for portrait video mode and AR applications.
A cross between the Note 10 and Galaxy S10?

The Galaxy S20 renders are out and so are the concept designs, which I love because they can bring the rumors to life.
So what might we get with the S20? Rounded shoulders, which have become the Galaxy S trademark, but with a more squared-off look reminiscent of the Galaxy Note 10. A slim body. Curved sides for all models, unlike the Galaxy S10E's flat screen, which I actually really liked.
The camera array seems to be rectangular and off to the left, according to renders and possible photos. It might also stick out from the surface, a lot like the iPhone 11 and Google Pixel 4. Cameras that stick out are more vulnerable to breaking when you drop your phone, so a case is an absolute must.
5G guaranteed, but there's a catch
I mentioned 5G earlier. This is a rumored feature, but also a given. The Galaxy S20 is 99.9% likely to use the powerful Snapdragon 865 processor, which chipmaker Qualcomm won't make available to phone brands without the 5G modem it pairs with. Ipso facto, you get a phone with the Snapdragon 865, you get a 5G-ready phone.
The same goes for any regions that will package the Galaxy S20 with Samsung's in-house Exynos 990 5G processor, which often happens in Asia, especially Samsung's home country of South Korea. (Ice Universe says Samsung is "determined" to use Snapdragon 865 for South Korean models.)
I promised a catch and here it is. While the Galaxy S20 will be 5G-ready, not every phone may be able to access 5G. Cities and countries that are 4G-only will only be able to use 4G networks, so the 5G Galaxy S20 could very well act like a 4G phone.
We'll see how it all shakes out, but I'd be surprised if Samsung used any chip other than Snapdragon 865. The Galaxy S series is its mainstream flagship and Samsung is the world's largest phone-maker. Samsung will want to put its best foot forward by delivering the phone with the "best" chip.
Screen: 120Hz AMOLED display

We talked about phone screens earlier, but here's what else we're likely to get: the ability to turn on a 120Hz screen refresh rate. That will make animations and scrolling a whole lot smoother than the standard 60Hz refresh rate we have now.
While a 120Hz refresh rate is great for gaming and other quick transitions, it's a battery hog. Still, the OnePlus 8 is getting support for a 120Hz screen. The Galaxy S20 could put the power in your hands with settings to switch between 60Hz to preserve battery life and 120Hz if you want to rev up animations.
This is pretty much a done deal since both the Snapdragon 865 and Exynos 990 5G support 210Hz screens.
What about that whopping 5,000-mAh battery?
Different size phones get different size batteries, and another rumor from the prolific Ice Universe dials in the Galaxy S20 "Plus" battery at 5,000 mAh, which is terrifically large. Weinbach suggested the same for the Ultra in his recent specs dump.
Keep in mind that the "Plus" could also be the "Ultra" (meaning the highest-end model of the trio), which makes far more sense to me than the middle phone getting a battery that size. For reference, the Galaxy Note 10 Plus' battery is 4,300 mAh and its battery life is outstanding.
There have been some phones with ultralarge batteries before, so a 5,000-mAh battery would fit my expectations. For instance, the Asus' new ROG Phone II is an Android specs powerhouse, which makes it a gaming beast.
In-screen fingerprint reader
I loved the concept of an in-screen fingerprint reader, until I used it in the Galaxy S10. The accuracy, speed and convenience never quite lived up to the promise for me.
My best-case scenario would be for the Galaxy S20 return to some form of secure face unlock, combined with the in-screen reader. Samsung already knows how to do this well. Remember, the series got iris scanning in the S7, but dropped it for the S10. Google has now done it better, with the Pixel 4's gesture tracking lending a hand.
We could at least see a more robust form of in-screen biometric scanner if Samsung decides to take advantage of the Snapdragon 865's support for two-finger scanning, which is meant to improve the technology on all fronts. I sure hope it does.
Android 10 and Samsung One UI 2
There's little doubt that every Samsung phone in 2020 will run on Android 10 and the company's own One UI 2, which was announced in October and is now available in beta.
I'm much more excited about Android 10, which brings systemwide dark mode to phones, gesture navigation, some seriously impressive live captioning and new privacy settings. Samsung One UI 2 aims to push icons and screen controls toward the bottom of the phone so they're easier to reach one-handed.
Storage and RAM
Let's not forget onboard storage, external memory and RAM. According to Weinbach's recent tweet, the S20 Ultra will have:
128GB, 256GB and 512GB storage options
12GB and16GB RAM configurations
MicroSD card slot for external storage, with support for up to 1TB
Galaxy S20 series: Price will break $1,000
Now for the question on everyone's mind: How much is the Galaxy S20 going to cost me? As always, it will depend on which model you buy.
Let's start with the Galaxy S10 prices for the base storage configuration:
Galaxy S10E: $749, £669, AU$1,199
Galaxy S10: $899, £799, AU$1,349
Galaxy S10 Plus: $999, £899, AU$1,499
Galaxy S10 5G: $1,300, £1,099, AU$2,950
5G costs the phone makers more to buy and integrate, so we could see a price bump right off the bat. You'll also spend more if you opt for a model with greater storage, say 512GB, assuming Samsung offers it and begins storage at 128GB.
If the largest version (Pro or Plus, depending on the rumors) lines up with the S10 Plus pricing, it'll start at $1,000. With the 5G component and more camera tech, I wouldn't be surprised to see that rise to $1,100, a price that matches the Galaxy Note 10 Plus today.
Originally published earlier this season and updated frequently.