Deluxe Realty Marketing: The Tech Innovators Disrupting The Mortgage & Real Estate Industry – Forbes
As technology progresses, we see its impact on reducing workloads for many business owners. Reduced workloads allow business owners to spend more time focusing on the most important aspects of their business, such as generating revenue. This is particularly true for industries where most of the money is made by meeting prospects and closing deals without much administration.
An excellent example of one such industry is the real estate/mortgage industry. Rather than closing deals, real estate and mortgage professionals often spend significant amounts of time managing their marketing, cold calling, billboards, and lead generation, often to no avail. Instead of wasting time on these things, they should be focusing on meeting with prospects, which is where the money is made.
Two entrepreneurs who have been building a company that uses technology to offer digital marketing and other services to real estate and mortgage professionals are Yaman Abuibaid and Joseph Ierfino. These two men are the founders of Deluxe Realty Marketing and RECODemand.
Early Beginnings
Yaman Abuibaid, one of the co-founders of Deluxe Realty Marketing, took an unorthodox route into the world of real estate. Growing up, he was a prodigy in computer programming, winning various national competitions throughout his years in high school. As he got older, he started to realize the commercial value of the skills he had developed. As a result, he began developing websites for companies.
On one such project, he met Joseph Ierfino, a digital marketing professional. Joseph received a brief from a real estate company to work on their digital marketing. The duo was very young and had never taken on such a high-profile job before. However, they decided to take on the challenge.
Abuibaid and Ierfino worked tirelessly, using their technical knowledge to implement unique digital marketing processes different from the traditional forms of marketing the team had implemented in the past. After a few months of running the new campaigns, while consistently optimizing by reading data and A/B testing the demographic targeting, their client said that out of all the companies they had worked with, Abuibaid and Ierfino were by far the best, by a longshot. In addition, their marketing strategies had yielded a ten times return on investment for the real estate team. This validation gave them the impetus to focus on the niche of digital marketing for the real estate and mortgage industry, in which they founded Deluxe Realty Marketing.
Growing the Business
The early days of the business were tough. Finding initial clients required a significant amount of cold calling and sending emails. Ironically, this was the very kind of time-intensive activity they wanted to help their future clients avoid. They utilized their digital marketing expertise and, over time, developed a strategy to fill their calendars with appointments booked weeks in advance. They were able to automate this process and slowly build a commission-only sales team while maintaining a high close rate.
Similar to their first real estate client, they continuously got feedback from new clients that their digital marketing strategies were bringing in significantly more leads than other methods. After some time passed, demand got to a point where they knew they had to streamline operations, so Yaman asked his older brother, Ahmed, to come on board as head of operations.
Ahmed has a background in information technology and has extensive experience in this field. After spending months mapping out the processes and building systems, they were able to offer a full suite of digital marketing services and service a significant number of clients without reducing the quality of their offering. This approach paid significant dividends as they continued to grow.
Expansion
Today, Deluxe Realty Marketing has a team of 47 employees, including marketers, data analysts, copywriters, and growth specialists managing ad campaigns for mortgage and real estate professionals. These professionals utilize their clients' monthly marketing budgets to drive real growth by running optimized & hyper-targeted ad campaigns on digital advertising platforms.
While the core digital marketing offering has had significant success over the last few years, the guys had plans to enter the education space in their niche. They realized that teaching their highly effective digital marketing strategies would be an incredible offer to introduce to the marketplace.
So, they incorporated a new company, RECODemand, which stands for Real Estate Commissions On Demand.
The team spent approximately nine months developing the curriculum. The program pairs the client with an expert in the marketing department for 1-on-1 training. The curriculum includes training on how to use advertising platforms, automation tools to reduce time spent on tasks, access to their top-performing ad campaigns, top-performing offers & marketing techniques. To date, they have had hundreds of real estate and mortgage professionals complete the training program with outstanding results. RECODemand is now one of the fastest-growing education tech companies in North America.
Now, Abuibaid and Ierfino run RECODemand and Deluxe Realty Marketing together. The companies complement each other and work synergistically. So, whether a company wants to have the real estate/mortgage marketing done for them, or whether they want to learn how to do it themselves, Abuibaid, Ierfino, and their companies are able to help them.
The Future
Looking to the future, the company is focusing on adding services that go beyond a full suite of marketing services to make real estate and mortgage professionals' lives easier. For example, after working with their clients, they noticed other time-consuming and tedious activities they can help their clients with. One such activity is customer service; Many real estate agents spend a significant amount of time on phones reaching out to and following up with prospects. So, they slowly hired, trained, and built their call center, which acts as a client's assistant on a monthly subscription. This allowed real estate and mortgage professionals to have a highly-trained virtual assistant on their team for a fraction of the cost of an in-house assistant.
As a result, their new offering reduced an average of 7 hours of work per week for each client. Thus, allowing their client to focus on critical aspects of their business and increase growth. At the same time, this new offering increased Deluxe Realty Marketing's revenue by 30%.
Listening to customers, implementing processes, and offering new services to retain customers and get referrals has been how the guys have built up this business with no funding. They have big plans to effectively become the entire back office for real estate agents, which makes them a company to look out for in the industry.
Through hard work, creativity, innovation, and a dedication to mastering critical technology, Yaman Abuibaid and Joseph Ierfino were able to create two businesses that were game-changers in the real estate and mortgage industry. Many companies and professionals in these industries have benefited enormously by working with Deluxe Realty Marketing and RECODemand.
Abuibaid and Ierfino plan to keep disrupting the real estate and mortgage industries with unparalleled service and training program offerings. They are true innovators and are constantly working to stay on the cutting-edge.
Joseph Montanaro pleads guilty after letting someone else complete his real-estate training | CTV News – CTV News Montreal
MONTREAL —
One of Montreal's top real-estate agents — one who just handled the sale of the premier's mansion — is expected to pay a $20,000 fine after pleading guilty to breaching his industry's ethics code.
Joseph Montanaro entered the guilty plea Tuesday during a disciplinary hearing for the Organisme d'autoréglementation du courtage immobilier du Québec (OACIQ), the body that governs real-estate brokers in Quebec.
The complaint, filed by OACIQ official Alexandra Tonghioiu, stated that between 2018 and 2019 Montanaro "allowed, permitted or requested a third party to take training courses in his place in order to complete his OACIQ continuing education program training program."
The offence is in violation of several sections of the Real Estate Brokerage Act. Brokers are required to accumulate "a certain number of continuing education credits" to complete the Mandatory Continuing Education Program (MCEP) every two years in order to maintain their licence and to keep their knowledge of the industry up to date, according to the OACIQ website.
Lawyers for Montanaro and the OACIQ agreed on the $20,000 penalty, which the discipline committee accepted after receiving a joint summary of facts in the case.
It's believed to be one of the highest fines ever issued for realtors in Quebec.
AGENT SOLD PREMIER LEGAULT'S MANSION
Montanaro, who counts celebrities like Céline Dion and hockey player PK Subban among his previous clients, is one of Montreal's highest-profile brokers, specializing in the sale of multi-million dollar homes in the city's wealthiest neighbourgoods.
Two weeks ago, he sold the 18,000-square-foot mansion of Premier Legault. The Victorian-style home in Outremont was listed for $4,995,000 and has eight bedrooms.
The home sold for less than the listing price, a source confirmed to CTV News.
The complaint against him appears to have been brought on by some bad blood within the real-estate market in Montreal. OACIQ was notified of the violation from Montanaro's competition, according to his lawyer Alain Mongeau, who attended the hearing on Tuesday.
"It came in from the competition — people that are competing with Mr. Montanaro in the real-estate market," Mongeau told CTV.
In explaining the nature of the offence, he said an ex-employee of Montanaro did the training on his behalf and claimed that he authorized it, but Montanaro doesn't recall approving it, Mongeau explained.
"It's a mistake and he's sorry for it," Mongeau said, adding that the whole process was allegedly fueled by Montanaro's rivals.
"He's angry that his competition would try to compete in this fashion rather than by providing good services," he said.
"It's an actual complaint by competition — why would they do that? It's to harm his reputation for their own benefit."
Novel $10.7 Billion Swedish Deal Reinvents Real Estate Finance – BNN
(Bloomberg) — A historic shift in how Swedish property firms fund themselves was already underway before a little-known private company revealed a $10.7 billion acquisition that will put the trend firmly on the map.
Heimstaden Bostad AB — owned by Ivar Tollefsen's Fredensborg AS and pension funds — says it will use debt capital markets to refinance a jumbo bridge facility for the largest ever private property transaction in the Nordic region.
The deal highlights a shift by real estate companies in the biggest Nordic economy into both bonds and euros. The trend is driven by a quantitative easing-fueled property boom that's allowing companies to raise more money than is available in the local market.
"The real estate sector has grown so much because companies have replaced secured bank financing with unsecured bond financing," said Max Berger at DWS Investment GmBH. More broadly, Europe's property industry has become "the fastest growing in euro investment grade in the last couple of years."
Since 2010, the number of real estate issuers in the euro investment grade market has increased to 69 from five, according to Berger, who manages 6 billion euros ($7 billion) of bonds. Euros have now overtaken Swedish krona as the main funding currency for outstanding bonds sold by the country's property companies.
Heimstaden Bostad's bridge loan "will clearly be refinanced mainly in euro bonds," said Anders Holmlund, head of bond origination at Svenska Handelsbanken. The banker adds that the domestic krona market "isn't a realistic alternative" given the short time frame.
The boom in real estate bonds can be seen in its dominance of the Swedish central bank's balance sheet, where more than half of the Riksbank's corporate bond holdings come from property companies.
The European Central Bank's bond-buying program is adding further fuel to the market, according to Holmlund.
And the broader buyer base is allowing Swedish property companies to expand massively. Samhallsbyggnadsbolaget i Norden AB, for example, announced a plan recently to nearly triple its property portfolio size to 300 billion kronor ($34.4 billion) by 2026.
"We will focus more on euro in the future," Marika Dimming, a spokesperson, said in an interview. "It's a natural progression for us," she said, adding that "the trend is also to set up a subsidiary in the euro area so that the bonds can be bought by the ECB in their QE program," she said.
But a summer rally in Swedish house prices, warnings of excessive valuations in share prices and concerns about a withdrawal of central bank stimulus have stoked concern among politicians and analysts alike.
Equity analysts at Svenska Handelsbanken said they have "a clear negative tilt towards the sector universe," citing "disturbances in the increasingly important capital markets" triggered by QE tapering as a possible downside catalyst.
Still, euro bond investors are attracted to Swedish residential firms' risk-return profile compared with western European office companies, said DWS's Berger.
"Nordic players have provided us with interesting sub-sectors that have defensive characteristics, but trade in line with the wider sector," the Frankfurt-based portfolio manager said, adding that sub-sector selection within real estate is key to making profitable investments.
"The pandemic has been a good stress test for real estate companies' balance sheets," he said. "Even hotel and retail focused companies have weathered the pandemic."
©2021 Bloomberg L.P.
When it comes to cutting carbon emissions, the real estate industry is running out of time – CNN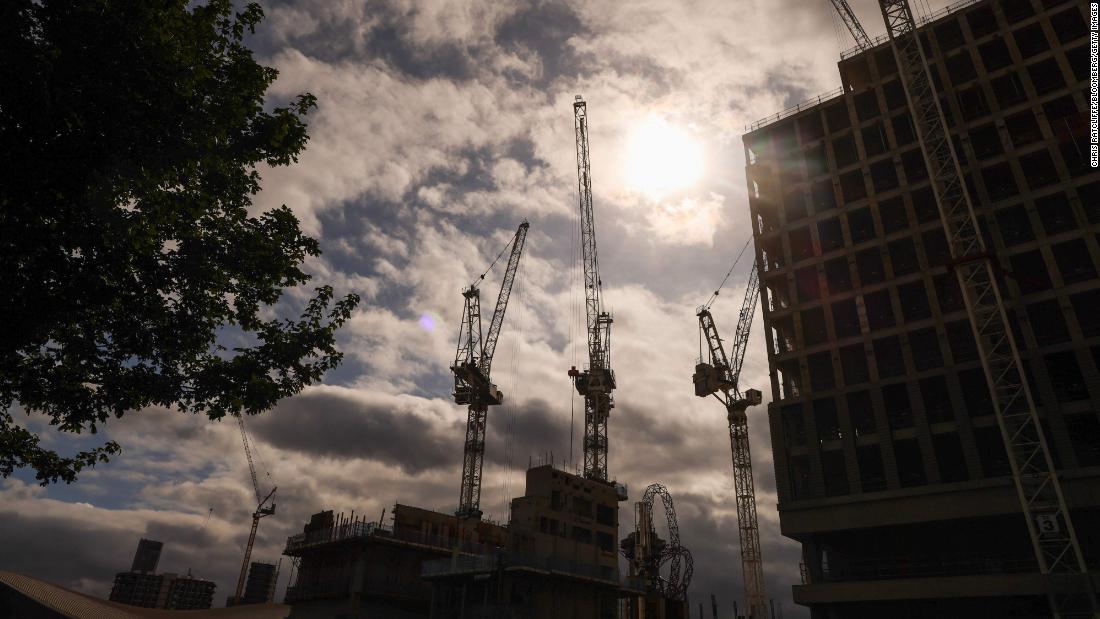 Diane Hoskins is co-CEO of Gensler. The opinions expressed in this commentary are her own.
Extreme weather events — including heat waves, droughts and floods — have unfolded all over the world this summer. The grave impact of climate change is upon us and will continue to have a profound impact on human life. But there are still largely untapped actions we can take to reduce the damage.
Achieving global policy ambitions like the ones set in the 2015 Paris Agreement will require leadership from the private sector, but individual companies with strong internal climate commitments can't go at it alone. They are hamstrung unless other businesses in their ecosystem follow through with similar pledges. To accomplish this, companies need policies that require the cooperation of external stakeholders at every step of the value chain.
For those of us in the real estate sector, the concern always seemed to be less about the cause of our manmade carbon footprint and more about cost. For years, we have seen rising sea levels and extreme weather events happening around us, putting property portfolios at risk. The economic and physical changes have affected insurance industry volatility, impacting construction and long-term investment prospects.
However, many in the industry have yet to admit that buildings are as responsible for carbon as cars. The real estate industry makes up 49% of
global carbon emissions
when accounting for construction and building performance. Most carbon reduction efforts in the building sector have focused on operational efficiency — energy sources for keeping buildings at an ideal temperature, lighted, ventilated and powered — so that properties consume as little energy as possible. And while these efforts have furthered the industry's goal of getting buildings closer to net zero operationally, we can no longer ignore that building materials account for half of a building's total lifetime
carbon footprint
.
We are out of time. And the real estate industry's wait-and-see approach is no longer acceptable. Embodied carbon — emissions associated with the manufacturing, transport, construction and disposal of building materials — must become a priority for the entire industry value chain.
With commercial buildings, concrete and steel have traditionally been used for construction, along with other frequently used carbon-intensive materials like foam insulation, plastics and aluminum. However, building with structural wood has increasingly gained traction as an alternative, given that it sequesters more carbon than it emits. Developers are becoming aware of its versatility and sustainability, and if adopted on a global scale, mass timber could challenge steel and cement as the preferred materials for construction. Additionally, structural engineers have already successfully used recycled steel and low-carbon cement consisting of alternative mixtures. This, combined with using more unpolished and salvaged materials, has already proven to lower buildings' carbon footprints.
And since nearly 75% of all
raw materials
in the US are used for the construction of buildings, the conscious decisions about the sourcing, construction and finishing of our development projects will have a lasting environmental impact.
At Gensler, a global architecture and design firm, we recently issued letters to our structural engineers, vendors, suppliers, construction and general contracting leaders asking for their partnership in shaping their policy to change the value chain. Together, we are developing an agreed-upon approach for specifying quality products that align with our company's carbon neutrality promise. In early 2022, Gensler is launching new green specifications that focus on reducing high-carbon materials, using the most efficient structural solutions to reduce material quantities, sourcing materials that are extracted and manufactured locally, and minimizing waste. These specifications will be used on all of our projects. From then on, we will prioritize working with partners who meet those specifications and use materials that significantly reduce construction-related emissions, such as low-carbon concrete, steel, cross-laminated timber and alternative materials that absorb rather than emit carbon. With Gensler's design impact and its global scale, this change in demand for sustainable materials will have an immediate ripple effect across the building sector.
If all parts of the real estate ecosystem — including architects, owners, developers, investors, constructors and material suppliers — move toward a net zero ambition, together, they could save 10 billion tonnes of
CO2
from the atmosphere. This is the equivalent of removing nearly 2.2 billion
gas-powered cars
from the road for an entire year. There must be global net zero building standards across major market participants, investors, developers, designers and occupiers to drive demand. We must also create policies that demand energy suppliers provide access to low-carbon alternatives.
This era of reducing the embodied carbon in building materials will change construction and real estate development. We have entered a critical period for humanity. Carbon-neutral statements,
science-based targets
, and promises at international forums like the UN Climate Change conference will not suffice. Tangible and immediate action is the only solution.