Design news: the father of video art, London Craft Week and Frank Lloyd Wright trainers
"Skin has become inadequate at interfacing with reality," wrote artist Nam June Paik in one of his many essays. "Technology has become the body's new membrane of existence." If you like the sound of Paik's world view, you can learn more about him in design news this month. We also have a "tattooed, gobby" horologist and the world's bestselling graphic designer. Come on in.
---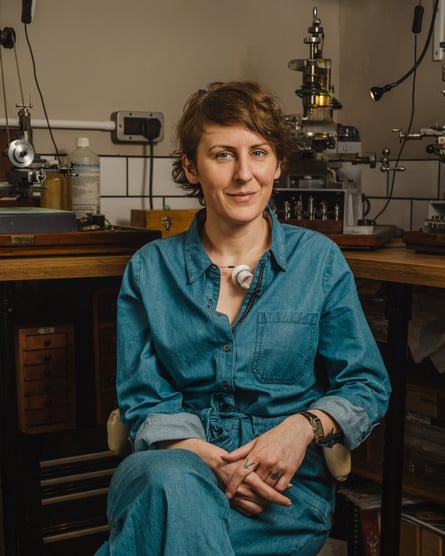 Dr Rebecca Struthers had a specific reader in mind for her new book, Hands of Time: A Watchmaker's History of Time. Something "a watch nerd could buy for people in their life who think they're mad, to show them why we love watches so much". Like many hobbies that attract passionate fans, the world of horology can feel both intimidating and a closed shop – full of jargon, reference numbers and snobbery. Struthers knows this more than anyone. As "female, tattooed and gobby" she was "made to feel very much 'other'" in her chosen career as a watchmaker and watch restorer. Alas, you can't really argue with the facts – in 2017 she became the first watchmaker in British history to earn a PhD in horology. With her husband, Craig, her business, Struthers Watchmakers, based in Birmingham's Jewellery Quarter, is responsible for keeping handmade watchmaking in the UK a going concern, earning it plaudits across the globe. Hands of Time is partly Rebecca's memoir, partly a history of significant watches and the stories behind them and partly the fascinating story of time, and our attempts to comprehend it and control it. Rebecca's description of her target reader may therefore be considered an under-sell – Hands of Time is a rattling, wonderful, decidedly non-nerdy read for anyone with an interest of how time made us who we are.
Hands of Time: A Watchmaker's History of Time is out now
---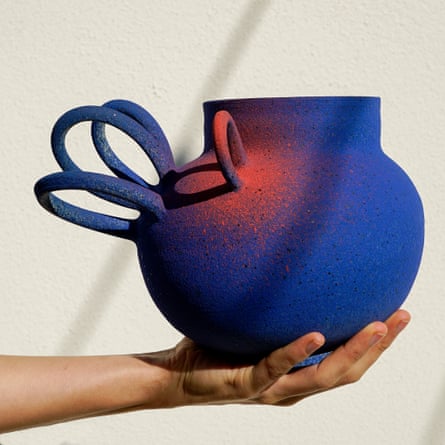 May brings Craft Week to the UK's capital and a fascinating range of exhibitions, talks and workshops to London. At the Park Royal Clay exhibition, you can admire items made from London clay excavated as part of the infrastructure projects in Old Oak and Park Royal, a great use of building byproducts. The Mills Fabrica workspace in King's Cross hosts shows and workshops on biomaterials and biodesign workshops, including a talk by Dr Manel Torres, who invented the world's first spray-on fabric. Craft collective Future Icons launches a new initiative providing space for over 70 makers to show their work at the Oxo Tower. Participants include Keeley Traae, a digital maker who creates objects from 3D printing biodegradable materials and glass artist Kate Maestri. Forest + Found has curated Material Beings, a show examining how we can rethink our use of materials. It features Marlene Huissoud, Alida Kuzemczak-Sayer, who makes sculpture out of paper made from Mulberry trees, and metalworker Francisca Onumah. Also look out for workshops and demonstrations around the city from including a demonstration evening with ceramicist Eric Landon from Tortus Studio at Studio Pottery London and Hanji fan making with Korean artist HyunJoo Kim at Couverture & The Garbstore.
"London Craft Week builds on the post-Covid appetite for unique live experiences," says Guy Salter, chairman of LCW. "More than ever this year, I hope we're proof of London's enduring international cultural pulling power – and a tangible demonstration of human ingenuity and diversity."
London Craft Week will be open across London from 8–14 May 2023
---
It's safe to say Frank Lloyd Wright was not a trainers guy. Cape, oxford shoes and a porkpie hat, yes. Trainers, not so much. But Lloyd Wright did design clothes – especially dresses for his first wife, Kitty – and some of his clients. He was also an extraordinarily prolific creative with a career that spanned 72 years during which he created over 1,000 designs. So it's easy to imagine he would have approved of the Frank Lloyd Wright trainers created by Ronnie Fieg, the founder of US streetwear brand Kith. The New Balance 998s are inspired by the architect's utopian project Broadacre City, particularly a scale model built of his vision of farms and forests breaking up cities in 1935. The earthy colours of the Kith New Balance trainers certainly ring true the gold and rust reds used in the interiors and facade of Fallingwater, Lloyd Wright's masterpiece. As Lloyd Wright continued to update and refine the Broadacre principle until his death in 1959, he would undoubtedly have been amused by the unlikely reemergence of his utopian dream on sneakerhead newsfeeds and on the feet of streetwear aficionados. As he's noted to have said: "Less is only more when more is no good."
Kith's New Balance Made in USA 998 – Broadacre City shoes mark the 35th anniversary of the style and were made in collaboration with the Frank Lloyd Wright Foundation
---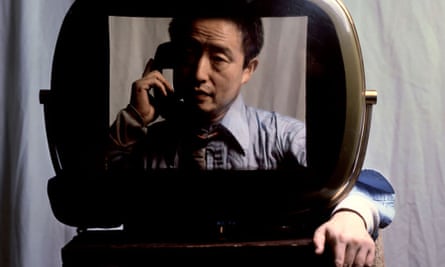 Few artists show such visionary clairvoyance as Nam June Paik. The South Korean artist may have been born in 1932 but he predicted satellite TV in 1973 and the internet in 1974. That was the same year he described the idea of a smartphone in uncanny detail. Paik's prescient writings (read by actor Stephen Yuen) provide a soundscape in the first documentary to be made about the artist, which is out this month. The film, Moon is the Oldest TV, is a celebration of Paik's life featuring contributions from the likes of artists Marina Abramović and Ulysses Jenkins and it's a fitting tribute to the man dubbed the father of video art.
Paik was studying classical composition in 1950s Germany when he saw a performance by musician John Cage which changed the course of his life. He moved to New York and joined the avant-garde Fluxus collective. Over the following years, he created a humorous, inquisitive and foresighted body of work, staged art performances and built robots before revolutionising television and video art. Though his name isn't as recognisable as those of the other artists who ushered in contemporary art, Paik changed the way we think about images in the electronic age with works such as The More The Better and Global Groove.
It's sad that Paik died in 2006 – the year before the iPhone was launched – but his real legacy is his global perspective, something that attracted the film's director, Amanda Kim, to him. Talking at the Sundance Film Festival, she said: "I was drawn to Nam June's story because of my own itinerant background as a Korean growing up in Japan and then moving West. I related to his nomadic life and multicultural identity. He didn't see the world in black or white terms. It's inspiring and refreshing at a time when everything seems to be categorised in binary terms."
Nam June Paik: Moon is Oldest TV is in cinemas from 19 May
---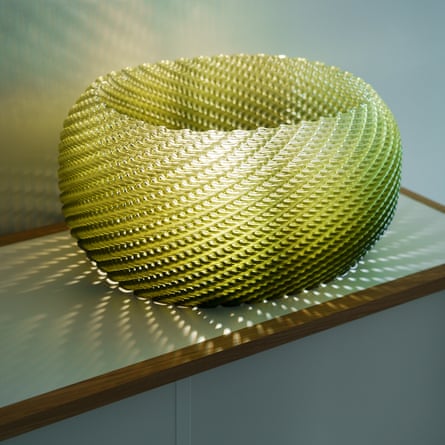 One of the many delights of Milan's Salone del Mobile furniture fair is the SaloneSatelite, a showcase for young designers to meet professionals and talk through their sustainable, community-focused projects. Each year the Satelite Prize is given for the most innovative projects. This year's winners were Honoka, a group of six Japanese product designers, and their Tatami ReFab Project.
Tatami mats, made from rushes, are traditional floor coverings in Japan. They are naturally resistant to mold, trap dust and dirt, and smell nice, too, but they have fallen out of favour in modern Japan. Honoka's project recycles old tatami mats, giving them new life as contemporary furniture. The old mats are treated to create biodegradable resin which is then woven into objects such as vases, stools and basins using a 3D printer. As the Honoka project proposal states: "We've created furniture with a new appeal. Through this project, we will transmit the charm of tatami mats to the next generation."
---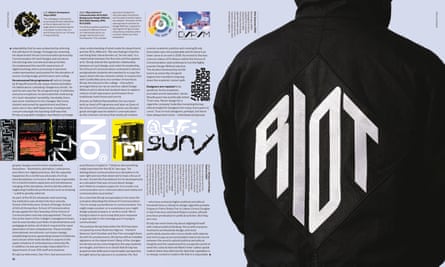 Most of us can probably name a fashion designer, a furniture designer, maybe an interiors guru and, at a push, a creative who makes products. Well-known graphic designers are fewer and further between. Which doesn't make a huge amount of sense – since graphic design is the design we interact with the most, used to convey everything from selling us shopping to stopping us speeding. One graphic designer's name that towers above all others is that of Neville Brody. Design students treat his pioneering mid-1980s work on style magazine The Faceas something of a Ground Zero for modern typography – reductively put, using type to make eye-popping shapes and patterns, as opposed to being reserved for headlines – something that launched a stellar career. Brody's CV also includes a redesign of the BBC, a new look for The Guardian and The Observer and his own set of stamps. His work is included in the permanent collection of New York's Museum of Modern Art. In 1988 he published two monographs of his work – The Graphic Language of Neville Brody – that went on to become the best-selling graphic design books ever. Now there's a third. The Graphic Language of Neville Brody 3 covers work for Nike, Coca-Cola, Tate Modern and Channel 4, as well as various informational graphics and magazine editorials, showing how his work has evolved since the 1990s. Bold, brave and indisputably Brody – 50 years into his career his position as graphic design's Number One remains undimmed.
The Graphic Language of Neville Brody 3 is published 25 May, £50
Art therapy space gutted in 'terrible' Montreal heritage building fire – Montreal Gazette
Article content
The mission of Les Impatients, established in 1992, is to help people with mental health problems through the vehicle of artistic expression. The Monastère du Bon-Pasteur building, a multi-purpose building on Sherbrooke St. E., had been home to Les Impatients since 1999.
"A lot of people are in shock," Frédéric Palardy said of participants. "It's almost like a home for them. Some come twice a week."
They participate in art workshops and, as well, some are in music and dance workshops and a choir — all organized by Les Impatients.
"The main thing is that everyone is safe and no one was hurt," Palardy said. "My thoughts are for our neighbours."
The multi-purpose building housed a seniors' residence and a housing co-operative, Heritage Montreal, a daycare centre, condos and a chapel that served as a concert hall.
"I know a lot of people in the residence and the co-op," he said.
But the fire "is terrible for us, too."
Les Impatients was on the top floor and among the building's most severely affected by the blaze, said Palardy. Although it is not yet known for sure, the fire is believed to have started in the roof.
Article content
The space the organization occupied included its downtown workshop space, offices, gallery space and a boutique. Also lost in the fire were the organization's archives, its musical instruments and about 10 per cent of its artworks.
With about 30,000 works, Les Impatients has what is believed to be North America's largest collection of outsider art, Palardy said. The term describes art that has a naïve quality and was often produced by people without formal training as artists.
Les Impatients had insurance, but it was primarily for theft, Palardy said.
"We have to start from scratch," he said, adding that the organization is working on an appeal.
Meanwhile, Palardy said the organization has received countless emails and messages of support, including a text Sunday from deputy health minister Lionel Carmant and messages from representatives of the City of Montreal's culture department.
Article content
"A part of the soul of Les Impatients has gone up in smoke," the organization said in a communiqué. "The emotion and the sadness are vivid but the priority for the organization is to continue its mission, through this chaos, to serve its community well."

An interim location for Les Impatients administrative offices has been found, Palardy said Sunday, but the activities of the downtown section, which were held in the former monastery building, are suspended for now. That location normally serves about 130 people five days and three evenings every week through its workshops and the organization is already at work to find a new location, Palardy said.
The former monastery location is the largest and most well-established of Les Impatients' 25 locations elsewhere in Montreal and across Quebec which, together, serve more than 900 people. The other locations will continue to function, he said.
The Parle-moi d'Amour event, the biggest fundraiser of the year for Les Impatients, is set for September. Sadly, Palardy said, some of the works that were to be included were lost in the fire.
Remembering a pioneer of local Indigenous art – Sault Ste. Marie News – SooToday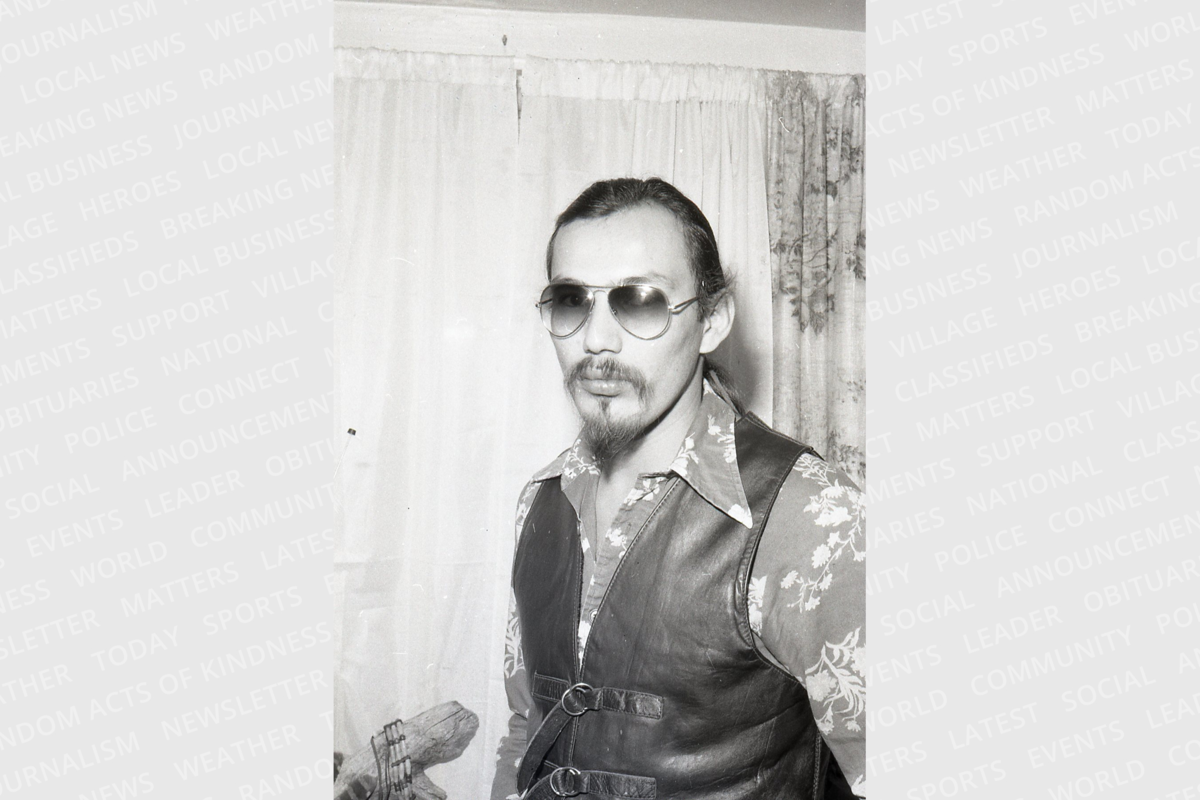 From the archives of the Sault Ste. Marie Public Library:
John Laford was a prominent Sault Ste. Marie artist, who was born in 1955 on an Indigenous reserve in the West Bay area of Manitoulin Island.
Leaving his home at the age of 15, he eventually made his way to Sault Ste. Marie by his early 20s.
He felt that he had been painting for as long as he could remember. He always enjoyed art, design and doodling after he finished school but with no formal training, he was largely self-taught.
Laford travelled throughout Europe, Canada and the United States, studying and learning from various artists along the way.
"I would only paint to get enough money to continue along the way," he said.
By 1969, Laford began painting full-time. In 1977, at the age of 22, he had his work exhibited at the Centennial Room at the Sault Ste. Marie Public Library. He used his work to show his Ojibway legends and spiritual beliefs. His spiritual beliefs and Ojibway legends were central not just to his artistic career but to his personal life as well.
Laford went on to be a vocal critic of the Children's Aid Society (CAS).
As a child, he played with a young boy who lived next to him. In a 1978 Sault Star article he explained, it was not until he was 12 that he realized that the boy was his older brother.
When he was one year old, his father died. His mother took his four sisters and two brothers and moved back to her reserve. She did not receive any financial assistance to care for her children and CAS took over.
"CAS saw my mother had too many kids and just took them away," Laford said. "To me, it seemed they just wanted to scatter the family. I wasn't adopted into a native family and the Children's Aid paid for my care but no one ever bothered to tell me about my real parents and brothers and sisters."
The foster family cared for four of them for a while which he described as very strict but fairly good people which he says helped him.
At the age of 15, he ran away from home with his older brother and travelled to Toronto in an attempt to find their mother.
"I quit school. Things weren't too good on the reserve. I was drinking a lot," he said.
When they arrived in Toronto it took them a week to find their mother. He spent three years with her getting to know her and the rest of his family.
"What I'm saying is my opinion, just my own ideas about the things I went through with Children's Aid. I would have liked to have grown up with my mother, stayed with my real mother, but it didn't happen that way. You could look at it (CAS) as destroying Indian families but they're trying to do something good," he said near the end of the Sault Star article.
Laford and two other Indigenous artists Cecil Youngfox and Peter Migwans formed a group called "Artists of the Northern Sun." They hoped it would "form the nucleus of the Indian community in Sault Ste. Marie."
The three artists created the group around 1977 when Laford moved to Sault Ste. Marie. They planned on organizing events that would bring Indigenous and Non-Indigenous Canadians together. The three wanted to create a higher profile and take on a leadership role in the community.
By 1980 Laford had become a well-established artist in his own right whose work was included in the McMichael Canadian Art Collection. His work had been exhibited in Hamilton, Toronto, and Montreal and in 1980 his work was part of the Manitoulin Island artist's show at the Royal Ontario Museum (ROM). In 1990 his work was once again featured in Sault Ste. Marie at the Art Gallery of Algoma.
Laford passed away in 2021 at the age of 67. He left a lasting mark and legacy in the
Indigenous community. He used his spirituality and culture's legends to create works of art that are enjoyed and viewed by Canadians and the world alike.
Each week, the Sault Ste. Marie Public Library and its Archives provide SooToday readers with a glimpse of the city's past.
Find out more of what the Public Library has to offer at www.ssmpl.ca and look for more "Remember This?" columns here.
Indigenous art market comes to downtown Kitchener – CTV News Kitchener
A celebration of Indigenous culture is in downtown Kitchener for the weekend.
The "I Am Kitchener: Indigenous Art Market" has taken over the Gaukel block, with everything from clothes, to art, to beadwork.
The two-day event is a showcase for artists across Southwestern Ontario, but also a welcoming to the wider community.
"I think it's really important for folks in the region to really come out and support events like this," said co-organizers Maddie Resmer. "It's a huge step forwards. What it means to connect with Indigenous community members in the region, in Kitchener, and for folks in the area to get to know some of the Indigenous artists that live here and are close to these territories, that's how we celebrate ourselves, right?
"We highlight the positive and brilliant people who come from our culture."
The Indigenous art market wraps up Sunday.