Digital Art May Be Next In The SEC's Crosshairs – Forbes
Like many other things, art and collectibles have gone digital. This year has seen explosive growth for NFTs, with NFT sales for 2021 already exceeding $2.5 billion. With the growing market for NFTs comes innovation, most notably the emergence of f-NFTs ("fractional non-fungible tokens"). Where financial innovation goes, the SEC is bound to follow. F-NFTs are no exception. Although perhaps not intending to rain on the creative parade, in March 2021 comments, SEC Commissioner Hester M. Peirce sounded a note of caution, warning creators of f-NFTs to be careful that they are not creating securities that would be subject to regulation.
NFTs and f-NFTs: A Primer
An NFT, or non-fungible token, is a digital asset that represents a real-world object, most commonly a piece of art, music, or video. Built using blockchain technology, NFTs share some similarities with cryptocurrency, but, unlike a Bitcoin or Ethereum, NFTs are non-fungible. Each NFT has a unique digital signature, which allows for its authenticity and provenance easily to be verified. The most famous (and expensive) example of an NFT is an image called "EVERDAYS: The First 5000 Days" created by the artist Beeple, which sold at auction in March 2021 for over $69 million. Other well-known examples of NFTs include NBA Top Shot, a digital trading card system that features video highlight reels, as well as the first tweet sent by Twitter founder and CEO Jack Dorsey. Stripping away the technological gloss, at the core, an NFT is akin to any other collectible object and the purchaser of an NFT is akin to an afficionado of traditional art and collectibles. Where J. Paul Getty chose to collect 16th century Persian carpets, however, the moguls of today may choose to collect the digital image of a startled-looking Shiba Inu dog – the star of the ubiquitous Doge meme – that recently sold as an NFT for $4 million.
Though not all NFTs sell for millions of dollars, for reasons that elude many of us, a large number of NFTs come with a hefty price tag. Fractional non-fungible tokens have emerged to meet the needs of people who might want to enter the NFT market without spending seven figures. Simply put, an f-NFT is a fraction – or "shard" – of an NFT that can be bought and sold. For example, a collection of 50 CryptoPunks, digital images that are among the earliest NFTs and that routinely sell individually for millions of dollars recently have been fractionalized into millions of tokens, with each f-NFT representing a fraction of the larger collection. Although an NFT easily can be analogized to traditional collectible art, and the owner of an NFT to a traditional collector, that analogy fails to capture f-NFTs, which represent merely a small portion of the underlying work, and their owners, who possess only a fraction of the underlying work. Moreover, signs exist that f-NFT innovators are looking to expand beyond the relatively small art and collectibles markets, with some in the crypto space imagining the possibility of wrapping real-world assets into NFTs, fractionalizing them, and then making the resulting f-NFTs tradeable. Indeed, several platforms have emerged to facilitate the trading of f-NFTs, including Fractional, Niftex, and DAOfi. Thus, although f-NFTs may seem like a niche product for digital art enthusiasts now, they may not remain so for long. As such, thinking through the possible approach regulators may take to f-NFTs is a helpful exercise, and it boils down to one question: what is the likelihood that the SEC will regulate f-NFTs as securities?
The SEC and f-NFTs
Though, despite the note of caution, the SEC's regulatory approach to cryptocurrency is not yet settled, the Commission has undertaken an increasing number of enforcement actions in the crypto space, including crackdowns on ICOs (initial coin offerings) and a pending federal court action against Ripple Labs. Thus, though the SEC has not yet spoken in great depth about NFTs or f-NFTs, f-NFTs are on the Commission's radar. How might the guidance the SEC has offered regarding the regulatory status of crypto generally apply to f-NFTs in particular? The best place to start is the 2019 guidance on evaluating digital assets issued by the SEC's Strategic Hub for Innovation and Financial Technology.
A security is subject to a host of regulations: not only must issuers register non-exempt securities with the SEC under Section 5 of the Securities Act of 1933, but any platform or exchange that lists the security would also have to consider whether it was required to register with the SEC. When determining whether a transaction qualifies as an investment contract (and so is subject to regulation as a security), courts look to the 1946 Supreme Court case SEC v. W.J. Howey Co., 328 U.S. 293 (1946). There, the Supreme Court promulgated a four-prong test (the Howey test): an instrument is an investment contract if it is (1) an investment of money; (2) in a common enterprise; (3) with a reasonable expectation of profits; (4) to be derived from the entrepreneurial or managerial efforts of others. How might f-NFTs fare under the Howey test?
The first prong of Howey is also the most straightforward: courts have held that an "investment of money" need not be in the form of cash and thus, even though f-NFTs are bought using cryptocurrency, they likely satisfy the first prong. The status of f-NFTs under the second prong – the existence of a common enterprise – is more difficult to assess. In its 2019 guidance, the SEC noted that it typically has found a common enterprise when evaluating digital assets. This analysis may not apply to traditional NFTs because, by its very nature an NFT bestows unique rights on a single purchaser. The analysis, however, likely does apply to an f-NFT. The owner of an f-NFT has only a partial ownership interest in the underlying NFT, the value of which is inextricably bound up with the value of the NFT as a whole. In this way, the fortunes of each holder of a shard of a given NFT are tied to the fortunes of every other shard holder: if the value of the underlying NFT appreciates, so does the value of each shard, and vice versa. With the caveat that Howey is a fact-sensitive test, as a general proposition, f-NFTs may meet the horizontal and vertical commonality analysis that courts have applied when determining whether a common enterprise exists for purposes of the Howey test: namely, that the fortunes of each investor in a pool of investors are tied to the success of the overall venture and there is an interdependence between the fortunes of the investor and the promoter (in the case of an f-NFT, likely the person or entity having control or custody of the underlying NFT).
The third prong of Howey looks at whether a reasonable expectation of profits exists in the purchase. Here, the SEC's guidance looks at several factors, including whether the asset can be traded on or through a secondary market or platform, the identity of the target buyer, and the marketing efforts surrounding the asset. This prong is particularly fact-sensitive and dependent on the circumstances surrounding a given fractionalized NFT. For example, while some f-NFTs may be accompanied by marketing materials touting the opportunity to join the ranks of connoisseurs by owning a shard of a masterpiece (making it less likely to meet this prong), others may be accompanied by materials focusing on the likelihood that the shard will appreciate, or emphasizing efforts being undertaken to support demand for the underlying NFT (making it more likely to meet this prong). Further, the existence of a secondary market for a given f-NFT – such as the ability to trade it on an f-NFT exchange – would likely also support a finding of a reasonable expectation of profits under Howey.
Finally, the Howey test asks whether that reasonable expectation of profits is derived from the entrepreneurial and managerial efforts of others. Whereas a traditional NFT is unlikely to meet this prong (once the NFT is sold the prior owner surrenders all control over it to the new owner), f-NFTs may be another story. Again, circumstances surrounding a particular f-NFT will bear heavily on the analysis, but it is certainly conceivable that the issuer of an f-NFT might maintain managerial control over the underlying asset (particularly if f-NFTs expand beyond the niche art and collectibles market as some in the crypto space are predicting), thereby meeting the fourth prong of Howey.
What Next?
Two conclusions follow from the Howey analysis. First, given the general lack of clarity from the SEC regarding cryptocurrency, no degree of certainty exists as to whether and to what extent f-NFTs will become the subject of regulatory scrutiny in the future. Second, that caveat aside, if the SEC does turn its attention to the world of NFTs, f-NFTs are significantly more likely to be regulated as securities than are traditional NFTs. As the f-NFT market continues to innovate, promoters, exchanges, and customers would be wise to heed the SEC Commissioner's note of caution. Promoters in particular ought to proceed carefully, especially with regards to what marketing strategies they adopt and what degree of control they retain over the underlying NFT.
To read more from Robert J. Anello please visit maglaw.com
Bronwyn Roantree, an attorney with Morvillo Abramowitz, assisted in the preparation of this article.
Art Gallery of Ontario reopens with blockbuster Andy Warhol exhibition – Toronto Star
The Art Gallery of Ontario is betting on a blockbuster Andy Warhol retrospective to entice audiences back following a nine-month pandemic induced closure.
The aptly titled "Andy Warhol" exhibition, which opened to AGO members Wednesday, aims to bring biographic and cultural context to one of the most recognizable and divisive iconoclasts of the 20th century. Through 250 art works and ephemera, including a trio of Warhol's infamous wigs and the manifest from his mother's arrival at Ellis Island, "Andy Warhol" makes the argument that its subject is, as Kenneth Brummel, the AGO's Associate Curator of Modern Art puts it, "due for a reassessment."
Pointedly, "Andy Warhol" casts its subject as a product of circumstance. The first half of the exhibition is devoted to establishing Warhol's working-class bona-fides: his humble upbringing as a child of Eastern European immigrants in Pittsburgh, moving to New York to work on commercial and advertising art before establishing himself as a figurehead of the counterculture. In contrast, the latter half moves beyond the biographical into Warhol's obsession with mortality and religion, a perspective made all the more visceral when he was shot in 1968 by the feminist author Valerie Solanas (Solanas also shot art critic Mario Amaya, who happened to be at Warhol's studio at the time and would, the following year, become the chief curator at the AGO).
Presented across a massive section of the Gallery (twice the typical floor space to allow for physical distancing), the exhibition reframes the Pop Art Svengali by spotlighting some of Warhol's lesser-known works while postulating that, as the homosexual son of poor Catholic immigrants, he was uniquely positioned to become the eminent art world translator of American culture.
To achieve this vantage point, the exhibition fleshes out the artist's work as pointedly flawed and acerbic rather than the sleek, machine-like superficial mirror that has become the artist's modern caricature. As such, seminal pieces including 1962's "Marilyn Diptych" and 1964's "Jackie Triptych" are presented couched in Warhol's macabre obsessions and Catholic guilt, while the lesser seen "Ladies and Gentlemen" series, in which Warhol was commissioned to create portraits of New York's Latin and African-American drag queens and trans women, is given pride of place, bluntly asking the viewer to confront the necropolitics of the work, both of its time and of modern day.
"We want to take Warhol as we understand him and make him strange again," Brummel, who curated the AGO presentation following its debut last year at the Tate Modern in London, explains. "Our goal is to enrich understanding of Warhol as this bifurcated figure; more than a myth with a past."
In parallel, the AGO presentation subtly points out Warhol's ties to both the gallery and the city. This connection is brought to bear via a selection of works exclusive to the Toronto stop, including multiple commissioned portraits of the ballet superstar Karen Kain and, fetchingly, a neon Wayne Gretzky, whose placement in juxtaposition to "Oxidation Painting" (which Warhol created by coating a canvas with wet copper paint and getting his friends to urinate on it) serves as a commentary on the artist's own fraught relationship with celebrity, commerce and the art world.
Moreover, by purposely positioning the retrospective in divergence with the polished colourful imagery and pithy quotables that have come to define Warhol as a pop culture figure, Brummel says he hopes it will help salvage the artist's reputation as a precursor for the disposable nature and lavish absurdisms of modern art.
"The reality is every good painter has to reckon with the cult of admiration," he says, pointing to the late-era series, "Stitched Photographs," in which the artist toyed with his own authenticity by stitching a series of reprinted photographs together to form a repeated pattern. "And Warhol was a formidable precursor."
In the works since 2017, "Andy Warhol" had been intended to debut at the AGO in March of 2021 and joined exhibitions across the sector and around the world which had been delayed or cancelled due to the pandemic.
According to CEO Stephan Jost, while it undoubtedly caused a number of logistical and financial headaches, the pandemic also allowed for something all too rare in the field: a moment to reflect.
Speaking during a brief interview under a posthumous self-portrait of Warhol, Jost explains that over the past year he "learned to stop talking and listen."
"[The pandemic] allowed us to ask ourselves what are we actually doing and why are we actually doing this? That's framed as an existential question, but it actually reminded people why they do what they do," he says. "What I discovered was, on a basic level, we're doing fine and that's because everybody, from the night guards to our board, pulled their weight. That gives you a lot of confidence"
In addition, Jost says the break gave the heads of many of the city's cultural organizations a chance to retrench and consider how best to reinvigorate what has been one of the hardest hit sectors.
"We used to meet maybe quarterly and now it's every two weeks," he says of the group, which includes representatives from the National Ballet, Harbourfront Centre, Canadian Opera Company and Soulpepper Theatre. "We're all trying to figure it out and it's actually been great to find a common learning."
As for the near future, Jost says he's excited for the gallery to come "roaring back," beginning with the Warhol exhibition, which runs until Oct. 24, to be joined by, beginning Oct. 9, a blockbuster exhibition focusing on Picasso's Blue Period.
"It's the best exhibition schedule the AGO has ever had," Jost exclaims. "We want to be all in on culture."
JOIN THE CONVERSATION
Conversations are opinions of our readers and are subject to the
Code of Conduct
. The Star does not endorse these opinions.
Little gallery on the prairie: Unique spaces showcase Saskatchewan art and culture – Saskatoon StarPhoenix
Scattered across the Saskatchewan prairie are a colourful collection of galleries displaying the work of local and visiting artists alike.
Reviews and recommendations are unbiased and products are independently selected. Postmedia may earn an affiliate commission from purchases made through links on this page.
Article content
This article is part of a Saskatoon StarPhoenix and Regina Leader-Post series called 'The road less travelled,' exploring rural art and artists in Saskatchewan. Read more in the paper or online at thestarphoenix.com and leaderpost.com.
Article content
Where there is art and artists, there are galleries to showcase the work.
Scattered across Saskatchewan is a colourful collection of galleries displaying the work of local and visiting artists alike. Many of the buildings housing them are creative by design, and others are creative by necessity — transforming old and otherwise unused structures into art spaces.
Here are a few unique art galleries in rural Saskatchewan:
And Art Gallery, Davidson
It's not too often you see a bank vault full of paintings — or at least, not one that's regularly open to the public.
When Gail Prpick had the opportunity, she transformed the century-old brick building in downtown Davidson into an artistic haven for local artists.
Prpick's And Art Gallery hosts local and regional artists on its walls and in the old bank vault. She said works produced by about seven other artists from the area are currently on display.
A lot of people are surprised to find a gallery of this scope in a place as small as Davidson, which is just one more reason she's happy to keep the place running smoothly, she said.
"I'm proud, because a lot of these artists wouldn't be showing otherwise. People don't realize how much talent is out there, and they can come take a look and it doesn't cost anything."
Happy Chance Treasures, Hawarden
Shawna Mitchell was looking for a place to start her own art venture with her partner when they stumbled on the old, unused church in the village of Hawarden.
Article content
They bought the building, refurbished it, and launched Happy Chance Treasures art gallery.
Mitchell said as a young artist, she knew she was among a select few who owned and ran galleries. Hawarden is fairly remote, but enough traffic passes through the town that they still get their fair share of visitors, she said.
The old church building has been entirely converted as a space for Mitchell and her partner to continue creating and invite people in to a unique gallery space in Saskatchewan.
"It was a building designed for people to feel glorified, to feel peaceful," Mitchell said. "It was meant for people to … feel at home, and I think even though we've changed a couple of things, that feeling is still there."
Station Arts Centre, Rosthern
It's an art gallery, a theatre performance venue, a small "tea room" café, a train caboose museum — the list goes on and on for the Station Arts Centre.
As an artistic space built in an old train station building in Rosthern, Sask., the centre is most certainly unique.
The Station Arts Centre is based in a renovated CN Railway station, re-using a building with strong ties to Saskatchewan's settler history that might have otherwise fallen into disrepair.
Executive director Nicole Thiessen said the centre is an artistic hub for much of the neighbouring community and most of Saskatchewan, despite its rural setting.
Article content
"People are very loyal to the arts in this area," she said. "They take a lot of pride in the communities in this area … there are wonderful supporters right here, close to us."
Thiessen said she enjoys seeing visitors' expressions when they walk through the door. Like Prpick, she said most people don't expect to find something like this in small-town Saskatchewan.
Prairie Wind & Silver Sage, Val Marie
Far in the south of Saskatchewan, there's a schoolhouse in Val Marie that's nearly a century old.
Instead of hosting classes, the "little brick schoolhouse" is now an art gallery, coffee shop, "ecomuseum" and more.
Prairie Wind & Silver Sage is a non-profit organization that runs the various branches housed in the old schoolhouse. It was built in 1927 — one year after the incorporation of the village of Val Marie, according to the PWSS website — and ultimately saved from demolition when the non-profit refurbished it into a multipurpose artistic and heritage space.
Despite its remote location, the PWSS hosts art and exhibitions in two small separate galleries, and has hosted artists in an artist-in-residence program.
Little Manitou Art Gallery, Manitou Beach
Most people visit Manitou Beach for the beautiful mineral waters, but it's almost impossible for the Little Manitou Art Gallery not to catch their eyes.
The gallery, built in the heart of the village, started as one small building to house the artwork of Sarah McKen and her partner.
Article content
That first small building is still there — at the heart of a series of showcases, stages, and gardens that fill out the Little Manitou Art Gallery.
"It has organically grown and come together," McKen said. "Artists have joined us, friends have given suggestions … it is so much more than we ever thought it could be."
McKen said the gallery grew by word of mouth, starting with just a handful of artists to more than 180 from across the province and beyond.
The colourful array of buildings hold gallery and work spaces, as well as a stage for musical performances. The space may have started as a small gallery in rural Saskatchewan, but it has grown to be another destination in the tourist town.
The news seems to be flying at us faster all the time. From COVID-19 updates to politics and crime and everything in between, it can be hard to keep up. With that in mind, the Saskatoon StarPhoenix has created an Afternoon Headlines newsletter that can be delivered daily to your inbox to help make sure you are up to date with the most vital news of the day. Click here to subscribe.
Art Beat: Learn the art of Japanese tie-dye – Coast Reporter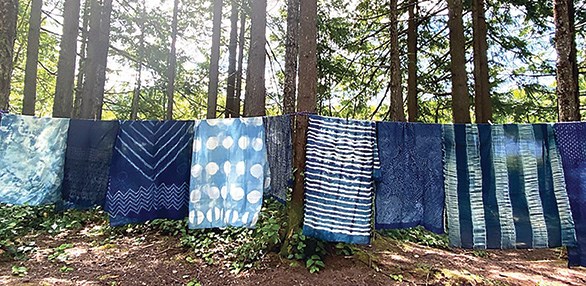 Join artists Natalie Grambow and Beth Hawthorn for an afternoon workshop of Indigo dyeing and traditional Japanese Shibori (shaped resist, or tie-dye) on Sunday, July 25, from 1 to 4:30 p.m. You'll create a one-of-a-kind shawl using Indigo dye. "There will be locally sourced light food and drinks, as well as a cash bar of locally made beer and cider." The workshop will be held outdoors by Hawthorn's ceramics studio at 1551 Lockyer Rd. in Roberts Creek. Tickets at evenbrite.ca.
Art on the Porch
Kandice Keith is mounting an art and fashion collaboration she's calling Art on the Porch and Itchycoo Park Pop-Up Shop, on Sunday, July 25. It will feature Keith's artwork and "one-of-a-kind vintage fashion pieces." It's on from 11 a.m. to 3 p.m. at 3204 Huckleberry Rd.
Meet the artist
Pippa Lattey is hosting an in-person walk through and discussion about her exhibit Between a Lamp, a Log and a Bucket at the Sunshine Coast Arts Council's Doris Crowston Gallery in Sechelt, on Sunday, July 25 between 2 and 4 p.m. It's free but you're asked to register through eventbrite.ca.
Becoming Human
There's an Open House at the Jane Covernton's Little Gallery in the Garden in Roberts Creek all day on Sunday, July 25. Covernton's show, Becoming Human, is up for only a few more weeks. She describes the exhibit as "an exploration of human archetypes using drawings, photos, photoshop, and colour, along with a little bit of story." Text 604-989-9090 for directions.
Suitably recognized
The Whistler Independent Book Awards is down to its final round and Gibsons author Pamela McGarry's fine debut novel, The Unsuitable Bride, is among just three fiction works to make it to that stage of the competition. The winner will be announced at the Whistler Writers Festival Oct. 14-17.
Writers podcast
Author Amanda Hale is the special guest on Coast actor and writer Caitlin Hicks's latest podcast. Hale is a widely published writer and the author of four novels. She talks with Hicks about her latest book, a work of historical fiction set in the mid-20th century U.K., titled Mad Hatter, "a disturbing but ultimately transcendent story of a daughter's search for family history." You can hear the interview by following the links at caitlinhicks.com.
So much music
The Coast is bursting with live music this summer and there are more music events every week this summer than can be mentioned here. Check the two-page Coast Community Calendar in Coast Reporter and the Coast Cultural Alliance at suncoastarts.com for more detailed lists. Some key words to look for are Sechelt Summer Music Series, Music in the Landing, Slow Sundays in the Creek, and the Clubhouse Restaurant.
The food of love
The 10th Annual Peanut Butter Jam will be held Saturday, July 24 outside Roger Camp's place at Henderson Beach in Roberts Creek. Camp and his jolly band, Slightly Twisted, along with some other musical friends, will rock out a good part of the afternoon starting at noon. All donations go the Sunshine Coast Food Bank. Follow the sound of music along the beach near the foot of Henderson Road, sit yourselves down on the massive rocks, donate, and enjoy. Bring sunblock.
Garden concert
The jazzy Moss Trio is performing a concert starting at 3 p.m. on Sunday, July 25, in the garden at a home in Bonniebrook. There were still tickets available at press time for this limited audience event, featuring the talents of Anna Lumiere, Graham Ord, and Aristazabal Hawkes. For details, email johnleech296@gmail.com.
Let us know about your art event at arts@coastreporter.net.