Valve Steam Deck is a handheld gaming PC that runs SteamOS – GSMArena.com
Valve has announced its own handheld gaming console. The Steam Deck is a compact gaming PC running a custom version of SteamOS and can play all of your Steam games while also functioning as a computer.
The Steam Deck has a formfactor similar to other portable gaming consoles like Nintendo Switch or the PlayStation Vita. On either side of the display are analog sticks with the d-pad on the left and ABXY keys on the right.
Unlike most other controllers, the Steam Deck places its keys in a unique arrangement, where the keys are on the same plane as the analog keys.
This has freed some space below, which is now occupied with two capacitive trackpads. These allow you to control the mouse pointer in games not designed to be played with a controller but rather with a mouse.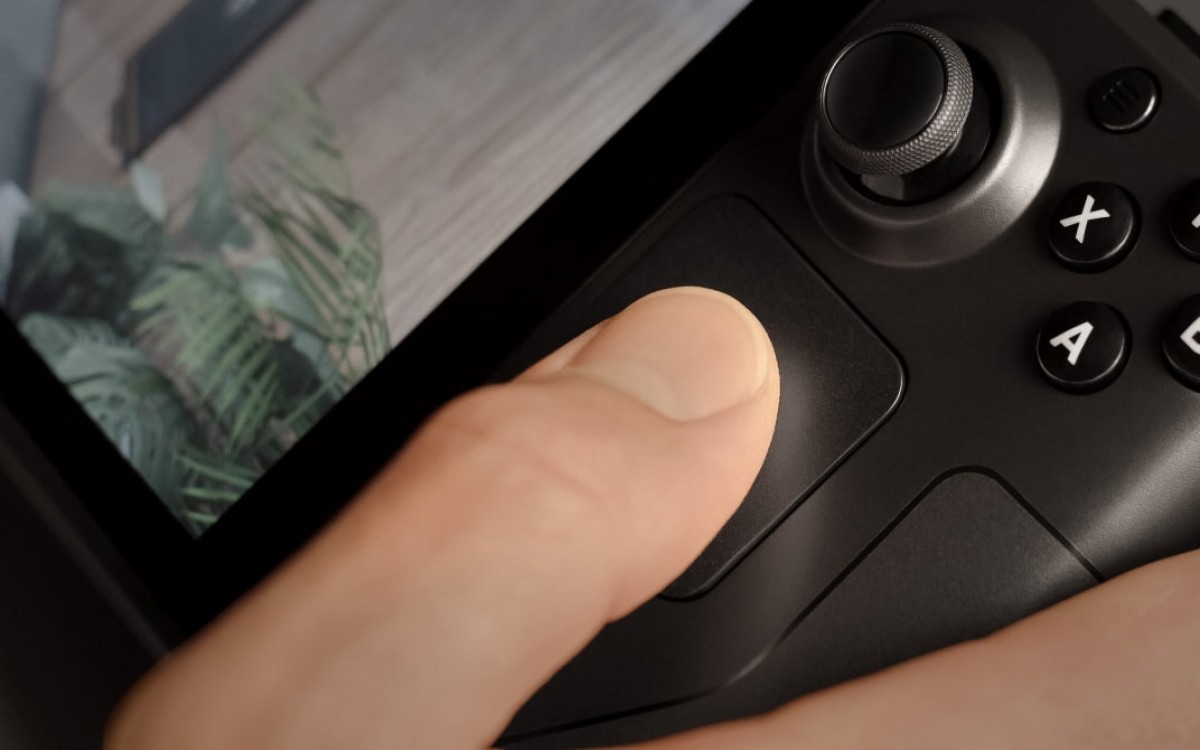 The Steam Deck also has a 6-axis gyroscope, which can be used to control your movements in games.
Below the trackpad are dual stereo speakers, which Valve claims have a DSP and wide soundstage. Of course, you can also plug in your own headphones, and the Steam Deck also has dual microphones built-in.
Rounding off the front side are four additional buttons for View, Menu, Steam, and Quick Access.
On top are the four analog triggers. The buttons are specially designed to be comfortable in racing games, which require pressing and holding the trigger buttons for long periods of time.
On the back of the console, Valve has placed four additional buttons on the grip, two on each side. These are fully customizable and can be mapped to any function within the game.
The display on the front is a 7-inch, 1280×800 resolution IPS LCD with a 16:10 aspect ratio, 400 nits maximum brightness, and touch support. The touchscreen can be used to interact with the UI and also to use the on-screen keyboard. It can also be used within games by mapping points on the screen to specific commands.
If you get the top-end model, the display also has an anti-glare etching for the glass, which should make it easier to see outdoors.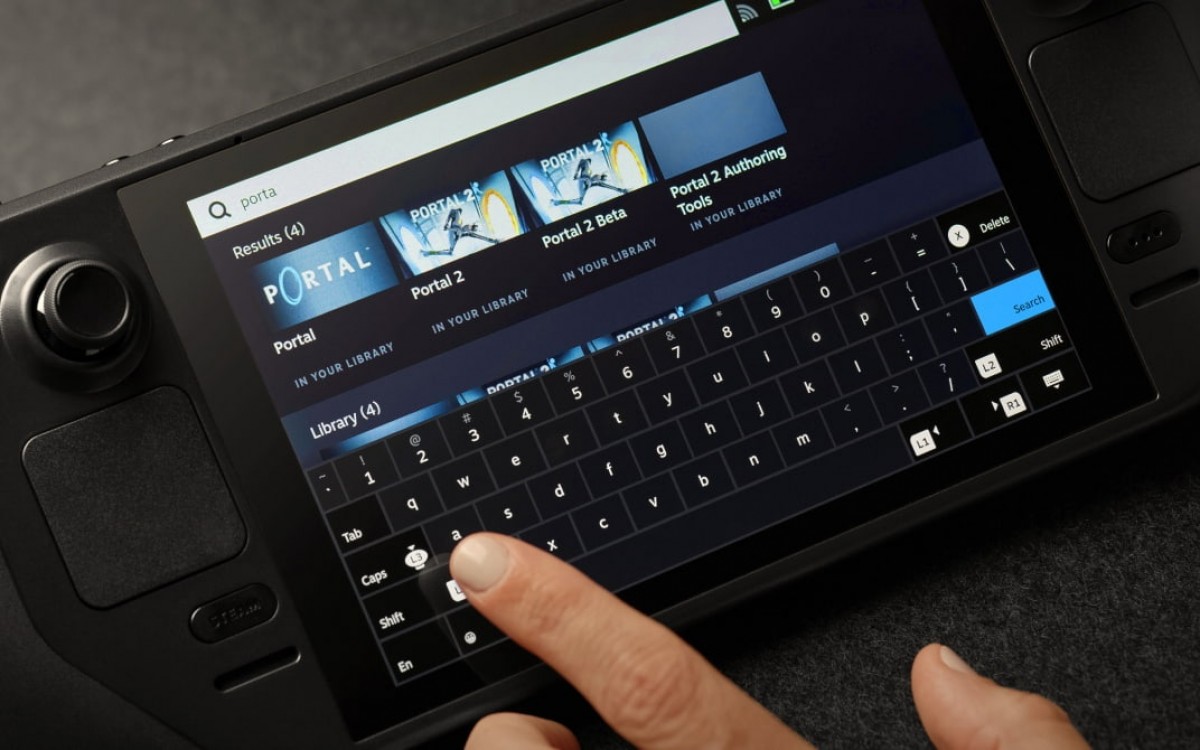 On the hardware side, the Steam Deck runs on a custom AMD APU. The CPU is based on the Zen 2 architecture and features 4-cores and 8-threads with a variable clock speed of 2.4-3.5GHz. The GPU uses the latest RDNA2 architecture with 8 compute units. The APU has a power envelope of 4-15W.
For storage, Valve provides three different tiers. The base model has 64GB of eMMC, which is also the slowest storage you can get on the Steam Deck. The middle variant gets 256GB of faster NVMe SSD storage while the top of the line variant gets an even faster 512GB NVMe SSD.
Aside from the built-in storage, users will also be able to use microSD cards to increase their storage. All models will get 16GB of LPDDR5 RAM.
The Steam Deck runs on Valve's SteamOS 3.0. This is primarily based on Arch Linux and uses the compatibility layer Proton to run games designed for Windows. Valve claims you can run all of your games on the Steam Deck, not just those designed for Linux.
The Steam Deck has a custom version of the Steam store that lets you just login and jump right into your Steam library. You can also browse and purchase games here, just as you would on a PC. Steam Deck also supports Steam cloud saves, so you can stop playing on your PC and continue right where you left off on the Steam Deck.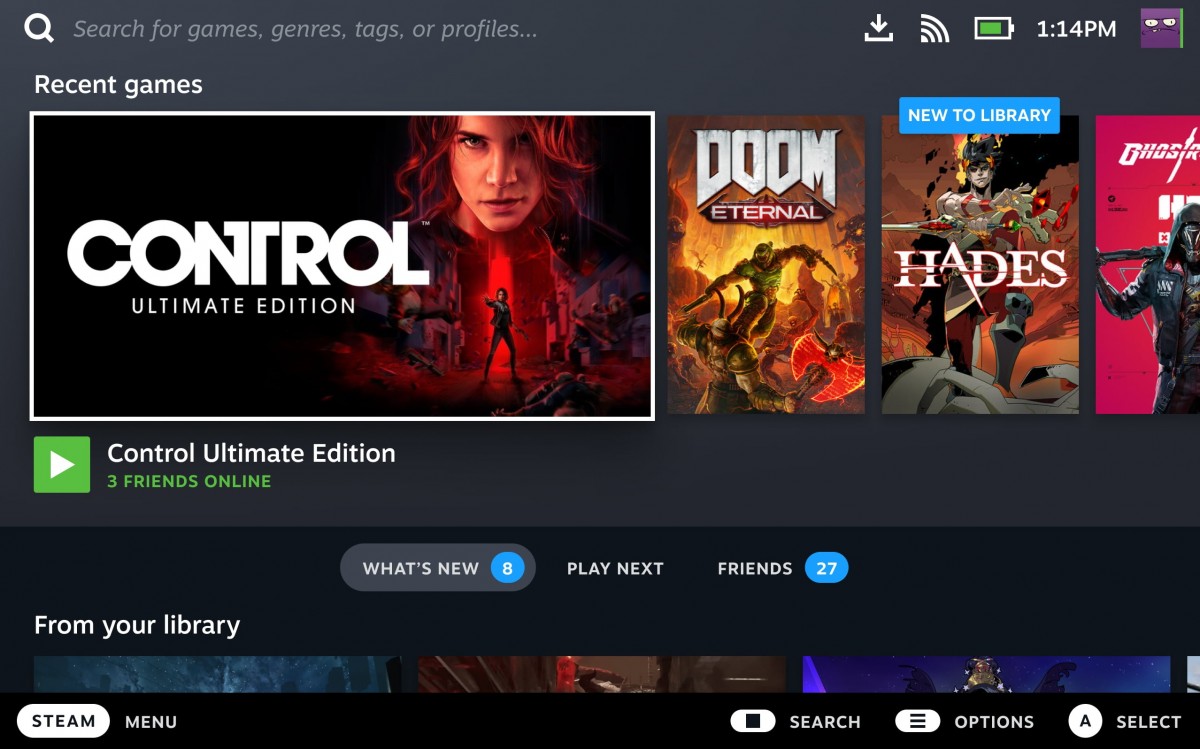 Underneath the custom software, Steam Deck is a standard Linux PC and can be used as one. With the help of a USB dock, you can connect the Steam Deck to your monitor, keyboard, and mouse and use it like a standard Linux computer. You can even install other game stores, at least ones that are available on Linux.
But what if you don't want to use Linux? Well, turns out you can just wipe it and install Windows. Steam Deck is essentially a compact PC and can be used as one if required.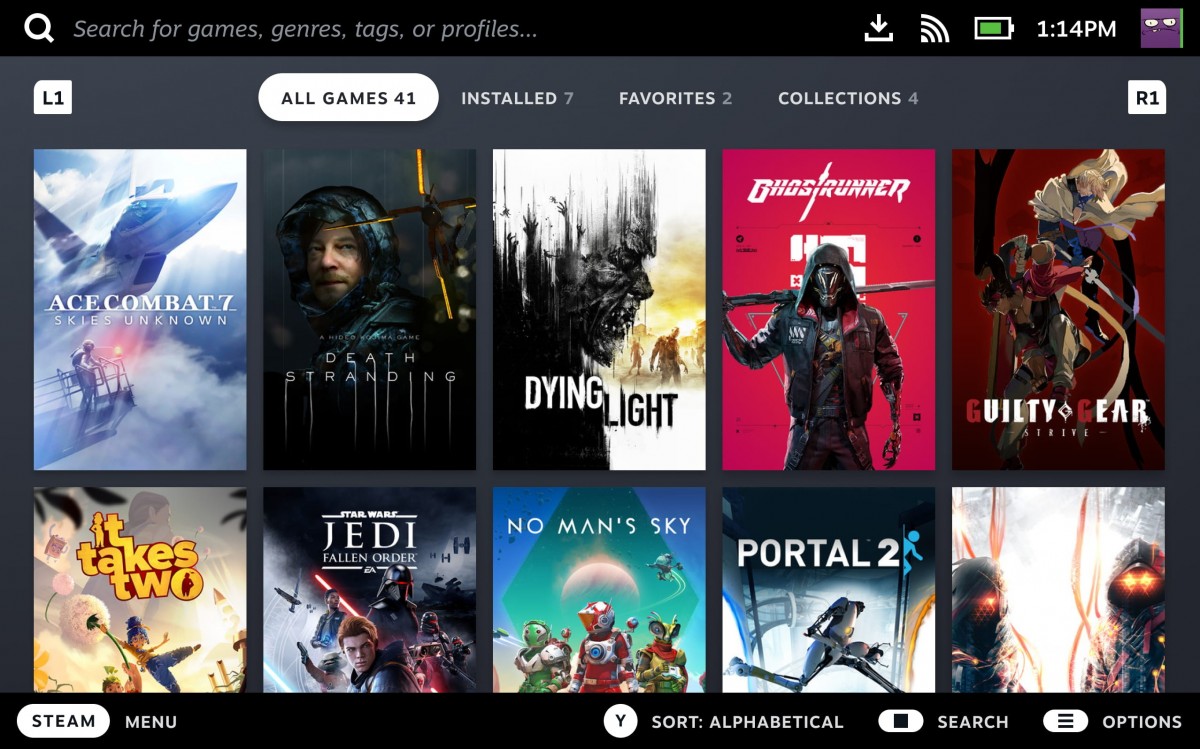 On the connectivity front, Steam Deck supports dual-band Wi-Fi 802.11ac and Bluetooth 5.0.
It also has a USB-C 3.2 Gen 2 port, which can be used for power, data, display, and audio. It can be treated like the USB-C port on a PC and you can connect all of your accessories as well as a desktop monitor through this port. It supports up to 8K at 60Hz or 4K at 120Hz through the DisplayPort 1.4 Alt-mode.
Lastly, the Steam Deck has a 40Wh battery. Valve claims it can run as long as 8 hours when used lightly or for basic 2D games. However, battery life can go down as low as 2 hours during demanding 3D games. You get a 45W USB-C PD charger in the box.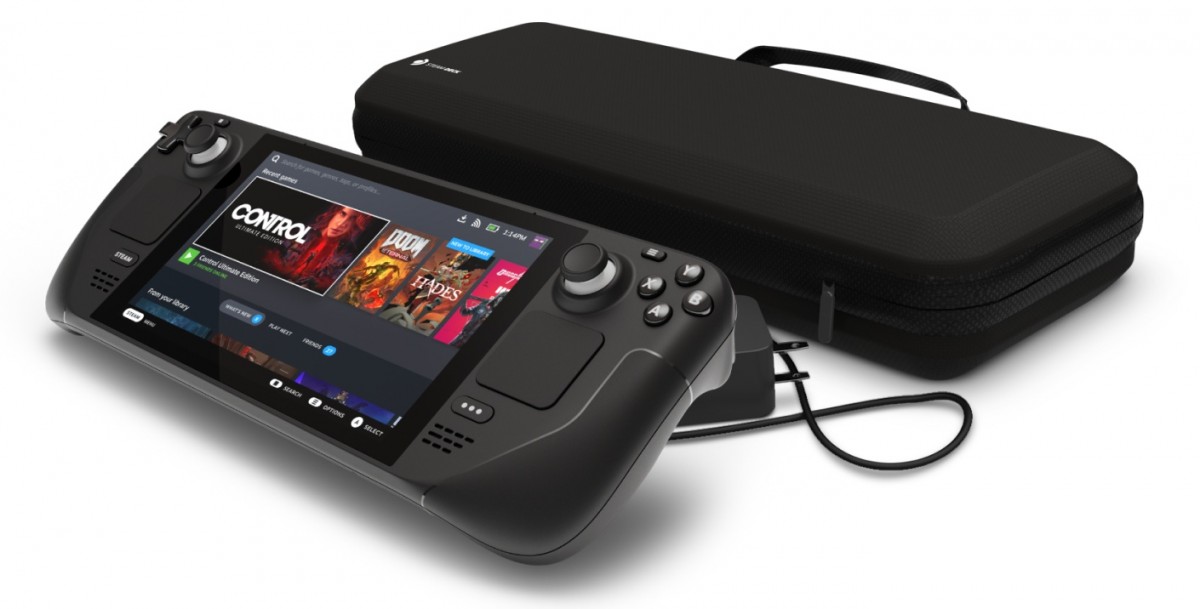 The Steam Deck comes in three variants. The 64GB model is priced at $399 and comes with a carrying case. The 256GB model costs $529 and adds an exclusive Steam Community profile bundle on top. Lastly, the 512GB model will set you back by $649 and has an exclusive carrying case, exclusive Steam Community profile bundle, and exclusive virtual keyboard theme. It also has the aforementioned anti-glare etched glass.
Steam Deck will be available for purchase in December 2021 in United States, Canada, the European Union, and the United Kingdom. If you live in these regions then you can now add it to your wishlist on Steam.
Chatelaine Is Now Available On Apple News+ – Chatelaine
Current and back issues of Chatelaine and all SJC Media titles are available on this premium, all-you-can-read app
If you love magazines, you should get to know Apple News+. Think of it as a digital journalism buffet, an all-access pass to all your favourite magazine and newspaper titles for a subscription of $12.99 a month for the whole family.
What is Apple News+?
If you have an Apple device, you're likely familiar with Apple News, a news aggregator app designed for the Apple ecosystem, accessible on iPhone, iPad or Mac. While it offers many articles for free—particularly breaking, trending and local news—Apple News also carries paywalled content that requires an Apple News+ subscription to access. Remember Texture? Apple acquired it in 2018 and evolved it into News+, giving readers access to an unprecedented volume of magazine issues, including back issues from 2018 on. Dubbed the "Netflix of magazines," Apple News+ offers unlimited access to more than 300 magazines, newspapers and publications for a subscription fee of $12.99 per month after a free one-month trial. The subscription can be shared among a family of up to six people with the Family Sharing feature.
What are the benefits of reading Chatelaine on Apple News+?
Apple News+ reflects the ongoing evolution of digital magazines and the enduring value of consuming content in the packaged issue format, created to provide an immersive, premium-content experience. The Apple News+ platform makes a strong case for consuming magazine issues digitally, with proprietary formatting and ease-of-use features like a simple, ubiquitous table of contents that takes you right to a story, the ability to share and save individual stories, and thumb-scrolling design—no zooming necessary (though font settings are provided if you need it). Titles can also be downloaded to read offline—perfect for disconnected plane rides or mobile data savers. Issues usually drop on Apple News+ first (before print subscribers and newsstand) and sometimes include exclusive "live covers," where video, animations and other interactive elements level up the reading experience.
How can I find Chatelaine on Apple News+?
Open the Apple News app on your Apple device. Hit the search tool, search for Chatelaine and then hit the plus sign on the right to add it to your library. A pop-up will let you opt in to notifications so you'll be in the know when new stories or issues are published.
To access the landing page for Chatelaine, go to the Following tab at the bottom and navigate to your title. There you'll see the latest news and stories from the brand, the past few issues as well as the topics we cover. You can also activate Family Sharing via the Following tab.
Continue to add other titles to your News+ library via the search or Following screens; all titles you've selected will automatically download when a new issue is ready. Hit the three dots at the bottom of the cover image to download the issue or browse back issues. Happy reading!
'Update Immediately': Govt Issues Vulnerability Warning for iPhones, iPads – The Quint
This vulnerability exists in IOMobileFrameBuffer of Apple iOS and iPadOS due to memory corruption issues with inadequate memory handling. "A remote attacker with kernel privileges can exploit this vulnerability using a maliciously crafted application," the agency explained.
Not updating to the latest software versions may allow attackers to gain elevated privileges on a targeted system.
Apple had also warned users that this issue may have been actively exploited.
Meanwhile, the new iOS 14.7.1 also fixes an issue where iPhone models with Touch ID cannot unlock a paired Apple Watch using the 'Unlock with iPhone' feature.
(With input from The Times of India)
PS5 Firmware Update Will Improve Create Mode Functionality – Push Square
This PlayStation 5 firmware update that's currently in beta testing sure has a lot of enhancements to look forward to. As well as allowing us to upgrade SSD storage, making improvements to the operating system, and displaying Trophy lists the way God intended, PS5's Create functionality is set to receive some nice quality of life updates too.
The firmware's extensive patch notes have been typed out in full, and they list some relatively small but notable improvements to Create mode. Firstly, when you take screenshots, you'll be able to disable the on-screen confirmation notification that appears in the top right. This will stop it from appearing in later captures if you're taking multiple at once.
When you're recording a video, an on-screen timer remains at the bottom of the screen. With this update, the timer will disappear after three seconds and will reappear when needed, which is nice. If you want to save recent gameplay, Sony is adding more video length options. Next up, when you're editing screenshots before sharing them, the number of fonts for adding text has been expanded.
Finally, the update will include more options for enabling or disabling certain audio from video clips or when broadcasting. You'll be able to toggle your personal mic audio and party audio on or off, depending on what you want.
Again, nothing monumental here, but certainly some nice improvements for when you're creating and sharing screens and videos. Will you be making use of these new improvements? Share your thoughts in the comments below.