Disney Reorganizes Media and Entertainment Businesses in Bid to Ramp Up Direct-to-Consumer Strategy – Variety
The Walt Disney Company announced a broad structural reorganization of its media and entertainment businesses Monday, in a move to ramp up and streamline its direct-to-consumer strategy. That involves the creation of the new Media and Entertainment Distribution group, which will oversee all content monetization and streaming operations. Kareem Daniel, most recently president of consumer products, games and publishing at Disney, will lead the unit.
The move comes just under a year after the launch of Disney Plus, which has since surpassed the 60 million subscriber mark.
Under the new structure, the studios will continue to develop and produce originals for Disney's streaming services — which include Disney Plus, Hulu and ESPN Plus — and legacy platforms. Distribution and commercialization will now be centralized under the Media and Entertainment Distribution group.
"Given the incredible success of Disney+ and our plans to accelerate our direct-to-consumer business, we are strategically positioning our Company to more effectively support our growth strategy and increase shareholder value," said CEO Bob Chapek in a statement. "Managing content creation distinct from distribution will allow us to be more effective and nimble in making the content consumers want most, delivered in the way they prefer to consume it. Our creative teams will concentrate on what they do best—making world-class, franchise-based content—while our newly centralized global distribution team will focus on delivering and monetizing that content in the most optimal way across all platforms, including Disney+, Hulu, ESPN+ and the coming Star international streaming service."
Three groups will be responsible for producing content for film, linear TV and streaming services: studios, general entertainment and sports, under the purview of Alan F. Horn and Alan Bergman, Peter Rice, and James Pitaro. The reorganization is effective immediately, and Disney's financial reporting will switch to the new structure in Q1 of fiscal 2021.
Daniel's division will be responsible for P&L management, distribution, operations, sales, advertising, data and technology functions globally for Disney's content production, in addition to managing operations for Disney's streamers and U.S. TV networks.
The reorganization means that top leadership at studios, general entertainment and sports remains the same, with Alan Horn and Alan Bergman serving as chairman of studios content, Peter Rice as chairman of general entertainment content and James Pitaro as chairman of ESPN and sports content. All five will report directly to Chapek.
The studios division will lead creation of branded theatrical and episodic content based on Disney's franchises, and oversee creation at Walt Disney Studios, Walt Disney Animation Studios, Pixar Animation Studios, Marvel Studios, Lucasfilm, 20th Century Studios and Searchlight Pictures. Rice's division will focus on general entertainment episodic and original long-form content, such as those created by 20th Television, ABC Signature and Touchstone Television, ABC News, Disney Channels, Freeform, FX, and National Geographic. Pitaro will continue to oversee ESPN's live sports programing, sports news, and original and unscripted sports content for cablers, ESPN Plus and ABC.
Disney's parks, experiences and products unit continues to be headed up by Josh D'Amaro. Rebecca Campbell continues to chair international operations and direct-to-consumer — but those two businesses will no longer be managed together. In matters international, Campbell will report to Chapek. In matters related to the streaming space, she will report to Daniel.
"I'm honored to be able to lead this new organization during such a pivotal and exciting time for our Company, and I'm grateful to Bob for giving me the opportunity," said Daniel. "It's a tremendous privilege to work with the talented and dedicated teams that will comprise this group, and I look forward to a close collaboration with the outstanding and incredibly successful team of creative content leaders at the Company, as together we build on the success we've already achieved in our DTC and legacy distribution business."
Daniel, who has been at Disney for 14 years, has a history of leadership roles across the company. Outside of consumer products, games and publishing, he has also spent time in studio distribution and Walt Disney Imagineering — prior to his most recent role, Daniel served as president of Walt Disney Imagineering operations, production creation, publishing and games. There, he oversaw the transformation of IP into parks and resorts properties such as "Star Wars: Galaxy's Edge" at Disneyland and Walt Disney World, as well as Toy Story Land at Diseny World and Shanghai Disneyland.
Chapek called Daniel an "an exceptionally talented, innovative and forward-looking leader, with a strong track record for developing and implementing successful global content distribution and commercialization strategies." He added that as the company looks to grow its direct-to-consumer businesses, "delivering and monetizing our great content in the most optimal way possible" will be of critical importance.
"His wealth of experience will enable him to effectively bring together the Company's distribution, advertising, marketing and sales functions, thereby creating a distribution powerhouse that will serve all of Disney's media and entertainment businesses," said Chapek.
Look for more details on Disney's direct-to-consumer strategies on its virtually held investor day on Dec. 10.
COMMENTARY: How comics can teach media literacy and help identify fake news – Global News
At this point, most of us know the drill when it comes to COVID-19: proper hand hygiene, mask wearing and social distancing.
But does setting fire to cell towers make your list? Probably not. A conspiracy theory linking 5G mobile technology to the COVID-19 outbreak has ignited fears worldwide, prompting just this response from a few individuals in Québec, who set ablaze seven mobile towers.
READ MORE: Trump duped by fake news story of Twitter going down to protect Biden
Although such destructive responses are rare, thousands of digital consumers have absorbed aspects of this falsehood, pushing fringe beliefs into the mainstream despite refutations from the World Health Organization and multiple agencies in Canada and the United States. What started as a conspiracy turned into a real crisis for the people who immediately believed what they'd heard.
My research focuses on critical media studies and ideological representations in news and popular culture. I regularly offer workshops to schools and community groups that engage the public in contemporary media literacy issues. My book, Won't Get Fooled Again: A Graphic Guide To Fake News, helps readers identify the underlying purpose of the messages they receive and learn how to do basic research before accepting the validity of what's being presented to them.

2:07


New study suggests social media feeds source of COVID-19 fake news



Dealing with fake news
Fake news is an increasingly pressing problem. In fact, a 2019 poll found 90 per cent of Canadians reported falling for false information online.
As consumers, we need to learn how to filter content and become our own educators, editors and fact-checkers to ensure the information we act upon is trustworthy. In a constantly changing informational and political environment, it's no wonder we often struggle to separate fact from fiction.
Research indicates people create misinformation for two primary reasons: money and ideology.
Articles, videos and other forms of content can generate large amounts of money for the websites that host these pieces. Most of their income comes from clicks on advertisements, so the more people who visit their sites, the better chances they have of boosting ad revenue. This feedback loop has led many publishers to lean on false information to drive traffic.
The threshold for making believable fake news has fallen as well. A conspiracy theorist, for example, can create a web page using a professional template with high-quality photos in just a few clicks. Once the content has been added, sharing it on Facebook, Twitter, Instagram and other platforms requires even less effort.
These misinformation and fake-news campaigns amplify and circulate through false digital accounts using automated programs known as bots that use certain keywords to influence and impact conversations among like-minded clusters of people. The results can foment discord on hot-button Canadian policy issues — like immigration and refugees — possibly disrupting election outcomes.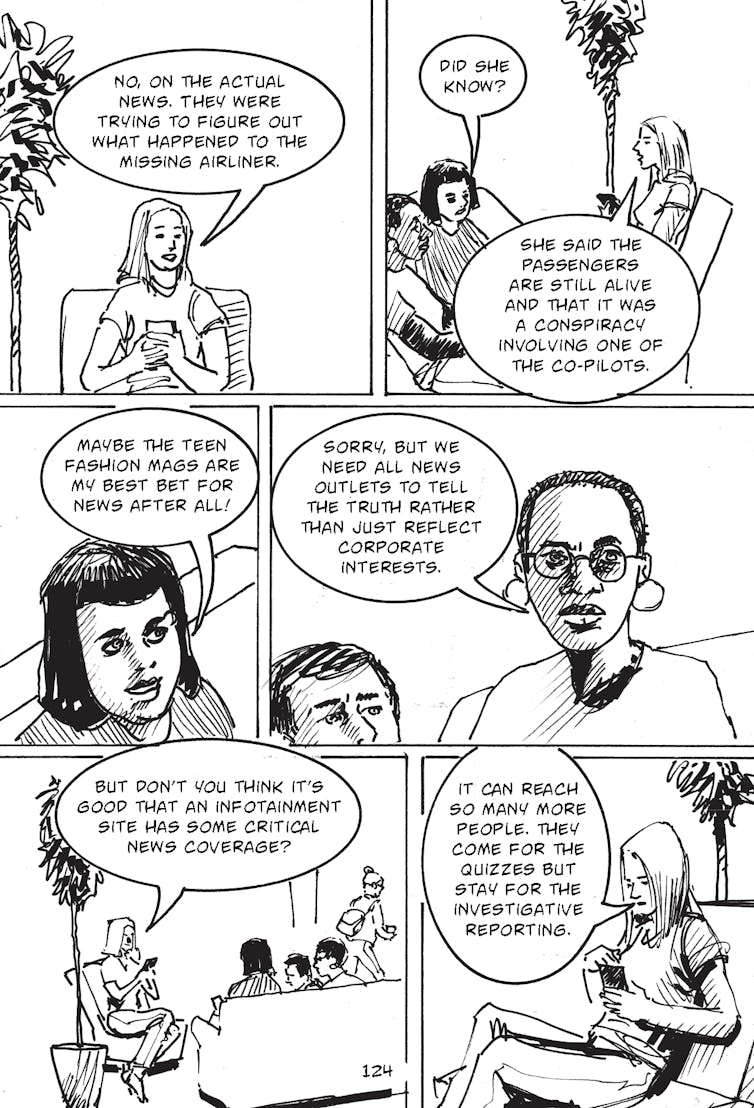 Generating anxiety and undermining truth
Canadians are expressing anxiety about the social impact of fake news, with 70 per cent fearing it could affect the outcome of a federal election. The Pew Research Center warns that fake news may even influence the core functions of the democratic system and contribute to "truth decay."
Dubious and inflammatory content can undermine the quality of public debate, promote misconceptions, foster greater hostility toward political opponents and corrode trust in government and journalism.
The effects of misinformation have been evident throughout the COVID-19 epidemic, with many citizens confused as to whether a mask will decrease the chances of spreading the infection. Similar tactics are being levelled against Black Lives Matter protesters, such as labelling them all as rioters when videos and photos show most behaving peacefully.
Conspiracy theories about the "Chinese virus," amplified by politicians in Canada and the U.S., have fanned the flames of anti-Asian sentiments following the spread of COVID-19. Data from law enforcement and Chinese-Canadian groups has shown an increase in anti-Asian hate incidents in Canada since the start of the COVID-19 pandemic.
READ MORE: How to teach kids to hunt out fake news? With dinosaurs, of course
Who and how to trust
Aside from a few social media platforms that identify misleading content and provide a brief explanation, most information online or in print can appear factual. So how can we figure out which sources to trust?
As a sociologist who focuses on critical media studies, I formed focus groups and collected input from my students to create a resources to guide readers through identifying fake news. While regulation and legislation are part of the solution, experts agree we must take swift action to teach students how to seek verification before acting on fake news.
In my findings, students identified several reasons why media outlets post or re-publish fake news, including making mistakes, being short-staffed, not fact-checking and actively seeking greater viewership by posting fake news.
The students pointed to holistic media literacy and critical thinking training as the best responses. This finding runs counter to the tactics currently used by publishers and tech companies to label or "fact-check" disputed news.
One student summarized this mindset best: "As citizens and consumers, we have a responsibility to be critical. Don't accept stories blindly. Hold those in power responsible for their actions!"
Getting multiple perspectives is a great way to expand our digest of viewpoints. Once we can see a story from more than one angle, separating truth from falsehood becomes much simpler.
At this point, I transitioned from recording perceptions of fake news to determining how to identify it. Providing students with information about the nature and agendas of fake news, in an immersive format, seemed to be a key step in engaging and cultivating their critical literacy capabilities. Information delivery was a key consideration.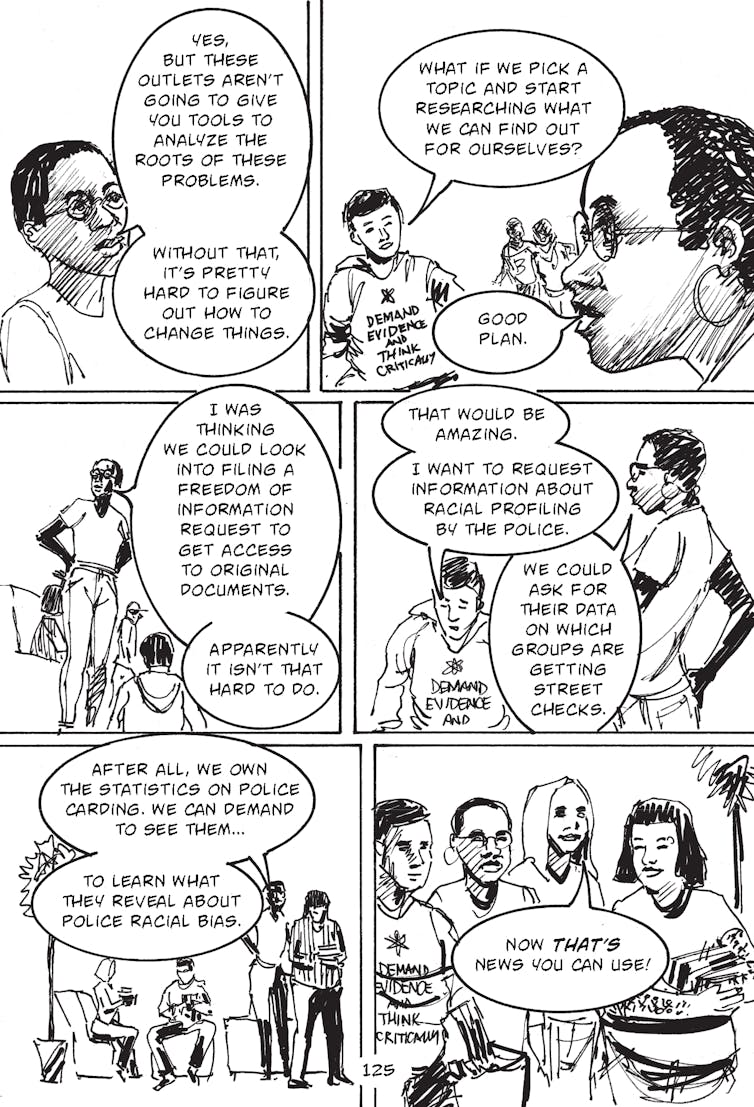 Illustrating the narratives
Researchers have shown graphic narratives can accelerate cognition by focusing the reader's attention on crucial information. Images clarify complex content, especially for visual learners. Comic books require readers to create meaning using multiple factors that helps develop a complex, multi-modal literacy.
A major goal of my book involves unpacking the motivations behind the news we consume. Consider why a particular person was interviewed: Who do they represent? What do they want us to believe? Is another point of view missing?
Won't Get Fooled Again: A Graphic Guide to Fake News is the culmination of my research and the insights drawn from media literacy scholarship. This guide helps readers understand what fake news is, where it comes from, and how to check its accuracy.
If there's one habit my students and I hope everyone will develop, it's this: pause before sharing news on social media. Double-check anything that immediately sparks anger or frustration and, remember, fake news creators want a reaction, not thoughtful reflection.

Erin Steuter, professor of sociology, Mount Allison University
This article is republished from The Conversation under a Creative Commons licence. Read the original article.
How Donald Trump's Presidency Has Changed The Media – NPR
NPR's Lulu Garcia-Navarro asks CNN's chief media correspondent Brian Stelter how Donald Trump's presidency has affected the media and what another four years could bring.
Kelowna woman learns lesson from public shaming on social media
October 24, 2020 – 9:16 AM
A Kelowna woman wants others to know of the repercussions of inflammatory social media posts after an experience she had last week.
On Oct. 20, Shelley Hughes saw a man screaming and uttering threats near her home. She posted about it in a neighbourhood Facebook group saying the man looked like a known criminal in the area and a fair number of comments racked up.  She later learned the man was actually a 16-year-old who was having a mental breakdown, she said.
"Things got a little bit out of control on the Facebook group," Hughes said, adding that she got in touch with the teenager's mother and learned about their story.
"We have to be mindful about what we post, including me, because I was participating in the rhetoric," Hughes said. "Yes we do post to watch out for each other but we have to be clear. It was a lesson for everyone how quickly it can get out of hand."
Hughes posted a follow up to her original post, explaining the family had fallen on hard times.
"We need to pull together," she said. "We need to bring some compassion. It takes a village so let's be this village."
The Facebook group is meant to be a neighbourhood watch but sometimes the comments get out of hand, she said.
Her message is to be mindful of the facts before turning to social media.
"It can be used as a useful, positive tool but also in a very bad way," Hughes said.
She hopes by sharing the story and the lesson she learned that others will follow suit. She said the community has been supportive when she posted a second time explaining the situation.
"Our community needs to get back to being that village and slamming people on social media is not the way to do it. Have I learned a lesson? I have. What do we do with a lesson? We learn from it and we respond to it," Hughes said.
Source:- iNFOnews